If you've been searching for legit money-making opportunities for a while without any luck until now, then it's inevitable that sooner or later, you'd stumble upon Wealthy Affiliate…
In a nutshell, Wealthy Affiliate is a platform that provides training, tools, and support that you could utilize to build and run your own online affiliate marketing business and through it earn a full-time income online (and maybe even more).
I completely understand that right now you are probably all like "Yeah right… I've heard such claims dozens of times before and most of them turned out to be just empty promises".
Well, worry not because I got you covered!
In order to help you make a 100% informed decision about whether Wealthy Affiliate is worth your time, attention, and money or not, in this Wealthy Affiliate review, I'm going to let you know everything I've figured out about the platform in my almost 4 years as its member, such as:
What is Wealthy Affiliate about?
How does Wealthy Affiliate work?
What kind of training, tools, and support does Wealthy Affiliate offer?
How much does Wealthy Affiliate cost?
Who is Wealthy Affiliate for?
Wealthy Affiliate's pros and cons
Can you really make money with Wealthy Affiliate, and if yes, how much?
Success stories of Wealthy Affiliate members
Is Wealthy Affiliate yet another scam?
A few reasons NOT to join Wealthy Affiliate
and much more
Furthermore, I am going to let you know about a couple of alternatives to Wealthy Affiliate for you to check out in the case you deem that Wealthy Affiliate is not for you for some reason.
Whatever the case, I'll try my best to point you in the right direction so make sure to stick till the very end of this review.
Right, so, let's get cracking!
Wealthy Affiliate Overview
Name of Product: Wealthy Affiliate
Owners:
Price: 
Free membership
Premium Membership:
$19 (first-month special offer) & $49 per month afterward
or $234 paid per six months
or $359 paid per year
or $299 paid per year (Black Friday offer)
Official Website: wealthyaffiliate.com
Suggested? Yes!
So, what is Wealthy Affiliate About?
Wealthy Affiliate is an affiliate marketing training platform, that is, a platform that teaches you how to earn money online through building your very own online affiliate marketing business(es).
In addition to the training, Wealthy Affiliate offers an array of tools that you might find quite useful during your journey as well as a relatively large community of like-minded people who are all striving to build an income online just like you.
Wealthy Affiliate was created back in 2005 by Kyle Loudoun and Carson Lim.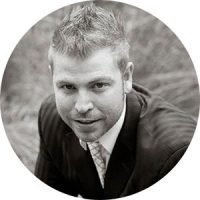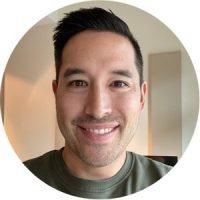 Kyle and Carson had met a few years prior to founding Wealthy Affiliate when they were in college studying Computer Science.
In 2002, since both Kyle and Carson were broke and had their fair share of experience around computers, they decided to invest their time in figuring out a way to earn money online.
After going through a lot of trial and error, Kyle and Carson managed to build several affiliate marketing websites each that generated thousands of dollars per month in affiliate commissions and ended up earning their living online.
At that point, Kyle and Carson decided to start teaching other people everything they had learned about building a full-time income online through affiliate marketing just like they did and thus, in 2005, they launched Wealthy Affiliate.
Back then, Wealthy Affiliate didn't look anything like it looks today as it started out as a paid membership platform that provided its members with one keyword list per week for $29.99 per month.
Wealthy Affiliate became what it is today by launching more and more features over the years, such as the
SiteRubix website builder
Online Entrepreneur Certification
Affiliate Bootcamp
Live Chat
Weekly Webinars
Blog Feed
Keyword Research Tool
etc
Don't worry, I am going to talk about every single one of those features later on.
At the time of this review, Wealthy Affiliate has been operating for 15 years and as it seems, the platform is still growing and evolving year in, year out.
In fact, according to Kyle, in January 2020, Wealthy Affiliate reached a whopping of 2 million members.
During those 15 years that it has been operating, Wealthy Affiliate seems to have helped hundreds of people all around the world earn their living online by leveraging affiliate marketing (more on that later on).
Before I move on to the nitty-gritty, I understand that some of you might not have a single clue about what this "affiliate marketing" that I am continuously talking about is…
Allow me to explain then.
Affiliate Marketing in a Nutshell
So, in a nutshell, affiliate marketing is a business model whereas you get paid commissions every time someone purchases a product created by another person or company (aka "merchant") that you promote on your own website.
The amount of commissions affiliate marketers get paid per sale is usually calculated as a percentage of the total price of the product sold and can range from 5% – 75%, depending on the product and the merchant.
For instance, let's assume that you are running a website about dogs and within an article you've written, you suggest a specific dog food sold by an online pet shop that costs $50 and pays you 50% commissions per sale.
If a person who reads your article decides to go ahead and purchase the dog food you suggested, the online pet shop will pay you $25 in affiliate commissions (50% of the total cost of the dog food).
The pet shop knows that YOU referred the sale because the person purchased the dog food after clicking on a unique affiliate link you had included within your article which the pet shop had provided to you upon signing up as their affiliate.
Every single one of the pet shop's affiliates has their very own affiliate link and this way the pet shop is able to track which affiliate referred which sale and thus pay all of them the appropriate commissions.
Another example:
This very website (dearboss-iquit.com), is also an affiliate marketing website.
My main focus regarding this website is publishing reviews about MMOs (Money-Making Opportunities), just like this Wealthy Affiliate review you are reading right now!
Throughout the content of most of those reviews, I include my own unique affiliate links.
When those who read my reviews click on one of my unique affiliate links and purchase any of the MMOs I've reviewed, I earn commissions.
For instance, within this Wealthy Affiliate review, you'll see links like this.
If you click on one of those links, you'll be redirected to Wealthy Affiliate's website.
If you join Wealthy Affiliate and at some point purchase one of its premium membership plans, Wealthy Affiliate will pay me 50% of the total amount you paid (at no extra cost to you of course).
Some of the most notable companies that have affiliate programs in place allowing people to earn commissions by promoting their products are:
Amazon
eBay
Etsy
Wallmart
Sony
Apple
Gearbest
BodyBuilding.com
and much more
Truth is that you'll be able to find at least one affiliate program for any given product on the face of the Earth.
The video right below lays down the whole concept of what affiliate marketing is and how it works pretty neatly so make sure to give it a watch before moving on.
Is Affiliate Marketing Really Profitable?
I am pretty sure that if you are one of those people who had never heard about affiliate marketing prior to reading this Wealthy Affiliate review, you will probably be wondering "Is affiliate marketing really profitable?"
Since on a global scale the affiliate marketing industry is worth over $12 billion, I can safely state that the business model is indeed rather profitable.
According to 99firms.com,
35% of affiliate marketers earn more than $20.000 per year
12% of affiliates marketers earn more than $75.000 per year
and 3.2% of affiliate marketers earn more than $150.000 per year
Those stats are pretty amazing!
To give you a frame of reference, according to the FTC and several other sources,
74% – 99% of all MLM reps either lose or make no money whatsoever
53% of those who do make money, make less than $5000 per year
In addition, after studying the Income Disclosure Statements of dozens of MLM companies, I noticed the following pattern:
about 5% of MLM reps make more than $20.000 per year
about 1% of MLM reps make more than $75.000 per year
less than 0.5% of MLM reps manage to earn more than $150.000 per year
After comparing all these statistics, I can safely conclude that
Affiliate marketers are 30% more likely than MLM reps to build an income of $20.000+ per year
Affiliate marketers are 11% more likely than MLM reps to build a yearly income of $75.000+ per year
Affiliate marketers are 2.7% more likely than MLM reps to earn $150.000 per year
And not only affiliate marketing is really profitable, but the nature of the business model makes it one of the simplest and fastest ways to build an income online.
This is the case because affiliate marketers don't have to go through the arduous process of creating and maintaining a product of their own to generate money.
This specific detail that might initially seem rather insignificant results in a vast array of benefits, such as NOT having to
Spend hundreds or maybe thousands of dollars + dozens of hours conducting market research
Hire specialists or pay a manufacturer to produce your product
Rent or buy space for storing your produce
Hire dozens of people to handle the product, monitor inventory, ship the product, deal with returns, refunds, complaints, and customer service
etc
As an affiliate marketer, you generate money off of already existing products and everything mentioned right above is being taken care of by the actual merchant of any given product you promote.
Subsequently, affiliate marketing could potentially shave off hundreds of hours and thousands of dollars that you would need to invest to create, maintain, distribute, support, etc, your own product.
In addition, I've heard countless stories of people who went on to create a product thinking that it would rock the market only to realize in the hindsight that no one is actually buying it.
Time + Money = Lost
Affiliate marketing completely mitigates this risk as you'll be promoting products that people are already purchasing.
You know that those products are in demand, you know that they have a market, so basically, your sole job as an affiliate marketer would be to bring those products in front of those people who would eventually buy them (or something similar) anyway.
In addition, if you find out that some of the products you promote don't perform well (it happens sometimes), you can seamlessly replace them with other products from the same or maybe even different merchants, no harm no foul…
If you create a product that doesn't perform well, you'll have to go through the process of creating a brand new product from scratch once more something that translates to either investing even more time and money or shutting down the business altogether…
The best part of affiliate marketing is that you don't need to invest an arm and a leg to get started with it as all you need is nothing more than a website and a hosting platform for that website.
Nowadays, you can create professional-looking websites for free in a matter of minutes using platforms like WordPress and a cheap hosting plan won't cost you more than $5 – $10 per month.
As a result of everything mentioned in this section, average people who are no different than you and me, have managed to create fortunes literally from scratch through affiliate marketing websites built around any subject you could possibly imagine, ranging from mobile phones to veganism, cars, meditation and even iron deficiency in goats (yeap, that last one is actually true).
Affiliate marketing has made businesses millions and ordinary people millionaires. – Bo Bennett (Businessman, Author, & Motivational Speaker)
Having said all that, right below I'll share with you a couple of affiliate marketing success stories of ordinary people who started from zero and ended up earning their living online by leveraging affiliate marketing.
Affiliate Marketing Success Stories
The first affiliate marketing success story that I am going to share with you is actually one of my favorites and it's that of Stuart Walker, owner of nichehacks.com
Stuart used to be a pot washer and a call center "office monkey", as he calls it, with no particular skills and no experience in sales, marketing, or running an online or offline business.
He got started with online & affiliate marketing in 2013 literally from zero, having only $100 in his bank account which he completely wasted during his very first attempt to get nichehacks.com up and running as he had no idea what he was doing or what he should invest his money in.
In addition, according to Stuart himself,
He was a bad student who failed exams (sometimes the exact same exam twice)
He earned minimum wage
He was more than $50.000 in debt
He was lacking focus and he was constantly tired due to issues with insomnia
He was lazy
He has unproductive routines (sleeping late, drinking, playing video games, etc)
He was anti-social
He had no connections, no authority, no audience, and no reputation
However, despite all those setbacks, in 2015, just one and a half years after launching nichehacks.com, Stuart was earning more than $6000 per month mostly through affiliate commissions and he has been featured in several authoritative websites such as HubSpot, Entrepreneur, SmartBlogger, etc.
The reason that I love Stuart's affiliate marketing success story so much is that he is living proof that anybody can win even if they have been dealt a bad hand…
Pat Flynn used to work as a Senior Drafter in an architecture firm and wanted to get his architecture license.
He got introduced to LEED (Leadership in Energy and Environmental Design), a program towards creating environmentally-friendly buildings.
In order for someone to become a LEED Accredited Professional, they had to study a ton of material and pass an exam which was extremely difficult to pass (only 30-35% of people passed it).
At some point, he started a blog that he used as a way to organize his notes in order for him to be able to keep track of them more easily.
With the help of his blog, he managed to pass the exam, became a LEED Accredited Professional, and immediately got promoted to Job Captain.
However, Pat lost his job in 2008 as a result of the ongoing financial crisis.
At that point, he started learning about online businesses and how to build an income online.
He realized that the blog he had created just to keep notes for his LEED exam had attracted quite a large audience and thus he decided to monetize it through AdSense, renting ad space, and selling a study guide for the LEED exam that he would create.
Soon after, during October 2008, he sold 309 copies of his ebook and combined with AdSense and private advertiser payments, he grossed a total of $7,906.55 and immediately started SmartPassiveIncome.com where he teaches other people how to make a passive income online.
According to his latest Income Reports (not available at that moment), Smart Passive Income generates $200,000+ per month mostly through affiliate marketing in conjunction with selling info-products created by Pat Flynn and his team.
If you'd like to take a look at some more affiliate marketing success stories, AuthorityHacker has compiled a pretty nice list of 21 Examples Of Successful Affiliate Marketing Websites.
Please note that neither Stuart Walker nor Pat Flynn are or have ever been members of Wealthy Affiliate.
The reason that I shared their affiliate marketing success stories is first of all because I love them, and secondly, for you to become aware of the vast potential of the affiliate marketing business model as well as realize that you don't need to be a rocket scientist to really build an income online as an affiliate marketer.
Having said that, later on, I am going to share with you a number of success stories of Wealthy Affiliate's members, so make sure to stick around!
For now, allow me to reveal to you exactly how Wealthy Affiliate teaches you how to build an income online with affiliate marketing.
How Does Wealthy Affiliate Work?
So, Wealthy Affiliate's recipe of earning money online with affiliate marketing is comprised of the 4 following simple steps:
Choose an Interest
Create a Website
Attract Visitors
Earn Revenue
Truthfully, that's the whole gist of building a profitable online affiliate marketing business.
You choose the subject (interest) of your website, you build the website, you use several techniques and practices to attract people to your website, and when some of your visitors buy a product you promote through one of your affiliate links, you earn commissions.
Wealthy Affiliate's goal is to provide you with the tools and know-how to build an income online as an affiliate marketer by following those 4 steps.
In favor of fulfilling that goal, once you become a member of Wealthy Affiliate, you'll get your hands on
Due to the fact that Wealthy Affiliate is comprised of dozens of different elements and features (some useful, others not so much), for the sake of not overwhelming you right now, I will only expand on the ones that I believe are the most important and beneficial ones.
So, here's what is Inside Wealthy Affiliate
Affiliate Marketing Training
Just like you need training to become a doctor, a teacher, or a pilot, you also need training to earn money online as an affiliate marketer.
This is where Wealthy Affiliate comes in.
The main objective of Wealthy Affiliate is to teach you how to build and scale your own affiliate marketing business, and it does that by providing access to 3 different types of core training modules:
The Online Entrepreneur Certification
The Affiliate Bootcamp
Weekly Live Webinars
Wealthy Affiliate's
Online Entrepreneur Certification
Wealthy Affiliate's Online Entrepreneur Certification (OEC) training, is a 5 phase (50 lessons) series of courses that walk you through the process of creating and scaling an online affiliate marketing business from scratch around any subject (aka "niche") that you'd like.
OEC is very simple to understand and follow and is mainly geared towards absolute beginners who know nothing about creating and running an online business.
Some of the things being taught within the OEC include
Choosing a subject for your website (aka "niche")
Creating & setting up your very first website
Understanding keywords & conducting keyword research
Social media marketing
Search Engine Optimization (SEO)
Cultivating free traffic
Locating & joining affiliate programs
and more
All of the lessons within the OEC are comprised of text in conjunction with at least one long video each and have been put together by Kyle, one of Wealthy Affiliate's co-founder.
At the end of each lesson, there are actionable tasks that you'll have to complete before moving on to the next lesson.
Those tasks constitute a pretty nice "push" to actually act upon what you learn within each lesson.
The first 10 lessons of the OEC are available to both free as well as premium members.
However, you'll have to upgrade to a premium membership in order to get your hands on all of OEC's 50 lessons.
Wealthy Affiliate's
Affiliate Bootcamp
In addition to OEC, Wealthy Affiliate offers an Affiliate Bootcamp.
The Affiliate Bootcamp is pretty similar to the OEC in terms of structure, with the exception that it consists of 7 Phases (70 lessons) that walk you through the process of creating and establishing an online affiliate marketing business NOT in any niche but rather in a niche related to the promotion of Wealthy Affiliate, such as
Making money online
Affiliate marketing
Personal finance
Entrepreneurship
Side-hustles
etc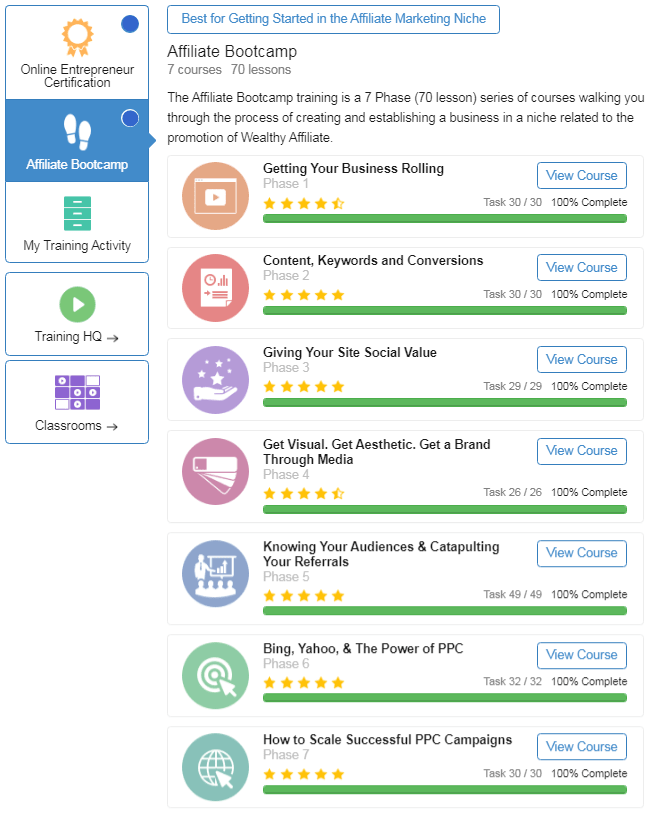 Some of the things you'll learn by following the Affiliate Bootcamp include
Creating & setting up a website
Locating relevant keywords
Promoting your website on social media
Writing product reviews
Increasing traffic & conversions
Creating videos & graphics
Building a brand
Using paid ads to attract traffic
and more
The first 10 lessons of the Affiliate Bootcamp are also available to both free and premium members but the rest of the 60 lessons can be accessed only by premium members.
Wealthy Affiliate's
Weekly Live Webinars
In addition to the OEC and the Affiliate Bootcamp, every Friday night, Wealthy Affiliate's training chief Jay Neill, presents a 1-hour live webinar on a variety of subjects that could help you improve specific aspects of your affiliate marketing business, such as
Attracting visitors through YouTube
Monitoring your audience using Google Analytics and Search Console
Writing more effective content
SEO techniques and checklists
Case studies
etc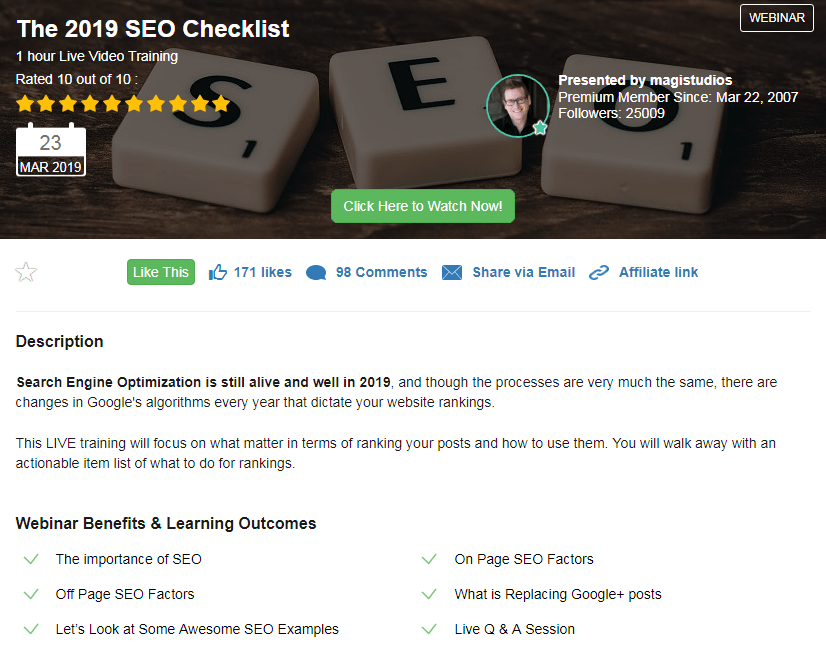 At the end of each one of his live webinars, Jay holds a live Q & A session on Wealthy Affiliate's live chat, whereas other WA members can get answers to questions they might have regarding the subject of the webinar.
If for some reason you miss the live broadcast of a webinar, you can still watch its replay once it gets uploaded to Wealthy Affiliate, a few days later.
Lastly, you can also access the replays of all the weekly live webinars Jay has held back from 2012 (300+ webinars).
Wealthy Affiliate's
Additional Training Resources
Besides the OEC, the Affiliate Bootcamp, and the weekly live webinars, all of which constitute Wealthy Affiliate's core training, Wealthy Affiliate offers a variety of several additional "unofficial" training resources.
For instance, Wealthy Affiliate has pieced together a digital school of 13 classrooms.
Each classroom consists of several videos, tutorials, courses, webinars, comments, questions & answers, etc, and is focused around a different subject, such as
Getting Started
Keyword, Niche, and Market Research
WA Affiliate Program
Authoring & Writing Content
Website Development & Programming
Search Engine Optimization
Pay Per Click Marketing
Social Engagement & Marketing
Everything WordPress
Local Marketing
The Wealthy Affiliate Platform
Video Marketing
Email Marketing
Lastly, as a Wealthy Affiliate member, you'll get to access training modules created by more advanced members of the platform, sharing tips, tricks, techniques, advice, successes, and setbacks that they came across while growing their own affiliate marketing businesses.
Summing up, the main training components Wealthy Affiliate offers are
The Online Entrepreneur Certification
The Affiliate Bootcamp
Weekly Live Webinars
13 Classrooms
Training Modules Created by Advanced Members
You can't build a house without having the required tools and resources.
The same applies to your online affiliate marketing business…
That's why in addition to the training it offers, Wealthy Affiliate provides to its members a set of tools & resources, such as
Keyword Research Tool (Jaaxy)
One-Click Website Builder (SiteRubix)
SiteComments & SiteFeedback
SiteContent
SiteSupport (Tech Support)
Keyword Research Tool (Jaaxy)
One of the most important skills you'll have to master if you want to succeed as an affiliate marketer is conducting keyword research.
Locating and using the right keywords on your website and articles is the basis of all your search engine rankings and subsequently, the amount of free traffic that will land on your website through search engines like Google, Bing, Yahoo, etc.
In order to help you with conducting your keyword research, Wealthy Affiliate offers a built-in keyword research tool called "Jaaxy".
In short, Jaaxy reveals several aspects of any given keyword that you can use to determine if you should utilize the keyword on your website or not, such as
the average searches the keyword gets per month
the number of visitors an article will get if it appears on the first page of Google for that keyword
how many other websites are currently ranking for the keyword
For instance, if after running a keyword through Jaaxy you realize that it doesn't receive any searches per month, writing an article based on that keyword is most likely pointless, as it'll drive no traffic to your website.
Anyway, everything you'll need to know about keywords, using Jaaxy to locate them, determining if they are viable, using them on your website and articles, etc, is covered within Wealthy Affiliate's training.
Besides keyword research, Jaaxy also performs some other functions, such as
Monitoring your website's rankings and authority
Creating and storing keyword lists
Competition analysis
Discovering keywords using the alphabet soup technique
Locating affiliate programs
etc
One-Click Website Builder (SiteRubix)
A decade ago, getting your own website up and running was quite a pain in the butt…
You either needed to spend months programming your website yourself (and that only if you already knew how to program websites) or pay hundreds of dollars to hire a developer to program it for you.
At that point (around 2007), Wealthy Affiliate launched an in-house WordPress-based website builder called "SiteRubix" that would allow its members to easily get their affiliate marketing websites up and running in 4 simple steps:
Select the kind of domain name for your website (free or paid)
Choose your domain name
Fill in the title of your website
Select a WordPress theme
In the video below, Kyle creates a website using Wealthy Affiliate's SiteRubix website builder in just 30 seconds.
What Wealthy Affiliate achieved by releasing their SiteRubix builder is squeezing the arduous and pricey process of creating a website from scratch into something that anyone could do in just a few minutes for free, thus saving a ton of time and money for its members.
Now, at that point, many people tend to wonder if a website created with SiteRubix is as high-quality as a website developed from scratch.
Well, as mentioned earlier, the websites built on SiteRubix are WordPress-based.
WordPress is one of the most popular website builders in the world, powering more than 34% of all the existing websites.
Truthfully, I've come across literally thousands of websites programmed with HTML, CSS, PHP, etc that look like trash in front of WordPress websites.
In fact, dearboss-iquit.com is created through Wealthy Affiliate's SiteRubix builder as well.
Lastly, every website built with SiteRubix is hosted on Wealthy Affiliate's shared hosting for free.
Wealthy Affiliate's free members can create and host up to 2 websites while premium members can create and host up to 50 websites.
Besides being a website builder, SiteRubix offers an array of additional functions, such as the SiteComments, SiteFeedback, SiteSupport, and SiteContent that I am going to be talking about right below.
SiteComments & SiteFeedback
Simply put, Wealthy Affiliate's SiteComments is a credit-based comment exchange platform.
Here's how it works:
A member of Wealthy Affiliate requests comments on an article they published
If you post a comment on their article you earn one credit (you earn one credit per comment you post)
For every two credits you gather, you can request one comment on an article of yours
Such a function can have a pretty huge positive impact on your online business as Google tends to rank higher websites and blog posts that receive comments.
This is the case because having comments on your posts/pages shows Google that
Those who are visiting your website are actually reading your content
Your content is interesting enough for your visitors to engage with you after reading it
Comments also provide additional value to your visitors while at the same time keeping them on your website for longer periods of time something which is also a positive sign in the eyes of Google.
Think about it… How many times have you ended up in the comments section of an article you just read to find out what other people were saying about it?
Probably countless, right?
Anyway, one last thing about SiteComments is that it enables you to earn $0.50 for every 2 comments that you offer once you become a Certified Commenter.
In order to become a Certified Commenter, you have to meet the following requirements:
Offer 50 comments
Maintain a minimum of 80% approval rate
Maintain a maximum of 20% skip (not interested) rate
Easy peasy…
A couple of months ago I met the requirements for becoming a Certified Commenter in like 3 hours, and during that month I earned $150 by offering just 20 comments per day (2 – 3 hours of work).
SiteFeedback works exactly like SiteComments but instead of exchanging comments, you exchange feedback regarding your website's appearance, layout, images, media usage, etc.
In addition, you can't earn money through SiteFeedback. 
In a nutshell, SiteContent is a writing platform Wealthy Affiliate launched in 2017 in an attempt to help its members optimize their writing efforts.
SiteContent's main functions include
performing grammar, spelling, and duplicate content checks
content structure analysis
vocabulary suggestions
setting writing goals
monitoring writing stats
creating article tempates
In addition, SiteContent contains a library of millios of royalty-free images that you can use on your website that are not subject to copyright or other intellectual property rights restrictions.
SiteContent could be of great help to those who have zero experience in writing articles as well as to those whose native language is not english (like me).
Personally, I have barely used the SiteContent platform as when it got released, I had already been using WordPress's editor to write and publish my articles for over a year and at that point SiteContent was just slowing me down.
SiteSupport is yet another feature of SiteRubix which enables you to submit support tickets regarding technical issues you might be facing on your website directly for Wealthy Affiliate's tech support team to handle.
Maybe a plugin malfunctions and prevents you from logging into your website, maybe your website goes offline for some reason or maybe you are unable to upload images on your media library in order to include them within your content.
All technology malfunctions eventually, so sooner or later, you'll absolutely come across at least one technical issue on your website.
Thankfully, Wealthy Affiliate's tech support department is operating 24/7 all around the year so they will probably manage to resolve your website's technical issues regardless of what time or what day it is…
In addition to the training and tools it offers, once you join Wealthy Affiliate you automatically become part of a community of aspiring and already successful affiliate marketers…
According to HuffPost, as an aspiring entrepreneur, you can utilize the power of being part of a community of like-minded individuals in order to increase your chances of success in 5 different ways:
Leverage the knowledge, wisdom, advice, and feedback of other community members
Expand your personal and professional network
Have people with diverse skillsets who could help you with your endeavor on your side
Spark your creativity and innovation by exposing yourself to a variety of opinions, ideas, and perspectives 
Receive higher-quality support from other community members since they are on the same or a similar path to yours and understand exactly what you are going through
In my own personal opinion, another very important benefit of being part of such a community is the motivation drawn through the goals, milestones, and successes other people within the community achieve.
As mentioned earlier, very recently, Wealthy Affiliate's community surpassed 2 million members.
Please note that this 2 million figure refers to every person who has ever joined Wealthy Affiliate in the platform's 15-year history, both free & paid members so definitely not every single one of those 2 million members is active.
After researching for a while, I concluded that at any given time the number of active Wealthy Affiliate members should be around 5000, more or less…
Still, not bad at all especially if you consider that most of the competitors of Wealthy Affiliate don't offer access to any kind of community whatsoever.
Moving on, some of the most prominent ways of interacting with other members of Wealthy Affiliate's community are:
Live Chat
Private Messaging
Blogs, Questions & Comments
Dedicated Personal Coach
One of the most common ways Wealthy Affiliate's members interact with each other is through a live chat.
Since Wealthy Affiliate's community is comprised of hundreds of thousands of active members, the platform's live chat is quite busy all around the clock with people asking questions, providing answers, sharing tips, and advice, or just connecting with one another…
Every now and then, you might even stumble upon Wealthy Affiliate's founders (mostly Kyle) helping people and providing insights on the live chat as well.
Personally, I am not a big fan of Wealthy Affiliate's live chat and in my 4 years as a premium member of the platform, I've barely used it mostly because
at least half of the time people talk about completely irrelevant stuff on it
new and inexperienced members try to play smart and end up answering other people's questions very inaccurately
Nonetheless, many of Wealthy Affiliate's successful affiliate marketers claim that the instant support they were able to receive through the platform's live chat played an integral part in their success.
That being said, despite the fact that I am not that fond of Wealthy Affiliate's live chat, I have to recognize that it could be a quite valuable asset, especially to beginners, as it enables them to receive answers to queries, solutions to problems, get unstuck and pointed in the right direction pretty fast from other more senior and experienced members of the platform.
Another way to interact within Wealthy Affiliate's community is through private messaging.
Private messaging allows you to reach out to specific members, including your personal coach privately, something that could result in higher-quality (but slower) support than the support you'd receive through the live chat.
You also have the option to PM Wealthy Affiliate's founders, Kyle and Carson, but chances are that it'll take 1-2 weeks to get back to you, or maybe more, due to the sheer amount of private messages they receive.
Blogs, Questions & Comments
The structure of Wealthy Affiliate's community is almost identical to that of social media platforms like Facebook and Instagram…
Every single one of Wealthy Affiliate's members has their own personal WA profile whereas they can
blog about their progress
share their story
set goals
ask questions
gather followers & likes
receive comments from other people
etc
Every blog post and question you publish on your profile is also displayed on Wealthy Affiliate's main newsfeed (which kinda looks like Facebook's newsfeed) and is viewed by the rest of Wealthy Affiliate's members.
Some of them will interact with your post by giving likes and leaving comments sharing their point of view, answering your questions, providing words of encouragement, etc.
Just like that, you can also interact with and leave comments on other people's posts and questions that appear on Wealthy Affiliate's newsfeed.
Summing up,
Being a part of an affiliate marketing community has many benefits and increases your chances of success
Wealthy Affiliate's members automatically become part of its affiliate marketing community
Wealthy Affiliate's community is comprised of more than 2 million members
About 5000 of those 2 million members are actually active
You can interact with Wealthy Affiliate's community through live chat, private messaging, blogging, comments, and likes
In addition to everything I've talked about until now, Wealthy Affiliate also offers
Website monitoring and management platform
Domain name management platform
Free anti-spam and SSL (HTTPS)
1 on 1 mentoring
Affiliate programs research platform
Affiliate program & incentives
Website caching
The video right below gives a pretty nice overview of what Wealthy Affiliate offers to its members so make sure to watch it before moving on.
So, now that you know what is inside Wealthy Affiliate, let's find out how much Wealthy Affiliate costs…
How Much Does Wealthy Affiliate Cost?
Wealthy Affiliate offers 2 kinds of membership options:
the Free Membership
and the Premium Membership
Wealthy Affiliate's Free Membership
Anyone can join Wealthy Affiliate for free.
And NOT the kind of free that requires you to fill in your credit card number or other payment information in order to start charging you a week later.
Wealthy Affiliate is completely free to join, no credit card required, no hidden expenses, no upsells, and it allows you to remain a free member forever (or for as long as you like).
Just a heads up though…
Wealthy Affiliate's free members have limited access to the majority of the platform's features, functions, tools, and resources.
At that point, many people ask "Can I really make money as a WA free member?"
The vast majority of those who promote Wealthy Affiliate tend to claim "Sure, you can definitely make money as a free Wealthy Affiliate member".
However, the most real and honest answer to this question is that it's very unlikely that you'll make money while on the free membership of Wealthy Affiliate (not impossible though)…
Here's the thing…
If WA's free membership offered enough to build an income online, then nobody would ever pay for Wealthy Affiliate's Premium membership and thus Wealthy Affiliate would have shut down years ago.
the ultimate truth is that as a free WA member, you won't be granted access to enough training, tools, or support to build a successful affiliate marketing business.
The only way to end up earning money online as a free member of Wealthy Affiliate is if you already know how to make money online, in which case you don't even need to bother with Wealthy Affiliate in the first place.
The bottom line is that if you're serious about becoming a full-time online affiliate marketer, you need to come in terms that you'll have to eventually pay for Wealthy Affiliate's premium membership.
Right now, many people tend to get dissatisfied and even start bashing and trashing Wealthy Affiliate for having the audacity to request money in exchange for the service it offers.
If you are one of those people then you need to get out of your little bubble…
It's only natural that Wealthy Affiliate won't teach you affiliate marketing for free just like NO OTHER COMPANY on the face of the Earth is going to hand you over its product/service for free.
The sole purpose of WA's free membership is to let you get a taste of the training, tools, and support the platform has to offer in order for you to be able to make an informed decision if you should invest in WA's premium membership or walk away.
And frankly, it's more than enough…
So, now that I cleared things up, let's see how much Wealthy Affiliate's premium membership costs…
Wealthy Affiliate's Premium Membership
Wealthy Affiliate offers 4 premium membership plans…
Monthly Premium
6-Month Premium
Yearly Premium
Black Friday Special Yearly Premium
Monthly Premium
Wealthy Affiliate's monthly premium membership costs $19 for the first month and then $49 per each successive month that you decide to remain a premium member.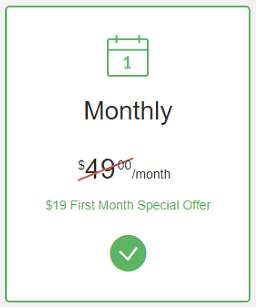 6-Month Premium
Wealthy Affiliate's 6-month premium plan costs a total of $234 which basically translates to $39 per month (20% cheaper than Wealthy Affiliate's monthly premium).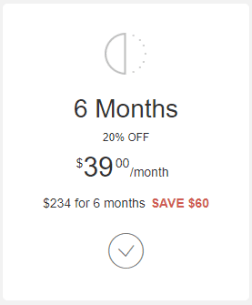 Yearly Premium
Wealthy Affiliate offers you the option to pay your premium membership upfront for a whole year for a total of $359.
$359/year translates to $29.92 per month, which is 39% cheaper than WA's monthly premium.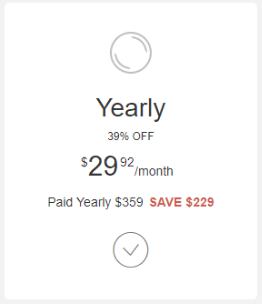 Black Friday Special Yearly Premium
Every year, for the 4 days from Black Friday to Cyber Monday, Wealthy Affiliate offers people the option to get their hands on its yearly premium membership for a total of $299 ($24.9 per month or else 49% cheaper than WA's monthly premium).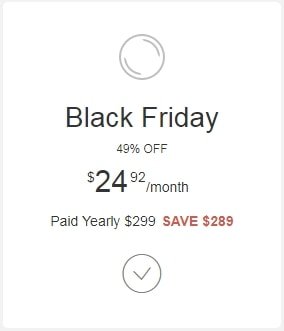 Personally, I've been paying for Wealthy Affiliate's Black Friday Special Yearly Premium for the last 3 years…
In my eyes, investing $299 per year is crumbs for what Wealthy Affiliate has to offer…
It's literally 80 cents per day LOL.
If you are wondering about the differences between Wealthy Affiliate's free and premium membership, please take a look at the table right below.
Wealthy Affiliate Free vs Premium
Pro Tip:
Earlier on I mentioned that through the SiteComments platform you have the ability to earn some money by offering comments to other people's websites ($0.50 per 2 comments).
Many people are actually taking advantage of this feature to pay for their premium membership.
Let's do the math to see how many comments you need to offer a month to be able to pay for your premium membership.
Since you can earn $0.50 for every 2 comments that you offer, you need 4 comments to earn $1.
$1 = 4 comments
Wealthy Affiliate's monthly premium membership costs $49.
So, $49 = 4 comments($1) *49 =196 comments
Plus, the 50 comments that you need to qualify for the certified commenter status = 246 comments.
So, you need to offer 246 comments per month to be able to pay for your monthly premium membership.
This roughly translates to offering 8 comments a day which won't take you more than 1 hour of work.
The most commonly used excuse to not join Wealthy Affiliate is "But I don't have money to pay for the membership, snif snif"…
What's your excuse now?
Wealthy Affiliate Success Stories
I could include dozens and dozens of more success stories of WA members but for the sake of keeping this Wealthy Affiliate review as short as possible, I won't…
Instead, I decided to create a separate post dedicated to Wealthy Affiliate's success stories.
You can find it -> right here.
My Personal Experience with Wealthy Affiliate
It was August 2016…
I was working as a part-time operations clerk in an express courier delivery company.
Being promoted to a full-time employee didn't seem quite feasible so I was trying to figure out a way to cultivate a secondary, supplementary source of income in order to move out of my parents' house and become independent.
At that time, I was spending quite a lot of time online, playing games, browsing social media, watching documentaries on YouTube, etc.
One day, while watching a documentary on aliens, a random struck me out of nowhere…
"Since I am spending so much time online, why not figure out a way to make money off of it?"
It was like a switch flipped in my mind…
I immediately ditched the documentary and started conducting research.
I spent hours stumbling upon scam after scam, getting more and more frustrated and disappointed.
Eventually, while navigating around the website of yet another scam, I spotted a comment of a guy that said:
"This platform is a scam. If you are looking for a way to earn money online, check out Wealthy Affiliate".
I clicked on his link and got redirected to a Wealthy Affiliate review he had put together.
After reading his WA review thoroughly, I was pretty convinced that Wealthy Affiliate was if not exactly, very close to what I was looking for.
Since Wealthy Affiliate was free to join, I joined without a second thought.
I had literally nothing to lose.
Once I was in, I immediately started going through the free training I was offered…
In just a couple of hours, I had finished both the 10 free lessons of the OEC and the Affiliate Bootcamp and got my very first affiliate marketing website up and running.
I was ecstatic and quite ready to take the plunge and invest.
I spent a few more hours interacting with other WA members through the platform's live chat and the next day, I upgraded my free WA membership to premium.
A few months later I made my first affiliate marketing sale (I think it was in June 2017).
As of May 2019, I am earning my living online.
Right now, all of my monthly income comes through dearboss-iquit.com which is a 9-month website in conjunction with SEO and web design services I provide to small local firms.
Please note that prior to joining Wealthy Affiliate, I didn't have a single clue about creating or designing websites, doing SEO, running an affiliate marketing business or earning money online.
All my current monthly income along with the fact that I am earning it while working from home is a direct result of the skills Wealthy Affiliate taught me.
So yeah, if you ask me, Wealthy Affiliate was worth my investment.
I am sure that some of the people that will come across this Wealthy Affiliate review might disagree with me but frankly, I don't give a shit…
All I know is that Wealthy Affiliate played a very important part in me earning my living while working from home.
Wealthy Affiliate Review Summary
Wealthy Affiliate could help you build a full-time income online.
Training, live webinars, website builder, live chat, free hosting & anti-spam & SSL, and more.
Free to join. Affordable premium plans. High value for money.
24/7 tech support. Community support through live chat and PMs. Dedicated personal coach.
Dozens of success stories of WA members (I'm one of them). More are being published daily.