Nobody can deny that there's no shortage of Wealthy Affiliate Reviews out there…
However, 99.9% of them fall under just two categories:
those that praise WA to the heavens
and those that trash it to the hell
Nothing in between.
Kinda weird, right?
Well, not really…
You see, the purpose of every single overly positive Wealthy Affiliate review that exists is to promote Wealthy Affiliate in exchange for commissions.
Likewise, the overly negative ones have been created in an attempt to divert you away from it and make you sign up for one of its competitors, again in exchange for commissions.
Having said that, in this Wealthy Affiliate review, I'm going to reveal to you 5 things about WA no one else talks about.
This way, you'll be able to finally fully understand whether Wealthy Affiliate is really worth the investment of your time, energy, and money or not.
Without further ado, let's get started.
Wealthy Affiliate Review Overview
Best Affiliate Marketing Courses
What is Wealthy Affiliate?
Wealthy Affiliate is a combination of an affiliate marketing course and an online community that offers access to training modules, tools, and support that you can utilize to make money online by leveraging an online business model called "affiliate marketing".
The platform was launched back in 2005 by Kyle Loudoun and Carson Lim.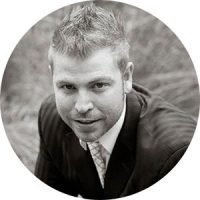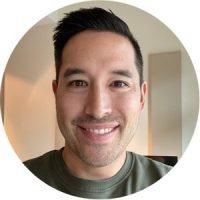 Kyle and Carson started hanging out while studying computer science in college.
After graduating from college around 2002 and being completely broke, Kyle and Carson started trying to figure out a way to earn money online.
Since they both had a fair share of experience in computers, Kyle and Carson decided to try their luck with affiliate marketing.
Fast forward a couple of years and immense amounts of trial and error, Kyle and Carson managed to build several successful affiliate websites that generated thousands of dollars in commissions per month.
At that point, in 2005, Kyle and Carson decided to launch a course that would share with other people everything they had learned about making money online with affiliate marketing.
And this is how Wealthy Affiliate came to be.
At the time of this review, WA has been operating for more than 15 years and as it seems, the platform is still thriving…
As a matter of fact, in January 2020, it surpassed 2 million registered members from all around the world, out of which, thousands have succeeded in making money online by leveraging affiliate marketing.
How Does Wealthy Affiliate Work?
Wealthy Affiliate's recipe for building a successful affiliate marketing business is comprised of 4 simple steps…
Frankly, that's the whole gist of affiliate marketing.
First, you determine the subject that your website is going to revolve around.
Then, you get your website up and running.
After that, you start employing techniques towards attracting people to your website.
Lastly, when people purchase products through the affiliate links on your website, you pocket affiliate commissions.
In the free webinar right below, Kyle explains much more in-depth exactly how to leverage this 4-step formula towards creating a successful online business from scratch.
I strongly suggest that you give it a watch.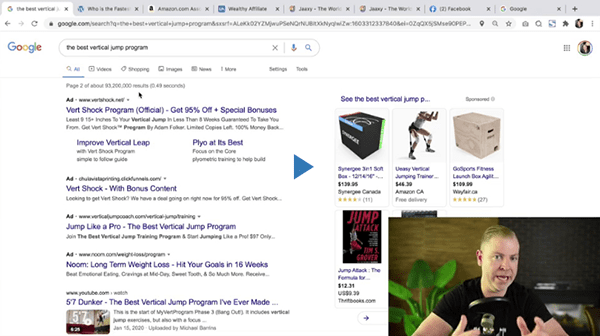 Who is Wealthy Affiliate for?
Wealthy Affiliate is mainly geared towards absolute beginner affiliate marketers who don't have that much money to invest in more expensive courses.
In addition, the platform could be of value to those who have tried finding success as affiliate marketers in the past but failed.
Furthermore, since it's free to join, WA is perfect for those who'd like to give affiliate marketing a go without investing any money to figure out if the whole process is something they would be really interested in.
On the other hand, if you're an intermediate or advanced affiliate marketer looking for some training to scale your already existing business, it might be in your best interest to invest in a higher-quality course such as The Affiliate Lab or TASS.
Also, please be aware that WA's training mainly focuses on teaching you how to keep consistently publishing high-quality written content.
Having said that, if you're not really fond of the idea of putting together articles daily, then WA is probably not for you.
Lastly, it's worth noting that Wealthy Affiliate is NOT a push-button system that will start magically funneling cash into your bank account without any effort on your part…
That being said, if you
are looking to get rich fast and effortlessly
lack patience 
tend to give up after the first setback
can't handle failing
have bought similar courses in the past but never acted upon them
then it's highly unlikely that you'll be able to become a successful affiliate marketer until you shift your perspective and mental attitude.
What's Inside Wealthy Affiliate?
The main purpose of Wealthy Affiliate is to simplify and shorten the process of finding success as an affiliate marketer.
The way that it does that is by offering access to dedicated affiliate training, tools & resources, and support.
Let's take a closer look.
Wealthy Affiliate's core training is divided into 3 different modules that approach building and scaling an affiliate business from a variety of different angles:
Online Entrepreneur Certification
Affiliate Bootcamp
and Live Webinars (Classes)
Online Entrepreneur Certification
The Online Entrepreneur Certification (OEC) consists of 5 phases (50 lessons) that walk you through the process of creating and growing an affiliate business from scratch around any subject (aka "niche") that you'd like.
All the lessons within the Online Entrepreneur Certification have been put together by WA's co-founder, Kyle, and consist of both text and video that could range anywhere between 10 and 60 minutes.
Some of the things that are being taught within the Online Entrepreneur Certification include:
Choosing a subject for your website (aka "niche")
Creating & setting up your very first website
Understanding keywords
Conducting keyword research
Social media marketing
Search Engine Optimization (SEO)
Locating & joining affiliate programs
& more
At the end of each lesson, you'll be encouraged to complete a few actionable tasks before moving on to the next one.
Those tasks give you a pretty nice "push" to actually act upon what you learn within each lesson.
As a free member of Wealthy Affiliate, you'll be able to access just the first 10 lessons of the Online Entrepreneur Certification.
To get your hands on all of OEC's 50 lessons, you'll have to become a premium member.
The Affiliate Bootcamp is pretty similar to the Online Entrepreneur Certification in terms of structure, with the exception that it consists of 7 Phases (70 lessons) that walk you through the process of creating and establishing a business in a niche related to promoting Wealthy Affiliate, such as
The Make Money Online niche
Affiliate marketing
Personal finance
Entrepreneurship
Side-hustles
etc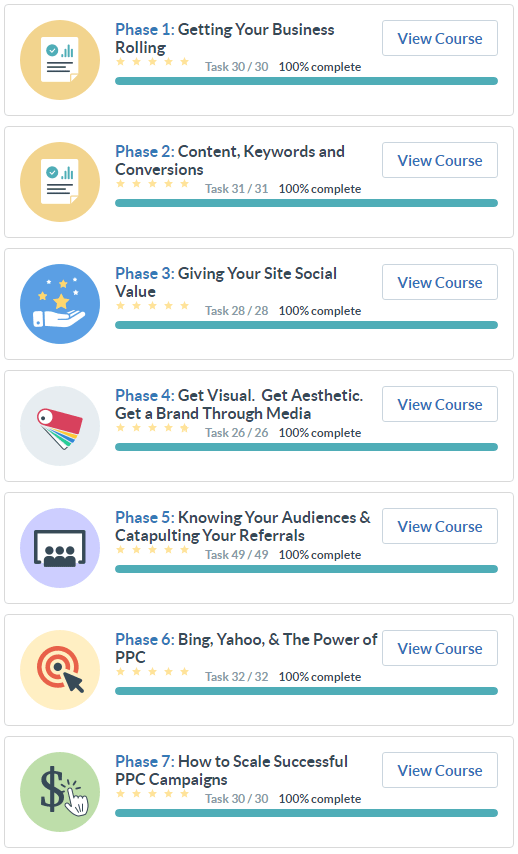 Some of the things you'll learn within the Affiliate Bootcamp include
Creating & setting up a website
Promoting your website on social media
Writing product reviews
Increasing traffic & conversions
Creating videos & graphics
Building a brand
Using paid ads to attract traffic
& more
Free WA members can access just the first 10 lessons of the Affiliate Bootcamp.
To get your hands on all of the 70 lessons of the Affiliate Bootcamp, you'll have to become a premium member.
The last part of WA's core affiliate training consists of live classes (webinars) that take place 3 to 5 times per week.
The webinars are mostly presented by Kyle Loudoun (WA's co-founder), Jay Neill (WA's training chief), as well as a couple of other seasoned WA members.
Each webinar lasts anywhere between 60 and 90 minutes and revolves around a specific topic that is meant to help you improve a certain aspect of your affiliate business, such as
Growing a YouTube channel
Writing more effective content
SEO techniques & checklists
Creating landing pages
Case studies
Leveraging Pinterest
Tracking & scaling conversions
& more

Most of the time, webinars get released in series.
A series usually contains 4-5 webinars that get streamed weekly and cover a particular topic in detail.
The last 20-30 minutes of the vast majority of the webinars are devoted to live Q & A sessions with the person that presented them.
If for some reason you can't attend the live broadcast of a webinar, you'll still be able to watch its replay once it gets uploaded to the platform, a few days later.
Lastly, you can also access the replays of all the live webinars that have been held since 2012 (300+ webinars).
To be able to successfully implement everything that's being taught within its core training, all WA members are granted access to a bunch of tools and resources, such as
Keyword Research Tool
Website Builder
SiteComments
and SiteContent
Keyword Research Tool (Jaaxy)
One of the most important skills you'll have to master if you want to succeed as an affiliate marketer is conducting keyword research.
Locating and using the right keywords on your website is key to receiving healthy amounts of free traffic via search engines like Google, Bing, Yahoo, etc.
Having said that, Wealthy Affiliate has a built-in keyword research tool called "Jaaxy" that'll help you find keywords that are relevant to your niche as well as determine if you should use them on your website or not.
For instance, if Jaaxy reveals that a particular keyword is too competitive or has very little monthly search volume, using it on your website isn't really suggested.
Anyway, everything you'll need to know about keywords and Jaaxy is covered in great detail within WA's core training.
Besides keyword research, Jaaxy performs an array of other functions, such as
Monitoring your site's rankings & authority
Creating and storing keyword lists
Analyzing your competition
The alphabet soup technique
Locating affiliate programs
& more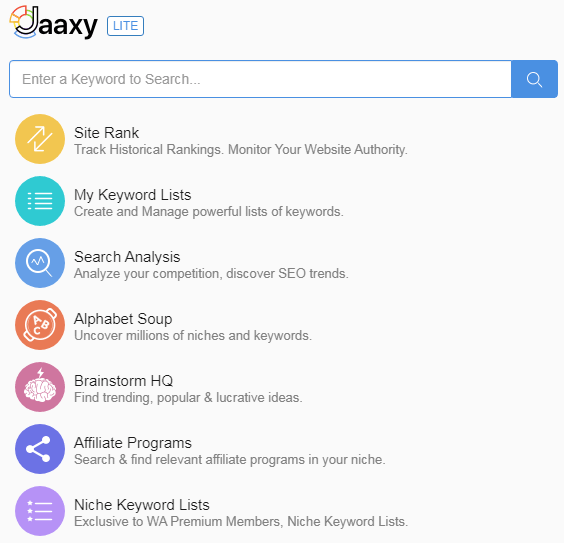 Website Builder (SiteRubix)
Another pretty useful tool you'll get your hands on upon joining Wealthy Affiliate is "SiteRubix".
SiteRubix is a WordPress-based website builder that's been created by WA for the purpose of minimizing the time and effort required to create websites from scratch.
As a matter of fact, the process of getting your affiliate website up and running with SiteRubix consists of just 4 simple steps:
Choose your domain name
Fill in the title of your website
Select a WordPress theme
Click the "Build my website" button
In the video right below, Kyle demonstrates how anyone can leverage SiteRubix to get a brand new affiliate website live in just 30 seconds.
Every website that's built with SiteRubix is automatically hosted on Wealthy Affiliate's shared hosting for free.
Free WA members can host just one 1 website on WA's servers while premium members can host up to 10 different websites simultaneously.
SiteComments is a credit-based platform that allows you to earn "community credits" for posting comments on the websites of other WA members.
Those community credits can then be redeemed for requesting comments on specific pages or posts on your own website.
Receiving comments on your website can have a rather positive impact on the trajectory of your online business, such as:
Better search engine rankings
More credibility & trustworthiness
Higher conversions
Boosted user engagement
Social proof
& more
On top of that, by meeting certain requirements, you can achieve the status of "Certified Commenter".
As a certified commenter, you'll able to pocket $0.50 for every 2 comments you offer.
A few months ago, after becoming a Certified Commenter myself, I managed to generate $125 in a month by offering just 15 comments per day.
Becoming a certified commenter won't help you earn a life-changing income but it's a pretty nice way to pocket some extra side-cash with minimal effort while working on your online business.
Pro Tip: By offering around 10 comments per day as a Certified Commenter (1 hour of work), you'll be able to fully cover the costs of WA's premium monthly membership.
SiteContent is a writing platform that performs functions, such as:
Grammar & spelling checks
Content structure analysis
Vocabulary suggestions
Creating article templates
Tracking writing activity
& more
Furthermore, SiteContent comes with a library of royalty-free images that you can import into your content without being worried about violating any intellectual property rights.
If you don't have much experience in putting together content and/or if your native language is not English, SiteContent will most likely help you enhance the speed, effectiveness, accuracy, and quality of your writing efforts.
Last but not least, WA enables all its members to request support in 4 different ways:
SiteSupport
Live Chat
Private Messaging
and Community Questions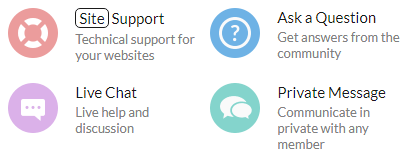 SiteSupport is an internal ticketing system that allows you to communicate with WA's tech support team regarding technical issues you might be facing on your website.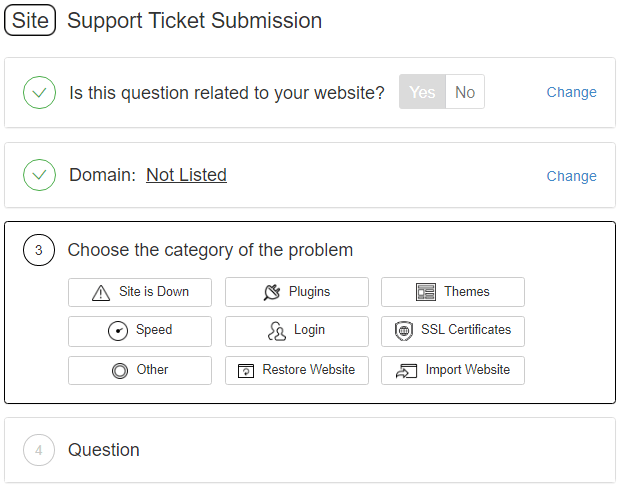 SiteSupport operates 24/7 so the time it takes for them to respond to most queries ranges from a few minutes to no more than an hour regardless of what time or what day it is.
Wealthy Affiliate's live chat is by far the fastest way to receive support from other affiliate marketers, senior coaches, or maybe even one of the founders.
Many successful WA members claim that the fast support they were able to receive through the platform's live chat played an integral part in their success.
Private messaging allows you to receive focused and in-depth support from any affiliate marketer within the WA community, including Kyle and Carson, in private.
However, the main setback of utilizing private messaging for support is that the large lag times between replies can drag conversations on for many days until you finally receive a sufficient resolution to the issue you were facing.
The last way of receiving help and support as a WA member is through posting questions publically within the WA community.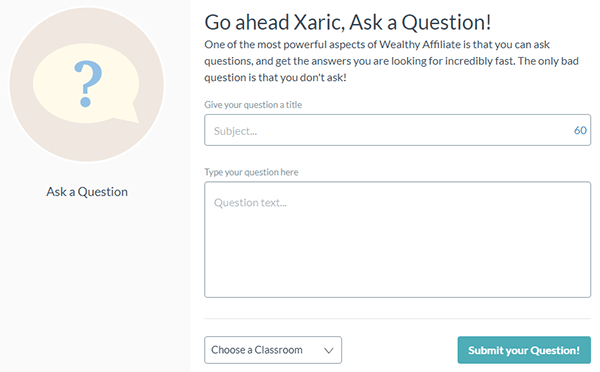 Community questions are displayed on Wealthy Affiliate's main newsfeed and classrooms and are viewable by all WA members.
Most community questions receive multiple replies within just a few minutes.
The video right below gives a pretty nice overview of everything you'll get upon joining WA so make sure to watch it before moving on.
How Much Does Wealthy Affiliate Cost?
Wealthy Affiliate has 3 membership options:
Free
Premium
and Premium Plus
Wealthy Affiliate is free to join, no credit card required and no hidden expenses.
In addition, you can remain a free WA member for as long as you like (no forced upgrades).
However, please note that WA's free members have limited access to the vast majority of the platform's features, functions, tools, and resources.
Truthfully, the sole purpose of WA's free membership is to let you get your feet yet in order to understand whether you'd like to invest in one of its premium plans or not.
The premium and premium plus memberships can be paid either monthly or yearly.
Right below you can see for yourself all the differences between the free, premium, and premium plus memberships.

Unlike the vast majority of affiliate courses out there, Wealthy Affiliate allows anyone to try it out for free.
This gives wannabe affiliate marketers the opportunity to get their feet wet without any financial commitment.
Truth is that there's no better way of gathering enough information about any given product/service than trying it out yourself.
In its 15 years in business, Wealthy Affiliate has built quite a large reserve of tools that have the potential to make your journey to becoming a successful affiliate marketer much easier.
For instance, the website builder allows you to build affiliate websites in mere minutes without any hustle whatsoever.
Jaaxy takes away all the guesswork by helping you locate the right keywords for your website.
SiteContent helps you create higher-quality content a lot faster.
The live chat and the community questions enable you to receive support from other members of the platform almost instantly.
SiteSupport completely takes off your shoulders the burden of having to figure out fixes for your website's technical issues.
In my 4 years as an affiliate marketer, I've never come across another affiliate course that equips its members with such an enormous array of tools under just one roof.
3. Dozens of Success Stories
During the last 2 years, I've personally researched, studied, and tried more affiliate marketing courses than I can count.
None of them had nearly as many success stories as Wealthy Affiliate.
You can take a look at a bunch of them right below.
Take a look at some more Wealthy Affiliate success stories right here.
Over the years of its existence, Wealthy Affiliate has managed to build a very solid reputation online.
For instance, the BBB (Better Business Bureau) has rated Wealthy Affiliate with an A+, which is actually the highest possible BBB rating.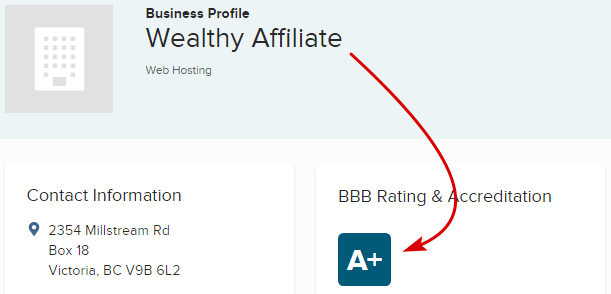 While BBB is an independent organization, not an official business evaluator, the higher the BBB rating a company receives, the more credible and trustworthy it is considered.
Furthermore, Wealthy Affiliate has been rated with 4.8 out of 5 stars based on over 300 user reviews on Trustpilot.
Right below you can take a look at what some people have to say about their experience with WA: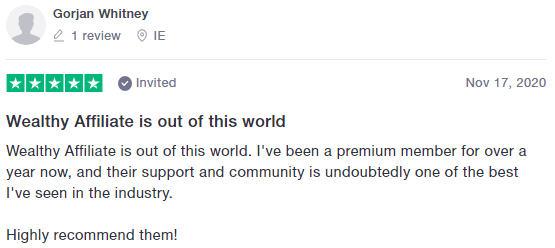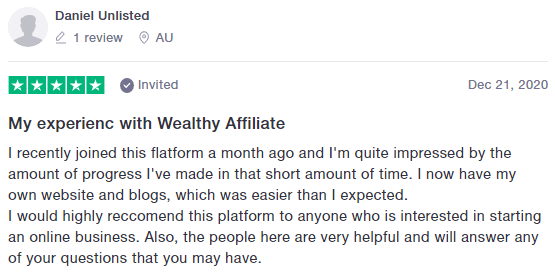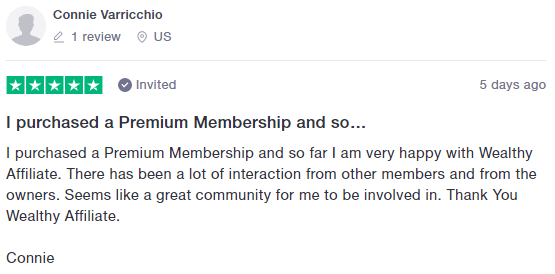 One of Wealthy Affiliate's most valuable assets is its thriving community of aspiring and successful affiliate marketers.
As a matter of fact, with over 32,000 daily interactions, the WA community can be considered among the most populated and active affiliate marketing communities in the world.
Many WA members claim that the WA community is easily worth the price of the paid memberships alone.
1. Core Training Lacks Depth
One thing that I don't like about Wealthy Affiliate is that its core training doesn't cover at all several rather significant online marketing practices, such as:
Email marketing
Featured snippets
Page builders
Backlink building
Manual competition analysis
Conversion optimization
& more
While none of those practices are "really mandatory" to start making money online, they could positively influence the rate at which your business grows, not to mention the revenue it generates.
To be fair, if you dig around a bit within the Wealthy Affiliate community, you'll probably be able to locate a few training modules, webinars, or classrooms that cover most of those subjects to some degree.
However, since Wealthy Affiliate claims that it's "A Platform Designed For Affiliate Marketers Of All Levels", and not just for complete newbies, all those practices should really be covered within its core training.
Wealthy Affiliates boldly claims that it offers the "Best Managed WordPress Hosting".
In addition, it supports that its hosting is higher-quality than the $200/month hosting packages provided by some of the most reputable hosting providers out there such as WP Engine, and Kinsta.
This couldn't be further from reality for two main reasons…
First, WA's hosting has low server uptime (the total duration for which a server is online and functioning normally).
Secondly, it has slow response times (the speed with which your website starts being served to end-users).
Both low server uptime and slow response times contribute to a bad user experience, something that will most likely impact your online business in a very negative way.
After spending several weeks conducting experiments on several other hosting providers, I found out that WA's "managed hosting" is actually way worse than a shared hosting plan that costs less than $5 per month.
As mentioned earlier, one of WA's strongest points is its active affiliate community.
However, every upside has a downside…
The downside here is that most of the activity that takes place in the WA community consists of just unnecessary noise and useless information that has nothing to do with building an online business.
That's partly because most WA members tend to utilize the platform's community as a social network – to ramble on about random stuff in order to draw the attention of other members and receive more likes and followers.
While such a community could be fun, there's a time and a place for everything…
Constantly stumbling upon community posts or chat conversations about dogs, the weather, or how to bake a carrot cake is rather distracting and counterproductive.
The even worse news is that Wealthy Affiliate actually rewards the members who are the most active within its community by increasing their "rank".

The 25 members that contribute the most in WA's community get awarded with an "Ambassador" badge.
Achieving a high rank or becoming an Ambassador serves no purpose whatsoever and is correlated in no way with someone's ability to make money online.
You can become a WA Ambassador and still have a website with one article that has received zero visits for the last 5 months…
As a matter of fact, many newbies who make no money online end up becoming Ambassadors as a result of being way too distracted by the WA community to actually work on their online business.
4. Inaccurate Keyword Tool
As mentioned earlier, upon joining WA you'll gain access to a keyword research tool (Jaxxy) that will supposedly help you conduct proper keyword research for your website.
The way Jaaxy works is by outputting a bunch of data about any given keyword you insert in it.
Based on this data, you can then determine if the keyword is viable for use or not.
To give you an overview, keywords that according to Jaaxy's data receive no traffic or have too much competition should be avoided.
The problem here is that I've come across multiple instances whereas the data Jaaxy returned for a keyword was highly inaccurate.
To give you an example, according to Jaaxy, the keyword "tap2earn.co review" receives less than 10 searches and traffic per month (see image below).

Based on those numbers, I shouldn't use the keyword on my website as it receives very little traffic.
However, I did use it!
And according to Google Search Console, it received over 91,000 searches that drove over 2,600 visitors to my website in just one month (see image below).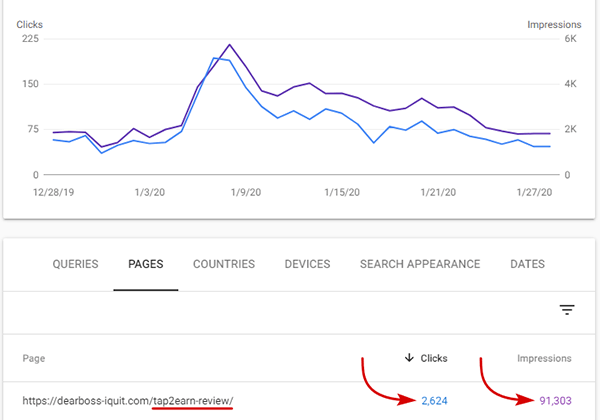 This means that if I had acted based on Jaaxy's data, I wouldn't have used this keyword on my website, and subsequently, I'd have missed out on all this traffic and the revenue it generated.
And unfortunately, this example wasn't just an isolated incident…
5. Unskilled Tech Support
Upon realizing that WA's low-quality hosting made my website load slower than a herd of turtles stampeding through peanut butter, I reached out to SiteSupport for help.
However, not only they were of no help whatsoever, but they kept blaming everything else besides the actual cause of the problem, the server.
First, they claimed that my website was loading slowly due to a faulty plugin.
I disabled the plugin.
Nothing changed…
Then they supported that it was the theme's fault and that I should contact its developer for help.
I told them that the exact same theme was used on another website hosted on another provider that loaded in less than 2 seconds.
Then they told me that my website's slow loading speed was due to the page builder I was using.
So, I disabled the page builder and created a completely empty page.
The page did load a tiny bit faster but it was still light years away from actually loading fact.
And it was just an empty page – no text, no images, no videos, nothing.
After that, SiteSupport told me that I should change my website's theme.
I changed the theme but the loading speed remained exactly the same.
Then they told me that a "senior admin" would look into the issue.
They didn't update me for 3 days.
When the "senior admin" finally got back to me they told me that they had moved my website to one of their "better" servers.
However, nothing changed… My website's loading speed remained exactly as slow as it used to be on the previous server.
This was 12 months ago.
To this day, I still haven't heard from SiteSupport.
They just stopped bothering.
In the meantime, I moved my website to SiteGround's cheapest hosting plan that costs less than $8 per month.
The quality of their hosting and support is 100 times higher than Wealthy Affiliate's.
Thinking back, I realize that SiteSupport had left me hanging multiple times in the past.
For instance, about a year ago, I was unable to upload images to my website's media library.
SiteSupport claimed that it was due to an issue with the WordPress media uploader and suggested that I upload all my files via FTP, which is a very time-consuming and inconvenient process.
After spending a couple of hours conducting research, I found a solution to the issue myself.
It had nothing to do with the WordPress media uploader as SiteSupport had suggested.
Lastly, a few months ago, a test website that I was still hosting on WA's servers started behaving abnormally.
After contacting SiteSupport, they ensured me that after scanning the website with their online scanner, they didn't detect any malware…
However, since the website was still not operating normally, I decided to scan it myself using a free online malware scanner and found out that it had indeed been infected by malware.
Upon removing the malware, the website's operation returned to normal almost instantly.
I have to recognize is that SiteSupport has helped me effortlessly resolve dozens of minor technical issues, such as
getting locked out of my website
being unable to uninstall a plugin
crashing editor
resetting my FTP credentials
etc
However, as it seems, they have a very hard time handling issues that require extra effort and attention.
The skilled sailor is known in rough seas.
Apparently, SiteSupport's sailors aren't skilled enough…
My Personal Experience with Wealthy Affiliate
Back in 2016, I was working a dead-end, part-time job at a large international company.
Around June of that same year, I started trying to figure out a way to make some extra money to supplement my monthly income.
One day, literally out of nowhere, I heard a voice inside my head (I swear, I'm not crazy) saying:
"Why don't you try to figure out a way to build an income online?"
Click!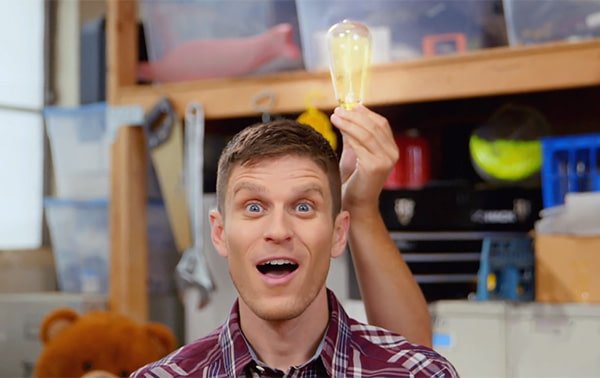 I immediately went online and started doing research!
Over the next couple of weeks, I spent several hours per day trying and testing dozens of money-making platforms.
The vast majority of them promised to show me the "secret hack" to funneling thousands of dollars into my bank account overnight without any effort.
Yeap, they were all scams!
And unfortunately, this seemed to be the norm.
The more I kept researching, the more making money online felt like a dead-end.
Right before I was about to give up my research, I stumbled upon Wealthy Affiliate.
After reading a couple of Wealthy Affiliate reviews, I was pretty convinced that the platform was if not exactly, very close to what I was looking for.
At that time, I didn't have a single clue about affiliate marketing, online businesses, writing content, or creating websites…
However, since WA was free to join, I had literally nothing to lose, so I decided to try it out just for fun.
Once I was in, I immediately starting going through the free training, and about an hour later, my very first online business was up and running.
After that, I spent a couple of hours interacting with other WA members on the live chat, and the next day, I upgraded to premium.
A few months down the road, after putting into practice everything I learned in WA's core training, I managed to earn my first money as an affiliate marketer…
It was a $30 commission generated from the sale of a self-development course I had reviewed on one of my affiliate websites…
I was E-C-S-T-A-T-I-C!
Fast forward a couple of years of working my ass off and I'm now pocketing commissions like these every single month: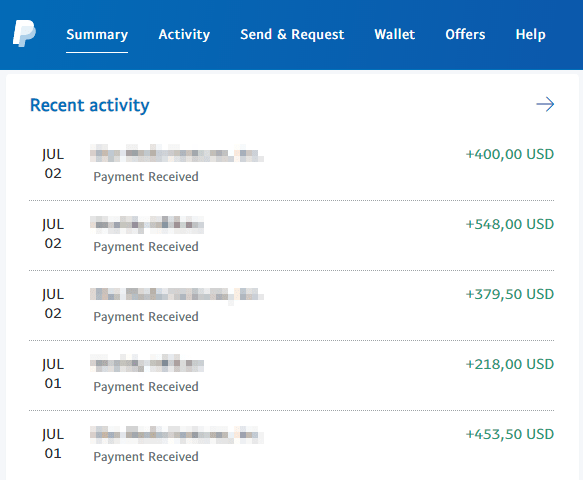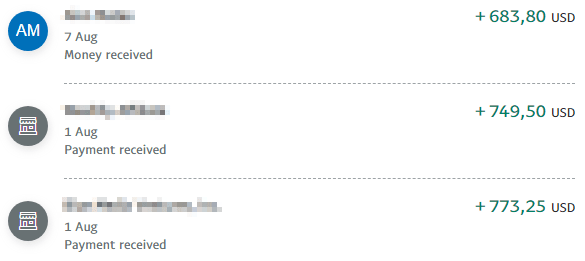 Just like any given affiliate marketing course, Wealthy Affiliate is definitely neither perfect nor a guarantee to success…
Nonetheless, my overall personal experience with it has been mostly positive.
Despite all its shortcomings, Wealthy Affiliate still helped me build a successful online business that brings in a full-time income.
So in my eyes, it was absolutely well worth all my investment.
Overview of Everything Wealthy Affiliate Offers
How to Join Wealthy Affiliate
Joining Wealthy Affiliate is extremely straightforward…
First, head over to wealthyaffiliate.com
Then fill in your email address in the field as depicted in the image below and click the "Get Started" green button.
After that, fill in your name, select a username, submit a password, and click on the "Get Started Now!" green button.
Once you're inside, make sure to watch the introductory video.
Lastly, click the "Start Lesson 1" blue button on the top right corner of the page to immediately get started with your free training.
That's it!
You're now officially a starter member of Wealthy Affiliate.
(Click on each question to expand)
5 Things About WA No One Else Tells You
1. It's Neither the Best Nor the Worst
As mentioned at the beginning of this review, there are 2 kinds of Wealthy Affiliate reviews out there…
Most, claim that WA is "one of the best ways to make money online".
The rest of them, support that the platform is the worst thing since Covid-19.
Frankly, all of those claims are dead wrong.
The ultimate truth is that just like any other product/service, Wealthy Affiliate could be of immense value to some, and of little or maybe even no value to others…
For example, Wealthy Affiliate is perfect for wannabe affiliate marketers who don't have hundreds or thousands of dollars to invest in courses such as TASS or Super Affiliate System.
On the other hand, if you're an intermediate or advanced affiliate marketer who's after scaling an existing online business that's already generating some decent revenue, then you should probably forget about WA and consider checking out other, higher-quality courses such as, The Affiliate Lab and/or Commission Hero.
2. Less Than 0.05% of Its Members Are Actually Active
In an attempt to boost its credibility as well as convince newbies that "they'll always be able to receive fast help if they get stuck", the vast majority of those who promote Wealthy Affiliate tend to imply that its community consists of over 2 million active members…
While back in January 2020 WA indeed reported that it surpassed the 2 million-member mark, this number doesn't reflect actual active members but rather registered ones.
The truth here is that out of the 2 million people who have joined WA over the years, less than 0.05% (500 – 1000) are actually active within the Wealthy Affiliate community.
The rest of them have either quit after trying the platform for a while, or left without taking any action whatsoever right after creating their free account.
Nonetheless, still, an online community with 500-1000 active affiliate marketers isn't half bad, especially if you consider that the communities of most affiliate marketing courses are either extremely inactive or completely deserted.
Despite the fact that I'm personally not that active inside the WA community, about once per week, I come across a starter member throwing a hissy fit on WA's chat because they can't get their hands on the vast majority of the platform's features unless they pay a membership fee.
For some reason, there's a pretty common misconception that Wealthy Affiliate is completely free to use…
After conducting some research, I've come to realize that in an attempt to attract more referrals, a huge chunk of the affiliate marketers that are promoting Wealthy Affiliate, falsely advertise it as a platform that will teach them how to build an online business for free.
This couldn't be further from reality…
While WA is indeed free to join, free members aren't granted access to enough resources to scale their online business to success.
The only way to end up making money online as a free WA member is if you already know how to do so, in which case you don't need to bother with joining the platform in the first place.
Truth is that the sole purpose of WA's free membership is to allow you to get a taste of the platform in order to be able to make an informed decision about whether you should become a premium member or not.
Nothing more, nothing less…
4. It's Neither an MLM Nor a Pyramid Scheme
Okay, now, most Wealthy Affiliate reviews that have been created for the purpose of trashing the platform have one thing in common…
They all make claims that WA's affiliate program is an MLM or a pyramid scheme or that "it displays characteristics of both".
Frankly, anyone who makes such claims is clearly clueless regarding what MLMs and pyramid schemes really are.
Multi-Level Marketing is a marketing strategy that allows people to earn commissions on the sales that take place on multiple levels of referrals [your referrals (level 1), your referrals' referrals (level 2), etc.]
Wealthy Affiliate's affiliate program pays commissions ONLY on the sales YOU make, NOT on the sales made by your referrals or their referrals.
That being said, if WA is to be categorized as an MLM, then Amazon, Apple, Walmart, eBay, Etsy, and virtually every other major global corporation that runs a pretty standard affiliate program is an MLM as well.
A pyramid scheme is a "business model" whereas the only way to generate money is by recruiting others into the scheme rather than selling an actual product or service.
WA is a course that provides training and tools towards making money online by building an affiliate marketing online business.
That's service!
Again, calling WA a pyramid scheme just because it runs an affiliate program is absurd…
Almost every single affiliate marketing course on the face of this Earth (The Affiliate Lab, Project 24, TASS, etc, etc) has an affiliate program in place that pays commissions for referring other people to it.
I haven't seen anyone calling any of those courses pyramid schemes.
In conclusion, if someone's trying to convince you that WA is an MLM or a pyramid scheme, chances are that they're trying to deceitfully discredit WA in order to get you to sign up for a similar course that they promote.
5. Its Live Webinars Are Superficial
A large percentage of the affiliate marketers that are promoting Wealthy Affiliate, leverage the platform's live webinars as a major selling point…
Some might even claim that it's one of WA's best features.
Personally, I don't really see it…
Truth is that most of WA's webinars provide very superficial information about their target subject without investigating it in any substantial depth.
In addition, I've noticed that most of the webinars tend to go completely off-topic very frequently and for large amounts of time.
For instance, a couple of weeks ago I sat through a webinar called "Opt-in Strategies for 2020".
The first half of the webinar described how email marketing is still important.
The second half revolved around setting goals in Google Analytics.
Both of those subjects have NOTHING to do with actual opt-in strategies.
Such deviations and inconsistencies are pretty common among most of the webinars held within WA.
Nonetheless, if you're just beginning as an affiliate marketer, attended some of them will probably benefit you in some way.
However, if you already possess some basic affiliate marketing knowledge, it's extremely unlikely that you'll find any value in them.
Wealthy Affiliate Review Summary
Most of the successful WA members, make up to $5000 per month.
Core training, live classes, website builder, keyword tool, hosting, live chat, & more.
Free to join. Affordable premium plans. Pretty solid value for money.
Tech support + community support through live chat, PMs, and public questions.
More success stories than most affiliate marketing courses out there.
(Click Each Question to Expand)
Conclusion
Despite all its cons, Wealthy Affiliate can still be classified among the best affiliate marketing training platforms out there.
Its core training might lack information on a number of useful practices but it's undeniably way better than the straight-up, low-quality training the majority of other affiliate marketing platforms offer which frankly doesn't even cover the very basics (especially those found on ClickBank & WarriorPlus).
Wealthy Affiliate's tech support might have difficulty resolving challenging technical issues that require extra time and attention but nonetheless, I'd rather have some tech support backing me up than having no tech support whatsoever.
The platform's community might consist of unnecessary noise and distractions but I definitely prefer such a community over a completely deserted one whereas there wouldn't be a single soul to support and help you.
Its hosting might be slower than it should, but at least it's free for up to 50 websites and you won't even have to bother setting it up.
Lastly, there might be a few complaints about Wealthy Affiliate here and there but all of them seem to be regarding pretty minor issues not to mention that Wealthy Affiliate seems to be trying to resolve every single one of them, something that indicates that Wealthy Affiliate values their customers.
So, is Wealthy Affiliate suggested?
Well, it all comes down to the two following instances:
What your financial goals are
How far are you willing to go to reach those financial goals
For instance, if you are looking for a way to earn an extra $100 – $200 per month without much fuss and struggle, then, instead of going for Wealthy Affiliate, you might want to consider checking out a couple of GPT (Get Paid To) platforms, such as
On the other hand, if you'd like to build a full-time income online, then Wealthy Affiliate might be one of your best chances to do so.
However, if you aren't willing to devote time and do the required work, well, then you are f*cked…
And not just because Wealthy Affiliate isn't the kind of place that will pay you thousands of dollars tomorrow for doing nothing, but because there's no such place whatsoever…
While we are on this subject allow me to state loud and clear that THERE ARE NO SHORTCUTS OR MAGIC BULLETS TO SUCCESS!!!
Get that very well in your head and please stop looking for one because let me assure you that you are wasting your time and energy.
Whoever claims that they can show you "The blueprint to earning $5000 by next weekend" or how to "Earn $500 on social media TODAY!" is straight-up lying their ass off in an attempt to either get their hands deep in your pockets or waste your time, or both.
So, yeah, Wealthy Affiliate is not a magic bullet or shortcut to success in any kind of way… It won't help you earn $20.000 in 79 hours and you won't magically go from broke to earning 6 figures per minute just by joining the platform.
Wealthy Affiliate's sole job is to reduce the learning curve of building a profitable affiliate marketing business by providing you with the necessary training, tools, and support.
This is it!
Nothing more… Nothing less…
It's ultimately UP TO YOU to utilize everything Wealthy Affiliate offers towards reaching your financial goals.
Becoming the next success story of Wealthy Affiliate will be an ongoing process that requires
Following Wealthy Affiliate's training
Working your ass off
Being patient
Going through tons of trial and error
Investing huge chunks of your free time in front of a computer writing articles
Taking risks
probably for many months before you even get your hands on your first affiliate marketing commission.
So, the question is this…
Are you willing to go through everything I've just mentioned without getting paid a single dime for at least 6 months?
If not, then don't even bother joining Wealthy Affiliate because chances are that you'll just quit a few days later.
If yes or if you are not really sure, since you are here, and since Wealthy Affiliate is free to join, you might as well give it a try and experience first hand what the platform has to offer…
You have literally nothing to lose.
If you are interested in starting your own affiliate business but for some reason, Wealthy Affiliate didn't sit quite right with you, then you might want to check out The Affiliate Lab.