I am not that surprised…
Since you are after earning money online then sooner or later you'd stumble upon The Authority Site System (TASS).
In short, the Authority Site System is a training platform that lays down a proven, step-by-step system of building 6-figure authority websites…
But is it really?
Or is The Authority Site System making such claims because its owners are just after getting their hands deep in your pockets and wasting your time just like the thousands of other scams that exist out there do?
Well, keep reading because you're in for a huge surprise!
This Authority Site System review contains every piece of information you might possibly need to make a 100% informed decision about whether The Authority Site System is worth your time, attention, and money or not…
Some of the things that I'm going to be talking about here include:
What is The Authority Site System?
How does The Authority Site System work?
Who is The Authority Site System for?
What's inside The Authority Site System?
How much does The Authority Site System cost?
The Authority Site System's pros and cons
Is The Authority Site System a scam?
In addition, I'm going to reveal to you another training program kinda similar to The Authority Site System which helped me go from zero to earning a full-time, passive income online that you might want to check out.
Without further ado, let's get started!
The Authority Site System Overview
What is The Authority Site System?
The Authority Site System is a platform that offers step-by-step training towards building 6-figure, authority, affiliate marketing websites, created by Gael Breton & Mark Webster, owners of Authority Hacker dot com.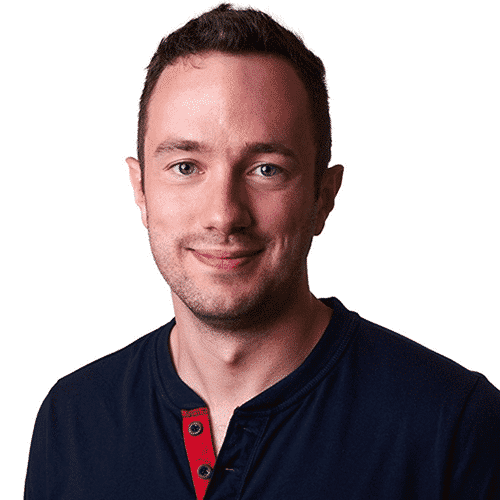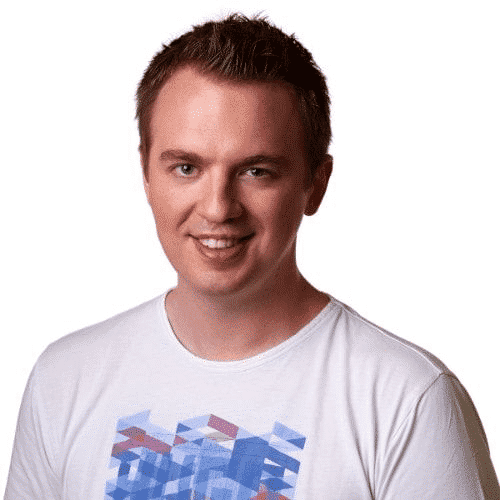 After graduating from college in 2008, Mark landed a job at an insurance company.
Just 15 minutes after he started that job he realized that he hated it and so he spent the rest of the year trying to figure out a way to escape.
During that time, quite a lot of his friends were involved with the affiliate marketing business model.
Mark decided to start utilizing affiliate marketing as well in an attempt to build an income online that would eventually allow him to quit his job.
The problem was that he had absolutely no clue about how or where to get started, let alone how to make money with it.
After talking to his mom about affiliate marketing, she saw how excited he was and went and picked up a book to help him get started!
With the help of that book, Mark got his first affiliate marketing website up and running…
However, after going through a lot of trial and error for a few months, he saw almost no results whatsoever…
At that point, Mark decided to ditch his first website, quit his job and move to Thailand where he started working as a scuba diving instructor.
After a while, he moved to Australia and became a farmer and a few months later he moved to Southeast Asia where he decided to put together and start selling his own ebook about travel hacking (frequent flyer miles, credit card points, etc).
He went ahead, created a 40-page ebook, uploaded it to ClickBank and built a website about it.
However, his ebook was very low-quality and so people were requesting a lot of refunds for it… In addition, he received no traffic to his website.
His project didn't even remotely generate the amount of money he initially expected and so 3-4 months later he decided to shut it down…
One night, while in a bar in Singapore, he met Gael.
Both Mark and Gael were about to start heading to Malaysia.
They got to talking and when they arrived in Malaysia they started hanging out and became friends.
At that time, Gael was working as an intern at an SEO company in Malaysia.
One day while hanging out, they came up with the idea of starting a business together which would mostly focus on providing SEO and Web Design services.
Mark would do the Web Design and Gael the SEO.
The next night they sat down, planned out their company, bought a domain name and a WordPress theme, mapped out some SEO and Web Design packages and launched a digital marketing agency which was initially called "Mad Cheap SEO" (later renamed to "Higher Click").
This took place in 2010.
The company grew very quickly and got hundreds of clients in just a few months.
However, eventually, Gael and Mark realized that running Higher Click wasn't really what they'd like to do for the rest of their lives so, in 2012, they decided to start shifting their focus on building high-authority websites…
The very first authority website they launched was called "Health Ambition"…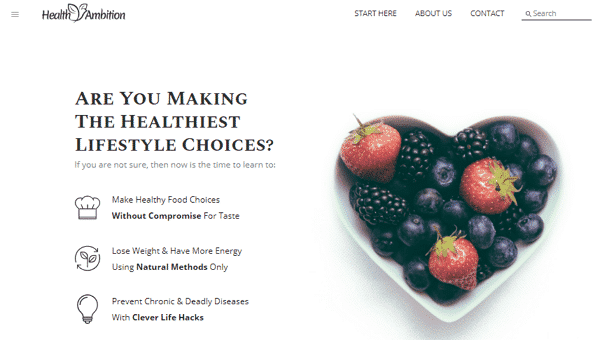 A few months later they launched Authority Hacker as a way to share with people all the knowledge they had gathered about starting and growing an online business.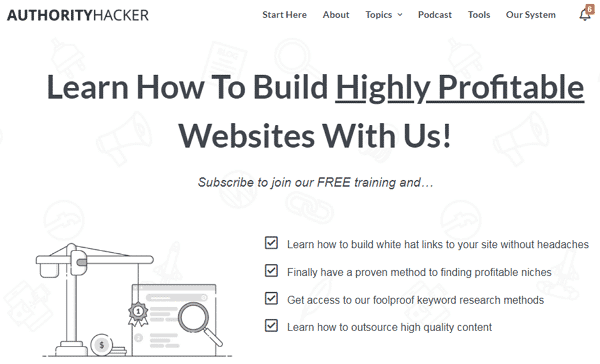 In 2015 they sold Higher Click in order to invest all their time, money, and energy in building numerous other authority websites.
Since then, they have built dozens of authority sites that have generated millions of dollars in revenue for them.
In 2016, Mark and Gael decided to take everything that had worked for them up until that point and mold it into a complete step-by-step training course for building highly profitable authority sites from the ground up.
And this is how The Authority Site System was born!
Gael and Mark claim that they are doing their best to make The Authority Site System the training they wished they had during their arduous journey.
Right now thousands of people have been able to quit their jobs, scale their traffic, automate their business processes and make a fortune from their websites by leveraging everything The Authority Site System offers.
Right below I've included a video interview of Mark Webster with Miles Beckler.
Within that interview, Mark shares a lot more about his story, how Authority Hacker and The Authority Site System came about, as well as several insights about finding success online.
I strongly suggest that give it a good watch!
Before sharing with you everything you'll get if you decide to go for The Authority Site System, I'd like to let you know who is the course mainly addressed to…
This way, if you deem that TASS is not for you, you won't have to completely waste your precious time and energy reading through the remaining 5000+ words of this review for nothing.
Who is The Authority Site System for?
In a nutshell, The Authority Site System is mainly for those who want to build a stable, sustainable, long-term, full-time income online.
Mark and Gael built TASS with complete beginners in mind so if you are looking to build your first money-making website but have not a single clue how to get started, worry not…
It doesn't really matter
if you have previous experience in affiliate marketing or creating websites
if you've gone to college or not
if you have a background in digital marketing, or sales, computer science, or not
The Authority Site System details every step that you'll need to take towards building a highly profitable, authority website in an over-the-shoulder fashion.
If you can watch videos, read text, and follow instructions, then you already possess the skills required to utilize everything the course teaches.
The Authority Site System is also for those who have tried building a full-time income online in the past using another program but failed.
In addition, TASS could also be of amazing value to those who are currently running an online business which doesn't generate the revenue they'd like.
Lastly, TASS is also addressed to those who are already running one or more successful online businesses and would like to figure out an efficient way of creating and maintaining a portfolio of passive income websites (that's exactly how Mark and Gael are currently generating their monthly 6-figure income).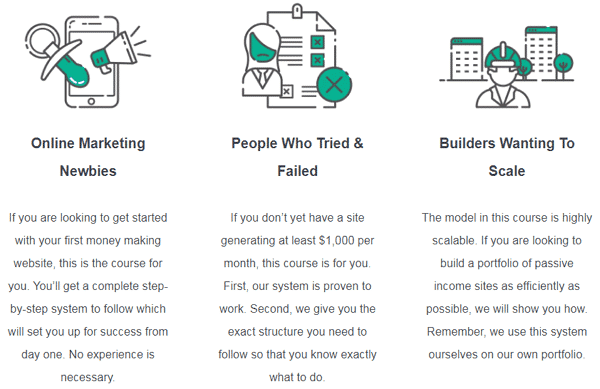 Who is The Authority Site System NOT for?
The Authority Site System is definitely NOT for those who
Don't have enough money to invest in purchasing TASS and/or the tools suggested within its training
Expect that they will make tons of money fast and effortlessly
Don't want to put in the time and effort
Don't have the patience to work on their site for at least 6 months before they start seeing any results
Have bought similar courses in the past but never bothered to act on them
Are not willing to take monetary risks
Usually, give up at the first setback or failure
Expect every little step to be detailed for them
If one or more of the instances described right above apply to you, then I'm sorry but you're probably wasting your time here unless of course, you're willing to make a lot of effort to change yourself in order to make The Authority Site System work for you!
So, now that you know who is The Authority Site System for and not for, it's time for me to reveal to you exactly what you'll get if you decide to join the course.
Sit tight, and enjoy the ride!
What's Inside The Authority Site System?
Here's an overview of everything you'll get if you decide to purchase The Authority Site System:
Let's dig a little deeper, shall we?
TASS's 5 Step-by-Step Training Modules
The Authority Site System's entire main training is broken down into 5 core modules (plus a preliminary training module).
TASS's 5 core modules are comprised of 50+ lessons that contain a total of 120+ over-the-shoulder, bite-sized videos…
Note: Click on each module to expand.
Near the end of 2017, a while after TASS was first launched, Mark and Gael decided to put themselves in the shoes of their students and create a brand new website from scratch by following TASS's training.
A year later that website was generating $16.000 per month in affiliate commissions.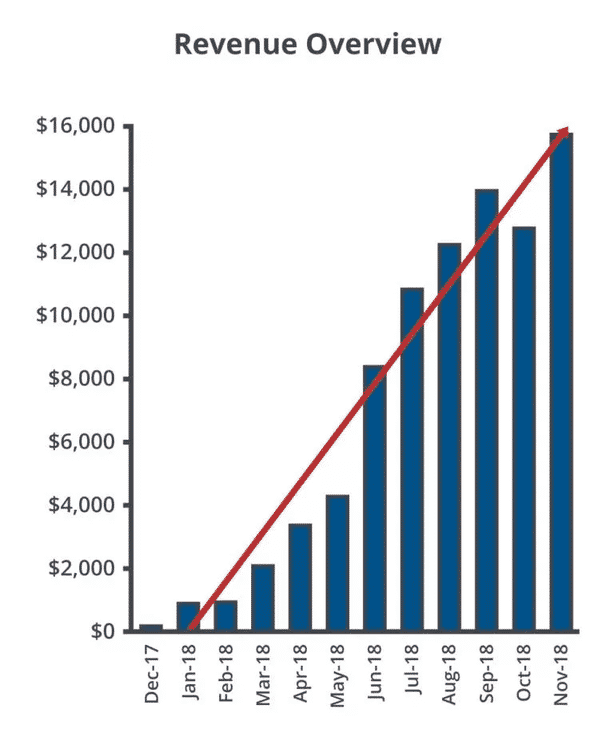 On top of that, Mark and Gael actually sold that website for a 6-figure amount after just 18 months since they initially launched it…
Mark and Gael went ahead and compiled every single piece of feedback & information they gathered since the day they launched this website until the day they sold it into a case study which you'll gain access to once you join TASS.
Some of the things revealed in this case study include
Picking the niche of the website
Planning out its content
Locating keywords
Writing content
The growth of the website's traffic and revenue over time
Building backlinks
and actually selling the website
This section includes Trello-based checklists that lay down the main goal of every single lesson of the course and all the tasks that you'll need to complete to reach that goal.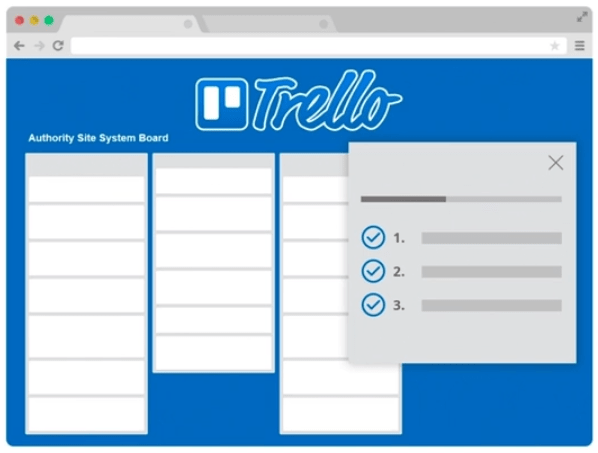 Each checklist contains links to video tutorials that show you exactly how to execute each task, links to the resources & templates you'll need to utilize, and several subtasks that break down the main tasks into bite-sized pieces.
Those To-Do Checklists are a great way to ensure that you'll be making real progress by acting upon what you learn in each lesson.
In addition, they'll help you track your progress, organize your assignments, and ensure that you don't forget to take any of the most important steps towards building your authority website.
Gael claims that if you start completing every single task on TASS's To-Do Checklist, until the time you complete them all, you'll have on your hands a profitable authority website.
Improper support or no support whatsoever are two of the main reasons that so many people end up failing to earn money online…
Thankfully, that's not the case with TASS…
If you
get stuck anywhere during your training and need someone to get you back on track
come across technical difficulties
or whatever else
you can contact Authority Site System's dedicated support team through email using a little chat box that appears in the course's main dashboard…
Their response time ranges between one and a few hours and their answers are usually spot on so chances are that you won't need to exchange more than a couple of emails with them until any issue you might have gets resolved.
Not bad at all…
Such fast and effective customer support is so hard to find nowadays, especially on money-making platforms.
In addition to TASS's dedicated support team, upon enrolling in the course, you're granted access to a private, member-exclusive Facebook mastermind group.
Within that group, you can interact with other members of the course, ask questions, provide help to others, share your wins and failures, seek motivation to take action when you are fed up and frustrated, learn what works and whatnot from those who have already found success, etc.
Mark and Gael claim that according to feedback gathered from their students, TASS's mastermind group is considered one of the most valuable assets of the course.
And frankly, I believe that this is 100% accurate…
According to many sources such as HuffPost and Psychology today, being part of a community of like-minded individuals with similar goals as yours could significantly increase the chances, speed, and magnitude of your success.
Important Tip: Avoid courses that offer no access to any kind of community at all costs…
Regular, Lifetime Updates
The internet landscape, in general, is constantly moving and changing.
New rules and practices rise daily only to replace old ones…
What worked yesterday might not work today and what works today might not work tomorrow…
Mark and Gael do their best to keep TASS up to date at all times according to the latest internet trends and as its member, you have access to the course's latest updates completely for free.
BONUS: Fill-the-Blank Templates
On top of the main training and other resources, once you sign up for The Authority Site System, you'll also receive a number of fill-the-blank templates as a bonus.
Those templates are basically pre-written documents that you can utilize to speed up almost every single aspect of your journey to building your authority website, such as
writing articles & reviews
composing emails for your subscribers
conducting niche research
designing your website
doing backlink outreach
etc
You can plug and play those templates exactly as they are (although not suggested), edit them to fit your own niche and offers or use them as inspiration to create your own from scratch.
Whatever the case, those premade templates could save you literally hundreds of hours of effort as well as ensure that you're following in the exact same steps that Mark and Gael build their highly successful authority websites.
How Much Does The Authority Site System Cost?
The Authority Site System costs a one-time payment of $997.
However, as you'll find out later on, TASS's signup fee isn't the only expense associated with the course.
Keep on reading to understand what I'm talking about…
The Authority Site System Pros
1 • Very Successful Owners
Mark and Gael are not some random dudes that decided to put together a course out of nowhere just to make some money off of gullible & desperate people, just like many "marketers" do on ClickBank and JVZoo…
First of all, they've built and sold a very successful digital marketing company (Higher Click).
Right now, they are running a content creation company called Judgement Media LTD, podcasts, YouTube channels, and multiple high-authority websites such as Authority Hacker and Health Ambition, all of which combined must be generating a 6-figure monthly income for them according to my calculations.
A while back, they sold an 18-month-old website for a mid-6-figure amount…
Authority Hacker has been featured by many high-authoritative websites, such as Ahrefs, Entrepreneur, HubSpot, Elementor, Human Proof Designs, etc.
In addition, Mark and Gael have been interviewed by many big names in the digital marketing industry and have been invited to speak to several online marketing conferences (mostly Gael).
I believe nobody can deny that both Mark and Gael can be considered very successful at what they do and in my opinion, nobody can show you how to become a successful online business owner better than people who are already successful online business owners!
2 • High-Quality Training
The Authority Site System's training is broken down into 50+ step-by-step lessons…
Each lesson consists of at least one over-the-shoulder video as well as text which is basically the transcript of the video(s) contained within that lesson.
The videos range from 2 to 30 minutes in length and roughly half of them have been recorded by Mark while the rest by Gael.
Both of Mark's and Gael's teaching styles are very professional, comprehensive, practical, and concise, something that will help you easily grasp even the most complicated concepts even if you are a complete newbie!
The text within each lesson makes it a lot easier to locate a specific piece of information you might be looking for than having to go through an entire video to find it.
Also, many people, including me, work more efficiently by following written instructions.
On top of everything else, part of TASS's training is focused on looking over Mark's and Gael's shoulders while they build a real, live authority site from scratch so you can follow along every single step of the process and implement everything they do, as they do it (I loved that part).
Frankly, TASS's training contains all the information you might possibly require to go from zero to owning a high-authority website, without having to purchase any additional training and/or resources.
No more, no less…
In my eyes, The Authority Site System is among the highest-quality MMO training modules I've ever come across.
I don't consider TASS's training high-quality just because it's simple to follow and comprehensive but also because it's proven to consistently bring substantial results to those who utilize it.
As mentioned earlier, back in 2017, Mark and Gael used TASS's training to build a website from scratch which they ended up selling for 6 figures just 18 months later (the actual case study is included within TASS).
But more importantly, TASS seems to have helped hundreds of people build a full-time income (or even more) online, which brings us to…
4 • Tons of Success Stories
You can take a look at some more success stories of TASS's members right here.
More and more success stories are also being published regularly within TASS's private Facebook group.
Important Note: TASS's testimonials, case studies, and success examples may not reflect the typical purchaser's experience, may not apply to the average person and are not intended to represent or guarantee that anyone will achieve the same or similar results. Truth is that most people will never act on the courses they buy, so most of the time their typical results are zero. The biggest factor to succeeding not just with The Authority Site System but with any other given quality course is your very own ability to follow through. There is no such thing as a magic bullet or shortcuts to earning money fast neither online nor offline. Your effort is the only factor that will determine your results.
5 • Lots of Positive Testimonials
In addition to its many success stories, The Authority Site System has received quite a lot of very positive testimonials not only from its students but also from some very big names in the online marketing industry, such as
Tim Soulo (CMO & Product Advisor at Ahrefs)
and Noah Kagan (Founder of Appsumo)
You can take a look at a few of them right below.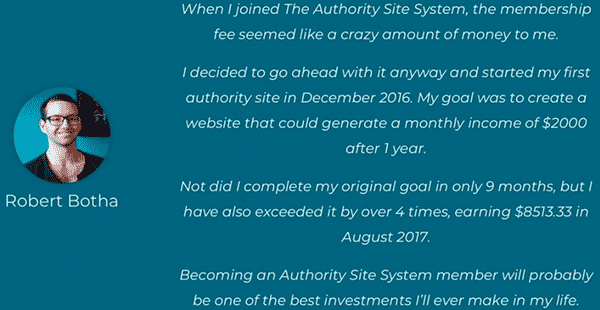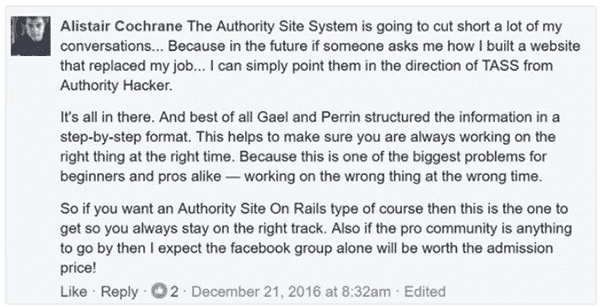 6 • Very Active Community
As stated earlier, once you join The Authority Site System you'll gain access to a private, member-exclusive Facebook group.
At the time I'm putting together this review, the group is very active with almost 2500 members from all around the world (image below).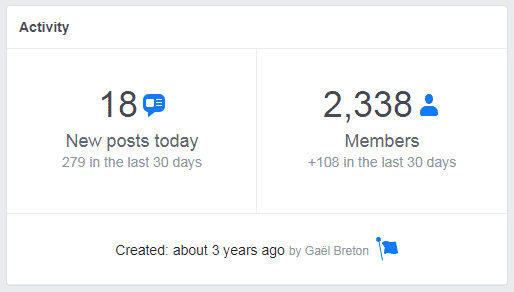 This means that no matter where you live or what time of the day it is, you're almost guaranteed to get a prompt solution to any of your problems so you can continue working on your site without interruption either from one of the other members of the course or from Mark and Gael who actually spend quite a lot of time within that group answering questions and offering their guidance and advice.
Truth is, there is nothing as comforting as being able to get instant answers to your queries as well as share your setbacks and frustrations with people who are on the same path as you.
Being part of such a group can definitely make the difference between success and failure for most people.
Important Tip: Avoid courses with inactive & deserted communities…
7 • Free Templates for Everything
As mentioned earlier, if you end up signing up for The Authority Site System, you'll get your hands on several templates for
articles & reviews
outreach emails
niche & keyword research
etc
For instance, right below you can see a link building outreach email template…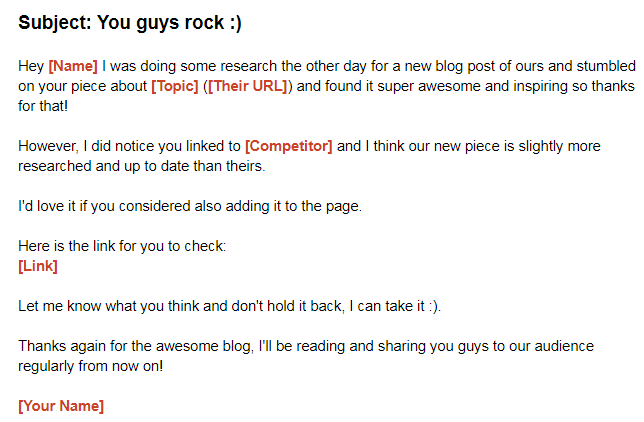 As you can see, all you have to do to utilize this template is to replace the words in the red font accordingly and then actually forward the email to your prospects.
Right below you can also see part of a single product review template…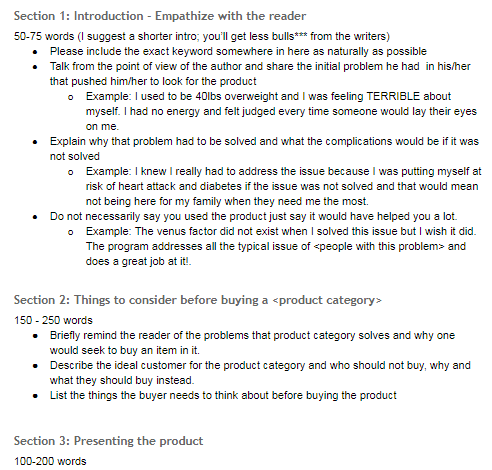 Again, your only job will be to follow the instructions given within this template and you'll have a 3000-word review before you even know it.
Personally, I've been working with templates I've created myself for a while now and I can assure you that they have saved me immense amounts of time and energy.
Let me give you an example…
This very article took me 3 days to write using an article template.
If I'd written this article from scratch, that is without using my article template, it would have taken me about 6 days to finish, and maybe even more.
So, basically, utilizing my article template saved me 3 days of work.
Now, if my article template saves me an average of 3 days per article, this means that I'm saving 300 days for every 100 articles I write.
That's almost A YEAR!
And the funny thing is that I spent no more than 3 days to create that template.
So, yeah…
TASS's templates will probably
help you avoid hundreds of hours of unnecessary, repeated work
ensure that you'll build your website in the exact same way that Mark and Gael build theirs
Both instances ultimately translate to higher chances and probably a shorter journey to success.
Mark and Gael do their best to keep The Authority Site System up to date with the latest trends of the online market.
Some of the course's updates are small-scale such as adding a new video within a lesson or removing a couple of videos that contain obsolete info…
Other updates might be of a larger scale such as reshooting all the videos within a module due to a major update of WordPress or Google or maybe adding a brand new training module.
According to Mark and Gael, during 2020, they'll be releasing a number of significant updates including 2 brand new link building tactics as well as other tutorials.
As a member of The Authority Site System, you'll be able to access a log with all the updates the course has gone through since June 2019 (image below).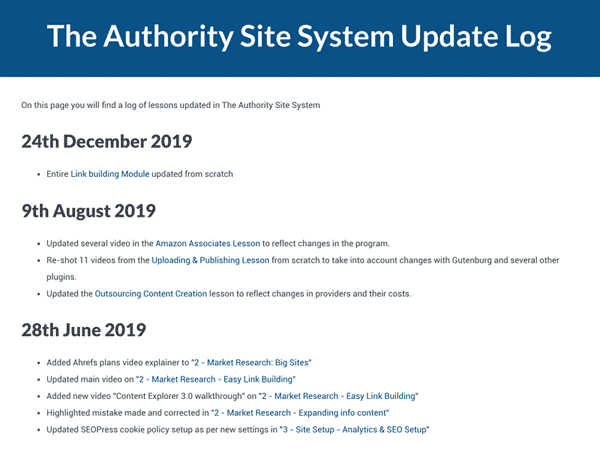 I love money-back guarantees…
The internet is full of scams and low-quality programs that promise a lot and deliver nothing so having the ability to get a full refund if needed always makes me feel way more secure in my purchases…
I guess that you might be feeling the exact same way, especially when something you might be interested in costs almost $1000…
Thankfully, Mark and Gael offer a 30-day, 100% money-back guarantee for The Authority Site System (image below).
The Authority Site System Cons
Authority Site System is kinda pricey to join…
Yes, the course might be high-quality and yes, it could help you achieve some very substantial results compared to most of the cheaper online marketing courses that exist out there…
But still, $997 is a high price to pay, especially if you're just starting your journey to building an online business, and have no clue whatsoever whether the whole process will be something that you'll actually enjoy or not.
Truthfully, thinking back 4 years ago when I was just starting out with affiliate marketing, I'd never spend so much money on a single course…
And unfortunately, The Authority Site System's high signup fee is just the beginning of your expenses regarding the course…
2 • Additional Expenses for Tools
In order to be able to fully utilize The Authority Site System, you'll probably have to purchase a range of tools that Mark and Gael suggest throughout their training, such as:
Ahrefs (at least $99/month) – Keyword research & competition analysis tool
SiteGround (at least $8/month) – Hosting platform for your WordPress website
MailShake ($19/month) – Email marketing & automation software
Gsuite ($5/month) – Google's productivity & collaboration software
TextBroker ($10 – $200 per month) – Content outsourcing platform
and more
Truthfully, out of all the tools mentioned right above, only SiteGround is a must-purchase as you can't really get your website up and running without hosting.
You don't have to pay $99 per month for Ahrefs as there are ways to conduct keyword research and competition analysis manually.
Instead of purchasing Gsuite, you can use Google's free tools as well as other free software…
You can avoid spending money on TextBroker by simply writing all your website's articles yourself.
And, you don't have to pay $19 per month for MailShake since day one… You can purchase it down the road. Or you could get started with a similar free platform like MailerLite.
However, the problem here is that TASS's training has been created around the tools that are suggested within it.
For instance, Mark teaches you exactly how to find keywords and study your competition using Ahrefs.
Are you going to go online, spending dozens of hours in search of a way to do all that manually?
Nope, you're going to purchase Ahrefs!
Another example:
Within TASS's training, you'll find step-by-step instructions on exactly how to set up and use MailShake.
Are you going to go out of your way and try to figure out how to use MailerLite instead just because it's free up to 500 subscribers?
Nope, you're going to purchase MailShake and get it over with…
What I'm trying to point out here is that before purchasing TASS, you need to be prepared that on top of its $997 signup fee, you'll probably have to keep spending at least $150 per month on most, if not all of the tools that are outlined within the course's training.
If you have that kind of money to spare and you're really willing to invest it, then, well, you have my blessing!
If not, then I suggest that you check out Wealthy Affiliate which is
an affiliate marketing training platform similar to The Authority Site System
shockingly cheaper to join that TASS
free to join and test drive
offering all the tools you'll need to build and run your online business completely for free
When you come across a course as expensive as The Authority Site System, you'd expect it to offer a free trial for at least a couple of weeks…
Unfortunately, The Authority Site System offers no free trial whatsoever.
Nonetheless, you can register for a Free TASS webinar whereas Gael will give you a solid overview of exactly how the course will teach you to build a high-authority website from scratch.
This webinar will help you make a 100% informed decision about whether you should invest in the course or not so make sure to give it a watch.
Important Update: At the end of each free webinar Gael offers a 40% discount on TASS. I don't know for how much longer that discount is going to be available so if you're interested in TASS, make sure to watch Gael's next webinar by clicking on the button right below.
The Authority Site System's 2nd training module is the biggest module of the course containing a total of 17 lessons…
The module mostly revolves around
conducting keyword & niche research
competition analysis
and mapping out the content structure of your entire website
While research and planning are absolutely important aspects of building any kind of successful business, devoting 1/3 of all the lessons within TASS to those aspects is kind of a stretch.
First of all, if this is your first time building an online business, you'll probably end up spending several weeks until you go through all those lessons.
And spending so much time just researching and planning before coming even close to actually launching your business is probably going to be boring, frustrating, unmotivating, and brain-numbing.
In addition, planning so many aspects of a website without having ever created a website before is going to be an extremely challenging task…
Even I that I have built several websites during the last few years have great trouble planning every single aspect of them beforehand… Not to mention that most of the time, there will be a lot of things that won't go according to plan and you'll have to adapt and improvise on the go.
Truthfully, I'd prefer that The Authority Site System would focus a little less on planning and a little more on actually building your business.
5 • Too Much Link Building
For those who aren't aware of what link-building is, it's the process of "convincing" other website owners to link back to articles/pages on your own website.
In the eyes of Google, having links from other websites pointing to yours is an indication that the content within your website is so valuable that people link back to it for reference.
This, in turn, makes your website seem more authoritative and trustworthy, increasing the chances of Google displaying it in higher positions in its search results and thus receiving more search traffic.
Personally, I am not that fond of link-building…
In my opinion, getting links to your website should take place organically as the result of having the best-quality content and not because you're actively trying to convince people to link back to it just as The Authority Site System teaches.
That's just trying to "trick Google" into thinking that your content is high-quality even if it isn't…
And believe me, nobody can trick Google, at least not in the long term.
For instance, 10 years ago, Google was ranking websites almost exclusively based on the number of backlinks they had… The more backlinks a website had, the higher Google would display it in its search results, even if its content was pure sh*t…
At some point, Google upgraded its algorithm, putting more weight on the quality instead of the quantity of backlinks, and all of those websites that were only focusing on building as many backlinks as possible were burned to the ground literally overnight…
As years pass, Google keeps putting more and more weight on relevancy and high-quality content and less and less weight on backlinks.
In a few years from now, Google might not be relying on backlinks as a ranking factor at all.
I am no SEO expert but this makes perfect sense.
People come to your website to read your content, not to find out what kind of backlinks are pointing towards it.
What I'm trying to point out here is that all the time and energy you'll spend actively building backlinks just like TASS teaches, could sooner or later all go to waste in the blink of an eye after an update in Google's algorithm…
How to Join The Authority Site System?
Joining The Authority Site System is extremely simple…
First of all, click here to be redirected to TASS's main sales page
Scroll down a bit, and click "Join The Authority Site System"
Fill in your contact information and click "Go to Step 2"
Choose your payment method and fill in your payment info
Click "Complete Order"
That's it…
You are now an official member of The Authority Site System!
The Authority Site System Review Summary
Very high income potential… There are people who earn 6-7 figures per year after utilizing TASS's training.
50+ lessons, 120+ over-the-shoulder videos, bonus templates, real-life case study, site-building to-do checklists, etc.
Pricey admission. Additional expenses for business tools. It's definitely worth the investment…
24/7 dedicated email support. Access to a private, very active Facebook support group.
The Authority Site System has helped hundreds of people build very successful, high-authority online businesses.
If your goal is to build a sustainable, long-term, full-time income online (or maybe even more) then The Authority Site System could be exactly what you are looking for.
First of all, the platform's creators, Mark and Gael, are highly successful entrepreneurs who are currently earning 6-figures per month online.
In addition, they
Have created at least 2 successful companies that I know of
Are currently running multiple extremely profitable, high-authority websites
Have been featured by a lot of huge online publications
Sold an 18-month-old website for a mid-6-figure amount a few months ago
Personally, I consider Mark and Gael among the very few people that have what it takes to take practically anyone from zero to generating a 6-figure income online.
Moreover, the course's training is very simple to follow with no fluff whatsoever… You might find Module #2 kinda boring because all its 17 lessons are geared towards research and planning but once you get past that, you're gold!
More importantly, it seems to be working…
While conducting my research regarding The Authority Site System I came across dozens of success stories of people who started literally from zero and are now earning 6 and 7 figures online.
Also, once you join The Authority Site System, you'll be granted access to a private, very active community that currently consists of more than 2000 like-minded people. This community will most likely play a very important role in you achieving success online and in my opinion, it's worth at least 1/3 of TASS's price alone.
Furthermore, the dozens of templates you'll get your hands on as a bonus for joining The Authority Site System will definitely shorten your entire journey by hundreds of hours.
If what you've read until now sounds like something you are interested in, you can go ahead and immediately get started with The Authority Site System -> right here.
If you're not 100% sure just yet, then I suggest that you go ahead and watch The Authority Site System's Free Webinar -> right here.
While The Authority Site System is definitely not perfect, I still consider it among the best affiliate marketing course I've come across until now.
Basically, the biggest downside of The Authority Site System is the high amount of money that you'll have to invest in purchasing the course as well as the tools needed to fully utilize it.
If you don't have or aren't willing to invest so much money in The Authority Site System but still want to build a full-time income online and live the "laptop lifestyle", you might want to consider going for a cheaper affiliate marketing course that provides the majority of the tools you'll need to build and run your online business completely for free.
I really hope that my Authority Site System review will help you you make an informed decision about whether or not you should invest your time, money, and attention in this course.
If you have any comments, questions, or would like to share something with me regarding The Authority Site System, please leave a comment right below or contact me at harry@dearboss-iquit.com
I'll be more than happy to help you out!