With everything taking place in the world right now, more and more people become interested in pocketing some extra cash per month from home…
Since you're here, I'm guessing that you are one of those people, you recently came across Survey Junkie and you're wondering if it's indeed a solid money-making opportunity.
Well, you definitely landed in the right place!
In this Survey Junkie Review, I'm going to share with you all the information you might possibly need to make a 100% informed decision about whether Survey Junkie is worth your time and attention or not.
In a nutshell, Survey Junkie is a platform that pays you for filling in surveys from your computer or mobile phone. The platform was launched in 2013, it currently consists of more than 10 million members, and is cooperating with some of the biggest worldwide brands.
Let's dig deeper, shall we?
Name: Survey Junkie
Owners: Unknown
Price: Free to Join
Official Website: surveyjunkie.com
Suggested? Yes!


What is Survey Junkie About?
Survey Junkie is a company that pays people for sharing their opinion through filling in surveys on its website and/or mobile app.
Despite the fact that its domain name was first registered in 2005, Survey Junkie was actually launched a lot later, in 2013.
The company is registered under the ownership of Blue Media Ventures Inc. but it seems to have been bought by Disqo, a market research and audience insights company which has been running since 2015.
Right now, Survey Junkie is classified among the oldest, most well-known and well-trusted survey panels, currently consisting of more than 10 million members and according to information on its official website, cooperating with some major worldwide brands.


Who Is Survey Junkie For?
Survey Junkie is mainly addressed to those who are after earning some extra side cash online without having to possess/acquire any special skills or even be tech-savvy.
If you know how to write an email, then you already possess all the skills required to start making money with Survey Junkie.


Who Is Survey Junkie NOT For?
Survey Junkie is NOT for those who are after building a substantial income online.
Earning more than $100 per month with Survey Junkie (or any other survey website) is nearly impossible.


How Does Survey Junkie Work?
The first thing that you should know about Survey Junkie is that it works with points.
1 Survey Junkie point is worth 1 cent and each survey you complete pays out between 40 and 300 points.
Depending on your interests and demographics, every now and then you may come across surveys that generate 500+ points.
Each survey usually lasts from 5 to 25 minutes and most of the time the longer a survey is the more points it's worth.
Upon signing up to Survey Junkie, the platform will automatically credit you with 25 points and prompt you to complete your account for an additional 50 points.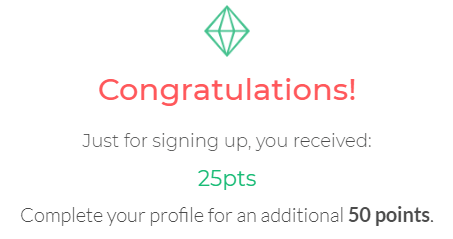 Completing your account is mandatory for you to be able to start participating in surveys as it consists of answering a questionnaire of around 30 personal questions which Survey Junkie will then use to determine which surveys are suitable for you, such as
Your annual income
If you have kids
What kind of job you do
If you own your house
Whether you have pets
etc
Make sure to answer each question as accurately as possible because if Survey Junkie finds out that you lied or that you answered inaccurately, they might suspend or even completely shut down your account.
Anyway, after completing your account you'll be prompted to join Survey Junkie Pulse for an extra 150 points.
Survey Junkie Pulse is a browser extension that will notify you about exclusive surveys based on data it automatically collects when you browse the internet.
Generally, people who have Pulse installed have the potential to earn more money as they tend to get invited to more surveys.
In order to receive the 150 points from joining Pulse, you'll need to have the extension installed and enabled in your browser for at least 30 days.
Lastly, Survey Junkie offers you the option to fill in additional small questionnaires about several aspects of your life, such as
Tech skills
Shopping habits
Health profile
& more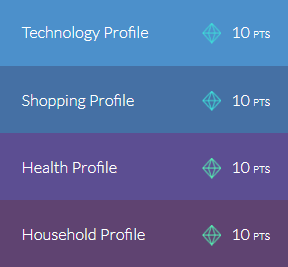 Not only those questionnaires reward you 10 points each, but they also greatly increase your chances of being invited to more and higher-paying surveys.


How Does Survey Junkie Pay?
The first thing you should know here is that in order to cash out your Survey Junkie earnings, you need to have generated a minimum of 500 points.
Once you've reached that threshold, you can redeem your Survey Junkie points in 3 different ways:
Cash using PayPal (available in all supported countries)
e-Giftcards (available in U.S. only)
direct bank transfers (available in U.S. only)
Please note that some of the redemption options just mentioned may require additional verification through email and/or a brief phone call with one of Survey Junkie's customer support agents.


How Much Money Can I Make With Survey Junkie?
The amount of money that you can potentially earn with Survey Junkie depends on two main factors:
how many surveys you get invited to
and how many points is each of those surveys worth
The average SJ survey pays out 50 to 300 points and an average SJ member will receive 10-20 survey invites per month.
20 surveys per month * 300 points per survey = 6000 points, or else, $60 per month
And that's a best-case scenario…
There are many Survey Junkie reviews that claim that the platform offers surveys that pay out $75…
Be aware that such claims are false, probably only made to convince you to join the platform so that the referrer earns a commission off of you.
Throughout the years I've created multiple Survey Junkie accounts, with different interests and demographics and the highest-paying survey I've come across was worth 500 points ($5).
And that was just once… 
In conclusion, don't expect that you'll earn more than $100 per month with Survey Junkie because it ain't gonna happen.


How to Join Survey Junkie?
Joining Survey Junkie is extremely simple and straightforward…
All you have to do is:
Head over to surveyjunkie.com
Click "Join Now"
Create a new account or sign up with your Google or Facebook account
Fill in the required information (Zip Code, Country, Gender, etc)
Congrats, you can now start earning money by filling in surveys!
The thing that I like most about Survey Junkie is that it's one of the simplest-to-use survey platforms that I've come across…
The platform's design is minimal and clean, and all its operations are very user-friendly.
All you have to do to start earning money with Survey Junkie is
Create your account
Answer a few questionnaires
Start filling in surveys
To complete everything just mentioned won't take more than a few minutes, even if you have never joined a survey website before.


2 • 4.5/5 Stars on TrustPilot
Survey Junkie is one of the highest-rated survey websites on TrustPilot with a rating of 4.5 out of 5 stars derived from almost 18k customer reviews!
Here are some of the testimonials its members have left on TrustPilot: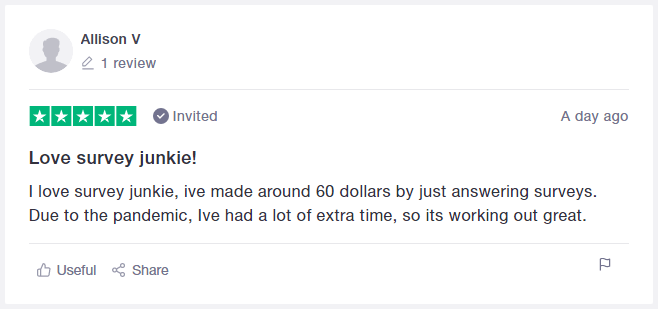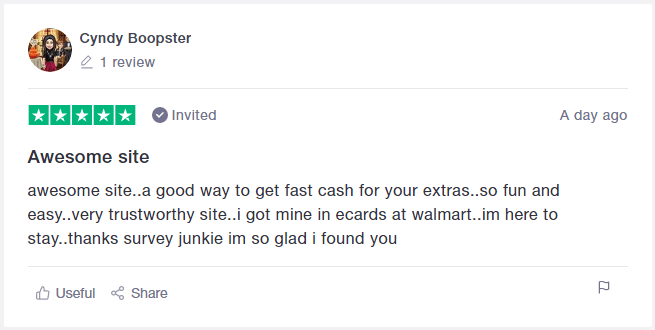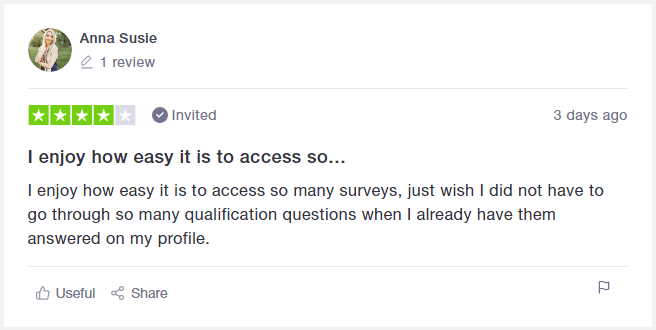 Another thing that I liked a lot about Survey Junkie is that it comes with a very in-depth F.A.Q. section…
SJ's F.A.Q section consists of hundreds of topics that answer literally any question you might have about the platform and its workings, from joining the platform and installing Pulse to redeeming points and verifying your identity…
If a question you have or issue you might be facing isn't covered in SJ's F.A.Q. section, you can still contact the platform's dedicated support team through email for further help.


4 • Low Cashout Threshold
Last but not least, unlike most survey panels out there that require you to gather $20-$50 before you can redeem your earnings, Survey Junkie's minimum cash out threshold is only $5…
This means that Survey Junkie allows you to get your hands on your earnings much faster than your average survey panel.


1 • Available Only in 3 Countries
Currently, Survey Junkie is available only to people who are located in the United States, Canada, and Australia.
If you don't live in one of those 3 countries, then you won't be able to join Survey Junkie.
Nonetheless, there are plenty of other survey websites that might be available in your country…
Also, you need to be 16+ years old to be allowed to join Survey Junkie.


2 • Survey Disqualifications
One thing that I hated about Survey Junkie is that it kept kicking me out of surveys after I had already entered them and answered like 5-10 questions.
This happens because most surveys require you to answer additional, more specific questions to see if you're a good fit for them or not.
As you can understand, this means that you could potentially end up wasting quite a lot of time and energy answering questions for nothing…
And believe me, that's frustrating!
Nonetheless, that's the case with the majority of survey websites out there…
The good news is that most of the time, Survey Junkie will still credit your account with 2-3 points even if you get kicked out of a survey before you're able to finish it.


3 • Limited Amount of Surveys
One of the most common complaints about Survey Junkie is that it doesn't offer as many surveys as other survey panels.
I've personally found out that this is 100% accurate…
A week ago, I created a new Survey Junkie account, from a brand new device on a brand new network…
The account is fully set up, I confirmed its email address and answered every single questionnaire, but I have yet to receive a single survey invite.
This is extremely concerning as a limited amount of surveys will probably result in…
Filling in surveys doesn't pay that much money in general… 
Taking into account that Survey Junkie doesn't offer that many surveys in the first place, the platform's income potential could be minimal.
I've personally talked with many SJ members who can't seem to be able to generate more than $20…
And that's not because they're bored or unwilling, but because Survey Junkie just doesn't invite them to enough surveys.


Survey Junkie Review Summary



Don't expect to earn more than $100 per month with Survey Junkie.
Very simple to utilize even if you have no tech skills whatsoever.
Generate earnings just through filling in surveys. No other tasks.
In-depth F.A.Q. section covering hundreds of topics, plus email support.


Is Survey Junkie a Scam or Suggested?
Survey Junkie is definitely NOT a scam but rather a legit survey panel that can be easily classified among the oldest and most reputable survey panels out there.
If your goal is to earn an extra $50-$100 per month relatively fast and without much effort, then Survey Junkie is probably exactly what you're looking for!
If you'd like to maximize your monthly survey earnings, I suggest that you take a look at some other legit survey websites and join as many of them as possible.
Have any comments or questions?
Please leave a comment right below or contact me at harry@dearboss-iquit.com
I'll be more than happy to help you out!
Best wishes,
Harry, Founder & Editor at dearboss-iquit.com