If you're in search of more information about The Affiliate Lab, you're in great luck!
This Affiliate Lab Review is dedicated to providing you with all the information you might possibly need to make a fully informed decision about whether The Affiliate Lab is worth your time, attention, and money or not…
Without further ado, let's get started.
The Affiliate Lab Overview
Best Affiliate Marketing Courses
What is The Affiliate Lab?
The Affiliate Lab is an affiliate marketing course that teaches about building, ranking, and monetizing high-authority, affiliate SEO websites, which you'll then be able to sell for tens of thousands of dollars.
In general, affiliate websites can be sold for 20 to 40 times their monthly revenue.
That being said, if you build an affiliate marketing website that generates $2500-$5000 per month, you can sell it for up to $100,000.
The Affiliate Lab was created by a well-known SEO marketer and entrepreneur, Matt Diggity.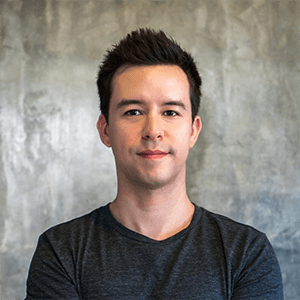 Matt Diggity used to work a dead-end, unfulfilling job that constantly left him drained and burned out.
In 2009, after reading "The 4-Hour Workweek" by Tim Ferris, Matt was determined to create a passive income online that would eventually enable him to escape the 9-5 rat race altogether.
Around that same time, one of his friends introduced him to SEO (Search Engine Optimization) and affiliate marketing.
Matt got hooked…
Two years and a couple of failed websites later, he was earning his living as a full-time affiliate marketer.
A while later, Matt discovered that there were online marketplaces where people were selling, or else "flipping", their affiliate websites for up to 40 times their monthly profit.
At that point, he decided to start experimenting with selling some of his own affiliate sites…
He bundled 3 of them into a package deal, put them up for sale, and ended up selling them for a $100,000 profit.
Just a year later, he sold a couple more of his websites for over $300,000.
Thankfully, after having experienced so much success online, Matt decided to start sharing all the techniques and strategies he used to build, rank, monetize, and flip affiliate websites with anyone who might be interested in achieving similar results.
And this is how The Affiliate Lab was born.
In the video right below, Matt introduces himself and provides a bird's-eye view of what The Affiliate Lab has to offer.
Who Is The Affiliate Lab For?
The Affiliate Lab is addressed to three kinds of people…
Absolute beginners who'd like to build a sizeable source of passive income online with affiliate marketing
Affiliate marketers who've given up due to being unable to reach success
Intermediate & advanced affiliate marketers who want to take their affiliate business to the next level
Please note that The Affiliate Lab is NOT a push-button system that will magically funnel cash into your bank account without any effort on your part…
That being said, if you
are looking to get rich fast and effortlessly
lack patience 
tend to give up after the first setback
can't handle failing
have bought similar courses in the past but never acted upon them
won't devote at least 1 hour/day to utilize the course
then the chances of finding success in affiliate marketing are practically zero until you've completely reshaped your perspective.
What's In The Affiliate Lab?
Here's an overview of everything you'll get upon joining The Affiliate Lab:
Let's dig a little deeper, shall we?
The Affiliate Lab Core Training
The Affiliate Lab's Core Training consists of 180+ over-the-shoulder video lessons that cover from A to Z all the aspects of building and scaling affiliate websites, such as:
Selecting your niche
Creating & setting up your website
Optimizing your site's architecture
Keyword research
Content production & outsourcing
Onsite & Offsite SEO
White & grey-hat link building strategies
& more
Each video lesson ranges from 10 to 70 minutes and outlines only affiliate techniques that have been proven to repeatedly generate substantial results after being extensively tested by Matt on hundreds of websites in a vast variety of niches.
According to Matt:
If something is in The Affiliate Lab, it's not because I or someone else said so, but because it's been tested and proven to work on hundreds of sites beforehand.
Despite the fact that The Affiliate Lab's training is very well-structured and simple-to-follow, chances are that you'll eventually get stuck, especially if you're an absolute beginner…
For instance, you might come across technical difficulties that you can't deal with by yourself…
Maybe you failed to grasp how a specific concept or practice works and you're in need of clarifications…
Or maybe you're not experiencing the results you expected and you need some expert feedback.
Whatever the case, whenever you need any kind of help, all you have to do is just email The Affiliate Lab's support team and they'll get you back on track in no time.
Having a dedicated support team watching your back is definitely going to make your entire journey a whole lot smoother.
The Affiliate Lab Bonuses
In addition to its core training, upon joining The Affiliate Lab you'll also get your hands on the following 13 Bonuses:
BONUS #1: The Beginner's Lab
The Beginner's Lab is geared towards those who've never built a website before.
The module basically takes you by the hand and walks you through the fundamentals of building a brand new website from scratch, such as
Purchasing a hosting plan & a domain name
Setting up your WordPress website
Installing the right plugins
Connecting Google Analytics & Google Search Console
& more
BONUS #2: Private Facebook Group
The Affiliate Lab's second bonus grants you access to a private, member-exclusive Facebook group which you can utilize towards
interacting with and learning from seasoned affiliate marketers
getting your questions answered by Matt or other members
sharing your wins & failures
receiving support & motivation
requesting feedback 
& more
According to Wikipedia and Psychology Today, being part of a community of like-minded individuals improves your motivation, decreases frustration, boosts happiness, and increases the chances of reaching your goals.
BONUS #3: Conversion Rate Optimization Masterclass
Conversion Rate Optimization (CRO) is the process of increasing your affiliate sales by making little and quick tweaks to various aspects of your website, such as your article's titles, your CTA (Call-To-Action) buttons, your content, etc.
This module is dedicated to teaching you about a handful of simple techniques to boost the rate at which your visitors convert to customers, including:
5 power words that increase click-through rates
A simple element that can increase user engagement by 11.12%
The free WordPress plugin that can boost your sales by 7.65%
3 psychological tricks that convince people to buy your products
How to keep your visitors glued until the CTA (Call-To-Action)
& much more
BONUS #4: Featured Snippets Masterclass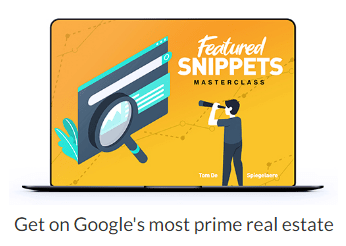 Right now, featured snippets, or else "Google's position #0", are the holy grail of rankings.
That's because if your content acquires a featured snippet, it can jump from the 10th to the 1st position of Google's search results literally overnight.
The Featured Snippets Masterclass focuses on teaching you tips and tricks on how to optimize your content for Google's featured snippets, such as:
5 steps to "steal" the featured snippets of your competitors
The 2 biggest mistakes that hold you back from getting the featured snippet
5 things to do if Google refuses to feature your site on its position 0 
& more
BONUS #5: Authority Blueprint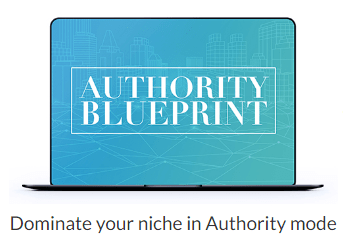 The Authority Blueprint is Matt's recipe for building high-authority websites that dominate the first page of Google for thousands of target keywords.
Some of the things you're going to be taught within this module include:
Transforming a small niche site into a high-authority one
The ideal site architecture of the most successful sites
Smart time management tips for running high-authority websites
The 6 deadly pitfalls to avoid when building a high-authority site
& much more
BONUS #6: Website Flipping Masterclass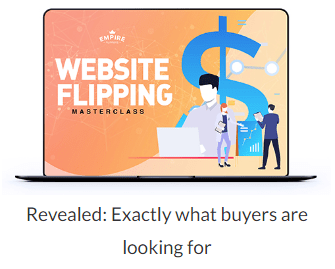 The Website Flipping Masterclass is a complete course that reveals all the ins and outs of buying and selling affiliate websites, such as:
Brokers' secrets of flipping websites 
The 4 things that get website buyers salivating
The 7 factors that can boost your site's value from 20x to 50x
The 4 signs that it's time to sell a site
How to keep your site from being devalued
What you should do 12, 6, and 3 months before selling a site
Behind the scenes of real site flips
& more
This course was created by Gregory Elfrink, Director of Marketing at Empire Flippers – one of the most well-known marketplaces for buying and selling online businesses.
BONUS #7: Outreach Masterclass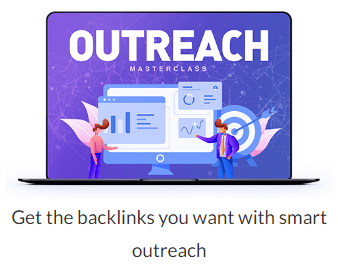 The Outreach Masterclass consists of a whopping 65+ videos that cover several practices and techniques to conducting outreach for attracting backlinks to your site.
In short, a backlink is basically a "vote of trust" of another website to yours.
Ultimately, backlinks can boost your website's traffic, authority, credibility, and search engine rankings.
BONUS #8: Website Recovery Toolkit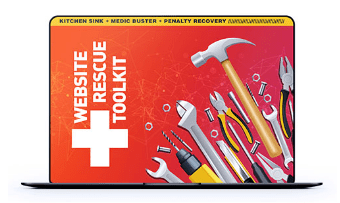 The Website Recovery Toolkit consists of 3 blueprints:
Kitchen Sink: The step-by-step process of getting stagnated websites unstuck
Medic Buster: Instructions for ranking and scaling websites in the health niche
Penalty Recovery: Techniques to shield your website from future traffic drops and penalties
BONUS #9: Affiliate Email Marketing Masterclass
The Affiliate Email Marketing Masterclass revolves around teaching you how to significantly boost your affiliate commissions by leveraging a variety of email marketing techniques, including:
Collecting leads with lead magnets
Writing high-converting emails
Increasing your email profits with FB ads
& more
BONUS #10: White & Grey-Hat Combos
This bonus covers a number of white & grey-hat SEO techniques to rank your websites in higher positions in the search results without running the risk of getting penalized by the search engines.
BONUS #11: Downloadable Checklists & SOPs
Get your hands on the same Checklists & Standard Operating Procedures (SOPs) Matt uses to build, manage, and scale his own as well as his clients' websites, such as:
Onsite SEO Checklist
Offsite SEO Checklist
Audit Checklist
SOP for hiring VA's (Virtual Assistants)
& more
BONUS #12: Templates & Tools
This bonus consists of 6 plug-and-play tools & DFY templates, that will save you time and take away all the guesswork from creating and running your online business, such as:
Niche Viability Tester tool
Influencer outreach template
Content outsourcing template
& more
BONUS #13: The 6-Figure Flipper Club
Upon selling one of your affiliate websites for $100,000 or more, you'll automatically be eligible to join Matt's 6-Figure Flipper Club.
The 6-Figure Flipper Club is a private Facebook group that consists only of marketers that have sold at least one online business for a 6-figure amount.
Every couple of months, members of the 6-Figure Flipper Club have the option to attend a scheduled online call and exchange opinions regarding:
Advanced strategies for building & selling websites
Mistakes and setbacks
The latest SEO & marketing trends
& more
How Much Does The Affiliate Lab Cost?
Gaining full access to The Affiliate Lab costs either a single payment of $997 or two payments of $597 billed 30 days apart ($1,194 total)
Important Note:
The Affiliate Lab is currently running a sale that enables you to get $200 off your enrollment.
Click here to claim your $200 Discount.
Please note that this discount could expire any day now without any notice.
Matt Diggity is among the most prominent affiliate & SEO marketers in the world with a proven track record of building and selling high-authority websites for hundreds of thousands of dollars (see below).

Besides being a well-respected online marketer, Matt is also a successful entrepreneur, currently running a handful of companies, including:
LeadSpring
Diggity Marketing
The Search Initiative
and the Authority Builders
Furthermore, Matt hosts the annual Chiang Mai SEO conference, featuring some of the world's most successful SEO marketers and attracting 500+ attendees each year.
Lastly, Matt and his work have been featured by dozens of high-authoritative online publications, such as:
HubSpot
Moz
Forbes
New York Post
Inc.
& more
That being said, if your goal is to build an income online, Matt's knowledge is absolutely worth paying attention to.
In fact, as you can see in the next section, dozens of Matt's students have reported experiencing substantial results after applying the techniques and strategies he outlines within The Affiliate Lab.
2. Dozens of Success Stories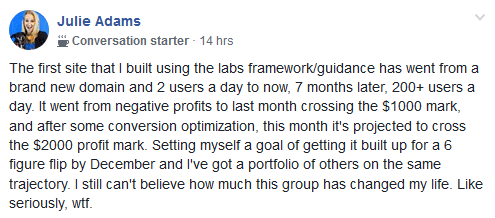 You can take a look at some more success stories of TAL's members right here.
3. A Lot of Positive Feedback
On top of its success stories, over the years of its existence, The Affiliate Lab has also received quite a lot of positive feedback (see below).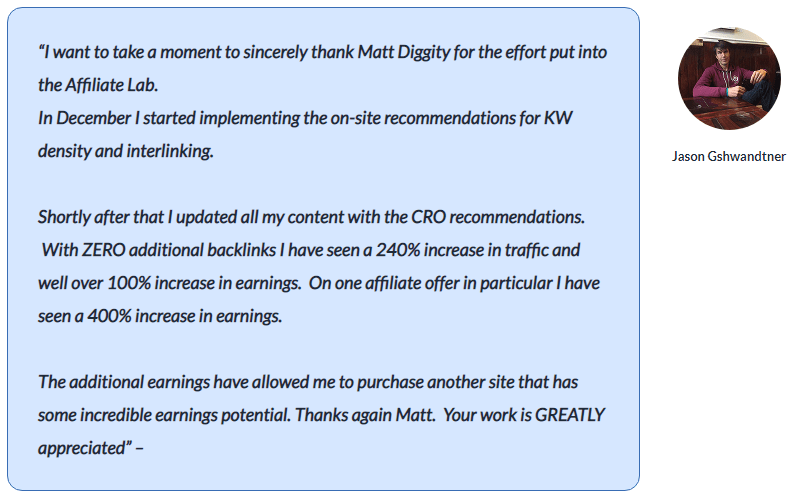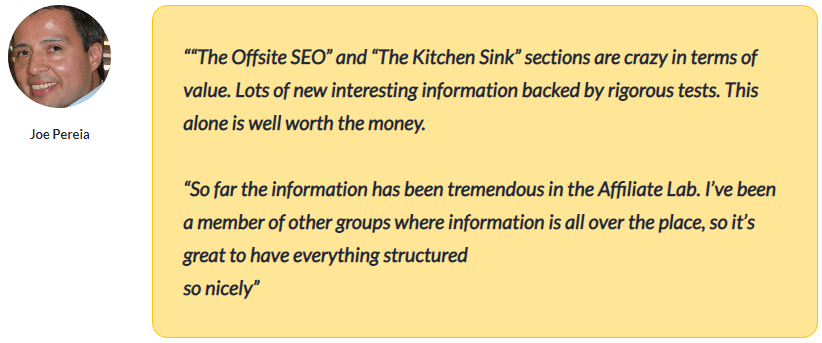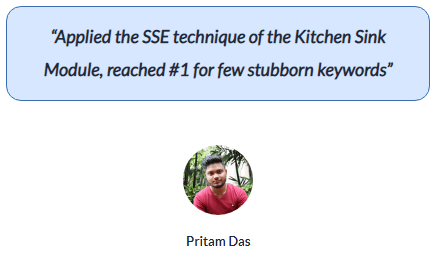 Top quality affiliate marketing courses are seriously hard to find. I've been through Affiliate Lab with a fine tooth comb and I believe it is one of the very few that delivers on every count. – thedoublethink.com
Matt Diggity's Affiliate Lab is one of the most complete affiliate courses currently on the market. Whether you are new to building affiliate sites or have been doing it for a few years, you won't be disappointed. – hustlelife.net
I think Matt's course is one of the few courses that really gets into the nitty-gritty details of on-page and off-page SEO and outreaching for backlinks. – freedomboundbusiness.com
If you're looking for an all-in-one affiliate SEO course, and you have $997 to spend, The Affiliate Lab is your best bet. The course's content is incredibly comprehensive and actionable and Matt Diggity seems like one of the most genuine online marketers. – wisdomfuel.com
Another thing that gives The Affiliate Lab the upper hand over many other affiliate courses is that the private Facebook group it offers access to is very active and populated with over 2000 affiliate marketers from all around the world.
Being part of such an active and populated community can benefit you in dozens of ways, including:
Getting high-quality and fast answers to your questions
Mining the wisdom of more experienced entrepreneurs
Receiving feedback, advice, and support from like-minded peers
Expanding your professional & personal network
Gaining higher creativity, inspiration & motivation
& more
Everything just mentioned can potentially have a significantly positive impact on the chances and speed of success.
Important Note: Always avoid courses that offer no community access or have inactive & deserted communities. High-quality courses ALWAYS come with populated & active communities.
The internet landscape is constantly changing and evolving.
Practices that worked yesterday might not work today and what works today might not work tomorrow.
All too often, courses fail to keep up with those changes so the vast majority of their content ends up being outdated and obsolete within a year after they were initially launched.
On the contrary, Matt keeps The Affiliate Lab up to date based on the latest internet trends by regularly adding new content as well as updating, adjusting, and/or removing content that's become outdated.
Every single member of The Affiliate Lab is granted access to all of the course's future updates & new pieces of content completely for free.
According to Matt:
If anything changes in the SEO world, the course changes with it.

Tactics and strategies that no longer work get cut and replaced by more powerful ones. With Affiliate Lab you'll

always know what works
get the results of the latest successful tests
never waste your time on outdated SEO practices
6. Dozens of DFY Templates
On top of everything else, upon joining The Affiliate Lab, you'll get your hands on dozens of plug-and-play tools, DFY templates, SOPs, and checklists, including:
Onsite & Offsite SEO Checklists
Outreach Email Template
Influencer Pitch Template
Outsourcing Content Template
Niche Grading Tool
Keyword Research Template
& more
These "blueprints" will not only save you tons of time but will also take away all the guesswork by guiding you through the exact same processes and procedures Matt utilizes to build and run highly-profitable affiliate websites.
7. Unicorn of Affiliate Courses
Last but not least, The Affiliate Lab is the only affiliate marketing course that also covers the concept of flipping websites.
There's literally no other affiliate course on the face of this planet that offers any kind of info or insight regarding the steps to selling an affiliate website.
This makes The Affiliate Lab the "unicorn" of affiliate marketing courses.
Enrollment into the Affiliate Lab is kinda pricey at either a one-time payment of $997 or two payments of $597 ($1,194 total).
The good news is that at the time being, The Affiliate Lab offers a $200 discount that you can claim right here.
However, even after the discount, a $797 upfront investment might still be nearly impossible for some.
Just like building a house, building and scaling an affiliate website to success is nearly impossible without having access to the right tools…
For example, two tools that you'll need to purchase right off the bat just to get your first affiliate website up and running are:
a domain name ($15/year)
and a hosting plan ($10/month)
Some other tools you'll see being utilized and suggested throughout The Affiliate Lab's training include:
SEMrush ($99/month): Keyword research & competition analysis
Thrive Architect ($19/month): Website builder
Email Marketing Software (start at $19/month)
Website Auditor ($10/month): On-page & technical SEO auditing
Content outsourcing service ($50+/month)
As you can see for yourself, investing in all those tools will set you back somewhere around $200/month.
Now, nobody is going to twist your arm into purchasing every single one of those tools since day #1.
Plus, if you take the time to conduct some research you might be able to find some cheaper or maybe even free alternatives.
However, one thing to seriously consider here is that the vast majority of The Affiliate Lab's content revolves around those specific tools.
This means that if you'd like to be able to seamlessly follow through with the course's training you'll eventually have to purchase most if not all of the tools Matt utilizes and suggests within it.
Another thing that I don't like about The Affiliate Lab is that it offers no free trial…
This means that the only way to know for sure whether the course suits or not, is to invest in it.
The good news is you can get a small taste of what The Affiliate Lab has to offer by consuming Matt's free YouTube content.
Matt's Youtube videos are basically simplified versions of The Affiliate Lab's instructional videos, so if you find them valuable, then chances are that The Affiliate Lab's content is going to blow your socks off.
Lastly, The Affiliate Lab has no refund policy…
This means that if you'd like to get the money you invested in The Affiliate Lab back for any reason, well, you can't.
How to Join The Affiliate Lab
Joining The Affiliate Lab is extremely straightforward…
First, click here to get redirected to The Affiliate Lab's sales page and apply your $200 discount
Click on the "Click Here to Enroll Today" button
Fill in your payment information
Check the "Yes, I will Take It!" box
Click "Order & Get Instant Access"
That's it…
You're now officially a member of The Affiliate Lab!
The Affiliate Lab Review Summary
180+ video lessons, 13 bonuses, templates & checklists, plug & play tools, etc.
Pricey entry but offers immense amounts of value. No free trial. No refunds. 
Dedicated support team. Community support through a private FB group.
Dozens of success stories & positive testimonials from those who've tried the course.
(Click each question to expand)
Conclusion
Research shows that the main thing that holds most people back from succeeding with affiliate marketing is the lack of proper training.
As such, whether you're a complete newbie who's just embarking on an affiliate journey or a more advanced marketer who's after scaling the revenue of an already existing online business, getting your hands on a high-quality course such as The Affiliate Lab is key to reaching your affiliate marketing goals.
Have any questions?
Please leave a comment right below or contact me at harry@dearboss-iquit.com
I'll be more than happy to help you out!
Best wishes,
Harry
dearboss-iquit.com