Very recently, you heard about Commission Hero…
Maybe a friend told you about it.
Maybe you received an email from a stranger telling you that you can make $1000/day with it.
Or maybe, you were reading one of my other reviews and I redirected you here.
Whatever the case, if you've been looking for a legit program to help you earn some decent money online, sit tight because you DEFINITELY need to pay very close attention to this…
This Commission Hero review contains every piece of information you might possibly need to make a 100% informed decision about whether Commission Hero is worth your time, attention, and money or not…
Some of the things that I'm going to be talking about here include:
What is Commission Hero about?
How does Commission Hero work?
Who is Commission Hero for?
What's inside Commission Hero?
How much does Commission Hero cost?
Commission Hero's pros and cons
Is Commission Hero a scam?
In addition, I'll also let you know about a training program kinda similar to Commission Hero which helped me go from zero to earning a full-time income online.
Without further ado, let's start digging deeper.
Name of Product: Commission Hero
Owners: Robby Blanchard
Price:
$997 one-time payment

or two payments of $597
Official Website: commissionhero.com
Suggested? Yes!
Best Affiliate Marketing Courses
What is Commission Hero?
Commission Hero is an ​MMO (Make Money Online) course, created by Robby Blanchard, that'll teach you how to generate affiliate commissions by promoting high-end ClickBank products using Facebook paid ads.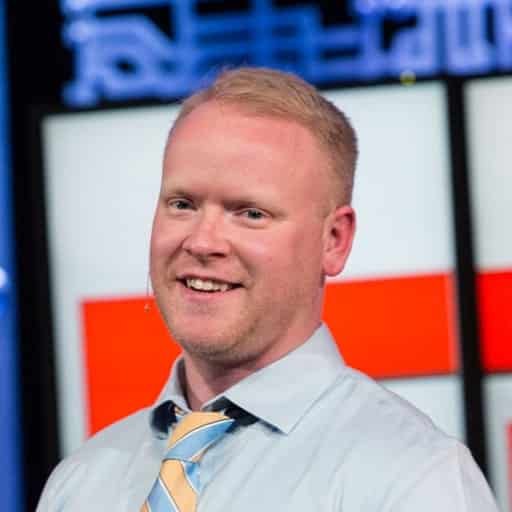 Robby studied exercise & sports science in college.
During his junior year, he got a job at a local gym as a personal trainer. 
According to him, he hated that job mostly because he hated working for other people… Robby had an entrepreneurial spirit and wanted to work for himself.
A few months later, he quit that personal training job and opened a landscaping business of his own.
After graduating from college, Robby decided to give personal training a second shot…
However this time, instead of working at someone else's gym, he decided to work as a self-employed, in-home personal trainer (training people at their houses).
While on that job, he met many highly successful people who taught him a lot about money and success and influenced him to open his own CrossFit gym.
However, despite the fact that Robby was a good personal trainer, he was really struggling to get people into his gym, mostly because he didn't have a single clue about how to market it.
In 2014, he became aware that more and more people were promoting their businesses by running Facebook ads and decided to do the same…
After running Facebook ads for a while, his CrossFit gym completely filled up!
A year later, in 2015, Robby put together a CrossFit-related digital course called "Dominate Your Double Unders" uploaded it to ClickBank and used Facebook ads to promote it.
He ended up earning thousands of dollars per week through it!
Then, he took everything he had learned up to that point and started running Facebook ads promoting other people's ClickBank products as an affiliate.
By 2017, Robby had made his first million online.
A couple of years later (just 4 years after running his first Facebook ad) Robby was considered among the TOP Clickbank Affiliates in the world, generating more than $1 million per month in affiliate commissions on ClickBank.
In January 2019, Robby won a ClickBank affiliate contest for generating the most affiliate commissions and got named "#1 Clickbank Affiliate In The World".
Right below you can find a 15-minute interview Robby gave to ClickBank after he won that affiliate contest…
A month later, in February 2019, Robby launched Commission Hero in order to teach people everything he had learned during the last 4 years about earning money online…
Basically, Commission Hero lays down the exact 3-Step System that made Robby an online millionaire and the world's #1 ClickBank Affiliate.
Lastly, Robby owns a 7-figure advertising/coaching/consulting agency, Blanchard Media LLC, which now works mainly with Inc. 5000 companies, big brands, and influencers.
In the video right below, Robby goes through his entire journey of how he went from a struggling gym owner to earning millions of dollars per month online in less than 4 years so you might want to give it a watch…
So, now that you know exactly what Commission Hero is all about, let me reveal to you exactly what you'll get your hands on if you decide to join…
What's Inside Commission Hero?
Here's an overview of everything you'll get if you become a member of Commission Hero:
Let's dig a little deeper, shall we?
Commission Hero 3-Step Approach
As mentioned earlier, Commission Hero reveals the exact same 3-Step Approach that enables Robby to generate millions of dollars per month online as well as become the world's #1 ClickBank Affiliate.
According to Robby, those 3 steps are proven to psychologically "force" people to purchase the offers you'll be promoting.
Step 1: Pick Your Offer
Find the most popular, most valuable, and highest paying affiliate offer to promote…
The affiliate network you'll be leveraging the most is ClickBank.
Step 2: Create Your Sales Page & Ad
People use Facebook to socialize and not to buy stuff…
Commission Hero teaches several techniques to switch the mindset of Facebook users from "social mode" to "buyer mode" so that they'll purchase the offers you'll be promoting.
This takes place by learning how to use the right images and the right copy on your ad and sales pages…
For instance, images and copy that pique the curiosity of users and create open loops will increase the percentage of people who actually click on your ad and buy your affiliate offer…
Step 3: Start Running Your Ad
Set up and start running your ads!
Monitor all your results.
Omit what doesn't work. 
Focus on improving what brings the best results…
Commission Hero's 3-Step Approach is utilized throughout 5 main modules…
Commission Hero's 5 Modules
Note: Click on each module to expand.
Commission Hero DFY Landing Pages
As we saw right above, the second step of Commission Hero's 3-Step Approach is building sales pages whereas you'll be promoting your offers…
In order to speed things up and make your life a lot easier, within Commission Hero, Robby has included templates of all the sales pages he has been personally using to generate millions of dollars on Facebook.
You can basically download any of those templates, implement it directly to ClickFunnels and get your sales pages up and running in mere minutes.
While using those templates exactly as they are is not really recommended because they will be probably used by a lot of other people as well, you can definitely edit & personalize or leverage them to get ideas and inspiration towards building your very own sales pages from scratch…
Million Dollar Ad Copy & 20+ Ad Images
In addition to the done-for-you sales pages, Robby has also included some of the Ad Copy & over 20 Ad Images which he has personally used to generate hundreds of thousands of dollars through his ad campaigns over the years.
The copy and images you'll be using on your ads play a definitive role in their performance…
For instance, the image of your ad is what will grab the attention of people and get them to stop scrolling down their Facebook newsfeed.
Your ad copy is what will get them to actually click on your ad and get redirected to your sales page to learn more about what you have to offer.
Again, you can plug and play the Ad Copy and Ad Images exactly as they are, edit them to fit your own needs and offers, or use them as inspiration to create your own from scratch.
Improper support or no support whatsoever are two of the main reasons that so many people fail to earn money online…
Thankfully, Commission Hero offers 24/7 to all its members.
Did you get stuck anywhere during your training and need someone to get you back on track?
Did you come across technical difficulties?
All you have to do is click the "Support" button at the top right of Commission Hero's members' area and let them know about your issue…
The average response time of the CH's support team ranges between 1 and 2 hours and truthfully, you won't have to exchange more than a couple of emails with them until your issue gets resolved.
Not bad at all…
Such fast and effective customer support is so hard to find nowadays, especially on money-making platforms.
In addition to the dedicated 24/7 support, all Commission Hero members are granted access to a private Facebook group.
Within that group, you can interact with other members of the course, ask questions, provide help to others, share your wins and failures, seek motivation when you are fed up and frustrated, learn what works from the successful ones, etc.
Robby claims that Commission Hero's private Facebook group is the life-force of the entire course and frankly, he is 100% right!
According to many sources such as HuffPost and Psychology today, being part of a community of like-minded individuals with similar goals as yours could significantly increase the chances, speed, and magnitude of your success.
Facebook and the internet in general, are constantly moving and changing.
New rules and practices rise daily to replace old ones… What worked yesterday might not work today and what works today might not work tomorrow…
Commission Hero is always being kept up to date according to the latest internet trends and as its member, you have access to the course's latest updates completely for free.
Facebook Super Profits Training System
Within this system, Robby mostly talks about scaling your business and ad earnings…
Some of the things you'll learn here include:
Creating multiple ad accounts in order for your revenue to not get affected if one of them gets shut down (you always run the risk of having your ad account shut down by FB)
Negotiating higher commissions
Avoiding mistakes with setting up your ads and ad accounts
Increasing your sales by 25%
Credit card tricks
etc
In addition to the main training and resources, once you sign up for Commission Hero, you'll also receive the following 7 Bonuses:
BONUS #1: Live Weekly Coaching
Every week, Robby and his team of coaches hold live coaching sessions in Commission Hero's private Facebook group.
The coaching sessions usually take place in the form of Q&A… Other times, Robby might start setting up a successful ad campaign from scratch while allowing you to watch over his shoulder as he does so…
BONUS #2: Million Dollar Rolodex Of Contacts
Contact info of several product owners that you can use to request higher commission payouts, thus maximizing your profit.
BONUS #3: Snapchat Training
Learn how to run profitable ad campaigns on Snapchat.
BONUS #4: $10k Month Email Marketing Module
This module contains interviews and training with Luke DiMarco, a Canadian internet marketer who specializes in email marketing.
Luke earns $20-30k per month using email marketing and in this module, you'll learn exactly how he does it so you can replicate his results!
BONUS #5: Access To a Facebook Insider
Tips, tricks, and techniques from Robby's Facebook insider in order to make the most out of your ad campaigns.
BONUS #6: Mindset Training
Within that training, Robby prepares and elevates your mindset in order to increase your chances of success.
First of all, he states that Commission Hero is NOT a shortcut to success or a magic bullet to overnight riches.
On the contrary, he emphasizes that his course will never actually work for you if you don't devote the time and effort to apply what you learn and stick with it until you get the results you desire.
He also talks about perseverance and shutting off negative voices which will undeniably try to convince you to give up and fail.
Lastly, he talks about how interacting with successful people increases your own chances of success and how hanging out with passive, unsuccessful people drags you down and increases your chances of failure…
BONUS #7: CPA Offer Training
Teaches you how to make money by promoting CPA ("Cost Per Action") offers…
Contrary to affiliate marketing, CPA offers don't pay you for getting people to purchase the products you promote but rather for getting them to complete certain actions, such as
creating an account
submitting certain info
signing up for a free trial
installing an application
etc
The commissions CPA offers pay are usually much lower than affiliate commissions but have much higher conversion rates as your referrals aren't required to spend any money on them.
Important Note: According to Robby, those 7 bonuses just mentioned are available only for a limited time and can be taken down anytime without any warning…
If you don't want to miss any of them, make sure to sign up for Commission Hero as fast as possible -> right here.
How Much Does Commission Hero Cost?
Commission Hero offers 2 payment options…
A one-time payment of $997
Two payments of $597 each, billed 30 days apart ($1194 total)
However, as I'll talk about later on, Commission Hero's signup fees aren't the only expenses associated with the course.
Keep on reading to find out what I'm talking about…
1 • Very Successful Owner
It's undeniable that Commission Hero's owner, Robby Blanchard, is an extremely successful entrepreneur and affiliate marketer…
As we've seen earlier, Robby 
has been named the world's #1 ClickBank Affiliate
is currently earning millions of dollars per month online
runs a 7-figure online marketing/coaching/consulting company called Blanchard Media
Right below you can see a screenshot from Robby's ClickBank account: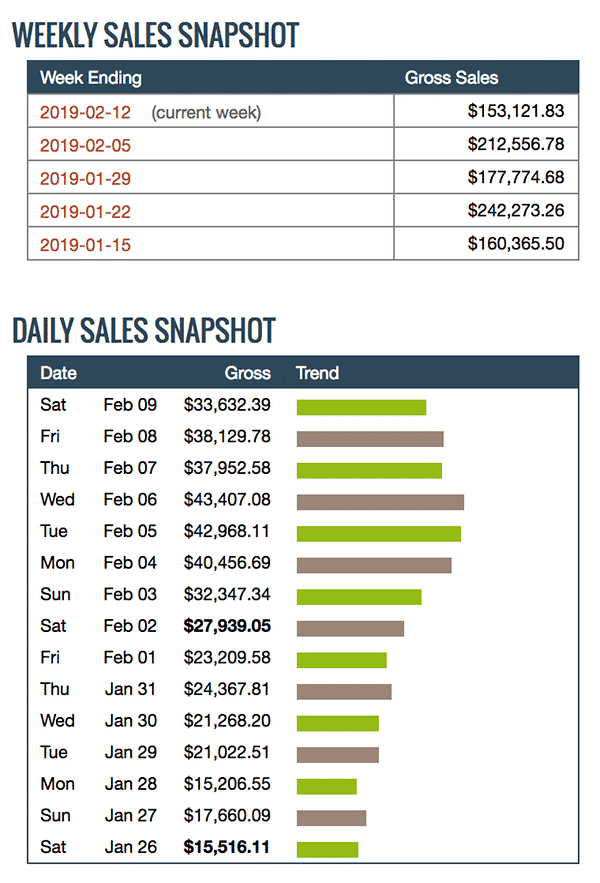 Pretty impressive, right?
I mean, this screenshot displays almost $1 million of ClickBank affiliate earnings over a five-week period, including days when he generated more than $40k for Pete's sake…
Anyone who can achieve such a feat clearly knows their stuff.
Frankly, if you are after earning big money online, it's hard to find someone better or more experienced than Robby to guide you.
2 • High-Quality Training
Commission Hero's training is broken down into bite-sized, easy-to-follow, step-by-step videos of 10 to 50 minutes each, recorded by Robby himself.
Robby's teaching style is very professional and comprehensive, something that will help you easily grasp even the most complicated concepts even if you are a complete newbie!
After all, before launching Commission Hero, Robby used to work as a personal trainer for years so I guess, he kinda has a knack for training people.
Frankly, I personally consider Commission Hero's training among the highest-quality MMO training modules I've ever come across…
And not just because it's professionally-made, comprehensive, and easy-to-follow, but mostly because it seems to bring results, fast!
Thinking back, I recall dozens of Commission Hero members earning hundreds of dollars per day on ClickBank just a couple of weeks after the course was initially launched (more on that later on).
Commission Hero's weekly live webinars are a very nice addition to the course's main training as they are jam-packed with information on a variety of subjects that will probably help you scale your income better and faster, such as
Effective affiliate marketing strategies
Writing better copy that converts
Creating sales pages
Targeting the right audience
etc
4 • Extremely Active Community
As stated earlier, once you join Commission Hero you'll gain access to a private, members-only Facebook Group.
At the time I'm updating this review, the group has more than 4000 members (1000+ joined just the last month) and around 100-150 posts daily (image below).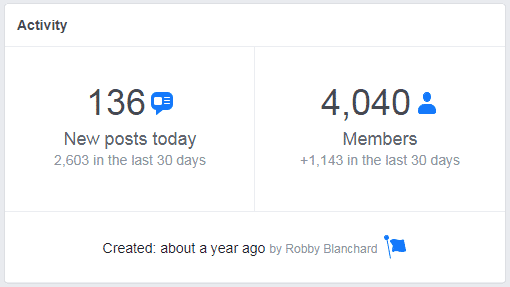 That's some serious activity right there!
Robby himself spends quite a lot of time within that group answering questions and offering his guidance and advice.
Truth is, there is nothing as comforting as being able to get instant answers to your queries as well as share your setbacks and frustrations with people who are on the same path as you.
Being part of such a group can definitely make the difference between success and failure for most people.
Tip: Avoid courses that don't offer access to any kind of community or those that offer access to communities that are deserted…
Most MMO platforms will offer you some kind of bonus in order to get you to sign up for them.
The problem is that the vast majority of the time, those bonuses are pure crap.
On the contrary, all of the bonuses you'll receive once you join Commission Hero are as valuable as the course's main training, as they provide information that will help you either directly or indirectly scale your online earnings.
Truthfully, Commission Hero's 7 bonuses are easily worth 1/3 of the course's full price…
Out of the 7 bonuses, the ones that I liked the most are the
Mindset Training (Mindset plays such an important role in running a successful online business. The only course I've come across that provides mindset training, besides Commission Hero, is K Money Mastery 2.0)
10k Month Email Marketing Module (Expert marketers say that "Money is in the list". That's 100% true! Knowing how to build an email list as well as how to market products to that list can have an enormous positive impact on your earnings)
CPA Offer Training (I love promoting CPA offers. In fact, the majority of my monthly income is generated through CPA offers)
Important Note: Commission Hero's 7 bonuses are available only for a limited time and can be taken down anytime without any warning…
If you'd like to get your hands on all of them, make sure to sign up for Commission Hero today -> right here.
6 • Tons of Success Stories
Ok, Robby might indeed be an extremely successful entrepreneur and affiliate marketer but can he really help those who join his course follow in his footsteps?
Well, during the last year, I've come across dozens of positive reviews, testimonials, and success stories of people who have utilized Commission Hero.
You can take a look at a few of them right below: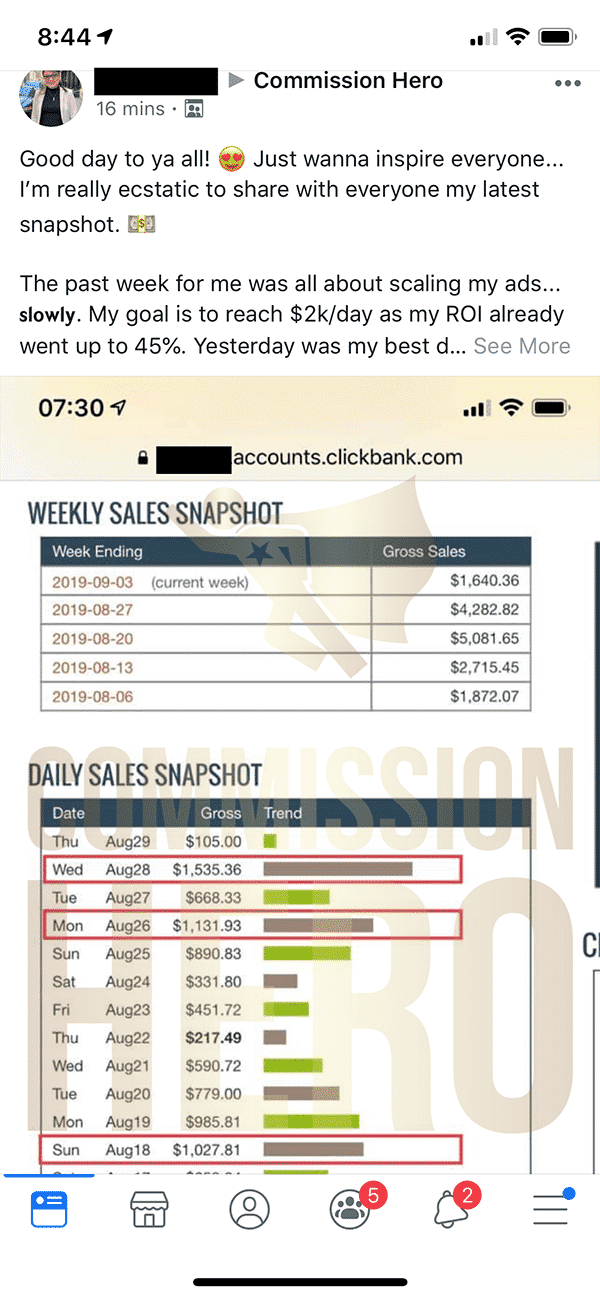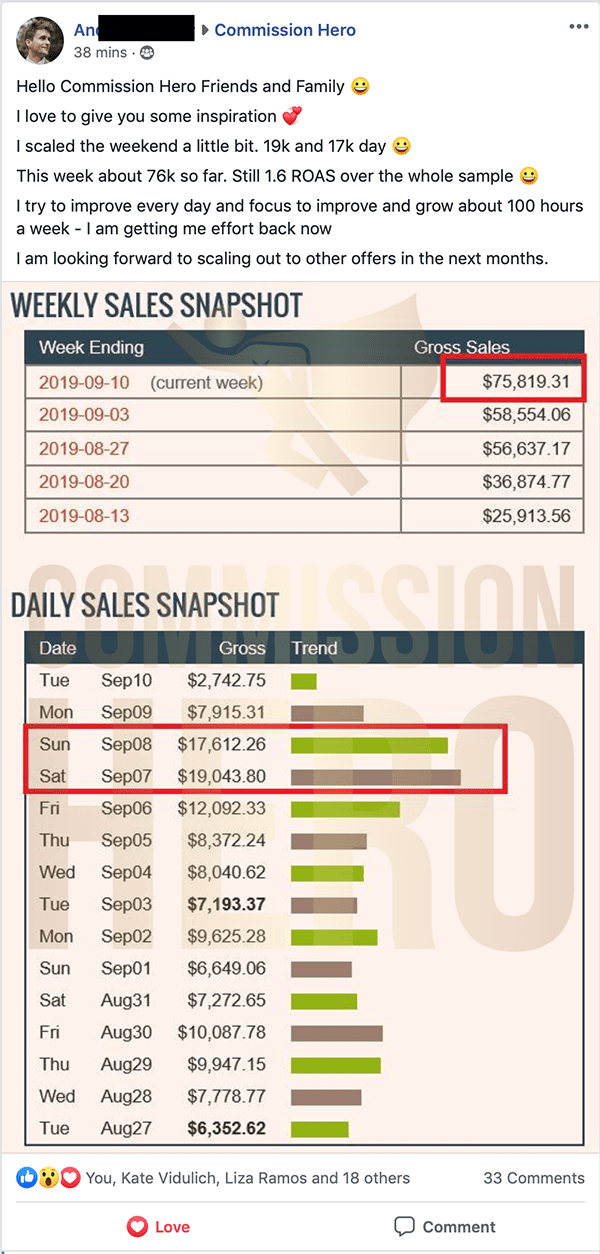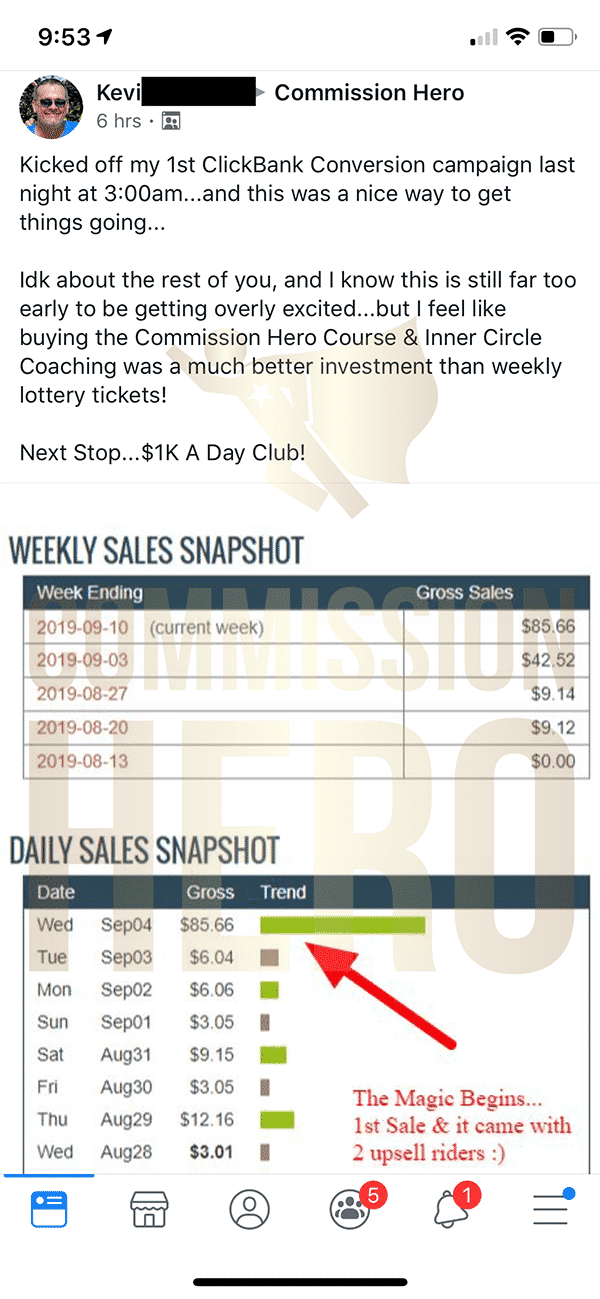 More and more success stories are being published daily within Commission Hero's private Facebook group.
Important Note: Commission Hero's testimonials, case studies, and success examples may not reflect the typical purchaser's experience, may not apply to the average person and are not intended to represent or guarantee that anyone will achieve the same or similar results. Truth is that most people will never act on the courses they buy, so most of the time their typical results are zero. The biggest factor to succeeding not just with Commission Hero but with any other given quality course is your very own ability to follow through. There is no such thing as a magic bullet or shortcuts to earning money fast neither online nor offline. Your effort is the only factor that will determine your results.
I love money-back guarantees…
The internet is full of scams and low-quality programs that promise a lot and deliver nothing so having the ability to get a full refund if needed makes me feel way more secure in my purchases…
I guess that you might be feeling the exact same way, especially when something you might be interested in costs almost $1000…
Thankfully, Robby offers a 100% money-back guarantee so if you don't like Commission Hero for any reason or if you don't see your expected results after using it for a while, you can get your money back…
Just a heads up, there's a huge catch here that I'll talk about in a bit.
8 • Faster Feedback & Results
One of the things that I like a lot about Commission Hero is that it teaches about using paid Facebook ads to attract traffic to your affiliate offers…
Yes, paid ads cost money but what you'll spend on money, you'll save on time.
You see, compared to free traffic that could take months to cultivate, paid ads enable you to get your affiliate offers in front of potential buyers instantly and on-demand.
This results in acquiring the necessary feedback to understand what doesn't work a lot faster, which in turn translates to making the necessary adjustments a lot faster, which in turn translates to seeing results faster, which in turn translates to higher chances of success.
Look at it this way…
With paid ads, you could learn in a couple of weeks what would take 6+ months for you to learn with free traffic…
Don't get me wrong, I am not claiming that paid traffic is better than free traffic… In fact, 99% of all the traffic I get on all my websites is free, search engine traffic.
I'm just saying that by paying for traffic you'll probably be able to see much fast-ER results than by trying to cultivate free traffic, especially if you are a complete beginner.
Commission Hero's signup fee is rather expensive…
Yes, the course might be high-quality and yes, it could help you achieve some great results faster than other affiliate courses.
But still, $997 is a high price to pay, especially if you're just starting your journey to earning money online and don't have a single clue about if the whole process is something that you'll actually enjoy or not.
Truthfully, thinking back 4 years ago when I was just starting out with affiliate marketing, I'd never spend so much money on a single course…
If this is the case for you as well, then I suggest that you check out Wealthy Affiliate.
Wealthy Affiliate is a high-quality affiliate marketing course that costs a lot less to join than Commission Hero and mainly focuses on teaching you how to cultivate free, organic traffic instead of paying for ads.
2 • Relies on Paying for FB Ads
Unfortunately, Commission Hero's high signup fee is not where your expenses regarding this course stop…
As you already know, in order to utilize everything Commission Hero teaches, you'll need to spend money on FB ads as well.
Now, you won't need to purchase hundreds of dollars worth of ads since day one…
According to Commission Hero's sales page, you can get started by spending $10-$20 per day and scale as you move forward…
However, one thing's for sure…
The more money you spend on ads, the faster you'll gather feedback… And the faster you gather feedback, the faster you'll end up running successful ad campaigns.
In short, more money in ads = more & faster profit.
On top of the high signup price and the paid ads, in order to fully utilize Commission Hero, you might have to spend even more money on purchasing a range of tools that Robby suggests throughout his training, such as:
ClickFunnels ($97/month) – Funnel & sales page builder
AWeber ($29/month) – Email marketing software
Fiverr (starts at $5/project) – Locate freelancers to create images and videos for your ad campaigns
Purchasing just those 3 platforms translates to at least a $130 of additional monthly expenses.
Truth is that you aren't really obligated to pay for any of the platforms Robby suggests…
However, when during the training Robby teaches you exactly how to set up and use ClickFunnels and also provides you sales page templates that can only work with ClickFunnels, then you just "have" to go for ClickFunnels, isn't that right?
And what I don't like here is that Robby keeps all those additional expenses under the radar while he should clearly mention all of them on Commission Hero's main sales page.
When you come across a course as expensive as Commission Hero, you'd expect it to offer a free trial for at least a couple of weeks…
Unfortunately, Commission Hero offers no free trial whatsoever.
Nonetheless, you can register for a free 2-hour webinar whereas Robby goes into a lot more detail about what Commission Hero has to offer as well as his 3-Step Approach of earning money online through ClickBank and Facebook ads.
This will help you get a feel of the entire business model as well as Robby's teaching style and thus make a 100% informed decision about whether you should invest in Commission Hero or not.
5 • Refunds Available After 12 Months
Remember how I mentioned earlier that Commission Hero's money-back guarantee has a huge catch?
Well, here it is…
You are able to submit a refund request 12 months after you initially purchased Commission Hero
You have to submit your refund request within 7 days after those 12 months have passed
For instance, if you purchased Commission Hero on the 1st of May 2020, you can request a refund only from the 1st to the 7th of May 2021.
In addition, before getting your money back, you may be asked to show proof that you actually made an effort to utilize Commission Hero.
According to Robby, this is the case because "He is looking for motivated people who are going to stick this out for the long term, make REAL progress, build a REAL business, and escape their 9-5 job".
However, in my eyes, those are just excuses used to mask the fact that Robby has intentionally made the refund process unnecessarily complex, hoping that some people who didn't really see any results with Commission Hero, will either forget to request a refund during that very small 7-day window or won't even bother requesting one due to the complexity of the whole process.
6 • Promoting Mostly ClickBank Products
During the last couple of years, I've bought and reviewed dozens of ClickBank products myself…
Truthfully, the vast majority of them were either extremely low-quality or utter scams…
In fact, out of the dozens of ClickBank products I've purchased until now, only two or three of them were actually legit.
Nowadays, more and more people who don't have a single clue what they are talking about, leverage ClickBank to promote worthless products they created just to generate a profit for themselves.
And unfortunately, Commission Hero focuses on teaching you how to invest a lot of your time and money in trying to trick complete strangers into purchasing such questionable, low-quality products that will never deliver any of the results they promise.
Personally, I'm not okay with such practices…
In addition, ClickBank offers a 60-day money-back guarantee on all its products and according to many sources, the platform's overall refund rate is pretty high (mostly due to selling crappy products).
This means that a percentage of your monthly revenue will always be refunded something that could result in barely making enough money to cover your ad expenses or in some instances, even less, especially when you are just starting out.
Who is Commission Hero for?
Commission Hero is mainly addressed to those who want to build a full-time income online.
This includes people who
Want to quit the 9-5 rat race and work for themselves
Work part-time jobs and need more money
Are stay at home parents
Would like to live the laptop lifestyle and work from anywhere and anytime they want
Aspire to become entrepreneurs
Just want to earn more money to live a more abundant life
Want to create a source of passive income online
Are retired and would like to earn more money
etc
In addition, Commission Hero could be perfect for those who are already running an online/offline business and would like to scale it by using Facebook ads.
Just so you know, Commission Hero is very beginner-oriented…
It doesn't really matter
if you have previous experience in affiliate marketing and running ads or not
if you've gone to college or not
if you have a background in digital marketing, or sales, computer science, or not
If you can go online and order a pizza then you already possess the skills required to utilize everything Commission Hero teaches and make money online…
In fact, as mentioned right above, Robby used to be just a personal trainer…
He had no clue about marketing, online sales, or running Facebook ads whatsoever…
And in just 4 years, he managed to turn himself into the #1 ClickBank Affiliate in the World.
Who is Commission Hero NOT for?
Commission Hero is definitely NOT for those who
Don't have enough capital to purchase Commission Hero, Facebook ads, and some of the tools Robby recommends
Expect that they will make tons of money fast and effortlessly
Don't want to put in the time and effort
Have bought similar courses in the past but never bothered to act on them
Are not willing to take monetary risks
Usually, give up at the first setback or failure
How to Join Commission Hero?
Joining Commission Hero is extremely simple…
First of all, click here to be redirected to Commission Hero's purchase page
Scroll down a bit, choose your payment plan, and click "Get Access Now!"
Fill in your customer and payment information
Click "Pay Now"
That's it… You are now an official member of Commission Hero!
Commission Hero Review Summary
Extremely high income potential… There are people who earn more than $1000 per day using this system.
Step-by-step training, 7 bonuses, weekly live webinars, 20+ ad images, ad copy, premade sales pages, etc.
Pricey admission. Additional expenses for ads and other tools. It's definitely worth the money if you have it…
24/7 dedicated support. Access to a private Facebook group whereas Robby himself actively helps people.
Commission Hero has helped dozens of people go from absolute zero to earning a full-time income online and it can help you too!
(Click each question to expand)
Is Commission Hero Suggested?
If your goal is to build a full-time income online and have the necessary capital to invest, then Commission Hero is highly suggested for you!
Commission Hero has been put together by the #1 ClickBank Affiliate in the world, Robby Blanchard… As you can understand, the chances of someone else teaching you how to earn money with affiliate marketing better than Robby, are practically zero!
It's undeniable that the course's training is legit and high-quality.
This is actually reflected in the number of members that have managed to build an income of thousands of dollars per day by utilizing it.
Once you join Commission Hero, you're also granted access to a private, very active community that currently consists of more than 4000 people. This community will most likely play a very important role in you achieving success online and in my opinion, it's worth half of Commission Hero's price alone.
The 7 bonuses Robby offers are a pretty nice addition to Commission Hero's main training and will probably speed up and smoothen your entire journey.
If what you've read until now sounds like something you are interested in, you can go ahead and immediately get started with Commission Hero -> right here.
If you're not 100% sure just yet, then I suggest that you go ahead and watch Commission Hero's Free 2-hour Webinar -> right here.
While Commission Hero is definitely not perfect, I still consider it among the best affiliate marketing course I've come across until now.
Basically, the biggest downside of Commission Hero is the high amount of money that you'll have to invest in purchasing and utilizing the course.
If you don't have or aren't willing to invest so much money in Commission Hero but still want to build a full-time income online and live the "laptop lifestyle", you might want to consider going for a cheaper affiliate marketing course that focuses on teaching about driving free traffic to your affiliate offers instead of paying for ads.
I really hope that my Commission Hero review helped you make an informed decision about whether or not you should invest your time, money, and attention in this course.
If you have any comments, questions, or would like to share something with me regarding Commission Hero, you are encouraged to leave a comment right below or contact me at harry@dearboss-iquit.com
I'll be more than happy to help you out!