As years pass and times change, more and more people look for opportunities to pocket some extra side cash per month online…
Since you're here, I'm guessing that you are one of those people and that very recently you heard about InboxDollars.
However, due to the fact that there are so many diverse money-making opportunities out there, it's very hard to determine if InboxDollars is the right choice for you…
That's why in this InboxDollars Review, I'm going to share with you all the information you might possibly need to be able to make a 100% informed decision about whether InboxDollars is worth your time and attention or not.
In a nutshell, InboxDollars is a GPT platform that'll pay you for completing simple tasks, such as filling surveys, playing games, watching videos, etc. The platform has been operating for more than 20 years and has paid almost $60 million worth of rewards to its members.
Let's dig deeper, shall we?


What is Inbox Dollars About?
Inbox Dollars is a GPT (Get Paid To) platform, that is a platform that pays people for completing very simple tasks online, such as filling surveys, watching videos, and playing games.
The platform was launched in 2000 by Prodedge LLC., a market research company that also owns and runs four of the largest consumer insights and engagement platforms
MyPoints
ShopAtHome
and InboxPounds
Right now, Inbox Dollars is considered one of the largest and most reputable GPT websites in the world, having paid almost $60 million to over 17 million of its members.
Some major brands that have been cooperating with Inbox Dollars for many years include:
Wallmart
Netflix
Target
& more
Lastly, InboxDollars has been recognized by Inc. 5000 for outstanding growth and has been featured as one of the top ways to earn money online by dozens of major online publications, including:


Who Is Inbox Dollars For?
Inbox Dollars is mainly addressed to people who live in the US and are after earning some extra side cash online in their free time without having to possess/acquire any special skills or even be tech-savvy.


Who Is Inbox Dollars NOT For?
Inbox Dollars (or any other GPT platform for that matter) is very unlikely to help you generate more than $150 per month.
That being said, if you're after earning a sizeable income online, I suggest that you forget about Inbox Dollars and GPT platforms in general and check out this one instead.


How Does Inbox Dollars Work?
Getting started with Inbox Dollars is a piece of cake.
As a matter of fact, you can earn your first $5 with the platform in less than 2 minutes from now just for creating your free account and activating it by confirming your email address…
After doing so, Inbox Dollars is going to prompt you to take your very first survey which consists of 20-30 personal questions, such as
Gender
Date of birth
Income
Marital status
Profession
etc
Taking this first survey is mandatory as Inbox Dollars will then use your answers to determine which surveys you'll be eligible to participate in.
Make sure to answer each question as accurately as possible because if Inbox Dollars finds out that you lied or that you answered inaccurately, they might suspend or even completely shut down your account.
After completing that first survey, Inbox Dollars will credit an additional $0.50 to your account and allow you to start participating in the rest of its money-making tasks, such as:
Filling In Surveys
Scratch & Win
Searching the Web
Joining Other Survey Panels
Playing Games
Cash Offers
Print & Redeem Coupons
Cashback Savings
Learn & Earn
Receipt Scanning
PaidEmails
Watching Videos
WinIt
and Making Referrals
Let's take a closer look.
The main way that you can generate money with Inbox Dollars is by filling in surveys…
Inbox Dollars' average survey pays out $0.50 to $5 and lasts between 3 and 30 minutes.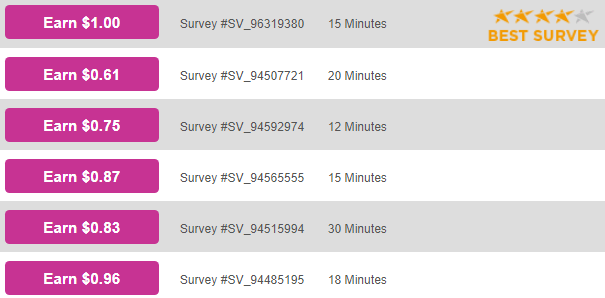 Depending on your demographic profile, every now and then, you might come across surveys that pay $10, $20, or even more.
Please note that if you provide inaccurate or dishonest information or "speed through surveys", Inbox Dollars may not credit you for completing those surveys, and also limit your eligibility to participate in future surveys.
Inbox Dollars can pay you up to $100 for playing the Scratch & Win game.
Scratch & Win consists of 3 Scratch-Off Cards…
The first one pays up to $10, the second up to $25, and the third up to $100.

As you saw in the image right above, each of those cards contains 6 scratch-able tiles out of which you can actually scratch only 3.
If all 3 tiles you scratch display the same amount of money, Inbox Dollars will credit that amount to your account.
The way to unlock the higher-paying Scratch-Off Cards is to work toward filling the progress meter above them by participating in other activities, such as
WinIts
Learn & Earn
Search
Games
PaidEmails
& more
Reaching the "$" marker within the progress meter unlocks the 1st Scratch-Off Card… The "$$" marker unlocks the 2nd Scratch-Off Card, and the "$$$" unlocks the 3rd Scratch-Off Card.
Inbox Dollars will also reward you in 2 different ways for using its built-in search engine…
Earn progress towards Scratch & Win every time you perform 4 qualified searches*.
Receive a $0.05 bonus for every week that you make qualified searches for 4+ days in a row
*A qualified search is a search that takes place naturally for the purpose of locating information.
If Inbox Dollars finds out that you're searching randomly or unnaturally just to earn cash (yes they can actually figure that out), you might end up losing all your search credits and maybe even your ability to use the search engine altogether.
According to Inbox Dollars:
A "qualified search" is one that's made by a real person seeking real search results. Repeat or fraudulent search attempts, including those made by robots, hackers and computer scripts, don't count as qualified searches. Furthermore, any earnings from unqualified or fraudulent searches will be deducted from your account, and any person, committing fraudulent search activity may be removed from InboxDollars.

Joining Other Survey Panels
Get paid for joining and utilizing other survey, GPT, and/or market insights platforms, such as Permission Research and LifePoints.
Another way to generate money with Inbox Dollars is by playing online third-party games, such as
Billionaire Casino
Stars Slots
Rise of Kingdoms
Elvenar
Forge of Empires
etc
Please note that in order for Inbox Dollars to credit you for playing a third-party game, you'll have to complete some specific objective.
For instance, as you can see in the images right below, to receive $2 for playing Elvenar you first have to reach the "Magical Academy" level and to receive $30 from Billionaire Casino you first have to reach level 160 within 14 days…


Besides the third-party games it offers, Inbox Dollars has also created its very own games, including:
Monkey Bubble Shooter
Mahjong Solitaire
Pet Hop
Candy Jam
& more
Playing Inbox Dollars' games won't earn you any money directly, but rather progress on Scratch & Win's progress meter whereas, as mentioned earlier, you could potentially earn up to $100.
Lastly, Inbox Dollars has partnered with GSN Casino to offer you an 18% cashback for every dollar you spend on any GSN game, which isn't so much a way to earn money as it is to play GSN games at a discount.
Inbox Dollars' Cash Offers tend to revolve around 3 key areas of interest:
1 • Sweepstake Entries: 
Get paid for registering and providing your opinion on third-party sweepstake platforms whereas you can also potentially win a variety of gift cards for several stores, including: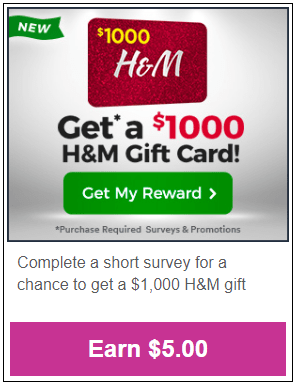 2 • Money-Saving Opportunities
Earn money for signing up for programs that will supposedly help you save money regarding your
Home & car insurance policies
Food delivery
TV
Household items
& more
For instance, Inbox Dollars will pay you $100 for switching to Liberty Mutual Insurance and $10 for purchasing the Disney+, Hulu, and ESPN+ bundle.
3 • Paid Cash Offers
Get paid by Inbox Dollars for actually purchasing third-party products/services, such as
VPN, Bitcoin, and Forex subscriptions
Signing up to seminars and classes
Shaving kits
& other products that match your demographics
Please be aware that in order for Inbox Dollars to credit you for most of its cash offers, you'll be required to make some kind of monetary investment in them…
Also, unless otherwise stated, Paid Cash Offers are available for first-time customers only.
For instance, Inbox Dollars will not credit you for completing a Paid Cash Offer if you've already joined it in the past through Inbox Dollars, another website, or the advertiser itself.
Inbox Dollars provides you access to free discount coupons for groceries, household items, beauty products, & more.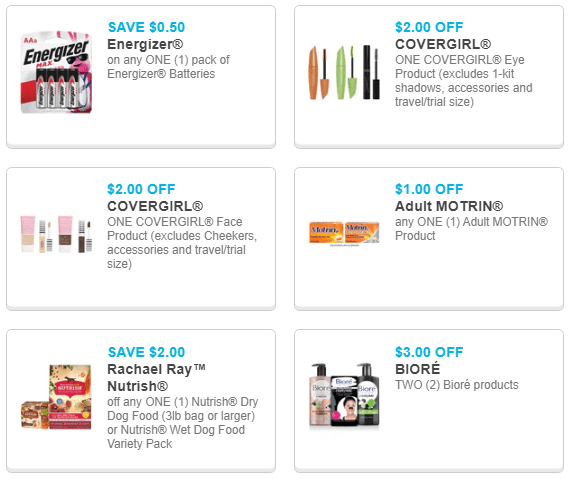 In addition to the coupon discounts, Inbox Dollars will pay you $0.01 per coupon you print (for up to 25 coupons per day) and $0.10 per coupon you redeem.
Are you shopping online from major US merchants regularly?
Next time, conduct your online shopping through Inbox Dollars' "Shopping" section to receive up to 10% cashback savings for purchases you make through stores such as:
Macy's
Walmart
eBay
Target
BestBuy
& more

Learn & Earn is a fun and short activity that grants you progress on the Scratch & Win progress bar!
The activity is located on the right sidebar under the "Home" section of your account and consists of answering just one trivia question per day from categories that include history, technology, health, movies & more.
After submitting your response, Inbox Dollars reveals to you the correct answer (Learn) and then credits you with Scratch & Win progress even if your response was wrong (Earn).
In addition to everything else, Inbox Dollars offers you the option to earn cash credits by scanning and forwarding to them receipts from several major retailers, such as:
Grocery Stores
Supermarkets & Super Centers
Club & Dollar Stores
Drug Stores & Pharmacies
Convenience & Corner Stores
Beauty Supply Stores
Pet Supply
and Toy Stores
The amount of money that Inbox Dollars will pay you per receipt you send them over is $0.02.
Each receipt must be less than 10 days old to be considered valid and forwarding a receipt more than 2 times in order to receive double credit is prohibited.
Earn progress on Scratch & Win for opening and confirming emails you receive by Inbox Dollars, like the one right below.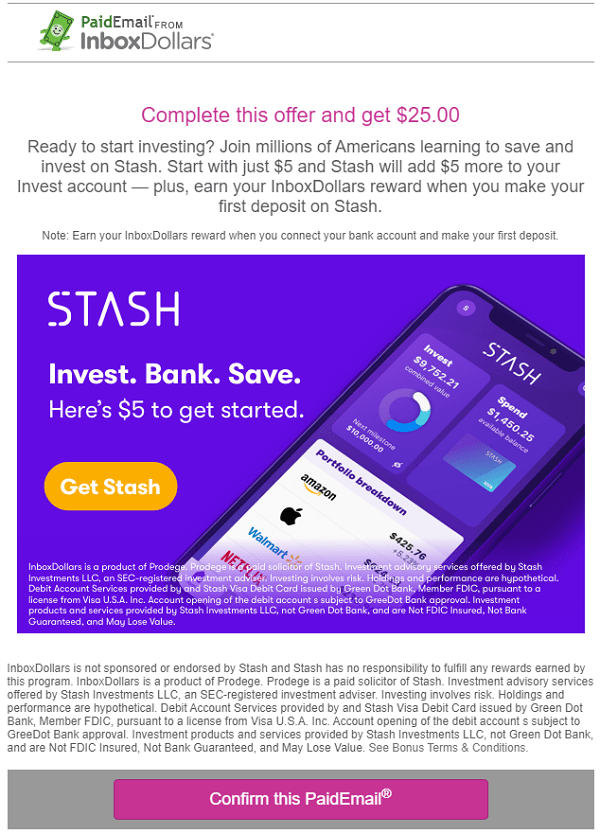 The main purpose of PaidEmails is to inform you about new cash offers, games opportunities, surveys, coupons, etc that are available for you to participate in.
However, please note that most of the time,  just clicking on the "Confirm this PaidEmail" button at the bottom of each PaidEmail is enough to get credited with Scratch & Win progress.
Generally, the more frequently you participate in Inbox Dollars' money-making tasks, the more PaidEmails you should be receiving per day.
Members who don't consistently participate in other opportunities may receive less or maybe even no PaidEmails whatsoever…
Get paid up to $0.05 for watching videos within Inbox Dollars' platform.
The process is extremely simple…
Click on the video you'd like to watch
Follow the instructions on the new window/tab that'll open
Click "Watch Now" to watch the video
Please note that attempting to run multiple videos from multiple browsers/devices or using scripts/bots to boost your earnings can result in your Inbox Dollars account being terminated.
WinIt is a code which you can redeem within Inbox Dollars to earn a variety of rewards, such as:
Sweepstakes Entries
Cash
or Contest Entries
WinIt codes are being regularly posted on Inbox Dollars' Facebook, Twitter, Instagram, and/or blogroll.

Last but not least, Inbox Dollars will pay you:
$1 per each qualified referral you make to the platform (applicable only for your first 5 referrals)
and 30% of all the $ your referrals earn with Inbox Pounds

For instance, if one of your referrals makes $50 with Inbox Dollars, you'll automatically pocket $15.
Your unique Inbox Dollars referral link is located under the platform's "Refer Friends" section.


How Does Inbox Dollars Pay?
Inbox Dollars allows you to cash out your earnings in a multitude of ways, including:
Cheque
Prepaid Card
PayPal
Gift Cards (Amazon, Marks & Spencer, eBay, Target, etc)
Please note that Inbox Dollars' minimum cash out threshold is $30.
Payments and redemptions usually take 1-2 weeks to be processed and fulfilled.


How Much Money Can I Make With Inbox Dollars?
InboxDollars is a 100% legit online GPT (Get Paid To) platform that has paid almost $60 million in cash, PayPal, and gift card rewards to its members over the years…
However, you have to understand that InboxDollars is not to be considered neither as a substitute for your regular full-time or part-time employment nor as a way to make a lot of money fast…
Truth is, that Inbox Dollars is very unlikely to help you earn more than $2 per hour.
And that's a best-case scenario based on the assumption that you leverage all of its money-making tasks simultaneously without being disqualified from any of them…
This means that to generate an extra $200 per month with Inbox Dollars you'll have to spend at least 3 hours per day on the platform.
That's kind of an awful return of investment but to be fair, that's the case with the majority of GPT platforms out there…


How to Join Inbox Dollars?
Joining Inbox Dollars is extremely simple and straightforward…
All you have to do is:
Head over to inboxdollars.com
Fill your email and password in the form on the right of your screen
Click the "Sign Me Up!" button
Agree to Inbox Dollars' Terms of Use and Privacy Policy
Head over to your email inbox and activate your account to receive your $5 bonus
Follow any further instructions given by the platform
Congrats, you can now start earning money by completing tasks for Inbox Dollars!
The first thing that I like about Inbox Dollars is that it's so minimal and simple to utilize that you can start earning your first money with it in mere minutes, even if they've never joined a GPT website before…
Basically, all you have to do to start earning money with Inbox Dollars is:
Confirm your email
Complete your profile survey
Start participating in other tasks
Inbox Dollars offers the largest variety of money-making tasks I've ever seen in any GPT platform I've tried until now.
This means two things…
More tasks = higher income potential
If you get bored with or tired of one task, you can "spice things up" by switching to another
Did you get bored of filling in surveys?
Start watching some videos…
Did you get bored of watching videos?
Start referring some of your friends to the platform…


3 • Profitable Referral Program
As mentioned earlier, Inbox Dollars will pay you 30% of all the money generated by people you have referred to it.
Granted enough referrals, your Inbox Dollars earnings could skyrocket to hundreds or maybe even thousands of dollars per month…
For instance, if you get 100 referrals that generate $100 per month each, you'll be pocketing a sweet $3000 per month out of their work without having to complete a simple task yourself!
Now getting 100 active referrals is no piece of cake but it could definitely happen if you work hard and smart enough.
In an attempt to help you maximize your earnings and savings, Inbox Dollars has created the "Billy Button"…
Billy Button is basically a browser extension that alerts you every time new surveys, offers, and other earning opportunities become available on Inbox Dollars' website.
In addition, when you're shopping online, it's going to reveal to you a store's best deals, and automatically apply all available coupons and/or discount codes during your checkout…


5 • A Lot of Positive Feedback
Over the years, Inbox Dollars has received quite a lot of positive feedback online, both from its members, as well as from various business-rating platforms…
For instance, Inbox Dollars has a rating of 4.1 out of 5 stars on Trustpilot, gathered from more than 9k customer reviews!

In addition, the platform has been accredited with BBB since 2012 with an"A" rating (highest rating is "A+")
Here's what some of the members of Inbox Dollars have to say about the platform: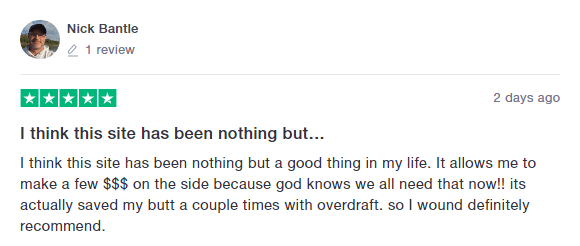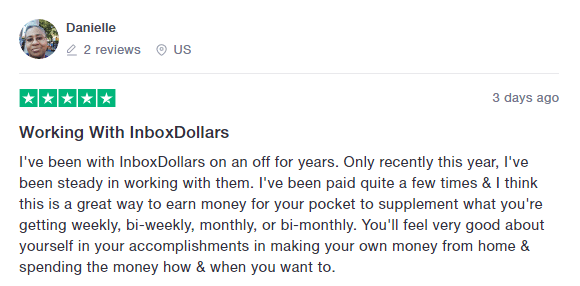 Lastly, Inbox Dollars is listed among the top 4 Market Researcher Companies, as well as among the top 88 Media Companies on Trustpilot.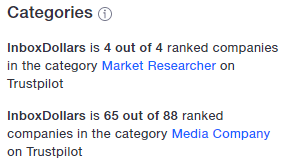 1 • Also Has a Lot of Complaints
Inbox Dollars might have received a lot of positive feedback online, but at the same time, it has also gathered a lot of negative reviews and complaints online…
Okay now, to be fair, every single company that's operating for a few years will inevitably receive negative feedback from some of its customers at some point, right?
However, what's extremely concerning here is that the vast majority of Inbox Dollars members complain about the exact same two things…
Suspended/closed accounts
and receiving no help from the platform's support team


Now, I don't want to play the devil's advocate but I know for a fact that people will try to "game" any money-making system to increase and expedite their earnings, such as
Opening 2 surveys at once
Rushing through surveys
Watching multiple videos
Having multiple accounts
Using VPNs
Employing scripts/bots
& more
For instance, a couple of weeks ago, I've personally received complaints regarding Inbox Dollars from two former members of the platform… Both of them had their accounts shut down and asked me to review and expose Inbox Dollars as a scam.
After talking with them for a while, I found out that one of them had used a VPN to access Inbox Dollars from a country outside the US, and the other had created a second account because he couldn't remember the password of his first one…
According to Inbox Dollars' Terms & Conditions, both of those instances are prohibited, so shutting down their accounts was the right thing to do.


2 • Task Disqualifications
One thing that drove me nuts regarding Inbox Dollars is that it kept kicking me out of surveys after I had already spent several minutes answering their initial questions.
This happens because most surveys are addressed to specific demographics and in order to see whether you're a good fit for them or not, you'll have to answer a few screener questions.
As you can understand, this means that you could potentially end up wasting quite a lot of time and energy answering questions for nothing.
Nonetheless, this characteristic isn't exclusive to InboxDollars but rather quite common among the majority of survey websites out there.
The even wore news is that this doesn't happen just with surveys but also with videos.
A couple of days ago, I started participating in a video task that required me to watch 6 videos.
After spending 10 minutes watching the first 3 videos, InboxDollars informed me that the task wasn't available anymore and threw me out without compensating me a single dime…


3 • Available Only in the US
Inbox Dollars is available only to people who are located in the US.

If you live outside the US, then you won't be able to join Inbox Dollars.
Also, please note that to be allowed to join Inbox Dollars, you need to be 18+ years old.
If you live in the UK, you can check out Inbox Dollars' UK version, Inbox Pounds.
If you live in Canada, you can check out Inbox Dollars' Canadian version, Daily Rewards.


Inbox Dollars Review Summary



Up to $200 per month. You could make a lot more through the platform's referral program.
Simple to utilize even if you have no previous experience or tech skills whatsoever.
Earn money through surveys, searching the web, playing games, watching videos, etc.
Reasonable support that takes care of issues relatively quickly.


Is Inbox Dollars a Scam or Suggested?
Inbox Dollars is definitely NOT a scam but rather a legit platform that can be easily classified among the largest and most reputable GPT platforms in the US.
The platform offers an enormous range of money-making tasks – from filling in surveys and watching videos, to playing games and joining other research panels…
Yes, Inbox Dollars does have a kinda mixed feedback online, but if you stick to its Terms & Conditions to the letter, you shouldn't face any issues whatsoever.
If your goal is to earn an extra $200 per month relatively fast and without much effort, while at the same time saving some money off of your online shopping, then Inbox Dollars is probably exactly what you're looking for!
If you'd like to maximize your monthly survey earnings, I suggest that you take a look at some other legit survey websites and join as many of them as possible.
Are you interested in InboxDollars but located in the UK? Check out Inbox Pounds!
Are you interested in InboxDollars but located in Canada? Check out Daily Rewards!
Have any comments or questions?
Please leave a comment right below or contact me at harry@dearboss-iquit.com
I'll be more than happy to help you out!
Best wishes,
Harry, Founder & Editor at dearboss-iquit.com