During the last few years, more and more people seem to be interested in utilizing Swagbucks towards pocketing a few extra bucks per month while on the go.
Since you're here, I'm guessing that you are one of those people…
However, before jumping in and investing your precious time and energy in Swagbucks, you'd like some answers regarding the platform's legitimacy, reputation, money-making tasks, income potential, cashout options, etc.
If that's indeed the case, then you have landed in the perfect place…
In this Swagbucks Review, I'm going to share with you all the information you might possibly need to be able to make a 100% informed decision about whether you should give Swagbucks a try or not.
In a nutshell, Swagbucks is a GPT (Get Paid To) platform that'll pay you for completing simple tasks, such as filling surveys, playing games, and watching videos among others… Since it was first launched back in 2008, Swagbucks has paid more than $450 MILLION to its members.
Let's start diving a little deeper.
Swagbucks is a GPT (Get Paid To) platform that is willing to pay you for completing very simple tasks such as participating in surveys, watching videos, searching the web, shopping online, etc.
The platform was launched back in 2008 by Prodege, LLC, one of the largest US-based market & consumer research companies that actually also owns and runs 4 other major GPT/Cashback panels you might have heard of, such as
MyPoints
and ShopAtHome
Prodege is currently providing data & insights gathered from millions of consumers to some of the most reputable brands and agencies in the world, including Macy's, Kraft, Walmart, Best Buy, Marks & Spencer, etc.
Furthermore, throughout the past decade, Prodege has been nominated for and won numerous business awards.
For instance, in 2019, the LA Business Journal appointed Prodege as the 30th best medium-sized company to work for in Los Angeles.
In addition, Prodege/Swagbucks was listed among the 500 fastest-growing US tech companies (Deloitte's Tech Fast 500), for the years 2013, 2014, and 2016, as well as among the 5000 fastest-growing private US companies (Inc. 5000) for the years, 2011, 2012, 2013, 2014, and 2018.
Moreover, Prodege has been accredited by BBB since 2010…
This means that Prodege complies with BBB's Standards for Trust, eight principles that summarize important elements of creating and maintaining trust in any business.
Prodege has also been rated by BBB with an "A" which is actually the second-highest rating after "A+" and has received a rating of 4.1 out of 5 stars from more than 1100 customer reviews.
Right now, Swagbucks is by far the largest and most well-established GPT/Cashback website…
The platform has over 20 million members and more than 2.4 million Facebook fans, it distributes 7000+ gift cards daily, and has paid out more than 450 million dollars worth of rewards since it was first launched back in 2008.
Lastly, Swagbucks has been featured as one of the top and most legit ways to earn money online by dozens of major online publications, including:
Swagbucks is mainly addressed to people who are interested in
earning some side cash online
pocketing a couple of gift cards to their favorite retail stores
and/or saving money off of their online shopping
in their spare time or while on the go without much fuss or effort.
However, please don't expect that Swagbucks is going to help you earn a life-changing income, because it truly WON'T.
Swagbucks basically works just like any other GPT website out there – it enables you to collect points known as "Swag Bucks" or "SB" for completing simple tasks, which you can then redeem for a variety of rewards such as gift cards and PayPal cash.
Most of the time, 1 SB is worth 1 cent.
However, sometimes, an SB's monetary value can rise depending on whether Swagbucks offers a discount for the reward that you'd like to redeem.
For instance, right now, due to Swagbucks offering a 12% discount on $25 Amazon.com Gift Cards, redeeming one will cost you 2200 SB, instead of 2500 SB that it would normally cost.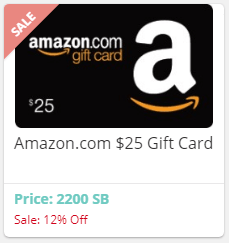 In this case, the monetary value of 1 SB is 1.14 cents.
Upon signing up to Swagbucks, you'll be immediately prompted to complete the 5 following tasks:
Fill in a demographic survey
Subscribe to Swagbucks' email list
Make a referral
Default to Swagbucks' search engine
Answer a survey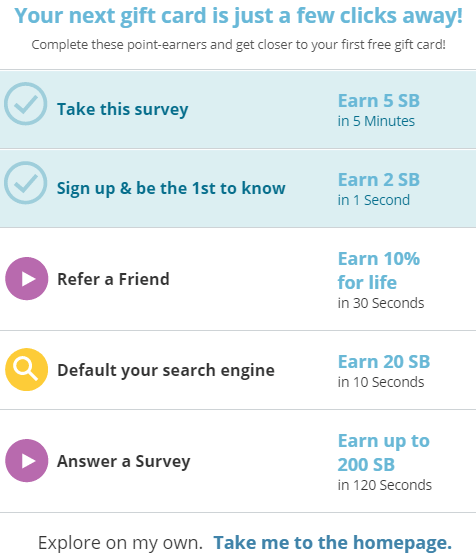 If you wish to browse through the platform on your own without completing some or any of those tasks, you can just click on the "Take me to the homepage" at the bottom of the section.
However, if you'd like to get familiar with the whole process of generating SB faster, it's highly suggested that you take your time and complete all of them.
There is a total of 9 main ways that you can generate SB with Swagbucks:
Filling In Surveys & Polls
Completing Appen Micro-Projects
Online Shopping Cashbacks
Print & Redeem Coupons
Discovering Offers
Searching the Web
Playing Games
Watching Videos
Making Referrals
The optimal course of action is to experiment with all of Swagbucks' money-making tasks, figure out which ones generate the most SB in the least amount of time and with the least amount of effort, and just stick with those.
Anyway, let's take a closer look at how each of Swagbucks' tasks works…


Filling In Surveys & Polls
The most popular way of generating SB within Swagbucks is by taking part in its "Gold Surveys".
The average Gold Survey lasts from 10 to 60 minutes and pays out anywhere between 30 to 200 SB.
Most of the time the longer a Gold Survey is the more SB it's worth.
The estimated amount of time it takes to complete a Gold Survey, as well as the amount of SB it's worth, is disclosed by Swagbucks beforehand.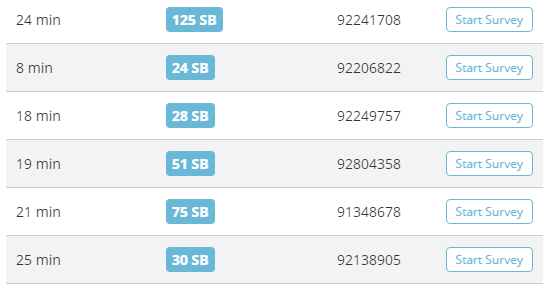 This enables you to make an informed decision regarding whether or not you should invest your time and attention in any given Gold Survey.
Depending on your demographics and interests, you might eventually stumble upon Gold Surveys that are worth up to 5000 SB ($50).
Such high-paying surveys are very rare to come by, they last for several hours usually spanning over a few days, and they are pretty hard to qualify for.
In an attempt to ensure that you'll never run out of surveys to complete, on top of its Gold Surveys, Swagbucks enables you to generate SB by completing surveys provided by Peanut Labs.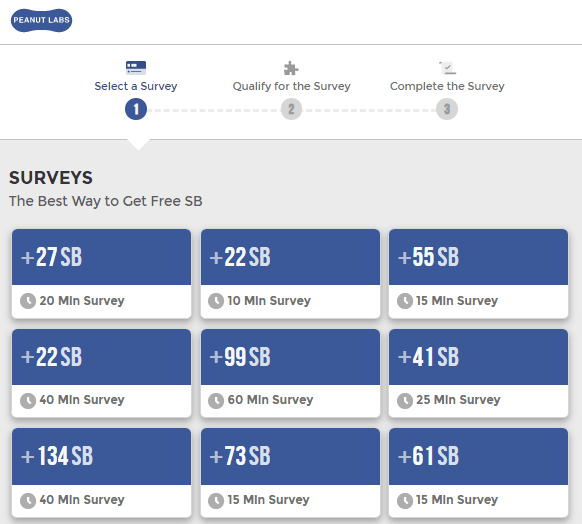 Lastly, Swagbucks will credit you with 1 SB for voting on the current day's Daily Poll, which basically consists of answering just one multiple choice question that gets renewed once every 24 hours.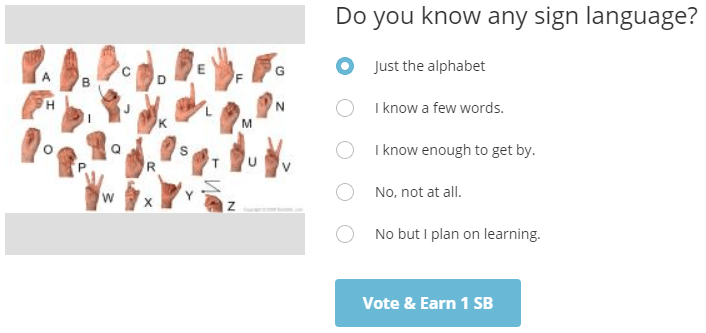 Completing Appen Micro-Projects
Swagbucks' second money-making opportunity consists of completing micro-projects for an AI training company called "Appen", such as
Categorizing social media posts
Evaluating search engine results
Moderating content and images
Transcribing audio to text and vice versa
Highlighting objects
Recording small videos
& more
In order to be eligible to start participating in Appen's micro-projects you first have to create a free Appen account which you'll then need to integrate with Swagbucks.
Once you do so, all the Appen micro-projects that are available for you to complete will start appearing on your personal Swagbucks dashboard along with the
number of available per micro-project
amount of money you'll get paid per task you complete
average rating the micro-project has received by other people who have already participated in it



Online Shopping Cashbacks
Receive cash back in the form of SB for making purchases from dozens of major online stores through the Swagbucks platform, such as
Amazon 
Walmart
Best Buy
AliExpress
& more
1% cashback = 1 SB per dollar you spend
2% cashback = 2 SB per dollar you spend
3% cashback = 3 SB per dollar you spend
and so on and so forth
Some of the categories of products that Swagbucks offers cashback for include:
Accessories
Shoes
Clothes
Furniture
Hotel bookings
Car rentals
& more
At that moment, cashback savings are available only for purchases from stores that are located in the following countries:
USA
Canada
UK
Australia
India
Germany
France
Spain
In an attempt to ensure that you'll never miss on a cashback opportunity, Swagbucks has created the "SwagButton".
SwagButton is basically a browser extension that alerts you every time an online store you've visited participates in Swagbucks' cashback program.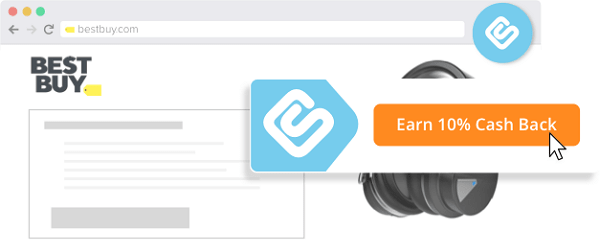 In addition, it'll find all valid coupon codes that are available for that store and allow you to automatically apply your preferred one during your checkout.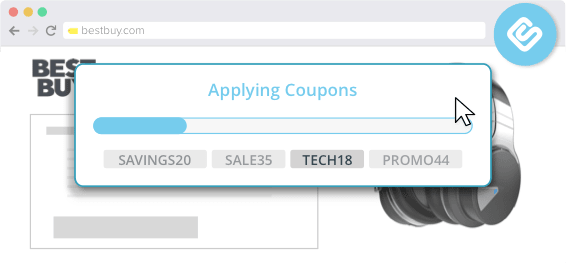 Upon installing the SwagButton, Swagbucks is going to credit you with a 25 SB bonus.
If you're shopping online frequently then Swagbucks' cashback function along with the SwagButton are going to save you a buttload of money.
Most of the time, SB received as a result of cashback can take up to 90 days to get credited to your Swagbucks account.
As a member of Swagbucks, you'll also get your hands on printable coupons which you can redeem towards receiving discounts on several types of groceries you probably already purchase, including:
edibles
home cleaning products
personal care products
& more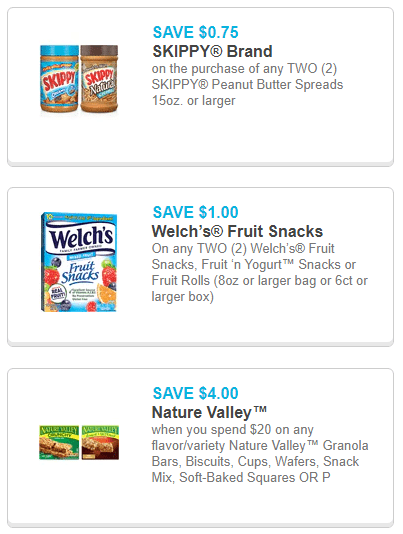 On top of the coupon discounts, Swagbucks will also credit you with 1 SB per coupon you print (for up to 50 coupons per day) and 25 SB per coupon you redeem.
Get credited with SB for "Discovering Offers", such as
Downloading applications
Signing up for free trials
Purchasing third-party products/services
Filling surveys provided by other survey panels
Watching videos
Playing third-party games
& more
For instance, as you can see in the image below, Swagbucks is willing to credit you with 384 SB for downloading the Nielsen Digital Voice app and keeping it installed and active on your device for 14 days.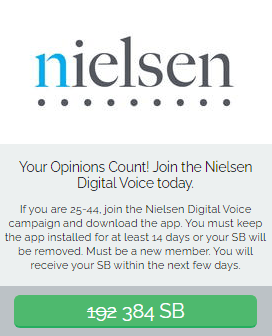 In addition, Swagbucks enables you to receive up to 2736 SB for playing Raid Shadow Legends on your desktop device.

Please note that in order for Swagbucks to credit you with SB for the vast majority of its highest-paying offers you'll be required to make some kind of monetary investment in them.
For example, in order to get credited with the 5,600 SB for signing up to Aspiration Spend, you'll first need to fund your Aspiration account with at least $10 (see image below).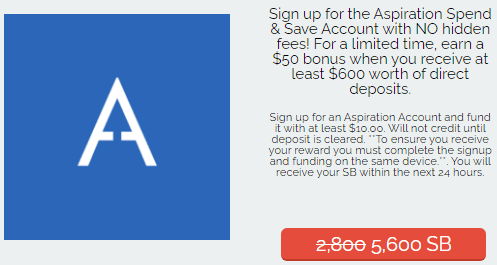 Furthermore, in order to receive 4000 SB from CyberGhost, you'll need to purchase either its 6-month or 18-month plan (see image below).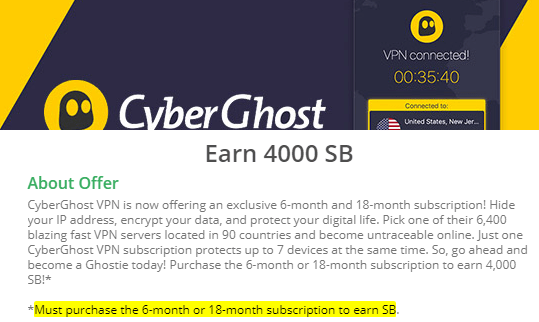 Now, if you'd sign up to Aspiration Spend (or another similar service) or if you'd purchase CyberGhost (or another VPN service) anyway, then doing so through Swagbucks' "Discover" section is going to get your Swagbucks account credited with thousands of SB.
And since SB can be redeemed for actual money, this basically means that you'll get a huge chunk of your monetary investment back for a product/service you'd purchase anyway.
Awesome deal!
Earn SB for conducting your online searches through "Swagbucks Search".
Swagbucks Search is basically a search engine owned by Swagbucks that works exactly like any other search engine (e.g. Google, Yahoo, Bing) with the only difference that each search you conduct through it generates a little bit of SB for you.

The amount of SB that you can earn per search is truly unpredictable but usually ranges anywhere between 1 SB and 25 SB.
Please note that Swagbucks Search needs to be utilized naturally for the purpose of locating information.
If Swagbucks finds out that you're using Swagbucks Search randomly or unnaturally just to earn SB (and yes they can actually figure that out), you might end up losing all your search-generated SB and maybe even your ability to use Swagbucks Search altogether.
The best way to ensure that you won't run into trouble for misusing Swagbucks Search while maximizing the SB you earn through it is to make it your default search engine.
Get awarded with SB for every dollar you spend on all online games found under Swagbucks' "Play" section.
For instance, as you can see in the image right below, Swagbucks will credit your account with 4 SB per dollar spent while playing:
Wheel of Fortune
Angry Birds Champions
WorldWinner Games
Bejeweled Champions
Solitaire TriPeaks
& Solitaire Rush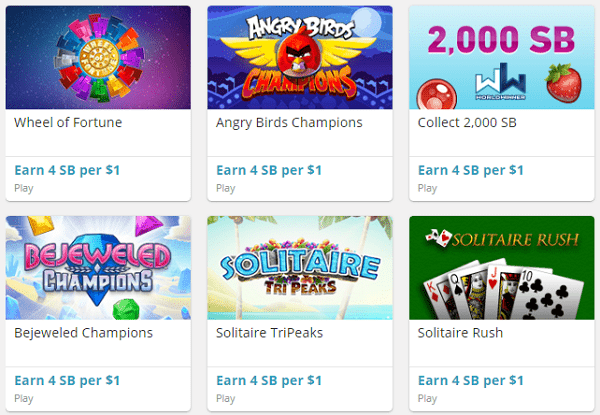 If you were already spending money on any of those games, this is a great opportunity to put a small percentage of that money back to your pocket.
Get paid SB for watching videos within Swagbucks' "Watch" section.
This is probably Swagbucks' least efficient way to generate SB as the platform will credit you with just 1 SB for watching an entire playlist of 15-30 videos that range anywhere between 2 and 4 minutes each.
As you can understand, receiving just 1 SB in exchange for watching video content for 30 minutes to 2 hours is not what I would call a good return on investment.
Nonetheless, if you're already consuming a lot of video content daily, this is a pretty solid way to earn a little bit of money for something you'd do anyway.
Last but not least, Swagbucks will credit you with SB for referring other people to it.
More specifically, Swagbucks is going to credit your account with:
10% of all the SB your referrals generate
500 SB every time one of your referrals generates 500 SB within their first 30 days
100 SB every time one of your referrals installs the SwagButton on their laptop or desktop
Granted enough referrals, your SB earnings could skyrocket to thousands or maybe even tens of thousands per month…
For instance, if you make 100 referrals that each generate 500 SB within their first 30 days, you'll end up being credited with 100*500 SB = 50,000 SB, or else, $500.
Now, if each one of those 100 referrals generates an additional 5000 SB per month, that's a total of 100*5000 SB = 500,000 SB, out of which, 10%, or else, 50,000 SB, or else, $500, will keep being credited to your account every single month.
If 50 out of your 100 referrals install the SwagButton on their device, that's an extra 5000 SB ($50) for you.
Frankly, Swagbucks' referral program is by far the most efficient way of generating significant amounts of SB relatively fast and almost 100% passively, that is without actually completing any of Swagbucks' other tasks yourself.
All your unique referral links can be found under the Swagbucks' "Refer & Earn" section.


Additional Ways to Earn SB
On top of all the money-making tasks I just mentioned, Swagbucks will also compensate you with SB for participating in a variety of other activities, such as:
1 – Swago
Swago consists of a 25-square board. Each square corresponds to a specific activity (see image below).
When you complete one of those activities, the square it corresponded to will change colors signifying that it's marked off.
Now, Swagbucks is going to credit you with bonus SB for marking off specific patterns of squares (see image below).
A Swago round usually lasts for 7 days.
2 – Swag Codes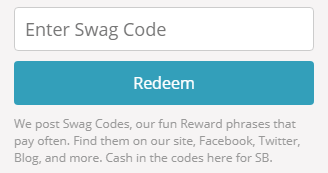 Swag Codes are strings of text that you can redeem within Swagbucks in exchange for instant SB.
Each Swag Code is worth a certain number of SB and is only available for a specific timeframe.
Swag Codes are regularly posted on Swagbucks' Facebook page, blog, Twitter, Pinterest, Shop page, and Swagstakes section.
In addition, if you have Swagbucks' browser extension installed on your device it'll alert you every time a Swag Code is available for redemption.
3 – Buying Gift Cards
Receive up to 10% cashback in the form of SB for purchasing gift cards to retailers that you were going to shop from anyway.
For instance, if you already know that you're going to purchase a pair of shoes from Nike, you can buy a Nike gift card from Swagbucks beforehand and earn a percentage of your money back in the form of SB.
4 – Scanning & Uploading Receipts
Lastly, Swagbucks will credit you with SB for scanning and uploading your shopping receipts.
The amount of SB that you'll get credited with can be as low as 2 SB per receipt from regular grocery stores and as high as 3000 SB per receipt from dedicated retailers.
Grocery store receipts must be less than 14 days old to be considered valid and forwarding a receipt more than 2 times in order to receive double credit is prohibited.
Dedicated retailer receipts must be uploaded during certain timeframes specified by the retailer to be considered valid.
Swagbucks allows you to redeem the points you've generated by taking part in its money-making tasks in 5 different ways:
PayPal Cash
Gift Cards
Debit Cards
Swagstakes
Donations
1 – PayPal Cash Redemption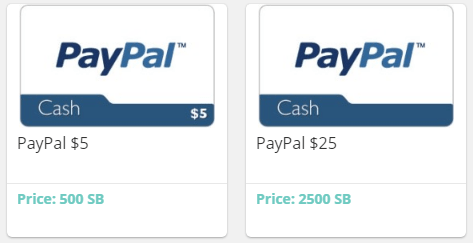 Exchange your SB with actual cash deposited in your PayPal account.
The minimum cashout threshold for a PayPal cash redemption is 500 SB ($5).
2 – Gift Card Redemption
Redeem your SB for gift cards that you can use to pay for goods from literally hundreds of top retailers, such as
Amazon
Apple
Target
Home Depot
& more
The gift cards that are available for redemption as well as their minimum redemption threshold depends on the country you're located in.
All gift cards are delivered to you electronically on your Swagbucks account, under the "Gift Cards" section within 3 business days.
3 – Debit Card Redemption
Furthermore, Swagbucks offers you the option to redeem your SB for debit cards which can be used for purchases from virtually any retailer, both online and offline through your favorite mobile payment app.
The minimum cashout threshold for all debit cards is 500 SB ($5).
All debit card redemptions take place instantly via email.
4 – Swagstakes
Exchange your SB for entries in contests that give away various rewards, such as:
Gift Cards
Mobile Phones
Laptops
Large Amounts of SB
& more
The more entries you redeem for any given Swagstake, the higher your chances of actually winning.
5 – Donations
Lastly, Swagbucks enables you to donate some or all your SB to dozens of charitable organizations, including:
Save The children
UNICEF
Wounded Warrior Project
Red Cross
& more
All donations start as low as 5 SB.


How Much Money Can I Make With Swagbucks?
The amount of money that you could potentially earn with Swagbucks depends on two main factors:
the number of tasks you complete
and the amount of SB each of those tasks is worth
Personally, I've heard about people generating more than $300 per month with Swagbucks.
However, the average earnings of an average Swagbucks member should be around $100 – $150 per month.
Nonetheless, there are three ways towards maximizing your Swagbucks earnings to maybe even thousands of dollars per month:
Experiment
Shop
Refer
1 – Experiment
The first way to boost your earnings with Swagbucks it to experiment with every single one of its money-making tasks.
What you want to achieve here is to figure out which tasks generate the most SB in the least amount of time and with the least amount of effort, and just stick with those.
2 – Shop
As a member of Swagbucks, you can receive massive discounts on purchases from literally hundreds of online and offline retailers.
So, before you do any of your shopping, make sure to stop by Swagbucks' Shop section and take a look at all its available deals.
Chances are that there'll always be an available cashback, rebate, or gift card for dozens of the products/services you'd purchase anyway.
If you play your cards right you might end up saving hundreds of dollars off of your monthly shopping.
3 – Refer
The best way to maximize your Swagbucks earnings is by utilizing the platform's referral program.
Granted enough referrals, you can end up pocketing thousands or maybe even tens of thousands of SB per month almost 100% passively…
Upon joining Swagbucks, make sure to start sharing your experience with the platform along with your unique referral link as soon as possible and with as many people as possible (friends, family, followers, blog readers, email subscribers, forum members, etc).
Joining Swagbucks is extremely straightforward…
First, click on the country you're located in from the list right below to get redirected to Swagbucks' corresponding website:
Once you've been redirected all you have to do to start participating in Swagbucks' GPT tasks is take the following steps:
Sign up with your Facebook account, or create a new account by filling your email and password in the signup form
Agree to the platform's Privacy Policy and Terms & Conditions
Agree to subscribe to Swagbucks' email list (+2 SB)
Click the "Start Earning" button
Select "Take this Survey" and answer all the demographic questions (+5 SB)
Complete the rest of the suggested tasks or click on "Take me to the homepage" to browse through the platform by yourself
Confirm your email address (+5 SB)
Congrats, you can now start earning money from home by completing tasks for Swagbucks.


1 • A Ton of Positive Feedback
Over the years of its existence, Swagbucks has gathered a significant amount of positive feedback throughout the web.
For instance, Trustpilot has rated Swagbucks with 4.2 out of 5 stars based on over 17,000 member testimonials.

In addition, Swagbucks has received a pretty solid 3.5-star rating on SurveyPolice, based on 313 customer reviews.
In fact, SurveyPolice has rated Swagbucks as the #1 out of a total of 19 GPT sites, including: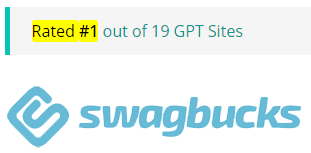 On top of that, Swagbucks is also ranked #1 among 50 other similar platforms on Sitejabber, with a 4.5-star rating derived from 8000+ consumer reviews.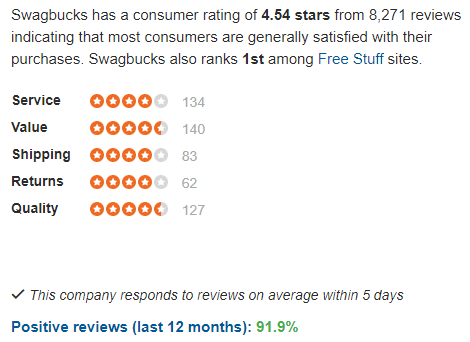 Right below you can take a look at what some people have to say about their experience with Swagbucks: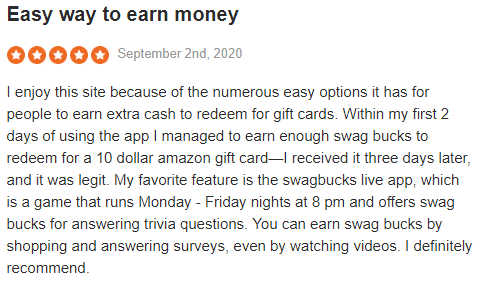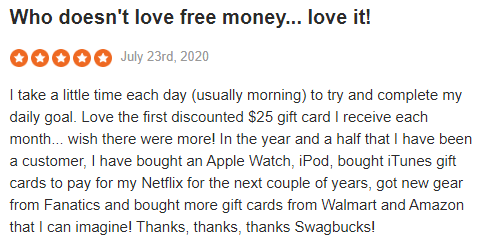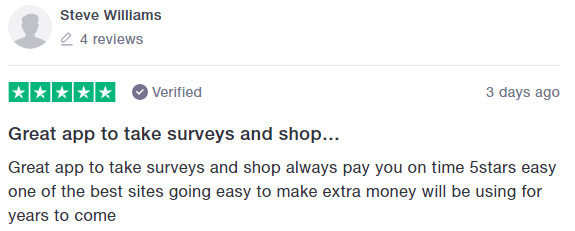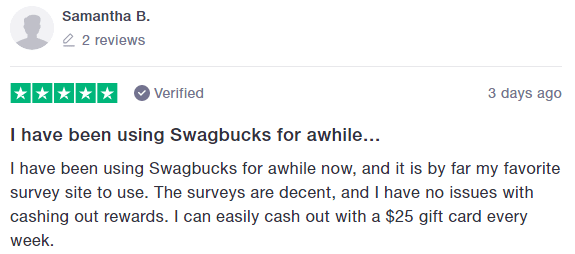 As mentioned earlier, all of the surveys you'll come across within Swagbucks are aggregated there from dozens of other survey panels.
This way Swagbucks has ensured that there'll always be a lot of surveys available for anyone to complete no matter what day and time it might be.
The sheer amount of surveys offered by Swagbucks gives the platform the upper hand over most of its competitors.


3 • Convenient Cashout Options
As we've seen earlier, Swagbucks enables you to redeem the SB you've earned by participating in its tasks in a variety of convenient ways, including
PayPal Cash
Gift Cards
Debit Cards
Swagstakes
and Donations
While you may think that being offered an array of convenient redemption options is a given, consider that some survey panels (e.g. ValuedOpinions) limit you to redeeming your earnings just for gift cards.
Unlike many other GPT & survey panels, Swagbucks processes and fulfills all of its members' reward redemption requests lightning-fast.
For instance, if you redeem your SB for a debit card, you'll receive it instantly via email.
In addition, PayPal Cash redemptions take only up to 3 business days to actually get deposited in your PayPal account.
Gift cards could take anywhere between 3 and 10 days to reach your inbox.
That's extremely fast compared to let's say Opinions 4 Good that pays its members only once per month.
Swagbucks is the ONLY GPT platform that is available in almost all countries across the Americas, Europe, Asia, Australia, and Africa.
Wherever you're located, chances are that you're able to join and utilize Swagbucks towards earning some extra money online.
Please note that you need to be at least 13 years old to be allowed to join Swagbucks.


1 • Survey Disqualifications
A pretty common issue among Swagbucks' members is being disqualified from quite a lot of surveys.
That's the case because, in order for any survey company to understand if you're a good match for their surveys, you'll be required to answer several screening questions.
If your answers don't match the target demographic of any given survey, you won't be allowed to participate in it.
As you can understand, this means that you could potentially end up wasting quite a lot of time and energy answering screening questions with nothing to show for it.
Nonetheless, this survey disqualification issue isn't exclusive to Swagbucks but rather quite common among the majority of GPT & survey websites out there…
The good news is that even if you end up disqualifying for a survey, Swagbucks will still credit you with 1-10 SB just for giving it a shot.

Swagbucks may seem kind of overwhelming and confusing at first, especially if you have no previous experience with GPT platforms in general.
Nonetheless, you'll definitely get the hang of it after utilizing it for a couple of times, even if you're not tech-savvy at all.
Swagbucks is the highest-paying GPT website out there, especially if you leverage its referral program.
Kind of overwhelming at first, but pretty simple to get the hang of after you utilize it a couple of times.
Complete surveys, watch videos, print coupons, make referrals, play games, get cashback, etc.
Almost no complaints. Has been rated as the #1 GPT website by many online rating platforms.
Is Swagbucks a Scam or Suggested?
Swagbucks is definitely NOT a scam…
On the contrary, Swagbucks is one of the most well-trusted and well-established GPT websites out there, consisting of more than 20 million members from all around the world.
In addition, the platform has been rated with 4.2/5 stars by Trustpilot, 3.5/5 stars by SurveyPolice, and 4.5/5 stars by Sitejabber.
As a matter of fact, both SurveyPolice and Sitejabber have named Swagbucks as the world's #1 GPT platform.
Furthermore, Swagbucks has been accredited with BBB since 2010, with an "A" rating and 4.1/5 stars based on more than 1100 consumer reviews.
As a result of everything I just mentioned, Swagbucks has actually become my Top suggested GPT website.
If you're after pocketing an extra $100 – $150 per month from home without much fuss or effort, by doing things that you'd do anyway, such as:
searching the web
shopping online
playing online games
watching videos
etc
then I strongly suggest that you join Swagbucks ASAP.
Have any comments or questions?
Please leave a comment right below or contact me at harry@dearboss-iquit.com
I'll be more than happy to help you out.
All the best!
Harry,
dearboss-iquit.com