Over the last few months, I've been contacted by dozens of aspiring affiliate marketers asking me: "How Much Money Can You Make With Affiliate Marketing?".
If you're wondering the same thing, you're in the right place!
On average the yearly earnings of novice affiliate marketers can range from $20,000 at the low end to $75,000 at the high end. Most well-established affiliate marketers generate incomes that can fluctuate anywhere between $100,000 and $1,000,000 per year.
Let's take a closer look at the actual numbers, shall we?
How Much Can You Earn With Affiliate Marketing?
According to some affiliate marketing statistics I put together a while ago, the income generated by affiliate marketers can range anywhere between $0 and $150,000+ per year…
To be more specific:
48.36% make <$20K per year
11.1% make $20K – $30K per year
5.88% make $30K – $40K per year
2.16% make $40K – $50K per year
2.64% make $50K – $75K per year
3.19% make $75K – $100K per year
6.39% make $100K – $150K per year
and 3.16% make >$150K per year
Those numbers place affiliate marketing among the most profitable money-making models that currently exist.
To give you a frame of reference, while the percentage of affiliates who make over $100,00 per year is 9.55%, those MLM Statistics reveal that only 0.05% of MLM reps manage to build an equally sizeable income.
This basically means that affiliate marketers are 191 times more likely to earn over $100K per year than MLM reps.
The annual earnings generated by 117 affiliates that were polled by STM Forum are even more encouraging…
18.80%: up to $20K 
10.26%: $21K – $40K 
10.26%: $41K – $80K
13.68%: $81K – $120K
12.82%: $121K – $200K
6.84%: $201K – $400K
7.69%: $401K – $800K
2.56%: $801K – $1 million
11.11%: $1.01 million – $2 million
5.98: over $2 million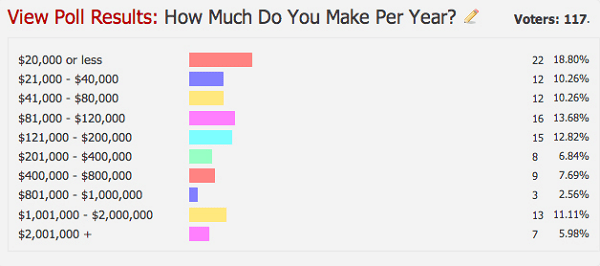 Based on all the numbers shared above, affiliate marketers can be divided into 5 main categories:
Total beginners: $0 – $20,000 per year
Low-level affiliates: $20,000 – $50,000 per year
Intermediate affiliates: $50,000 – $100,000 per year
High-level affiliates: $100,000 – $500,000 per year
Super affiliates: $500,000+ per year
Ultimately, the factors that influence the amount of money you make with affiliate marketing are numerous…
One of those factors is seniority… For example, someone who's been involved in affiliate marketing for 10 years is most likely going to be earning much more money than someone who's been working as an affiliate for just 1 year.
The niche you pursue is yet another factor… For instance, some niches (e.g. weight loss & dating) have a much higher profit potential than others (e.g. gaming gear & home gardening). However, it's worth noting that the higher the profitability of a niche, the fiercer the competition within it.
One more factor is the resources you have at your disposal… For example, if you have the capital to invest in a decent affiliate marketing course, some premium tools, and hiring a small team, chances are that you'll be able to build a significantly higher affiliate income much faster than someone who has no guidance, capital, team, and tools.
Other factors that may influence how much money you make as an affiliate marketer include, but are not limited to:
Time you devote
Consistency
Marketing efforts
Quality of work
Resolve
Overall mindset
Expectations
& more
Best Affiliate Marketing Courses
How Much Do Affiliate Marketers Make?
So, now that you're aware of the actual numbers, let's take a closer look at the monthly earnings of some individual affiliate marketers such as:
Pat Flynn
Tom Dupuis
Doug Cunnington
Alex Nerney
& John Miguel
Then, I'm going to share with you exactly how much money I personally generate through my own affiliate endeavors.
Pat Flynn is the founder of smartpassiveincome.com as well as one of the most successful affiliate marketers that currently exist in the world…
Pat used to be sharing monthly income reports that documented the growth of his affiliate business from $8000/month to $100,000/month over the course of about 10 years but unfortunately, they're not available anymore.
Nonetheless, in the video right below, Pat explains exactly how he generated more than $300,000 in affiliate commissions by promoting just one single product.
Tom Dupuis is the founder of onlinemediamasters.com.
Tom embarked on his affiliate marketing journey back in 2011. By 2017, he was generating $80,000 per year in affiliate commissions.
Right now, Tom's affiliate endeavors bring in about $150,000 each year.
You can check out for yourself some of Tom's affiliate income reports right here.
Doug Cunnington is the owner of nichesiteproject.com as well as an affiliate marketing course called "Five Figure Niche Site".
Doug has been earning more than $70,000/year via affiliate marketing since 2013.
Within this income report (or the video right below), Doug reveals exactly how he managed to scale a niche website he'd launched back in $2016 from $100 to $70,000 in just 2 years.
Alex Nerney launched his first affiliate blog back in 2015. However, 3 months later, his first attempt at blogging had failed… spectacularly. 
About a year after getting his second affiliate blog up and running (avocadu.com), Alex was generating around $10,000 per month in affiliate commissions.
At that point, Alex decided to start a blog called "createandgo.com" that would revolve around documenting his journey to leveraging blogging and affiliate marketing towards building an income online.
By 2018, Alex's blogging efforts were bringing in more than $144,000 in monthly revenue (watch video below).
According to his latest income report, during June 2021, Alex pocketed a little over $35,000 in affiliate commissions.
John launched his first affiliate website, startmakestopwaste.com, back in May 2015.
Fast forwards 4 years, in January 2019, John generated $3700 in a single day (see image below).
John is currently running at least 3 other pretty well-established affiliate websites like:
johnconsol.com (a solar panel business consulting website)
kingcryptos.com (a cryptocurrency website)
installoffgridsolarsystem.com (solar panel website)
Even though John publishes no income reports whatsoever, according to my own calculations, his total monthly income should exceed $50,000.
Here's How Much I Earn As an Affiliate
I first stumbled upon affiliate marketing back in 2016… However, I didn't really commit to leveraging the model towards building an income online until 2019.
Just two years later, at the time I'm putting together this article (July 2021), my affiliate endeavors bring in anywhere between $1000 and $2500 per month!
Right below, you can take a look at a screenshot of my PayPal account displaying the $2000 in affiliate commissions I generated last month (June 2021).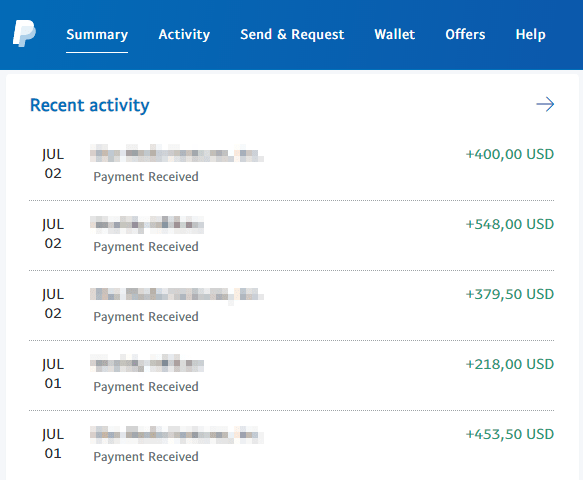 Furthermore, here's a screenshot of a pretty sweet $930 commission I earned in just one day a couple of months ago by promoting a high-ticket product!

While achieving such results overnight is practically impossible, with hard work, dedication, grit, and patience, you could eventually be earning equally high daily commissions yourself!
(Click each question to expand)
Conclusion
According to statistics, the amount of money invested by companies in affiliate marketing globally is expected to surpass $30 billion by 2025.
Apparently, the upwards trajectory affiliate marketing has been experiencing since it was first conceived back in 1989, isn't going to stop anytime soon.
As a matter of fact, many seasoned marketers support that affiliate marketing is the future of digital marketing.
That being said, if you'd like to be among the people who get their hands on a piece of that pie, there's undeniably no better time to get started with affiliate marketing than now.
Do you have any additional questions?
Leave a comment right below or contact me right here.
I'll be more than happy to help you out!
All the best,
Harry, Founder & Editor at dearboss-iquit.com