It's undeniable that any given product is not going to be of high value and good use to every single person on Earth.
That's why after publishing the 11 Top Reasons to Join Wealthy Affiliate, in an attempt to prevent you from purchasing a product which is not going to benefit you, and save you some trouble as well as money, I decided to also let you know about 7 solid reasons that you shouldn't actually join Wealthy Affiliate.
Without further ado, there they go.
7 Solid Reasons Not To Join Wealthy Affiliate
1 • You Aren't Interested in Owning an Online Business
Wealthy Affiliate is a platform which teaches people how to become successful online business owners.
If you aren't interested in earning your living through an online business of your own, then there's really no point joining Wealthy Affiliate.
2 • You Aren't Willing to Devote Time and Effort
Contrary to popular belief, earning money online is not easier or faster than earning money offline.
Wealthy Affiliate can show you one of the ways to create a successful online affiliate marketing business.
The keyword here is "business".
And no business on the face of the planet can ever bring in revenue without you (or basically some intelligent being) putting in the appropriate amounts of time and effort.
So no…
Wealthy Affiliate won't teach you how to earn money overnight. It won't make money flying in your bank account out of nowhere either. It simply can't make you successful by itself.
YOU have to create your own success… YOU have to actually walk the path yourself. YOU have to invest time, energy, and probably some money as well.
Success can never happen as of magic no matter what some people might claim.
YOU have to keep
following the training

acting according to what you learn

doing your research

publishing content

marketing your website

experimenting

Seeing what works and duplicate it

finding out what doesn't work and correct it

asking questions

Learning from others

etc
If you are looking for a way to make money fast and easy, then sorry to be the one breaking it to you but you are fucked. Not just because Wealthy Affiliate won't be able to help you, but also because there no programs or courses or blueprints or foolproof systems to overnight riches in the first place.
It's common sense that no person or company is going to ever pay you for doing and offering nothing, just like you wouldn't pay someone for doing nothing.
So, if you are not ready or willing to actually work your ass off for a while in order to achieve your financial goals, then there's no point in wasting your time joining Wealthy Affiliate.
3 • You Don't Want to Spend Any Money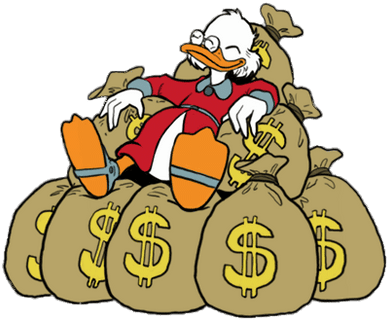 While you can join Wealthy Affiliate for free, truth is that as a free member you will have limited access to the majority of its most useful and beneficial resources.
If you want to gain access to Wealthy Affiliate's full range of features such as the live webinars, the premium training lessons, the technical support, etc, you are going to have to pay for its premium membership.
Click here to find out more about Wealthy Affiliate's Free vs. Premium membership.
Just so you know, there's no program that will teach you all you need to know for free. And there is definitely a handful of them that could possibly compete with Wealthy Affiliate's high quality of overall service and value.
The only way to learn what is needed to become a successful online business owner for free is by searching around the web for the info you need yourself. You could use Google search and YouTube to find the information you need, post in forums, follow popular online marketing blogs, etc
But be aware that this way, you'll probably have to go through tons of trial and error which in turn means that it will take much longer for you to succeed if you are patient enough to stick with it in the first place.
And just so you know, even with the best mentors and training, people still fail so if you go at it by yourself the chances of you failing absolutely increase dramatically.
If I were you, I'd definitely prefer paying for dedicated guidance (which I actually do) and save myself some time and effort instead of struggling to find out how it all works all by myself. And if the training helps you achieve your goals even just a month sooner, all the money you invested in it is absolutely well-spent.
However, if you don't want to spend any money to get started, I absolutely understand…
To tell you the truth, I didn't want to spend money to get started either.
So, here's what I suggest:
First of all, go ahead and join Wealthy Affiliate for FREE.
Get started with WA's FREE training where you'll learn how to
earn money with affiliate marketing
choose the subject of your website
build and set up your website
publish your first pages
choose keywords to maximize and expedite results
etc
Take advantage of all WA's free resources (hosting, training modules created by other members, SiteContent platform, keyword research tool, blogroll, etc) for as long as you want (you can actually remain a WA free member for as long as you want).
If at some point you would like to gain access to all of WA's premium resources, you might want to start considering upgrading to a premium membership. (I upgraded my WA to premium 3-4 days after joining the platform).
4 • You Know That You Will Hate Writing
Your main job as an affiliate marketer will be writing content for your website (articles just like this one you are reading now). And when I say writing content I mean ruthlessly writing massive amounts of it, at least for the few first months to a year of your business.
So, if you are absolutely positive that you will hate writing, then Wealthy Affiliate is most likely not the right choice for you.
Some of you might not have a problem writing but you might be thinking that you cannot write because you are not a writer.
Well, I have good news for you!
You don't have to be a writer to write content for a website. I am not a writer and I have never been. Before starting my affiliate marketing business I had never written anything in my life besides my name and my signature.
But with practice, I learned.
In fact, I am still becoming better and more efficient at producing content as time passes. And Wealthy Affiliate's training definitely sped up the whole process.
And by the way, I am not even a native English speaker.
Anyway, if for some reason you don't want to write content for a living or you believe you'll hate it, but you would still like earning your living online, you could take a look at some other online business models which don't require as much writing such as dropshipping, Amazon FBA, creating a YouTube channel or podcast (although both of those models require writing scripts most of the time), etc
5 • You Don't Believe Earning Your Living Online is Possible
It's no lie that despite the usage of internet is skyrocketing during the last few years, people are still unaware that earning their living online is a not so slim possibility anymore.
And to tell you the truth, despite spending a lot of time online for many years I had no idea either until 2 years ago that I actually started trying to find a way to do so.
If you don't believe that earning your living online is possible, well, I got news for you.
First of all, every single YouTube channel, every website (including this one), every podcast, every application, exists for the sole reason of bringing in money for its owner one way or another.
Secondly, as you can see in the image below, the usage of internet is increasing exponentially and it's going to reach 4.17 BILLION users by 2020.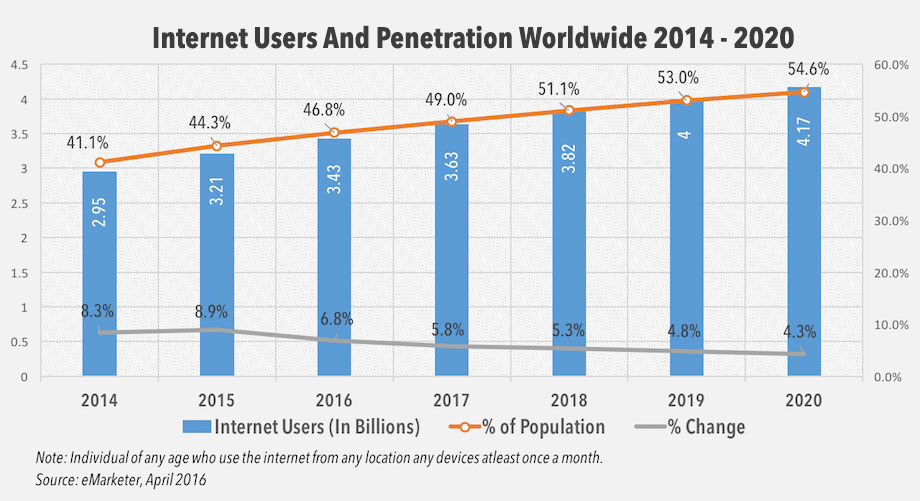 This means that more and more people will be roaming the internet buying stuff online and if you play things smart, you can definitely get a piece of the pie yourself.
Lastly, there's no better way to change your perspective about earning money online than reading some people who have succeeded in doing so before you.
That's why you should absolutely go ahead and take a look at those 16 Real-Life, Motivating Wealthy Affiliate Success Stories.
If someone can earn their living online, you and I can definitely do that as well right?
6 • Affiliate Marketing Isn't the Right Business Model for You
As stated over and over again Wealthy Affiliate teaches you how to create an online affiliate marketing business.
Affiliate marketing is a kind of referral marketing whereas you promote already existing products/services to your website's visitors. When those visitors purchase the products/services you promote, you earn commissions which are usually a percentage of the total amount paid by each visitor.
Some people don't like working on commission and if you are one of those people, then affiliate marketing might not be the right business model for you.
On the other hand, during Wealthy Affiliate's training, you will learn valuable principles that could apply to make any kind of online business successful in spite of its monetization method such as how to
conduct keyword research
use keywords the right way
write captivating content
attract visitors to your website
identifying people's needs
build trust between you and your audience
use social media to reach more people
etc
It's true that after following WA's training, many people have started careers as freelancers, consultants, YouTubers, course creators, etc.
7 • You Like Being an Employee
The main reason that I joined Wealthy Affiliate 3 years ago, is because I am after creating an online business that will eventually allow me to quit being an employee, become my own boss, and earn my living online.
If Ι preferred remaining an employee, I probably wouldn't really bother joining Wealthy Affiliate and starting an online business of my own with its help.
Nonetheless, it's definitely okay if you want to keep your day job and still use Wealthy Affiliate's training to learn how to earn some extra bucks per month online.
However, be aware that it will probably take some time until you start seeing any substantial results… I am saying that because if you have a stable job and you just need some occasional extra money per month, you might be better off
Conducting surveys
User-testing websites and applications
or maybe freelancing
Wealthy Affiliate focuses on teaching you how to build a sustainable, long-term online business but again, this takes a lot of time and effort.
Conclusion
Here you go… Wealthy Affiliate is definitely not for everyone.
Nevertheless, as you saw this has nothing to do with the legitimacy of the platform itself but rather with the goals, wants, and willingness of each individual.
For me, Wealthy Affiliate is one of the best affiliate marketing training platforms currently out there. I could have never made it that far without it, especially without the motivating success stories that its members keep posting daily.
If my mother, my sister, or my best friend asked me which program they should join to learn how to build a successful online business, I would absolutely send them to Wealthy Affiliate without a second thought.
So yeah…
If you are interested in creating an online business of your own, you should absolutely join Wealthy Affiliate. If you aren't really sure about what you want, then again go ahead and give Wealthy Affiliate a try because you never know… You might actually end up enjoying the ride while building something that could potentially lead you to be financially free for the rest of your life.
And since it's FREE to join, you have really nothing to lose but a few hours of your time trying it out.
If you have any questions or need any further help or guidance from me, please email me at xaric@dearboss-iquit.com or drop me a PM on my Wealthy Affiliate Profile.
I'll be thrilled to help you out.
Xaric,
dearboss-iquit.com