Believe me, you are not alone…
After reading the infinite Wealthy Affiliate reviews that exist out there I would also be fogged, confused, and left wondering if Wealthy Affiliate is actually worth it or not.
But that's why I am here silly…
To clear everything up!
Since you are researching about Wealthy Affiliate, I am guessing that you came across it while trying to find a way to make money online right?
And since you are here, you are wondering if it can actually help you fulfill your financial goals before you go ahead and invest your time and money in it.
So, our initial question "Is Wealthy Affiliate Worth It?" actually becomes "If I invest my time and money in Wealthy Affiliate, will I be able to successfully make money online with it?"
Well, the short answer is YES!
But I am assuming that you are here for the long answer, aren't you?
And I am here to give you what you came for so keep on reading 😉
Before moving on, you might want to take a look at a list of Wealthy Affiliate success stories I've created in order to see for yourself how other people who have joined it have already found success.
Is Wealthy Affiliate Worth It?
Before answering that question, I want to clear some very important things up.
Over the internet, there exist some claims that by joining Wealthy Affiliate you'll be able to make thousands of dollars very fast and without much effort and that Wealthy Affiliate is the best thing since pizza…
All those claims are false (especially that part about pizza. Nothing is better than pizza…)
So, here's the truth
You are NOT going to make thousands of dollars per month with Wealthy Affiliate (at least not as a beginner to online marketing)
The level and speed of your success is mainly going to depend on your own work ethic, tolerance, level of commitment, ability to adapt, perseverance, and ability to follow instructions
There are no shortcuts or magic formulas to earning money online despite what other people might claim
Wealthy Affiliate is definitely not a get-rich-quick scheme.
Its training is focused on teaching you how to build a sustainable, long-term online business…
And the keyword here is the word "business".
Businesses take time to become successful. They also require a lot of effort on someone's part.
This is simply how businesses work and there's no way around.
After all, we are not talking about filling in a couple of surveys or performing data entry here but rather about creating something that will allow you to keep earning your living online for the rest of your life.
The only two things I can guarantee about Wealthy Affiliate is that
it will show you EXACTLY how to create a long-term, successful online business
hundreds of people who have followed its model have succeeded in earning their living online
How you put everything WA offers together in order to become one of those success stories yourself is ultimately up to you!
So moving on, in order to understand if Wealthy Affiliate is actually worth your time and money, you should first understand two things…
The reason for purchasing an MMO (Make Money Online) course
What makes an MMO course like Wealthy Affiliate worth your time and money
Why Purchase an MMO Course in the First Place?
So, let me ask you this…
Could you become a heart surgeon without going to medical school?
I am pretty sure that most of you answered: "Of course not!"
Well, you actually could, but it would take a lot more years and people dying on your table until you actually manage to save one than it would take if you went to medical school learning from experts on the field…
The same applies to earn money online…
You could go at it by yourself but it will definitely take many more years of guessing, going through trial and error, and frustration to actually reach your financial goals than just paying for a dedicated course to show you exactly how it's done.
And believe me, the longer and harder your journey, the higher the chances of giving up and failing (even with the best training, tools, and support, a high percentage of people still fail in making money online).
So, the three main reasons that you were looking for an MMO course in the first place are to
Take away all the guesswork, trial and error, and help you avoid mistakes that could slow down or even kill your success
Show you a well-trodden path to making money online in order to save you as much time as possible to reach your financial goals
Increase your chances of success
In other words, you want a map to the treasure, and the fastest path to that treasure marked on the map.
So, the question right now is "is Wealthy Affiliate the right map for me?"
Well, according to my opinion, Wealthy Affiliate is the right map for anyone who wants to earn their living online.
Wealthy Affiliate shows you one of the many ways to hit a gold vein online, and with all the training, tools, and support it provides, it will make your entire journey smoother, and faster.
Let me actually show you how.
Wealthy Affiliate's Training Is Worth It!
Wealthy Affiliate has the most abundant training I have ever seen in any course.
It all starts by following the Online Entrepreneur Certification…
OEC is Wealthy Affiliate's main training, created by Kyle, one of Wealthy Affiliate's owners, and is comprised of a 5 phase series of courses which walk you through the process of building and scaling an online affiliate marketing business from scratch around any subject you want.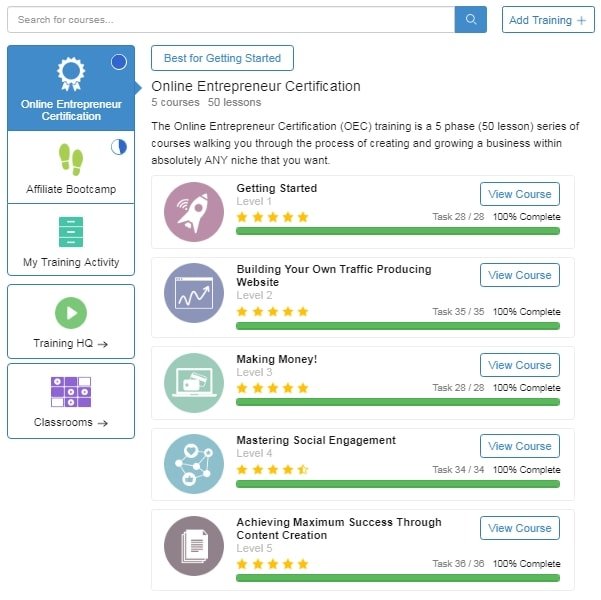 Each level contains 10 lessons (50 lessons in total) and each lesson, in turn, contains at least one video ranging from half to one and a half hours.
This equals hundreds of hours of training just within Wealthy Affiliate's basic training…
Within the OEC you will learn stuff such as
What affiliate marketing is and how to make money with it
How to choose a niche
Building your website using WordPress
Setting up your website the right way (plugins, menus, sidebars, etc)
Writing content for your website that people will want to read
Finding and using keywords the right way
Using social media to promote your website
How to take advantage of all the features that Wealthy Affiliate has to offer in order to maximize results
etc
And this is just the tip of the iceberg…
To help you scale your business more effectively, every Friday afternoon Jay, Wealthy Affiliate's training coach holds a live webinar on a variety of more specialized subjects such as
SEO
Keyword and competition research
Creating a YouTube channel
Strategies to build trust with your audience
Email marketing
Content checklists
Creating images and graphics for your website
Writing convincing product reviews
etc
Those live webinars are usually one to one and a half hours long and you can access the replays of each webinar held since 2012. This adds up to hundreds of more hours of specialized, high-quality training on top of the main OEC training.
And then, we have the infinite training modules that other WA members create.
As a Wealthy Affiliate member, you can create your own training module on any subject you want. Most of the time, advanced members take advantage of this feature to contribute to the WA community by creating training modules sharing beneficial practices which have worked for them, tips, insights, and knowledge with other less experienced members in order to help them expedite their results.
This is actually how the entire WA community really works… Already successful members sharing everything they've learned throughout their journey to success in an attempt to elevate others to success as well.
In addition to everything I've already talked about, there is also a 7-phase Affiliate Bootcamp course (70 more lessons) which focuses on teaching you how to create an online business within the MMO (make money online) niche, promoting Wealthy Affiliate and other MMO courses.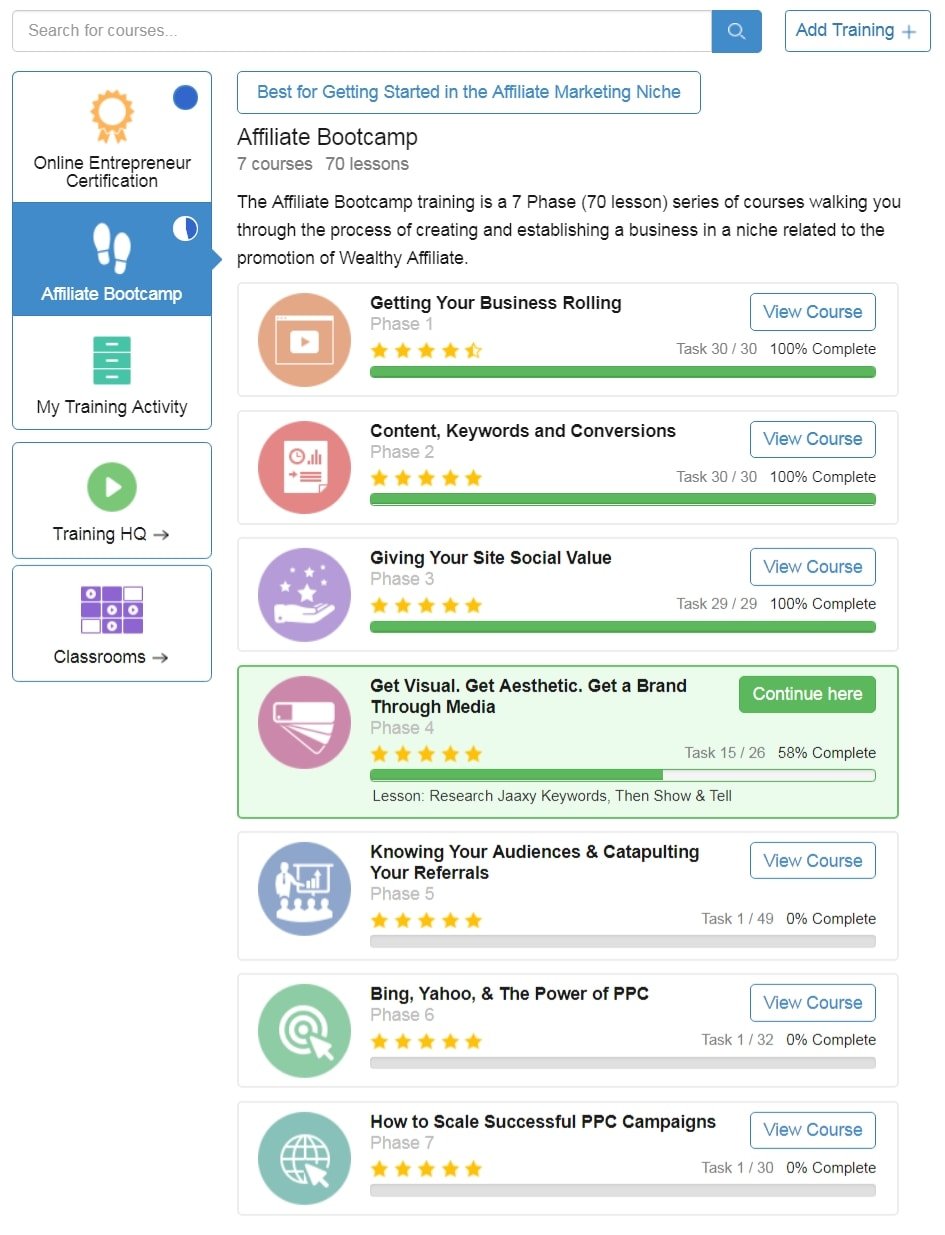 You would think that this Bootcamp training might be useless if you would like to create a business around a subject other than making money online and promoting WA but you couldn't be more wrong as within it you will be taught about very important principles which have the potential to benefit greatly online businesses in any given niche.
Lastly, every single piece of training is constantly being updated and improved upon in order to keep everyone up to date with the latest techniques and practices in this everchanging online world. 
New training is also being added all around the clock.
So, are hundreds of training modules and thousands of hours of high-quality, online marketing training worth your money and attention?
Abso-fucking-lutely, if you asked me…
Wealthy Affiliate's Tools Are Worth It!
The greatest thing about Wealthy Affiliate is that it doesn't just offer high-quality training but also dozens of tools which can literally cut your whole journey short at least a couple of years.
The tools that I've found the most useful during my 3 years as a Wealthy Affiliate member are its
Website builder
Keyword research tool
Site Comments platform
1 • Wealthy Affiliate's Website Builder
Wealthy Affiliate's website builder makes creating websites easier and faster than ever before…
All you have to do before having your website up and running is
Choose if you'll build your website on a free or paid domain
Fill in your domain name
Set your website's name 
Choose the appearance theme of your website
Hit the "Click Here to Build This Site!" button and in a couple of seconds your website will be live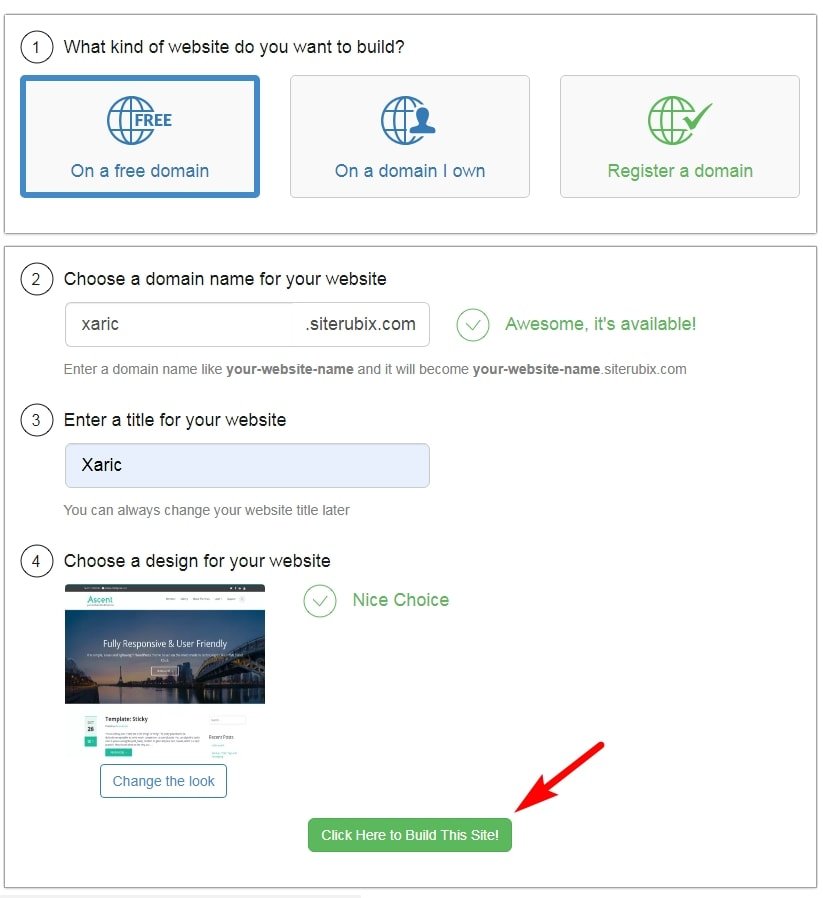 The whole process won't take you more than 5 minutes, even if you have never built a website before in your life.
Just consider that a few years back, to build a website you would have to either spend several months coding it from scratch (assuming you already knew how to code a website) or hundreds of dollars hiring someone to code it for you.
So right of the bat, Wealthy Affiliate's website builder saves you either a lot of time, or a lot of money, or both.
The second and most used tool of Wealthy Affiliate is its keyword research tool, Jaaxy.
2 • Wealthy Affiliate's Keyword Research Tool
Finding and using the right keywords for your website can break or make your online business and Jaaxy can help you achieve the latter.
You see, with Jaaxy, you can determine specific aspects of any given keyword which will help you understand if the keyword is viable to target within your website or blog or not, such as
average searches per month it gets
average visits per month your website will get if you rank on the first page of Google for it
number of websites which are already ranking for it (competition)
For instance, in the image below, I used Jaaxy to find out more about the keyword "how to quit your job".

This specific keyword has
707 average searches per month (pretty good)
gives an average of 121 clicks to those who will rank on the first page of Google for it (still good)
but has 216 competing websites which is a lot
A brand new website is very unlikely to rank high enough to get any traffic for this keyword due to the high competition it has.
On the other hand, the keyword "how to quit your job and work from home" 
has 48 average searches per month
gives an average of 9 clicks to those who will rank on the first page of Google for it
and only 44 websites are competing for it
This means that a website which is not yet well established has more chances of ranking for this keyword due to its low competition.
(Don't worry if you can't quite understand what I am saying right now… Everything is explained within Wealthy Affiliate's training).
Note: The results of all keyword research tools, including Jaaxy, are never 100% accurate. That's why during my years as an online marketer I have managed to learn how to conduct keyword research manually, that is without relying on the results of any keyword research tool. However, having a keyword research tool can help you get a solid grasp of how keywords work as well as save you a lot of time researching especially if you are a beginner.
3 • Wealthy Affiliate's Site Comments
The last tool that I have been constantly using for the last 3 years is Wealthy Affiliate's give-and-take website comments platform.
The premise of this feature is very simple yet extremely powerful…
Here's how it works
you offer comments to other people's websites
for every comment you offer you earn 1 credit
for every 2 credits you gather, you can request for a comment on your own website

So, what's so great about getting comments to your website right?
Comments increase the length and the word-count of your posts and Google loves longer posts
Google will also tend to rank higher those posts which receive comments because this shows that they are engaging and capturing enough for your readers to bother and leave you a comment
Readers are more likely to leave a comment to a website if other people have also commented on it
Your visitors might find what they are looking for by reading other people's comments as well as your replies to them. This will also decrease your website's bounce rate while increasing its session duration, both being important ranking factors
People will trust your word much more if they see proof that other people are also reading your posts
In a nutshell, consistently getting comments on your website in conjunction with applying the right scaling practices is going to speed up your success.
In addition, you can exchange some of the credits you earn through offering comments for actual money…
That right!
Every two comments you offer you will earn a cash credit which can be exchanged for $0,50.
This means that if you manage to provide let's say 600 comments within a month, which equals to 20 comments a day, you will earn $150 for that month (you can actually see in the image above that I have earned $1,50 through offering comments so far this month).
Note: You have to be a certified commenter to be able to exchange your comment credits for money but it's not that hard to become one. You can read more about the certified commenter status right here.
This comment-exchange feature is exclusive to Wealthy Affiliate. I have never come across anything of a similar nature in any other platform.
This is just a fraction of the number of tools within Wealthy Affiliate's toolbox… I just thought to keep this short and sweet by just highlighting the ones which I have personally found the most useful.
Some other useful tools include
Personal WA blog (you can run a personal blog within the WA platform)
A Facebook-like news feed (displays other people's blogs, training modules, success stories, and questions in a feed very similar to that of Facebook)
Website manager (manage your website, monitor its statistics, etc)
Domain name manager (find, register, and manage your domain names)
SiteContent (content writing and managing platform within WA… Very helpful to beginners)
Affiliate program research platform (locate the best affiliate offers to promote in any given niche)
SiteFeedback (ask for feedback on several aspects of your website)
and much more
Summing up, Wealthy Affiliate's tools will save you a ton of time creating your website, conducting keyword research and getting people to visit and comment on your posts among many other things.
Are those tools worth it in your eyes?
I know they do in mine!
Wealthy Affiliate's Support Is Worth It!
Besides its high-quality training and dozens of time-saving tools, Wealthy Affiliate makes your entire journey even easier by providing extremely fast and effective support in anything you might possibly need while building and scaling your online business such as
Technical support
Emotional support (motivation, encouragement)
Practical support (answering your questions, providing advice, and tips, etc)
1-on-1 mentoring
etc
All those kinds of support take place through a variety of means throughout the WA platform such as 
live chat
private messaging
blogging
commenting
opening support tickets
contacting WA's owners
1 • Wealthy Affiliate's Live Chat
One of the most powerful networking functions of Wealthy Affiliate is its live chat. 
If you are facing a problem which needs immediate attention, the live chat is where you go. 
Do you have questions about the training? -> Live chat…
Are you feeling lost or stuck? -> Live chat…
Are you frustrated and about to quit and need a little push to keep yourself going? -> Live chat…
Is something within your website not working as it should be? -> Live chat!
Wealthy Affiliate has more than a half million active members from all around the world so no matter what day or time it is, there is always going to be someone online to help you out resolve whatever problem you have.
Below you can take a look at some image captures from the live chat of people helping other people that I took at random times.
There's nothing like being carefree about getting all the help and support you need instantly whenever you might need it, believe me!
2 • Private Messaging
Another way to network with other members is by sending them private messages just like you do on Facebook.
All you have to do is visit the profile of the person you want to DM and hit the "Private Message" button.

And as you can see in the image above, you can even DM Kyle, one of WA's creators for help.
3 • Opening Technical Support Tickets
Technology is unpredictable…
During your years as an online marketer, it is inevitable that you'll come across a ton of technical issues which require time and knowledge to be resolved.
Maybe your website goes offline… Or maybe you aren't able to publish your content… Maybe you get locked out of your own website or maybe your WordPress theme malfunctions and displays little pink rabbits instead of your awesome landing pages.
Thankfully, within Wealthy Affiliate, there is a team dedicated to resolving such issues ASAP and you can contact them with just a few clicks by opening a support ticket.
A few days ago I actually came across a technical problem myself… I couldn't log in my website.
What did I do?
I opened a support ticket and my problem got resolved in under 5 minutes.
4 • Wealthy Affiliate's Blogroll
For me, Wealthy Affiliate's main blogroll has been one of its most beneficial features.
WA's blogroll is the place where people share not just their questions, answers, thoughts, insights, personal struggles, setbacks, knowledge, comments, etc, but also their success stories.
Let me tell you that there's nothing that can motivate you and encourage you more than reading about the success that people who have been on the same path as you have found because those stories prove that if you just keep moving forward and be patient, you will eventually become one of those success stories yourself.
Here, just take a look at a fraction of the success stories that I came across within Wealthy Affiliate today!
If it weren't for all those success stories, I might have quit a long time ago, and I believe that the same might probably apply to you.
So, to keep myself driven and motivated at any given time, I have also created an article/compilation highlighting a number of Wealthy Affiliate success stories.
Knock yourself out –> 16 Real-Life, Motivating Wealthy Affiliate Success Stories 2019
Wealthy Affiliate's Price Is Worth it!
Before I start talking about how much Wealthy Affiliate costs, I want to point out that it's actually FREE TO JOIN!
Of course, as a free member, you'll have limited access to all the training, tools, and support I've just talked about.
Nonetheless, joining WA for free is still an extremely awesome opportunity to test drive the platform before actually spending any of your money on its premium version.
Also, there are no strings attached to upgrading to premium after joining Wealthy Affiliate for free. You can keep navigating through the platform as a free member for as long as you wish.
This basically translates to having nothing to lose to just join Wealthy Affiliate and try it out for a while.
You just join for free, see if WA is what you were looking for, and if not, you just walk away no harm no foul.
This is exactly why I joined Wealthy Affiliate without a second thought 3 years ago.
And I got so convinced of the extremely high quality and value of the platform that I ended up upgrading my free membership to premium just 3 days after joining. And I am actually still a WA premium member to this very day.
Anyway, go ahead and JOIN Wealthy Affiliate for FREE to see for yourself what I am talking about.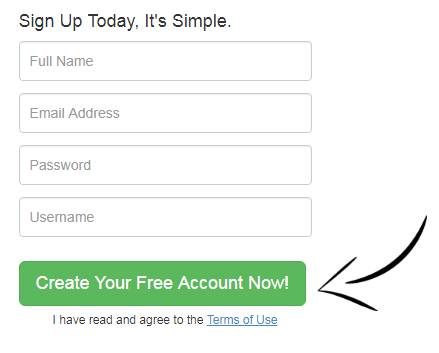 How Much Does Wealthy Affiliate Premium Cost?
As you can see in the image right above, Wealthy Affiliate costs $49 per month at worst.
You'll only be charged $19 for your first premium month and then $49 for each successive month if you decide to keep going for the premium membership which recurs on a monthly basis.
However, you have the ability to enjoy WA's premium membership at a lower price by paying up front for 6 months or 1 year (see image above).
The lowest price that you can get for WA's premium membership is during Black Friday when you can get a years premium membership for just $299 ($24.92 per month).
This is actually my current payment plan as well as the cheapest WA offers but it's only available for the 4 days from Black Friday to Cyber Monday.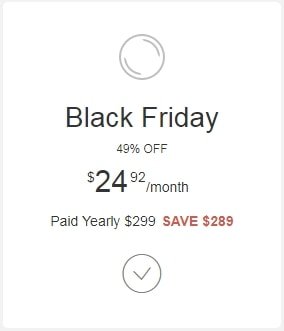 To find out about the differences between WA's premium and free membership, go ahead and click right here.
I know that right now you might be thinking that $49 per month is way too expensive…
No, I am not a mind-reader… I've actually heard such bullshit claims a crapload of times in the past.
So, let me ask you this…
How much money do you spend on crap you don't even need every single month?
Answer #1: A lot!
Answer #2: I don't know (probably more than a lot)
Isn't investing $49 per month worth the possibility of creating an online business which might allow you to become your own boss and work for yourself down the road?
Think about it…
no boss
working on your own terms whenever you want and from wherever you want
no commute
infinite earning potential (your earnings are only limited by your efforts)
no dress code
no annoying colleagues
determining your own schedule
possibility of earning a passive income
And all that in the price of a takeout dinner for two for crying out loud.
The next time you are about to order takeout, chop up a lettuce salad and there you have it! The money for a month's premium membership. Will it be that hard not to eat Chinese for that 1 time? 
I don't think so…
For my first one and a half years as a WA premium member, I was working a part-time job and I was still able to set $49 per month aside to pay for my premium membership.
In my eyes, there's literally no excuse in passing an opportunity like this other than not wanting to get started in the first place.
With just $49 per month, you will have everything you need to build your online business from scratch  and scale it until it brings in a full-time living by itself.
You won't have to worry about finding training and resources. You won't have to worry about building your website or finding hosting. You won't have to stress over getting support if you come face to face with a problem or a technical issue.
Everything is taken care of with just $49 per month.
Conclusion
So, is Wealthy Affiliate worth it?
You tell me!
I know it's worth it for me! I have been paying for their premium membership for 3 years now.
But seriously, don't just take my word for it.
There's only one way to find out if Wealthy Affiliate is worth it or not…
And that's it by signing up for their free membership and finding out for yourself!
After all, remember that you have NOTHING to lose and possibly A LOT to earn…

Alternatively, you can go ahead and take a look at some other platforms similar to Wealthy Affiliate that are worth it as well, right here!