If you recently came across Treasure Trooper and you're looking for more information regarding the platform, then you landed in the right place.
In a nutshell, Treasure Trooper is a very unique GPT platform that'll pay you for completing simple tasks such as filling in surveys, playing games, watching videos, making referrals, etc. Treasure Trooper has been operating since 2005 and has paid out $7+ million to hundreds of thousands of its members.
Nonetheless, before blindly jumping in, I understand you'd like some answers regarding Treasure Trooper's legitimacy, reputation, money-making tasks, income potential, cashout options, etc.
Well, worry not because the rest of this Treasure Trooper Review is dedicated to revealing to you all the information you might possibly need to make a 100% informed decision about whether Treasure Trooper is really worth the investment of your time and energy or not.
Let's get started!


Treasure Trooper Overview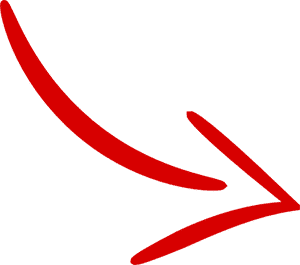 What is Treasure Trooper About?
Treasure Trooper is a pretty well-known GPT (Get Paid To) platform that pays its members for completing very simple tasks such as filling in surveys, watching videos, searching the web, shopping online, making referrals, and more.
The platform was launched back in 2005 by Treasure Trooper LLC, a market research company that is based in Flower Mound, Texas, USA.
Treasure Trooper might not be as popular as other GPT platforms, such as Swagbucks and PrizeRebel, but it's definitely one of the oldest ones, having 15+ years of experience in the MMO (Make Money Online) field.
Right now, Treasure Trooper consists of hundreds of thousands of members to whom it has paid more than $7 million worth of cash and rewards over the years.
According to its tagline, Treasure Trooper is the place "Where Cash and Fun Collide!"
That's because unlike all other GPT sites, utilizing Treasure Trooper feels less like completing tasks in exchange for money and more like earning money while participating in an online adventure board game (kinda like Jumanji).
The vast majority of Treasure Trooper's tasks don't just pay you in cash but also in several other native virtual currencies, or else "treasures", such as coins, pearls, arrowheads, scales, etc, which can be exchanged for cash either directly or indirectly (more on that later on).
Having said that, Treasure Trooper is definitely THE most unique GPT website I've come across till now.


Who Is Treasure Trooper For?
If your goal is to generate some extra side cash online and you like playing online games or if you've gotten tired/bored of regular GPT platforms, then you should definitely give Treasure Trooper a try.
However, please don't expect that Treasure Trooper is going to help you earn a life-changing income, because it truly WON'T.
On the other hand, if you're looking for a more simple and straightforward GPT opportunity, I suggest that you check out Swagbucks, PrizeRebel, and/or Inbox Dollars.


How Does Treasure Trooper Work?
Treasure Trooper works and doesn't work like most GPT websites at the same time.
Just like any other GPT site, TT enables you to earn money for completing a variety of simple tasks.
However, unlike most other GPT platforms, every time you complete one of Treasure Trooper's tasks you'll get credited with a combination of cash and "treasures", such as
Arrowheads
Platinum coins
Dragon scales
Pearls
Gold coins
etc
Some of those treasures can be exchanged for actual cash, gift cards, electronic devices, and other digital or physical rewards!
Others can be traded for items that can be used towards hatching, breeding, and growing your own dragons in Treasure Trooper's flagship Dragon Game.
The dragons you grow can then be sold for up to $100 or fought against other members' Dragons for various rewards.
Basically, all the treasures you may receive through Treasure Trooper's tasks can ultimately be either directly or indirectly turned into cash. 
Worry not as I'm going to explain everything as we move along.
There is a total of 10 activities that you can participate in towards generating cash and treasures with Treasure Trooper:
Filling In Surveys
Cash Offers
Online Shopping Cashback
Offer Walls
Searching the Web
Watching Videos
Playing Mini-Games
Playing the Dragon Game
Cryptic Treasure Codes
Making Referrals
The optimal course of action is to experiment with all of TT's money-making activities, figure out which ones enable you to generate the most money and treasures in the least amount of time and with the least amount of effort, and just stick with those.
Anyway, let's take a closer look at how each of TT's tasks works…
The main way towards generating money with Treasure Trooper is by taking part in its "Cash Surveys".
TT's surveys are basically categorized under three main categories:
Study Storm 
Survey Seekers
and Daily Surveys
Study Storm:
This is a collection of surveys aggregated to Treasure Trooper from third-party survey providers such as YourSurveys, RevenueWall, and TheoremReach.
In order to be able to start taking part in those surveys, you'll first need to fill in a separate demographic questionnaire for each of its listed survey providers.
Furthermore, before you can access any given survey, you'll have to answer a bunch of additional screener questions which will then be used to determine if you match the survey's targeted demographic profile or not.
If not, you'll be disqualified.
Study Storm's surveys are worth anywhere between $0.1 and $2 each.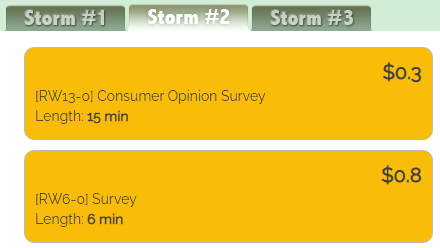 Survey Seeker:
Here, you'll come across a bunch of third-party surveys that are basically handpicked by Treasure Trooper according to your demographic profile.
Subsequently, the number of available surveys found under Survey Seeker is going to be limited.
However, those surveys could be worth up to $5 each and are a lot easier to qualify for.
Daily Surveys:
Last but not least, Treasure Trooper offers you the option to participate in up to 6 Daily Surveys.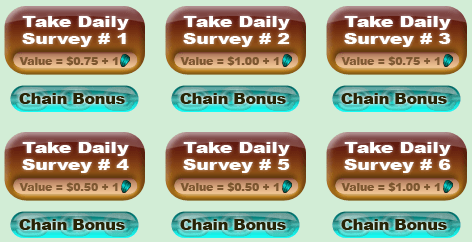 Those Daily Surveys are worth $0.5 – $1 each.
In addition to cash, every time you complete a Daily Survey, you'll also receive 1 Dragon Scale.
Completing any given Daily Survey for a few consecutive days grants you extra Dragon Scales as a "Chain Bonus".
For instance, if you complete Daily Survey #1 for three days in a row, Treasure Trooper will start rewarding you with 1 additional Dragon Scale for every subsequent time you complete that same survey.
Treasure Trooper has actually created a guide with tips and tricks towards maximizing your Daily Survey earnings.
Another way towards earning cash and treasures with Treasure Trooper is through completing its "Cash Offers".
TT's Cash Offers mostly revolve around filling in surveys for specific 3rd-party survey panels, such as Dynata, YourSurveys, OpinionCapital, ZenSurveys, and more.
However, you may also come across Cash Offers that'll pay you for installing apps, purchasing products/services, signing up for free trials, or performing other very simple tasks.

Please note that instead of paying you in cash, some Cash Offers may reward you in Platinum Coins or Dragon Scales.
Platinum Coins are worth $1 each and can be redeemed at Mabutu's Trading Hut for gift cards and electronic devices.
I'll talk about Dragon Scales later on.
A word of caution…
If you stumble upon a Cash Offer that requires you to submit your credit card details to sign up for a "free trial", ensure to manually cancel your subscription and completely remove your cc details from that offer as soon as Treasure Trooper credits you for completing it.
If you don't, you'll probably start getting charged right after its trial period has ended.
My suggestion is to never submit your credit card details within any GPT website unless you actually want to make a purchase.
Treasure Trooper will give you up to 10% cashback for the purchases you make from the online stores that are listed under its "Cash Shopping", such as
Amazon 
Macy's
Vans
Microsoft
Office Depot
& more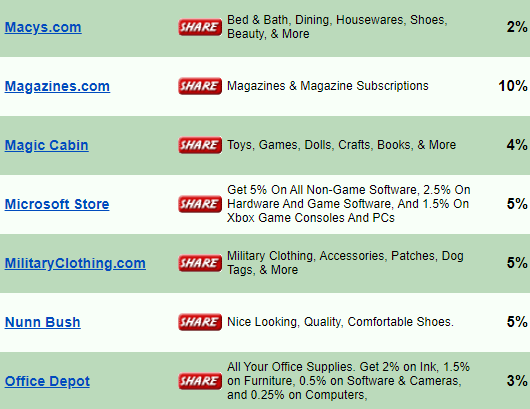 Each time you generate $5 in cashback, Treasure Trooper will also reward you with a Platinum Coin.
At that moment, Treasure Trooper offers cashback for purchases made from just 50 stores that are all located in the USA.
Swagbucks, PrizeRebel, and other more popular GPT sites offer cashback for shopping from a much vaster array of major retailers that span across multiple different countries.
Right here you'll come across about 10 third-party Offer Walls, such as
OfferToro
PeanutLabs
RevenueUniverse
AdGate Rewards
& more
For those who don't know what Offer Walls are, they're basically websites that offer a variety of different money-making tasks, including:
Installing apps
Filling in surveys
Signing up to free trials
Playing online games
etc
Treasure Trooper calls its Offer Walls "Arrowhead Dig Sites".

That's because when you complete tasks on those Offer Walls you'll be compensated just with "Arrowheads", not cash.
Arrowheads can then be exchanged in Mabutu's Currency Converter for either Platinum Coins or Dragon Scales.
Get rewarded for conducting searches using "Treasure Trooper Search". 
This is basically a search engine owned by Treasure Trooper that works exactly like other search engines (e.g. Google, Yahoo, Bing) with the only difference that every time you conduct a search on it Treasure Trooper will credit you with Arrowheads.
Please note that TT's search engine needs to be utilized naturally for the purpose of locating information.
If Treasure Trooper detects that you're using its search engine randomly or unnaturally just to earn Arrowheads (and yes they can actually detect that), you might end up losing all your search-generated Arrowheads and maybe even get banned from using the search engine altogether.
If you conduct online searches multiple times each day, you can maximize your Arrowhead output by setting Treasure Trooper's search engine as your browser's homepage for easy access.
This way, you'll always remember to use it in the place of any other search engine you had been using until now.
Another way that you can pocket Arrowheads within Treasure Trooper is by watching "Cash Videos". 
The videos could revolve around several subjects such as food, movies, gossip, etc, and usually range between 15 and 30 minutes each.
Most of the time, Treasure Trooper will credit you with just 1 Arrowhead per 10-15 minutes of video you watch (no cash).
Watching videos is TT's least efficient way of generating Arrowheads.
Nonetheless, if you're already spending a lot of time watching videos daily, this is a pretty solid opportunity to turn something that you'd do anyway into a little cash.
Receive several prizes for taking part in Treasure Trooper's mini-games, Jungle Slots, and Chatroom Bingo.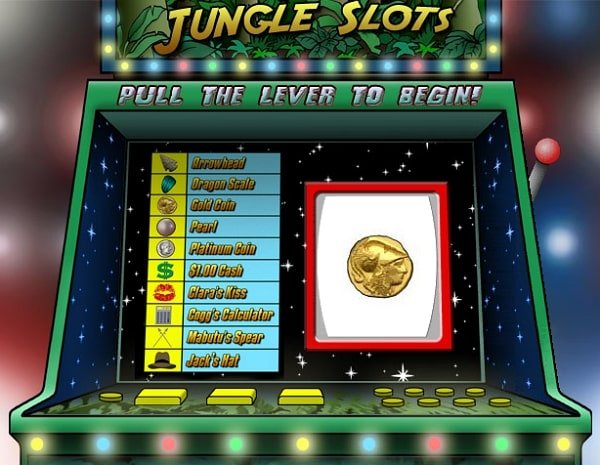 Potential prizes could be anything from a few Arrowheads to actual cash.
Please note that each pull on Jungle Slots costs 1 Gold Coin and you can pull just once per day.
Also, to participate in Chatroom Bingo you'll have to purchase Bingo Tickets that cost $1.00, 1 Platinum Coin, or 100 Arrowheads, from Mabutu.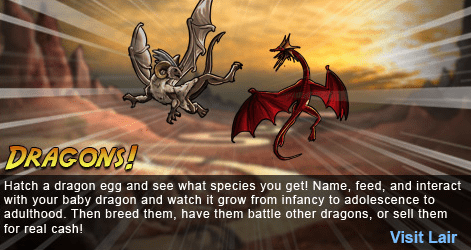 This is Treasure Trooper's signature mini-game!
Its concept is pretty simple…
First, you have to gather Dragon Scales by participating in Treasure Trooper's activities, such as
Daily Surveys
Cash Offers
Contests
Chatrooms
Jungle Slots
etc
Treasure Trooper also allows you to convert 20 Arrowheads to 1 Dragon Scale or $1 to 3 Dragon Scales on Mabutu's Currency Converter.

Once you have accumulated enough Dragon Scales you can visit Cogg's Coop and start purchasing the necessary items to start growing your dragon, such as
Egg Nest
Dragon Eggs
Dragon Food
and more


Once your dragon has reached adulthood, you can sell it for up to $100 dollars depending on its Tier…
Tier 1 Dragons: $5 per sale
Tier 2 Dragons: $10 for 1st sale and $5 per each subsequent sale
Tier 3 Dragons: $20 for 1st sale and $5 per each subsequent sale
Tier 4 Dragons: $100 for 1st sale and $5 per each subsequent sale
Tier 1 Dragons are hatched from the Dragon Eggs that you purchase on Cogg's Coop.
Tier 2, Tier 3, and Tier 4 Dragons can be acquired only through breeding Tier 1 Dragons. 
Not only you can sell the dragons you grow for cash, but you can also fight them against the dragons raised by other members of the platform and receive a variety of rewards for every battle you win!
There's just so much to Treasure Trooper's Dragon Game.
If you're interested in learning everything about it, check out this post.
Cryptic Treasure Codes are strings of text and numbers that you can redeem within Treasure Trooper in exchange for cash or treasures.
Cryptic Treasure Codes can be found on Treasure Trooper's social media pages and bi-monthly newsletterr.
Last but not least, Treasure Trooper will reward you with cash for referring other people to it.
The actual amount of cash you're going to be receiving through TT's referral program depends on the "Referral Level" you have achieved.
Bronze Level – Upon joining Treasure Trooper:
Receive 20% of the money your referrals generate by completing Cash Offers
Receive 5% of the money the referrals of your referrals generate by completing Cash Offers
Silver Level – Attain 5 Active Referrals:
All Bronze Level's benefits
Pocket $0.05 for every Daily Survey completed by your referrals
Gold Level – Attain 50 Active Referrals:
All Silver Level's benefits
The commission for every Daily Survey completed by your referrals increases from $0.05 to $0.07
Earn $1 for every active referral you obtain
Diamond Level – Attain 300 Active Referrals:
All Gold Level's benefits
Receive $5 each time one of your referrals cashes out for their first time
The commission for every Daily Survey completed by your referrals increases from $0.07 to $0.10
Get credited with $300 as a bonus
*Active referral = A referral you made after May 1, 2012, which has earned at least $5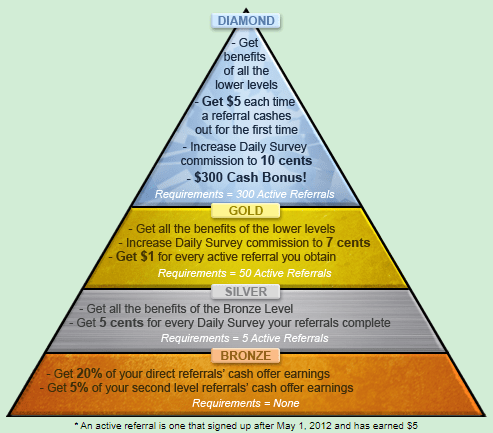 Please note that Treasure Trooper enables you to buy referrals by heading over to Mabutu's Trading Hut and purchasing a Pearl Friendship Bracelet (costs 8 Pearls).
Once you do so, the next 2 people who sign up to Treasure Trooper will automatically become your referrals even if you haven't actually referred them.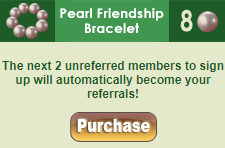 Treasure Trooper's referral program is by far the most efficient way of generating significant amounts of cash fast and almost 100% passively, without actually having to complete any of TT's other tasks yourself.


Additional Money-Making Activities
On top of everything just mentioned, Treasure Trooper will also compensate you with cash and treasures for taking part in a few additional activities, including:
1 – Daily Team Goals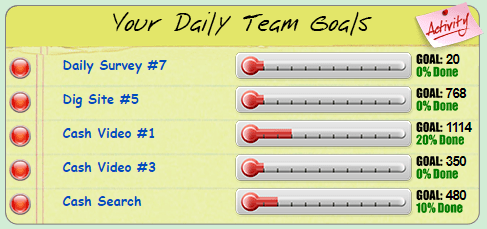 Work together with other members of the TreasureTrooper Community to reach the Daily Team Goals.
Once the thermometer of a Daily Team Goal gets filled, everybody that contributed to reaching it will receive free treasures, such as Gold Coins and Dragon Scales.
The top 5 contributors of any given Daily Team Goal usually receive additional rewards.
2 – Chatroom Interaction
Earn treasures for interacting within Treasure Trooper's Chatroom, such as
2 Dragon Scales per day for using the chatroom for an hour straight
3 Dragon Scales for winning the hourly chatroom contest
1 Dragon Scale per 8 hours for patting another member of the chatroom on the back
Also, get this…
Members of the chatroom can shoot each other in the butt with an arrow by typing the words "shoot + user's nickname".
The member who got shot in the butt can then type "pull arrow" to remove the arrow and earn an arrowhead.
That's pretty funny.
3 – Contest Standings
Earn up to $100/month as a bonus for participating in monthly contests that revolve around earning credits for completing specific money-making activities.
For instance, this month's contest revolves around completing surveys and the prizes are as follows:
150 Credits = $8
230 Credits = $17
335 Credits = $28
425 Credits = $45
520 Credits = $80


How Does Treasure Trooper Pay?
Treasure Trooper allows you to redeem the cash you've generated by taking part in its money-making activities in 2 different ways:
Cheques take a little longer to process than PayPal payments which can take place almost instantly.
However, payments through PayPal are available only to US-based members.
All cheques are processed around the 20th of every month for the cash that you have earned until the final day of the previous month.
For instance, the cheque processed by Treasure Trooper on the 20th of October is going to include the money you generated during September.
Please note that TT's default minimum cashout threshold is $20.
However, if you want you can set your minimum cashout threshold to a higher amount through your "My Profile" section.


How Much Money Can I Make With Treasure Trooper?
I'd say that the amount of money an average person can earn with Treasure Trooper should not be more than $100/month.
However, this is a rough estimate…
Since Treasure Trooper's activities pay so many different treasures, which can all be traded with each other and then turned into actual cash by playing various games, it's very hard to pinpoint a more accurate income potential.
For the most part, your monthly earnings with Treasure Trooper depend on two main factors:
the number of tasks you complete
and the amount of money each of those tasks is worth
According to my own research and experience, Treasure Trooper's most profitable money-making activities are its surveys and its referral program.
Nonetheless, I suggest that you conduct your own experiments, figure out which tasks allow you to generate the most cash and/or treasures in the least amount of time and with the least amount of effort, and just stick with those.


How to Join Treasure Trooper?
Joining Treasure Trooper is extremely straightforward…
First, head over to treasuretrooper.com
At the left of the website, fill in your email address and name and hit "Register"
On the next page, fill in your last name, password, and address
Select a payment method
Check the box "I agree to the Terms of Service and Privacy Policy"
Click the "Join Now!" button
Activate your account by confirming your email address
Congrats, you can now start earning money from home by taking part in Treasure Trooper's money-making opportunities!
Since it was first launched back in 2005, Treasure Trooper has received some pretty solid ratings all around the web. 
For instance, Treasure Trooper has been rated with 3.8/5 stars on Trustpilot, 2.5/5 stars on SurveyPolice, and 3.4/5 stars on Sitejabber.
Right below you can take a look at what some people have to say about their experience with Treasure Trooper: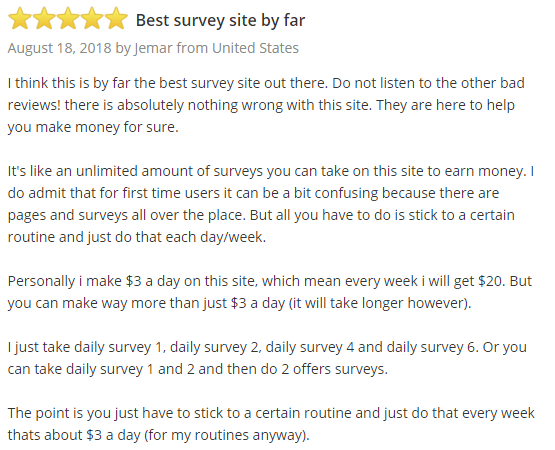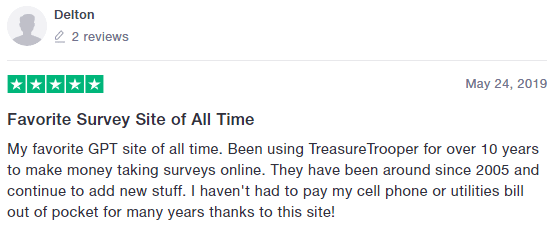 Treasure Trooper isn't like your regular GPT site…
Within Treasure Trooper you'll come across treasures, and coins, and dragons, and dozens of other unique stuff that can't be found in any of all the other boringly identical GPT sites out there.
Utilizing Treasure Trooper doesn't feel like trying to earn money but rather like earning money while playing a game.
This kind of game-like structure makes Treasure Trooper the most unique GPT platform I've come across until now. 
At the time I'm putting together this review, Treasure Trooper has been operating for more than 15 years.
In the so competitive GPT niche, only platforms that offer a very solid user experience can last that long.


4 • Community Interactions
Another aspect that is unique to Treasure Trooper is that it enables its members to interact with one another through a live chat and a forum.
This is a pretty neat way of reaching out to other, more senior members of the platform asking for tips, tricks, insights, and advice towards maximizing your Treasure Trooper earnings.
Furthermore, hourly, daily, weekly, and monthly contests are held in both the chatroom and the forum!
Treasure Trooper is one of the very few GPT platforms that are available in almost all countries across the Americas, Europe, Asia, Australia, and Africa.
Wherever you're located, chances are that you're able to join and utilize Treasure Trooper towards earning some extra money online.
Please note that in order to be allowed to join Treasure Trooper, you need to be at least 13 years old.


1 • Survey Disqualifications
An issue that you'll probably encounter regularly within Treasure Trooper is being disqualified from quite a lot of surveys.
Before accessing a survey, you'll be required to answer several screening questions.
The survey will then use your answers to determine whether you match its target demographic profile or not.
If not, you won't be allowed to participate in it.
As you can understand, this could easily result in wasting quite a lot of time and energy answering screening questions with nothing to show for it.
Nonetheless, this survey disqualification issue isn't exclusive to Treasure Trooper but rather quite common among the majority of GPT & survey websites out there…
Unfortunately, unlike Swagbucks, Treasure Trooper won't credit you with any cash or treasures if you end up disqualifying for a survey.


2 • Overwhelming & Confusing
My first impression of Treasure Trooper was "What the f*ck is going on here?"
Yes, Treasure Trooper's game-like structure gives it a very unique feel, but this uniqueness comes at the cost of simplicity and usability…
The site just has so much going on that upon joining it I felt extremely overwhelmed, disoriented, and unable to figure out what I should do next.
Frankly, it took me about one and a half weeks until I finally managed to start figuring out how to utilize the platform the right way.
Lastly, all the dragon scales, and the breeding, and the platinum coins, and the arrowheads, etc, etc, make it extremely difficult to pinpoint the exact amount of money you're earning for the amount of time you're investing in the platform.


3 • Seems to Be Deserting
As time passes, fewer and fewer people seem to be actively using Treasure Trooper.
Yesterday, I was hanging out in TT's chatroom with just 3 other people, all of who were all AFK.
At some point, everyone signed out and I was left all alone.
TT's forum seems to be inactive as well…
New threads aren't being published as regularly as they used to and most old threads have become ghost towns. 
For instance, no one has posted in the "Introduce Yourself" section for over a year.
As it seems, Treasure Trooper becomes more and more deserted…
Maybe this is because the site doesn't have a mobile responsive version or app. Or maybe, it's because the site is way too complicated for those who just want to earn some extra cash fast without much effort. Or it might be because the site seems obsolete and outdated.
Whatever the case, this is definitely not a good sign…


Treasure Trooper Review Summary


Mediocre income potential compared to other more popular GPT sites.
Quite overwhelming & confusing. It'll take some time until you get a solid grasp of it.
Complete surveys, watch videos, play mini-games, get cashback for shopping online, etc.
The platform seems to be deserting but the people who still use it seem pretty happy with it.


Is Treasure Trooper a Scam or Suggested?
Treasure Trooper is definitely NOT a scam…
Let me assure you that GPT platforms that are intentionally defrauding their users, don't last for more than 3-4 months.
Treasure Trooper has been around since 2005, actually predating some of the most popular and well-established GPT sites, such as Swagbucks (launched in 2008) and PrizeRebel (launched in 2007).
In addition, over the years, Treasure Trooper has received a lot of positive feedback as well as pretty solid ratings from many of its users.
Furthermore, Treasure Trooper is one of the more feature-rich GPT websites I've ever seen.
While this can be overwhelming and confusing if you're new to the platform, once you get the hang of it you'll start having way more fun!
With that being said, if you're after earning an extra $100 per month and you're looking for something more "adventurous" than a regular GPT site, Treasure Trooper might be a good fit for you.
On the other hand, if you're after earning some extra money as fast as possible without going through much trouble, then I suggest that you consider going for another GPT website, such as Swagbucks, PrizeRebel, and/or InboxDollars.
Have any comments or questions?
Please leave a comment right below or contact me at harry@dearboss-iquit.com
I'll be more than happy to help you out!
Best wishes,
Harry
dearboss-iquit.com