If you're looking for a way to make some extra cash from home and you live in the UK, then it's really no surprise that you stumbled upon Inbox Pounds…
The problem is that nowadays, there are thousands of online money-making scams and you can't stop wondering whether Inbox Pounds is one of them or not.
If that's the case, then you definitely landed in the right place!
In this Inbox Pounds Review, I'm going to share with you all the information you might possibly need to make a 100% informed decision about whether Inbox Pounds is worth your time and attention or not.
Let's dig deeper, shall we?
Name: Inbox Pounds
Owners: Prodedge LLC.
Price: Free to Join
Official Website: inboxpounds.co.uk
Suggested? Yes!
Inbox Pounds is a UK-based GPT (Get Paid To) platform that allows you to generate money online by completing simple tasks like filling paid surveys, playing online games, reading emails, and watching videos, and receiving cashback on your online purchases.

The platform was launched in 2012 by Prodedge LLC., a market research company that also owns and runs four of the largest consumer insights and engagement platforms
MyPoints
and ShopAtHome
Right now, Inbox Pounds is considered one of the largest and most reputable GPT websites in the UK…
The platform has been featured by many large publications such as BBC News & Yahoo Finance, it's currently cooperating with some very trusted worldwide brands, such as Ladbrokes Bingo and audible.co.uk, and is said to have paid over £2 million worth of rewards to its members.
Inbox Pounds is mainly addressed to people who live in the UK and are after earning some extra side cash online without having to possess/acquire any special skills or even be tech-savvy.
Who Is Inbox Pounds NOT For?
Earning more than £100 per month with Inbox Pounds (or any other GPT platform for that matter) is extremely unlikely.
That being said, if you're after building a sizeable income online, I suggest that you forget about Inbox Pounds and GPT platforms in general and instead, check out this one.
How Does Inbox Pounds Work?
The first thing you'll have to do upon signing up to Inbox Pounds is to confirm your email…
When you do so, Inbox Pounds will fully activate your account, credit you with £1, and prompt you to take your very first survey!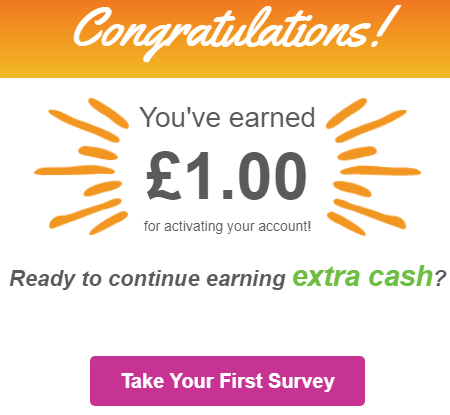 That first survey is actually a profile survey that consists of answering 20-30 personal questions, such as
Gender
Date of birth
Postcode
Income
Marital status
Profession
etc
Completing this profile survey will grant you £0.40 and is mandatory as Inbox Pounds will then use your answers to build your demographic profile in order to be able to match you with those surveys that suit you the best.
Make sure to answer each question as accurately as possible because if Inbox Pounds finds out that you lied or that you answered inaccurately, they might suspend or even completely shut down your account.
After that, you're basically free to browse through Inbox Pounds and start generating money in a multitude of ways, such as:
Filling In Surveys
Searching the Web
Joining Other Survey Panels
Playing Games
Cash Offers
Making Referrals
and PaidEmails
Let's take a closer look.
The main way that you can generate money with Inbox Pounds is by filling in surveys…
Inbox Pounds' average survey pays out £0.25 to £2 and lasts between 10 and 20 minutes.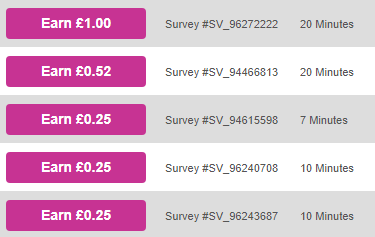 In addition to its main surveys, Inbox Pounds offers you the option to get paid by participating in surveys provided by another survey platform, Peanut Labs (up to 5 per day).

The surveys offered by Peanut Labs pay out as much money as those offered by Inbox Pounds and they're a great way to get your hands on more surveys and thus earn more money.
Truthfully, unlike other platforms that lack surveys (e.g. Survey Junkie), within Inbox Pounds, it's almost guaranteed that you'll never run out of surveys to complete.
In addition to filling in surveys, Inbox Pounds will also pay you for using its built-in search engine…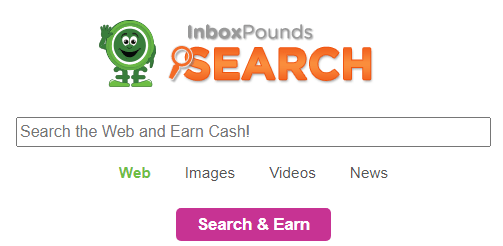 The concept is very simple – almost identical to how Google/Bing works.
Step #1: Insert your keyword
Step #2: Hit "Enter"
Step #3: Visit a website
The only difference is that unlike Google/Bing, Inbox Pounds will pay you £0.01 – £0.07 per 4 qualified searches you conduct in their search engine.
A qualified search is a search that takes place naturally for the purpose of locating information.
If Inbox Pounds finds out that you're searching randomly or unnaturally just to earn cash (yes they can actually figure that out), you might end up losing all your search cash credits and maybe even your ability to use Inbox Pounds' search engine altogether.
Joining Other Survey Panels
Get paid for joining and using other survey, GPT, and/or market insights platforms, such as LifePoints, MobileXpressions, Nielsen Computer Panel, etc.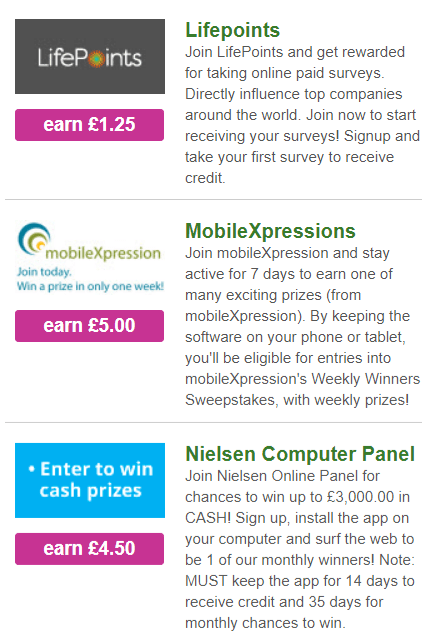 Another way to generate money with Inbox Pounds is by playing online games as well as downloading and playing games on your mobile device, such as
Bingo
Slots
Digital scratch cards
& more
Please be aware that most of the time, in order for Inbox Pounds to credit you with the promised amount of money for playing a game, you'll have to complete some specific objective, such as reaching a certain level or investing a certain amount of money.
For instance, as you can see in the images right below, to receive £15 from Gala Bingo, you first have to deposit at least £10 in the game and to receive £17 from Kings of Avalon you first have to actually play the game and reach Stronghold Level 18.

Inbox Pounds' Cash Offers tend to revolve around 3 key areas of interest:
1 • Sweepstake Entries: 
Get paid for registering and providing your opinion on third-party sweepstake platforms whereas you can also potentially win a variety of gift cards.
2 • Money-Saving Opportunities
Earn money for signing up to programs that will supposedly help you save money, such as
Look After My Bills (Pays out if you sign up and switch to a new energy supplier)
Yolt (Credits you for downloading, registering, and adding one of your bank accounts to the Yolt app)
etc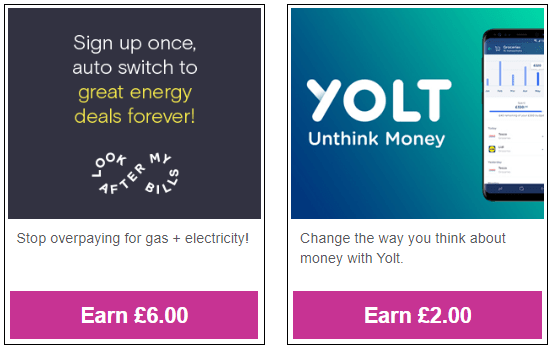 3 • Paid Cash Offers
Get paid by Inbox Pounds for actually purchasing third-party products/services, such as
VPN subscriptions
Bitcoin registrations
Shaving kits
and other products related to your demographics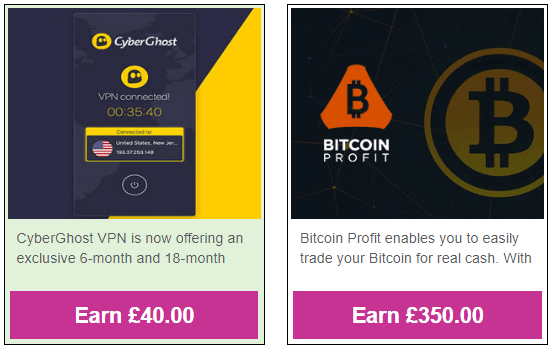 Please be aware that in order for Inbox Pounds' to credit you for most of its cash offers, you'll be required to make some kind of monetary investment in them…
Also, unless otherwise stated, Paid Cash Offers are available for first-time customers only.
For instance, Inbox Pounds will not credit you for completing a Paid Cash Offer if you've already joined it in the past through Inbox Pounds, another website, or the advertiser itself.
Earn 10% of all the £ your referrals earn within Inbox Pounds.

For instance, if a person you referred to Inbox Pounds makes £50, you'll pocket £5.
Your unique Inbox Pounds referral link is located under the "Refer Friends" section.
Receive small amounts of cash (usually £0.01) for opening and confirming emails sent by Inbox Pounds (image below).
Some of those emails will also inform you about new cash offers, games opportunities, surveys, etc that are available on the Inbox Pounds' platform…
Generally, the more frequently you participate in Inbox Pounds' tasks, the more paid PaidEmails you should receive per day.
Members who don't consistently participate in other opportunities may receive less or maybe even no PaidEmails whatsoever…
How Does Inbox Pounds Pay?
The first thing you should know here is that in order to cash out your Inbox Pounds earnings, you need to have generated a minimum of £20.

Once you've reached that threshold, you can basically cashout in many different ways, including:
Cheque
Prepaid Cards
PayPal
A variety of gift cards (Amazon, Marks & Spencer, etc)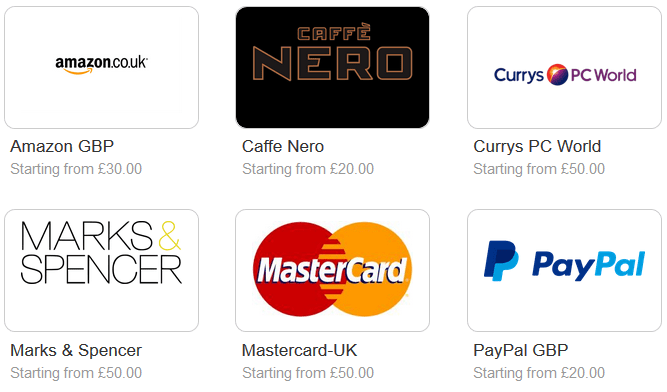 Payments and redemptions usually take 1-2 weeks to be processed and fulfilled.
How Much Money Can I Make With Inbox Pounds?
Since with Inbox Pounds you'll probably never run out of tasks to complete, the amount of money that you can potentially earn with the platform is only limited by the number of hours you invest in it…
In my experience, Inbox Pounds could help you generate up to £1 per hour.
That's a best-case scenario based on the assumption that you leverage all of its money-making tasks simultaneously.
This means that to generate £150 with Inbox Pounds you'll have to spend at least 5 hours per day on the platform.
That's kind of an awful return of investment but to be fair, that's the case all GPT platforms out there…
How to Join Inbox Pounds?
Joining Inbox Pounds is extremely simple and straightforward…
All you have to do is:
Head over to inboxpounds.co.uk
Fill your email and password in the form on the right of your screen
Click the "Sign Me Up!" button
Agree to Inbox Pounds' Terms of Use and Privacy Policy
Head over to your email inbox and activate your account
Congrats, you can now start earning money by completing tasks for Inbox Pounds!
The first thing that I like about Inbox Pounds is that it's very simple to utilize…
The platform's design is minimal and clean, and all its tasks and operations are very user-friendly.
All you have to do to start earning money with Inbox Pounds is
Create your account
Confirm your email
Complete your profile survey
Start fulfilling tasks
Anyone can earn their first money with Inbox Pounds in mere minutes, even if they've never joined a GPT website before.
Another thing I like about Inbox Pounds is that it offers you the option to generate money in a multitude of ways…
This doesn't just mean that you can potentially earn more money but also that if you get bored by one task, you can keep yourself engaged by just switching to another one.
Did you get bored of filling in surveys?
Start using Inbox Pounds' search engine…
Did you get bored of using the search engine?
Start referring some of your friends to the platform…
As mentioned earlier, Inbox Pounds will pay you 10% of all the money generated by people you have referred to it.
Granted enough referrals, your Inbox Pounds earnings could skyrocket to hundreds or maybe even thousands of dollars per month…
For instance, if you get 100 referrals that generate £100 per month each, you'll be pocketing a sweet £1000 per month out of their work without having to complete a simple task yourself!
Now getting 100 active referrals is no piece of cake but it could definitely happen if you work hard and smart enough.
Last but not least, Inbox Pounds provides some pretty solid support.
A couple of days ago I was facing a problem with my referral link and after contacting the platform's support team, they resolved the problem in like a couple of hours.
That's the kind of support that I like – fast and effective.
Throughout the years, Inbox Pounds seems to have gathered quite a lot of negative reviews and complaints online…
One of the most common ones is that members of the platform have gotten their accounts suspended out of nowhere upon requesting a cashout of their earnings (see image below).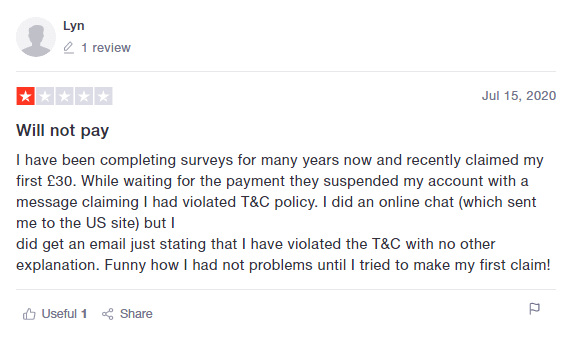 While this could happen to anyone, the vast majority of Inbox Pounds' members seem to be facing no such problems whatsoever.
Right below you can take a look at some other complaints about Inbox Pounds that I came across.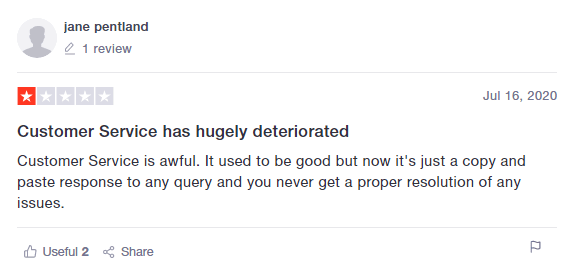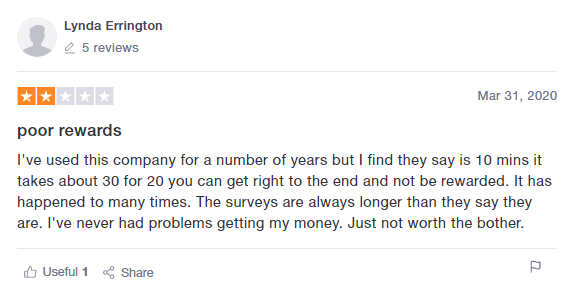 Now, to be fair, every single platform/product/service that exists for a few years will inevitably receive some negative feedback eventually…
Truth be told, Inbox Pounds hasn't received just negative reviews and complaints but also quite a lot of positive feedback as well (see images below).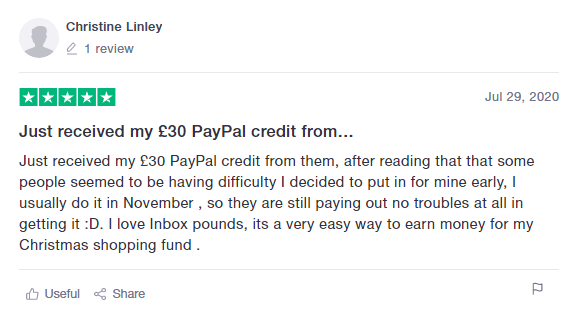 2. Survey Disqualifications
One thing that drove me nuts regarding Inbox Pounds is that it kept kicking me out of surveys after I had already spent several minutes answering their questions…
This happens because, in order for most surveys to understand if you're a good fit for them or not, they need you to answer additional, more specific questions.
As you can understand, this means that you could potentially end up wasting quite a lot of time and energy answering questions for nothing…
Nonetheless, this setback isn't exclusive to Inbox Pounds but rather quite common among the majority of survey websites out there…
The good news is that even if you disqualify for a survey, Inbox Pounds will still credit you with 1 spin which you can use on the "Spin and Win Wheel".
The prizes you can potentially win through the Spin and Win Wheel include:
Survey Tokens at £0.06 and £0.03 (credited upon successfully completing your next survey)
Cash Bonuses at £5.00, £1.00, and £0.01 (credited instantly)
Members can use the Spin and Win Wheel up to 10 times per day and store up to 100 unused spins.
3. Kinda Low Trust Pilot Rating
Based on Trust Pilot, Inbox Pounds has received a rating of 2.7 out of 5 stars based on 619 customer reviews…

While that rating is not awful, it's not considered good either.
4. Available Only in the UK
Inbox Pounds is available only to people who are located in the UK.

If you live outside the UK, then you won't be able to join Inbox Pounds.
Nonetheless, I'm sure that there are plenty of other survey websites that might be available in your country…
Also, be aware that you need to be 18+ years old to be allowed to join Inbox Pounds.
Inbox Pounds Review Summary

Up to $100 per month. You could make a lot more if you make enough referrals.
Simple to utilize even if you have no previous experience or tech skills whatsoever.
Earn money through surveys, searching the web, playing online games, & more.
Reasonable support that takes care of issues relatively quickly.
Inbox Pounds' income potential might be quite low, but this doesn't make it a scam which is what many people conclude when a website won't pay them thousands of pounds for doing very little work…
Truth be told, Inbox Pounds is a legit survey panel that can be easily classified among the largest and most reputable GPT websites in the UK.
The platform does have a kinda mixed feedback online, but the vast majority of its members seem to be facing no issues with it whatsoever.
While the £20 cashout threshold could be lower, it probably won't take you more than a week to reach.
If your goal is to earn an extra £100 – £150 per month relatively fast and without much effort, then Inbox Pounds is probably exactly what you're looking for!
If you'd like to maximize your monthly survey earnings, I suggest that you take a look at some other legit survey websites and join as many of them as possible.
Have any comments or questions?
Please leave a comment right below or contact me at harry@dearboss-iquit.com
I'll be more than happy to help you out!
Best wishes,
Harry
dearboss-iquit.com