With everything that's happening in the world right now, more and more people become interested in earning some extra money online from the comfort of their own home.
Since you're here I'm guessing that you are one of those people as well and that you recently came across Opinions 4 Good (formerly known as OpinionPLUS).
The problem is that as the demand for money-making websites increases, so do scams that are after wasting your time and energy for nothing… And you can't possibly know whether Opinions 4 Good is one of them or not before you actually invest in it.
That's the exact reason that I put together this Opinions 4 Good review…
To share with you all the information you might possibly need to understand if Op4G is indeed a legit money-making platform that will truly help you achieve your financial goals before you spend any time and energy on it.
Opinions 4 Good is a platform that pays you for filling in online surveys. What separates Op4G from the majority of other survey panels is that it enables you to donate part or all of your survey earnings to one or more of the nonprofit organizations it has partnered with.
Let's find out more, shall we?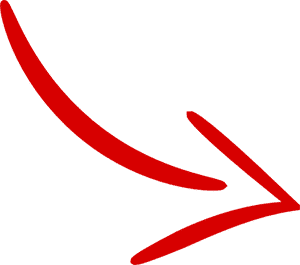 What is Opinions 4 Good About?
Opinions 4 Good, also known as "Op4G" and formerly known as "OpinionPLUS", is a US-based company that pays people like you and me for sharing their opinion through filling in surveys on their computer/tablet/mobile.
The platform was founded in 2010 and what separates it from almost all of the other survey panels out there is that it allows you to donate 100%, 75%, 50%, or 25% of your survey earnings to one or more of the 380+ nonprofit organizations it has partnered with, including:
Red Cross
World Food Bank
Cancer Research UK
United Cerebral Palsy
Big Brothers Big Sisters
All the Children are Children
& more
Please note that donating your earnings to nonprofits is NOT mandatory. Op4G allows you to opt-out from any kind of donation and keep all the money you generate with it for yourself.
According to Opinions 4 Good, the amount of money that it has raised and donated to non-profits to this date is over $480,000!
The company's mission is to establish and nurture a secure online membership base that receives cash payments for involvement in a broad range of Internet-based market research activities, while expanding funding for nonprofit organizations across the United States, Canada, and the UK.
Opinions 4 Good is planning to also expand to Australia, France, and Spain in the near future.


Who Is Opinions 4 Good For?
Op4G is mainly addressed to people who are after earning some side cash online in their spare time without much fuss or effort.
If you'd like to be generating some extra money to be able to 
pay for some of your bills
purchase some extra groceries
get Christmas presents for your kids
have some more money to spend on your weekends
etc
then joining Op4G might be a very wise choice.
On the contrary, if you expect that Opinions 4 Good is going to help you build a life-changing income, then you're going to be greatly disappointed because it truly CAN'T.


How Does Opinions 4 Good Work?
The workings of Opinions 4 Good are extremely simple and straightforward.
Upon signing up for Op4G as a panelist, you'll be prompted to activate your account by confirming your email address.

Right after activating your Op4G account, you'll be prompted to accept the platform's Terms & Conditions and then complete your demographic profile by answering to a couple of dozen personal questions about your
address
occupation & income
marital status
gender
ethnicity
shopping habits
etc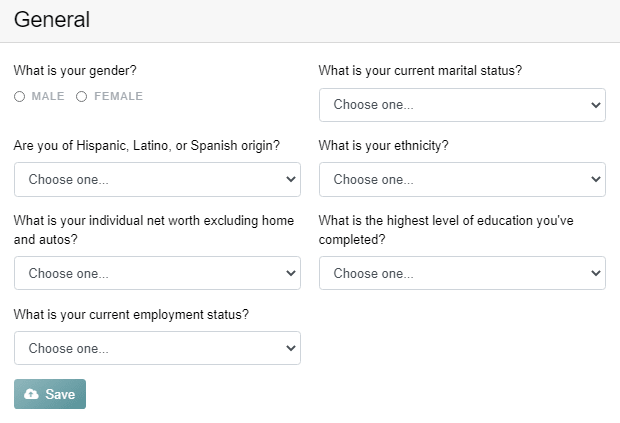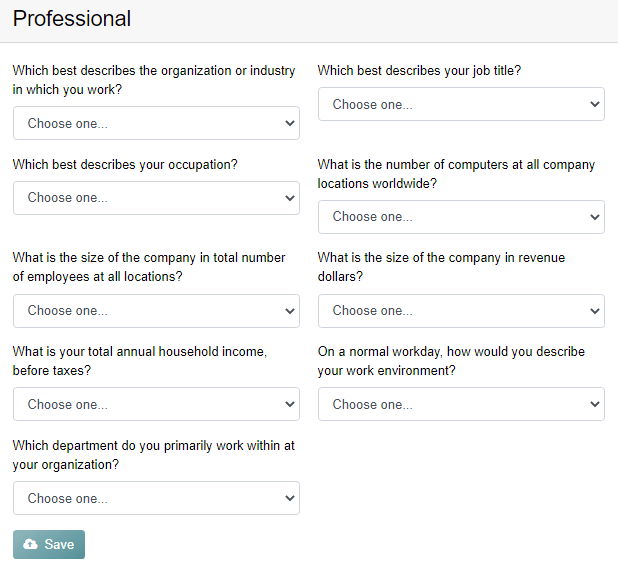 Fully completing your demographic profile is mandatory as Op4G will then use your answers to determine which surveys suit you the best.
Once you fully answer all of the demographic questions, Op4G will credit your account with $2.

All you have to do from that point on is wait for Op4G to start inviting you to surveys.
According to many sources as well as my own experience, the average Op4G member will receive around 5-10 survey invites per month.
Nonetheless, the number of surveys you personally get invited to can be higher or lower depending on your very own demographic profile.
Personally, I received my very first survey invite 3 minutes after fully completing my demographic profile.

However, I got screened out from it in mere seconds.
This happened 5 days ago and I haven't received another survey invite ever since.

According to many online testimonials the lack of survey invites as well as getting disqualified from quite a lot of them are two issues that you'll be regularly coming across as an Op4G panelist.
Nonetheless, to be fair, such nuisances are pretty common among all survey panels out there.


How Does Opinions 4 Good Pay?
Opinions 4 Good pays its members only through PayPal on a monthly basis if they have earned $10 or more (excluding donations) during the previous month.
If you haven't managed to reach the $10 threshold during any given month, your earnings will simply roll over into future months until that threshold is met. 
Op4G issues all its payments on the 1st of every month.
Please note that contrary to what the majority of other Op4G reviews support, the email address you used to create your Op4G account does NOT need to match your PayPal email in order to be enabled to receive your payments. 


How Much Money Can I Make With Opinions 4 Good?
The amount of money that you can potentially earn with Opinions 4 Good depends on three main factors:
the number of surveys you get invited to
the amount of money that each of those surveys is worth
 and how many of those surveys you actually complete
The average Op4G survey is worth around $3.
Furthermore, it's very unlikely that Op4G will invite you to participate in more than 10 surveys per month.
This means that the maximum amount of money an average panelist generates with Opinions 4 Good is somewhere around $30 per month.
And that's assuming that they qualify for and fully complete every single survey they get invited to.


How to Join Opinions 4 Good?
Joining Opinions 4 Good is a piece of cake…
All you have to do is:
Head over to op4g.com
Click on the "Nonprofit & Member Website" button at the top of the page (or under the "Menu" tab if you're on a mobile device)
Scroll down the page and click on "Become a Panelist"
Fill in your name, email, and a password and click "Sign up"
Confirm your email address
Fill in some basic information about yourself as prompted (income, marital status, age, etc)
When you're finished click on "View Dashboard"
Congrats, you can now start earning money by completing surveys for Opinions 4 Good!


1 • A Lot of Positive Feedback
Over the years, Opinions 4 Good has received quite a lot of positive feedback from people who have used it as well from several company-rating platforms.
More specifically, Opinions 4 Good has received a rating of 4.3 out of 5 stars derived from almost 200 customer reviews on Trustpilot.

In addition, the Better Business Bureau has rated Op4G with A+ which is actually the highest possible rating.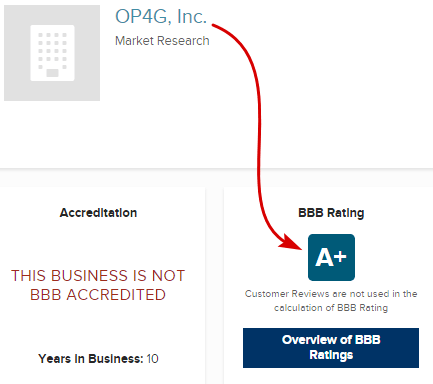 Furthermore, Op4G has received a 2.6/5 star rating based on 10 customer reviews on SurveyPolice, which is also pretty decent.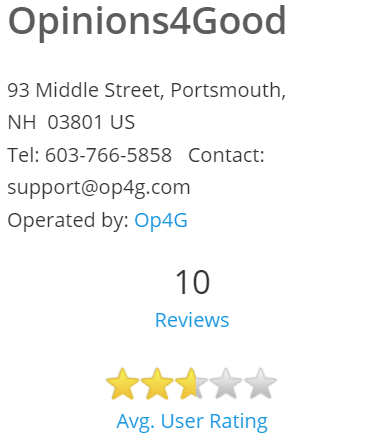 Here's what some Op4G's members have to say about the platform:




Lastly, Opinions 4 Good is listed as the #1 Market Researcher Company on Trustpilot (image below).

As mentioned earlier, the average Op4G survey is worth around $3…
This is an awesome payout considering that other survey panels pay you $0.5 per survey.
And that's not all…
Depending on your demographics and interests you might start receiving invites to surveys that are worth a lot more.
For instance, the first survey I was invited to right after joining Op4G was worth $5.

And a couple of days ago, a friend of mine got invited to a survey that was worth $8.
Op4G's surveys are definitely higher-paying that the surveys your average survey panel offers.
Another thing that I liked about Op4G is that is automatically issues payments for all its members on the 1st of every month (if they have managed to earn $10+ during the previous month).
This makes the whole process of getting paid for your efforts a lot faster and simpler.


4 • Work for a Good Cause
The biggest pro of Opinions 4 Good is that it offers anyone an opportunity to contribute to the general good of society by giving away part or all of their earnings to more than 380+ nonprofit organizations.
Despite the fact that the vast majority of its panelists still not bother to donate a single dime, Op4G has still managed to gather more than $480.000 in donations to nonprofits up to this point through those few that do donate.


1 • Lack of Survey Invites
As mentioned earlier, one of the most common issues Op4G's panelists complain about is that they receive very few survey invites.
This lack of surveys is going to have a direct impact on your earnings as the fewer surveys you complete the less money you're going to be making.


2 • Survey Disqualifications
Another very common issue that all Op4G panelists come across is getting disqualified from quite a lot of surveys…
That's the case because in order to determine whether you're a good fit for them or not most surveys will require you to answer a few additional questions before they allow you to take part in them.
The problem here is that you'll definitely end up wasting quite a lot of time and energy answering screener questions to access surveys only to get disqualified from them.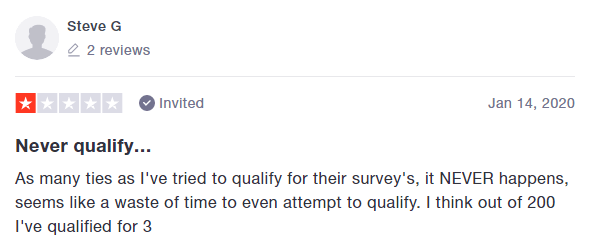 Nonetheless, this characteristic isn't exclusive to Opinions 4 Good but rather quite common among the majority of survey panels out there.
Over the years, Opinions 4 Good seems to have received quite a lot of complaints and negative feedback regarding delayed payments or not paying out some members at all (see images below).
In addition, there are also reports of Op4G members like the one right below who have been receiving system errors after submitting their surveys without being credited for completing them at all…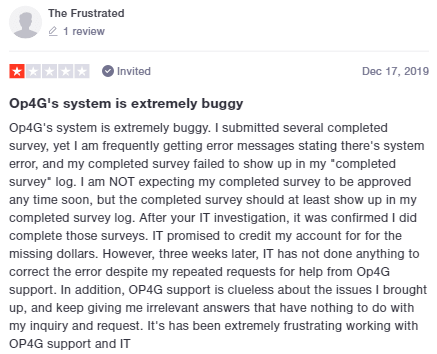 If you're thinking about joining Opinions 4 Good, then I suggest that you give it a try without paying that much attention to all the negative feedback it has received over the years.
Frankly, it's impossible for any company that's been operating for a few years to not receive any customer complaints.
However, make sure that you proceed with caution.


4 • Limited Geo-Availability
Opinions 4 Good is only available to people who are located in the USA, Canada, and the UK.
If you're not located in one of those countries, then you won't be able to join Opinions 4 Good.
Also, please note that to be allowed to join Opinions 4 Good, you need to be 13+ years old.
Nonetheless, according to Op4G, the platform is planning to also expand to Australia, France, and Spain in the near future.
The maximum amount of money that you can generate with Op4G is $30 per month.
Extremely user-friendly. You can easily use it even if you are not at all tech-savvy.
Allows you to generate money only through filling in surveys. No other tasks available.
Explanatory FAQ sections & dedicated support team which is not that helpful.


Is Opinions 4 Good a Scam or Suggested?
Opinions 4 Good is definitely NOT a scam but rather a 100% legit survey panel.
Yes, the platform might have indeed received some mixed feedback online but this is completely normal for any company that's been up and running for a few years.
If you live in the USA, Canada, and/or the UK, and you'd like to add a few extra dollars to your monthly income without much fuss, then you might want to give Opinions 4 Good a try.
However, seriously, don't expect that you'll be able to generate more than $30 per month with it because chances are that you'll end up being disappointed.
What I like the most about Opinions 4 Good is that it allows you to donate a percentage of the money you generate through completing its surveys to the charity of your preference.
According to its website, Op4G has raised over $480.000 in funds which were all donated to 380+ nonprofits since it was first launched back in 2010.
If you'd like to maximize your earnings, I suggest that you take a look at some other legit survey websites and join as many of them as possible.
Have any comments or questions?
Please leave a comment right below or contact me at harry@dearboss-iquit.com
I'll be more than happy to help you out!
Best wishes,
Harry
dearboss-iquit.com