If you're on a quest to locate some legit survey websites that are going to help you generate some side-cash online, then sooner or later, you'd inevitably stumble upon PrizeRebel.
In a nutshell, PrizeRebel is not just a survey panel but rather a GPT platform. This means that PrizeRebel won't pay you just for filling in surveys but also for participating in other very simple activities such as playing games, watching videos, making referrals, signing up for free trials, etc.
However, before jumping right in, you'd like to find out if PrizeRebel is a legit GPT platform or just one of those lying scams that are just after wasting your precious and limited time and energy.
I absolutely respect that.
And that's why in this PrizeRebel Review, I'm going to share with you all the information you might possibly need to understand whether PrizeRebel could really help you achieve your financial goals or not…
Let's get started!


What is PrizeRebel About?
Contrary to what most people tend to believe, PrizeRebel is not merely a survey panel, but rather a GPT platform.
This means that PrizeRebel enables you to generate money not just by filling in surveys but also by participating in a variety of other very simple activities such as playing games, watching videos, making referrals, signing up for free trials, shopping online, etc.
PrizeRebel was launched back in 2007 and quickly became one of the most widely-used GPT panels.
What really struck me is that unlike many of its competitors (e.g. Inbox Dollars and Opinion World) PrizeRebel is actually a standalone GPT website, not owned by some other, larger market research company.
Right now, PrizeRebel consists of more than 10 million members to whom it has paid a very generous $22+ million worth of cash and rewards since it was first launched in 2007.
Now, PrizeRebel might have paid out a lot less money than many other major GPT websites, but this doesn't even remotely mean neither that the platform is not legit nor that it won't be able to help you achieve your financial goals…
As a matter of fact, PrizeRebel is in a neck and neck competition with Swagbucks which has basically paid over $450 million worth of rewards to its members since 2008, for the title of "#1 GPT Website" on Survey Police.
*Update: Just a few days ago, PrizeRebel managed to actually surpass Swagbuck's rating and has now been named by SurveyPolice as the World's #1 GPT Website (see image below).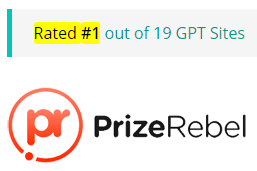 That's really astonishing.
Furthermore, PrizeRebel has been featured as one of the best and most legit survey panels by many pretty popular online publications, including:
What really separates PrizeRebel from the vast majority of other GPT websites out there is that despite being located in the US, they do accept members from all over the world. Right now, PrizeRebel's member base spans across 183 countries.
Truthfully, most of PrizeRebel's competitors accept account registrations from just a handful of countries which most of the time are the US, the UK, Canada, and Australia.
Based on the extensive research I conducted combined with my very own experience with the platform, I personally consider PrizeRebel as the Second-Best GPT Platform after Swagbucks. 
PrizeRebel is mainly addressed to people who are after earning some side cash online in their spare time or while on the go without much fuss or effort.
If your goal is to generate some extra money to
pay for a couple of your bills
purchase extra groceries
buy Christmas presents for your kids
eat/drink/party more during weekends
put aside for your summer vacation
etc
then PrizeRebel could be exactly what you're looking for…
However, please don't expect that PrizeRebel is going to help you earn a life-changing income, because it truly WON'T.


How Does PrizeRebel Work?
PrizeRebel basically works just like any other GPT website out there – it enables you to collect points for completing simple tasks, which you can then redeem for a variety of rewards such as gift cards and PayPal cash.
1 PrizeRebel point is worth $0.01.
For instance, in order to be able to redeem a $5 Amazon gift card you'll need to gather 500 points.
Upon signing up for PrizeRebel, you'll be immediately prompted to fill in a demographic profile survey, whereas you'll have to answer a bunch of questions regarding your date of birth, ethnicity, gender, address, etc.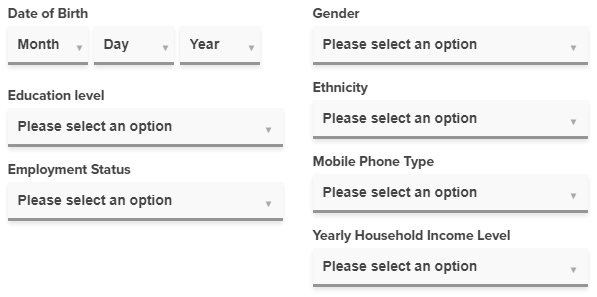 Once you fully complete your profile survey, PrizeRebel will also credit you with 10 points.

Before you can start participating in any of PrizeRebel's money-making activities, you'll have to verify your account by confirming your email address.

There is a total of 7 main ways that you can generate points within PrizeRebel:
Filling In Surveys
Online Shopping Cashbacks
Playing Games
Watching Videos
Installing Applications
Participating in Sweepstakes
Making Referrals
The optimal course of action is to experiment with all of PrizeRebel's money-making tasks, figure out which ones allow you to generate the most points in the least amount of time and with the least amount of effort, and just stick with those.
Anyway, let's take a closer look at how PrizeRebel's tasks work…
The first and foremost way of generating points within PrizeRebel is through filling in surveys.
The average PrizeRebel survey lasts from 10 to 60 minutes and pays out anywhere between 30 to 150 points.
Usually, the longer the survey is the more points it'll be worth.
PrizeRebel discloses the estimated amount of time it takes to complete a survey, as well as the number of points it's worth, beforehand so that you can make an informed decision regarding whether you should invest your time and energy in any given survey or not.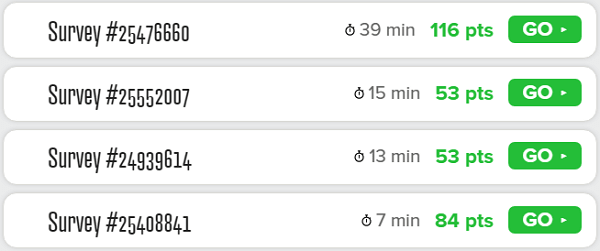 Depending on your demographics and interests, you might eventually stumble upon surveys that are worth 500 points or maybe even more.
In order to ensure that you'll never run out of surveys to complete, PrizeRebel aggregates all of its surveys from multiple survey providers, such as:
Your Surveys
PeanutLabs
SaySo
& more
Furthermore, PrizeRebel has a browser extension that notifies you about new surveys that are available for you to complete, Promo Codes that you can redeem, and other earning activities that you can participate in.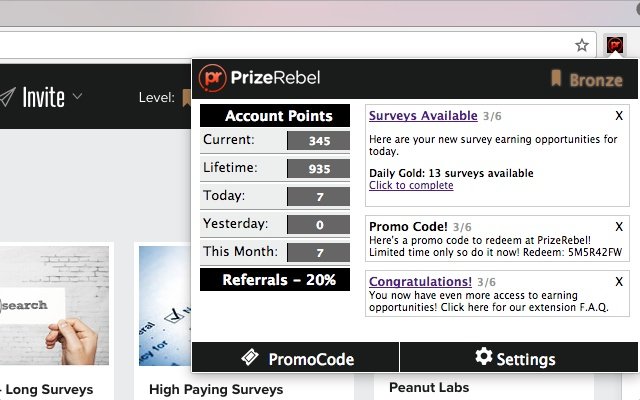 Lastly, upon signing up to PrizeRebel you'll be assigned with a "Quality Score" of 100.
Your Quality Score increases for displaying positive behavior and decreases for negative.
Positive behavior = providing thoughtful responses, passing attention tests, not rushing through surveys, etc.
Negative Behavior = speeding through surveys, providing incorrect responses, trying to fill in multiple surveys simultaneously, failing attention tests, etc.
A higher Quality Score results in receiving more survey invitations as well as being invited to higher-paying surveys.
Panelists with a poor Quality Score will be receiving fewer survey invitations and might even get blocked from future survey participation altogether.
If you'd like to make sure that you won't accidentally do something that decreases your Quality Score, make sure to read and follow PrizeRebel's guidelines of maintaining a good Quality Score to the letter.


Online Shopping Cashbacks
Receive points for purchasing products/services via PrizeRebel, kinda like a shopping cashback model.
For instance, right now, PrizeRebel would credit my account with 864 points ($8,64) for purchasing a McAfee antivirus plan that costs $45.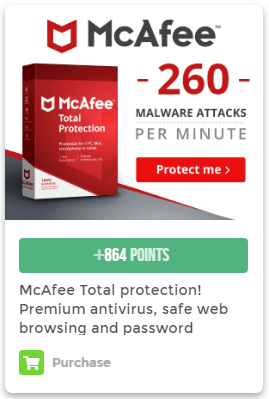 That's a 20% cashback!
Please note that PrizeRebel offers cashback for just a handful of specific products/services that it has partnered with.
If you're after receiving cashback for purchases you make from major online retailers, such as Amazon, Walmart, AliExpress, etc, you should check out Swagbucks.
PrizeRebel will also reward you with points for playing online games on your desktop/tablet/mobile, such as
Farm Story
Candy Bubble
State of Survival
Stars Casino Slots
Merge Racing Car
& more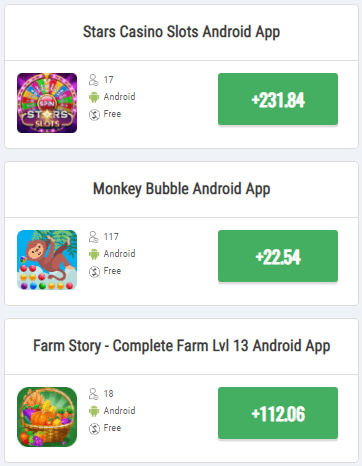 Please note that in order to get awarded points for playing any of PrizeRebel's games, you'll first have to complete some specific objective within that game.
For instance, as you can see in the image right below, to receive 22.54 points for playing Monkey Bubble you first have to actually play the game until you reach Level 70.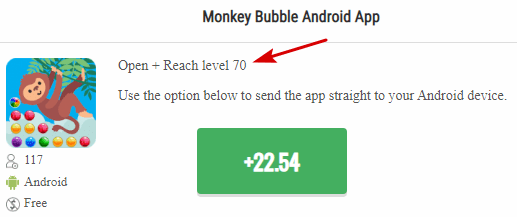 Another way to generate points with PrizeRebel is by watching videos that could revolve around several subjects, including:
Food
Music
Movies
Technology
Gaming
Celebrity Gossip
etc

All the videos you'll come across PrizeRebel are actually supplied by several video websites that PrizeRebel has partnered with.
Each video could last anywhere between 5 and 20 minutes and is worth a standard 55 points regardless of its duration.
Please note that contrary to what many other PrizeRebel reviews claim, you won't be able to generate any points if you open a video and then navigate away from it.
As a matter of fact, if you minimize your browser window or click away to another tab, the video will automatically stop playing.
In order to receive credit for watching a video, you'll actually have to sit through its entire duration.
Get paid for downloading and installing certain apps via PrizeRebel.
Every time you do so, the app's developer pays PrizeRebel a small fee, and then PrizeRebel shares part of its earnings with you!
For instance, PrizeRebel will credit you with 343 points for installing the Focusly app on your Android or iOS device.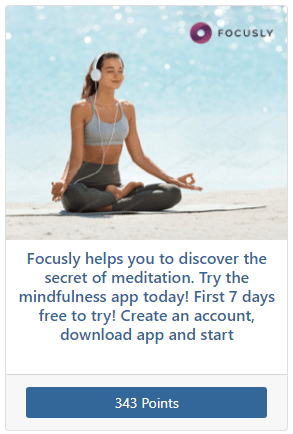 Participating in Sweepstakes
Well, if you do, PrizeRebel enables you to try your luck by participating in Raffles, Lucky Numbers Lottery, and Contests whereas you can potentially win rewards, such as gift cards and points.
Raffles: 
PrizeRebel starts a new raffle every couple of days.
To participate in a raffle, you'll have to exchange a few of your points for raffle tickets.
1 raffle ticket costs 10 points and the more tickets you purchase the higher your chances of actually winning the raffle.
Once you have purchased one or more raffle tickets, you'll be automatically entered into the raffle drawing.
The winners of each raffle are announced 7 days after the raffle started.
Most of the time, raffle prizes are either points or $5 – $25 gift cards to several major retailers, such as Amazon, Walmart, Xbox, etc.
Lucky Numbers Lottery:
The concept here is very simple…
First, you purchase one or more Lucky Numbers tickets. Each ticket costs 20 points and you can purchase up to 50 tickets per week.
Then, you submit 4 numbers between 1 and 17 for each ticket you purchased.

At the end of the week, PrizeRebel will randomly draw 4 winning numbers.
If the numbers you picked on any of your tickers match
2 of the winning numbers, you'll get credited with 35 points
3 of the winning numbers, you'll get credited with 150 points
all 4 of the winning numbers, you'll have hit the jackpot (usually more than 1000 points)
Jackpot is split evenly between all jackpot winners. If there are no jackpot winners, the jackpot amount will be rolled over to the next drawing.
Lucky Numbers Lottery takes place weekly, starting on Money and ending on Sunday.
Contests:
PrizeRebel gives you the chance to win up to 1000 extra points by taking part in contests against other members, which usually revolve around generating the most points through a specific money-making activity, such as
Filling in surveys
Completing offers
Making referrals
etc
PrizeRebel's contests are free to participate in and last for 2 weeks each.
Lastly, each contest can have up to 12 winners and the number of points each of them will get credited with depends on the spot they occupy (see below):
Spot #1 = 1000 points
Spot #2 = 900 points
Spot #3 = 800 points
Spot #4 = 700 points
Spot #5 = 600 points
Spot #6 = 500 points
Spot #7 = 400 points
Spot #8 = 300 points
Spot #9 = 250 points
Spot #10 = 200 points
Spot #11 = 100 points
Spot #12 = 50 points
The last way that you can generate points with PrizeRebel is by referring other people to it.
More specifically, PrizeRebel will credit you with up to 30% of all the points that your referrals generate within the platform.
The actual percentage of your referral commissions depends on the "Level" you have unlocked within PrizeRebel.
Bronze Level = 15% commission
Silver Level = 20% commission
Gold Level = 25% commission
Platinum Level = 25% commission
Diamond Level = 30% commission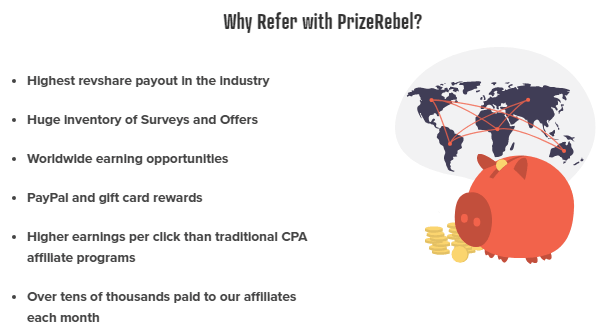 Granted enough referrals and a high level, your monthly PrizeRebel earnings could skyrocket to thousands or maybe even hundreds of thousands of points.
For instance, if during this month 100 of your referrals generated 5000 points each, that's a total of 500,000 points.
Now, if you've reached the Diamond Level, this means that at the end of the month, 30% out of those 500,000 points will get credited to your account.
30% out of 500,000 points is 150,000 points, or else $1500.
Frankly, PrizeRebel's referral program is by far the most efficient way of generating significant amounts of points relatively fast and almost 100% passively, that is without actually completing any of PrizeRebel's other tasks yourself.


Additional Ways to Earn Points
On top of all the money-making opportunities I just mentioned, PrizeRebel will also compensate you with points for participating in a variety of other activities, such as:
1: Submitting Testimonials
Did you receive a gift card, PayPal, or direct deposit from PrizeRebel?
Submit a screenshot of your payment to receive 50 points or a video testimonial to receive 200 points.
2: Redeeming Promo Codes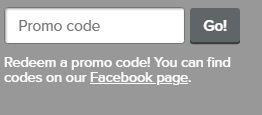 Promo Codes are strings of text that you can redeem within PrizeRebel in exchange for instant points.
Each Promo Code is worth a certain number of points and is only available for a specific timeframe.
Promo Codes are regularly posted on PrizeRebel's Facebook page.
In addition, if you have PrizeRebel's browser extension installed on your device it'll notify you every time a Promo Code is available for redemption.
3: 5-Day Challenges
Get credited with additional points for completing at least one daily task for 5 days in a row.
PrizeRebel allows you to redeem the points you've generated by taking part in its money-making activities in 4 different ways:
PayPal Cash
Gift Cards
Prepaid Cards
Sweepstakes
1 – PayPal Cash Redemption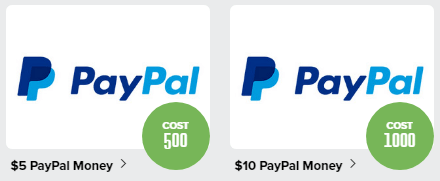 Redeem your points for a PayPal cash payment.
The minimum cashout threshold for a PayPal cash redemption is 500 points ($5).
2 – Gift Card Redemption
Exchange your points with gift cards that you can then redeem for purchases from major retailers, such as:
Amazon
iTunes
Starbucks
Nintendo
as well as other top retailers in your country.
Most gift cards will be delivered to you electronically via email within 1-2 business days.
The delivery timeframe of gift cards labeled as "Shipped" could be anywhere between 7 and 10 days depending on the merchant's chosen shipping method and location. 
3 – Prepaid Card Redemption
Furthermore, PrizeRebel offers you the option to redeem your points for prepaid cards (Visa & Mastercard) which can be used for purchases from virtually any retailer that accepts them.
PrizeRebel allows you to select if the prepaid card you redeemed will be virtual or physical.
Virtual prepaid cards are delivered to you immediately via email.
Physical prepaid cards could take a while to reach your mailbox and are also subjected to a $3 shipping & handling fee that will be deducted from the card's balance.
The minimum cashout threshold for all debit cards is 500 points ($5).
4 – Sweepstakes
As mentioned earlier, PrizeRebel enables you to exchange your points for entries in sweepstakes, such as Raffles and Lucky Number Lotteries, whereas you could win a variety of rewards, such as
Gift cards
Large sums of points
& more
The more entries you purchase for any given sweepstake, the higher your chances of actually winning.


How Much Money Can I Make With PrizeRebel?
The amount of money an average person can earn with PrizeRebel ranges between $100 and $150 per month.
Nonetheless, I've personally heard about people who have been generating $300+ per month with the platform.
For the most part, your monthly earnings with PrizeRebel depend on two main factors:
the number of tasks you complete
and the amount of points each of those tasks is worth
According to my own research and experience, PrizeRebel's most profitable money-making opportunities are its surveys and its referral program.
Nonetheless, I suggest that you conduct your own experiments, figure out which of PrizeRebel's tasks allow you to generate the most points in the least amount of time and with the least amount of effort, and just stick with those.
Joining PrizeRebel is extremely straightforward…
First, head over to prizerebel.com
Sign up with your Facebook account or create a new account by filling in the signup form
Agree to PrizeRebel's Terms of Service and Privacy Policy
Hit the "Start Making Money" button
Activate your account by confirming your email
Congrats, you can now start earning money from home by taking part in PrizeRebel's money-making opportunities!
Since it was first launched back in 2007, PrizeRebel has received some pretty solid ratings all around the web. 
For instance, Trustpilot has rated PrizeRebel with 3.3 out of 5 stars based on over 140 member testimonials.
In addition, PrizeRebel has received a 3.5-star rating on SurveyPolice, based on 160 customer reviews.
In fact, SurveyPolice has rated PrizeRebel as the #1 out of a total of 19 GPT sites, including: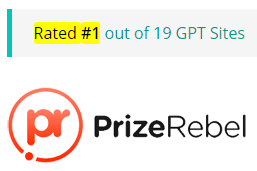 On top of that, PrizeRebel is also ranked #16 among 90 other similar platforms on Sitejabber, with a 3.09-star rating derived from 70+ consumer reviews.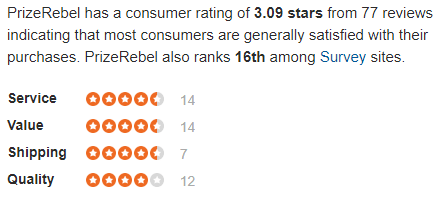 Right below you can take a look at what some people have to say about their experience with PrizeRebel: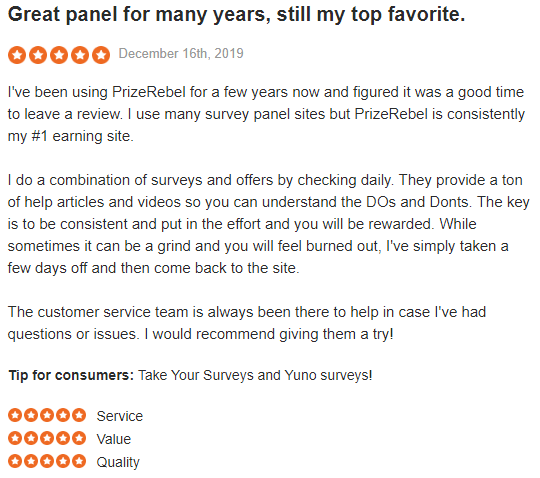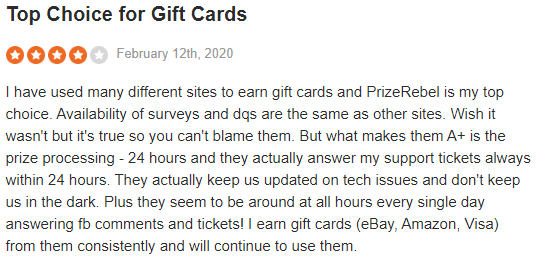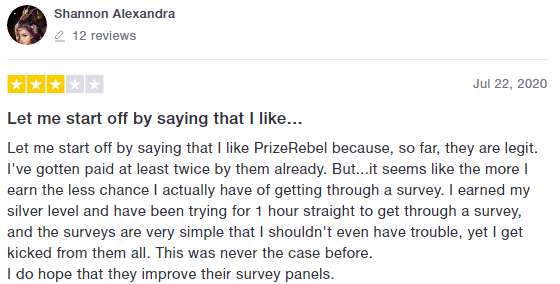 One thing that gives PrizeRebel an edge over most of its competitors is that it never runs out of surveys.
This is the case because as mentioned earlier, PrizeRebel actually draws all its surveys through multiple other survey providers that operate in any given country.
PrizeRebel offers a pretty nice Loyalty Program which enables you to maximize your monthly earnings by leveling up your account.
Leveling up your account takes place as you accumulate more and more points by participating in PrizeRebel's regular tasks and activities.
Right below you can take a look at PrizeRebel's levels, the required amount of points that you'll need to accumulate to unlock each, as well as their respective benefits.
Bronze Level – Upon Signup:
15% Referral Commission
No Automatic Prize Processing 
No Special Bonus
No Prize Discount
Silver Level – 1000 Points:
20% Referral Commission
No Automatic Prize Processing 
No Special Bonus
No Prize Discount
Gold Level – 4500 Points:
25% Referral Commission
Automatic Prize Processing 
1% Special Bonus
1% Prize Discount
Platinum Level – 10,000 Points:
25% Referral Commission
Automatic Prize Processing 
2% Special Bonus
2% Prize Discount
Diamond Level – 16,000 Points:
30% Referral Commission
Automatic Prize Processing 
3% Special Bonus
3% Prize Discount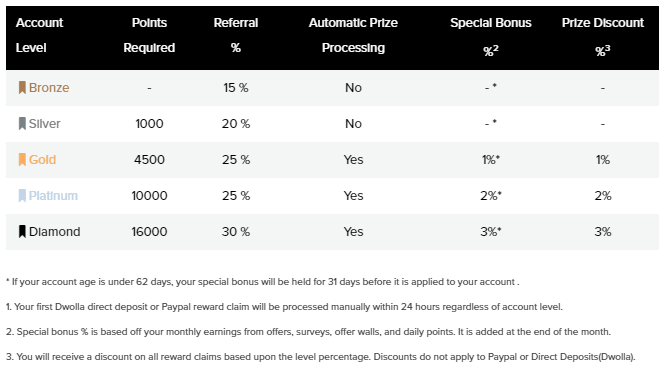 Unlike many other GPT & survey panels, PrizeRebel processes and fulfills all of the reward redemption requests of its members lightning-fast.
For instance, PrizeRebel delivers all its prepaid cards instantly and all its eGift Cards within 1-2 days via email.
PayPal Cash redemptions take only up to 1 hour to actually get deposited in your PayPal account.
That's extremely fast compared to let's say Opinions 4 Good that pays its members only once per month.
PrizeRebel is one of the very few GPT platforms that are available in almost all countries across the Americas, Europe, Asia, Australia, and Africa.
Wherever you're located, chances are that you're able to join and utilize PrizeRebel towards earning some extra money online.
Please note that you need to be at least 18 years old to be allowed to join PrizeRebel. Users between the ages of 13 and 18 can still join PrizeRebel but they'll need parental permission.


1 • Survey Disqualifications
A pretty common issue among PrizeRebel's members is being disqualified from quite a lot of surveys.
That's the case because, in order for any survey company to understand if you're a good match for their surveys, you'll be required to answer several screening questions.
If your answers don't match the target demographic of any given survey, you won't be allowed to participate in it.
As you can understand, this means that you could potentially end up wasting quite a lot of time and energy answering screening questions with nothing to show for it.
Nonetheless, this survey disqualification issue isn't exclusive to PrizeRebel but rather quite common among the majority of GPT & survey websites out there…
Unfortunately, unlike Swagbucks, PrizeRebel won't credit you with any points if you end up disqualifying for a survey.
Despite PrizeRebel having received some pretty good ratings throughout the web, the Better Business Bureau (BBB) has graded the platform with an "F", which is actually the worst possible grade.
Furthermore, again on BBB, PrizeRebel has been rated with 2 out of 5 stars based on 4 customer reviews.
While BBB is not an official business evaluator but rather an independent organization, the lower the BBB rating a company receives, the less credible and trustworthy it is considered.
One of the things that kinda shocked me regarding PrizeRebel is that it won't allow you to redeem your points for PayPal cash unless you have first reached the Silver Level or higher.
While reaching the Silver Level should be rather easy, PayPal redemptions should be available to anyone.


PrizeRebel Review Summary



PrizeRebel is among the highest-paying GPT websites out there, especially if you utilize its referral program.
Could be a little overwhelming at first. You'll get the hang of it after you use it a couple of times.
Complete surveys, watch videos, make referrals, play games, install applications, shopping cashback, etc.
A lot of positive feedback and very few complaints. It's currently rated as the #1 GPT Site on SurveyPolice.


Is PrizeRebel a Scam or Suggested?
With 13 years of experience and over $22 million paid to $10+ million of its members, PrizeRebel is definitely NOT a scam…
On the contrary, PrizeRebel is considered among the most reputable and well-established GPT websites out there.
As a matter of fact, SurveyPolice has currently named PrizeRebel as the world's #1 GPT Site.
Personally, I consider PrizeRebel as the Second-Best GPT Platform after Swagbucks. 
If you're after pocketing an extra $100 – $300 per month online by completing very simple tasks that require minimal effort, I strongly suggest that you give PrizeRebel a try.
Have any comments or questions?
Please leave a comment right below or contact me at harry@dearboss-iquit.com
I'll be more than happy to help you out!
Best wishes,
Harry
dearboss-iquit.com