Since you are here I am guessing that a friend of yours, a family member, or a random stranger in the street, made you aware of this "amazing" business opportunity that Jeunesse offers whereas you can apparently make a fortune by selling skin-care products that make people look 100 years younger and keep them young throughout eternity…
In addition, they told you that by becoming part of the Jeunesse's "family", you are going to make a difference in the world…
What kind of difference?
Well, nobody really knows… This is what MLM reps usually say to lure you in even if they distribute empty cans.
You've bitten…
BUT, you've heard your fair share of MLM horror stories… People who have lost thousands of dollars along with their friends and family to pyramid schemes posing as legit MLM companies after turning into disgusting salespeople who try to recruit every single person who crosses their line of sight.
And you definitely not want to end up being one of them…
So, you decided to do your research, something that frankly has brought you a lot closer than you imagine to the legit money-making opportunity that you have been looking for all along.
In this review, I am going to answer every single question you have about Jeunesse, such as
What is Jeunesse?
Is Jeunesse a pyramid scheme or a legit MLM company?
Does its compensation plan offer the potential for you to achieve your financial goals?
How to join Jeunesse as a Distributor?
How much does it cost to join Jeunesse?
Pros and cons
Are Jeunesse's products high-quality?
and many more
Furthermore, I am going to reveal to you a couple of alternative money-making opportunities.
This way, you'll have everything piece of information you need to make an informed decision about whether Jeunesse is worth your time and attention or if you'd better invest them in something more legit and promising.
Let's get cracking!
Name: Jeunesse
Owners: Randy Ray & Wendy Lewis
Price to join:
$29.95 one-time signup fee
$19.95 annual renewal fee
up to $3000 one-time payment depending on the signup package you choose (optional)
$60 per month to keep yourself qualified for team commissions (can be omitted by selling to retail customers)
Official Website: jeunesseglobal.com
Suggested? So and so…
Increase your chances of reaching success in multi-level marketing by following a dedicated MLM course.
.
Free Replicated Website
Provides Training
Established Company
Affordable to Join
MLM Business Model
Very Expensive Signup Packages
Overpriced Products
Very Low Income Potential
Numerous Complaints
Before I move on to the actual Jeunesse review, I want to reveal to you some general statistics about MLM companies that will likely SHOCK you to your very core.


10 Shocking MLM Statistics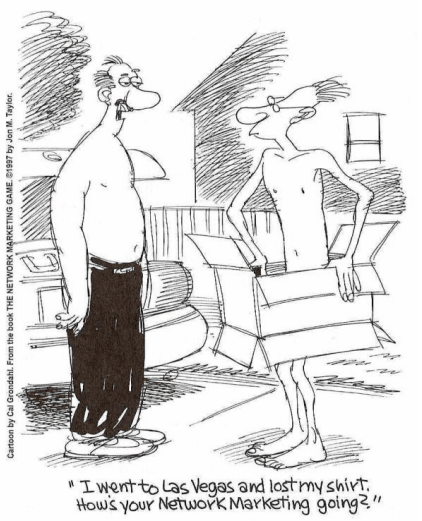 Jeunesse is a company that operates in the industries of
anti-aging
beauty
skincare
cosmetics industry
supplements
The company was founded back in 2009 by Randy Ray & Wendy Lewis.
According to my research, Randy had been involved with multi-level marketing for over 19 years, before creating Jeunesse.
In fact, he used to be CEO of two other MLM companies
Alpha Computer Services – a company that provided computer hardware and software installation and support
Forever Freedom International – a company that provided innovative fuel technologies
Wendy Lewis went to the University of Pennsylvania for college and majored in math and sociology. She received her master's degree from Temple University in Educational Psychology Testing and Measurement Statistics. Following that, she taught mathematics for about 8 years.
Wendy was the co-owner of Alpha Computer Services. Along with Randy, they took the company to number 184 in the INC 500 fastest-growing privately-held companies in America and then sold it.
After that, both of them worked as the back-office support of many other companies. Wendy became a compensation plans consultant because she was good with numbers and she could predict if a compensation plan is going to work or not…
She got named "Champion of the Year" in the 2018 Women World Awards.
While at a doctor's office in 2009, she saw an anti-aging serum. She tried it and thought that it was amazing.
She and Randy took the serum and improved upon it.
They tried to figure out what they needed to do to start an anti-aging company because their focus was to stay young.
So, they created a series of products that they called Y.E.S. (Youth Enhancement System) and that's how Jeunesse began.
Since its launch, Jeunesse has received over 500 awards.
Jeunesse's mission is to change people's lives for the better while making Jeunesse a household, world-renowned brand.
You can find a lot more about Jeunesse, its founders, mission, vision, products, policies, compensation plan, income disclosure, etc on the company's official website.
Jeunesse's Products and Prices
Jeunesse calls their collection of products the "Youth Enhancement System".
According to Jeunesse, Y.E.S. was carefully developed to combine powerful benefits into a synergistic system of skincare and supplements you won't find elsewhere.
Jeunesse's products, as well as their respective prices and uses, are as follows:
Instantly Ageless ($75.95): Anti-aging cream
Luminesce ($44.95 – $139.95): A series of 8 skincare products
NV ($55.95 – $167.85): A makeup line
AM & PM Essentials ($139.95): Multivitamin supplements 
RESERVE ($137.95): Blend of antioxidants 
FINITI ($144.95 – $289.95): Natural supplement
ZEN Bodi ($21.95 – $399.95): A series of weight management supplements
M1ND ($137.95): Mental & memory boost supplement
MONAVIE ($184.95): Blend of 19 fruits
Naara ($41.95): Drink that contains collagen
MX20 ($85.95): Blend of 70 trace minerals, black organic fulvic, and humic acids
RVL ($34.95 – $199.95): Haircare system 
RevitaBLU ($137.95): Botanical blend of blue-green algae, sea buckthorn berry, aloe vera, and coconut water powder
You can find more information about Jeunesse's products on the company's official website.
Jeunesse Distributor Compensation Plan
The majority of MLM companies have so overly complicated compensation plans that it feels like you need to have a rocket scientist doctorate to understand just their first paragraph.
Jeunesse's compensation plan is no exception…
Nonetheless, I'll try my best to get you up to speed.
Jeunesse compensates its Distributors in 6 different ways.
Retail Profits
Retail Sales Bonus
Team Commissions
Matching Bonus
Customer Acquisition Incentive
Diamond Bonus Pool
Earn 15% – 40% commission per retail sale you make either face to face or through your personalized retail website.
Earn a Retail Sales Bonus on the first product package you sell to each retail customer, Preferred Customer, and Distributor you personally enroll.
This Retail Sales Bonus ranges between $25 and $250 and depends on the product package sold.
Jeunesse's Team Commissions are paid in cycle bonuses through a Binary MLM structure.
In a Binary MLM structure, you are placed at the top of the team.
Your personally recruited Distributors, are placed right below you either on your left leg or your right leg.
Every time the Distributors on either leg make sales, you generate Group Volume (GV).
When one of your legs, left or right, reaches 600 GV and the other reaches 300 GV, you earn a $35 commission, or as they call it a "Cycle
Bonus."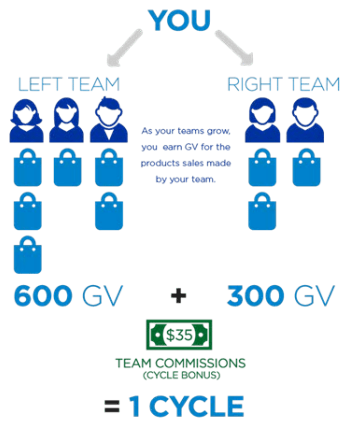 Cycle Bonuses are paid weekly and are recurring. You will keep earning a $35 cycle bonus every single time one of your legs accumulates 600GV and the other 300GV.
You can earn up to 750 cycles bonuses per week.
To receive cycle bonuses, you must have reached the Executive rank or higher.
When you reach the Jade Executive rank or higher, you qualify for this Matching Bonus that is paid through a uni-level structure up to 7 levels of Distributors deep.
1st level = the Distributors you have personally recruited
2nd level = the Distributors your personally recruited Distributors have recruited
3rd level = the Distributors your 2nd level Distributors have recruited
and so on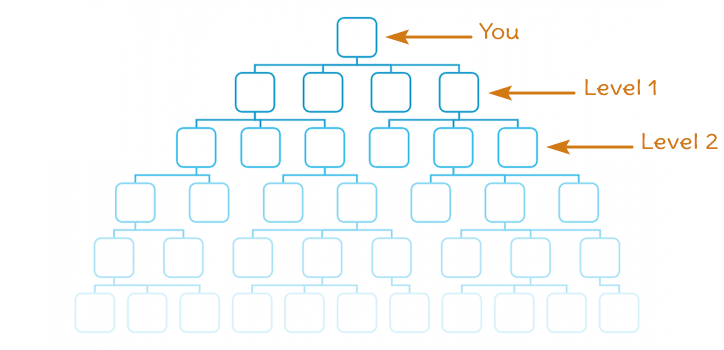 The higher your rank, through the more levels you get paid.
For instance, once you reach the rank of Pearl Executive, you earn 20% from the sales of your 1st level of Distributors and 15% from the sales of your 2nd level of Distributors.
5 • Customer Acquisition Incentive
The Customer Acquisition Incentive raises the Matching Bonus we talked about right above based on how many customers you sell products to each month.
If you sell products to 5 different customers during a calendar month, the Matching Bonus that you earn from the sales of the Distributors on your 1st level increases from 20% to 25%.
If you sell products to 10 different customers during a calendar month, the Matching Bonus that you earn from the sales of the Distributors on your 1st level increases to 30%.
To qualify for this Customer Acquisition Incentive you need to have reached the rank of Jade Executive or higher.
When you reach the rank of Diamond Director and higher, you can earn shares of the company's global sales by qualifying for this Diamond Bonus Pool.
The Diamond Pool is comprised of 3% of the company's global Commissionable Volume (CV) accumulated from product sales made each quarter. This pool is divided among qualifying Diamonds according to the shares they have accumulated each during the quarter.
You can study Jeunesse's full compensation plan right here. The last 3 pages of this PDF contain the company's 2019 income disclosure as well.
Below you can also find a video overview of Jeunesse's compensation plan that could help you get a better grasp of it so make sure to watch it before you move on!
Please note that Jeunesse's compensation plan might undergo changes from time to time so by the time you read this review, some of the info, the commission rates, the rank qualifications, etc that are displayed in the video and the PDF I shared with you right above might not be that accurate.
If you still have questions about Jeunesse's compensation plan, you can find the contact information based on the country you live in, on the top right corner of company's official website under the "Support" section.
Or you could contact me at harry@dearboss-iquit.com and I will do my best to help you out.
How to Join Jeunesse:
Becoming a Jeunesse Distributor
In order to sign up as a Jeunesse Distributor, you have to head over to the company's official website.
On the very top left corner of the website, click "Join Our Family".
In order to proceed, you'll have to submit a sponsor's username. If you don't have one, you can contact Jeunesse and ask them to bring you in contact with a sponsor who operates in your area.
Once you have a sponsor's name, you'll have to select your country, language, fill in a form with some personal information and purchase one of the two available starter kits.
After that, you'll be promted to purchase an additional but optional signup product pack.
Fill in your payment information and you are done!
As a Jeunesse Distributor, you get your hands on
Replicated Jeunesse website
A personal back office
15% – 40% discounts on all personal purchases
Training
Online & offline marketing materials
To qualify for earning commissions from the sales of other Distributors in your team, you must sell or purchase a minimum of $100 worth of products in a month within your first year
To keep yourself qualified you hate to personally purchase or sell to retail customers a minimum of $60 worth of products each month.
So, let's start talking money, shall we?
How Much Does It Cost to Join Jeunesse as a Distributor?
As mentioned right above, in order to become a Jeunesse Distributor, you have to purchase one of the two enrollment kits below:
Starter Kit – $29.95 (One-time payment)
JKit – $49.95 (One-time payment)
After you purchase your enrollment kit, you'll be prompted to purchase additional product packs which cost between $200 and $3000.
Purchasing any of those additional product packs is optional.
Furthermore, after your first year as a Jeunesse Distributor, you'll have to pay a $19.95 renewal fee for each year that you want to remain a Distributor.
Also, be aware that in order to keep yourself qualified for earning Team Commissions you'll have to maintain a $60 Personal Sales Volume during a 30-day period.
This $60 PV can come either from retail customer sales or from personal purchases.
If you sell $20 worth of products to retail customers during a month, you'll have to get your PV up to $60 by purchasing $40 worth of products yourself in order to earn commissions from the sales of the Distributors within your team.
Is Jeunesse a Pyramid Scheme?
Most of the time it's very hard to distinguish between a legit MLM company and a pyramid scheme.
The video below will help you understand how to spot and avoid pyramid schemes in general.
The main difference between an MLM and a pyramid scheme is that MLMs give you the opportunity to earn commissions by selling actual products or services to other people in retail without having to recruit them while with a pyramid scheme the only way to earn money is by recruiting other people into the scheme.
Not all MLMs are legitimate. If the money you make through an MLM is based on your sales to the public, it may be a legitimate one. If the money you make is based on the number of people you recruit and your sales to them, it's not legit. It's a pyramid scheme. Pyramid schemes are illegal, and the vast majority of their participants lose money. – Federal Trade Commission
Since Jeunesse offers you the option to earn commissions by selling its products to retail customers, I have to conclude that Jeunesse is NOT a pyramid scheme!
Free Replicated Website
Affordable to Join
Established Company
Exponential Growth
1 • Free Replicated Website
Once you become a Jeunesse Distributor, you get your hands on a replicated website for free.
When someone who visits your replicated website purchases one or more Jeunesse products through it, up to 40% of the total amount of money paid by that customer goes into your pocket.
People can also sign up as Preferred Customers through your website allowing you to build a recurring income through retail sales that are going to keep being delivered month after month to your customers on autopilot.
In addition, if someone signs up as a Jeunesse Distributor through your website you automatically become their sponsor, and they become part of your downline which means that you could earn commissions from their sales as well as from the sales of their own recruits, their recruits' recruits, etc.
If marketed the right way, this website could help you maximize your customers and your recruits, and subsequently your income.
If your business is not on the internet, then your business will be out of business – Bill Gates
Jeunesse is very affordable to join compared to the average MLM company.
You can basically start earning commissions by selling the company's products for as low as a one-time payment of $29.95.
Just to give you a frame of reference, NewYou (a CBD MLM) requires you to pay at least $70 per month to keep yourself qualified for commissions.
Jeunesse has been in business for more than a decade now, which is exceptional considering that most MLM companies fail before they even hit the 5-year mark.
This is a good sign that the company is probably a good opportunity to build a long-term, sustainable income.
Jeunesse has done over $3 billion in product sales in 7 years and has been on the Inc. 500/5000 list of America's fastest growing private-held companies.
In fact, Jeunesse was the only direct selling company in this list during 2016.
It's also the only company on the list to make more than $1 Billion in annual revenue during 2016 (it actually hit $1.4 Billion).
MLM Business Model
Very Expensive Signup Packages
Overpriced Products
Very Low Income Potential
Numerous Complaints
As mentioned earlier, I am not fond of the MLM business model in general for many reasons…
First of all, the success rates of MLM participants are awfully low (74% – 99%)
Secondly, I hate selling…
And thirdly, I've heard so many stories of people losing all their friends, family, and money due to the pushy and sleazy practices they were being taught by their "mentors" that I have become repulsed by the MLM business model in general.
Being involved in an MLM is just not worth the trouble in my mind.
Especially when there exist other much more legit ways of earning a lot more money without having to go through all that struggle of becoming a sleazy salesperson and jeopardizing your relationships with those around you in order to make a buck…
2 • Very Exensive Signup Packages
The signup product packages that Jeunesse offers are way too expensive.
The cheapest one costs $200 and the most expensive one costs $3000.
While purchasing those signup packages is optional, if you are selling face to face you'll want to have your own products to make demonstrations as well as give away as samples.
Plus, there's nothing that sells better than showing people the results that the products you are selling to them helped you achieve.
So, if you are serious about earning money with Jeunesse, you're going to have to accept that you'll have to purchase several of those product packages yourself sooner or later.
Another thing I don't like about Jeunesse is that its products are just way too expensive.
I mean, $184.95 for 750ml of juice (MONAVIE) and $139.95 on 2 bottles of vitamins, really?
No fucking way!
Truthfully, I wouldn't buy them even if I had a gun pointing towards my head.
You can literally find similar products on a local store 80% cheaper.
4 • Very Low Income Potential
According to Jeunesse's Income Disclosure Statement, 74% of Jeunesse Distributors made $0 – $4500 during 2018. And those were just the Distributors who sponsored at least one other Distributor.
The Distributors who haven't recruited anyone weren't even included in Jeunesse's IDS probably because if they were, the statistic above would be a lot higher.
While digging around before starting putting this Jeunesse review together, I came across numerous complaints about Jeunesse.
In fact, Jeunesse's profile within BBB (Better Business Bureau) has 17 complaints. 
You can take a look at all those BBB complaints right here.
In addition, Jeunesse has also accumulated quite a few complaints with the FTC too!
Furthermore, a leading expert FTC economist issued a report declaring that Jeunesse is a pyramid scheme (report here).
Moreover, Jeunesse seems to have been involved in multiple lawsuits since it first started operating.
Lastly, there have been numerous complaints that Jeunesse Distributors make unrealistic health-improvement claims in order to sell their products.
From treating cancer to heart disease and diabetes, preventing strokes, healing injuries, etc.
There's a huge database of all the unrealistic claims that Jeunesse Distributors have made over the years maintained by truthinadvertising.org right here!
Jeunesse MLM Review Summary
74% of Jeunesse Distributors who sponsored at least one other Distributor made $0 – $4500 during 2018. 
Provides training, cloud-based dashboard, replicated website, marketing tools, and resources, business app, etc.
Affordable to join. Extremely expensive but optional signup kits. Kinda pricey to maintain your commissions-qualified status.
Jeunesse is NOT a pyramid scheme. However, there have been numerous complaints about the company, its Distributors and its products.
Personally, I wouldn't join Jeunesse.
The income potential it offers is very low
Its products are overpriced
The company feels too hype-y
Its products are not as high-quality as it claims them to be
Frankly, if you do your research, you'll come across a lot of better MLM companies that operate in the skincare and cosmetics industry, such as Farmasi.
On the other hand, to tell you the truth, I am not at all fond of the MLM business model in general…
The success rate of MLM representatives is awfully low
They are way too volatile and unstable
You need to invest a ton of money, time, and energy until you manage to make a profit (if you ever actually make a profit)
And most of them focus on recruiting people instead of actually providing an actual valuable and beneficial product/service
Plus, in order to make money with the MLM business model, you'll have to turn into a sleazy salesperson and I really hate selling as much as I hate being sold to.