As more and more studies prove the amazing health benefits of CBD usage, the CBD industry has grown exponentially during the last few years.
According to Forbes, the CBD market is expected to grow by 700% by 2020.
And with this growth, tons of new CBD-related companies keep sprouting like crazy.
NewYou is one of those companies.
The company manufactures and distributes a variety of CBD products such as CBD drops, CBD infused coffee, CBD skin creams, etc.
NewYou also offers an MLM compensation plan, meaning that you have the ability to build an income with the company by promoting its products to retail customers as a "Brand Partner" as well as getting other people to become NewYou Brand Partners themselves…
However, is NewYou actually legit?
Are its products worth it?
Does it offer the potential for you to achieve your financial goals?
Or is it just another scammy pyramid scheme which is going to leave you hundreds of dollars poorer?
By the end of this NewYou review, you'll know everything you need to make an informed decision about whether this company is worth your time, attention, and money or not, such as
What NewYou is
How it works
The company's background
How much it costs to join
Its compensation plan
If it's a pyramid scheme or not
The products it offers
Its owners
Pros and cons
and much more
Let's get cracking!
Name: NewYou
Owners: Ray Grimm Jr.
Price: 
$39.95 per year
Sample Pack – $300 (One-time payment)
Biz Pack – $500 (One-time payment)
Pro Pack – $1000 (One-time payment)
$70 to $150 per month to qualify for commissions
Please note that the Sample, Biz, and Pro Packs are optional to purchase.
Lastly, you can test drive NewYou for FREE at newyoupro.com/testdrive 
Once you are there it will ask you to fill in the username of your sponsor to let you move forward.
You can use mine if you want which is "Harry" (without the quotes).
Official Website:newyoupro.com
Suggested? So and so…
Increase your chances of reaching success in multi-level marketing by following a dedicated MLM course.
.
Confusing Compensation Plan
MLM Business Model
Expensive Membership
Company is New
As stated in the beginning, NewYou is an MLM which operates within the CBD market and focuses on distributing a variety of CBD products such as
NewYou Drops
NewYou Cream (skin, not ice :P)
DropsFX Energy
DropsFX Sleep
CB2
CB2 Plus
Caffe Canna
ENDO30 Weight Management System
NewYou Release
NewYou Absorb
Drops for pets
The company was launched by Ray Grimm Jr. and Daran Grimm (husband & wife) in 2018.
According to my research, in 2016, Ray became a consultant of another MLM company named Laguna Blends and after a while became President and CEO of the company.
Laguna Blends was a CBD-based product company located in Canada that under Ray's leadership acquired Isodiol, another CBD-based product company located in the US.
This resulted in Laguna Blend's stock rising from .05 per share to over $2 per share during a two-year period (until he left the company for some unknown reason).
Daran Grimm had her first contact with MLM companies when she was 17 and was working for Avon.
Since then, she has had a very successful career in the Direct Sales industry and she has built three very successful brands in the health and wellness industry alongside her husband.
In 2018, Ray Grimm Jr. and Daran Grimm joined forces once again and launched NewYou.
And as they say, the rest is history…
NewYou offers you the opportunity to earn commissions by becoming a "Brand Partner" of the company and distribute its products yourself.
As a Brand Partner, you earn 10% commissions when you sell NewYou products to retail customers.
You also earn 20% commissions when a customer purchases a NewYou product through your personalized NewYou website.
In addition, when you recruit other Brand Partners, you earn a "Fast Start Bonus" based on which pack they purchase.
For instance, when a Brand Partner you referred to NewYou purchases the $300 Sample Pack, you earn $60. If they purchase the $500 Biz Pack, you earn $100 and $200 if they purchase the $1000 Pro Pack.
And that's not all…
NewYou also pays you residual commissions thought a uni-level compensation plan as well as through many other bonuses.
I dive deeper into NewYou's full compensation plan right below.
B3 NewYou's Compensation Plan
The majority of MLM companies have so overly complicated compensation plans that it feels like you need to have a rocket scientist doctorate to understand just their first paragraph.
NewYou is no exception.
Despite the fact that NewYou's compensation plan is really not that complicated compared to the compensation plans of other MLM companies like Zyndio it's so poorly written and sloppy that I had a great difficulty understanding it.
 But I'll try to get you up to speed anyway 😉
So, NewYou pays you money in 9 different ways.
Retail Commissions
Web Commissions
Sponsor Commissions (Fast Start Bonus)
Auto-ship Commissions
Group Bonus
Elite Team Bonus
Power Team Bonus
Uni-level Overrides
Infinity Overrides
If you want to find out more about all those bonuses and how you can generate an income by achieving them, go ahead and take a look at NewYou's full compensation plan right here or watch the video below.
Please note that NewYou's pack options and compensation plan might change from time to time so by the time you read this review, some of the info, the commission rates, the prices, etc that are displayed in the link and the video I shared with you right above might not be that accurate.
If you still have questions about NewYou's compensation plan, you could contact its support team through the contact form on its website and they will probably bring you in contact with a NewYou Brand Partner who is active in your area.
Or you could contact me at harry@dearboss-iquit.com and I will do my best to help you out.
How Much Does It Cost to Become a NewYou Brand Partner?
To enroll as a NewYou Brand Partner costs $39.95 per year.  
This is the basic Brand Partner membership which includes
A personalized website
Personalized back office (contains marketing tools, monitoring tools, training, store, support desk, etc)
In addition, NewYou offers some additional optional packages including
Sample Pack – $300 (One-time payment)
Biz Pack – $500 (One-time payment)
Pro Pack – $1000 (One-time payment)
It goes without saying that the more expensive the pack you go for the better commissions you'll earn, and the more benefits you'll have within the company in general.
For example, Brand Partners who purchase a $500 Business Pack will be promoted to and paid at the rank of Diamond for 180 days… Brand Partners who purchase $1000 a Pro Pack will be promoted to and paid at the rank of Double Diamond for 365 days.
Both Diamond and Double Diamond levels are paid commissions on more levels than Brand Partners at lower levels (see image below).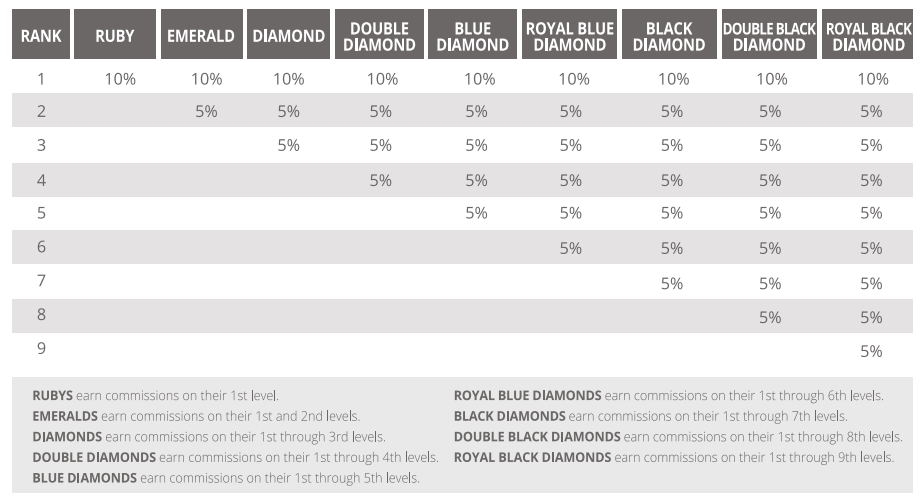 Let me give you a heads up that in order to qualify for earning commissions from your customers and your downline for any given month, you will have to maintain at least 70 PV if your rank is lower than Blue Diamond and at least 150 PV if ranked Blue Diamond or higher.
PV stands for "Personal Volume" and it's sales volume generated by your own orders.
One bottle of NewYou Drops is equivalent to 39PV and costs $49. 
This means that if you are Blue Diamond or lower, you'll have to pay for 2 bottles of NewYou Drops ($98 – 78PV) and if you are Blue Diamond or higher you'll have to pay for 4 bottles of NewYou Drops ($196 – 156PV) each month in order to qualify for commissions.
You can also set up an auto-ship program within your personal back office in order to keep receiving those products per month automatically.
To sum up, the least amount of money that you will have to pay to become a NewYou Brand Partner is $39.95 per year and $98 – $196 per month depending on your rank in order to keep yourself active and qualified for commissions.
Is NewYou a Pyramid Scheme?
Most of the time it's very hard to distinguish between a legit MLM company and a pyramid scheme.
Make sure to watch the video below to discover how to spot and avoid pyramid schemes in general.
The main difference between an MLM and a pyramid scheme is that MLMs give you the opportunity to earn commissions by selling actual products or services to other people in retail without having to recruit them while with a pyramid scheme the only way to earn money is by recruiting other people into the scheme.
Since with NewYou you have the option to earn commissions by pushing the company's products to retail customers, I have to conclude that NewYou is NOT a pyramid scheme despite the facts that its compensation plan is putting more emphasis on recruiting other people and building a downline and that retail commissions are way too low.
Booming Industry
Free Website
Provides Training
Free Trial
1 • Booming Industry: It's undeniable that the CBD industry is booming day in and day out. This means that there is a lot of money to be made by people who are working in the CBD market during the next few years.
The tiniest piece of that pie might be worth hundreds of thousands of dollars.
The only downside is that when money grows, competition grows as well and the market is already way too competitive.
2 • Free Personalized Website: Upon becoming a NewYou Brand Partner, the company provides you a free pre-made website/e-shop which people can visit and purchase NewYou products online.
When someone who visits your personalized website purchases NewYou products through it, you earn 20% commissions of the total amount of money paid by that customer.
If marketed the right way, this website will help you maximize your customers and commissions.
The only problem is that this website is an exact replica of NewYou's official website which is ugly, confusing, and very difficult to navigate and I don't think that you have the authorization to edit it.
3 • Provides Training: Something that the majority of MLMs don't offer to their newly recruited members is proper training on how to actually make the most with the company (no wonder that such a small percentage of MLM participants manage to make a profit).
NewYou offers some training on your personalized back office (PDF guides and videos), to help you understand how the company works, its compensation plan, how to market your website, as well as how to maximize your customers and recruits and thus your profits.
However, the training lacks both in quality and quantity.
On the other hand, better some training than none.
4 • Free Trial: The best thing about NewYou is that it offers the option to test drive their platform for free (I don't really know if you can start earning money with NewYou with that free trial).
If you want to give it a try, go to newyoupro.com/testdrive 
Once you are there it will ask you to fill in the username of your sponsor to let you move forward.
You can use mine if you want which is "Harry" (without the quotes).
You're welcome!
Company is New
MLM Business Model
Confusing Compensation Plan
Expensive Membership
1 • Company is New: According to some statistics, an average MLM company will fail 12-14 months after its launch.
At the time of this review, NewYou is around 12 months and it seems to be doing well but it's still pretty early to know if the company will last in the long-term or not.
2 • MLM Business Model: As mentioned earlier, I am not that fond of the MLM business model in general for many reasons, mainly due to its awfully low success rates.
I mean, why even bother with an MLM when you can just as easily create your own online business which has so much more chances of bringing in an actual profit while being a lot cheaper to build and maintain?
It doesn't make any sense.
If you would like to start your own online business, after all, you can do so with Wealthy Affiliate and Project 24.
3 • Confusing Compensation Plan: While NewYou's compensation plan is not as complicated as those of other MLMs, somehow, they managed to make it so confusing that a person who is relatively new to MLMs will probably have a hard time understanding it.
Truthfully, I have come to believe that most MLM companies make their compensation plans complicated deliberately in order to confuse people into joining them.
I am not making things up…
Did you know that according to research, complexity sells better than simplicity?
This is actually called "complexity bias" and marketers use it all the time.
They do this by incorporating confusing language or insignificant details into product packaging or sales copy.
Most people who buy "ammonia-free" hair dye, or a face cream which "contains peptides," don't fully understand what those things mean but when they see them, they imagine that they signify a product that's superior to alternatives.
People are way more likely to choose a complex product rather than a simple one based on the assumption that the simple one is way too simple to really deliver results.
4 • Expensive Membership: NewYou's membership is way too expensive…
And I am not talking about the yearly $39.95 fee but rather about the fact that you have to purchase $100 – $200 worth of products per month which you probably don't need in order to be an active Brand Partner and qualify for commissions.
I know that I might be sounding like a broken record here but I am running my own online business with less than $25 per month.
And do you know what this $25 incorporates?
Free hosting for 50 websites
Hundreds of hours of high-quality training
A community of thousands of people
24/7 tech support
Dozens of time-saving tools
and much, MUCH more
Staring and running your own online business is a lot cheaper than going for any MLM, period. Plus, you have a lot more chances of actually succeeding.
Check out Wealthy Affiliate and Project 24 to get started with your own online business now.
If I was really interested in the CBD industry, then maybe I would give NewYou a try.
However, I am pretty sure that if you do your research, you might be able to find more reputable and credible CBD MLM companies, with a wider variety of products, as well as a better compensation plan.
To tell you the truth, personally, I am not at all fond of MLMs in general.
Their success rate is awfully low
They are extremely volatile
You need to invest a ton of money, time, and energy until you manage to make a profit (if you ever actually make a profit)
And most of them focus on recruiting people instead of pushing an actual valuable and beneficial product or service in retail
Plus, in order to make money with the MLM business model, you'll have to turn into a sleazy salesperson and I really hate selling as much as I hate being sold to.