Facebook is one of the most powerful marketing channels available to affiliate marketers today.
According to HubSpot's 2021 State of Marketing report, 40% of digital marketers support that Facebook yields the highest return on investment (ROI) among all social media platforms.
Frankly, that's no surprise at all for the following reasons:
Facebook has almost 3 billion monthly active users
People use FB for an average of 33 minutes per day
It has over 10 million advertisers
"Facebook" is the most popular search term worldwide
Over 70% of US-based adults own an active FB account
Therefore, it's pretty evident that neglecting Facebook as a ClickBank affiliate would be insane.
That's precisely why, in this article, I'll be outlining the step-by-step process of promoting your chosen ClickBank products on Facebook like a pro.
Let's take a closer look.
How to Promote ClickBank Products on Facebook
Making money by promoting ClickBank products on Facebook isn't that complicated. However, it's neither as simple as randomly spamming affiliate links wherever you see fit.
First of all, both ClickBank and Facebook have strict rules regarding affiliate promotions. If you deviate from them, you might receive penalties such as temporary account suspensions or permanent bans.
Secondly, most online consumers can spot affiliate spammers a mile off. And once they do, they tend to steer clear of them and all their promotions.
Thus, if you want to ensure that the process of promoting ClickBank products on Facebook will be as smooth and profitable as possible, I strongly suggest that you take stock and thoroughly implement as many of the steps I'll be covering right below as possible.
Let's get started.
Best Affiliate Marketing Courses
1. Build a Landing Page
The first step to promoting ClickBank products on FB is building a landing page.
A landing page is a standalone web page that points users to the affiliate products you promote.
Landing pages come in many shapes and sizes, including, but not limited to:
Long-form
Squeeze
Lead capture
VSL (Video Sales Letter)
& more
While you could share your affiliate links directly on Facebook, marketing your chosen ClickBank products via a landing page offers numerous benefits, such as:
increased credibility
higher conversion rates
measurable metrics & data
fewer chances to get banned
higher ad approval rates
& more
Nowadays, there are dozens of platforms (e.g., WordPress, ClickFunnels, Leadpages, etc.) that could help you create a landing page in mere minutes.
Your landing page could gear towards directing users straight to the CB products you promote or getting them to join your email list. If you go for the latter, make sure to leverage a lead magnet.
A lead magnet is a valuable resource (e.g., ebook, webinar, discount, case study, etc.) given away for free as an incentive to anyone who becomes your email subscriber.
According to Outgrow, using lead magnets can increase your landing page's opt-in rates by almost 85%.
Here's an example of a landing page offering free access to a webinar as a lead magnet.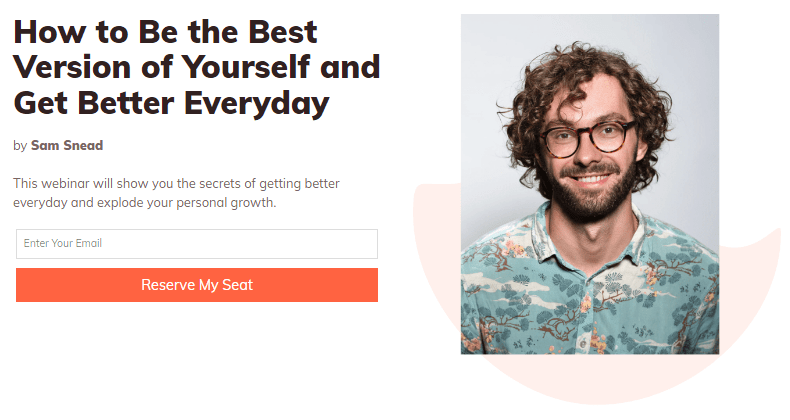 Once your landing page is up and running, start implementing email marketing.
According to statistics, email marketing has a 3600% return on investment (ROI). That means that for every $1 spent on email marketing, you can expect an average return of $36.
That's the highest ROI among all forms of marketing, digital or otherwise.
Begin by signing up for an email marketing platform, like:
ConvertKit
MailChimp
SendinBlue
& GetResponse
Next, create an automated email welcome sequence. That's a series of emails distributed to your subscribers at predetermined intervals when they join your email list.
The key to creating a successful email welcome sequence is gearing at least 80% of your emails towards earning the trust of your subscribers by delivering valuable, informative pieces of content with no affiliate promotions.
Here's what a typical email welcome sequence should look like:
Upon subscription: Welcome email
Day #2: Introduce yourself
Day #3: Tell your story
Day #4: Provide social proof
Day #6: Acknowledge their problem
Day #8: Mention the solution
Day #11: Promote
Stuffing your email sequence with affiliate promotions will turn most subscribers off and hurt your conversions.
Once your landing page is in place, it's time to start getting it in front of as many Facebook users as possible. One of the best ways to accomplish that is to…
2. Employ Content Marketing
Content marketing is the process of creating, publishing, and distributing content (e.g., images, videos, podcasts, articles, etc.) relevant to a specific online audience.
For instance, if the ClickBank product you'd like to promote is an online weight loss course, some content ideas that could attract Facebook users who might be interested in buying it include, but aren't limited to:
Nutrition tips
Motivational quotes
Workout routines
Weight loss challenges
Personal struggles
Case studies
Success stories
Product reviews
& more
The key to becoming a successful affiliate marketer on Facebook is reaching out to as many potential buyers as possible by maintaining a regular and consistent content publishing schedule.
Furthermore, make sure that you gear at least 80% of your content towards delivering value.
Distributing valueless or excessively promotional content will alienate your target audience, hurt your credibility, and diminish your affiliate conversion rates.
On top of that, Facebook tends to penalize overly promotional posts by limiting their visibility in its news feed.
Ultimately, the more you shift the focus of your Facebook content from selling to helping, the more sales you'll be making.
3. Create a Facebook Fan Page
The next step to promoting your chosen ClickBank products on Facebook is creating a fan page.
A Facebook fan page is a public page used to represent a specific brand or, in your case, the marketing channel hosting all your info content and affiliate promotions.
Running a FB fan page is more beneficial than doing affiliate marketing on a personal profile.
For one thing, doing business on your personal profile creates a sense of sloppiness and amateurism. Contrarily, a fan page inspires credibility and professionalism.
Secondly, a fan page enables you to gather and analyze user data and insights that could help you improve the performance of your marketing efforts. Such a feature isn't available on a personal profile.
Furthermore, contrary to personal profiles, fan pages offer a lot more business-oriented customization options, such as:
business hours
built-in shop
CTA buttons
customer check-ins
additional tabs & sections
& more
Lastly, a fan page helps you keep your personal life separate from your business activities. Let me assure you that there's nothing more annoying for your FB friends than constantly coming across business updates and product promotions they couldn't be less interested in.
Setting up a FB fan page is a piece of cake. Just head to Facebook's folding menu and click "Page."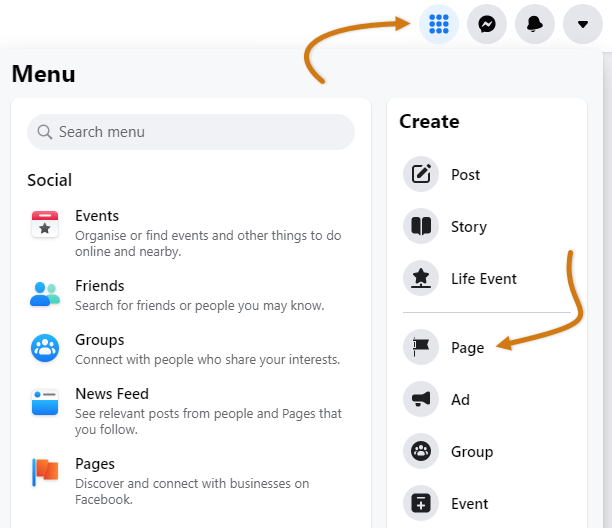 After filling in all the required info, click the "Create Page" button, and you're done.
Once your FB fan page is up and running, start leveraging content marketing by following the step-by-step process I laid out earlier.
4. Leverage Facebook Groups
One of the simplest and fastest methods of promoting CB products on Facebook is leveraging groups.
Start by using Facebook's search function to find groups highly relevant to the ClickBank products you'd like to promote.
For example, if your chosen products fall under the weight loss niche, search for the term "weight loss."
Then, click on the "Groups" tab to filter out everything but groups.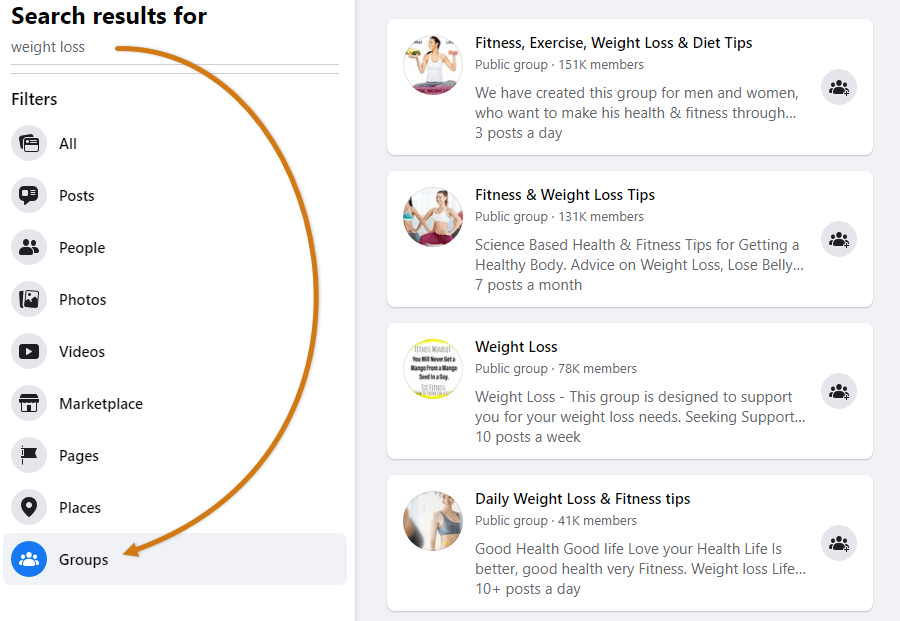 Afterward, join the five most relevant groups with the highest number of members and daily posts.
Always keep in mind that:
promoting products that don't resonate with a group's overall topic will hurt your credibility and yield no sales
spreading your efforts too thinly across too many groups could be confusing, overwhelming, and counterproductive
Lastly, start interacting with the members of the groups you've joined by exchanging opinions, asking questions, and sharing valuable tips and insights.
That'll convince them that you're a credible and trustworthy expert whose product recommendations could help them solve their problems.
Don't start spamming your affiliate links randomly before delivering any upfront value, or else you'll be setting yourself up for failure.
Nowadays, most FB groups have zero tolerance for desperate affiliate spammers who care about nothing but making sales.
In addition to doing your ClickBank promotions on third-party FB groups, you should also consider creating one yourself to build a loyal community of your own.
5. Go Live
An additional superb way of advertising ClickBank products on Facebook is utilizing its live-streaming feature to broadcast videos to your fans and followers in real-time.
Using Facebook Live can significantly boost your affiliate sales by helping you establish a strong bond with your target audience.
According to RingCentral, live video content has the highest conversion rates among all marketing channels, converting between 5% and 20% of viewers into buyers.
On top of that, going live has the potential to attract a much broader audience than regular posts.
That's because contrary to regular posts that get served to a small portion of your followers (5% – 15%), every time you host a live broadcast, Facebook notifies all of them.
Some of the topics you could gear your live FB streams towards include but aren't limited to:
how-to guides
Q&A sessions
product reviews
product comparisons
expert interviews
case studies
upcoming product launches
& more
The key to successfully promoting CB products using Facebook Live is to focus on delivering value.
Making your live stream sound like a lengthy sales pitch will turn your viewers off, hurt your credibility, and yield no returns on your investment.
6. Run Facebook Ads
Running Facebook ads is one of the best ways to get the ClickBank products you promote in front of the right Facebook users as fast as possible.
Facebook ads are sponsored posts served on Facebook's news feed, Messenger, Instagram, and other third-party mobile apps and websites.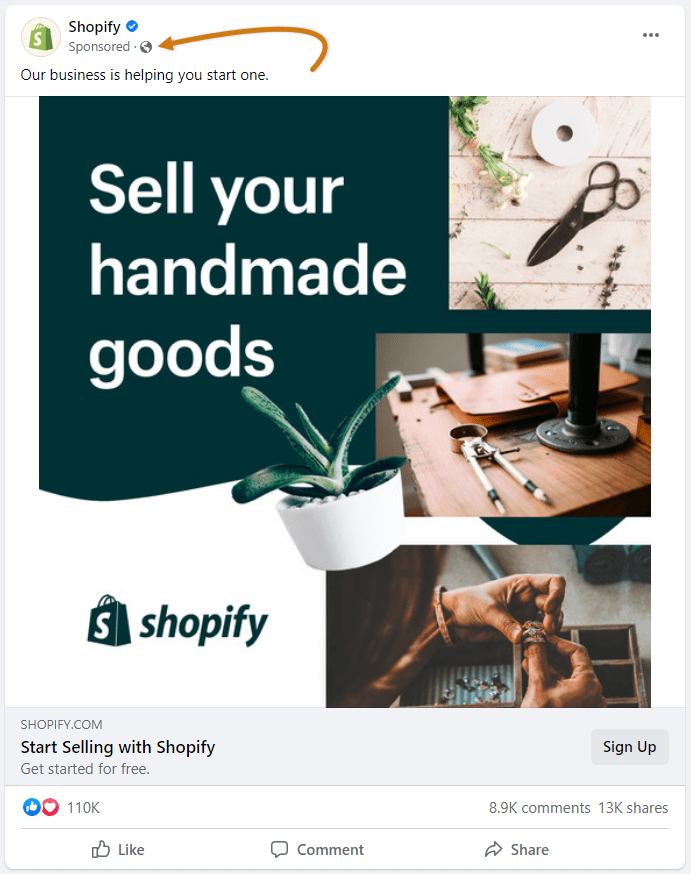 Facebook ads come in a variety of formats, such as:
Image
Video
Poll
Carousel
Instant Experience
& more
One of the most compelling aspects of FB ads is that you can set them to target any Facebook user, even if they're not following you, based on almost any demographic characteristic and browsing behavior you can imagine, such as:
interests
location
career field
income
age & gender
website visits
fan page interactions
video views
& more
On top of that, Facebook's ad manager allows you to specify your ads' exact duration and maximum daily spent.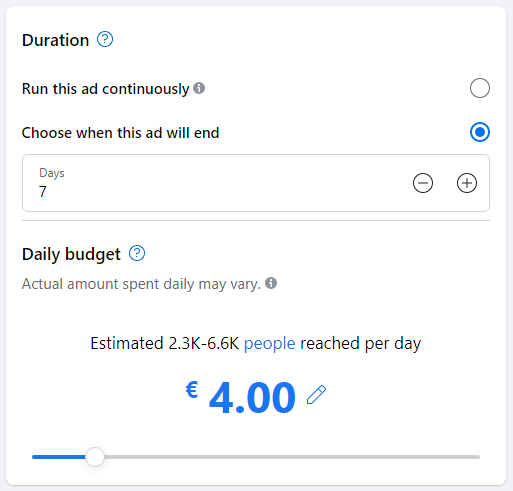 Such audience filtering options are crucial to optimizing your Facebook ad campaigns for maximum performance efficiency and cost-effectiveness.
The primary drawback to Facebook ads is that the money you invest in running your campaigns might produce neither sales nor profit.
Typically, newbies to affiliate marketing experience financial losses equivalent to hundreds or even thousands of dollars until they've gathered enough feedback to understand how to put together their first profitable Facebook ad campaign.
If you intend to promote ClickBank products via Facebook ads, one of the best ways to significantly shorten your learning curve and minimize your financial losses is by signing up for a dedicated course like Commission Hero or Super Affiliate System Pro.
7. Host a Free Giveaway
Since everyone loves free stuff, hosting a giveaway could help you quickly attract tons of attention, generate leads, and build engagement around your affiliate brand.
Start by specifying the primary goal of your giveaway campaign. That could be anything from acquiring more fans to increasing your website's traffic.
Then, choose a prize relevant to your target audience. For example, if you're in the yoga niche, your giveaway prize could be a ticket to a yoga retreat.
Afterward, set your giveaway's deadline, entry method, and eligibility requirements.
Some commonly-used entry methods include, but aren't limited to:
sharing an image
tagging a friend
reacting to a post
commenting on a post
filling out a form
sharing a post
etc
Next, build, publish, and promote your giveaway post on Facebook and as many other marketing channels as possible (e.g., blog, email list, social media, forums, YouTube, etc.).
Lastly, hand out the promised prize to one lucky winner once the giveaway ends.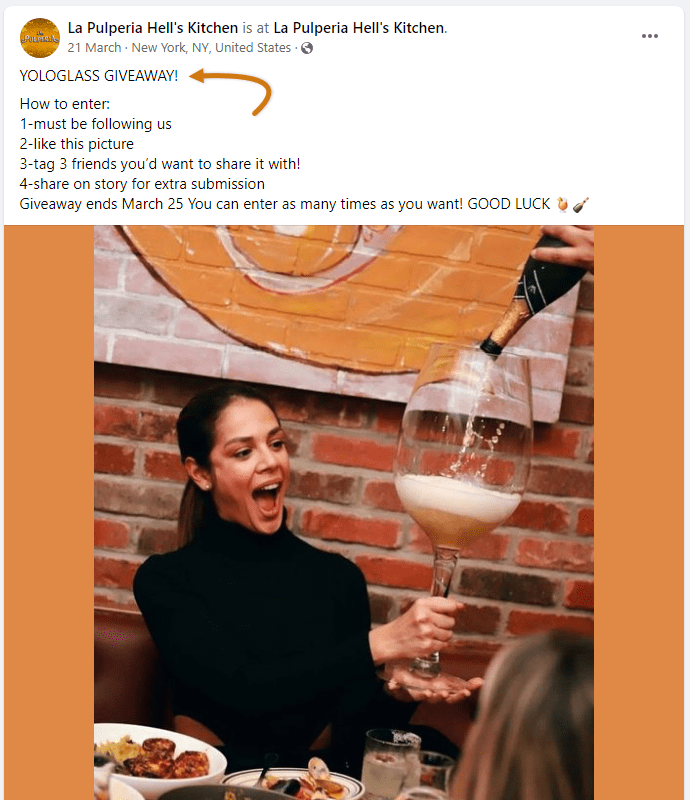 Check out a more in-depth guide on hosting a successful Facebook giveaway right here.
(Click each question to expand)
Conclusion
That's pretty much the step-by-step process of promoting ClickBank products on Facebook.
It might seem relatively straightforward, but mastering it is no piece of cake. Nevertheless, if you stick to it, you'll be on the right track to affiliate success.
Always keep in mind that affiliate marketing is a game of value, not sales. The more value you deliver to your target audience, the more sales you'll be making.
If you have any questions or require further help, leave a comment right below or contact me right here, and I'll do my best to get back to you as soon as possible.
Best of luck in your affiliate endeavors!
Harry, Founder & Creative Director at dearboss-iquit.com