I've personally never come across a wannabe affiliate marketer who didn't ask the following question…
"How long does it take to be a successful affiliate marketer?"
Some are just asking in an attempt to figure out whether they should embark on their affiliate journey or not.
Others have already launched an affiliate business and just want to know how much more time they'll have to devote until they finally get their hands on the pot at the end of the rainbow.
Whatever the case, if you're wondering the same thing, you're in the right place…
By the end of this article, you'll be one step closer to fully understanding how long it could take for your affiliate endeavors to generate the success you're after.
How Long Does It Take to Be a Successful Affiliate Marketer?
Most affiliate marketers start generating their first profits 3 to 6 months after launch. Over the course of the next 6 months, affiliate commissions trickle in sporadically. By months 12 to 18, most affiliate businesses yield around $1000 per month. Reaching a full-time affiliate income sooner than 18-24 months in business is rather rare.
The aforementioned timeframes might be a good reference point but they're absolutely not definitive…
Truth is that launching an affiliate business today isn't a guarantee that you'll be earning a full-time income online 2 years later… Your own timeline to reaching affiliate success could be a lot longer or maybe even shorter than projected.
Ultimately, the factors that influence how fast you become a successful affiliate marketer are numerous…
One of those factors is how you personally define affiliate success. For example, building an affiliate business that brings in $2000 per month will naturally take a lot less time and effort than building one that generates $10,000 per month.
Another factor that determines the speed of achieving success in affiliate marketing is the resources you have at your disposal. For instance, if you have access to a high-quality affiliate course and capital to invest in some premium tools and hiring a small team you'll undeniably progress much faster than if you have no guidance, no capital, no team, and no tools.
The niche you pursue is yet another very important factor in how fast you succeed as an affiliate. For example, success in broad competitive niches like weight loss and making money online takes place much slower than in more specific less competitive niches such as gaming equipment and running shoes for back pain.
However, the speed with which affiliate businesses succeed boils down to mainly just one crucial factor…
Best Affiliate Marketing Courses
The Most Crucial Factor to Affiliate Success
As discussed right above, the factors that affect the speed of reaching success with affiliate marketing might be numerous but the most crucial is just one…
…Web Traffic!
To understand the importance of web traffic you must have a clear picture of affiliate marketing's workings…
Let's dive right in!
Affiliate Marketing's Workings
The process of leveraging affiliate marketing towards building an income online is comprised of 4 simple steps…
Step 1: Pick a Niche
A niche is basically the market in which you'll be promoting affiliate products and it can be anything from fitness and electronics to furniture and clothes.
Step 2: Build Online Assets
An online asset is anything that can be used to connect and interact with people in your selected niche over the internet, such as:
Blog
YouTube channel
Instagram page
Facebook group
Email list
etc
You can think of your online assets as the "storefront" of your affiliate business where you'll be conducting all your affiliate promotions.
Step 3: Gather Web Traffic
Web traffic can be described as the total amount of people interacting with your online assets (e.g. Instagram followers, website visitors, email subscribers, YouTube viewers, etc)…
Step 4: Promote Affiliate Offers
Once your online assets are in place you can start monetizing the web traffic that interacts with them by promoting niche-relevant affiliate offers.
For instance, if your web traffic revolves around losing weight, you could start promoting weight loss programs, workout routines, exercise equipment, diet cookbooks, etc.
The Importance of Web Traffic
Web traffic can be easily characterized as the "bread and butter" of your affiliate business.
You can think of web traffic as "unconverted buyers" that might be interested in purchasing the affiliate offers you promote.
Gathering web traffic is practically where you'll be devoting the vast majority of your time and effort as an affiliate marketer.
Simply put, no web traffic = no affiliate commissions.
That being said, the question "How Long Does it Take to Be a Successful Affiliate Marketer?" could be just as easily rephrased to "How Long Does it Take to Gather Enough Web Traffic?".
The answer to this question is "It depends on the kind of web traffic you decide to utilize."
Web traffic can be split into 2 main categories:
Free Traffic
& Paid Traffic
Free traffic refers to traffic generated without spending money on paid ads.
The two methods of getting free traffic are:
Content Marketing
and Search Engine Optimization (SEO)
Content marketing is the process of consistently publishing niche-relevant content on your online assets.
For example, if you launch a YouTube channel and your target niche consists of beginners to yoga, your content marketing strategy should revolve around recording YouTube videos sharing yoga tips, workouts, nutrition plans, poses, breathing techniques, etc…
Likewise, if you kick off a blog targeting vegans, you should be publishing blog posts covering vegan-related subjects such as vegan recipes, cooking tips for vegans, weekly vegan meal plans, best vegan restaurants, etc…
Web content can come in many shapes and sizes, such as:
Tutorials
How-to guides
Product reviews 
Roundups
Case studies
Infographics
Webinars
& more
In most cases, the more content you publish, the higher your chances of reaching a wider and more diverse spectrum of potential buyers.
On top of that, producing content that provides value to your audience is going to boost your credibility and trustworthiness, establish you as an authority figure in your niche, and assure your audience that you can actually help them to find solutions to their problems.
This will in turn increase the rates at which people who come across your content purchase the affiliate offers you're promoting.
Search Engine Optimization (SEO)
Search Engine Optimization (SEO) is a combination of practices that can be leveraged towards optimizing a website (or blog) in such a way so that search engines (Google, Yahoo, Yandex, etc) display it at higher positions of their search results when specific keywords are queried.
The higher a website appears on a search engine's results pages (SERPs) almost always results in receiving more free traffic.
For instance, as you can see in the image below, the website runnersworld.com appears in the 1st position of Google's search results for the keyword "best running shoes", right above runningshoesguru.com and fleetfeet.com.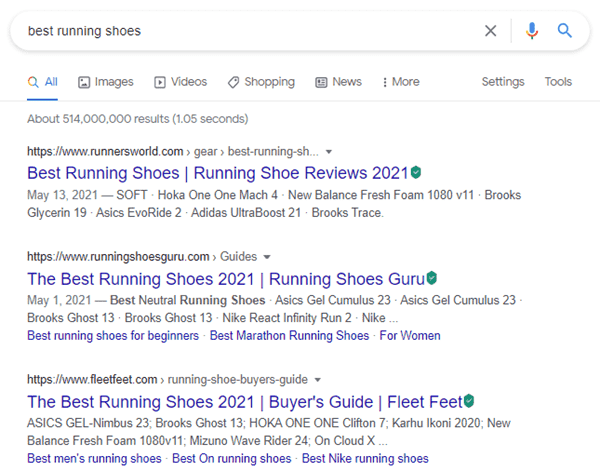 This means that runnersworld.com receives much more free traffic for the keyword "best running shoes" than runningshoesguru.com and fleetfeet.com.
However, every upside has its downside… 
While content marketing and SEO are perfect for attracting traffic to your affiliate offers without spending a single dime on paid advertising, they're not really "free" as they both require the investment of immense amounts of upfront work, trial & error, time, and patience until they start generating substantial results.
Ultimately, you can think about it this way…
The less money you invest in generating traffic, the more work you'll have to do to get it.
If you require high-quality guidance on generating free traffic via content marketing and SEO I strongly suggest that you check out two of my favorite affiliate marketing courses, Wealthy Affiliate, and The Affiliate Lab.
Paid traffic refers to traffic generated via advertising promotions you've paid actual money to run, such as:
Display ads: Banners, texts, or images placed on third-party websites
Paid search: Ads displayed on search engines like Google & Yahoo
Social media ads: Ads served on social media platforms like Facebook & Instagram
Sponsored: Paid content created and distributed by influencers
Native ads: Ads consistent with the overall style of the platform on which they appear
Contrary to free traffic that requires a lot of time and effort to start kicking in, paid traffic is generated instantaneously the same moment you get your paid ad campaigns up and running.
Having said that, paid traffic could enable your affiliate business to start bringing in affiliate commissions light-years faster than free traffic.
Furthermore, unlike free traffic that needs to be maintained regularly, paid traffic is much less hands-on in the sense that it'll keep coming in for as long as it's being funded.
Also, while growing free traffic requires even more time and effort, growing paid traffic can take place on-demand with just a slight increase in your ad budget.
Lastly, paid ad campaigns usually involve much less technical work, less manpower, and less long-term planning than free traffic campaigns.
The main downside of paid ads is that you always run the risk of completely wasting your money for nothing as there's no guarantee whatsoever that the traffic you paid for will result in any actual sales.
If you'd like to leverage paid ads towards driving instant targeted traffic to your affiliate offers on-demand, I strongly suggest that you take a look at Commission Hero and Super Affiliate System Pro.
Focus on Getting Highly Relevant Traffic
Throughout the last couple of sections, we harped on how web traffic is the most crucial factor in determining the timeframe of becoming a successful affiliate marketer. 
While the assumption that more web traffic equals faster results might make perfect sense, this isn't necessarily the case.
For example, if you run an Instagram page that revolves around building muscle and you start churning out content that's geared towards outdoor equipment, chances are that you'll end up attracting a completely irrelevant audience which you'll probably find nearly impossible to monetize.
Having said that, to ensure that you'll reach your affiliate goals in the shortest possible amount of time, you'll need to focus the vast majority of your efforts on quality generating traffic that's highly relevant to your niche.
Always keep in mind that a small but highly targeted audience of 1000 has the potential to bring in much more revenue a lot faster than a large but broad audience of 10,000.
(Click each question to expand)
Conclusion
Even though there are multiple factors that influence the timeframe of succeeding in affiliate marketing the most crucial one is how fast you can send targeted web traffic to the affiliate offers you're promoting via either free or paid methods.
Gathering a healthy amount of free traffic could take months or maybe even years of consistent effort but requires no monetary investment.
Paid traffic can be generated with minimal effort as soon as you launch a paid ad campaign but maintaining it requires a steady stream of funding.
Ultimately, becoming a successful affiliate marketer doesn't come as easy and fast as some "gurus" might claim. On the contrary, the process involves a steep learning curve, hard work, and a lot of trial and error, no matter which traffic generation you utilize…
Having said that, if you'd like to short-circuit your learning curve, minimize trial and error, and speed up your affiliate success, I strongly suggest that you check out my roundup of The Best Affiliate Marketing Courses.
Do you have any additional questions?
Leave a comment right below or contact me right here.
I'll be more than happy to help you out!
All the best,
Harry, Founder & Editor at dearboss-iquit.com