Oh, the age-old question…
"Does Affiliate Marketing Really Work?"
If I had a nickel for every time I've been asked this question, I'd probably be a millionaire.
In this article, I'll provide a definitive answer to this question using facts and numbers so that you finally understand whether or not venturing into affiliate marketing is actually worth the shot.
Let's take a closer look.
Does Affiliate Marketing Really Work?
Yes, affiliate marketing does work. There are currently millions of affiliate marketers all around the world earning five, six, and even seven-figure yearly incomes via affiliate marketing.
However, this doesn't mean that affiliate marketing will work for anyone. Just like becoming successful in anything, achieving affiliate success involves a huge learning curve, trial and error, planning, observing, analyzing, and adapting. On top of that, it requires patience, consistency, perseverance, and a significant investment of time, effort, and money (as a rule of thumb, the less money you invest, the more time and effort you'll have to put in).
If you're willing to make it work, it could work for you. If not, don't even bother getting started.
Just a heads-up…
Affiliate marketing isn't a get-rich-quick scheme. I'm only mentioning this because this is how it's usually portrayed. If you venture into affiliate marketing expecting to make fast and easy cash, you've already failed from the get-go.
Now that everything's out in the open, let's take a closer look at the actual numbers.
Best Affiliate Marketing Courses
Affiliate Marketing in Numbers
Numbers never lie…
Everything I've mentioned up until this point could be perceived as "of my own opinion," but numbers are undefiable.
The following affiliate marketing statistics clearly indicate affiliate marketing's immense potential:
Reasons Affiliate Marketing Might Not Work
Unfortunately, just like with any other endeavor in life, achieving affiliate success isn't a given for everyone venturing into the field.
Nevertheless, affiliate failure is typically tied to an individual's personal shortcomings, rather than the nature of the affiliate marketing industry itself.
What that in mind, here are a few reasons affiliate marketing might not work for someone.
1. Unrealistic Expectations
An alarming number of newcomers to affiliate marketing tend to mistake it for a magic pill to overnight riches. Once they realize that their initial expectations couldn't be further from reality, most of these individuals get disappointed and throw in the towel (God forbid that they put in some effort to earn money).
The unrealistic expectations of those who don't quit right away can still lead to negative outcomes such as poor decision-making, insufficient commitment, low-quality work, and ultimately failure.
Truth is, having a realistic outlook on the time, patience, consistency, dedication, and effort required to achieve your affiliate goals, is crucial to actually reaching them.
2. Wrong Niche
The niche you pursue can make or break your success as an affiliate marketer.
Entering an oversaturated niche can result in getting trampled by fierce competition. With countless affiliates targeting the same audience, it can become exceedingly challenging and time-consuming to stand out and gain a competitive edge. Also, too much competition could drive up advertising costs, making it cost-prohibitive for newcomers.
On the other hand, niches with very little competition tend to lack consumer demand. This translates to lower potential earnings as the number of people interested in your affiliate promotions will be very limited. Additionally, low-demand niches may lack quality affiliate programs, leaving marketers with no option but to promote subpar products that could hurt their credibility.
Success in affiliate marketing is often better achieved by going for niches that check the following boxes:
Profitable
No stifling competition
Evergreen
Moreover, it's highly suggested that you pick a niche around a subject you're interested in or, even better, passionate about. Achieving affiliate success involves putting in a lot of hard and consistent effort over a significant timeframe so if you pick something you don't care about, the likelihood of giving up halfway there increases tremendously.
On the contrary, running an affiliate business around a topic you love can help you persevere through challenges and stay committed in the long run, increasing the chances of achieving your financial goals.
3. Not Delivering Value
Delivering value and affiliate success go hand in hand.
The days affiliate marketers could make money by randomly spamming their promotions at every turn are long gone. Today's consumers are discerning; they seek informative, valuable content that'll educate them about a subject, help them solve a problem, or provide entertainment.
All promotions made by affiliates who fail to meet their audience's needs and care about nothing but making a sale are perceived as insincere, self-serving, and untrustworthy, and are ultimately avoided.
On top of that, search engines prioritize content that adds value, making it harder for affiliate blogs or websites with no real substance to rank well.
Nowadays, the only way to build a profitable and long-lasting affiliate business is by shifting your focus from making money to providing as much value as possible.
Prioritizing value can foster trustworthiness, set you apart from competitors, boost customer loyalty, generate more repeat business, and ultimately, skyrocket your affiliate revenue.
4. Lack of Proper Training
According to an affiliate marketing benchmark report published in 2016 by AffStat, what holds most affiliate marketers back from reaching their financial goals is a lack of proper training.
That's totally understandable considering that affiliate success requires a solid understanding of multiple rather complex concepts such as marketing, content creation, data analysis, SEO, conversion optimization, PPC, and more.
On top of that, this Authority Hacker survey reveals that affiliate marketing beginners who follow affiliate marketing courses earn 57.7% more money than those who don't.
Evidently, having decent affiliate marketing guidance plays a very crucial role in accomplishing success.
That's no surprise considering the fact that a high-quality affiliate marketing course can cut your learning curve in half, minimize trial and error, and help you outperform competitors who weren't smart enough to invest in equipping themselves with the right affiliate knowledge.
That being said, over the years, I've experimented with dozens of different affiliate marketing courses.
Here's a roundup of the best ones I've come across so far – The Best Affiliate Marketing Courses.
How Does Affiliate Marketing Work?
Affiliate marketing is a performance-based digital marketing model in which you receive commissions for referring paying customers to third-party online merchants.
In simpler words, affiliate marketing is the process of earning money by helping businesses make more sales.
Here's an overview of how affiliate marketing works:
You join a merchant's affiliate program
The merchant gives you a unique affiliate link that points to their e-shop
You start promoting your unique affiliate link online (blog, social media, paid ads, etc.)
Every time a customer clicks on your unique affiliate link and makes a purchase on the merchant's e-shop, the merchant pays you a commission
How to Make Money With Affiliate Marketing
The process of making money with affiliate marketing consists of the following three steps:
Pick a niche
Build an audience
Promote affiliate products
1. Pick a Niche
As mentioned earlier, the niche you pursue is one of the most important determining factors of your success as an affiliate marketer. The 3 "Golden Rules" of picking a niche are:
1.1 Low to modest competition
Try to avoid niches that consist of too many well-established competitors that could trample smaller affiliates with no authority like you, such as:
Health, Fitness, & Weight Loss
Personal Finance & Making Money
Dating & Relationships
Beauty & Fashion
Personal Development
Ultimately, the less competitive a niche is, the easier it'll be to break into it.
1.2 Modest to high demand
Niches with very little competition usually lack enough consumer demand to generate a decent amount of affiliate income.
Your "ideal" niche should strike a sweet balance between low competition and high demand.
1.3 Personal interest
The last rule of choosing a niche is going after one that's geared towards a subject that interests you.
Building a successful affiliate business involves putting in a lot of consistent effort over a significant period of time, so if you pick a subject that bores you to death, you're more likely than not to give up before you even make your first affiliate sale (or soon after).
Contrarily, working on a topic you love will help you stay motivated, do more consistent and higher quality work, stick with your affiliate endeavors even when the going gets tough, and progress better and faster towards reaching your financial goals.
2. Build an Audience
Your ability to achieve affiliate success is directly correlated to the size and quality of the audience you build.
Since affiliate marketers get paid per sale they generate, it's only natural that having a larger audience will inherently provide a wider pool of potential customers. This, in turn, increases the likelihood of finding individuals genuinely interested in the affiliate products you promote.
There are two primary methods of building an audience in affiliate marketing:
Paid Ads
Content Marketing
2.1 Paid Ads
This approach involves paying for placing ads on third-party digital platforms.
Paid ads can be broken down into multiple different categories, such as:
Display Ads: Banners, texts, or images placed on third-party websites
Paid Search Ads: Displayed on search engines like Google & Yahoo
Social Media Ads: Served on websites like Facebook & Instagram
Instream Ads: Video promotions shown before or during video streaming

Running paid ads is one of the fastest methods to get the affiliate products you promote in front of potential customers. However, the downside is that there's no guarantee that the ads you pay for will generate any actual affiliate sales.
Typically, newcomers to affiliate marketing tend to experience financial losses until they've gathered enough experience to start piecing together profitable paid ads campaigns.
2.2 Content Marketing
The second way to build an audience for your affiliate business is by leveraging content marketing.
Content marketing is the process of creating and publishing content online, such as:
Tutorials
How-to guides
Product reviews
Roundups
Case studies
Images
Live webinars
& more
To give you an example, The Honest Guys' YouTube channel revolves around creating content in the form of YouTube videos that cover meditation tips, breathing techniques, and guided sessions.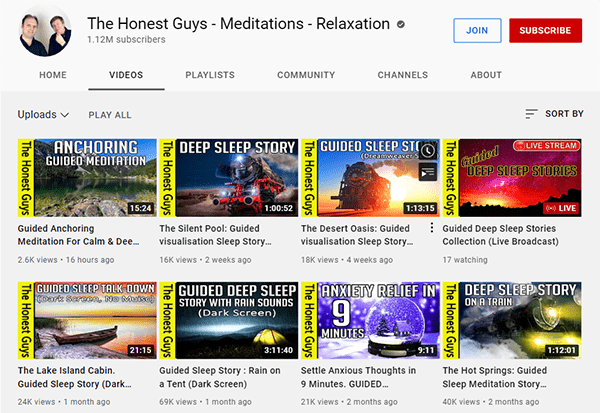 Likewise, the Instagram page "Best of Vegan" focuses on publishing posts about vegan recipes and cooking tips for vegans.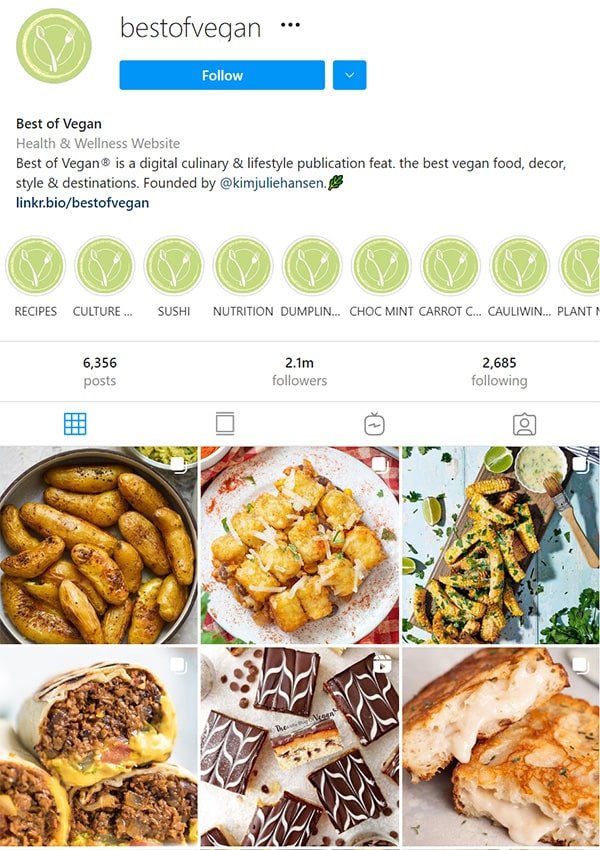 The more content you publish, the higher your chances of reaching a wider and more diverse spectrum of potential buyers. On top of that, producing valuable content will boost your credibility and subsequently your conversion rates.
Content marketing can be done via a vast range of diverse channels, such as:
Website/Blog
Social Media
Youtube
Forums
Content Publishing Platforms
Email
& more
3. Promote Affiliate Products
Once you've started gathering an audience it's time to start monetizing it by promoting affiliate products that might interest them. The way to do that is by finding and signing up for relevant affiliate programs.
Here's a comprehensive guide on locating affiliate programs that fit your niche -> How to Find Affiliate Programs in Your Niche [6 Best Ways]
(Click each question to expand)
Conclusion
So, does affiliate marketing actually work?
Yes, it does!
Affiliate marketing has proven itself as a viable and profitable income source for many individuals and businesses around the world.
The statistics speak for themselves, with the global affiliate marketing industry currently valued at over $17 billion and expected to surpass $27 billion by 2027. Moreover, the average affiliate marketer earns over $8000 a month.
However, it's essential to recognize that affiliate marketing is not a get-rich-quick scheme. Success in this field requires continuous learning, dedication, commitment, hard work, time, effort, and sometimes money.
Unrealistic expectations, choosing the wrong niche, failing to deliver value, or lacking proper training are common pitfalls that can hinder your progress and increase your chances of failure.
If you're willing to actively make it work, affiliate marketing can become a source of substantial and potentially passive income.
Have any questions or need further help getting started with affiliate marketing?
Leave a comment below or drop me a line and I'll do my best to get back to you as soon as possible.
All the best, and stay safe,
Harry, Founder & Creative Director at dearboss-iquit.com