The path to affiliate success consists of many different steps.
One of the most pivotal ones is finding affiliate programs.
While there are millions of affiliate marketing programs out there, uncovering the ones that truly resonate with your target audience is no walk in the park.
The good news is that I'm here to help you out!
In this article, I'll walk you through the process of finding, evaluating, and choosing affiliate programs that fit your niche and set you on the right path to achieving your financial goals.
Let's get started.
6 Ways to Find Affiliate Programs in Your Niche
Best Affiliate Marketing Courses
1. Run Google Searches
This is the most straightforward approach to locating affiliate programs in your niche.
Simply head over to Google and search for "Best [Your Niche] affiliate programs."
For example, if you're in the pet care niche, you should Google "Best pet care affiliate programs."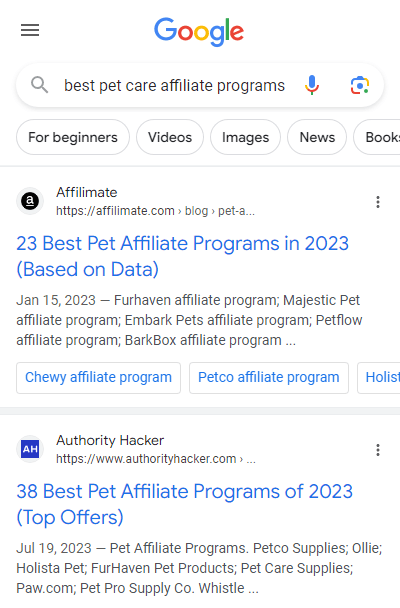 Then just browse through the sites listed on Google's SERPs until you come across affiliate programs that appear to meet your needs.
You could also Google "[Your Niche] + affiliate program". Most of the time, this query will return not just roundup articles like the previous one, but also landing pages for individual affiliate programs.
Please note that some merchants (e.g., Amazon, eBay, Shopify, etc.) tend to label their affiliate programs using different terminology, so if you'd like to further expand your search, try substituting the search term "affiliate program" with other keyphrases like "partner program" or "referral program".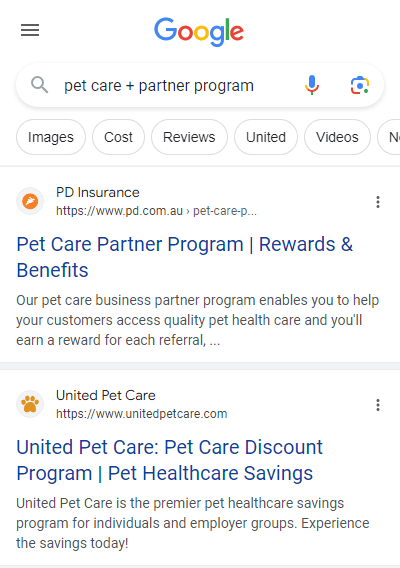 2. Browse Affiliate Networks
The second-best way of finding affiliate programs in your niche is by browsing affiliate networks.
Affiliate networks act as intermediaries that streamline all affiliate partnership procedures for both merchants and marketers by handling the signup process, tracking conversions, managing payments, and more.
Nowadays, most affiliate networks host thousands of affiliate programs across a multitude of different niches.
Once you sign up for a specific affiliate network, you'll be able to instantly start promoting any affiliate program they operate, without having to form a separate partnership with each one of them.
On top of that, affiliate networks facilitate the process of zeroing in on the affiliate programs that best align with your preferences, niche, and goals by enabling you to filter them based on several different criteria like industry, earnings per click, conversion rates, and more.
Some of the most popular affiliate networks include, but aren't limited to:
ClickBank
ShareASale
JVZoo
Awin
Commission Junction
& FlexOffers
3. Scout Affiliate Program Directories
As suggested by their name, affiliate program directories are practically directories that consist of affiliate programs.
Such directories can enable you to locate affiliate programs offered by various merchants across a multitude of niches, that you might've been unable to locate through other means.
Contrary to affiliate networks, affiliate program directories don't facilitate affiliate partnerships – they're mere databases that outline and provide some basic info (e.g., commission structures, cookie durations, payment methods, signup URLs, etc.) on the affiliate programs listed on them.
Some of the most popular affiliate program directories include, but aren't limited to:
Affiliate Program Database
High Paying Affiliate Programs
com
Affiverse
Watch
& more
4. Check Merchants' Websites
If you already know that you'd like to partner with a specific merchant, you can simply try to locate their affiliate program on their official website.
Most affiliate merchants tend to have a dedicated section or page on their website that contains information on key aspects of their affiliate program (e.g., commission rates, cookie durations, signup requirements, etc.).
That's usually placed on the footer of a merchant's website and labeled as "Become an Affiliate", "Affiliate Program", "Partners" "Partner Program" or something of a similar nature.
If you're interested in partnering with a specific merchant who doesn't seem to run an affiliate program, you can reach out to them directly and ask if they'd be willing to work out a deal and pay you a cut in exchange for referring customers to them.
5. Examine Seasoned Competitors
Another way to find affiliate programs in your niche is by closely examining what your well-established competitors are currently promoting.
Such affiliates have almost certainly put a lot of effort into uncovering the best programs in your niche and are extremely unlikely to have partnered with low-quality ones that don't generate a satisfactory amount of revenue.
Therefore, following their example could minimize guesswork and uncertainty, reduce trial and error, and elevate your chances of forming lucrative affiliate partnerships that deliver value to your target audience.
Nevertheless, it's worth noting that while drawing inspiration from competitors could prove to be invaluable, it's essential not to merely replicate their efforts.
Instead, leverage their experience toward carving out a unique compelling approach that delivers results all the while setting you apart in the affiliate marketing landscape.
6. Consider the Big Players
Last, but not least, consider signing up for the affiliate programs of large retailers like Amazon, eBay, Walmart, Target, Etsy, Best Buy, etc.
Promoting products from such well-established and reputable companies will significantly boost your trustworthiness and conversion rates.
On top of that, their sheer product variety accommodates a broad spectrum of audience preferences, increasing your likelihood of finding relevant products to promote regardless of what niche you're in.
How to Choose the Right Affiliate Program
"So, Harry, I put your previous suggestions into action and managed to locate quite a few affiliate programs. How can I single out the ones that'll yield the best results?"
Well, worry not – I've gotcha!
Typically, affiliate programs are being evaluated based on the five following criteria:
Profitable Commission Structure
High Conversion Rates
Excellent Merchant Reputation
Long Cookie Duration
High Niche Relevance
The more of those boxes an affiliate program checks, the closer it gets to being a perfect fit.
Let's take a closer look.
1. Profitable Commission Structure
It's pretty obvious – the more lucrative the commission structure of an affiliate program the better.
Commission rates of 5-10% for physical items and 15-40% for services and digital goods are typically considered pretty solid.
Also, make an effort to leverage the potential of affiliate programs with recurring commissions (if applicable to your niche).
The compounding effect of recurring commissions can lead to impressive long-term earnings, as the value of each customer extends beyond a one-time transaction.
While just focusing on the highest-paying affiliate programs might make perfect sense, the truth is, there are a lot more factors in play to ensure maximum returns on your invested resources.
2. High Conversion Rates
A profitable commission structure is worthless if an affiliate program doesn't convert well.
Simply put bad conversion rates = fewer sales = less money.
On top of that, poor conversion rates are usually a tattletale sign of a low-quality product which might not satisfy your target audience and hurt your credibility.
As a rule of thumb, aim for affiliate programs with conversion rates of more than 1%.
Affiliate program conversion rates can usually be found on some affiliate networks like ShareASale.
The conversion rates of most standalone affiliate programs aren't publicly available, but you may be able to get your hands on them by reaching out directly to their respective merchant.
3. Excellent Merchant Reputation
More than 99.9% of consumers tend to investigate a merchant's online ratings and reviews before making a purchase.
A single negative review can convince 94% of consumers to steer clear of a merchant.
Based on those statistics, it's pretty evident that affiliate programs operated by merchants with a poor reputation are extremely unlikely to convert well.
On top of that, they could hurt your credibility, hinder your progress, and negatively impact your chances of achieving your long-term financial goals.
Therefore, make sure to carefully avoid partnerships with merchants whose reputation is nothing but excellent.
4. Long Cookie Duration
Cookie duration is an important factor to consider when evaluating an affiliate program.
The longer the cookie duration, the higher your chances of getting paid commissions for delayed conversions.
For example, a 30-day cookie duration means that you'll get credited with sales even if your referrals don't convert right after clicking your affiliate link, but do end up making a purchase from your affiliate merchant within the following 30 days.
Some of the most common cookie durations are 7 days, 30 days, 60 days, and 90 days.
Nevertheless, a short cookie duration isn't definitive proof that an affiliate program should be avoided.
For example, Amazon Associates offers a very short 24-hour cookie duration but it's still one of the most sought-after affiliate programs out there.
That's probably because its short cookie duration is compensated by paying commissions on all purchases made by a referral for as long the cookie is still active.
5. High Niche Relevance
Promoting affiliate programs that are highly relevant to your niche is crucial to achieving affiliate success for countless reasons.
First and foremost, audiences interested in a particular niche are much more likely to purchase relevant products or services, thus maximizing your conversions.
That's pretty apparent… A mobile phone promoted on a cooking blog would almost certainly be bought by a lot fewer people than a kitchen appliance.
Also, the more what you promote aligns with your niche, the more credible, trustworthy, and knowledgeable you're perceived.
Again, that's only natural.
Imagine promoting computer software in the fitness niche… Yeah, some fitness people might end up converting, but chances are most will think you're either trolling, or desperate, or that you've gone insane.
(Click each question to expand)
Conclusion
To sum it all up, you can find affiliate programs in your niche by employing the six following methods:
Run Google Searches
Browse Affiliate Networks
Scount Affiliate Program Directories
Check Merchants' Websites
Examine Seasoned Competitors
Consider the Big Players
Before endorsing an affiliate program make sure to size it up against a few key factors.
First, it must have a profitable commission structure (come on, that's a no-brainer). It also needs to convert clicks into sales at relatively high rates.
An excellent merchant reputation goes a long way, and so does a longer cookie duration.
Most importantly, ensure that whatever you're promoting fits right into your niche like a missing puzzle piece.
Have any questions or need further help?
Leave a comment below or drop me a line, and I'll do my best to get back to you as soon as possible.
All the best, and stay safe,
Harry, Founder & Creative Director at dearboss-iquit.com