Affiliate marketing is one of the simplest and most tried-and-tested ways to build a passive income online while working from home or anywhere in the world.
According to statistics, the global affiliate marketing industry was valued at $14.5 billion in 2017 and is expected to surpass $30 billion by 2025.
So, how does one become an affiliate marketer and grab a piece of that pie?
Well, in reality, the paths leading to affiliate success are numerous… Some are shorter, some are more complicated, some are very inexpensive, and others might involve significant monetary investments.
In this article, I'll walk you through the exact same affiliate marketing path I took, and I'm still following to this very day, which is actually the simplest and most affordable one.
Let's get started with the fundamentals.
What is affiliate marketing?
Affiliate marketing is a type of performance-based marketing in which you receive commissions for promoting and getting other people to purchase a brand's products or services.
In a nutshell, affiliate marketing is the process of being rewarded for helping businesses sell to more customers.
Affiliate marketing is a win-win for everyone involved.
On one hand, merchants use affiliate marketing to raise brand awareness, expand their customer base, and increase conversions, sales, and customer engagement without spending nearly as much as they'd normally do on traditional marketing channels.
Best Affiliate Marketing Courses
How does affiliate marketing work?
Here's a bird's eye view of how affiliate marketing works.
You join a merchant's affiliate program
The merchant gives you a unique affiliate link that points to their e-shop
You promote your unique affiliate link online (blog, forums, social media, paid ads, etc.)
Every time someone clicks on your unique affiliate link and makes a purchase on the merchant's e-shop, the merchant pays you a commission
How much money do affiliate marketers make?
This Glassdoor report reveals that the average earnings of full-time affiliate marketers range between $5000 and $8500 per month.
I ventured into affiliate marketing back in 2019 on a part-time basis hoping to build a secondary income source of $300 to $500 per month from home. Within a year, I was earning up to $2000 a month in affiliate commissions (see screenshot below).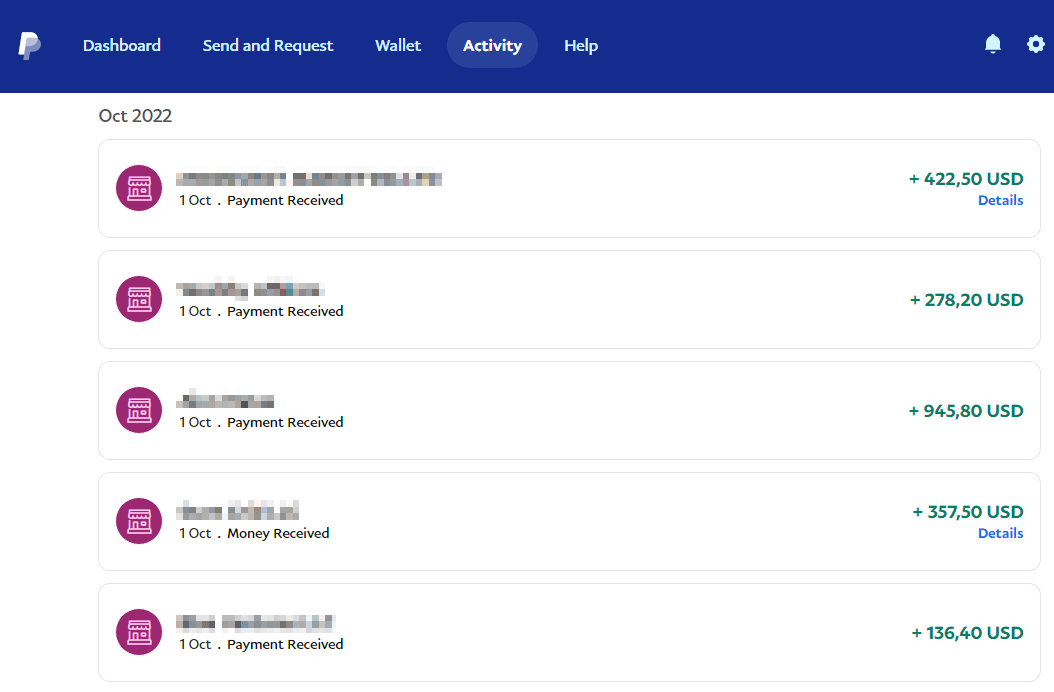 There are tons of very successful affiliate marketers who're earning over six figures as we speak. On the other hand, there are those who make no more than just a few thousand dollars in affiliate commissions per year.
Ultimately, the size of your affiliate income depends on a vast range of factors, such as:
target niche
competition
commitment
previous experience
marketing efforts
quality of your work
consistency
and even luck
Affiliate marketing is in no way a get-rich-quick scheme. Achieving affiliate success involves a steep learning curve, a lot of upfront work, and tons of trial and error over a significant timeframe that could span months or even years.
How to become an affiliate marketer
1. Pick a niche
The first step to becoming an affiliate marketer is choosing a niche.
A niche can be described as the main subject of your affiliate business and it can be pretty much anything, from yoga gear and digital courses to cooking and pet toys.
The niche you pursue is one of the most important determining factors of your success as an affiliate marketer. Going after the wrong niche could inhibit your progress, crush your profit potential, and significantly decrease the chances of reaching your financial goals.
The 3 "Golden Rules" of picking the right niche for your affiliate endeavors are:
1.1 Low to modest competition
Steer clear of niches that consist of too many well-established competitors that could trample smaller affiliates with no authority like you, such as:
Health, Fitness, & Weight Loss
Personal Finance & Making Money
Dating & Relationships
Beauty & Fashion
Personal Development
Ultimately, the less competitive a niche is, the easier it'll be to break into it.
1.2 Modest to high demand
On the other end of the spectrum, niches with very little competition usually lack enough consumer demand to generate a decent amount of affiliate income.
Your "ideal" niche should strike a pretty solid balance between low competition and high demand.
1.3 Personal interest
The last rule of choosing a niche is going after one that's geared towards a subject you're interested in or, even better, passionate about.
Building a successful affiliate blog involves creating and publishing high-quality content on a consistent basis over a significant period of time so if you pick a subject that bores you to death, you're more likely than not to give up before you even make your first affiliate sale (or soon after).
On the contrary, running an affiliate blog that revolves around a topic you love won't feel so much like working but rather more like having fun!
This will naturally keep you fired up to do more consistent and higher quality work, stick with your affiliate endeavors even when the going gets tough, and progress better and faster towards reaching your financial goals.
2. Make a plan
Affiliate success starts with a plan.
Creating an affiliate plan can help you bring clarity to the decision-making process regarding crucial aspects of your business, set your expectations straight, track your progress, and predict potential problems you might face.
Here are some essential elements to include in your affiliate marketing plan:
a brief overview of your business
financial goals
target audience
expected revenue, expenses, and profits
marketing and sales strategies
competition analysis
products or services you'll be promoting
& more
Please note that you don't need to spend months creating the most detailed and in-depth plan. Just put together something that'll act as a general blueprint to solidify your vision and guide the overall growth of your venture. You can always develop and fine-tune it accordingly as you move along.
3. Borrow capital
Even though affiliate marketing is one of the most affordable online business models, it still involves some initial and operational expenses associated with:
starting your blog (hosting, domain name, etc.)
expert guidance
email marketing software
outsourcing
etc.
The best way to cover most of those expenses if you lack the required capital is to take out a personal loan.
Getting a loan offers a range of benefits and allows aspiring affiliate marketers to invest in paid advertising, which is the best method to get your business in front of potential customers and start generating revenue as fast as possible.
On top of paid advertising, you can use your loan to purchase high-quality tools that could help you streamline and expedite all your business's operations.
4. Launch a blog
The next step to becoming an affiliate marketer is launching an affiliate blog.
While you can do affiliate marketing on YouTube, social media, podcasts, etc., running a blog offers many benefits other digital marketing channels don't, such as:
higher credibility
better conversion rates
greater exit potential
fewer partner rejections
increased branding potential
& more
On top of that, it's worth noting that most of the most currently successful affiliate marketers got to where they are now by starting out with very simple blogs.
A good way to think of your affiliate blog is like a virtual storefront for your online business that, just like a physical storefront, will represent your brand, act as an entrance point for potential customers, and enable your target audience to learn more about the products and services you promote.
Creating a blog might sound terrifying, troublesome, and costly, but this couldn't be further from reality. Thanks to the latest advancements in website-building technologies like WordPress and Wix starting a fully-functional affiliate blog is ridiculously simpler and more affordable than ever.
The following 17-minute video walks you through the process of launching a blog in just 30 seconds without spending a single dime.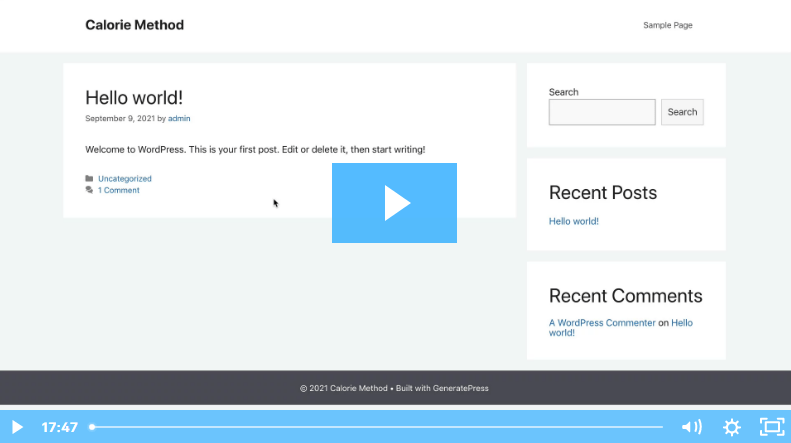 5. Publish high-value content
Once your affiliate blog is up and running, you'll need to start filling it with content.
Content comes in many shapes and sizes, such as:
The primary purpose of writing and publishing content on your blog is to attract, engage, and build trust with readers who might be interested in purchasing the affiliate products you promote. To fulfill that purpose, your content must deliver value to those who consume it by either educating about a subject, solving a problem, or offering entertainment.
Make sure that every piece of content you publish on your blog centers around your chosen niche. For example, if you're in the yoga niche, stay in your lane and post articles about nothing but yoga.
Moreover, each article you write should focus on covering a specific topic that has a decent search volume and not too much well-established competition. The way to get your hands on those metrics is by using keyword research tools like Ahrefs, Semrush, and Jaaxy.
Lastly, make sure that all your content is optimized based on the latest SEO trends. SEO, short for Search Engine Optimization, is a set of practices designed to boost the traffic your articles receive by improving their rankings on search engines like Google, Yahoo, etc.
As a general rule of thumb, you'll need to publish 25-50 high-quality, in-depth, niche-relevant, search-engine-optimized blog posts to start gaining traction.
6. Promote affiliate products
Once your content has begun receiving visitors, it's time to start monetizing it by promoting affiliate products or services.
The simplest way of finding products and services to promote is by signing up for affiliate networks, such as:
ClickBank
ShareASale
JVZoo
Commission Junction
& FlexOffers
Alternatively, you could head over to Google and search for "Best [your niche] affiliate programs".
If you'd like to join the affiliate program of a specific company, you can either Google "[company's name] affiliate program" or head over to the company's official website, scroll down to its footer, and look for "Become an Affiliate", "Affiliate Program", "Partners", or something of a similar nature.
If a company you'd like to partner with doesn't seem to have an affiliate program, you can reach out to them and ask if they'd be willing to work out a deal and pay you a cut in exchange for referring paying customers to them.
Here are some tips that could significantly increase your conversion rates, speed up your progress, and boost your reputation:
Your affiliate promotions must be relevant to your target niche
Focus on promoting goods you have first-hand experience with and that appeal to you
Make sure that everything you promote delivers value and genuinely benefits your audience
Promote products that have a decent reputation online
7. Track, analyze, and optimize
Tracking, analyzing, and optimizing the overall performance of your affiliate business is key to maximizing revenue, minimizing expenses, and reaching your financial goals as soon as possible.
Some of the metrics you'll need to pay close attention to from the get-go include:
new users
returning users
revenue per page
earnings per click
conversion rates
click-through rates
& affiliate link clicks
Fortunately, there are several tools you can use to closely monitor, document, review, and compare these metrics, such as Google Analytics, Google Search Console, Semrush, Ahrefs, and more.
(Click each question to expand)
Conclusion
Although affiliate marketing is among the most straightforward and beginner-friendly online business models currently out there, becoming a successful affiliate marketer still takes a lot of time, effort, and patience.
As a matter of fact, most beginner affiliates earn no commissions until at least six months to a year after launching their business. And it may take just as long to build a consistent flow of affiliate sales.
However, the rewards of sticking with it are well worth the trouble. And by following the seven steps outlined in this article, you can establish a solid foundation and set yourself up for success in the affiliate marketing industry.
Do you have questions or require further help?
Leave a comment right below or contact me right here, and I'll do my best to get back to you as soon as possible.
All the best, stay safe, and succeed big,
Harry, Founder & Creative Director at dearboss-iquit.com