Did you come across OpinionWorld while looking for a way to make some extra money online from home?
Are you after finding out if OpinionWorld is a legit survey website that can truly help you achieve your financial goals before you invest any time and energy in it?
Well, you're in the right place!
In this OpinionWorld Review, I'm going to share with you all the information you might possibly need to understand whether you should give OpinionWorld a try or not.
In a nutshell, OpinionWorld is a platform that'll pay you for filling in surveys from your computer, tablet, and/or mobile phone. The platform is available for people located in a multitude of countries and its surveys pay out points that you can then redeem for a variety of rewards.
Let's find out more, shall we?


What is OpinionWorld About?
OpinionWorld is a platform that allows people to generate money online by sharing their opinion through filling in surveys on their computer, tablet, and/or mobile devices.
The platform is owned by Dynata LLC. (formerly known as Survey Sampling International, LLC.), a market research company that's been operating since 2000.
Dynata has dozens of offices throughout the world and helps nearly 6000 market research, media, and advertising agencies make educated decisions about improving their products and/or services by gathering insights from 62 million consumers through survey panels, such as OpinionWorld and MyOpinions among others.
Right now, OpinionWorld is considered one of the most well-established survey panels in the world, offering access to more than 2 million surveys and paying millions of dollars per month to its members.
What separates OpinionWorld from the majority of survey panels out there is that it's available in a multitude of countries, including:
the USA
India
Singapore
New Zealand
Hong Kong
Ireland
Indonesia
& more
Lastly, OpinionWorld donates $10.000 per month to RedCross.
By taking part in OpinionWorld's surveys, you'll be contributing to keeping alive this donation that helps people affected by countless crises all around the world, without having to actually give away a single dime out of your personal earnings.
OpinionWorld is mainly addressed to people who are after earning some side cash online in their spare time or while on the go without much fuss or effort.
If you'd like to be generating some extra money to be able to 
pay for some of your bills
purchase some extra groceries
buy Christmas presents for your kids
have more fun on your weekends
increase your savings
etc
then joining OpinionWorld might be a very wise choice.
However, if you expect that OpinionWorld is going to help you build a life-changing income, then you're going to be greatly disappointed because it truly CAN'T.


How Does OpinionWorld Work?
The first thing that you should know about OpinionWorld is that its surveys generate points that you can then redeem for a variety of rewards and/or cash.
The average OpinionWorld survey lasts from 10 to 20 minutes and pays out 100 to 300 points.
Most of the time the longer a survey is the more points it'll pay you.
The actual amount of money that each OpinionWorld point is worth depends on the country you're located in.
For instance, 1 OpinionWorld point corresponds to $0.01 for US members while for people from Singapore, it corresponds to 0.03 SGD.
Getting started with OpinionWorld is a piece of cake.
All you have to do is create your free account and provide a few very basic details about yourself, such as
In addition, you'll be prompted to select a security question & answer, both of which are going to be requested from you in case you'd like to regain access to your account after losing/forgetting your password.
Next, you'll have to activate your account by confirming the email address you used to create it.
After activating your account, OpinionWorld will ask you to fill in some additional information, such as
Full address
Postcode
State
Town
and Country
All you have to do after filling in that information is to wait for OpinionWorld to start inviting you to surveys.
Nonetheless, there are some things you can do that can potentially increase your survey invites and maximize your earnings with the platform, such as
Permitting OpinionWorld to gather and use your personal data
Fully completing your profile
Opting into all its activities
Unlock badges
Please allow me to explain further…
The first thing that you can do to boost your survey invites is to grant OpinionWorld permission to gather and use personal data about you.
This can be done by heading over to the bottom of the "Surveys" section and selecting "Yes" as shown in the image below.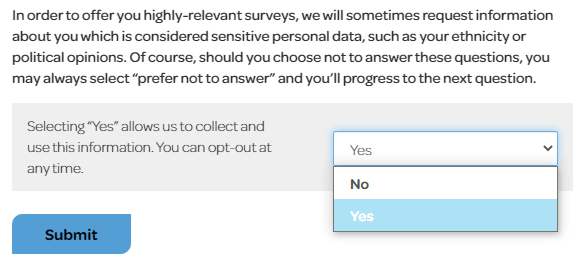 After doing so, OpinionWorld will actually prompt you to answer several personal questions about yourself, including your
income
ethnicity
political opinions
health issues
race
etc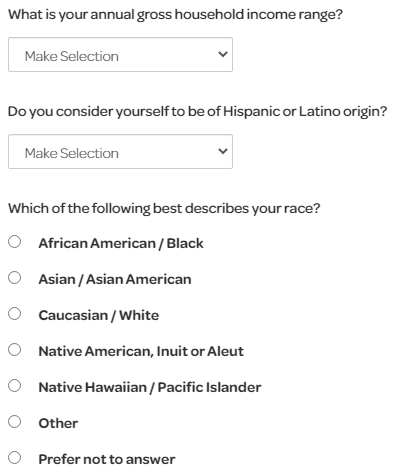 Your answers will then be used by OpinionWorld to match you with more surveys as well as surveys that suit you the best.


Fully Complete Your Profile
The next step towards increasing the survey invites you'll be receiving from OpinionWorld is to fully complete your demographic profile by answering all available questionnaires under its "Surveys" tab.
Those questionnaires consist of numerous questions about your
profession
utilities
car
kids
shopping & eating habits
etc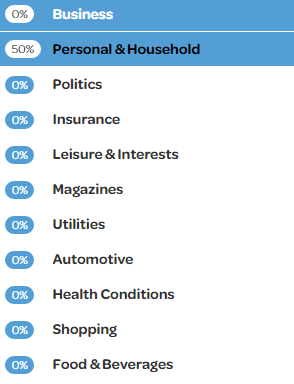 Getting your demographic profile 100% complete will help OpinionWorld better understand your lifestyle, personality, interests, and habits.
As a result, OpinionWorld will not only invite you to more surveys but also to surveys that suit you better from which you'll be getting disqualified a lot less.
Fully completing your demographic profile is the best way to maximize your OpinionWorld earnings.
Another thing that you can do to maximize your survey invites is to opt into all of OpinionWorld's available activities, such as:
1 • Location Services:
Allows OpinionWorld to collect information from your device's GPS and cellular data providers in order start receiving invitations to surveys based on your location.
2 • Mobile Activity:
Opt in to get invited to more relevant surveys based on the activity and the applications you use on your mobile device.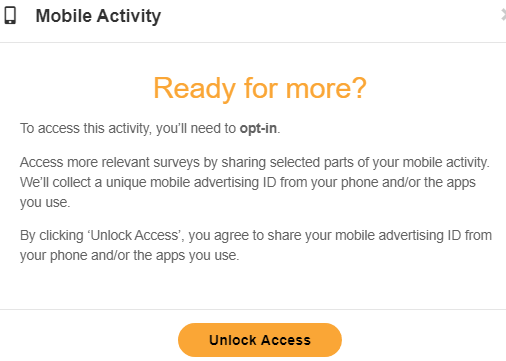 3 • Online Shopping:
Opting in to this activity allows OpinionWorld to gather data from loyalty programs that you're a member of as well as ask you questions about your most recent purchases and the retailers you've shopped from.
OpinionWorld will then start inviting you to surveys conducted about similar products/services.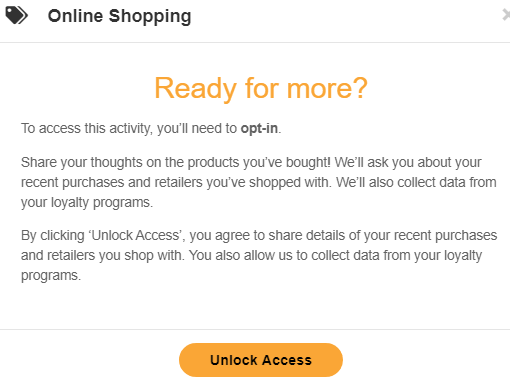 4 • Viewing Habits:
Share your viewing habits via connected devices and TV data providers with OpinionWorld in order to start getting invited to surveys based on what you like to watch.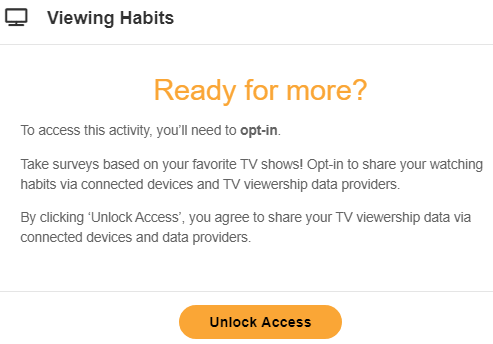 The last way to increase your OpinionWorld survey invites is by unlocking as many badges as possible.
OpinionWorld's badges are basically levels you can reach for achieving specific objectives, such as completing your profile and redeeming rewards.
Right now, OpinionWorld allows you to unlock 5 different badges:
Bronze
Silver
Gold
Platinum
Diamond
Right below you can take a look at the requirements that you'll need to meet in order to unlock each badge.
Bronze Badge:
Sign up to OpinionWorld
Activate your account by confirming your email
Silver Badge:
Unlock all the milestones available within the Bronze Level.
Complete a survey
Earn your first survey credit
Fill in 25% of your demographic profile
Take at least one survey during the week
Gold Badge:
Unlock all the milestones available within the Silver Level.
Complete 50% of your demographic profile
Complete at least 10 surveys
Take one survey for two consecutive weeks
Redeem your first reward
Platinum Badge:
Unlock all the milestones available within the Gold Level.
Complete 75% of your demographic profile
Take one survey for three consecutive weeks
Redeem your points for a second time
Complete at least 25 surveys
Diamond Badge:
Unlock all the milestones available within the Platinum Level.
Take one survey per week for four consecutive weeks
Fully complete your demographic profile
Complete at least 50 surveys
Redeem your points for the third time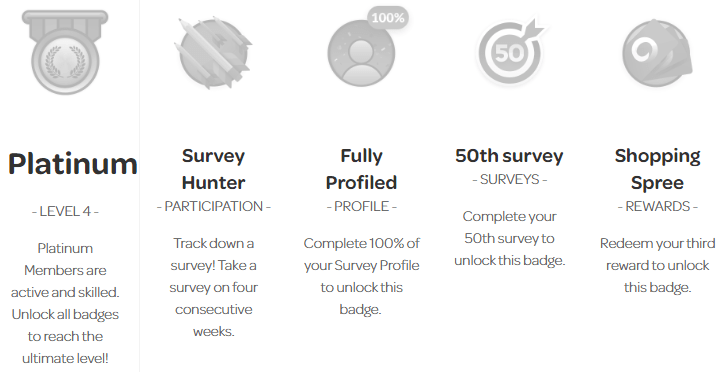 According to OpinionWorld, the higher the badge you unlock and maintain, the better benefits you're going to reap within the platform, including
Higher-paying surveys
Tailored survey invitations
More regular survey invites
etc


How Does OpinionWorld Pay?
The main way that you can redeem the points you've earned by filling in OpinionWorld's surveys is through a PayPal cash redemption.
The minimum cashout threshold for PayPal cash redemptions depends on the country you're located in.
For instance, if you're located in the USA, the minimum PayPal redemption threshold is 1000 points while for Singaporeans it's only 500 points.
All PayPal cash redemptions can take up to 3 days to be processed and fulfilled.
Furthermore, OpinionWorld allows members from certain countries to redeem their points in additional ways, such as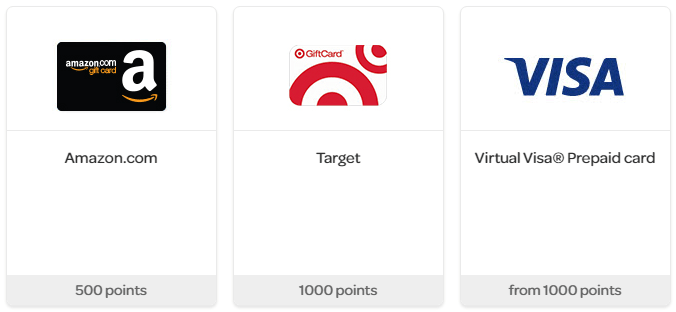 All gift/prepaid cards are delivered to you electronically via email within 24 hours of the redemption.


How Much Money Can I Make With OpinionWorld?
The amount of money that you can potentially earn with OpinionWorld depends on three main factors:
the number of surveys you get invited to
the amount of points each of those surveys is worth
 and how many of those surveys you actually complete
OpinionWorld's surveys are worth between 100 and 300 points.
Furthermore, an average member of OpinionWorld receives 10 to 20 survey invites per month.
If you do the math, the number of points that you can potentially generate with OpinionWorld can be anywhere between 1000 and 6000 points per month.
As mentioned earlier, the actual amount of money that each OpinionWorld point is worth depends on the country you're located in.
For instance, 6000 OpinionWorld points equal to $60 for US members but for Singaporeans, the exact same amount of points is worth 180SGD.


How to Join OpinionWorld?
Joining OpinionWorld is extremely straightforward…
First, click on the country you're located in from the list right below to get redirected to the corresponding OW website:
After you get redirected all you have to do is:
Click on the "Sign Up" button
Fill in the form with the requested info (name, email, gender, password, etc)
Select a security question and answer
Create your account
Confirm your email address
Fill in some additional information as prompted
Congrats, you can now start earning money by completing surveys for OpinionWorld!


1 • A Lot of Positive Feedback
Over the years, OpinionWorld has received quite a lot of positive feedback on several rating platforms from people who have used it.
More specifically, OpinionWorld's US version has received a rating of 3.7 out of 5 stars derived from almost 166 customer reviews on Trustpilot.

Please note that OpinionWorld's Trustpilot rating varies depending on its target country.
For instance, OpinionWorld's Indian version has a 4.5/5 star rating while its Australian version has a 2.7/5 star rating.
Right below you can take a look at some testimonials of OpinionWorld's members that I managed to locate online: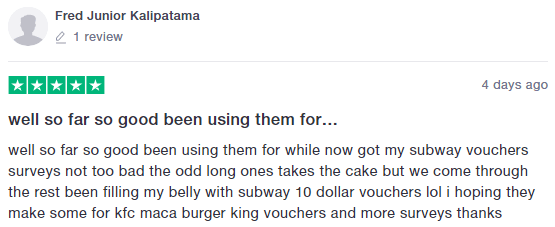 2 • Available in Several Countries
Unlike the vast majority of survey platforms that currently exist, OpinionWorld is one of the very few money-making opportunities that are open for people from a vast array of countries, including:
USA
UK
India
Singapore
New Zealand
Australia
& more
Most survey panels out there are available only to one or maybe two countries which most of the time are just the US and/or the UK.
OpinionWorld is definitely among the easiest to utilize survey panels I've encountered until now.
Its minimal clutterless design makes it extremely easy to navigate.
This kind of simplicity ensures that you won't get lost and/or overwhelmed while trying to utilize it, even if you are the least tech-savvy person on the face of this Earth.
One thing that really amazed me about OpinionWorld is that it processes and fulfills all of its redemptions lightning fast.
For instance, if you redeem your OpinionWorld points for PayPal cash you'll receive all of it in your PayPal account in less than 3 days.
Furthermore, all gift/prepaid cards are delivered to you electronically via email in less than 24 hours.
To give you a frame of reference, for most survey panels it could take up to 3-4 weeks to process and fulfill a cashout/redemption request.
As years pass, more and more people seem to be complaining about OpinionWorld suddenly shutting down their account due to alleged violations of its terms & conditions (see images below).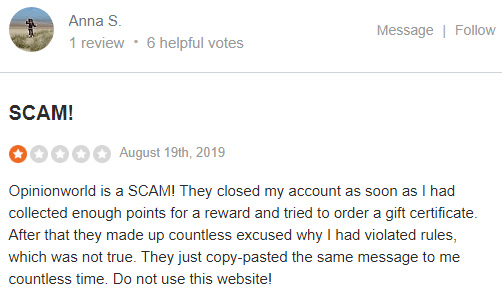 Now, I don't want to be playing the devil's advocate but I know for a fact that many people try to "game" money-making opportunities in an attempt to increase and expedite their earnings, such as
Filling in 2 surveys simultaneously
Rushing through surveys
Creating multiple accounts
Using VPNs
Employing scripts/bots
& more
What I'm trying to point out here is that some of the people who have complained about OpinionWorld terminating their account for no reason probably had it coming…
If you're looking to make some extra cash online, I suggest that you join OpinionWorld without paying that much attention to all the negative feedback it has received as the platform seems to still be paying the vast majority of its members normally.
Nonetheless, proceed with caution.
To minimize the chances of running into problems, make sure that you read and follow OpinionWorld's Terms & Conditions to the letter.


2 • Survey Disqualifications
Another issue that many OpinionWorld members have been complaining about is getting disqualified from quite a lot of surveys…
That's the case because in order to determine whether you're a good fit for them or not most surveys will require you to answer a few additional screening questions before they allow you to take part in them.
Nonetheless, this characteristic isn't exclusive to OpinionWorld but rather quite common among the majority of survey panels out there.
However, what's not common is getting disqualified after having filled in the majority of a survey, which is something that apparently happens quite frequently within OpinionWorld.

According to OpinionWorld, this may happen in the case of a member providing very inconsistent and contradicting answers.
The problem here is that you might end up wasting hours of your time answering hundreds of survey questions with nothing to show for it…


3 • Lack of Survey Invites
Another pretty common issue regarding OpinionWorld is that most of its members receive a very limited number of survey invites…
I have personally found out that this indeed the case as about a week ago, I created a brand new OpinionWorld account and I have yet to receive a single survey invite.
This lack of surveys is definitely going to have a direct impact on your OpinionWorld earnings as the fewer surveys you complete the less money you're going to be making.
Nonetheless, OpinionWorld might be inviting members with different demographic profiles to many more surveys.


OpinionWorld Review Summary



Depends on your demographics. Don't expect to earn any life-changing money.
Extremely simple to utilize even if you're the least tech-savvy person in the world.
The only way to make money with OpinionWorld is by filling in surveys.
FAQ sections & dedicated support team which can be very unhelpful at times.


Is OpinionWorld a Scam or Suggested?
OpinionWorld is definitely NOT a scam…
Yes, the platform has indeed received some negative feedback online but this is completely normal for any given platform that's been up and running for a few years.
OpinionWorld does indeed terminate accounts without any warning but if you read and follow its Terms & Conditions to the letter, it's very unlikely that you'll stumble upon any problems yourself.
What I like the most about OpinionWorld is that it's one of the very few survey panels that's actually available in such many countries.
In addition, its payout threshold is very low so you can expect to get your hands on the money you've generated with it pretty fast.
The lack of surveys invites along with the survey disqualifications can be quite discouraging but in that way, OpinionWorld is no different than your average survey panel.
If you'd like to add a few extra dollars to your monthly income without much fuss, and OpinionWorld is available in your country, then I suggest that you give it a try.
However, seriously, don't expect that you'll be able to generate more than $60/month with it because chances are that you'll end up being disappointed.
If you'd like to maximize your earnings, I suggest that you take a look at some other legit survey websites and join as many of them as possible.
Have any comments or questions?
Please leave a comment right below or contact me at harry@dearboss-iquit.com
I'll be more than happy to help you out!
Best wishes,
Harry
dearboss-iquit.com