So, you came across Elevacity/Elepreneurs and you are interested in joining the MLM "business opportunity" the company offers.
However, you know that you aren't supposed to jump in a stranger's car…
Before joining Elepreneurs you want to first know if it is a legit MLM company or one of those awful scammy pyramid schemes that rob people of their money and waste their time only to turn them into disgusting salespeople who end up being hated by their friends and family because they keep pitching them crappy products even when they sleep.
And you don't want to end up like that.
Worry not because, in this review, I am going to answer every single question you have about Elepreneurs, such as
What is Elepreneurs about?
Is Elepreneurs a pyramid scheme or a legit MLM company?
How to join Elepreneurs?
Is Elepreneurs worth the trouble?
How much does it cost to join Elepreneurs?
Pros and cons
Elepreneurs compensation plan
Are Elepreneurs products high-quality?
and most importantly, if you can really make money with Elepreneurs
In addition, I am going to let you know about a couple of alternative money-making opportunities.
This way, you'll have every piece of information you might possibly need to make an informed decision about whether Elepreneurs is worth your time and attention or if you'd better invest in something more legit and promising.
Before I move any further I want to point out that many Elepreneurs reviews out there keep implying that Elevacity and Elepreneurs are two different companies or that Elepreneurs is a reboot of Elevacity, etc.
This couldn't be further from reality.
Truth is that Elevacity is the actual retail company and Elepreneurs is Elevacity's business opportunity.
An Elepreneur is an independent distributor of Elevacity's products.
Now that you know, let's get cracking!
Elevacity/Elepreneurs MLM Overview
Company Name: Elevacity
Owners: Rob Oblon
Price to join:
$49.00 per year for Virtual Business System
$250 – $500 for Enrollment Kit (optional one-time fee)
Official Website: elevacity.com & elepreneur.com
Suggested? Not Really…
Increase your chances of reaching success in multi-level marketing by following a dedicated MLM course.
.
Free Replicated Website
Affordable to Join
Founder Seems Successful
Money-Back Guarantee
MLM Business Model
Low Income Potential
Too Many Complaints
Complicated Compensation Plan
Unrealistic Claims
Before I move on to the actual Elepreneurs MLM review, I want to reveal to you some general MLM statistics that will probably SHOCK you to your very core.
10 Shocking MLM Statistics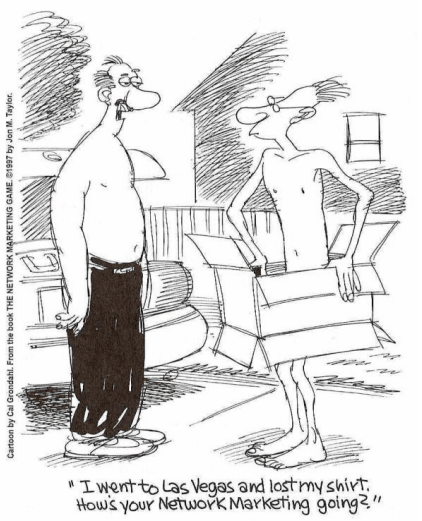 What is Elevacity/Elepreneurs About?
Elevacity is a company that manufactures and distributes skincare products and wellness supplements.
The company was founded in 2016 by Robert Oblon.
Robert is the co-founder of a personal development company that has been running for more than 10 years called "Your Success Network".
He is also the CEO of Travopoly, a worldwide travel agency that has been operating since 2011 and the chairman of FourOceans Global, an MLM company that has been operating in the self-improvement industry since 2013.
In 2017, he created Elepreneurs as a way to market Elevacity's products by employing the direct sales business model.
Elevacity's mission is to elevate people's lives by helping them find the best path to elevating their wellbeing.
Elepreneurs' mission is to truly disrupt the status quo and elevate home-based entrepreneurs in direct selling by creating truly fair priced products that people can actually afford while getting paid up to 100% commissionable volume.
You can find a lot more about Elevacity and Elepreneurs, its founder, mission, products, vision, policies, compensation plan, etc on the company's official websites.
Elevacity/Elepreneurs Products & Prices
The products that you'll be selling as an Elepreneur fall under the 2 following categories.
Wellness supplements
Skincare products
According to Elevacity, its products are developed by a team of doctors, pharmacists, chemists, naturopaths, food scientists, and nutrition experts.
Its skincare products are scientifically tested, safe for any kind of skin as well as for the environment, and contain
Natural Ingredients
No Parabens
No Perfumes or Dyes
Elevacity's wellness supplements contain several nootropics that are supposed to help your brain release 4 neuro-chemicals that create happiness 
Dopamine
Oxytocin
Seratonin
Endorphins
That's why the series of Elevacity's wellness supplements is called D.O.S.E (named after the initials of those 4 chemicals).
One of those supplements, XanthoMax, contains Xanthohumol, a natural ingredient that is said to trigger the production of your body's natural oxytocin, a hormone that is also known as "the happiness hormone".
Elevacity's products and their respective prices are as follows:
Elevate Zest – $55
Elevate Smart Coffee – $55
Choclevate – $55
Elevate Nitro – $55
XanthoMax – $55
Elevate Pure 2.0 – $65
Extreme energy Patch – $50
Sound Sleep Patch – $50
Hangover Defence Patch – $50
Timeless Eye Gel – $55
Elier Moor Mud Mask – $27.5 
Elier Facial Serum – $67.5 
D.O.S.E. Milk Frother – $18
D.O.S.E. Coffee Mug – $10
Many of those products are also sold in discounted bundles.
All those prices are before shipping costs and taxes where applicable.
In addition, please note that the prices of Elevacity's products might fluctuate every now and then so by the time you read this review, the prices displayed above might not be that accurate.
You can find more info about Elevacity's products and their current prices on the company's official website.
Elevacity/Elepreneurs
Compensation Plan
The majority of MLM companies have so overly complicated compensation plans that it feels like you need to have a rocket scientist doctorate to understand just their first paragraph.
Elepreneurs is no exception…
Nonetheless, I'll try my best to get you up to speed.
Elevacity compensates its Elepreneurs in 8 different ways.
Retail Bonus
Fast Start Bonus
Differential Bonus
Customer Acquisition Bonus (CAB)
Uni-level Bonus
Leadership Bonus
Diamond Pool
Ambassador Pool
Earn 20% commissions on all your retail sales, either offline or through your replicated website.
You earn 10% commissions on the retail sales made to customers who have signed up for the SmartShip auto-ship program.
You earn this Fast Start Bonus when an Elepreneur your personally recruited purchase one of the two enrollment kit.
This bonus is calculated as 30% of the price paid by your personally recruited Elepreneur for their enrollment kit.
Happier Kit costs $250 – Sponsor earns $75
Happiest Kit costs $500 – Sponsor earns $150
If you have reached the rank of Gold or higher, you earn an additional 5% when your personally recruited Elepreneurs purchase an enrollment kit.
Happier Kit costs $250 – Sponsor earns $12.5
Happiest Kit Costs $500 – Sponsor earns $25
The maximum Differential Bonus monthly payout for the Happier Kit is $37.5 and $75 for the Happiest Pack.
4 • Customer Acquisition Bonus (CAB)
If in any given calendar month, you enroll at least 3 new customers who purchase at least $80 worth of products, you qualify for the CAB.
The CAB pays you based on the number of orders your customers place during any given month.
3 Qualifying Orders – $25
5 Qualifying Orders – $50
7 Qualifying Orders – $100
This Uni-level Bonus pays you commissions from your downline's sales volume up to 10 Levels of Elepreneurs deep through a uni-level structure.
1st Level = the Elepreneurs you have personally recruited
2nd Level = the Elepreneurs that your personally recruited Elepreneurs have recruited
3rd Level = the Elepreneurs your 2nd Level Elepreneurs have recruited
and so on
The higher your rank, the more Levels you earn commissions through.
For instance, an Elepreneur earns
7% of the sales volume of their 1st Level
6% of the sales volume of their 2nd Level
while a Bronze earns
7% of the sales volume of their 1st Level
6% on their 2nd Level
5% on their 3rd Level
and 4% on their 4th Level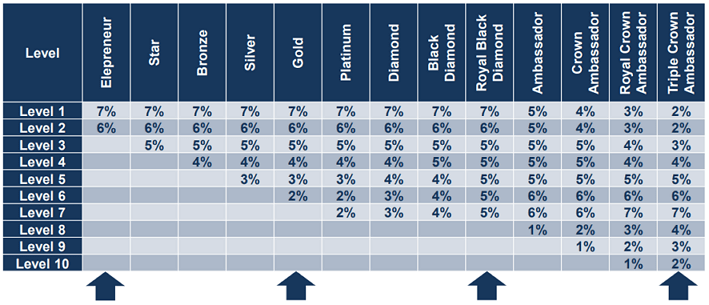 Earn this Leadership Bonus for each month that your rank is between Platimun and Royal Black Diamond.
Platinum – $400
Diamond – $600
Black Diamond – $800
Royal Black Diamond – $1000
After reaching the rank of Ambassador or higher, you'll stop receiving this Leadership Bonus.
However, will start qualifying for the Ambassador Pool.
Elepreneurs sets aside 0.5% of its total global commissionable sales volume and divides it equally among those that achieve the ranks of Diamond, Black Diamond, and Royal Black Diamond each month.
Elepreneurs sets aside 1.5% of its total global commissionable sales volume and divides it equally among those that achieve the ranks of Ambassador and higher each month.
You can study the full compensation plan of Elevacity's Elepreneurs right here.
The video below also sums up the compensation plan pretty neatly so you might want to watch it before moving any further.
Please note that Elepreneurs compensation plan might undergo changes from time to time so by the time you read this review, some of the info, the commission rates, the rank qualifications, etc that are displayed in the video and PDF file I shared with you right above might not be that accurate.
If you still have questions about the company's compensation plan, you can contact their support team through email at support@elevacity.com & info@elepreneurs.com or call them at the telephone number +1 (800) 518 0284.
Or you could contact me at harry@dearboss-iquit.com and I will do my best to help you out.
Elevacity/Elepreneurs
Ranks & Qualifications
All the rank qualifications are calculated on a monthly basis.
Active Customer = a customer who orders at least $40 worth of products any given month.
How to Join Elevacity as an Elepreneur?
In order to join Elevacity as an Elepreneur, you have to head over to elepreneur.com and click the "Join" menu button.
In order to proceed with your enrollment, you'll have to fill in the username of your sponsor.
If you don't have a sponsor, you can locate one online or you can contact the support team of the company and they will bring you in touch with an Elepreneur who operates in your area.
After you fill in your sponsor's username, you'll have to choose your country and state/province, fill in an application with your personal and payment information, choose one of the two enrollment kits (optional), agree to the company's terms & conditions, and you are done!
How Much Does It Cost to Join Elevacity as an Elepreneur?
You can become an Elevacity Elepreneur for $49 per year.
In addition, you can optionally purchase one of the two Enrollment Kits below
Happier Kit – $250 (one-time fee)
Happiest Kit – $500 (one-time fee)
Those enrollment kits contain mostly samples as well as few marketing materials.
Most other Elepreneurs reviews out there claim that there is also a $40 per month personal auto-ship requirement to remain active and qualified for commissions but I couldn't confirm such claim.
Chances are that Elepreneurs removed this requirement after they published their new compensation plan in August 2019.
Is Elevacity/Elepreneurs a Pyramid Scheme?
Most of the time it's very hard to distinguish between a legit MLM company and a pyramid scheme.
The video below will help you understand how to spot and avoid pyramid schemes in general.
The main difference between an MLM and a pyramid scheme is that MLMs give you the opportunity to earn commissions by selling actual products or services to retail customers while with a pyramid scheme the only way to earn money is by recruiting other people into the scheme.
Not all MLMs are legitimate. If the money you make through an MLM is based on your sales to the public, it may be a legitimate one. If the money you make is based on the number of people you recruit and your sales to them, it's not legit. It's a pyramid scheme. Pyramid schemes are illegal, and the vast majority of their participants lose money. – Federal Trade Commission
Since Elepreneurs offers you the option to earn commissions by selling its products in retail, the company cannot be considered a pyramid scheme.
Elevacity/Elepreneurs Pros
Free Replicated Website
Affordable to Join
Founder Seems Successful
Money-Back Guarantee
1 • Free Replicated Website
Once you become an Elepreneur, the company provides you with a free replicated website.
When people purchase Elevacity's products through your replicated website, up to 20% of what those people pay land right into your pocket.
In addition, if someone signs up as an Elepreneur through your website you automatically become their sponsor, and they become part of your downline.
If marketed the right way, this website could help you maximize your customers and your recruits, and thus your income.
If your business is not on the internet, then your business will be out of business – Bill Gates
Joining  Elevacity as an Elepreneur at $49 per year is very affordable compared to the majority of MLM companies.
Just to give you a frame of reference, NewYou (a CBD MLM) requires you to pay at least $70 per month to keep yourself active and qualified for commissions.
In addition, I have come across a lot of MLMs whose enrollment fees rise up to hundreds or in some cases even thousands of dollars.
Elepreneurs is one of the most affordable MLM opportunities I have come across so far…
3 • Founder Seems Successful
Robert Oblon seems like he knows his business.
The company that he co-founded, Your Success Network LLC, has been running for more than 10 years.
He has also been the CEO of another company, Travopoly, for more than 8 years.
Elevacity has been operating for almost 4 years and Elepreneurs for 2 and a half years.
The bad news is that before founding Elepreneurs, he doesn't appear to have any experience with the direct sales business model.
The good news is that tons of MLMs fail within the first year after their launch but Elepreneurs has lasted for more than twice as much.
Elepreneurs offers a 30-day money-back guarantee on all its product purchases.
Products with money-back guarantees are much easier to sell than those who have none.
People just seem to feel more comfortable spending money on something for which they are able to get a refund anytime they want if they needed to.
In addition, research shows that money-back guarantees increase customers' feelings of satisfaction with their purchases, making them more likely to make another purchase from the same seller.
All this translates to easier sales which in turn translates to more sales, which in turn translates to more money for you!
However, be aware that Elepreneurs refunds only 90% of the purchased price because they actually charge a 10% "restocking fee", whatever that is.
Also, shipping and handling charges paid upon purchase will not be refunded. Return shipping charges will also have to be handled by you.
Lastly, FYI, after reading all the complaints under Elevacity's BBB profile, getting your refund is definitely going to be an arduous process of you having to come in contact with the company's awful customer service dozens of times until your refund request actually takes place.
Elevacity/Elepreneurs Cons
MLM Business Model
Low Income Potential
Too Many Complaints
Complicated Compensation Plan
Unrealistic Claims
As mentioned earlier, I am not fond of the MLM business model in general for many reasons…
First of all, the percentage of MLM participants who actually make a profit is awfully low (74% – 99%)
Secondly, I hate selling…
And thirdly, I've heard so many stories of people losing all their friends, family, and money due to the pushy and sleazy practices they were being taught by their "mentors" that I have become repulsed by the MLM business model in general.
Being involved in an MLM is just not worth the trouble in my mind.
Especially when there exist other much more legit ways of earning a lot more money without having to go through all that struggle of becoming a sleazy salesperson and jeopardizing your relationships with those around you because you are perceiving them as walking bags of cash.
According to the income disclosure statement Elepreneurs has published on their website, the average participant in a direct selling business earns between $500 – $1000 per year.
While this estimate isn't based on earnings of Elepreneurs they have been derived from the income disclosures of direct sellers that offer comparable compensation plans and selling comparable products in the same industry that Elepreneurs operates.
And I really doubt that the average Elepreneur is going to make more than those estimates per year, especially those who don't have any experience either in the industry or with direct selling.
While I was doing my research about Elepreneurs, I came across a number of complaints about the company throughout the internet.
Under its BBB (Better Business Bureau) profile, Elevacity has more than 70 complaints.
All of those complaints have to do with
shipping (orders arriving months late or not arriving at all)
billing (people being charged even after canceling their auto-ship as well as for products they didn't purchase)
refunds (unable to get a refund)
customer service (inability to contact customer service and get support)
There were even a couple of complaints of people who claimed that Elevacity's products made them sick (see below).
In addition, BBB has rated Elevacity with a "C"
You can take a look at Elevacity's BBB profile, its reviews, complaints, and rating right here.
And that's not all…
People seem to be complaining about Elevacity and Elepreneurs all around the web, on other blogs, YouTube channels, forums, etc.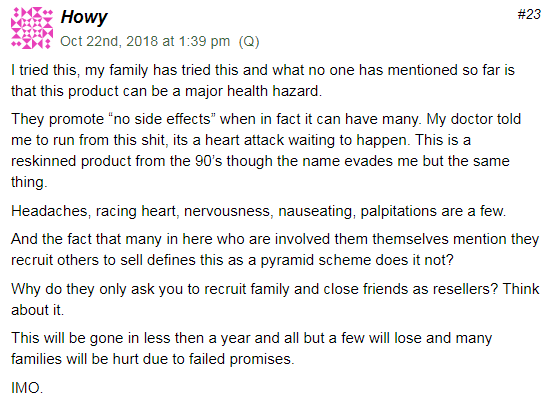 4 • Complicated Compensation Plan
Fast Start Bonuses, Differential Bonuses, Levels, various percentages, pools, dozens of different ranks and qualifications, blah blah blah…
A person who is relatively new to MLMs will probably have trouble understanding how the compensation plan of Elepreneurs really works.
But did you know that most MLMs make their compensation plans so complicated on purpose?
It's called "Complexity Bias" and it's the tendency of people to trust complex concepts more than simple ones.
Marketers use complexity bias all the time to boost the sales of a product/service by incorporating confusing language or insignificant details into its packaging or sales copy.
MLM companies do the exact same thing with their compensation plans to get more people to join them.
You can read more about complexity bias right here.
The main selling point of Elevacity's wellness supplements is that they will increase your happiness levels, make you energetic, and elevate your overall life!
If happiness could be found by ingesting a tablespoon of a supplement, everyone in the world would be happy by now.
Quoting Elevacity:
Are you as happy as you could be? The secret to happiness may not be what you think. A Harvard Study found happiness comes down to two things:

Social Connectivity
Hormones

A combination of four hormones created in your brain has been found to create happiness. The exact formulation of our D.O.S.E. combination of coffee and nutritional supplement. Start your day off with more than a boost of caffeine. Start with a dose of happiness. It is thousands of smiles in your coffee cup.
Seriously, all those unrealistic claims Elevacity makes about its products makes it sound like a drug dealer trying to convince you to buy heroin to forget about your pain.
Elepreneurs MLM Review Summary
According to the company's Income Disclosure Statement, the average MLM rep earns $500 – $1000 per year.
Replicated website, business app, marketing materials, personalized dashboard, samples, etc.
Elepreneurs is NOT a pyramid scheme. Compensation plan is geared towards recruiting. Tons of complaints throughout the web.
Is Elepreneurs Suggested?
I personally wouldn't join Elevacity as an Elepreneur mostly because the income potential this MLM opportunity offers is way too low as well as directly correlated to the size of your downline.
Now, if you are already using Elevacity's products and you are really satisfied with them, becoming an Elepreneur might be a good opportunity for you to get some good discounts on the products you would purchase anyway as well as maybe make some extra money by selling some of those products to your friends.
On the other hand, to tell you the truth, I am not at all fond of the MLM business model in general…
The success rate and profitability of MLM reps are awfully low
MLM companies are extremely volatile and unstable
You need to invest a ton of money, time, and energy until you manage to make a profit (if you ever actually make a profit)
Most MLM companies focus on recruiting people instead of selling valuable and beneficial products or services
Plus, in order to make money with the MLM business model, you'll probably have to turn into a sleazy salesperson and I really hate selling as much as I hate being sold to.