A few years back, to get your own blog up and running for free, you had to code the whole thing by yourself. On top of that, you had to host it on your own servers… Lame!
Thankfully, times have changed.
Nowadays, you can find platforms such as Wix, Blogger, and WordPress that allow you to create and host your blog completely for free without much struggle on your part.
In this article, I am going to show you exactly how I created my first blog for free from scratch in just 5 very simple steps through a little-known, but very powerful platform called SiteRubix.
What is SiteRubix?
SiteRubix is a WordPress-based tool which allows you to create, host, customize, monitor, and manage your blog and it is powered by Wealthy Affiliate, an affiliate marketing training platform.
In case that you don't know what affiliate marketing is, it is one of the many ways to make money through your blog.
If you want to find out how to get started with affiliate marketing, go ahead and take a look at What is Affiliate Marketing? A Thorough Guide for Beginners!
SiteRubix has been created solely for Wealthy Affiliate's use and so only Wealthy Affiliate's members are able to use it to build and host their websites. Don't worry though, you can get instant access to the SiteRubix platform by joining Wealthy Affiliate for free.
With your free membership, you get
Simple website builder
2 free websites
Free domains for your websites(actually they are subdomains)
12 appearance themes to choose from
Access to a website manager
Spam Blocker
Free hosting for life
So, let's start finding out how to create your blog through SiteRubix. The simplicity of the whole process is going to blow your mind away.
Tip: Make sure that you are following each step along the way and by the end of this article you will have your blog up and running.
How To Create A Blog For Free Using SiteRubix
It only takes 5 steps to get your blog up and running for free as I promised. If you follow each step, the entire process won't take longer than 5 minutes.
The 5 steps to creating your free blog are
Create a Free Wealthy Affiliate account
Access the SiteBuilder
Go for a Free Domain
Choose your Domain and Website Name
Select the Appearance Theme of your Blog
Let's get started at once.
Step 1 – Join Wealthy Affiliate for Free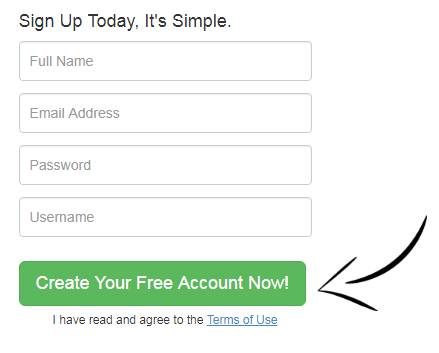 The very first step towards building your free blog is to go ahead and create a free Wealthy Affiliate account.
All you have to do is fill in your email, name, choose a username and a password.
Once your account is created you will automatically log in Wealthy Affiliate.
In there you will be asked to take a tour of the platform. I recommend taking the tour. Otherwise, you can skip it.
Step 2 – Access the SiteBuilder
Now that you are in Wealthy Affiliate, you have to locate the SiteBuilder tool.
You can access the SiteBuilder by clicking the "Websites" tab on the left sidebar of the Wealthy Affiliate platform and then "SiteBuilder"(see image below).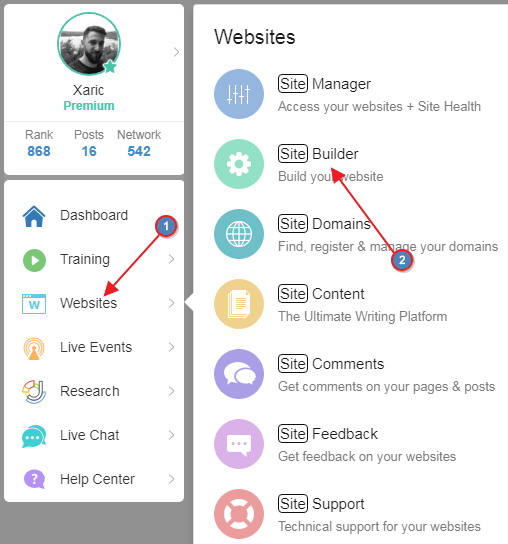 Step 3 – Go for a Free Domain
Once you are in the SiteBuilder platform, you will be asked if you want to build your website on a free domain, a domain that you already own, or register a new domain for your new website.
Select the "On a Free Domain" option.

Step 4 – Choose your Domain and Website Name
Afterward, enter the domain name and website name of your choice on the respective fields.
Please be advised that if you choose your domain name to be "mywebdomain" it will turn into mywebdomain.siterubix.com.
Also, it is best practice for your website name to be exactly the same as your domain name, so if your domain name is mywebdomain.siterubix.com, your website name should be "My Web Domain".
Step 5 – Select the Appearance Theme of your Blog
Lastly, select the appearance theme of your website. There are 3000+ themes to choose from but as a free member, you only have access to 12 of them.
Recommended theme for beginners -> Omega.
Click on the theme of your preferrence and then hit the "Click Here to Build This Site!" button.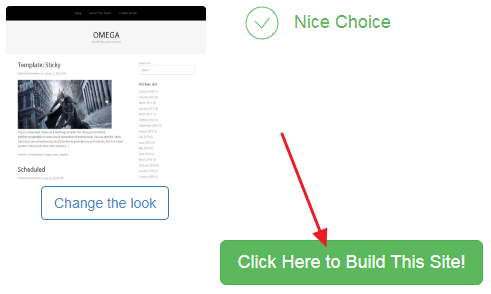 This is it! Your blog is now online… Just like that!
However, with SiteRubix, just like with every other free website-building platform, you can't get unlimited access to its full potential unless you pay for it.
For example, as a free SiteRubix member you can't use a top-level domain for your blog, you can't add a new appearance theme, you can't install and activate new plugins, and you don't have access to tech support.
The same goes for most free platforms though. Wix and WordPress won't let you use a top-level domain if you don't upgrade to their premium plans either.
To install plugins and upload new themes to a blog created on WordPress, you need to upgrade to their business plan which costs 25/month and has to be paid upfront for an entire year(300$ at once).
What I am trying to say is that one way or another, the free plans of such platforms come at the cost of limited customization and scalability for your blog.
If you are running your blog just for fun then SiteRubix free should be enough. But if you are hoping to start making money through your blog, you will eventually have to consider paying for a more professional and scalable solution.
This is where SiteRubix premium comes in.
SiteRubix Premium Version
The premium version of SiteRubix is designed for those who are making(or want to start making) a living through their blogs and need a more professional approach towards their online business.
SiteRubix premium offers a whole lot of useful features for professionals such as
The ability to purchase, use, and manage top-level domains
Custom email platform
Unlimited email accounts
Lightning fast website loading speeds
SSL
Requesting Comments & Feedback from other members
24/7 instant tech support
Access to thousands of plugins and appearance themes
Infinite training modules such as blogs, courses, webinars, etc
Host up to 50 websites indefinitely
To find all details about those features just mentioned go ahead and take a look at Wealthy Affiliate: A Full Platform Review (2018 Update).
SiteRubix is not a standalone tool so to access its premium version you have to actually upgrade your Wealthy Affiliate's membership to premium.
As a premium Wealthy Affiliate member, you don't just get access to SiteRubix premium but also to a ton of other resources, tools, and features such as
Countless affiliate marketing training modules(courses, blogs, webinars, videos, step by step guides, etc)
A keyword research tool called Jaxxy
Live Chat
1-on-1 coaching and mentorship from the founders of Wealthy Affiliate
and much more
All these cost 49$ if paid per month.
However, Wealthy Affiliate offers various payment plans about which I talk more in-depth in my Wealthy Affiliate review as well.
For example, last year, I took the Black Friday offer and paid 299$ to upgrade my account for a whole year which basically translates to paying 24.90$ per month.
The WordPress business plan, which is fairly similar to SiteRubix premium only with fewer features, costs 25$ per month and you HAVE to pay upfront for a whole year.
That's 300$ a year, 1$ more than upgrading to SiteRubix premium!
I have been a Wealthy Affiliate premium member for more than 2 years now. This means that I have been using SiteRubix to its fullest for that long as well and I couldn't be more satisfied it about it.
I've gone a couple of times online trying to locate a platform as good as SiteRubix but all my efforts were in vain.
SiteRubix Free vs. Premium
Right below, you can find a Free vs. Premium SiteRubix graph.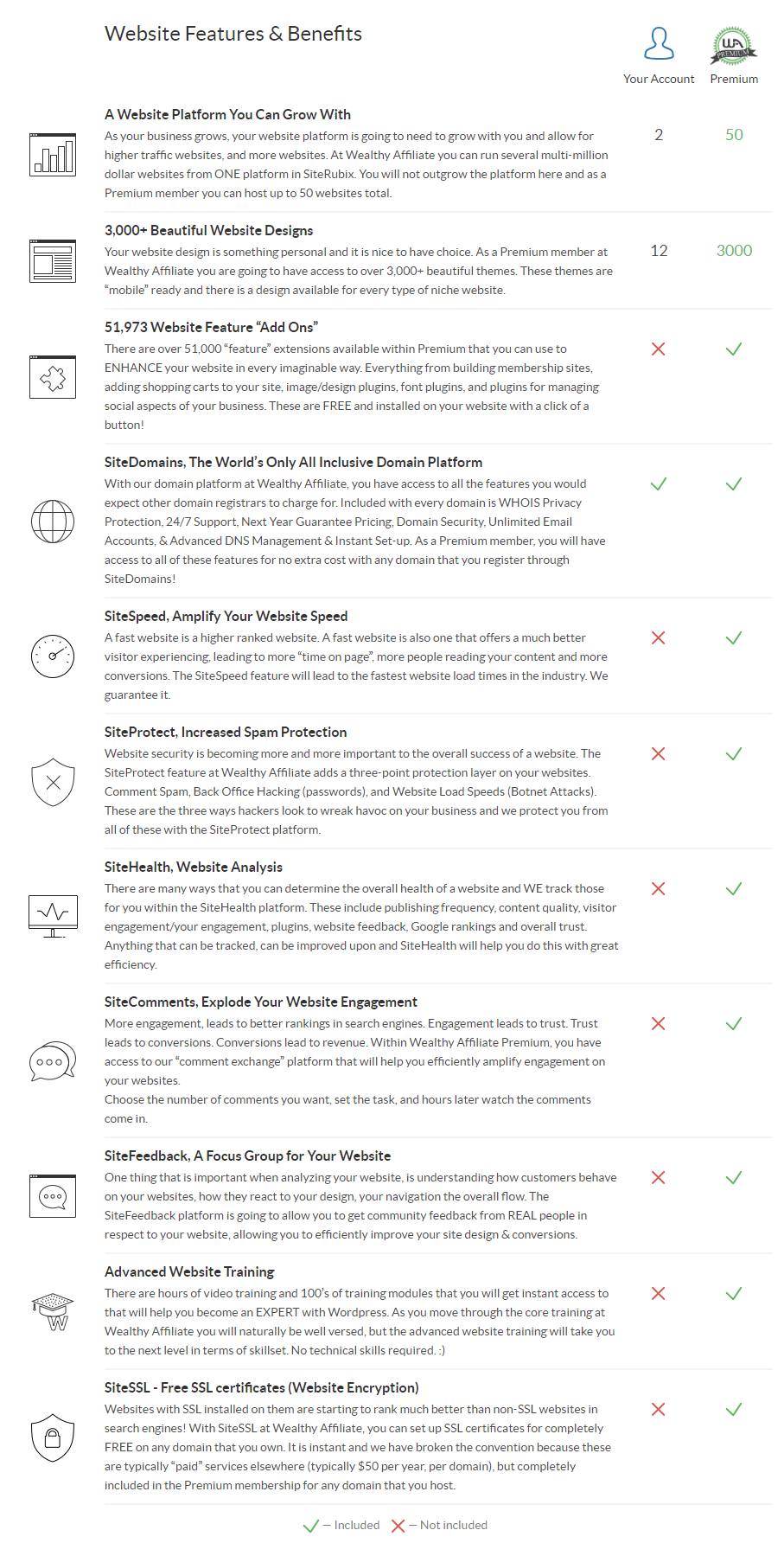 Conclusion
If your blog is just a fun way to pass your time and you are not going to monetize it, then the free version is just fine for you.
My recommendation:
Get your blog started with SiteRubix free as I showed you… Get to know the platform as much as you can… If at some point you realize that you are in need of unlocking its premium features to scale your blog and you like what you have seen, you can go ahead and upgrade your membership.
This is how it went for me and I am now using SiteRubix premium for more than 2 years, and I never looked back.
If you have any questions or need any further help or guidance from me, I encourage you to leave a comment below or email me at harry@dearboss-iquit.com.
You could also contact me through a PM on my Wealthy Affiliate Profile.
Whatever the case, I will get back to you as soon as possible.
My best regards to you,
Harry,
dearboss-iquit.com