Over the years, one of the questions I've been asked by hundreds of people newly introduced to affiliate marketing is…
"Can You Really Make Money With Affiliate Marketing?"
Yes, making money with affiliate marketing is absolutely possible. Truth is that millions of people, including me, earn affiliate commissions by promoting already existing products as we speak. Based on research, the worth of the affiliate marketing industry is expected to surpass $30 billion by 2025.
Right below, you can take a look at a screenshot of my PayPal account displaying some of the affiliate commissions I got paid back in July.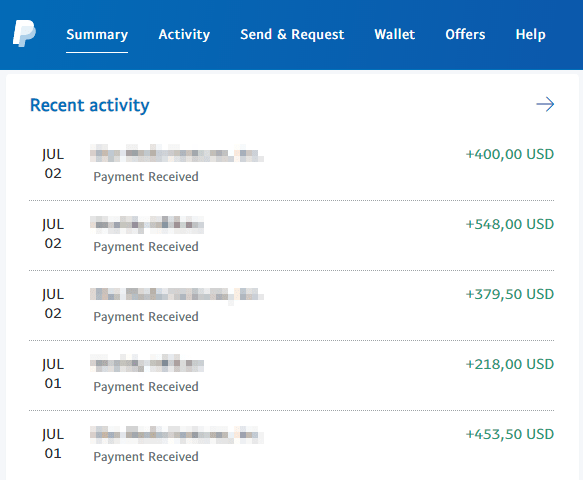 Furthermore, here's a screenshot of a pretty sweet $930 commission I earned via promoting a high-ticket product in just one day!

While achieving such results overnight is practically impossible, with hard work, dedication, grit, and patience, you could eventually be earning equally high daily commissions yourself!
If you're in need of more proof that making money with affiliate marketing is really possible, keep on reading…
1.6% of Amazon's Annual Revenue Is Paid to Affiliates
According to statistics, affiliate marketing is responsible for about 40% of Amazon's annual revenue.
With a 4% average affiliate commission rate, 1.6% of Amazon's total revenue lands into the pockets of its affiliates.
Amazon's annual revenue for 2020 was $386.1 billion.
As such, over the course of 2020, Amazon paid ($386.1 billion * 1.6%) = $6.1 billion worth of commissions to its affiliate marketers.
Amazon's affiliate program is just one among thousands that exist out there…
As a matter of fact, with affiliate marketing being utilized by over 81% of all US-based advertisers, there are over 11,000 affiliate programs in the US alone.
Some of the most notable companies that run highly profitable affiliate programs are:
Microsoft
Apple
Nike
Addidas
Walmart
Samsung
eBay
Etsy
& more
Furthermore, affiliate marketing is being leveraged by more than 84% of all US-based publishers (bloggers, YouTubers, influencers, etc) towards monetizing their content.
Having said all that, if there was no money to be made in affiliate marketing, no company, advertiser, or publisher would ever invest their precious time, energy, and money in utilizing the model.
Best Affiliate Marketing Courses
13% of Affiliates Make Over $75K per Year
According to an affiliate marketing benchmark report that was published by AffStat in 2016, 13% of all affiliate marketers make over $75,000 per year.
To be more specific:
48.36% made less than $20K per year
11.1% made $20K – $30K per year
5.88% made $30K – $40K per year
2.16% made $40K – $50K per year
2.64% made $50K – $75K per year
3.19% made $75K – $100K per year
6.39% made $100K – $150K per year
and 3.16% made over $150K per year
Those statistics place affiliate marketing among the most profitable online monetization models that currently exist.
To give you a frame of reference, according to some Multi-Level Marketing Statistics I put together a while ago, less than 3% of MLM reps make more than $25,000 per year while the percentage of affiliate marketers who make as much is about 25%.
This basically means that affiliate marketers are 8+ times more likely to make over $25,000 per year than MLM reps.
Furthermore, while 9.55% of affiliate marketers earn over $100K per year, only 0.05% of MLM reps manage to earn as much.
Subsequently, affiliate marketers are 191 times more likely to earn over $100K per year than MLM reps.
Lastly, a poll of 117 affiliate marketers that was held on the STM Forum revealed that:
18.80% made less than $20K per year
10.26% made $21K – $40K per year
10.26% made $41K – $80K per year
13.68% made $81K – $120K per year
12.82% made $121K – $200K per year
6.84% made $201K – $400K per year
7.69% made $401K – $800K per year
2.56% made $801K – $1 million per year
11.11% made $1.01 million – $2 million per year
and 5.98 made over &2 million per year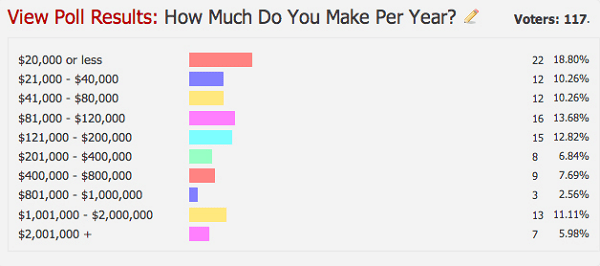 Affiliate Marketing Infographic
If you'd like to embed this infographic on your website, just copy and paste the code right below to your HTML editor:
(Click each question to expand)
Conclusion
Making money with affiliate marketing is undeniably possible…
However, the process of building an affiliate business that brings in a sizeable income online is no walk in the park but rather involves a steep learning curve, a lot of trial and error, consistent work, and massive patience.
Nonetheless, you could short-circuit and streamline your journey to affiliate success, by signing up for a dedicated high-quality affiliate marketing course.
Do you have any additional questions?
Leave a comment right below or contact me right here.
I'll be more than happy to help you out!
All the best,
Harry, Founder & Editor at dearboss-iquit.com