Just like a handyman or a doctor, your main aim as an affiliate marketer is to help out people.
To do that in the best possible way, you must have certain tools at your disposal.
Being equipped with the best tools will definitely make your job easier, faster, and more effective as well as improve the overall quality of your online business.
The result? More money!
In this article, I am going to let you know about the 11 best tools that every affiliate marketer should have.
I have been using every single one of those tools since day one and their combined action has helped me a ton into scaling my affiliate marketing business.
If you are a beginner you'll definitely find tools of great use in here.
If you are a more advanced affiliate marketer your toolbox might be way better and more complete than mine so let me know all about it in the comments below.
P.S. This list is going to be constantly updated so make sure that you come back to it once in a while to check for new mandatory tools for your online business.
Let's get this party started!
The 11 Best Affiliate Marketing Tools All Beginners Should Have
The affiliate marketing tools that I will be talking about are as follows
A website
Content management system
Grammarly
Pic Pick
Full page screen capture
Social Warfare
Image compressor
Google Analytics
Google Search Console
Yoast SEO plugin
Wealthy Affiliate
FYI, I've saved the best for last.
Best Affiliate Marketing Courses
1/ A Website
It is fairly obvious that to start making money as an affiliate marketer you need a medium to reach your audience.
For most affiliates, this medium is a website.
Building a website might sound scary and like a lot of work, isn't it right?
Wrong!
Nowadays, there are platforms and tools that enable even those who have no previous experience with such matters create their websites amazingly fast and almost effortlessly.
Back in the day, people had to code their websites for months before getting them up and running and would kill to have tools like those.
One of those tools is SiteRubix.
With SiteRubix you get everything needed to get your website up and running such as
Website builder
Domain name
Hosting
Did I mention that you can have all of that for free?
Check out How To Create A Blog From Scratch For Free In 5 Simple Steps Using SiteRubix yourself.
All of my websites up until now have been created with and are being hosted on SiteRubix.
2/ Content Management System
Just getting your website up and running is not enough to start making money as an affiliate though.
You have to keep customizing and scaling your website by adding content, plugins, social media buttons, images, menus, etc.
To do that you need a content management system.
WordPress, Joomla, and Wix are some examples.
SiteRubix is a WordPress-based platform so if you build your website with it, you'll get to manage your content through WordPress, which actually powers more than 25% of all the currently existing websites.
3/ Grammarly
Grammarly is a browser extension which highlights grammatical and spelling errors in your text and gives you suggestions on how to correct them.
This tool has greatly helped me improve my writing confidence, quality, and speed.
It is highly recommended especially for people whose native language is not English just like me.
You can download and install Grammarly on your browser in less than 10 seconds right here.
4/ Pic Pick
Pic Pick is a screen capture tool(an image capture, not a video capture).
For those who are running blogs and are not that comfortable with getting in front of a camera or recording a voice-over video, just like me, capturing images is the next best thing.
Images make your content more visual and engaging while decreasing the likelihood of your readers to get bored or tired of reading just huge chunks of text.
I am actually using a lot of captured images for my tutorials and product reviews and PicPick has truly untied my hands.
Some of the things you can do with PicPick are
Take screenshots of your entire screen, an active window or a specific region of your screen
Add effects, text, arrows, shapes, numbers on your image captures
and much more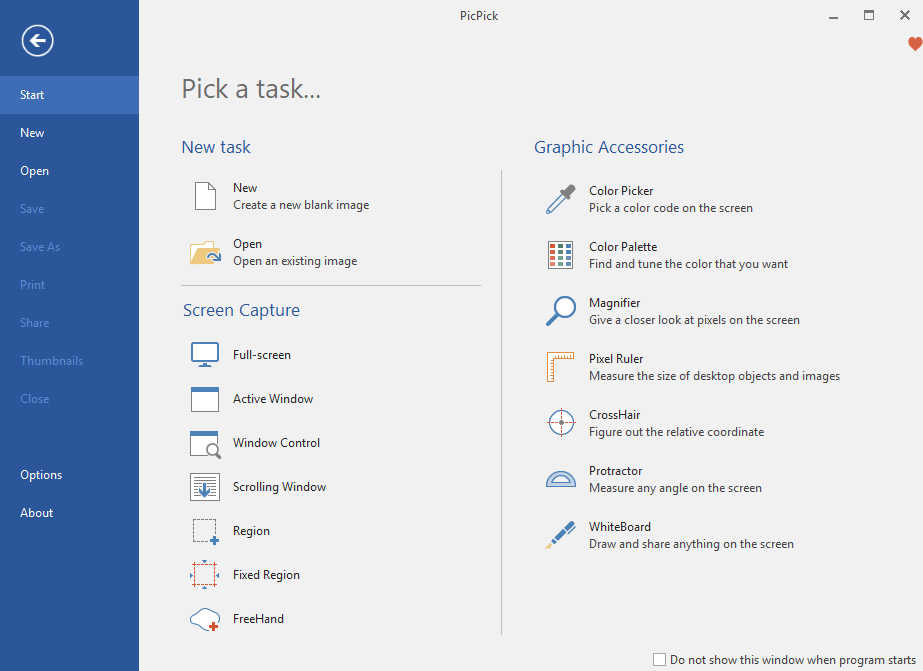 Pic Pick is maybe one of the most useful tools that I've come across until now.
You can download PicPick for free right here.
5/ Full Page Screen Capture add-on
This is yet another screen capture tool which is used to capture images of the full length of scrolling windows.
PicPick actually has a similar option but most of the time it does not really work for me so I had to look elsewhere.
To install this extension for your browser, go ahead and search in Google "Full Page Screen Capture add-on for Google Chrome or Firefox, or whatever browser you are using".
You can find the extension for Google Chrome right here.
6/ Social Warfare Plugin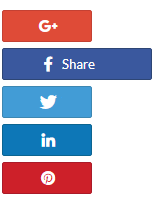 Social Warfare is one of the best social sharing plugins that I have tried so far.
As I am browsing the internet, I am coming across more and more websites which are actually using it.
The plugin is light, fast, minimal, and very easy to install, set up, and use, with lots of scalability and customization options to fit every need.
On the very left of the screen, you can see the floating buttons of the plugin in action.
You can take a look at my Social Warfare review over here.
7/ Image Compressor
Compressing all the images that you are about to use in your articles or basically anywhere on your website in general, dramatically decreases the loading time of your website.
Fast loading websites are actually ranked higher in the search engines and experience
increased conversion, click-through, and time-on-page rates
decreased abandon and bounce rates
To compress their images automatically many people are using plugins like Ewww Image Optimizer. In my experience, such plugins are not that effective(mostly because they are not compressing images enough to actually make a difference).
This is why I am compressing my images manually online using the CompressPng and CompressJpeg tools.
Those tools can compress your image up to 70% without any loss in quality whatsoever. It just takes a little more time compared to having a plugin automatically compress any image you upload on your website because you have to actually upload and download the images yourself.
However, the end result is definitely worth the trouble.
FYI, You can test the loading speed of your website using Google PageSpeed Insights.
8/ Google Analytics
Google Analytics is a website traffic monitoring tool.
It monitors all aspects of your traffic such as
How many visitors are coming to your website per day/week/month
The source that they came from(social media, search engine query, another website, etc)
For how long they stayed on your site
On what page they landed and on what page they went next
Their country
The device they are using
Demographics(age, gender, etc)
and many more
9/ Google Search Console
Unlike Google Analytics, Google Search Console monitors only traffic which comes from Google search queries and it lets you know
For which keyword search queries your website shows in the search results
How many times has your website appeared in the search results for any given keyword
On what position
How many people have visited your website and which keyword they used to find it
Links from other websites to yours
Page URL errors
Google indexing status
Mobile usability
and much more
The stats that you will be getting both from Google Analytics and Google Search Console can be used not just to monitor your progress but also to attain a deeper understanding of your customers and so make improvements to serve them in a better way and thus increase your revenue.
Both Google Analytics and Google Search Console are completely free to join and use.
You can install both of them on your website by adding pieces of code manually or by using plugins.
Below you can find two video walkthroughs for installing Google Analytics and Google Search Console on your WordPress website.
10/ Yoast SEO Plugin
Yoast is a search engine optimization(SEO) WordPress plugin.
Just as its name states, this plugin's job is to help you optimize your website for the search engines.
An optimized website has better chances of getting more of its content show up in the search engine results as well as in higher positions.
Moreover, it has a very useful built-in tool which lets you know about the readability of your articles and offers you suggestions on how to improve it.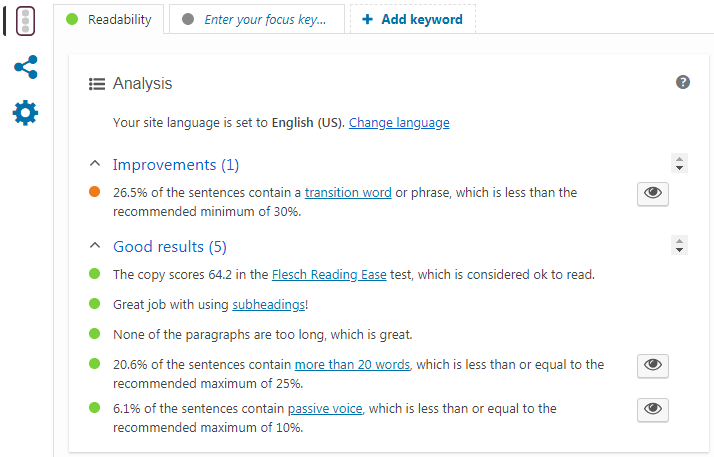 You can download Yoast SEO for your WordPress website right here.
11/ Wealthy Affiliate
Just like I told you, I've saved the best for last!
Wealthy Affiliate is an affiliate marketing training platform and the place where every aspiring affiliate marketer should be.
Wealthy Affiliate is where I started my very first affiliate marketing business back in 2016 and I definitely couldn't have gone that far without it.
Everything about it is state of the art… From its training modules to the tools, live chat, tech support, and webinars… Everything!
One of the most used of Wealthy Affiliate's tools is its keyword research tool, Jaaxy.
Jaaxy mainly helps you determine the average searches a keyword receives in Google per month, the number of visitors you will be getting if you rank on the first page of Google for this keyword, as well as how many websites are currently ranking in Google under the keyword(competition).
Based on those results, you can determine the keywords that you should use to build your articles around.
To find out everything about Wealthy Affiliate's features and tools, go ahead and check my Wealthy Affiliate: A Full Platform Review (2018 Update).
(Click each question to expand)
Conclusion
Just like you, there are thousands of people trying to become successful affiliate marketers and get their hands on the money.
To take the advantage over them, you need to become the best and there is no way to achieve that if the tools that you are using are not the best.
As an affiliate marketer, having the best tools at your disposal is definitely going to increase the scale and speed of your success dramatically.
Which tools are you using as an affiliate marketer? Which of those tools is helping you the most?
Please let me know in the comments section below.
If you have any questions or need any further help or guidance from me, I encourage you to leave a comment below or email me at harry@dearboss-iquit.com.
You could also contact me through a PM on my Wealthy Affiliate Profile.
Whatever the case, I will get back to you as soon as possible.
My best regards to you,
Harry,
dearboss-iquit.com