It's hard to find some decent affiliate marketing training out there. Believe me, I know!
This isn't the case because there is scarcity but because there are way too many options available and most of them are pure crap.
Too many courses, too many platforms, too many "gurus" claiming that their training is the one which could take a complete beginner and turn them filthy rich in no time.
Which one should you choose? Which one is going to cover your needs? Which one is the best?
Affilorama is just another instance among the hundreds.
So, is it any good? Is it worth the trouble? What makes it different? Is it legit?
To answer all your questions about Affilorama, I did my research, I read dozens of other reviews and I joined the platform in order to test drive it for a couple of months myself.
Now that I have enough information to compose the most thorough review possible I am ready to let you know all I think about it.
Warning: Please be advised that Affilorama seems to be changing constantly so by the time you are reading this review, it might not be that accurate in terms of product pricing, offers, discounts, platform features, etc. I will try my best to keep it up to date though.
A Brief Overview of the Affilorama Platform
Affilorama was founded back in 2005 by successful entrepreneur and affiliate marketer, Mark Ling.
Its aim is to help you learn how to make money through affiliate marketing, using similar steps and formulas that Mark Ling is currently using himself.
Affilorama can teach you all about affiliate marketing such as how to
Create your own website
Promote other people's products and services through your website
Earn commissions when people purchase what you are recommending
And most importantly how to improve your online business until it bears you a decent, steady, monthly, passive income.
Affiloarama is completely free to join.
As a free member, you get access to some basic training which is comprised of plenty of lessons, and tutorials in the form of blogs and videos to get you started.
Moreover, Affilorama offers a number of paid, more advanced training modules for those who are ready to take their affiliate marketing skills to another level and invest more in themselves and their business.
Best Affiliate Marketing Courses
Who is Affilorama for?
Affilorama is recommended for
total newbs having no experience with such matters whatsoever
people who have tried affiliate marketing with other courses or platforms but have failed
intermediate affiliate marketers who would like to scale up their business
Truthfully, Affilorama can benefit anyone who is involved with affiliate marketing, beginner or advanced.
Affilorama Training
As said earlier, Affilorama offers both free and paid training.
Free Training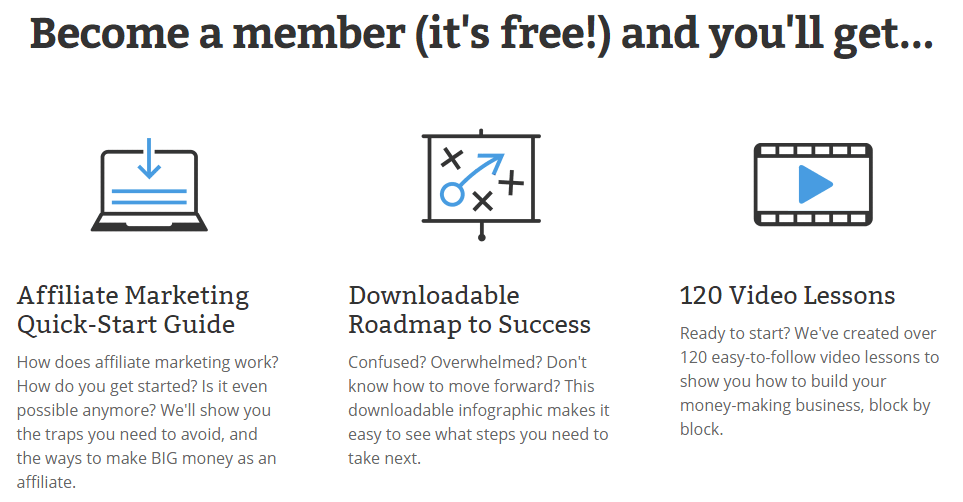 The free Affilorama training includes 100+ video tutorials on
niche and keyword research
content creation
email marketing
social media marketing
site-building
SEO(search engine optimization)
PPC(pay per click advertising)
affiliate outsourcing
and many more
Moreover, as a free member, you get access to the 32-page Quick Start Guide To Affiliate Marketing (Roadmap) downloadable PDF guide.
This guide is pretty awesome for people who are just starting with affiliate marketing as it lets you know about
What affiliate marketing is, how it works, and why it is a good idea
The 4 keys to building your affiliate marketing business and turning it into a success.
Finding a niche
Locating affiliate programs and products
Building your website
Creating your content
Email marketing(which in my opinion is too advanced and unnecessary for beginners)
Getting visitors to your website(important but not explaining keyword research that well)
Adding affiliate links to make a profit
Some very useful general tips that all affiliate marketers should know
In addition, you get basic, limited access to a suite of website monitoring tools called AffiloTools(we'll talk about those tools later on).
Lastly, you get access to Affilorama's blog, forum, and faq sections in case you have questions that need to be answered.
If you asked me, as a free member, you are able to get a great amount of information in exchange for nothing.
On the other hand, the quality of this information is not that great and maybe this is why it is actually given away for free. With a little google and youtube research, you could get way more valuable information and insights from more experienced affiliate marketers.
Moreover, unlike other affiliate marketing platforms, the free membership does not include everything that you need to get started with affiliate marketing, like web hosting, a site-building platform, a domain name, and a content management system.
Nevertheless, Affilorama could be a pretty great starting point if you're completely new to the world of affiliate marketing.
You can go ahead and join Affilorama for free to check it out for yourself.
Or maybe you would like to take a look at the affiliate marketing training platform which I have been a member of, for 2 years now.
Paid Training
Affilorama offers a number of paid training modules to those who are in need of a higher-quality, more detailed affiliate marketing training.
The first and cheapest option would be the
Pathway to Passive
Mark Ling calls this guide "The Ultimate 'READ ME FIRST!' guide for new affiliates".
In this guide, Mark Ling addresses some common problems that new affiliate marketers tend to be facing and discloses the 4-step formula to affiliate marketing success.
The pathway to passive will teach you how to
Find profitable niches and products and make your website stand out from all your competition
Choose the right topics and keywords to attract people who are more likely to buy the products you are recommending
Compose awesome product reviews
Convert your visitors into your customers and potential buyers
Create content that attracts links and shares(Getting other people to link to or share your content helps your website rank higher in the search engine results)
For just 37$ you get lifetime access to the Pathway to Passive guide.
AffiloBlueprint
AffiloBlueprint is mainly addressed to people who
Don't know where or how to get started with affiliate marketing
Have actually already created their first affiliate website and won't get any tangible results. They have tried several marketing techniques, but nothing seems to work for them. They feel stuck and on the verge of quitting. Or maybe they have already quit and they want to give affiliate marketing one more shot.
Mark Ling claims that AffiloBlueprint lays down a specific system that has been working for him on every single affiliate marketing website he creates.
It even worked for his 54 years old father enabling him to quit the job he had been working for 32 years and actually start earning more money by himself.
Basically, AffiloBlueprint teaches you how to
build your website
compose and publish posts that will draw more visitors to your website
identify and promote the products your visitors are more likely to purchase
If you are able to
handle a mouse, a keyboard, and conduct a basic google search
follow clear instructions
stay focused on your goals and remain patient until you reach them
then you are good to go.
Purchasing AffiloBlueprint gives you access to
90+ step by step video lessons
Actionable homework for you to do after completing each lesson
Downloadable lessons and course notes
Private member's forum(help and support available exclusive to those who have purchased AffiloBlueprint)
Lifetime access
Website building tool – AffiloTheme(basically just a WordPress theme costing 97$ and not a website building tool)
1-year free web hosting for 1 website
1-month trial of AffiloTools(basically useless since you can access it for free anyway)
The AffiloBlueprint costs 197$.
Mark makes it clear that this system won't make you successful overnight. It might actually take months to put the entire blueprint to action and start making any money as an affiliate.
However, he is way too confident that it will work that he is offering a 60-day money back guarantee, no questions asked.
If you believe that AffiloBlueprint might be something that could help you, you can go ahead and find out more about it right here.
Comparing to other online courses available which go for like 2000$, AffiloBlueprint is pretty cheap and most probably delivers way more quality content and value than them.
Nevertheless, there exist other affiliate marketing platforms which can provide even higher quality and value for considerably less money.
AffiloJetpack
AffiloJetpack basically targets those people who don't have the time or don't want to put in the time and effort to actually build their online business from scratch.
Mark Ling actually suggests that this system is a shortcut to making big money with the least possible amount of effort. ***Red Alert #1***
AffiloJetpack is basically a "plug-and-play" system which lets you choose 5 out of 18 premade niche websites and install them with just one click each.
Each website or "Jetpack" contains
premade high-quality emails for one year(90 emails, 500 words each) with built-in promotions for your affiliate products
20 content cheat sheets in order to create top-quality content faster than ever before
3 reports, 10.000 each to give away in exchange for your visitors' email
Website building system(AffiloTheme again)
1-year of free hosting for your websites
So basically all you have to do to start making money with the AffiloJetpack is
Pay 997$
Choose 5 of the 18 premade niche websites
Set them up with one click each
Use the cheatsheets to create some more content for your website
And voila! You are a businessman!
As Mark claims to get everything up and running, it takes somewhere between 6 hours and 6 days…***Red Alert #2***
Then everything runs automatically and people are just begging you to take their money…
I call Bullshit!
First of all, the sales page of AffiloJetpack itself is way too sales-y and fishy. Also, during this week that I am composing this very Affilorama review, I came across at least 3 different sales pages of the exact same product.
This means that Affilorama is A/B testing to see which sales page converts the best.
There is nothing wrong with A/B testing as long as all of the pages are describing what I am about to purchase equally accurately and not trying to trick me into buying with different claims, bonuses, discounts, etc.
Secondly, I believe that automatically generated content won't be that effective compared to creating it yourself. I would never use pre-made content if I was aiming for a high-quality helpful website which will last.
In addition, if you are a beginner and you get everything automatically generated for you, would you even have a clue about using it the right way?
Let me tell you something… There are no shortcuts to succeeding as an affiliate marketer.
I wouldn't recommend AffiloJetpack if my life depended on it.
The only person who could get AffiloJetpack to bear any fruit might be an intermediate or experienced affiliate marketer who knows his way around.
The upside of this system is that when it fails, you can get a full compensation of your money + 100$ "Total System Failure" as an apology for wasting your time(I don't really buy it but let's assume that it is actually true).
I believe that the only way a beginner could make money through AffiloJetpack is if they created 100 different Affilorama accounts, purchased the AffiloJetpacks on all of those accounts and started asking for the full money back guarantee + the 100$ "Total System Failure" guarantee.
This way you could easily make 10.000 literally without lifting a finger 😛
Nevertheless, many people claim to have succeeded by using AffiloJetpack.
I don't really buy it as they might have just made such statements to convince you to buy the package yourself in order for them to receive commissions… Or maybe they were more experienced affiliate marketers.
To tell you the truth, I would never even consider purchasing AffiloJetpack and if you are not an affiliate marketing expert, neither should you.
AffiloTools
AffiloTools is basically a website monitoring platform, kind of like a mixture between Google Analytics and Google Search Console.
Through it, you can track
Your website's health and performance
Traffic
Clickbank revenue
Keywords rankings
The backlinks to your website
You can also conduct
Keyword research
Domain name research
Backlink research(locate websites which will allow you to leave a backlink to your website through a guest blog, comment, or blog archive)
Lastly, you can manage your Facebook and Twitter accounts in the AffiloTools platform.
As a free member you get limited access to those tools but to tell you the truth, it is not something worth paying for.
I don't recommend even bothering with AffiloTools unless you already have an up and running website which gets a decent amount of visitors per month.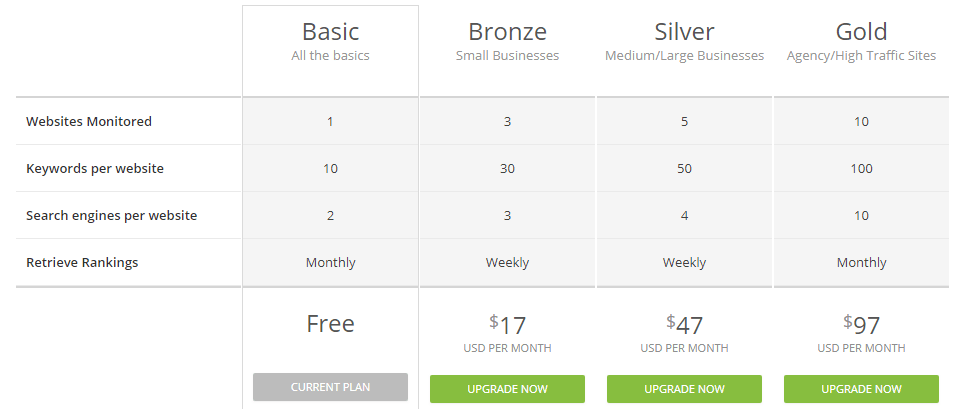 Important Note: Please be advised that I have not purchased any of the premium Affilorama packages or tools myself.
However, I have been a free member for almost a year now and I have browsed through the entire platform a million times.
Also, I have purchased several similar products in the past, I have used dozens of affiliate marketing tools, and I have been a member of another affiliate marketing platform for 2 years now so I believe that I have the experience to understand if Affilorama is worth someone's attention and money.
I might not know first hand what the premium content, training, videos, or help and support are all like but if it's anything like the free lessons and content, then I have some doubts about their quality.
Community and Support
The Affilorama community consists of over 300.000 worldwide members.
The only way to connect with any other member of the community is through the forum or private messaging.
The forum is kind of active, so your questions are unlikely to get answered straight away.
I have found out that the average response time from either another member or a forum moderator is over one day.
This is only logical if you consider that I was browsing the forum one evening and saw that there were only 6 members logged on!
The forum is basically a ghost town compared to the Wealthy Affiliate platform who has hundreds of active members ready to answer all your questions instantly any given day and time through a 24/7 live chat.
If you believe that you will have questions during your training and you might be in need of instant and accurate answers, Affilorama might not be the place for you.
Nevertheless, AffiloBlueprint gives you access to a private forum which might be more active and helpful. For some reason, I doubt that.
One huge downside of the Affilorama community is that you don't have access to Mark Ling. Of course, I'm comparing this to my own experience with Wealthy Affiliate again, where you have instant access to both its founders, Kyle and Carson, as well as the training chief, Jay.
Lastly, you could contact Affilorama support through an email or a telephone call.


Pros and Cons
Pros
60-day money back guarantees for all their paid training modules
You can get your hands on decent affiliate marketing training without spending a dime
You can stay a free member for as long as you want
Affilorama teaches you the basics of affiliate marketing helping you to build a solid foundation for your online business
Most products in this industry don't last more than a year. This Affilo-stuff has been around since 2005
Many training options to pay for, covering all kinds of needs
FAQ section
Telephone support
Access to public and private forums as well as Affilorama's blog
Professional-made training videos
Kind of structured training
Lots of success stories to motivate you
Cons
The free training is too general, not so structured, not that step-by-step, and not at all actionable.
The actual cost of most of the premium packages is relatively high if you take into account that affiliate marketers who are just starting are not making any money through it just yet
Too many upsells which confuse the user on which one should they actually go for
Overlapping features on different packages making it a little difficult to understand which one covers what needs
Most of its products cost too much money compared to its other counterparts
The free training content is basically designed to entice you into purchasing the paid training modules. It also seems that they are holding back the high-quality lessons only for those who purchase their packages
Limited to no fresh content
Their hosting is slow and not of high quality. This might actually hurt many aspects of your business
Out of date information and training which might actually do more harm than good
The training videos are not that thorough and explanatory… Hence, Affilorama might be considered unsuitable for absolute beginners who are taking their very first steps into online affiliate marketing and are utterly clueless
Unlike other affiliate marketing platforms, the free membership does not include everything that you need to get started with affiliate marketing, like web hosting, a site-building platform, a domain name, and a content management system.
Support is not that quick and accurate
In his review, Mister Wailor of learnaffiliatemarketingonline.org stated the following:
"The lessons are quite good.  But they have "How to Get Traffic to Your Website" under Introduction, which is a bit too advanced.  Maybe they put the lesson in a wrong spot. I took a look at the lessons on building a website, "Step-by-step: Building a Basic Web Page".  In this video, they show you how to build a simple web page with Adobe Dreamweaver and HTML.  This tutorial is totally out of date, no one is using HTML to build their website anymore.  This is a bit disappointing."
He is right! Are they going to teach us how to code a website? Why don't just use WordPress?
My Personal View
When I first landed on the website it took me a little while to get used to it because it is actually not that structured and easy to navigate.
I also got confused with all those upsells.
I eventually found my way around.
My first impression of the free training was quite positive, only until I started digging a little deeper because I discovered
outdated content
misleading forum posts
Confusing information about the prices and the features of the premium products which were actually alternating throughout the website
Staff answering forum posts inaccurately, mostly about the prices and features of their premium products again(I can't accept that the very staff working for Affilorama does not know the exact details, features, and prices of their own products)
I am an extremely demanding buyer and I am always researching deeply before spending my money on anything.
To tell you the truth, the only thing that I would consider purchasing through the Affilorama platform would be the Pathway to Passive, and that's purely out of curiosity and because it is not that expensive.
The landing pages of all the premium products are way too sales-y for my taste; they are constantly exaggerating on the results and they are definitely overselling the products.
I have tried a couple of other products created by Mark Ling(mostly online courses). All of them are exaggerating about the results that they bring to the same or even higher degrees.
Truthfully, I wasn't so impressed by the quality of their content and they definitely weren't delivering the promised results.
That is why I am reserving my hopes for the premium packages on Affilorama as well.
I believe that Mark is an amazing salesman but the quality of his products is lacking and this is why I don't really trust him that much.
(Click each question to expand)
Summing Up
Affilorama's free content is decent enough but definitely not the best. Nevertheless, you have nothing to lose trying it out.
I think that anyone, especially absolute beginners could benefit to some degree from it.
Just start with it and you'll see how it goes.
Don't go for any of the premium packages just yet. First, finish all the free training. This way you will be able to make an informed decision on which package to purchase later on if you deem necessary.
To tell you the truth, I would never go for any of the premium packages, especially the AffiloJetpack as I believe that they would be a reflection of the whole Affilorama platform which I consider of mediocre quality overall.
I truly believe that there exist way better affiliate marketing platforms, such as Wealthy Affiliate, in which I have been a member for 2 years now and I am nothing but 100% satisfied.
Go ahead and take a look at my Wealthy Affiliate Review to find out more about it yourself. Or you could join it for free right here to test drive it yourself.
If you have any questions or need any further help or guidance from me, I encourage you to leave a comment below or email me at harry@dearboss-iquit.com.
You could also send me a PM at my Wealthy Affiliate Profile.
Whatever the case, I will get back to you as soon as possible.
My best regards to you,
Harry,
dearboss-iquit.com