I know first hand that the idea of earning a passive income is alluring but is this actually the case with online affiliate marketing?
The truth is that thousands of people are already making a passive income online through their affiliate marketing businesses and hundreds of thousands, apparently including you, are attempting to achieve the exact same thing.
However, to reach that sweet spot of earning a passive income, a lot of time and effort is required on your part, especially if you have no experience with such matters.
Nevertheless, most of those who have already succeeded had no experience either when they first started but that didn't stop them from turning their businesses into passive income streams.
The Truth About Passive Income
Wikipedia defines passive income as income resulting from cash flow received on a regular basis, requiring minimal to no effort by the recipient to maintain it.
However, this cash flow won't be falling out of the sky. There has to be something that actually produces it such as stocks, property, or a business.
This automatically means that in order to create a passive income, some kind of investment has to take place.
For example, in order to be making a passive income through renting property, you first have to buy it. This requires an investment of a huge chunk of your money which automatically rules out people who don't have enough to invest or just don't want to take the risk.
In the case of affiliate marketing, you risk nothing. Its potential is amazing, and if it fails you, you won't have lost more than 50$ and some of your time and energy.
This is why such a huge portion of the population is currently after it.
Best Affiliate Marketing Courses
Online Affiliate Marketing Overview: What is it?
Online affiliate marketing means recommending other people's products to an audience through an online channel such as a website, a video, or a social media platform.
When someone purchases some of the products you are recommending, you are earning commissions which are usually a percentage of the total price paid by the customer.
The channels that I have been using since day one to reach my audience are websites. Blog4cash is one of those websites.
On those websites, I publish helpful articles on several subjects and then I send my readers to the reviews of products or services which I believe would help them solve their problems.
In those reviews, I include affiliate links which if clicked, will redirect my visitor to the merchant's website where they can purchase the product or service.
If any of my readers actually purchase this product or service, I am earning commissions.
This is affiliate marketing in a nutshell.
How is Affiliate Marketing Passive Income?
Affiliate marketing can't produce passive income by itself. The passive income is generated through the means you use to bring visitors to your website.
Some of the means you can use to market your content are
Social media fan pages
Social media sponsored posts(paid advertising)
Google search(organic traffic)
Google AdWords campaigns(paid advertising)
CPA(Cost Per Action) campaigns
etc
However, not all of those means can result in making a passive income.
For example, getting visitors to your website by posting your articles on a Facebook fan page cannot result in earning a passive income.
This is because an article posted on Facebook is going to be read only by a small fraction of those who noticed it on their Facebook news feed.
Despite the article remaining on your Facebook fan page forever, no person will ever bother going to your fan page's wall to browse for articles.
Since this is the case, you have to keep posting articles daily in order to get more people to visit your website and purchase the products you recommend and you have to keep doing this if you want to keep making money.
On the contrary, focusing your attempts on getting your articles to show up in the Google search results is the best way towards earning a passive income.
With Google search, people are actually searching for the information contained in your articles… They do not just read them because they just came up on their social media news feed.
Also, people will always be using Google to locate information contained in your articles. This is why an article that you publish now will most probably keep attracting visitors and making you money for the years to come.
Google is open 24/7, your website is open 24/7 as well. So as long as people are looking for information relevant to your website, you will keep getting visitors and making sales.
Thus, affiliate marketing does not bring a passive income by itself. The passive income comes through the free Google traffic, or else, those people who visit your website after they query a relevant term in Google search.
Of course, there is nothing wrong with promoting your articles through social media and paid advertising but if you want to be making a passive income through them, you have to focus your efforts on getting them ranked in Google.
How to Get Started With Affiliate Marketing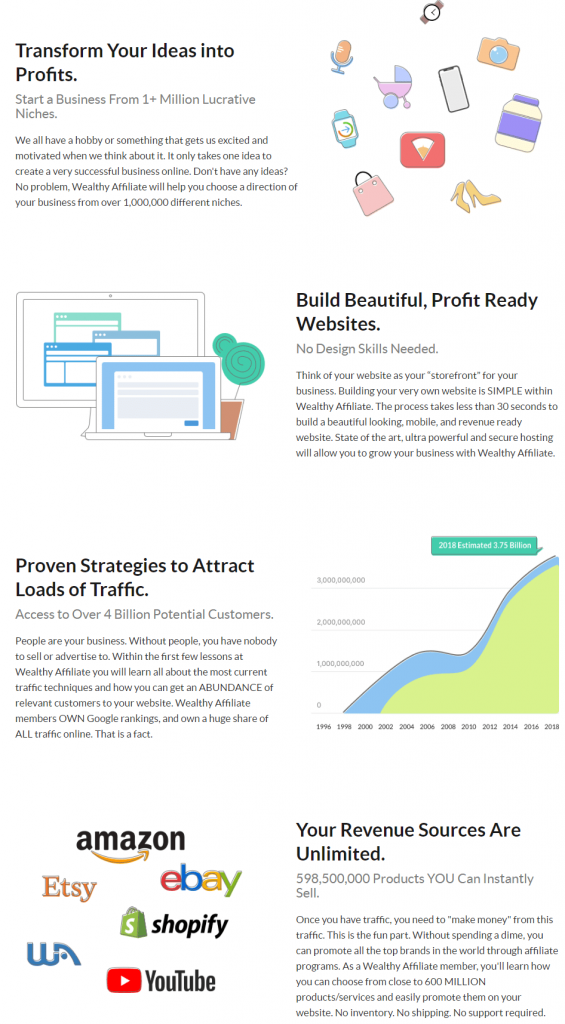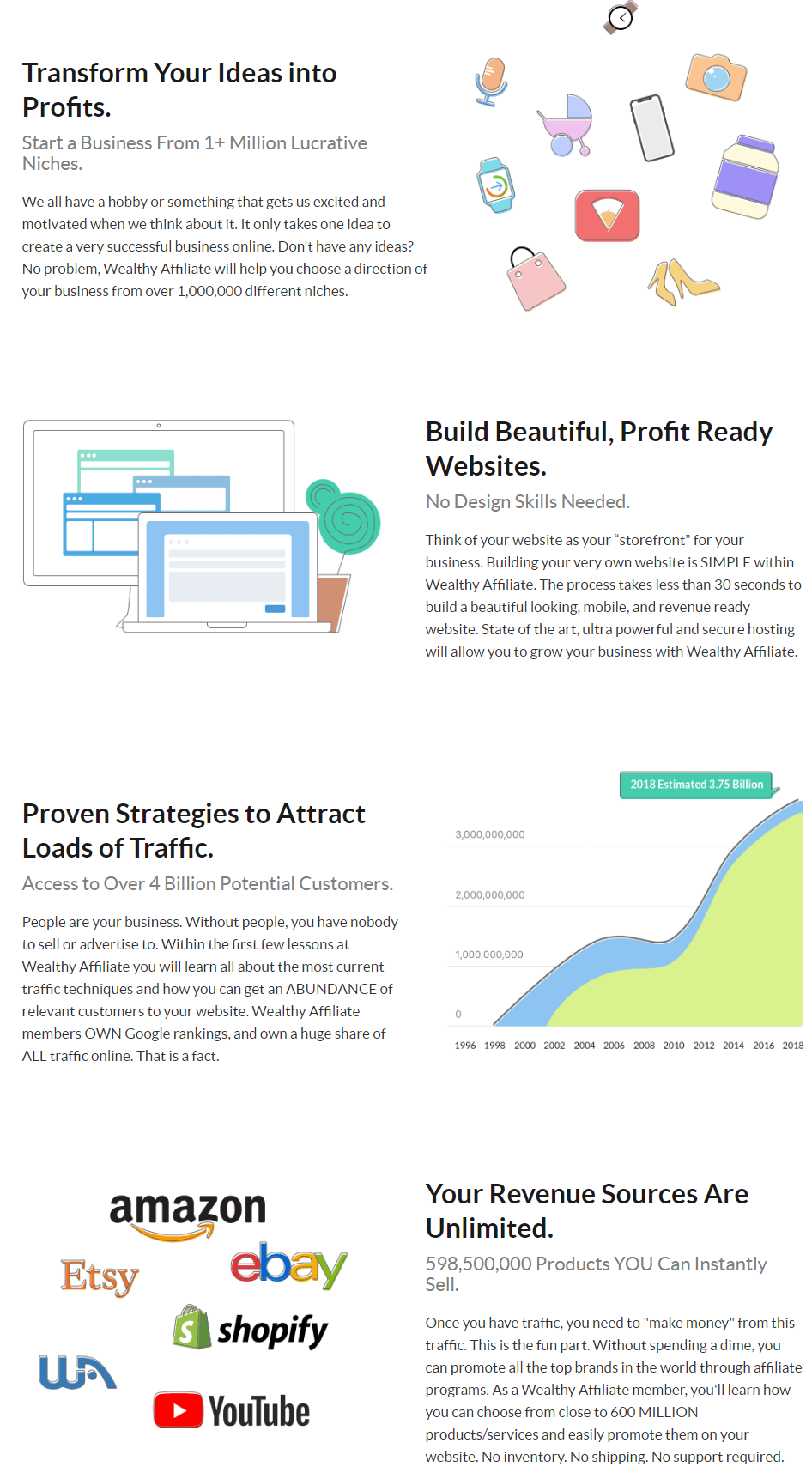 Getting started is easy… Making your business deliver a passive income is not… It takes time, effort, and nerves of steel.
However, before reaching the passive income milestone, you have to take your first steps and get started.
First of all, you need a niche for your website.
A niche is basically a group of people who are interested in the information in your articles. Those people will be buying the products that you will are recommending.
For example, this website's niche is beginners to affiliate marketing. 99% of my articles are focused on people who have just begun or are about to begin their affiliate marketing business.
The products that I am recommending are products which will help them get started with affiliate marketing.
It's that simple.
Some niche ideas are
Women's shoes
Vegan diet
Computer networks
Essential oils
Bonsai trees
etc
After you have chosen your niche, you have to build your website. Buiding a website might sound a bit scary but I ensure you it's not.
It took me less than 2 minutes to create mine and it was as easy as breathing.
Take a look at this website-building tutorial to see for yourself.
After building your website, you have to set up some of its parameters, install plugins, get it ready for the search engines, create menus, etc.
When you complete this process, which won't take more than 1 hour, you are basically a business owner.
Now all you have to do is keep publishing helpful, informative articles. You will be using techniques such as long tail keywords to help Google rank your articles in higher positions of the search results.
Once an article is published and ranked, it will keep appearing in the Google search results when certain queries are made.
This way, people will keep visiting it indefinitely.
Lastly, you will have to join affiliate marketing programs, get affiliate links, and include them throughout the content of your articles. When your visitors click those links they will get redirected to a sellers website where they can buy products. If they buy the products, you will be earning money.
Having a website, with 50 articles, which get 10 organic visits(visitors coming from search engine queries) daily each, equals 500 daily visits. If 1% of those visitors(5 visitors) purchase a 50$ product you are recommending, and you are getting a 50% commission(25$) for every sale you make, this means that you are making 100$ a day. This equals to 3000$ a month.
Let's recap.
To get started you need to
Find a niche
Create your website
To improve your business you have to keep repeating those 4 steps below
Publish helpful articles
Employ ways to bring visitors to your articles through Google search
Join affiliate programs
Include affiliate links in your content
This is the way to earning a passive income through affiliate marketing.
Your #1 Goal is Getting Organic Traffic
Every step just mentioned might seem like a lot of work but believe me that finding your niche, building your website, and joining affiliate programs are a child's game compared to getting organic traffic to your website.
Getting organic traffic is what will turn your income into passive as well as your main concern.
That's why most of your time and effort is going to be invested towards creating low competition articles that will rank as close as possible on the first pages of the search results.
Getting organic traffic is going to take time but once you start getting some, it will never stop. The trick is to keep publishing quality content targeted to your niche.
9 Reasons Why Becoming an Affiliate Marketer is a Good Idea
1/ You Don't Need to Own a Product
The fact that you get to create your business without having to create a product of your own is one of the reasons that I got into affiliate marketing myself.
No production and shipping efforts and costs
No inventory and packaging
No customer service and support
No returns
Less time and effort
No risk
etc
Your sole job is to recommend the product. Everything else is basically taken care of by the merchant.
2/ Very Low to No Start-Up Costs
The amount of money that you need to get started with affiliate marketing won't surpass the 25$.
15$ for your domain name
10$ per month for website hosting
You can even get started entirely for free by joining the affiliate marketing training platform I joined, called Wealthy Affiliate.
In there, they will provide you with free domain names, and free hosting for as long as you like, no catches whatsoever.
With Wealthy Affiliate, I literally spent nothing to get my first affiliate marketing business up and running.
3/ You Get To Be Your Own Boss
Since the business is yours, you are the one who determines every aspect of it.
You get to wake up anytime you want, work for as many hours as you want, take a break when you want, shape it as you want, etc.
Also, you have the ability to work on your business from literally anywhere in the world. You could take your laptop or tablet and go up on a mountain, by a beach, in a library or a cafe.
Whatever inspires you the most.
Everything is up to you! You can do whatever you want whenever you want, wherever you want.
Many people actually take up affiliate marketing as a way out of their day jobs.
4/ High Income Potential
Many people ask: "How many money can I make from affiliate marketing?"
The answer is, "As much as you like!"
The more time and effort you put on your online business, the more money you earn.
Your income potential is limited only by yourself.
5/ More Free Time
When you have managed to be earning a passive income through your affiliate marketing business you can slow down and just maintain it by posting 1-2 articles a week.
This translates to a maximum of 10-15 hours of actual work per week.
It actually needs a lot of work upfront to reach that point but if you asked me, it is totally worth it.
6/ Earn While You Sleep
Or while you are out with friends… Or while you travel.
I have heard of affiliate marketers who have made their income so passive that they travel for several months, only to come back to find their bank account with more money than they had before they left.
Again, this is not something that will happen at once, but given the right time and effort, it is highly possible.
7/ Lowest Possible Risk
Since you can get started for free, if it does not work for you, you do not lose anything in the process except the time and effort you put.
This makes affiliate marketing a pretty much low-risk business opportunity.
8/ No Previous Experience Required
As stated earlier, most of those who have already become successful affiliate marketers had no experience when they first started.
That didn't stop them from turning their businesses into passive income streams.
There is a plethora of training to help you out and in conjunction with some trial and error and perseverance, anyone could achieve the exact same thing.
Inside the Wealthy Affiliate platform which I am a member of for 2 years now, I have connected with successful entrepreneurs ranging from the age of 16 to 70 years old.
9/ Do Something You Care About
The good thing with affiliate marketing is that you can create your business around any subject you want.
Do you like yoga? Maybe dogs? Flowers? Bodybuilding? Whatever your interest is, you can make money by writing about it.
There exist millions of products to promote in any given niche.
No limits whatsoever.
If you are not doing what you love, you are wasting your time. – Billy Joel

 
(Click Each Question to Expand)
Final Thoughts
I believe affiliate marketing is the simplest way to build a passive income online because you don't have to create your own product or build an audience of people who want to buy it.
Rather, you find a product that is already being bought by an audience and attempt to reach this audience online and market the product to them.
If you want to build a passive income online, affiliate marketing is as close as you can get.
The good news is that there exist affiliate marketing platforms that can teach you everything you need to know on the subject.
The one that made it possible for me is called Wealthy Affiliate. Go ahead and take a look at my Wealthy Affiliate review to find out more about it.
Spoiler alert… you can join it and build your first affiliate marketing business, entirely for free.
If you have any questions or need any further help or guidance from me, I encourage you to leave a comment below or email me at harry@dearboss-iquit.com.
You could also contact me through a PM on my Wealthy Affiliate Profile.
Whatever the case, I will get back to you as soon as possible.
My best regards to you,
Harry,
dearboss-iquit.com