As years pass and circumstances change, more and more people seem to become interested in earning a few extra bucks from the comfort of their homes by investing as little time and effort as possible.
Since you're here, I'm guessing that you are one of those people and that you recently came across SuperPay.me.
However, before signing up for the platform, you'd like to find out what it's really about… Does it pay? How much money can you earn with it? What kind of money-making opportunities does it offer?
Well, worry not because in this SuperPay.me Review, I'm going to share with you all the information you might possibly need to fully understand whether SuperPay is really worth your time and attention or not.
Let's get started!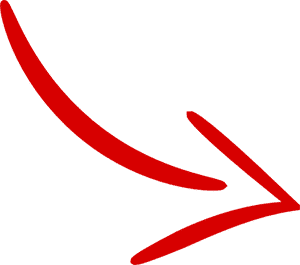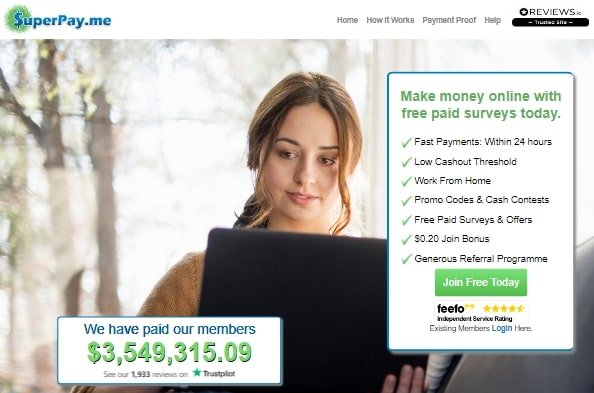 SuperPay.me is a legit GPT (Get Paid To) platform that enables you to generate money online by taking part in a variety of very simple tasks, such as filling in surveys, watching videos, playing games, making referrals, signing up for free trials, and shopping online.
The platform was launched back in 2012 by a UK-based advertising company, 99 Ventures LTD which also owns and runs two other GPT websites, RewardingWays and Offernation.
At the moment I'm putting together this review, SuperPay.me has more than 600k members to whom it has paid over $3 million.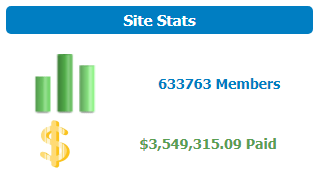 SuperPay is mainly addressed to people who are interested in:
earning some side cash online
pocketing a couple of gift cards to their favorite retail stores
and/or saving money off of their online shopping
in their spare time or while on the go without much fuss or effort.
However, if you're after building a sizeable monthly online income, then I suggest that you take a look at something else.


How Does SuperPay.me Work?
Unlike most GPT websites out there that reward you either in cash or points, SuperPay can reward you both in cash and points, depending on the tasks you take part in and complete.
The cash earned through SuperPay can be directly withdrawn to your PayPal or Bitcoin account.
The points can be either redeemed for Tango Gift Cards or converted to cash.
1 SuperPay point is worth $0.01.
Upon joining SuperPay.me, you'll automatically receive a $0.20 signup bonus.
After that, you're good and ready to start participating in SuperPay's money-making opportunities which basically consist of:
Filling in Surveys
Offer Walls

Online Shopping Cashbacks
Playing Games
Watching Videos
Installing Applications
Signing up for Free Trials

Cash Contests
Redeeming Promo Codes
Making Referrals
Let's take a closer look…
SuperPay's most popular money-making opportunity is filling in surveys.
All the surveys you'll come across within SuperPay are not actually provided by SuperPay but rather by several 3rd-party survey providers SuperPay has partnered with, such as:
YourSurveys
DailyPaid surveys
CPX Research
PollFish Surveys
TapPaid Surveys
& more
The majority of the surveys aggregated to SuperPay compensate you in cash, not points.
The average survey lasts from 10 to 30 minutes and is worth anywhere between $0.1 and $2.
Usually, the longer the survey is the more cash it'll be worth.
The estimated amount of time it takes to complete a survey, as well as the amount of money it's worth is disclosed beforehand.
This way, you can make an informed decision regarding whether you should invest your time and energy in any given survey or not.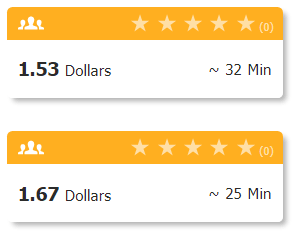 Depending on your demographics and interests, you might eventually stumble upon surveys that are worth $5 or maybe even more.
In a nutshell, Offer Walls are pages that consist of a variety of tasks that reward people with cash and/or points for completing them.
SuperPay aggregates all of its Offer Walls from a bunch of 3rd-party providers it has partnered with, such as:
PeanutLabs
AdGate
OfferToro
Revenue Universe
& more
The most common money-making tasks that you'll be coming across on these Offer Walls include:
Online Shopping Cashbacks
Playing Games
Watching Videos
Installing Applications
Signing up for Free Trials


Online Shopping Cashbacks
Receive a cashback in the form of points and/or cash for purchasing products/services via SuperPay's Offer Walls.
For instance, right now, SuperPay will credit you with 3300 points ($33) as cashback for purchasing a 1-year TunnelBear subscription that costs $49.99 through Revenue Universe.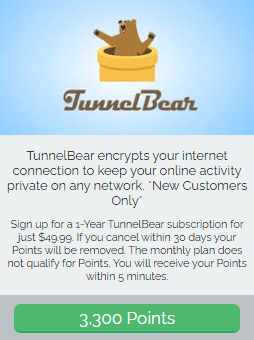 That's a 66% cashback!
However, please note that SuperPay's Offer Walls offer cashback for just a handful of very specific products/services.
On the contrary, Swagbucks offers cashback rebates for purchases from dozens of major online retailers, including
Amazon
Walmart
AliExpress
Starbucks
& more
Some of SuperPay's Offer Walls will also reward you with points for installing and playing games on your desktop/tablet/mobile, such as
War Thunder
CrossOut
Lords Mobile
& more
Please note that before getting credited with points for playing any of those games, you'll probably be requested to complete some specific objectives within them.
For instance, as you can see in the image right above, to receive 102 points for playing War Thunder you first have to register, download the game, open it, and play for 15 minutes.
Likewise, to receive 240 points for playing Lords Mobile you first have to reach Castle Level 11 within 20 days after you installed the game.
If you like playing online games in your spare time, then you can earn some cash simply by downloading and installing them through SuperPay's Offer Walls.
Another way to generate points on SuperPay's Offer Walls is by watching videos on a variety of subjects, such as:
Food
Viral
Movies
Technology
Gaming
Celebrity Gossip
etc

Each video could last anywhere between 5 and 20 minutes and is worth a standard 66 points ($0.66) regardless of its duration.
Please note that if you open a video and then minimize your browser window or navigate away to another tab, the video will automatically stop playing.
In order for SuperPay.me to credit you for watching a video, you'll actually have to sit through its entire duration.
Get paid for downloading and installing applications via SuperPay's Offer Walls.
Every time you do so, the app's developer pays the Offer Wall provider a small advertising fee.
Then, the Offer Wall provider shares part of its earnings with SuperPay, which in turn shares part of its earnings with you.
For instance, right now, SuperPay will credit you with 343 points ($3.43) for installing the Focusly app on your Android or iOS device.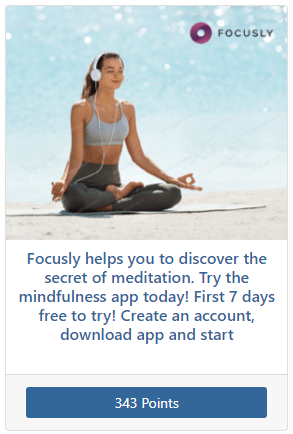 Signing Up for Free Trials
Receive credit in the form of points for signing up to free trials that you can find on SuperPay's Offer Walls.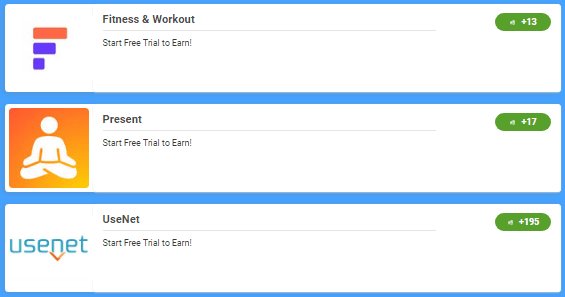 Those free trials could revolve around mobile or desktop applications, online services, software, products, membership platforms, etc.
SuperPay.me holds four quarterly Cash Contests per year.
Those Cash Contests Pay an extra $1000 divided among the 20 members who have managed to generate the most money with the platform over a predetermined 3-month period (quarter).
All of SuperPay's members are automatically included in all of the platform's quarterly Cash Contests for free.
The distribution of each Cash Contest's $1000 prize takes place as follows:
1st Position: $350
2nd Position: $200
3rd Position: $100
4th & 5th Position: $50
6th to 10th Position: $30
11th to 20th Position: $10
Another way of pocketing a little bit extra cash within SuperPay.me without any effort whatsoever is redeeming Promo Codes.
Promos Codes are strings of text and numbers that can be found on SuperPay's social media pages.
Once you get your hands on a Promo Code, you can redeem it within SuperPay for $0.10 – $0.20.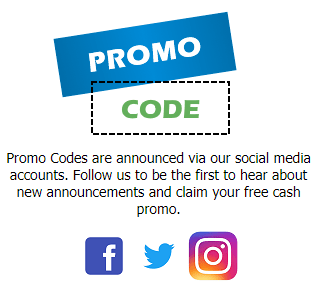 SuperPay's last money-making task consists of referring other people to it.
More specifically, SuperPay.me will reward you with 25% of all the cash and points your referrals generate by taking part in its tasks.
Granted enough referrals, your monthly SuperPay earnings could skyrocket to hundreds of dollars.
For instance, if during this month, 20 of your referrals generate $50 each (a total of $1000), at the end of the month, SuperPay will automatically credit you with $250, completely hands-off, even if you haven't completed a single of the rest of its tasks.


How Does SuperPay.me Pay?
SuperPay.me enables you to withdraw the cash and points you've generated by taking part in its money-making activities in 3 different ways:
PayPal/Skrill/Payza
Bitcoin
Tango Gift Cards
1 – PayPal/Skrill/Payza
Withdraw your cash directly in your PayPal, or Skrill, or Payza account.
The minimum cashout threshold for a PayPal/Skrill/Payza redemption is just $1.
All PayPal/Skrill/Payza payments are processed and paid within 24 hours.
Nonetheless, SuperPay.me offers you the option to request one instant PayPal redemption per day.
Lastly, SuperPay.me charges a 2% processing fee on all PayPal and Skrill redemptions.
2 – Bitcoin
Withdraw your cash directly in your Bitcoin account.
The minimum threshold for a Bitcoin cashout is $60.
All Bitcoin payments are processed and paid within 24 hours.
Lastly, SuperPay.me charges a 10% processing fee on all Bitcoin redemptions.
3 – Amazon Gift Cards
Enables you to redeem your points for Tango Gift Cards.
Tango Gift Cards can be redeemed in a variety of major retailers such as Amazon, Walmart, Starbucks, Nike, and many more.
Please note that in order to be allowed to redeem a Tango Gift Card, you must have successfully withdrawn cash through PayPal, Skrill, Payza, or Bitcoin at least one time.
Lastly, be aware that upon requesting your first cashout, SuperPay's team might require you to verify your identity by sending them over an ID, driver's license, and/or utility bill.


How Much Money Can I Make With SuperPay.me?
The amount of money an average person can generate by completing tasks for SuperPay ranges between $100 and $150 per month.
Nonetheless, there are definitely people who are generating 2, 3, or maybe even 4 times as much with the platform.
For example, the screenshot right below displays the top 5 earners of the Cash Contest that started in July and ended in September 2020.

During those 3 months, the user "lostinwoods" generated a total of $2851. That's $950/month!
In addition, 
"Leticiatorres422" generated a total of $2531 or else $843/month
"dismalpoet9" generated a total of $2502 or else $834/month
"sportsfan189" generated a total of $2253 or else $751/month
and "DawgzzSC" generated a total of $2148 or else $716/month
If those numbers are accurate and not made up, then SuperPay.me could be considered one of the highest-paying GPT platforms I've reviewed until now.
For the most part, your monthly earnings with SuperPay.me depend on two main factors:
the number of tasks you complete
and the amount of cash/points each of those tasks is worth
According to my own research and experience, SuperPay's most profitable money-making tasks are filling in surveys and making referrals.
Nonetheless, I suggest that you conduct your own experiments, figure out which of SuperPay's tasks enable you to generate the most points in the least amount of time and with the least amount of effort, and just stick with those.
Joining SuperPay is extremely straightforward…
First, head over to superpay.me
Click on the "Join Free Today" button
Fully fill in the signup form
Agree to SuperPay's Terms of Service and Privacy Policy
Hit "Create Account"
Congrats, you can now start earning money from home by taking part in SuperPay's money-making opportunities!
Since it was first launched back in 2012, SuperPay.me has received some pretty positive feedback and high ratings from people who have utilized it.
For instance, SuperPay.me has been rated with:
Right below you can take a look at what some people have to say about their experience with SuperPay.me:




2 • Low Cashout Threshold
SuperPay's minimum cashout threshold for PayPal, Skrill, and Payza cash withdrawals is just $1.
This basically means that you can request your first SuperPay payment after filling in just a couple of its surveys, something that won't take more than an hour.
SuperPay's payment threshold is one of the lowest in the GPT & survey industry.
Unlike many other GPT & survey panels, SuperPay.me processes and pays all requested cashouts lightning-fast, within 24 hours.
Most of the time, PayPal/Skrill/Payza withdrawals get paid much faster, within 2 -8 hours after requested.
That's extremely fast compared to let's say Opinions 4 Good that pays its members only once per month.
SuperPay.me is available in almost all countries across the Americas, Europe, Asia, Australia, and Africa.
Wherever you're located, chances are that you're able to join and utilize SuperPay towards earning some extra money online.
Please note that you need to be at least 18 years old to be allowed to join SuperPay.


1 • Survey Disqualifications
A rather frustrating issue that you'll be coming across within SuperPay is getting disqualified from quite a lot of surveys.
This is the case because, at the beginning of each survey, you'll be required to answer a bunch of screening questions and if your answers don't match its target demographic, you won't be allowed to participate in it.
As you can understand, this means that you could potentially end up wasting quite a lot of time and energy answering screening questions only to get disqualified without receiving any compensation.
Nonetheless, this survey disqualification issue isn't exclusive to SuperPay but rather quite common among the majority of GPT & survey websites out there…
Unfortunately, unlike Swagbucks, SuperPay won't credit you with any cash or points for survey disqualifications.
If you hate being disqualified from surveys, then you should consider checking out Prolific, as it forbids its researchers to run screening tests for disqualifying study participants.
Over the years, many SuperPay members have complained about having their account shut down out of the blue due to alleged violations of the platform's Terms of Service.
Now, I don't want to play the devil's advocate here but chances are that most of those who had their account shut down had indeed either intentionally or unintentionally violated SuperPay's TOS.
For instance, on its Terms of Service, SuperPay clearly states that more than one account per household is not permitted. This means that if you and your spouse both join SuperPay.me chances are that you'll eventually both get terminated.
In addition, a person who is operating more than one account at the same time is considered a fraud.
Furthermore, providing false personal information (name, address, country, zip code, etc) is prohibited.
Using Proxy, VPN, public internet connections, shared IP addresses, or shared computers also results in account termination.
To minimize the chances of having your SuperPay account terminated out of nowhere, make sure that you read and follow SuperPay's Terms of Service to the letter and at all times.
As mentioned earlier, SuperPay.me charges a 2% processing fee on all PayPal and Skrill withdrawals and a 10% processing fee on all Bitcoin redemptions.
Frankly, SuperPay is the only GPT platform I've personally come across that withholds part of your earnings in exchange for paying you.


4 • Not Mobile Responsive
The last thing that I don't like about SuperPay.me is that it's not mobile responsive.
If you attempt to access SuperPay through a mobile device, you'll be presented with the platform's desktop version scaled down to the dimensions of said device.
This means that if you'd like to participate in SuperPay's money-making tasks from your mobile phone, you're going to have a very hard time utilizing the platform.
That's extremely inconvenient…
Nonetheless, it is said that in 2019, SuperPay.me released a mobile application that would allow its users to easily utilize the platform through mobiles and tablets.
However, I couldn't locate that SuperPay.me app neither on their official website, nor on Google's Play Store or Apple's App Store.
Ultimately, if you want to make the most out of SuperPay.me you'll have to access it through desktop or laptop devices.


SuperPay.me Review Summary



There are people who are earning more than $500 per month by completing tasks through SuperPay.me.
Pretty simple to utilize on desktop devices, but it's not responsive on mobile devices.
Complete surveys, watch videos, make referrals, play games, install applications, shopping cashback, etc.
It has received a lot of positive feedback over the years of its existence and very few complaints.


Is SuperPay.me a Scam or Suggested?
SuperPay.me is definitely NOT a scam…
The platform has been operating since 2012 and it's still receiving a lot of positive feedback from its users to this very day.
In addition, SuperPay.me is the definition of earning money fast as it allows you to request a cashout of your funds as soon as you've generated a minimum of $1.
Reaching this $1 threshold is very unlikely to take you more than an hour.
Nonetheless, there are two things that really turn me off regarding SuperPay.
First, the platform withholds up to 10% of your total earnings in order to process your payments.
Frankly, this is the first time I come across a GPT that charges fees to process and fulfill its members' payments.
This is totally unacceptable.
Secondly, SuperPay.me is not mobile responsive. 
Nowadays, the vast majority of people tend to utilize GPT platforms while on the go through their mobile devices.
If you are one of those people, then you're going to have a very hard time utilizing SuperPay.
In conclusion, if your heart is set on joining SuperPay.me, then, by all means, go ahead and give the platform a try…
However, if I were you, I'd rather invest my time and energy in some other, higher-quality GPT platform, such as Swagbucks and/or PrizeRebel.
Have any comments or questions?
Please leave a comment right below or contact me at harry@dearboss-iquit.com
I'll be more than happy to help you out!
Best wishes,
Harry
dearboss-iquit.com