As years pass, more and more people find the idea of earning money while traveling alluring and thus more and more programs, courses, and MLM companies start appearing out of nowhere claiming that they can make that idea a reality for you. 
ZynTavel, also known as Zyndio, is one of those MLM companies…
The slogan of ZynTravel is "Get Paid to Travel… WHILE DOING WHAT YOU LOVE!" while the company presents itself as your "Passport to Freedom"…
But is it really?
Is ZynTravel actually legit?
Is it going to fulfill its promises?
Does it offer the potential for you to achieve your financial goals?
Or is it just another scammy pyramid scheme which is going to leave you hundreds of dollars poorer?
By the end of this ZynTravel review, you'll know everything you need to make an informed decision about whether this platform is worth your time, attention, and money or not, such as
What ZynTravel is
How it works
The company's background
How much it costs to join
Its compensation plan
If it's a pyramid scheme or not
The products it offers
Its owners
Pros and cons
and much more
Let's get cracking!
Name: ZynTravel or Zyndio
Owners: Anthony Powell
Price: 
Gold: $199.99 
Platinum: $499.99 
Black Diamond: $999.99
All membership options above include a $29.99 "setup" fee plus a $19.99 monthly fee.
In addition, those prices seem rather unstable so by the time you come across this review they might not be accurate.
Official Website: zyndio.com
Suggested? NO
Increase your chances of reaching success in multi-level marketing by following a dedicated MLM course.
.
It's a pyramid scheme
Complicated compensation plan
Very expensive memberships
Lots of negative testimonials
Before I move on to the actual ZynTravel MLM review, I want to reveal to you some general MLM statistics that will probably SHOCK you to your very core.


10 Shocking MLM Statistics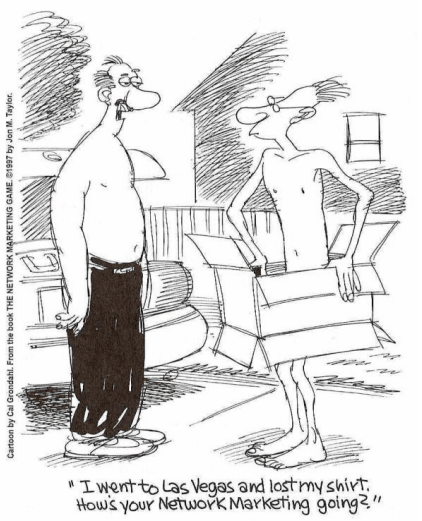 ZynTravel is an MLM company operating within the travel niche.
It was created by Anthony Powell and was first launched back in 2015.
According to my research, Anthony is said to have been mentored by some of the most successful people in the MLM industry such as Mark Hughes (owner of Herbalife) as well as by one of the best self-development and motivational speakers and authors Jim Rohn (I actually love Jim Rohn myself).
Anthony also used to be a very high-rank member of Herbalife for many years. During his time in Herbalife, it is said that he made millions of dollars but most of it came by employing bad practices such as selling leads to his downline among others.
Herbalife banned this practice in 2012 and in January 2013 Anthony left Herbalife and joined another MLM company Vemma which not a lot later was shut down by the FTC due to being a pyramid scheme.
At that point, Anthony decided that he should take matters in his own hands and since he had the required experience, create an MLM of his own and not depend on other companies.
This is how Zyndio and ZynTravel came about.
You can find out more about Anthony's story by watching the video below.
ZynTravel is basically a company which provides discounts on travel commodities such as 
Luxury hotels and resorts
Rental cars
Flight tickets
Timeshares
Cruises
and much more
Those discounts are supposedly up to 85% and they are not available to the general public but can only be located through ZynTravel's private booking discounts portal (see image below).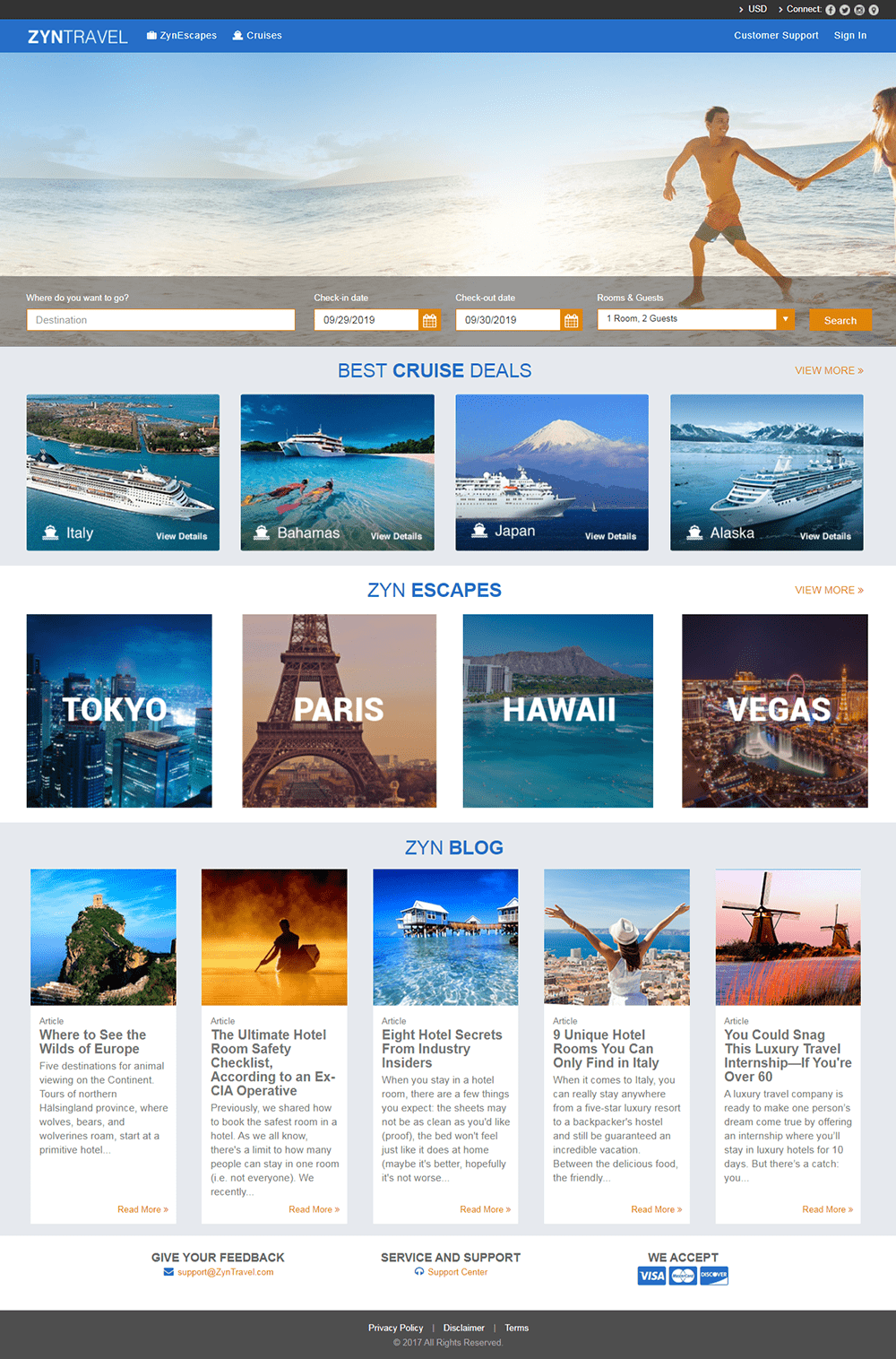 So basically, the product that ZynTravel offers is nothing more than travel discounts.
However, ZynTravel doesn't just offer you discounts for your next travels but also the opportunity to make money by getting other people to join ZynTravel as well!
With every new member you refer to ZynTravel, you earn 20% of the membership fee they paid to join. For example, if your referral pays for a ZynTravel Platinum membership which costs $499.99, you earn 20% of that which equals to $99.99.
Additionally, you will receive 5% of the membership fee of your referral's referrals. Thus, if your referral refers another person to ZynTravel who also pays for the Platinum membership, you'll earn 5% of $499.99 which equals to $24.99.
However, this is not all…
ZynTravel offers many more ways to earn money and many more bonuses in order for its members to be able to build a residual income.
I dive deeper into ZynTravel's full compensation plan right below.
ZynTravel's Compensation Plan
The majority of MLM companies have so extremely complicated compensation plans that it feels like you need to have a rocket scientist doctorate to understand just their first paragraph.
ZynTravel is no exception.
In fact, ZynTravel's compensation plan is one of the most complicated MLM compensation plans I've come across till now.
ZynTravel pays you money in 8 separate ways.
Affiliate travel site commissions
Affiliate referral bonus
Affiliate cycle bonus
Affiliate travel bonus
Affiliate matching bonus
Affiliate lifestyle bonus
Affiliate marketing bonus
Affiliate global bonus
If you want to find out more about how to build an income with ZynTravel through all those bonuses, go ahead and take a look at ZynTravel's full compensation plan right here or watch the video below.
Please note that ZynTravel's compensation plan seems to be changing over time so by the time you read this review some of the features, compensations rates, membership options, ranks, etc, might be a lot different than those that are highlighted in the pdf link and video I shared with you above.
If this is the case and you want to find out more about ZynTravel's current compensation plan, you could contact their support team at support@zyntravel.com
How Much Does ZynTravel Cost to Join?
ZynTravel offers 3 different membership plans.
Gold – $199.99
Platinum – $499.99
Black Diamond – $999.99
All membership options above include a $29.99 "setup" fee plus a $19.99 monthly fee.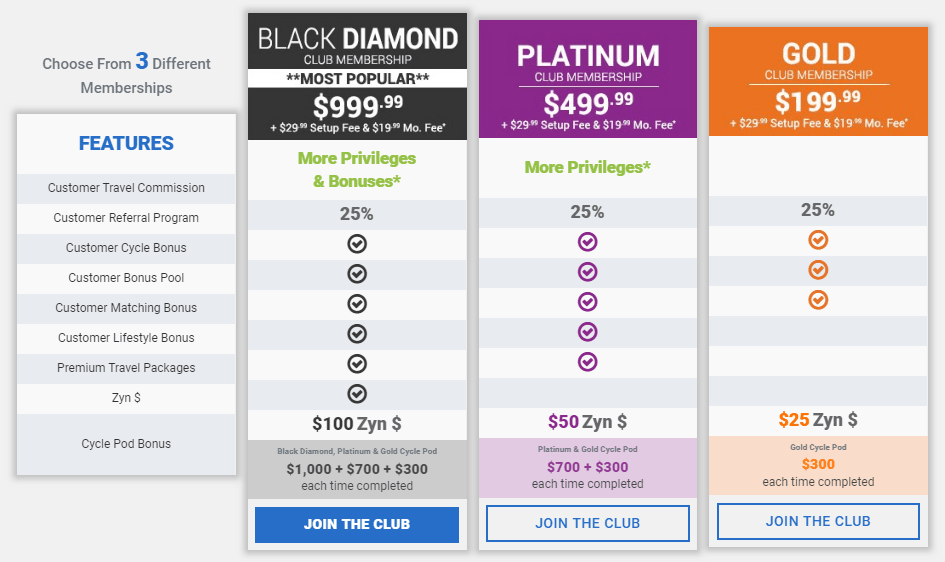 Just like with the majority of MLMs, the main difference between the cheaper and more expensive membership options is your income potential.
For instance, by purchasing the Black Diamond membership you can qualify for the Affiliate Lifestyle Bonus which you can't qualify for if you are a Gold member.
Also, as a Black Diamond member, when you complete what they call a "cycle" (having recruited 3 people who each has recruited 3 people) you can earn up to $2000 whereas as a Gold member you can only earn up to $300.
Just a heads up, those membership options seem to also be changing over time so when you come across this review they might not be accurate.
For instance, a year ago, the cheapest ZynTravel membership plan was Silver at $49.99 and the most expensive one was Platinum at $499.99.
Is ZynTravel a Pyramid Scheme
Most of the time it's very hard to distinguish between a legit MLM company and a pyramid scheme.
Make sure to watch the video below to discover how to spot and avoid pyramid schemes in general.
The main difference between an MLM and a pyramid scheme is that MLMs give you the opportunity to earn commissions by selling actual products or services to other people in retail without having to recruit them while with a pyramid scheme the only way to earn money is by recruiting other people into the scheme.
ZynTravel might be offering a service (the discounts) but nobody can actually use them without joining the "system" by purchasing a Gold, Platinum, or Black Diamond membership with the company.
It seems like earning money with ZynTravel has very little to do with travel and more with earning commissions through affiliate recruitment.
And along with its pyramid-like compensation plan, I have to conclude that ZynTravel is a pyramid scheme.
Experienced leadership
Free website
Useful service
Provides training
1 • Experienced Leadership: As mentioned earlier, Anthony Powell has been a pro in the MLM, direct selling, affiliate marketing, and network marketing industries for more than 25 years.
He used to be a top-rank member of Herbalife and he was even coached by the company's owner, Mark Hughes.
It is said that before he started ZynTravel he consulted with a dozen of other MLM leaders who were earning 6 and 7-figure incomes at that time and some of them even agreed to cofound ZynTravel with him.
2 • Free Website: ZynTravel provides you a pre-made website which promotes the company upon becoming its member.
When someone who visits that pre-made website of yours signs up to ZynTravel through it, they automatically become your recruits.
If marketed the right way, this website could help you maximize your recruits and thus your earnings.
3 • Useful Service: It's undeniable that ZynTravel's discounts service is very useful.
Most people are going to pay for travel at least once a year and I bet that all of them could use some good discounts on accommodation, car rentals, flights, etc.
ZynTravel's cheapest membership costs $199.99 + $29.99 so if you pay for it now and tomorrow you book a vacation and get a total discount of $500, you have saved more than $250.
The only problem is that you can't know exactly how small or big the discounts you'll be able to find will be and so if you end up getting a total discount which is less than what you paid for your ZynTravel membership, you've lost money.
And rumor has it that ZynTravel's discounts are not as big as they claim them to be and sometimes they might be equal or even smaller than the discounts you'll be able to find through all the mainstream booking engines such as booking.com, Trivago, Expedia, etc.
4 • Provides Training: Something that the majority of MLMs don't offer to their newly recruited members is proper training on how to actually make money with the company (no wonder that such a small percentage of MLM participants manage to make a profit).
ZynTravel offers some basic training on your personal affiliate back office, to help you understand how the company works, its compensation plan, how to market your website, as well as how to maximize your recruits and profits.
Better some than none…
Very expensive memberships
It's a pyramid scheme
Complicated compensation plan
Lots of negative testimonials
1 • Very Expensive Memberships: I'd never pay $199.99 + $29.99 + $19.99 per month for a small chance of getting a big discount on my travel when I can do my research and find normal discounts for free.
2 • It's a Pyramid Scheme: Yup, Zyndio is a pyramid scheme.
While this doesn't mean that it's impossible to make some money with the company, be aware that pyramid schemes are extremely volatile and have very short expiration dates.
And even if they don't collapse by themselves, when the attention of some regulatory body such as the FTC falls upon them, they will get closed down anyway.
Plus, if the chances of earning money with a normal MLM are 1%, the chances of earning money with a pyramid scheme are way less.
3 • Overly complicated compensation plan: Travel commission bonuses, referral bonuses, cycles, 2×3 matrixes, various percentages, different ranks, pools, pods, blah blah blah…
A person who is relatively new to MLMs will absolutely have a great difficulty to get a hang of ZynTravel's entire compensation plan.
And truthfully, I believe that MLMs make their compensation plans so complicated deliberately in order to confuse people into joining them.
I am not making things up…
Did you know that according to research, complexity sells better than simplicity?
This is actually called "complexity bias" and marketers use it all the time.
They do this by incorporating confusing language or insignificant details into product packaging or sales copy.
Most people who buy "ammonia-free" hair dye, or a face cream which "contains peptides," don't fully understand what those claims mean but they see them and imagine that they signify a product that's superior to alternatives.
People are way more likely to choose a complex product rather than a simple one based on the assumption that the simple one is way too simple to really work as expected or that the complicated one is way too complicated not to really work.
4 • Lots of Negative Testimonials: While digging around the internet for more information on ZynTravel, I came across a ton of negative comments about the company.
Most of them stated that ZynTravel's booking portal offers no discounts and that in some cases, it even displayed higher prices than those of mainstream booking companies.
Below, you can take a look for yourself at some of those comments.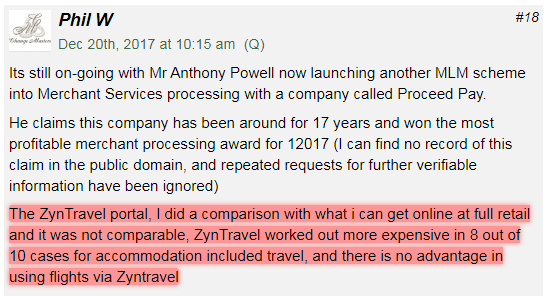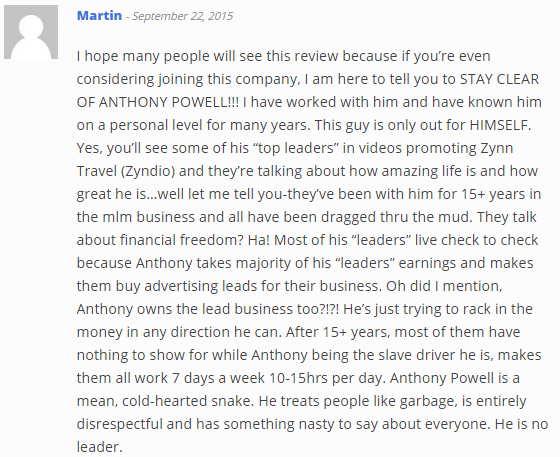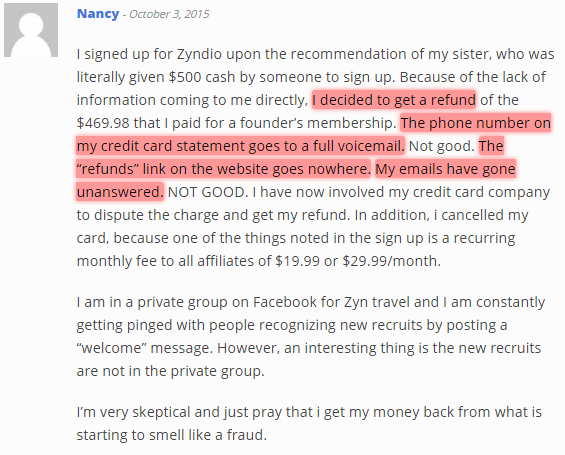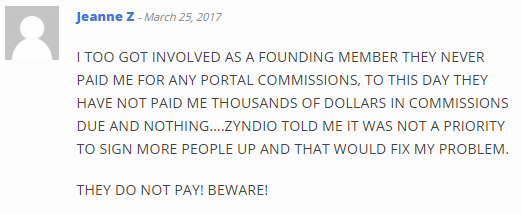 I don't want to be completely biased here so I want to point out that among all those negative comments about ZynTravel there were also some positive ones which claimed that the company is legit with great discounts offering the potential to earn a lot of money.
However, the ratio was like 1 positive comment to 20 negative ones and those positive ones could as well be comments from ZynTravel's recruiters.
I wouldn't join ZynTravel mostly because it's a pyramid scheme.
A similar but more legit MLM in the travel niche that you might want to check out is iBuumerang.
To tell you the truth, personally, I am not at all fond of MLMs in general.
Their success rate is awfully low
They are extremely volatile
You need to invest a ton of money, time, and energy until you manage to make a profit (if you ever actually make a profit)
And most of them focus on recruiting people instead of pushing an actual valuable and beneficial product or service in retail
Plus, in order to make money with most MLMs, you'll have to turn into a sleazy salesperson and I really hate selling. And I really hate being sold to.