Crunchi has been making a lot of noise during the last few years with its high-quality, toxin-free, natural cosmetics and their movement against potentially harmful ingredients found in the cosmetics women use daily.
Since you are here, chances are that a friend of yours, a family member or maybe a YouTube video praised the company's products and their movement trying to get you to spend a couple of hundred dollars to "make a difference" yourself while at the same time building an income by becoming a part of the company's MLM compensation plan or as they call it, an "Advocate"!
However, you've heard all those MLM horror stories… How people have lost a lot of money and drifted apart from friends and family while chasing a $5 commission which frankly, they never even get.
You are aware that there are a lot of scams out there; a lot of pyramid schemes posing as legit money-making opportunities that care about nothing but putting their hands deep in your pockets using your money to pay out their senior members without giving you anything in return.
And you are wondering if Crunchi is one of them.
Worry not!
In this review, I am going to answer every single question you have about Crunchi in order for you to be able to make an informed decision about whether it's worth your time, attention, and money or not, such as
What is Crunchi?
Is Crunchi a pyramid scheme or a legit MLM?
Does its compensation plan offer the potential for you to achieve your financial goals?
How to join Crunchi as an Advocate?
How much does it cost to join Crunchi?
Pros and cons
Are Crunchi's products high-quality?
and many more
Let's get cracking!


Crunchi Makeup MLM Overview
Name: Crunchi 
Owners: Melanie Petschke & Kelly Weston
Price:
$78 signup fee (one-time payment)
$117+ for a product pack (one-time fee)
$40 annual renewal fee
$150 per month to qualify for commissions (this cost can be omitted by selling $150 worth of products to retail customers)
Official Website: crunchi.com​
Suggested? Nope!
Increase your chances of reaching success in multi-level marketing by following a dedicated MLM course.
.
MLM Business Model
Expensive to Join
No Documented Compensation Plan
Facebook Group is Deserted
Before I move on to the actual Crunchi MLM review, I want to reveal to you some general statistics about the MLM business model that will likely SHOCK you to your very core.


10 Shocking MLM Statistics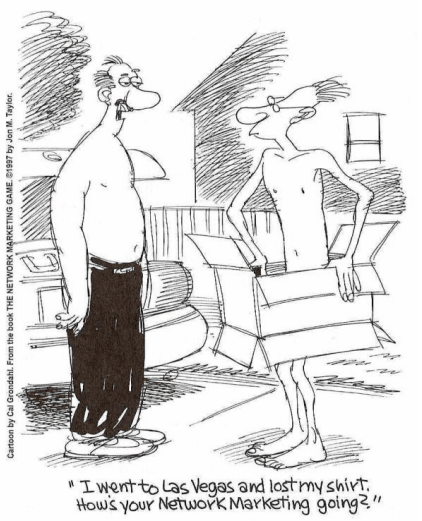 Crunchi is a company that operates in the beauty, skincare, and cosmetics industry.
The company was founded back in 2015 by Melanie Petschke & Kelly Weston.
Melanie has been a family nurse practitioner for over twelve years. During the last eight years she has been studying the potential health implications of toxin exposure. She believes that reducing the cumulative toxic burden to the body along with quality nutrition, and exercise are all critical components towards preventing diseases and promoting health.
Kelly has always been passionate about living a healthy lifestyle. After experiencing cancer in her family, she started becoming aware of the potentially harmful ingredients that her daily cosmetics were made of. She started looking for safer, more natural alternatives without any luck. Kelly believes that every woman should use high-quality, high-performing products that don't damage their health.
Since their beliefs resonated almost perfectly, Melanie and Kelly joined forces to create a company that manufactures and distributes toxin-free, natural, organic cosmetics to women.
And this is how Crunchi came to being!
Crunchi's mission is to share all their knowledge about safe and harmful cosmetics get as many women as possible involved in the safe cosmetics movement and unleashing their entrepreneurial spirit while making a difference.
You can find a lot more about Crunchi, its founders, mission, vision, products, policies, certificates, etc on the company's official website.
Crunchi's Products and Prices
Crunchi's motto is "When it comes to ingredients, we're a bit choosey."
According to Crunchi, the company's products are made with a combination of safe and organic ingredients. Utilizing years of compiled, evidence-based research and safety data, the company has thoughtfully selected ingredients that will not put its customers' health at risk.
While the majority of the ingredients used in Crunchi's products are natural, they have infused a handful of strategically selected synthetic ingredients with substantial safety data, in order to boost performance, efficacy, and longevity.
The products Crunchi manufactures and distributes fall into the categories of makeup, skincare, body care, and accessories.
Crunchi has dozens of products so I am not going to list every single one of them here separately.
Their prices range from $20 to $60 dollars each.
Every single one of the company's products along with its respective price is displayed on Crunchi's official website.
How to Join Crunchi - Becoming a Crunchi Advocate
Becoming a Crunchi Advocate is very simple.
All you have to do is head over to crunchi.com/the-movement/becomeanadvocate, hit the "Become an Advocate" button, choose your enrollment collection kit, fill in a form with your personal information, click "Submit Order" and you are done!
As a Crunchi Advocate, you get your hands on
Replicated Crunchi website
A personal back office
20% off on all personal purchases
Crunchi's training materials and classes
Negotiated wholesale price for Crunchi business cards
Disposable tester materials
10 Crunchi stationary cards, product wraps, stickers, forms, and handouts
Crunchi Gray Everyday Tote (14″H x 20″W x 6″D)
and a variety of products based on the collection kit you purchase upon your enrollment
To remain qualified for commissions as a Crunchi Advocate you'll have to maintain a personal sales volume of $150 during a 30-day period (Personal sales volume = personal purchases of Crunchi's products or retail sales to customers).
So, let's start talking money, shall we?
Crunchi Advocate Compensation Plan
The majority of MLM companies have so overly complicated compensation plans that it feels like you need to have a rocket scientist doctorate to understand just their first paragraph.
I can't confirm if Crunchi's compensation plan is an exception or not because I couldn't locate it anywhere online, not on Crunchi's website, another blog, YouTube video, nowhere…
The only information I managed to find out about how Crunchi compensates you about your sales and recruiting efforts is that you can earn up to 40% commissions on your retail sales and up to 10% commissions on your team's retail sales.
That's it!
I have contacted Crunchi's support team to get my hands on a copy of the company's full compensation plan but they haven't replied back to me just yet.
Once and if they'll come back to me, I'll fully update this review!
How Much Does It Cost to Join Crunchi as an Advocate?
In order to become a Crunchi Advocate, you have to pay a one-time enrollment fee of $78 as well as purchase one of the collection kits below.
Go For It Kit- $117
Savvy Start Kit- $172
Goal Digger Kit- $522
All In! Kit- $772
Each one of those kits contains a variety of Cruchi's products which you can personally use, sell, or give away as free samples to potential clients.
Furthermore, after your first year as an Advocate, you'll have to pay $40 for each year that you want to remain an Advocate.
Also, be aware that in order to keep yourself active and qualified for commissions you'll have to maintain $150PV during a 30-day period.
This $150PV can come either from retail customer sales or from personal purchases.
If your customers purchase $100 worth of products during a month, in order to keep yourself active and qualified to earn those commissions, you'll have to get your PV up to $150 by purchasing $50 worth of products yourself.
Summing up, to become an active and commission-qualified Crunchi Advocate you need to pay the following:
$78 enrollment fee (one-time payment)
at least $117 for an enrollment kit (one-time payment)
$40 annual Advocate renewal fee
Up to $150 per month to keep yourself qualified for commissions (this cost can be omitted by selling $150 worth of Crunchi's products to retail customers)
Is Crunchi a Pyramid Scheme?
Most of the time it's very hard to distinguish between a legit MLM company and a pyramid scheme.
The video below will help you understand how to spot and avoid pyramid schemes in general.
The main difference between an MLM and a pyramid scheme is that MLMs give you the opportunity to earn commissions by selling actual products or services to other people in retail without having to recruit them while with a pyramid scheme the only way to earn money is by recruiting other people into the scheme.
Not all MLMs are legitimate. If the money you make through an MLM is based on your sales to the public, it may be a legitimate one. If the money you make is based on the number of people you recruit and your sales to them, it's not legit. It's a pyramid scheme. Pyramid schemes are illegal, and the vast majority of their participants lose money. – Federal Trade Commission
Despite not being able to fully study Crunchi's compensation plan, since Crunchi offers you the option to earn commissions by selling its products to retail customers, I have to conclude that Crunchi is NOT a pyramid scheme!
Free Replicated Website
Provides Training
Positive Testimonials
BBB A+ Rating
1 • Free Replicated Website
Once you become a Crunchi Advocate, you get your hands on a replicated website for free.
When someone who visits your replicated website purchases one or more Crunchi products through it, up to 40% of the total amount of money paid by that customer goes into your pocket.
In addition, if someone signs up as a Crunchi Advocate through your website you automatically become their sponsor, they become part of your downline and you earn up to 10% of their retail sales as well.
If marketed the right way, this website could help you maximize your customers and your recruits, and subsequently your income.
If your business is not on the internet, then your business will be out of business – Bill Gates
One of the most common reasons that so many people fail to make a good profit in their MLM venture is the lack of proper training. 
Crunchi provides some training on your personal dashboard as well as through some training manuals that you'll receive with your enrollment kit.
In addition, according to Crunchi, they offer weekly training for their whole community, as well as specific training offered twice a month for their new Advocates.
BBB (Better Business Bureau) is a non-profit organization that ranks businesses, charities and non-profit organizations based on their legitimacy, information they have gathered about the business and complaints received from customers.
The higher a company's rating, the more credible and trustworthy that company is in the eyes of BBB.
Crunchi has been rated with A+ by BBB which is actually the highest possible BBB rating.
While BBB is an independent organization and not an official business regulator companies that receive good BBB ratings are probably legit, credible, and noteworthy.
4 • Positive Testimonials
While conducting research to gather information to put this Crunchi review together, I came across a lot of positive testimonials of people who had been using Crunchi's products (mostly on Youtube).
In addition, there was a very positive testimonial about Crunchi's products from a customer inside BBB (see image below).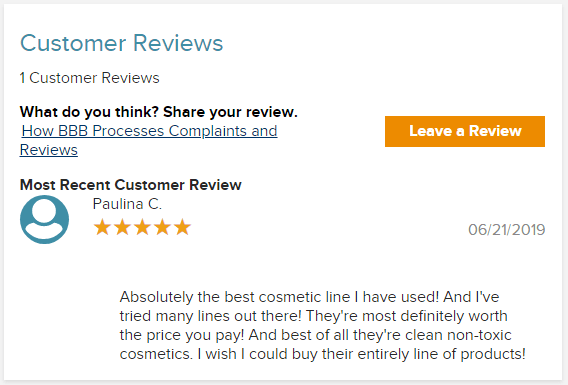 High-quality products that deliver their promises are always so much easier to sell.
Plus, incorporating positive testimonials in your marketing attempts is going to dramatically increase your retail sales and recruitments.
MLM Business Model
Expensive to Join
No Documented Compensation Plan
Facebook Group is Deserted
As mentioned earlier, I am not fond of the MLM business model in general for many reasons…
First of all, the success rates of MLM participants are awfully low (74% – 99%)
Secondly, I hate selling…
And thirdly, I've heard so many stories of people losing all their friends, family, and money due to the pushy and sleazy practices they were being taught by their "mentors" that I have become repulsed by the MLM business model in general.
Being involved in an MLM is just not worth the trouble in my mind.
Especially when there exist other much more legit ways of earning a lot more money without having to go through all that struggle of becoming a sleazy salesperson and jeopardizing your relationships with those around you in order to make a buck…
Crunchi is one of the most expensive to join MLMs I've reviewed until now.
To give you a frame of reference, you can join Farmasi, which is an MLM company also in the beauty and cosmetics market, for only $19.99.
And, you can start your own online business completely for free with Wealthy Affiliate. And with an online business you have up to 38% more chances of actually earning a profit than you have by becoming an MLM rep…
3 • No Documented Compensation Plan
Crunchi's compensation plan is nowhere to be found… Not on their website, not on another blog, not on YouTube, nowhere…
No one is talking about it online.
I guess that Crunchi is one of those MLMs that reveal to you how you can make money with them after you have joined them.
Let me tell you that I would NEVER pay $200+ to become part of a money-making opportunity without knowing EXACTLY how I'll make money with it.
And neither should you…
3 • Facebook Group is Deserted
Unfortunately, Crunchi's private Facebook Group is deserted (see image below).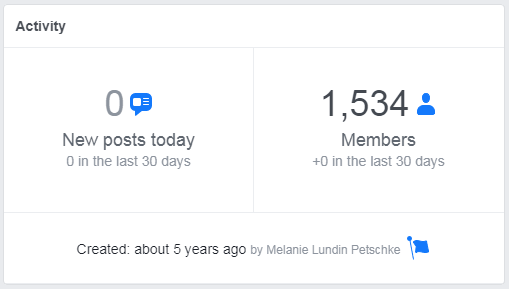 The group seems to have been created 5 years ago, it only has 1500 members, none of them has posted during the last 30 days and no new members have joined during the last 30 days either…
The following statement exists on Crunchi's website: "You'll have a community of like-minded women who desire to support you and see you succeed!"
I don't see any community… At least not an active one.
This isn't a good sign at all…
If the company doesn't recruit new Advocates and the majority of its old Advocates is inactive, then it will probably start going on a downward spiral until it eventually shuts down…
Crunchi MLM Review Summary
Disclosure statement N/A. The income potential of the average MLM rep is less than $5000 per year.
Provides training, cloud-based dashboard, replicated website,and access to a private FB group.
Very expensive to join and maintain your active & commission-qualified status.
Crunchi is NOT a pyramid scheme. Compensation plan nowhere to be found…
I wouldn't really suggest joining Crunchi unless you have been using the company's products for a while and you truly love them.
There are tons of MLM companies that operate in the beauty and cosmetics market and if you do your research you'll probably be able to find one which is more established and much cheaper than Crunchi, has a better compensation plan in place, and higher-quality products, such as Farmasi.
On the other hand, to tell you the truth, I am not at all fond of the MLM business model in general…
The success rate of MLM representatives is awfully low
They are way too volatile and unstable
You need to invest a ton of money, time, and energy until you manage to make a profit (if you ever actually make a profit)
And most of them focus on recruiting people instead of actually providing an actual valuable and beneficial product/service
Plus, in order to make money with the MLM business model, you'll have to turn into a sleazy salesperson and I really hate selling as much as I hate being sold to.