BeCause Cosmetics is an MLM company that operates within the cosmetics and beauty industry.
The company manufactures and distributes cosmetic products such as eyeliners, concealers, brow gels, color palettes, lip colors, and much more.
BeCause also has an MLM compensation plan in place, meaning that you have the ability to build an income with the company by promoting its products to retail customers as a "Brand Affiliate" as well as getting other people to enroll as BeCause Brand Affiliate themselves…
However, is BeCause actually legit?
Are its products worth it?
Does it offer the potential for you to achieve your financial goals?
Or is it just another scammy pyramid scheme which is going to leave you hundreds of dollars poorer?
By the end of this BeCause review, you'll know everything you need to make an informed decision about whether this company is worth your time, attention, and money or not, such as
What BeCause is
How it works
The company's background
How much it costs to join
Its compensation plan
If it's a pyramid scheme or not
The products it offers
Its owners
Pros and cons
and much more
Let's get cracking!
Name: BeCause Cosmetics
Owners: Andrew G. McBride
Price:
Affiliate enrolment – $59 (One-time payment)

Upgrade Pack #1 – $59 (One-time payment)
Upgrade Pack #2 – $59 (One-time payment)
Upgrade Pack #3 – $39 (One-time payment)
$5 per month to get a replicated website
Purchasing the Upgrade Packs #1 – #3 as well as the replicated website is optional.
Official Website: becausecosmetics.net
Suggested? So and so…
Increase your chances of reaching success in multi-level marketing by following a dedicated MLM course.
.
Competitive Industry
MLM Business Model
Limited Training
Low Company Success Rate
Before I move on to the actual BeCause Cosmetics MLM review, I want to reveal to you some general MLM statistics that will probably SHOCK you to your very core.


10 Shocking MLM Statistics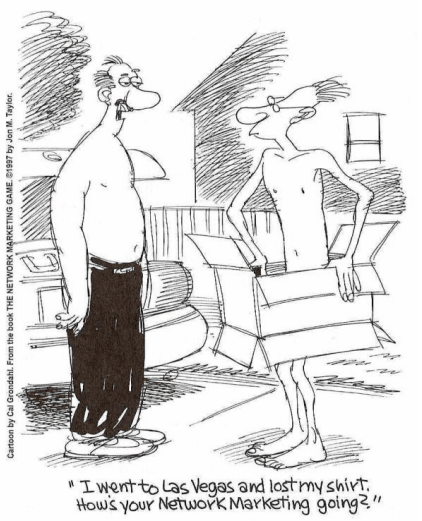 What is BeCause Cosmetics About?
As stated in the beginning, BeCause is an MLM that operates within the cosmetics & beauty market and focuses on manufacturing and distributing a variety of cosmetic and beauty products.
According to BeCause the ingredients they use to manufacture their products are sourced worldwide and are of the highest-quality and 100% safe for the skin while also being EU and US compliant, meaning that the company does not use over 1900 prohibited and restricted ingredients by the EU and 11 ingredients prohibited by the FDA.
BeCause Cosmetics was founded back in 2017 by Andrew G. McBride. 
Andrew doesn't seem to have any experience with MLM companies prior to BeCause but according to his LinkedIn profile, he also founded another cosmetics and beauty company called Perfectly Posh​ in 2011 which he left in 2017 probably to launch BeCause.
The company's mission is simple and it is to redefine beauty and empower women everywhere.
Lastly, 3% of the company's sales go to several non-profit organizations  such as
People Helping People
The Boston Philarmonic Orchestra
The Moyer Foundation
and more
BeCause Cosmetics Products and Prices
The products BeCause manufactures and distributes are all the following:
Perfecting Brow Gel – $14
Precision Gel Eyeliner – $9
Faux Mink Lashes – $18 to $29
Liquid Eyeliner – $11
Max Volume Mascara – $21
Prep & Smooth Eye Primer – $15
Eye Set – $50
Essential Eye Styling – $29
Luminous Under Eye Concealer – $17
Long Lasting Pencil Eyeliner – $9
Spotlight Highlighter – $15
Spotlight Highlighter Trio – $39
Soft Glow Bronzer – $25
Color Correcting Concealer – $19
Essential Contour Kit – $39
Hydrating Liquid Foundation -$29
Illuminating Blush – $24
Mattifying Sheer Primer – $26
Face Set – $62
Set & Exted Finishing Powder – $17
Fix & Finish Setting Spray – $13
Silky Matte Lip Crayon – $10
Metallic Liquid Lip Color – $12
Long Wear Lip Liner – $8
High Shine Liquid Lip Color – $12
Ultra Rich Longwear Lipstick – $12
Travelers Cosmetic Bag – $25
Complexion Brush – $25
BeCause Brush Set – $29
Essential Beauty Sharpener – $10
BeCause Blending Sponge – $14
How Does BeCause Cosmetics Work?
BeCause offers you the opportunity to earn commissions by becoming a "Brand Affiliate" of the company and distribute all its products yourself.
As a Brand Affiliate, you earn 20% – 30% commissions when you sell BeCause products to retail customers or when people purchase the company's products through your personalized website if you have one set up.
You also earn a fixed amount of money when you achieve certain ranks within the company. For instance, when you achieve the "Silver Ambassador" rank, you earn $2000.
However, that's not all…
BeCause also allows you to build a residual income with commissions paid on your downline's volume thought a uni-level compensation plan as well as through various bonuses that you'll receive based on your company rank. The higher the rank you achieve, the higher your income potential (see image below).

I dive deeper into BeCause's full compensation plan right below.
BeCause's Compensation Plan
The majority of MLM companies have so overly complicated compensation plans that it feels like you need to have a rocket scientist doctorate to understand just their first paragraph.
Thankfully, BeCause's compensation plan is rather simple but it lacks information at certain points.
BeCause basically pays you in 8 different ways.
Weekly Retail and Web Sales Commissions
Cash Bonus
Monthly Sales Commissions
Team Volume Bonus
1st Ring Ambassador Bonus
2nd Ring Ambassador Bonus
3rd Ring Ambassador Bonus
BeCause Reward Points
If you want to find out more about all those bonuses and how you can generate an income by achieving them, go ahead and take a look at BeCause's full compensation plan right here.
Please note that BeCause's compensation plan might undergo changes from time to time so by the time you read this review, some of the info, the commission rates, the rank bonuses, etc that are displayed in the link I shared with you right above might not be that accurate.
If you still have questions about BeCause's compensation plan, you could contact its support team at hello@becausecosmetics.com or at the telephone number 435-241-3576.
Or you could contact me at harry@dearboss-iquit.com and I will do my best to help you out.
How Much Does It Cost to Become a BeCause Brand Affiliate?
To enroll as a BeCause Brand Affiliate all you have to pay for is an Affiliate Branding Kit which costs a one-time payment of $59 and contains a variety of products which you can use yourself, resell, or offer as samples to your potential customers as well as several BeCause business supplies such a
Welcome Cards
Getting Started Guides
Catalogs 
Buy Brochure
Join Brochure
Order Forms 
etc
Upon enrollment, BeCause gives you the option to purchase some additional product packs which contain additional products to propel your business such as
Upgrade Pack #1 – $59 (One-time payment)
Upgrade Pack #2 – $59 (One-time payment)
Upgrade Pack #3 – $39 (One-time payment)
If you want, you can also sign up for your own BeCause personalized website/e-shop for just $5 per month.
Purchasing the Upgrade Packs #1 – #3, as well as the replicated website, is optional.
Is BeCause Cosmetics a Pyramid Scheme?
Most of the time it's very hard to distinguish between a legit MLM company and a pyramid scheme.
Make sure to watch the video below to discover how to spot and avoid pyramid schemes in general.
The main difference between an MLM and a pyramid scheme is that MLMs give you the opportunity to earn commissions by selling actual products or services to other people in retail without having to recruit them while with a pyramid scheme the only way to earn money is by recruiting other people into the scheme.
Since with BeCause you have the option to earn commissions by pushing the company's products to retail customers, I have to conclude that BeCause is NOT a pyramid scheme.
Affordable Entry
Provides Personalized Website
High-quality Products
Good Vibe
1 • Affordable Entry: BeCause is one of the cheapest MLM companies to join that I've come across until now. With an one-time fee of $59, you can become its Brand Affiliate and promote its products for commissions which have the potential to bring in hundreds of dollars per month if you play your cards right of course.
Just to give you a frame of reference, NewYou (a CBD MLM) costs at least $70 per month to keep you qualified for commissions.
2 • Provides Personalized Website: Upon becoming a BeCause Brand Affiliate, the company gives you the option to purchase a pre-made website/e-shop which people will visit and purchase the BeCause products they need online.
When someone who visits your personalized website purchases BeCause products through it, you earn 20% – 30% commissions of the total amount of money paid by that customer.
If marketed the right way, this website could help you maximize your customers and commissions.
The only downside of this website is that it's ugly (it literally seems like a website that was built in 1990), confusing, and very difficult to navigate and I don't think that you have the authorization to edit it.
3 • High-Quality Products: BeCause's products are indeed very high-quality, cruelty-free, as well as USA and EU compliant.
Before I started putting this review together I located around the web testimonials of people who have been using BeCause's products for a while and they were all very happy.
That's a good thing because when you have a very good product at your hands it basically sells itself without you having to become pushy and sleazy to get people to buy it.
4 • Good Vibe: I don't know how to explain that… It's just that when I was doing my research about BeCause, I got an overall good vibe about the company.
Maybe it's due to the fact that they are not using extraordinary claims, its owner seems like a very down-to-earth guy, and their compensation plan doesn't really focus on recruiting other people but on actually distributing the company's products.
Competitive Industry
MLM Business Model
Limited Training
Low Company Success Rate
1 • Competitive Industry:  There's a lot of money in the cosmetics and beauty industry and where the money goes, competition follows.
According to research, the cosmetic industry has been growing exponentially during the last few years and companies are always releasing innovative products that are going to help them take the upper hand over their competition.
I am just saying this to prepare you because you'll have to go against giants like Avon and Younique and this ain't going to be easy.
2 • MLM Business Model: As mentioned earlier, I am not that fond of the MLM business model in general for many reasons, mainly due to the awfully low success rates of their participants.
I mean, why even bother with an MLM when you can just as easily create your very own online business which actually offers so much more chances of bringing in an actual profit and would actually require a lot less effort on your part?
It doesn't make any sense.
If you would like to start your own online business, after all, you can do so with Wealthy Affiliate and Project 24.
3 • Limited Training: Something that the majority of MLMs don't offer to their newly recruited members is proper training on how to actually make the most with the company (no wonder that such a small percentage of MLM participants manage to make a profit).
BeCause offers some training on your personalized back office, to help you understand how the company works, its compensation plan, how to market your website, etc but unfortunately, it lacks both in quality and quantity, something that makes finding success with the company much more difficult if not unlikely.
On the other hand, better some training than none.
4 • Low Company Success Rate: On becausecosmetics.net/find_affiliate.htm there's a heat map with all the current Brand Affiliates BeCause has as well as their ranks (see image below).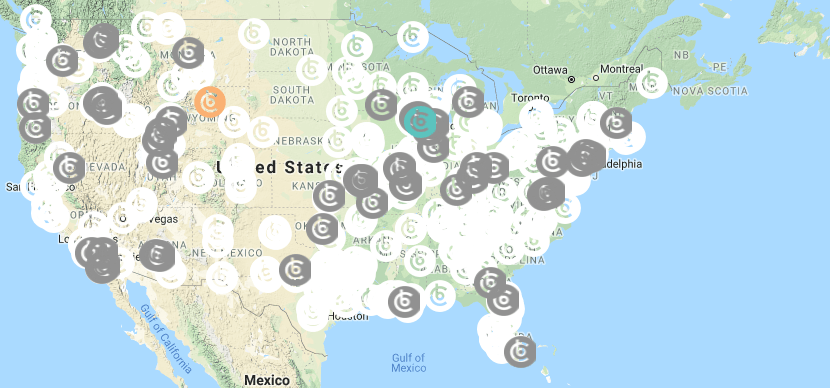 The white ones are Normal Affiliates, the gray ones are Level 1, Level 2 and Level 3 Affiliates, and there's a Silver Ambassador and a Gold Ambassador.
So, what does that mean?
In order to go from Normal Affiliate (white) to Level 1 Affiliate (gray), you need to have a personal sales volume of $500 each month.
This means that all the Normal Affiliates (whites) which actually constitute the majority of BeCause's Brand Affiliates (somewhere around 70%), make less than $500 per month.
That's awful.
Is BeCause Cosmetics Suggested?
If I was really interested in the cosmetics and beauty industry, then maybe I would give BeCause a try mostly because it has a simple compensation plan as well as high-quality and affordable products.
However, I am pretty sure that if you do your research, you might be able to find more reputable and credible cosmetic MLM companies, with a wider variety of products, as well as a better compensation plan.
To tell you the truth, personally, I am not at all fond of MLMs in general.
The success rate of their affiliates is awfully low
They are extremely volatile
You need to invest a ton of money, time, and energy until you manage to make a profit (if you ever actually make a profit)
And most of them focus on recruiting people instead of pushing an actual valuable and beneficial product or service in retail
Plus, in order to make money with the MLM business model, you'll have to turn into a sleazy salesperson and I really hate selling as much as I hate being sold to.