Selling kids' books for a living…
Sounds awesome right?
Well, apparently this is the business opportunity that Usborne (also known as Usborne Books & More) offers you.
If you love helping out kids and if you want to spend more time with yours while increasing your income to provide better for them, Usborne is the place to be.
However, besides earning money by selling books, Usborne offers you the option to boost your income by building a team of people who will sell Usborne's books themselves.
This automatically makes Usborne an MLM company.
Red alerts have started going off right now…
You've heard your fair share of MLM horror stories…
People whose money, friends, and family went down the drain after joining pyramid schemes posing as legit MLM companies that turned them into disgusting salespeople who were one step away from pitching their "offers" to stones.
And you definitely not want to end up like that.
Worry not because in this review, I am going to answer every single question you have about Usborne Books, such as
What is Usborne Books?
Is Usborne Books a pyramid scheme or a legit MLM company?
Does its compensation plan offer the potential for you to achieve your financial goals?
How to join Usborne as a Consultant?
How much does it cost to join Usborne?
Pros and cons
Are Usborne's books high-quality?
and many more
Furthermore, I am going to reveal to you a couple of alternative money-making opportunities.
This way, you'll have everything piece of information you might possibly need to make an informed decision about whether Usborne Books is worth your time and attention or if you'd better invest in something more legit and promising.
Let's get cracking!
Usborne Books MLM Overview
Name: Usborne Books
Owners: Peter Usborne
Price to join:
Official Website: usborne.com
Suggested? No.
Increase your chances of reaching success in multi-level marketing by following a dedicated MLM course.
.
Free Personalized Website
High-quality & Cheap Books
Established Company
Affordable to Join
MLM Business Model
Reliance on Hosting Events
Low Income Potential
D- BBB Rating
No Official Compensation Plan Available
Before I move on to the actual Usborne Books MLM review, I want to reveal to you some general statistics about the MLM business model that will likely SHOCK you to your very core.


10 Shocking MLM Statistics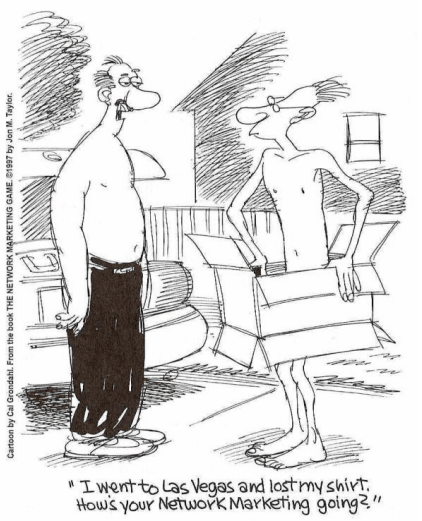 What is Usborne Books About?
Usborne Books is a company that is well-known about manufacturing and distributing books for children as well as for adults.
The company was founded back in 1973 by Peter Usborne when he got a call from his wife saying he was going to be a father.
Peter immediately decided to start publishing children's books so that he could create colorful, exciting, captivating books for a new generation of kids, including his own.
Peter is now in his eighties but he is still actively working on the company.
The baby he received that phone call about, Nicola Usborne, is now the company's Deputy MD, working alongside her dad and a longstanding senior team committed to taking the company even further.
According to Nielsen BookScan data, Usborne was the most successful children's publishing company in the UK in 2017.
In 2018 Usborne ranked 137 in the Sunday Times HSBC International Track 200, which tracks UK's mid-market private companies with the fastest-growing international sales, a rise of 55 places from the previous year.
Several of the company's fiction titles have recently won major awards, including the CILIP Carnegie Medal during 2018.
Usborne's mission is to create the very best books for children, books they read again and again, that they carry with them everywhere, read under the bedcovers by torchlight and that they remember into adulthood.
The company's motto is 'do it better'.
They do their best to create books for children that contain accurate, reliable information, presented in an attractive and appealing way and produced in an ethical manner to the highest international standards. 
You can find a lot more about Usborne Books, its founders, mission, vision, products, policies, compensation plan, etc on the company's official website.
Usborne's Books and Prices
Most of Usborne's children's books are created in-house by a team of 35+ editor/writers and over 50 designers who work for the company. This allows Usborne to have complete creative control over what they publish. The majority of other publishers usually commission outside authors to write books for them.
According to Usborne, they spend as much time as they have to, to get a book right. An Usborne book doesn't leave the building until it's just right. Sometimes that might be a long time, but they focus on quality and not quantity.
The company is constantly innovating, looking for new ways to engage children with books and reading.
The books Usborne has already published are hundreds so I won't be listing every single one of them right here for obvious reasons.
The prices of the company's books range between $10 and $30 each maximum. 
You can find more about Usborne's books and their respective prices on Usborne's official website.
Usborne Books Consultant
Compensation Plan
The majority of MLM companies have so overly complicated compensation plans that it feels like you need to have a rocket scientist doctorate to understand just their first paragraph.
Unfortunately, I didn't manage to locate an official version of Usborne's compensation plan anywhere online.
There are a few summaries created by other Consultants here and there but all of them are different between one another and seem quite outdated and biased so I wouldn't trust them.
This is why, a few days ago, I contacted Usborne's customer service and asked for a copy of the latest version of the company's official compensation plan.
This is where things took an unexpected turn and started getting pretty funny.
In their first reply, they asked me to provide my address and my telephone number to bring me in contact with an Independent Organizer in my area.
I told them that I would like to first take a look at their official compensation plan myself before I come in contact with one of their Consultants who might as well distort the truth and facts to get me to join the company.
After that, they asked me what a compensation plan is… LOL
An MLM company that doesn't know what a compensation plan is…
Anyway, I explained to them exactly what I was seeking and then they told me once more to give them my address and telephone number to bring me in contact with an Independent Organizer in my area.
I replied that I would like to study their compensation plan myself before I talk with another Consultant.
And they replied to me the following: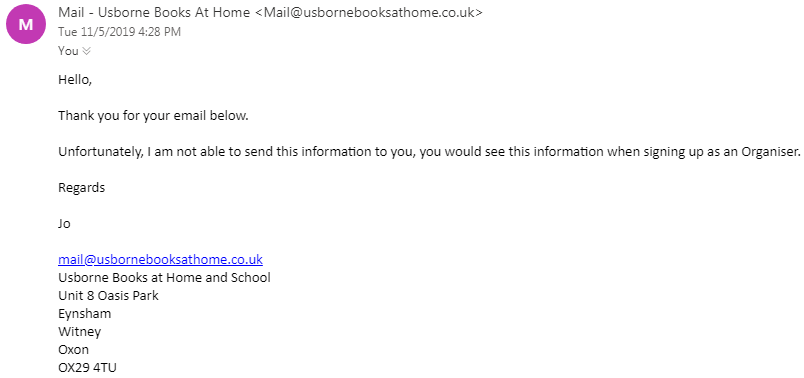 So, let me get this straight…
I have to pay Usborne Books to become a part of their business opportunity without having the slightest idea about how this business opportunity works, how I am going to get paid, how much I am going to get paid, etc.
No chance in freaking hell guys! This is clearly a mockery!
I thanked them for their help and this was it.
Let me tell you that I would NEVER pay a single cent to join an MLM company without first studying its compensation plan and understanding exactly how I can leverage it to build my income.
And neither should you!
How to Join Usborne Books as a Consultant?
You can join Usborne Books as a Consultant, right here.
Scroll down the page a little and hit the "Join Today" button.
You'll be redirected to a page where you'll have to answer the following question "Are you already in contact with an Usborne Organiser?"
If you don't have the ID or username of another Consultant, then answer "No".
Fill in the personal information you will be asked to, choose a password and then you'll receive an email with an account confirmation link.
Click on the link, choose the starter kit you'd like to purchase, fill in your payment info, and you are done!
As an Usborne Books Consultant, you get your hands on
A range from the company's bestselling series and most popular seasonal titles
Business and marketing materials
A dedicated mentor
Regular email updates containing the latest news, offers, and opportunities
A dedicated support team
Personalized Usborne website
Resources and blogs
Access to a website containing product information, special offers, company updates, business support tools, and training
Access to private Facebook support groups
Online account to place and manage your orders and recruits
The opportunity to purchase new book releases at half-price
Seasonal sales leaflets featuring the very latest Usborne books and offers
How Much Does It Cost to Join Usborne as a Consultant?
In order to become an Usborne Consultant, you have to purchase a starter kit that costs a one-time payment of $77.
Please note that the price of this starter kit changes from time to time so at the time that you read this review it might be a tad cheaper or more expensive.
Is Usborne Books a Pyramid Scheme?
Most of the time it's very hard to distinguish between a legit MLM company and a pyramid scheme.
The video below will help you understand how to spot and avoid pyramid schemes in general.
The main difference between an MLM and a pyramid scheme is that MLMs give you the opportunity to earn commissions by selling actual products or services to other people in retail without having to recruit them while with a pyramid scheme the only way to earn money is by recruiting other people into the scheme.
Not all MLMs are legitimate. If the money you make through an MLM is based on your sales to the public, it may be a legitimate one. If the money you make is based on the number of people you recruit and your sales to them, it's not legit. It's a pyramid scheme. Pyramid schemes are illegal, and the vast majority of their participants lose money. – Federal Trade Commission
Despite not being able to get my hands on Usborne's compensation plan, I know that people have the option to sell the company's books in retail, something that concludes that Usborne Book is NOT a pyramid scheme!
Free Personalized Website
Affordable to Join
Established Company
High-quality & Cheap Books
1 • Free Personalized Website
Once you become an Usborne Consultant, the company provides you a personalized website for free.
When someone who visits your personalized website purchases one or more books through it, you earn commissions.
In addition, if someone signs up as an Usborne Consultant through your website you automatically become their sponsor, and they become part of your downline which means that you could earn commissions from their sales as well as from the sales of their own recruits, their recruits' recruits, etc.
If marketed the right way, this website could help you maximize your customers and your recruits, and subsequently your income.
If your business is not on the internet, then your business will be out of business – Bill Gates
Usborne Books is very affordable to join compared to the average MLM company.
With just a one-time payment of $77, you can start earning commissions by selling the company's books and building your own team of Consultants.
Just to give you a frame of reference, NewYou (a CBD MLM) requires you to pay at least $70 per month to keep yourself active and qualified for commissions.
Usborne Books is one of the most well-established and long-standing companies I've reviewed up to this point.
The company has been continuously growing year after year for more than 46 years now, which is exceptional considering that most MLM companies fail before they even reach their 5th birthday.
It's undeniable that Usborne is in for the long haul something that makes it a good opportunity to build a long-term, sustainable income.
4 • High-Quality & Cheap Books
No company can stand 46 years without actually offering high-quality products or services.
Usborne is well-known for selling high-quality books that kids and parents love.
If you head over to amazon.com and search for "Usborne" you'll find out that the books have dozens of 5-star reviews each.
The books aren't massively produced but basically handmade by Usborne's in-house staff.
Plus, they are very affordable…
I have personally purchased crappy books for thrice as much as Usborne's books cost.
MLM Business Model
Reliance on Hosting Events
Low Income Potential
D- BBB Rating
No Official Compensation Plan Available
As mentioned earlier, I am not fond of the MLM business model in general for many reasons…
First of all, the percentage of MLM participants who actually make a profit is awfully low (74% – 99%)
Secondly, I hate selling…
And thirdly, I've heard so many stories of people losing all their friends, family, and money due to the pushy and sleazy practices they were being taught by their "mentors" that I have become repulsed by the MLM business model in general.
Being involved in an MLM is just not worth the trouble in my mind.
Especially when there exist other much more legit ways of earning a lot more money without having to go through all that struggle of becoming a sleazy salesperson and jeopardizing your relationships with those around you because you are perceiving them as walking bags of cash.
2 • Reliance on Hosting Events
The main practice that Usborne Consultants employ towards marketing and selling the company's books is hosting book parties and events for your friends, family, coworkers, neighbors, etc.
This is exactly what you are going to be taught to do as well.
Personally, I would absolutely hate that!
People are not stupid and once you start pitching them your books they are going to understand that your so-called party was just a way to get them to buy from you.
Plus, those parties are going to be costly too.
What?
Did you think that you were going to invite people to your house and get them to buy your books without treating them with food, drinks, tea, coffee, or whatever?
Have you considered that there will probably be times when you'll spend more money on your party than the commissions you'll earn by selling your books?
According to Usborne's website, the average Consultant earns $100 per party.
Let's say that each party costs you an average of $40.
This means that your actual earnings will be $60 per party.
To earn $1000 per month, you'll have to throw a party every other day.
Can you do that?
Is it worth it?
Where will you keep finding new people to invite?
As we saw right above, the average revenue from book sales a Consultant makes is $100 per party they host.
This is way too little.
It's not surprising though…
The average MLM rep doesn't earn more than $5000 per year.
BBB (Better Business Bureau) is a non-profit organization that ranks businesses, charities and non-profit organizations based on their legitimacy, the information they gather about the business and complaints received from customers.
The higher a company's rating, the more credible and trustworthy the company is in the eyes of BBB.
Usborne Nooks has been rated with D- by BBB which is actually an extremely bad rating.
While BBB is an independent organization and not an official business regulator Usborne receiving such a bad rating from BBB is not such a good sign.
Under Usborne's BBB profile there are also a couple of complaints but they have mostly to do with delivery issues and probably bad handling of orders by the selling Consultant.
5 • No Official Compensation Plan Available
The fact that Usborne Books doesn't have an official compensation plan available for the general public is just a huge turn off for me. The fact that Usborne's customer service refused to send me a copy to study before I join made things even worse.
Truthfully, this is the first time I come across an MLM company that doesn't have its official compensation plan attached somewhere on its official website.
This is the first time that I am told that I have to pay first and ask questions later…
Just awful customer service…
So bad…
Joining an MLM without studying its compensation plan first is like taking a job without knowing what kind of work you are going to do or how much you are going to get paid.
I would never, ever , EVER, do it!
Usborne Books MLM Review Summary
The income of the average Usborne Consultant is $100 per party.
Provides training, personal mentor, personalized website, marketing tools, and resources, private FB groups, etc.
Usborne Books is NOT a pyramid scheme. Very low BBB rating. No official compensation plan available.
Is Usborne Books Suggested?
If I was extremely interested in selling kids' books for a living and had no other options, I might consider giving the business opportunity Usborne Books offers a try.
However, joining Usborne as a Consultant is not really suggested as there are things about the company that totally took me by surprise and completely turned me off, such as the fact that it has been rated with a D- by BBB and that Usborne's customer service basically told me to f*ck off when I asked to take a look at the company's comp plan…
On top of that, to tell you the truth, I am not at all fond of the MLM business model in general…
The success rate of MLM representatives is awfully low
They are way too volatile and unstable
You need to invest a ton of money, time, and energy until you manage to make a profit (if you ever actually make a profit)
And most of them focus on recruiting people instead of actually providing an actual valuable and beneficial product/service
Plus, in order to make money with the MLM business model, you'll have to turn into a sleazy salesperson and I really hate selling as much as I hate being sold to.