Income School's Project 24, has undeniably made quite a ruckus since it got released a couple of years back…
If you've been searching for a way to build a full-time income online, then it's really no surprise that you stumbled upon it.
In a nutshell, Project 24 is an affiliate marketing course that's going to teach you how to build a full-time income online within 24 months, by following a unique 60-step training approach.
For many reasons that I'm going to be talking about within this review, I personally consider Project 24 among the best affiliate marketing courses I've come across until now.
Nonetheless, I am extremely aware that you might have heard similar claims about dozens of other courses, only to find out later that they were huge time and money-wasting scams, am I right?
Well, this is exactly why the rest of this Project 24 review is going to be focused on covering every single aspect of Project 24, such as
What Is Project 24 About?
How Does Project 24 Work?
Who Is Project 24 For?
What's Inside Project 24?
How Much Does Project 24 Cost?
Project 24's Pros and Cons
Is Project 24 a Scam or Suggested?
This way, you'll have every piece of information you might possibly need to make an informed decision about whether Project 24 is worth your time, money, and attention or not.
So, let's dig in, shall we?
Income School Project 24 Overview
Name of Product: Project 24
Owners:
Price:
$449 for the first year
$199 for each successive year after your first year is over
Official Website: incomeschool.com/project24
Suggested? Yes!
Best Affiliate Marketing Courses
What is Project 24?
Project 24 is an affiliate marketing course that teaches about building a Full-Time Income Online, in the span of 24 months.
Project 24 was launched by Jim Harmer and Ricky Kesler in February 2018.
Jim and Ricky used to be two average guys working normal jobs and leading normal lives.
In 2009, they decided to start getting involved with affiliate marketing in an attempt to boost their income and ultimately quit the 9-5 rat race and live the "laptop lifestyle".
After a lot of experimentation and trial and error, they managed to build dozens of affiliate websites that generated hundreds of thousands of dollars per month for them and by 2012, both of them had quit their 9-5 jobs.
In 2015 Jim and Ricky started Income School as a way to teach other people how to create profitable affiliate websites like them.
3 years later and after having helped dozens of people succeed with affiliate marketing, Jim and Ricky launched Project 24.
Project 24's objective is to walk you through the exact same 60-step process Jim, Ricky, and their students have been utilizing over and over again towards building affiliate marketing websites that generate a full-time income ($8000+/month) in less than 24 months.
In the two videos below, Jim and Ricky explain how they went from being employees to generating a full-time income online and living the laptop lifestyle so make sure to give them a watch.
At the time that I am updating this review, Project 24 exists for a little more than 2 years and already had helped more than 600 of its members build profitable affiliate websites by following its 60-step formula.
Out of those 600 people,
70 are now earning at least $500 per month (12% success rate)
40 earn at least $1000 per month (7% success rate)
15 have already managed to become full-time bloggers (2.5% success rate)
For a more in-depth look at Project 24, sit back and watch Project 24's full webinar right below.
Before moving on, I want to make clear that Project 24 is NOT a magic bullet to success…
Project 24 won't funnel money into your bank account out of nowhere in the next 24 months if YOU don't actually invest the required amount of time and effort in building and scaling your online business…
If after purchasing the program you still spend your free time sitting on your ass watching TV, well, you're never going to actually make any money online.
In addition, be aware that no program, including Project 24, can guarantee success in any particular timeframe.
Even if you act upon Project 24, it might take you a lot more than 24 months until you reach a full-time income online.
Truth is that the amount and speed of your success online are mainly going to depend on your own
work ethic
tolerance
level of commitment
ability to adapt
perseverance
ability to follow instructions
etc
Project 24 is for those who:
Who is Project 24 NOT for?
Project 24 is NOT for those who:
If one or more of the instances mentioned right above apply to you, then Project 24 is probably NOT for you so I suggest that you check out The Best Affiliate Marketing Courses to Make Money Online in 2020.
Now that you know who is Project 24 for and not for, it's time for me to reveal to you exactly what you'll get if you decide to join the course.
Sit tight, and have fun!
Let's find out more about each one of those features, shall we?
Project 24's 60 Steps to a Successful Site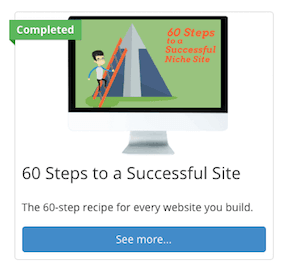 The 60 Steps to a Successful Site is where your journey with Project 24 begins.
This training module consists of 60 actionable steps that take you by the hand and walk you through the entire process of building an affiliate marketing business from scratch to generating a full-time income online.
As mentioned earlier, this 60-step recipe is responsible for hundreds of very profitable affiliate websites Jim, Ricky, as well as several of their students, have built so it's basically proven to bring results.
A fraction of the things that you are going to be taught during this 60-step approach include:
Setting up a WordPress website
Choosing your niche
Writing content for your blog 
Promoting your website on Pinterest
Recording YouTube videos
Conducting keyword research
Designing and structuring your website
SEO strategies
and much more
Within this 60-step approach, you'll also discover a very effective blogging technique that no other affiliate marketing course is talking about…
Jim and Ricky call it "The Content Mix".
Content Mix means writing specific types of posts during specific stages of your website.
Those types of posts are:
Response posts 
Staple posts
Pillar posts
If you can't understand half of it, worry not… Jim and Ricky explain everything in great detail within Project 24.
Based on Project 24's Timeline, The 60 Steps to a Successful Site should take you somewhere around 3-4 months to complete.
By the time you complete all of them, you'll have in place a website with 30 posts, 3 recommended tools pages, and a YouTube channel with 10 videos.
But that's just the start!
Dozens of Additional Courses
On top of its main 60-step recipe, Project 24 offers dozens of additional courses on a variety of subjects that'll help you successfully scale your online business, such as:
How to pick a profitable niche
Search Engine Optimization (SEO)
Increasing traffic with Pinterest
Google Snippet Optimization
Email marketing
Improving the speed and effectiveness of your writing
Success Mindset
etc
All courses contain at least one video that ranges from 20 to 60 minutes as well as text.
In addition, new courses are being published all the time and as a Project 24 member, you'll get your hands on both the older as well as the forthcoming ones.
Frankly, those courses are jam-packed with information that will save you enormous amounts of time, energy, and guesswork.
For instance, the course on picking a profitable niche teaches you how to find the right balance and refine your niche just enough in order to speed up and maximize your results.
If you choose a very wide niche you'll probably end up competing with a lot of highly-authoritative websites that will trample you.
On the other hand, if you narrow your niche way too much you might end up having no audience to make money from.
Both of those instances will most likely result in failure and having to start all over again.
Furthermore, the course on Search Engine Optimization reveals several tips and practices that will help you make your website appear in higher positions than your competition in the SERPs, such as
Finding keywords with low competition
Writing the right content
Analyzing your competition
Composing awesome headlines
Understanding how search engines work
etc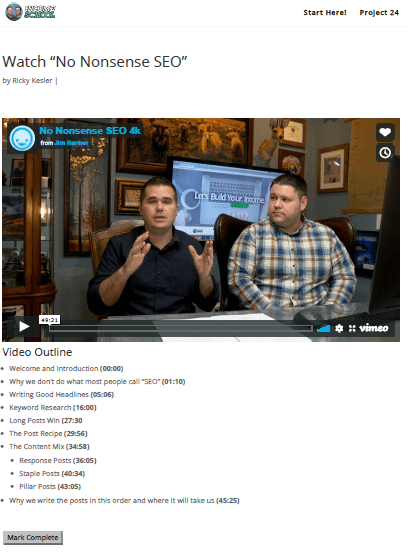 Not knowing how to perform SEO on your website and articles the right way could hold you back many, MANY months, or even years. 
Right below, you can see an SEO guide published on Income School's YouTube channel which is pretty similar to the SEO course that you'll find within Project 24.
Make sure to give it a watch to get a grasp of how all the courses within Project 24 are laid out.
Upon signing up to Project 24, you'll gain instant access to a weekly, members-only podcast, run by Jim and Ricky.

The podcast gets released in seasons.
Each season contains 5-10 episodes that revolve around a specific subject.
For instance, the first season of Project 24 consists of 8 episodes within which Jim and Ricky reveal how they increased the revenue of one of their websites by 300% in just a couple of months just by changing its monetization technique.
Season 2 consists of 13 episodes and is focused on sharing data regarding project Rexburg, a project where Jim and Ricky hired a number of University students to write 200+ articles per month, on several new niche websites.
At the time I am updating this review, Project 24's podcast consists of a total of 80 lessons and more are being added weekly.
Each podcast episode runs for about 30-60 minutes.
Project 24's podcast is mainly addressed to intermediate and/or more advanced affiliate marketers as it focuses mostly on subjects that have to do with scaling an already established online business.
In addition to the Project 24 Podcast, Jim and Ricky also run a Project 24 Vlog.
At the time I'm writing this Project 24 review, the vlog contains just a couple of small videos offering some general advice and insights.
I'm guessing that over time, Jim and Ricky are going to be adding more videos.
Project 24 offers dedicated support to all its members.
If you
get stuck and need help to get back on track
come across technical difficulties or other issues
have any questions regarding the training
or whatever else
you can contact Project 24's support team through email and they'll get back to you ASAP.
Their answers are usually spot on so chances are that any issue you might be facing will get resolved in no time without you having to keep going back and forth with them for hours.
Having access to a dedicated support team is going to drastically increase the chances of you reaching your financial goals.
Private Project 24 Community
In addition to the dedicated support, Project 24 offers access to an exclusive, members-only community.
Project 24's community is basically a forum-like platform where you can 
interact with other members of the course
ask Jim and Ricky questions
provide help to others
share your wins and failures
seek support and motivation
learn what works and whatnot from those who are ahead of you
etc
The forum consists of hundreds of active affiliate marketers from all around the world so it's pretty active 24/7.
This means that no matter what day and time it is, you'll probably always manage to find someone to get you unstuck!
Jim and Ricky are also actively providing help within the community every single day.
Having access to such a community could truly make the difference between your online business succeeding and failing.
According to Wikipedia, being part of a community of people who are after achieving similar goals as you, makes the whole process a lot less painful and frustrating.
In addition, according to Psychology Today, a sense of belonging to a community of like-minded people improves your motivation, happiness, and helps you cope with negative and painful emotions.
Even if you decide not to go for Project 24, I suggest that you don't settle for a course that doesn't offer access to a populated & active community.
Project 24's Download Center contains several downloadable tools & resources, such as
Project 24 Success Timeline (Excel spreadsheet with expected earnings over time)
300+ profitable niche ideas excel spreadsheet
Income School's Monetization WordPress plugin (helps manage your affiliate links)
The Content Mix template infographic 
Income School's WordPress premium theme (Acabado)
New tools and resources are regularly being added in this section as well.
In an attempt to ensure that Project 24's members will manage to reach full-time income online within the expected timeframe, Jim and Ricky have put together Project 24's Timeline.
Project 24's Timeline is basically a compass of the tasks you should be completing and the results you should be expecting at any given month during your journey.
For instance, according to Project 24's Timeline, by the end of your 2nd month in the course, you should have
completed Project 24's 60-step recipe
earned $0
By the end of your 12th month, you should
have published 130 pieces of content
receive 12.000 page views/month
be earning around $300/month
By the end of your 24th month in Project 24 you should have:
An ongoing publishing routine on your website & YouTube channel (10+ pieces of content published per month)
Optimized ad and affiliate monetization
A growing email list directing users to well-monetized pages on your site
Launched a course or info product of your own
Published 195 pieces of content
If you strictly adhere to Project 24's Timeline, chances are that your online business is going to be generating a full-time income before you hit the 24-month mark.
However, if you keep deviating from it, earning a full-time income online is probably going to take a lot longer than expected…
According to Project 24:
If you were slower to complete some actions, you'll be slower to see the outcomes.
You can take a look at Project 24's Timeline right here.
Free Premium WordPress Theme (Acabado)
Last but not least, as a Project 24 member you'll get your hands on Income School's premium WordPress theme "Acabado", completely for free (normally costs $50/year or $99 for life).
Acabado is simple, minimal, and its main purpose is to decrease your website's loading speed.
Loading speed is one of Google's ranking factors…
This means that Google will rank faster-loading websites in higher positions in its SERPs than slower-loading ones.
The downside of Acabado is that it offers a lot fewer customization options than most regular WordPress themes out there…
How Much Does Project 24 Cost?
Project 24 costs
$449 for your first year as a member
$199 per each successive year you decide to remain a member
Project 24 offers no monthly payment plan, no free trial, and no refunds or money-back guarantees whatsoever.
The first thing that I like about Project 24 is that its creators have a proven track record of success with affiliate marketing…
Over the years, Jim and Ricky have built from scratch dozens of affiliate websites that are now generating hundreds of thousands of dollars per month in commissions for them, such as:
Improve Photography
Camper Report
Dirt Bike Planet
Outdoor Troop
Soundproof Expert
and much more
Project 24 reveals the exact same 60-step process Jim and Ricky followed to build and grow every single one of those websites.
Jim and Ricky's teaching style is clear, concise, and contains no fluff whatsoever.
Lastly, they are always 100% honest and transparent about everything they do and the results they get.
Within Project 24, Jim and Ricky will be sharing with you
the names of their niche websites
how much traffic they get
the income each of them generates
the keywords they use
the strategies they employ
experiments they conduct and how they worked for them
what they could have done better
what they should have avoided
etc
Give the video right below a watch to see for yourself what I am talking about…
2. No Extra Expenses/Upsells
There are tons of affiliate courses that lure you in with low initial prices only to start throwing at your face hundreds of dollars of worth of upsells or other products/services, such as
Keyword research tools
Autoresponders
Funnel builders
etc
that you'll have to purchase to be able to follow through with them.
Thankfully, Project 24 focuses on teaching you how to build & scale your online business 100% expense-free by leveraging tools and resources that are available online for free.
For example, instead of purchasing a keyword research tool that could set you back hundreds of dollars per month, Project 24 will show you how to conduct your keyword research for free by using Google's built-in search function.
The only additional expenses regarding Project 24, after your yearly membership fee, will be
a domain name ($15/year)
and a hosting plan ($10/month)
3. Constant Updates + New Content
The internet landscape, in general, is constantly evolving.
New rules and practices rise daily to replace old ones…
What worked yesterday might not work today and what works today might not work tomorrow…
Jim and Ricky do their best to keep Project 24 up to date based on the latest internet trends by regularly updating and adjusting old content as well as adding brand new content with the first given chance.
As a Project 24 member, you'll have access to all of the course's future updates & new pieces of content completely for free.
4. Populated & Active Community
As mentioned earlier, Project 24's private, members-only forum is pretty active and populated.
No matter what time, or day it is, through that forum you're almost guaranteed to receive a prompt solution to any problem you might be facing either from one of the hundreds of other community members, Jim, Ricky, or their dedicated support team.
For most newbies to affiliate marketing, being part of such a community could make the difference between success and failure.
Important Tip: Avoid at all costs courses that offer no access to any kind of community or have inactive & deserted communities.
5. Unique Training Approach
Project 24's 60-step recipe lays down a very unique approach to building successful affiliate websites that you won't find in any other affiliate course.
This recipe has been put together by Jim and Ricky and has been refined over years of trial and error to only include techniques and strategies that have been proven to repeatedly generate results.
In addition, within Project 24's 60 steps, you'll come across a unique content-writing technique called "Content Mix", which is also exclusive to Project 24 members.
Lastly, some of Project 24 courses teach about unique approaches towards scaling your online business, that no other marketer is talking about, such as the snippet optimization practice.
6. Focuses on Free Traffic
Project 24's focus is to teach you about cultivating free, search engine traffic be leveraging 3 main techniques:
Publish high-quality content which is valuable and helpful to your readers
Optimize your website and content in order for the search engines (Google, Yahoo, etc) to rank you in higher positions in their SERPs
Leverage YouTube and Pinterest to build up your traffic and authority
The course does NOT bother with
Social media
Posting on forums
Paying for traffic
or building backlinks
as none of those traffic generation methods is as effective, stable, and sustainable, as generating free traffic through multiple search engines.
Just a side note for more advanced marketers:
Link-building is dead…
You can't even imagine how many times I've seen online businesses burn to the ground overnight after one of Google's algorithm updates because they had been focusing solely on building backlinks.
Backlinks might still be an important ranking factor (for now) but if you are actively building them without at the same time publishing high-quality content on your website, you're just trying to fool the system.
And believe me, nobody can fool the system, at least not in the longterm.
Think about it this way:
People come to your website to read your content…
They care neither about how many backlinks you have nor if those backlinks come from high-authority websites.
And if you want to end up running a successful online business, you should give your visitors exactly what they want.
If you're building or thinking about building backlinks, then you should definitely watch the video right below.
Project 24's training is very beginner-oriented as it walks you through even the most basic steps of building your online business, such as
purchasing a domain name & hosting
building and setting up your website
creating posts & pages
installing plugins
etc
8. Increasing Success Stories
As time passes, more and more people seem to be reaching a full-time income online by utilizing everything taught within Project 24.
Take a look at a handful of Project 24 success stories right below.
You can find some more Project 24 success stories and testimonials right here.
In addition, if you join Project 24, you'll come across dozens of more success stories of Project 24 members within the platform's private forum.
9. Tons of Positive Reviews
Project 24 is receiving quite a lot of positive feedback from many online marketers.
Here's what some of them have to say about it:
Project 24 is a packed course that teaches about an unusual approach to building niche websites and earning passive income online that clearly works for many people. – ebizfacts.com
If your goal is to make good money online, as passively as possible (i.e. a full-time income working part-time hours), Project 24 is definitely worth a look. – amylynnandrews.com
Project 24 is easy to follow. Everything is simple and straightforward, and by the end of the program, you should grow from being an absolute greenhorn to a refined, full-time online entrepreneur earning a decent income from blogging and affiliate marketing. – hustlelife.net
Those who want to learn from instructors who like to mix humor, authenticity, good ethics, and old school work/life family values, would feel a sense of belonging in Project 24's community. Participation in such a community will help you to brace the transition into the career of online marketing. Their training is solid and is apparently helping people earn money. – howtoentrepreneur.com
Project 24 is a new kid on the block.
The platform was launched in February 2018 so at the time of this review, the platform exists just for a little more than 2 years.
I'm not implying in any way that Project 24 is low-quality or ineffective but rather that it still has a lot of room for improvement compared to an affiliate marketing course like Wealthy Affiliate which has been around for 15 years.
Project 24 doesn't offer a free trial…
Nonetheless, if you want to get a taste of what the course has to offer, I suggest that you start consuming Income School's YouTube content.
The videos within Income School's YouTube channel are pretty similar to Project 24's instructional videos, so you can basically consider them like a free trial for Project 24.
If you enjoy Income School's YouTube content, then chances are that you'll also enjoy Project 24.
3. Somewhat Unrealistic Claims
As mentioned earlier, Jim and Ricky are very honest and transparent about everything they do and I really applaud them for that.
But one thing that really bugs me about them is that they keep claiming that writing an article takes just one hour.
I bet that this is the case for experienced digital marketers like Jim and Ricky but truthfully, it would be nearly impossible for an absolute beginner who hasn't written a blog post before.
For instance, I've been writing content for about 4 years and I'm still unable to write an entire article in just one hour (at least not a high-quality one).
Now, I'm not a professional writer but I personally need 3 to 4 hours to finish a high-quality, 2000-word article. 
The problem here is that Project 24's Timeline has been created by Jim and Ricky having in mind that putting together a high-quality article requires only one hour of work while for most people, especially beginners, the whole process will definitely take a lot longer.
This means that if you can't finish your articles in one hour, you will probably end up deviating from Project 24's Timeline, thus taking you longer than 24 months to get your website to generate a full-time income.
4. Kinda Pricey for my Taste
Project 24 costs $449 to join.
While such an admission fee isn't unbelievably high, there are definitely more affordable high-quality affiliate courses (e.g. Wealthy Affiliate) 
Jim and Ricky offer no refunds for Project 24.
If for any reason you'd like to get the money you invested in Project 24 back, well, you can't.
You can take a look at Project 24's refund policy right here.
Project 24 Review Summary
Project 24's purpose is to help you earn $8000+ per month online.
60 steps to success, video courses, podcasts, spreadsheets, templates, Acabado, etc.
Kind of pricey for my taste. No free trial. No refunds. It's worth the investment.
Dedicated support team. Access to a private community of hundreds of like-minded people.
Dozens of success stories & positive testimonials. Project 24 seems to bring results to its members.