A few days ago, you found out about the alleged "amazing" business opportunity Javita (now known as Dollar Coffee Club) offers…
Maybe a friend or family member of yours told you all about it or maybe you read a post somewhere online.
So, Javita sells a few coffee-related products which are supposed to improve people's health and help them lose weight and you can supposedly build a part or full-time living, by participating in Javita's MLM compensation plan as an Affiliate – selling the company's products as well as recruiting other Affiliates.
At first, you were kind of intrigued but since you've heard your fair share of MLM horror stories, instead of blindly joining Javita you decided to first conduct your research (good for you).
Well, this is your lucky day!
In this review, I am going to uncover every single aspect of Reliv International, such as
What is Javita about?
Is Javita a pyramid scheme? A scam maybe? Or a legit MLM company?
How to join Javita as n Affiliate?
How much does it cost to join Javita?
Pros and cons of joining Javita
Javita's compensation plan
Can you really make money with Javita, and if yes, how much?
and much more
In addition, I am going to reveal to you a couple of alternative money-making opportunities.
This way, you'll have every piece of information you might possibly need to make an informed decision about whether Javita is worth your time and attention or if you'd better invest in a more legit and promising program.
Let's get cracking!


Javita (Dollar Coffee Club) MLM Overview
Name: Javita (now known as Dollar Coffee Club)
Owners:
Stan Cherelstein (CEO & Founder)
Price: 
 $299 – $598 membership fee + enrollment product pack
19.95 per year annual renewal fee
$14.95 per month for DCC Plus (optional)
Official Website: dollarcoffeeclub.com
Suggested? Nope!
Increase your chances of reaching success in multi-level marketing by following a dedicated MLM course.
.
Before I move on to the actual Javita MLM review, I want to reveal to you some statistics about the MLM business model that will probably SHOCK you to your very core.


10 Shocking MLM Statistics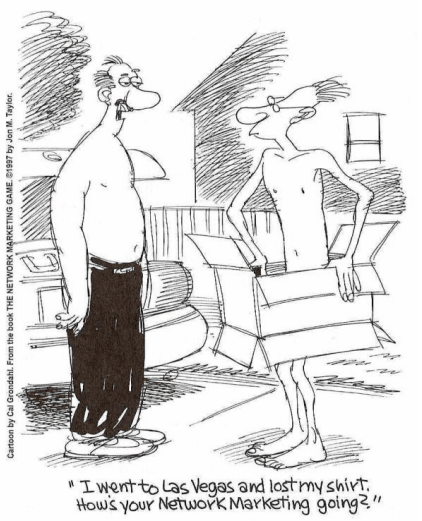 Javita is an MLM company that operates in the weight loss and wellness industries.
The company was founded in 2011 by Stanley J. Cherelstein.
Stanley J. Cherelstein is also the founder and CEO of Waiora, another MLM company that develops and distributes anti-aging products.
Waiora was founded by Stanley in 2004 and is still up and running to this day (Javita is actually considered Waiora's subsidiary).
According to some online sources, before founding his own companies, Stanley had served as President, CEO, Senior Vice President of Finance and Operations, and Controller for two allegedly highly successful MLM companies (I couldn't find out for which ones).
In July 2019, Javita was relaunched as Dollar Coffee Club (probably because Javita was slowly tanking as we'll see later on).
DCC put together a brand new compensation plan to its Affiliates but kept its product line still branded as Javita.
As it seems, most of the direct selling and recruiting efforts of DDC's Affiliates are taking place online, through the replicated websites and links DCC provides to them.
That's why DCC tends to market itself as an "online business opportunity".
Nonetheless, Dollar Coffee Club's Affiliates can purchase the company's products themselves at discounted prices and then resell them at retail prices face to face if they prefer this kind of direct selling.
According to DCC's website, the company's mission is to help people all around the world live a good life by providing a business model based on great tasting, unique, instant coffees combined with a lucrative financial opportunity which will enhance people's lives one cup at a time!
Unfortunately, there's not much more information online neither about Stanley and his past endeavors nor about Javita and how it came together.
Dollar Club Coffee's Products & Prices
DCC's entire product line is branded as "Javita".
Javita products fall under the following 4 main categories:
coffee
tea
blends
weight loss supplements
The company's flagship product is a coffee blend that is marketed as "Burn + Control Coffee".
Burn + Control Coffee is a blend of herbs, botanicals, and estate-grown South American Arabica and Robusta coffee beans and is supposed to 
Support healthy weight management
Promote appetite control
Help stimulate fat burning
Promote efficient use of carbohydrates
Improve stamina during exercise
Burn + Control Coffee costs $35 per 24 sticks.
According to Dollar Coffee Club, two of the weight loss herbs Burn + Control Coffee contains are
Garcinia Cambogia
and Yerba Mate
After looking around for a while there seem to be several studies about the weight loss and overall health-boosting properties of both of those herbs.
For instance, according to a study published on WebMD, Garcinia Cambogia contains HCA (Hydroxycitric Acid) which appears to block an enzyme called citrate lyase, which our body uses to make fat while raising the levels of serotonin, which reduces appetite.
Furthermore, according to several other studies I managed to locate online, Yerba Mate seems to contain high concentrations of compounds call "Xanthines" which increase our body's metabolic rate. 
At the same time, Yerba Mate enhances the effects of Garcinia Cambogia by suppressing appetite and increasing satiety.
While Garcinia Cambogia and Yerba Mate could indeed have some weight loss properties, be aware that this doesn't prove in any way that Burn + Control Coffee could help anyone lose weight just because it contains those 2 herbs.
In fact, Dollar Coffee Club itself discloses that none of the health improvement claims it makes have been evaluated or approved by the FDA and that none of its products are intended to diagnose, treat, cure or prevent any disease.
Anyway, the rest of the products that are manufactured and distributed by Dollar Coffee Club are as follows: 
ActiveBlendz:
Control: $40 -> Weight loss supplement
Defend: $35 -> Boosts immune system & defends against free radicals
Fiber+: $40 -> Suppresses appetite, stabilizes glucose levels & and could promote cardiovascular health
Flex:  $35 -> Improves joint function & mobility, reduces inflammation
Coffee & Tea:
Energy + Focus Coffee: $35 -> Boosts cognitive function & focus. Reduces stress & anxiety
FocusFusion Cocoa: $40 -> Antioxidant. Balances mood & boosts concentration
Lean + Green Tea: $35 -> Weight loss tea
Weight Loss System:
Burn: $40 -> Weight loss supplement in the form of capsules
Cleanse: $20 -> Supports weight loss, boosts the immune system, cleanses the liver, detoxifies the kidneys, promotes healthy digestion, etc
Protein: $45 -> Protein supplement enriched with superfood greens and vitamin B
You can find out more about Dollar Coffee Club's products and their respective prices on the company's official website.
Javita Affiliate
Compensation Plan
The majority of MLM companies have so extremely complicated compensation plans that it feels like you need to have a rocket scientist doctorate to understand just their first paragraph.
Thankfully, Javita's compensation plan is not that complicated but nonetheless, in order to make things easier for you,  I'll try my best to get you up to speed.
So, Javita compensates its Affiliates in the following 4 different ways…
Customer Rebates
Referral Bonus
Product Box Bonus
Annual Performance Bonus
Javita pays you 15% – 30% commissions when customers make product purchases through your replicated website.
The commissions are calculated based on the difference between your discounted prices and the retail prices on Javita's products.
For instance, if your Affiliate price for a product is $30 and its retail price is $35, you'll earn $5 every time a customer purchases that product.
The Referral Bonus pays you $40 every time you recruit another person as an Affiliate for Javita.
The Product Box Bonus pays you through a uni-level structure on each product box purchased by other Affiliates and Customers up to 6 levels deep.
The requirements for the amount of money an Affiliate earns per box sold are as follows:
$1 per box sale if you have a shipped, monthly subscription of 4+ boxes 
$0.5 per box sale if you have a shipped, monthly subscription of fewer than 4 boxes 
The qualifications for the number of levels an Affiliate can earn this bonus through are as follows:
Level 1:
Have at least 1 personally enrolled Active Affiliate who has purchased at least 4 product boxes
Level 1 + 2:
Have at least 2 personally enrolled Active Affiliates who have purchased at least 4 product boxes each
Level 1 + 2 + 3:
Have at least 3 personally enrolled Active Affiliates who have purchased at least 4 product boxes each
Level 1 + 2 + 3 + 4:
Have at least 4 personally enrolled Active Affiliates who have purchased at least 4 product boxes each
Level 1 + 2 + 3 + 4 + 5:
Have at least 5 personally enrolled Active Affiliates who have purchased at least 4 product boxes each
Level 1 + 2 + 3 + 4 + 5 + 6:
Have at least 6 personally enrolled Active Affiliates who have purchased at least 4 product boxes each
Active Affiliate = Affiliate having 2+ shipped boxes during the month
Furthermore, you are eligible for a "Power UP your Box Bonus" which allows you to earn up to $4 on all the box sales taking place on your levels 3, 4, 5 & 6 if you meet the following requirements:
Be on a 4-box monthly auto-ship
Recruit at least 2 new Affiliates during the month
4 • Annual Performance Bonus
Javita sets aside $1 for each product box it sells.
At the end of the year, Javita shares all its savings with Affiliates who have qualified for the Annual Performance Bonus at an annual event…
The criteria used for determining the share allocation of the Annual Performance Bonus include:
The number of new Personally Enrolled Affiliates
The number of boxes sold to Personally Enrolled Affiliates and Customers
The number of boxes purchased within your first 3 levels
The number of boxes purchased within your first six 6 levels
You can study Javita's full compensation plan for yourself right here.
The video below sums up Javita's compensation plan pretty neatly so make sure to watch it if you still have gaps.
However, be aware that the video is recorded by a Javita's Affiliate so it's kinda biased… Just make sure to take all his income claims and positive comments about the company with a grain of salt or even better, do not pay any attention to them whatsoever.
Please note that Javita's compensation plan might undergo changes from time to time so by the time you read this review, some of the info (the commission rates, the qualifications, etc) that I shared with you right above might not be that accurate.
If you still have questions about it, you can contact the company's support team at the email address support@dollarcoffeeclub.com or at the telephone number 1-855-528-4821
Or you could email me at harry@dearboss-iquit.com and I will do my best to help you out.
Javita Affiliate
Ranks & Qualifications
Javita's compensation plan doesn't include any ranks beside the initial Affiliate rank.
How to Join Javita as as an Affiliate?
In order to join Javita as an Affiliate, you have to take the following steps:
Head over to your Sponsor's replicated website
If you don't have a Sponsor you can contact Javita at 1-855-528-4821 and they will bring you in contact with one
Assuming that you are on a Sponsor's replicated website, click the "Get Started" button on the very top of the website
Then select your country
Scroll down a bit and click "Join & Save"
Choose one of the Enrollment Club Boxes and click "Continue"
Then, select one of the available Enrollment Packs (or build your own)
Next, fill in your personal information, choose if you want to subscribe for the DCC Plus, agree to the company's Terms & Conditions and Policies & Procedures and click "Continue"
Now, you are prompted to set up a monthly auto-ship order… If you don't want to do so, scroll down and click "No Thanks"
Next page, click "Ship to this address"
Fill in your payment information and click "Accept Payment"
That's it!
You are now an Affiliate for Javita.
How Much Does It Cost to Join Javita as an Affiliate?
In order to sign up as an Affiliate for Javita, you'll have to purchase one of the two following Club Boxes:
Variety Club Box – $299
Starter Club Box – $99
During your signup, you'll also have to purchase either a product pack that costs an additional $200 or 2 product boxes that cost $299.
In addition, after your first year as an Affiliate ends, you'll have to pay $19.95 for each additional year that you want to remain an Affiliate.
Furthermore, Javita prompts you to subscribe to DCC Plus (application and reporting tools) for $14.95 per month but this is optional.
Summing up, the cost to join Javita as an Affiliate is at least a one-time payment of $299 plus $19.95 per year.
Is Javita a Pyramid Scheme?
Most of the time it's very hard to distinguish between a legit MLM company and a pyramid scheme.
Make sure to watch the video below to discover how to spot and avoid pyramid schemes in general.
The main difference between a legit MLM and a pyramid scheme is that your income potential with a legit MLM is mostly based on selling the company's actual products or services to retail customers while your income potential with a pyramid scheme is mostly or solely based on recruiting other people into the scheme.
Not all MLMs are legitimate. If the money you make through an MLM is based on your sales to the public, it may be a legitimate one. If the money you make is based on the number of people you recruit and your sales to them, it's not legit. It's a pyramid scheme. Pyramid schemes are illegal, and the vast majority of their participants lose money. – Federal Trade Commission
Since Javita offers its Affiliates the option to generate money by selling the company's products in retail, technically, the company is not a pyramid scheme.
However, Javita's compensation plan definitely displays some pyramid-like characteristics.
First of all, the company pays its Affiliates a direct commission on every recruitment they make.
Furthermore, in order to signup as an Affiliate for Javita, you'll have to personally purchase several of the company's products yourself. This initial product purchase generates volume for Sponsors that exist up to 6 Levels above you through the Product Box Bonus.
This means that Javita offers the option to its Affiliates to build an income solely through newly recruited Affiliates and their initial signup purchases without having to sell a single product.
Secondly, in order to participate in the Product Box Bonus, you'll have to be an Active Affiliate which means that you'll need to have at least 2 products already shipped to you during the month.
Furthermore, the Product Box Bonus seems to be paying higher commissions to Affiliates who have ordered more products during the month ($1 per box if you have more than 4 boxes shipped to you or $0.5 per box is you have less than 4 boxes shipped to you).
This is considered a "Pay to Play" scheme.
Pay to play basically means that the more money you "invest" in the company (pay) the more money you could make (play).
According to FTC, Pay to Play is one of the five defining characteristics of pyramid schemes.
Another instance of Pay to Play is the "Power UP your Box Bonus" whereas you can earn even more commissions per box sale if you maintain a personal monthly auto-ship order of 4+ boxes.
2 instances of Pay to Play in a single compensation plan is kind of a red alert.
So, is Javita a pyramid scheme?
On paper, it's not…
On the other hand, the mandatory enrollment product purchases that generate volume for upline Affiliates in conjunction with 2 Pay to Play instances make me extremely suspicious that Javita might be running on recruitment for the most part.
If you are thinking about joining Javita as an Affiliate, here's what you should do.
Locate a very trustworthy Affiliate and ask them whether the majority of their income comes through retail sales or through their recruits.
If it's the latter, you might be looking at a potential pyramid scheme.
Once you join Dollar Coffee Club as an Affiliate, the company provides you a replicated website for free.
When people purchase Javita's products through your replicated website, up to 30% of what they pay will land in your pocket (through the Customer Rebates Bonus).
In addition, if someone signs up as an Affiliate for Javita through your replicated website you automatically become their Sponsor, and they become part of your downline.
If marketed the right way, this replicated website could help you maximize your retail sales, recruits and thus your income.
If your business is not on the internet, then your business will be out of business – Bill Gates
Javita offers a 30-day money-back guarantee to all retail customers.
Research shows that money-back guarantees and refunds increase customers' feelings of satisfaction with their purchases.
In addition, people are much more likely to buy products that have a money-back guarantee as well as purchase from the same seller that offered it in the future.
If leveraged the right way, Javita's money-back guarantee could have a rather positive impact on your retail sales.
The bad news is that as an Affiliate it is your responsibility to refund the purchases of your own customers if they request so…
You can read all about Javita's Return Policy right here.
BBB (Better Business Bureau) is a non-profit organization that rates and accredits businesses, charities, and non-profit organizations based on several factors, such as
Legitimacy
Information gathered online
Complaints received from customers
Complaints resolved by the company
etc
Javita has received an A+ rating from BBB which is actually the highest possible rating.
While BBB is not an official business evaluator but rather an independent organization, the higher the BBB rating a company receives, the more credible and trustworthy it is considered.
Please note that neither Javita's high BBB rating isn't in any way definite proof neither that the company is indeed legit nor that it will help you achieve your financial goals.
4 • Focuses on Online Marketing
One thing I really liked about Dollar Coffee Club is that it is marketed as an "online business opportunity".
As it seems, DCC's Affiliates are highly encouraged to focus their sales and recruiting efforts online by marketing the free replicated websites the company provides to them.
This is a very unique approach to multilevel marketing as most MLM companies still focus on obsolete face to face selling and recruitment practices such as bothering family and friends, hosting parties, etc…
Personally, having experienced first hand the vast income potential of owning an online business, I am a big advocate of any kind of business opportunity that utilizes the online world.
Plus, considering that almost 60% of the entire population is on the internet nowadays and as the years pass, more and more people are going online, there's literally no better time to start an online business than now.
Having said that, if you'd like to go for a much better online business opportunity than the one an MLM company offers, check this one right here.
No matter what the case, Javita is still an MLM company…
And I am not at all fond of the MLM business model in general for many reasons…
First of all, the percentage of MLM participants who never actually make a profit is awfully high (74% – 99%).
In addition, the majority of those who do manage to make a profit, earn no more than $5000 per year.
Secondly, I hate selling and recruiting…
And thirdly, I've heard so many stories of people who along with their time and money, end up losing friends, family due to the pushy and sleazy practices they were being taught by their "mentors" that I have become repulsed by the MLM business model in general.
Being involved in an MLM company is just not worth all that trouble in my mind.
Especially when there exist other much more legit ways of building a substantial income whereas you have neither to turn into a sleazy salesperson nor jeopardize the relationships with the people around you because you can't stop pitching them questionable products and business opportunities that they neither need nor want.
2 • Could Be a Pyramid Scheme
As mentioned earlier, Javita's compensation plan definitely contains several instances that you would encounter in the compensation plan of a pyramid scheme…
Pyramid schemes are extremely volatile and have very short expiration dates.
Once recruits start drying out, money stops flowing in, distributors stop getting paid and start jumping ship, and the scheme starts collapsing.
This is why pyramid schemes are an awful choice for those who are after building a long-term, sustainable income.
Even if they don't collapse by themselves, when the attention of some regulatory authority such as the FTC falls upon them, they will eventually get shut down anyway.
According to the FTC, 99.6% of people involved in a pyramid scheme will either never make money or lose money.
FTC goes on to state that all pyramid schemes are scams and that pyramid schemes usually disguise as legitimate MLM business opportunities, but those who end up becoming a part of a pyramid scheme usually lose family and friends on top of substantial amounts of time and money.
3 • Very Costly to Join & Run
Okay, first of all, joining Javita costs at least $299 (signup fee + enrollment pack/product boxes).
Sure, Javita is not as expensive to join as some other MLM companies (in order to become a Distributor for an MLM called Enagic Kangen Water you need to purchase one of its products and the cheapest one costs $1980).
However, considering that I started my very first online business completely for free with Wealthy Affiliate, in my eyes, $299 is way too much money to pay just to sign up as an MLM rep.
What's funny is that this $299 is just the start…
The subsequent expenses of actually running your Javita business could rise up to hundreds or even thousands of dollars per year.
For instance, in order to participate in the Product Box Bonus, you'll have to personally purchase at least 2 product boxes per month yourself.
That's $80 per month right there.
However, personally purchasing less than 4 product boxes per month, generates only $0.5 per box sale your downline makes.
If you want to earn $1 per box sale your downline makes, you'll have to personally purchase 4+ products yourself per month.
That's $160+ per month right there.
I don't know about you but for me, that's way too much money to invest in an MLM, especially when I don't pay more than $25 per month to run my entire online business…
4 • No Income Disclosure Statement
The fact that Javita had been operating for almost 10 years before it got relaunched as Dollar Coffee Club without having released a single Income Disclosure Statement is kinda unacceptable.
It's fairly obvious that Javita tried to keep the extremely low income that its Affiliates make under the radar in order for potential Affiliates to not get discouraged from joining the company.
Now, since Dollar Coffee Club was launched in early 2019 featuring a brand new compensation plan, chances are that the company doesn't have the required statistical data to put together an accurate Income Disclosure yet.
However, judging from its predecessor, I think that even if DCC had the required data, it wouldn't really release an IDS anyway…
Nonetheless, all Income Disclosure Statements I've come across until now reveal the exact same thing – that the vast majority of MLM reps never actually make any profit and those who do make a profit, would have to throw an additional couple of bucks on top of it to buy a pizza.
I know, you know, and the trees in my backyard know that if DCC published an IDS tomorrow it would probably tell the exact same story…
5 • Lawsuit Against Waiora (Parent Company)
In 2012, Waiora (Javita's parent company), had to pay $12 million when a consumer fraud class-action lawsuit was filed against it in a US Federal Court. 
The suit took place as a result of an analysis of a Waiora's product (Natural Cellular Defense) conducted in 2010 by a third-party lab.
The analysis revealed that instead of 2400 milligrams of zeolite advertised on the labels of NCD, the bottles contained only 150 mg with the missing 2250 mg of zeolite being just water.
A second analysis performed by another third-party lab revealed that NCD contained even lower amounts of zeolite.
According to Waiora:
Natural Cellular Defense – is the cleanest and purest on the market. It is the most effective zeolite on the planet. Period.
Bullshit…
Okay yeah!
This is a review about Javita and not Waiora but since the leadership of both companies is the same, can you really be sure that all the claims Javita makes about its product are real?
Can you know that Javita's Burn + Control Coffee really contains Garcinia Gambogia and Yerba Mate or that FocusFusion Cocoa really balances your mood and boosts concentration?
Because if not, your duties as an Affiliate for Javita might include straight-up scamming people, selling them normal coffee and cocoa marketed as premium, health-boosting beverages for $40 f*cking dollars!
6 • Annual Revenue Declining
According to businessforhome.org, Javita's annual revenue had been steadily declining since 2015, for about 20% per year.
More specifically, Javita made
$50 million during 2015
$40 million during 2016
$25 million during 2017
and $20 million during 2018
This is more than a 50% drop in revenue in just 3 years, something that's definitely not a good sign…
Personally, I believe that this is the reason that Javita got relaunched as Dollar Coffee Club – in order to be conceived as a fresh business opportunity and draw in more people in an attempt to keep itself afloat.
According to my predictions, Dollar Coffee Club is going to follow the exact same trajectory as Javita, until in a few years from now, it will either shut down completely or once again get relaunched under a new name just like Javita did.
I guess time will tell…
Javita MLM Review Summary
Javita provides no Income Disclosure. 74% – 99% of all MLM reps either lose or make no money whatsoever.
Free replicated website, personal back office, business monitoring tools & app ($14.95 per month).
Javita is quite expensive both to join as well as to run.
Javita is probably not a pyramid scheme but its comp plan definitely displays some characteristics of one.
Is Javita (Dollar Coffee Club) Suggested?
Truthfully, I wouldn't suggest joining Javita as an Affiliate for many reasons…
First of all, Javita has some pay to play instances in its compensation plan something that indicates that the company could be operating as a pyramid scheme.
My suspicions grew even further when I saw the company's annual revenue dramatically declining during the last few years.
This drop in revenue is a classic sign of a pyramid scheme.
The revenue of a pyramid scheme depends on the number of its recruits and the monthly purchases they have to make for some reason (in order to maintain their status or qualify for bonuses, etc).
In Javita's case, an Affiliate has to purchase at least 2 product boxes per month in order to remain active and qualified for team commissions.
Those personal qualifying monthly orders Javita's Affiliates have to make generate commissions for their upline Sponsors.
However, at some point, there will be literally no one left to recruit to Javita (this inevitably happens to all pyramid schemes).
At that point, Javita's revenue is being generated solely through the monthly orders of its already existing Affiliates.
Now, since recruitments have dried out, the Affiliates who have little or no recruits (usually those at the bottom of the pyramid), don't earn nearly enough money to stick around and thus stop placing their monthly qualifying orders and end up leaving the company.
Then, the upline Affiliates of the Affiliates who left Javita end up being left with little or no recruits below them, earning not nearly enough money to stick around and thus stop placing their monthly qualifying orders and end up leaving the company.
This pattern keeps repeating until the only people left in Javita are its leadership team.
Javita literally collapsed on itself.
Will Javita's successor, Dollar Coffee Club be any different?
I really don't think so…
And personally, I would never invest a single dollar, let alone $299 + hundreds of more per month in such a "business opportunity".
Would you?
If so, then well, good luck with your launch, I guess…
If not, make sure to check out a better money-making opportunity right here.