Viral Pay is a newly introduced platform which is supposed to pay you money by getting people on your social media (or basically anywhere online) to click on your "influencer link" and join Viral Pay themselves as well as completing other tasks such as filling in surveys, creating YouTube videos, etc.
The whole concept is very simple and requires no prior technical knowledge so you can literally start earning money the second that you sign up.
Sounds awesome right?
It would be even more awesome if Viral Pay actually worked though.
As you are about to find out in this review, Viral Pay is most probably a scam (for many reasons that I am going to discuss later on, one of them being that they have hired actors to record fake success testimonials)…
Truthfully, if I were you, I would run towards the opposite direction.
If you are in need of earning REAL money online, and you don't want to keep wasting your time, effort, and money joining mediocre or useless programs which will probably take you nowhere near your goals, I would strongly suggest that you do yourself a favor, ditch this review right now, and go ahead to take a look at my #1 Recommendation.
Or you could just keep reading on.
Name: ViralPay
Owners: Unknown
Price:
Free to join
Additional charges may apply within the platform
Official Website: viralpay.co (closed)
Suggested? F*ck NO!
Viral Pay is a relatively new platform which claims that it will pay you $2 for each person who clicks on a referral link that the platform provides you upon your signup.
You'll also earn an additional $10 per person who ends up signing up to Viral Pay themselves after clicking your link.
There are also other tasks such as filling in surveys, installing apps, creating YouTube videos, etc which pay you up to $50 upon completion.
Viral Pay is free to join.
Once you join, Viral Pay will automatically credit your account with $25 which you can't cash out unless you complete some other tasks first.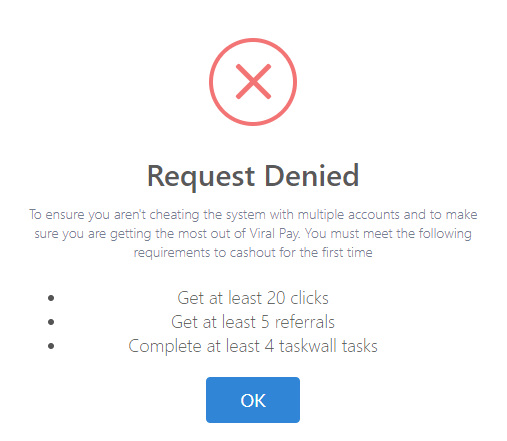 Viral Pay states that it has been around since 2015 (which is a lie as we'll see later on) and that their parent company, which they keep hidden for some reason (maybe because it doesn't exist), has been providing "online marketing solutions" since 2005.
Whatever…
Free to join
Simple to navigate and use
Tasks are easy to complete
$25 just for joining
Unrealistic claims that you'll make a lot of money fast without effort
Fake testimonials from hired freelance actors
Most tasks will ask for your mobile phone in order to send you text messages throughout the week and charge you per text message
Concealing information on purpose
Not letting you cash out the first $25 until you complete other tasks
No training to increase the efficiency of your efforts such as growing your social media count, etc
Too many red flags… Probably a scam
Viral Pay is for people who want to make some occasional money online (or most likely to just waste their time earning no money at all).
What I mean by that is that there's no way for Viral Pay to bring in sustainable, long-term income that might eventually allow you to quit your job or earn a full-time living exclusively online but rather bring in some money here and there and that, only if turns out that it actually pays its influencers, because until now, it's really not.
And truthfully, I deeply believe that Viral Pay is going to shut down within the few next months.
Who is Viral Pay NOT for?
Viral Pay is NOT for those who are after creating a sustainable, long-term source of income online. 
Such people might be those who
Want to find their way out of a boring, exhausting, regular job they hate
Work a part-time job and are in need of a stable supplementary income
Stay at home to take care of their newborns (stay-at-home moms)
Would rather be their own boss than having a boss
Would just love the idea of earning their living online working from the comfort of their own home or wherever else they want
Trot the globe
Long to escape the 9-5 rat race and instead live a unique life
etc
If you are among those people, then trust me, ditch this review, and go ahead to check out my #1 Recommendation because Viral Pay is not going to even come close to fulfilling your needs.
Once you sign up for Viral Pay, you'll land right on their main dashboard (see image below).
At the top left of the screen there is a small navigation list where you can get to your task wall in order to complete tasks, manage your account, as well as cash out your earnings.
Right next to it, on the right, there is your referral link. For every person who clicks on that link, you earn $2. For every person that joins Viral Pay through that link, you earn an additional $10.
Below your link, there's a monitoring dashboard which displays the total clicks on your link, your total referrals, the number of tasks you have completed, and lastly, your total earnings.
At the bottom left side, you can see a leaderboard (probably fake) and on its right there exist some social media sharing buttons to easily share your referral link.
There's really not anything else to see here.
Viral Pay is free to join and it has no paid membership options because it has nothing premium to offer.
Their main goal is to increase their website's traffic because this way they will be able to increase their ad revenue as well as increase the exposure to their sponsors' products ultimately, increasing sponsor relations and earnings across their network.
Warning: 99% of the tasks within the #30 Task Wall will ask you to fill in your mobile phone number in order to let you proceed. If you do that, they will start sending you a number of text messages per week at your own charge. 
Avoid that at all costs because I am not sure if and how you will be able to unsubscribe from such kind of service.
Do People Actually Make Money with Viral Pay?
Within their website, Viral Pay has posted some success stories of people claiming that they earn thousands of dollars per month with it.
Too bad they are all fake.
Viral Pay has actually hired freelance actors from Fiverr to record their success videos.
For example, in the video below, which is actually one of the testimonials within Viral Pay's official website, James claims that for the last couple of years he has been earning up to $600 per day.
Too bad that James here is actually Mastermind2009 from Fiverr (this is his real name by the way) and he is a professional spokesperson for the last 8 years (see image below).
I haven't been able to locate the freelance gigs of the rest of the people claiming the Viral Pay is an utter success until now (maybe their gigs are paused) but I am 100% positive that if one of them is a paid actor, then all of them are.
Just that, shows exactly that Viral Pay is the kind of platform which all it cares about is not providing value to its users but instead tricking them into thinking they are legit and that they can actually earn money with them. 
And there are more red scam flags as we'll see later on.
Lastly, I have managed to locate some people who have been using Viral Pay for a while and they all claim that they expect payments up to $5000 which haven't yet been deposited into their accounts. And as it seems, when they try to contact someone in charge, nobody ever answers.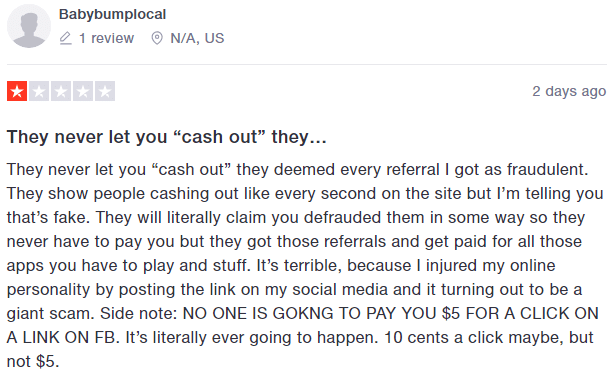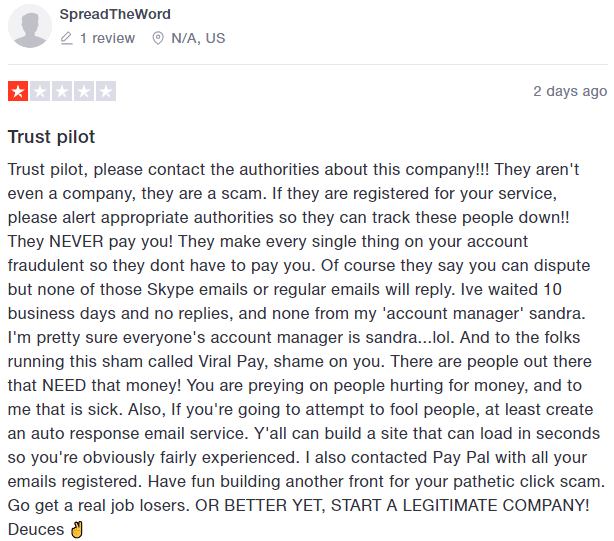 Fuck it!
If you are thinking about giving Viral Pay a try, just walk away and save yourself from wasting your precious time and energy on this platform.
Instead, go ahead and check my recommended platform towards creating a long-term, sustainable online business which will eventually allow you to earn your living online.
Trust me…
You won't regret it.
Plus, it's FREE to join as well.
My Personal Experience with Viral Pay
I came across Viral Pay a few days ago…
I am always experimenting with new opportunities to make some more money online so I joined to see what's it about and if all those claims about earning thousands per month with little effort were true.
Of course, they weren't.
In my almost 3 years as an affiliate marketer I have tried several MMO platforms, most of them scams, so I've developed a keen eye for identifying red alerts that indicate if a platform sucks or not.
And once I joined Viral Pay, it had "scam" written all over it.
Here is why:
Red Alert #1 – Unrealistic Claims
The first thing that you see when you land on Viral Pay is a huge banner which says "Make $500 Today".
It goes without question that this will never happen, at least not with Viral Pay.
While looking for ways to earn money online, you'll come across tons of platforms which will promise pots of gold overnight in order to entice those poor fucks who are looking for an easy and effortless way to riches to join them.
ALWAYS be aware that what sounds too good to be true, almost always is.
Also, there's no such thing as earning money fast and easy.
And lastly, nothing great ever comes easy and nothing which came easy will ever be great.
And no, I didn't earn my $500 today, nor yesterday, and as it seems I won't be earning it EVER.
Red Alert #2 – Inconsistent Information
If you carefully look throughout Viral Pay's website, you'll be able to find a lot of inconsistent information.
For example, in their homepage it mentions some of Viral Pay's stats such as:
65k members
$20 million paid
85 million shares
In their "About us" page, those stats magically change to
65k members
$20 million paid
925K shares (84.075.000 got lost somewhere between their lies)
On top of that, in the "Proof" page, those stats change yet once more to
65k members
25 million paid (obviously, they managed to pay 5 more million since they created the first 2 pags)
Moreover, Viral Pay claims to be active since 2015. Within their success stories, those people claim that they have been earning money with Viral Pay for 2-3 years.
Yet, the domain name viralpay.co is just one month old (see image below).
Some fake payment proof also show that Viral Pay has been paying people since 2018.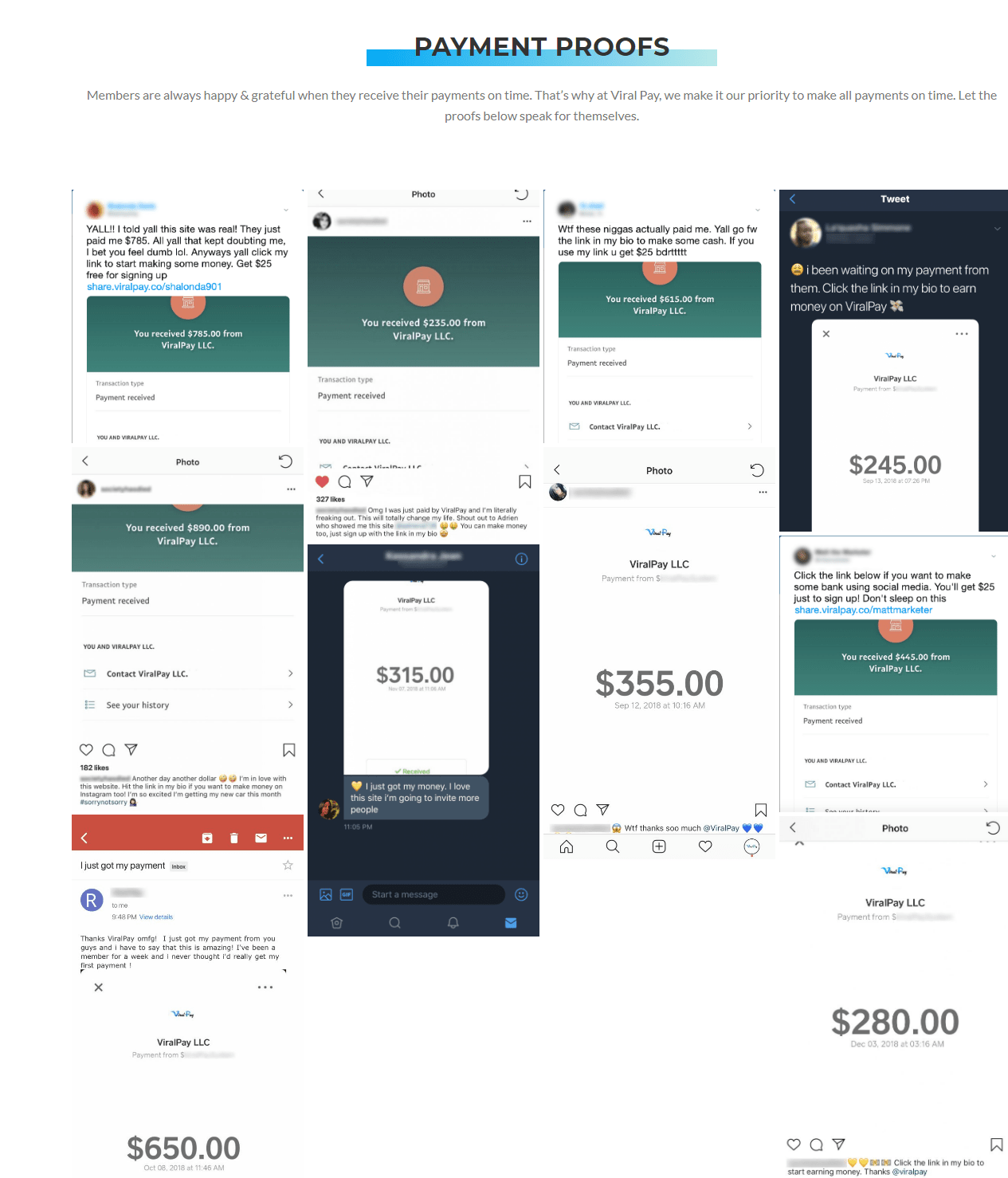 Viral Pay seems to be such an awesome platform that it had been paying people before it even existed.
How awesome right?
Red Alert #3 – Unable to Cash Out
So, here's the deal with Viral Pay.
You earn 25$ upon signup but you can't cash them out unless you
get at least 20 clicks
get at least 5 referrals
complete at least 4 tasks
OK, the first 2 steps are easy to complete.
However, to complete any other task you need to fill in your mobile phone number. And if you do, you are going to receive 3-4 promotional text messages per week at the cost of $3-$4 PER TEXT MESSAGE.
What the fuck!
But wait.
There was a task where you had to fill in a survey which didn't ask for your mobile phone number.
Awesome, let's try that!
The problem is that I have been trying to fill in a survey for the last week but there seems to be none available.
So, yeah.
I can't cash out anything, neither the money that I earned through clicks and referrals, neither my hard-earned $25 which I was promised.
Red Alert #4 – Withholding Information
Throughout their web page, Viral Pay mentions something about a parent company that offers "online marketing solutions" since 2005 but never mentions its actual name.
For me, this means that this parent company doesn't even exist and that they just stating it as a way for us to believe that they have been around for a long time and thus gain our trust.
Is ViralPay.co Suggested?
After exposing all this dirt about ViralPay, I really can't understand why would anyone want to even bother joining the platform unless their goal is wasting their time on a scam that will never pay them a single dime…
If this is the case with you, then yes, ViralPay.co is probably exactly what you are looking for.