If you're an Australian looking for a way to make some extra money online from home, then it's no surprise that you came across MyOpinions.
However, due to the fact that there are so many scams out there, it's very hard to determine whether MyOpinions is one of them or not…
That's why in this review, I'm going to share with you all the information you might possibly need to understand if MyOpinions is indeed a legit money-making platform that will truly help you achieve your financial goals.
In a nutshell, MyOpinions is a platform that'll pay you for filling in surveys from your computer, tablet, and/or mobile phone. The platform has more than 2 million high-paying surveys available per month, it offers very fast payouts, and is considered among the most reputable survey websites in Australia.
Let's find out more, shall we?


What is MyOpinions About?
MyOpinions is a company that pays people like you and me for sharing their opinion through filling in surveys on their computer/tablet/mobile.
The platform is owned by Dynata LLC, a market research company that's been operating since 2000.
Dynata has dozens of offices throughout the world and helps nearly 6000 market research, media, and advertising agencies improve their products and/or services by gathering the opinions of 62 million consumers and business professionals through survey panels, such as MyOpinions.
Right now, MyOpinions is considered one of the most reputable survey panels in Australia, offering access to more than 2 million surveys and paying more than $470.000 per month to its members.
MyOpinions is mainly addressed to Australians who are after earning some extra side cash online on the go without much fuss or effort.


Who Is MyOpinions NOT For?
MyOpinions is NOT for those who are after generating a life-changing income online…
This includes people who:
Want to build a part-time or full-time income
Are looking for a way to replace their income in order to quit their job
Are after living the "laptop lifestyle" (work from anywhere & anytime)
Aspire to become entrepreneurs
Would like to create a source of passive income
etc
If you're one of those people, I suggest that you check out this one, because it's impossible for MyOpinions to help you achieve any of those goals.


How Does MyOpinions Work?
The first thing that you should know about MyOpinions is that its surveys pay points that you can then redeem for various rewards and/or cash.
1 MyOpinions point is worth $0.01 and each survey you complete pays out between 100 and 350 points ($1 – $3.5).
Depending on your interests and demographics, every now and then you may get invited to surveys that are worth 500+ points.
MyOpinions' surveys usually last from 10 to 25 minutes each and most of the time the longer a survey is the more points it's worth.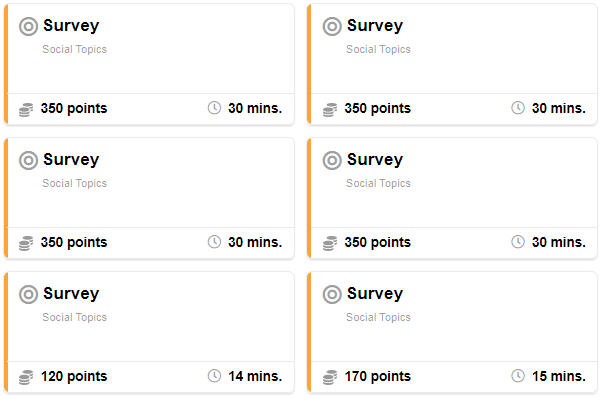 Getting started with MyOpinions is a piece of cake.
All you have to do is create your free MyOpinions account and provide a few very basic details about yourself, such as
Then, you'll be prompted to activate your account by confirming the email address you submitted to create it.
Once you do so, you'll be enabled to start earning points by participating in the MyOpinions' surveys.
However, what you might want to do first is take a few actions that could potentially increase your survey invites and maximize your earnings with the platform, such as
Complete your profile
Allow MyOpinions to use your personal data
Opt in to all activities
The first thing that you should do upon joining MyOpinions is to fully complete your member profile…
This can be done by heading over to the bottom of the "Surveys" section and answering an array of questions regarding your job, household, political stance, eating habits, shopping, health, etc.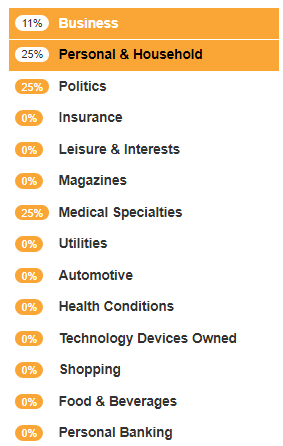 Getting your member profile 100% complete will help MyOpinions better understand your lifestyle, personality, interests, and demographics, something that will result in you receiving more much more survey invites.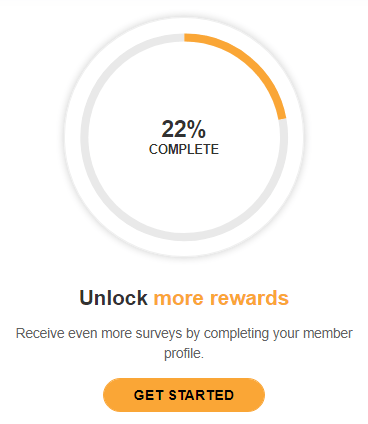 Fully completing your profile is the best way to maximize your MyOpinions earnings.
In order to further increase your survey invites, after fully completing your profile, you can also grant MyOpinions permission to collect and use sensitive personal data of yours.
After agreeing to that, you'll be prompted to answer around a dozen questions about your ethnicity, income, marital status, political opinions, kids, etc, which will allow MyOpinions to understand you even better and thus invite you to even more surveys.
The last way to boost the number of surveys you'll be invited to by MyOpinions is to opt in to all of the platform's activities.
Such activities include:
1 • Location Services:
Allows MyOpinions to collect information regarding your location from your device and data providers in order to invite you to geolocated surveys.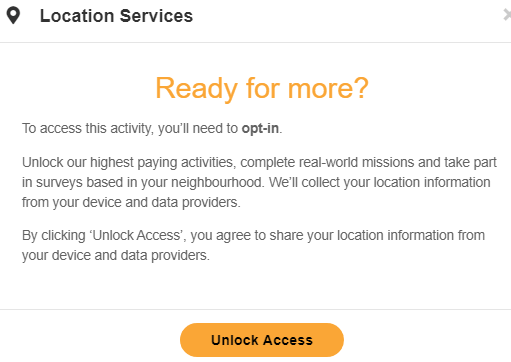 2 • Mobile Activity:
Get invited to more surveys based on your mobile activity.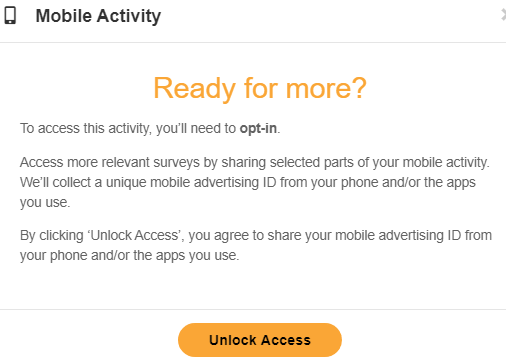 3 • Online Shopping:
MyOpinions will gather data from loyalty programs that you participate in and ask you questions about the most recent purchases you've made and retailers you've shopped with in order to invite you to surveys about similar products/services.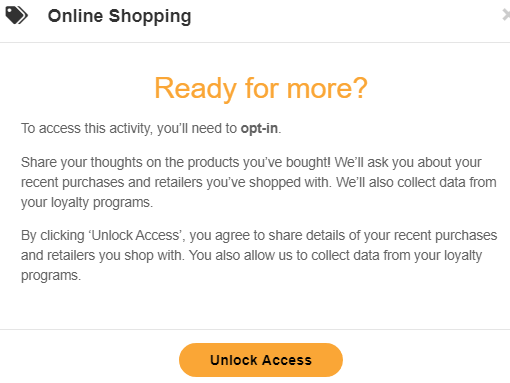 4 • Viewing Habits:
Share your viewing habits via connected devices and TV data providers and get invited to surveys based on what you like to watch.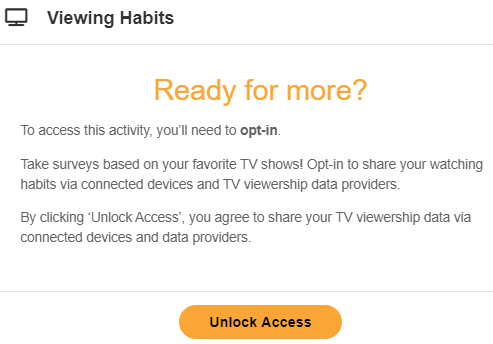 MyOpinions enables you to redeem the points you've earned through filling in its surveys in 2 ways…
1 • Flexi eGift Cards
Flexi eGift Cards are electronic gift cards that are sent to you by email and can be used for purchases in a variety of retail shops, such as WISH, Myer, SuperCheap, Woolworth's, Domino's Pizza, App Store & iTunes, Caltex Woolworths, Rebel and more!
The minimum cashout threshold for a Flexi eGift Card redemption is 1000 points ($10).
2 • PayPal Cash Credit
Receive cash in your PayPal account.
The minimum cashout threshold for a PayPal redemption is 2000 points ($20).
Both PayPal and Flexi eGift Card redemptions can take up to 3 days to be processed and fulfilled.


How Much Money Can I Make With MyOpinions?
The amount of money that you can potentially earn with MyOpinions depends on three main factors:
the number of surveys you get invited to
the number of points that each of those surveys is worth
 and how many of those surveys you actually complete
As mentioned earlier, the average MyOpinions survey pays out 100 to 350 points.
In addition, an average member of MyOpinions will receive 10-20 survey invites per month.
This means that the income that you can potentially generate with MyOpinions can be anywhere between 1000 and 7000 points, or else, between $10 and $70 per month.
Joining MyOpinions is extremely simple and straightforward…
All you have to do is:
Head over to myopinions.com.au
Click on the "Join" button at the very top of the page
Sign in with your Google/Facebook account or create a new account by filling in the signup form
Agree to the platform's Terms & Conditions and Privacy Policy
Select a security question and set your security answer
Set your address as prompted
Confirm your email address to activate your account 
Congrats, you can now start earning money by completing surveys for MyOpinions!


1 • Good Trustpilot Rating
MyOpinions has received a rating of 3.9 out of 5 stars derived from almost 1400 customer reviews on Trustpilot.
That's a pretty solid rating that also constitutes proof that the platform is indeed legit.
The surveys MyOpinions offers are definitely among the highest-paying I've come across in a survey panel until now.
As mentioned earlier, the average MO survey can pay up to 350 points ($3.5) for 20-30 minutes of work.
Not half bad, right?
And that's not all…
Depending on your demographics and interests you might start receiving invites to surveys that are worth thousands of points.
For instance, very recently, I personally got invited to a survey that lasted for a total of 3 hours, spread over a few days, and paid 3000 points ($30).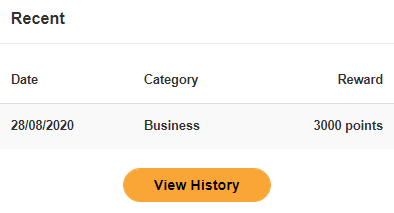 That's definitely something that I haven't seen in any other survey panel I've reviewed so far…


3 • A Lot of Positive Feedback
Over the years, MyOpinions has received quite a lot of positive feedback online from people who have utilized it (see images below).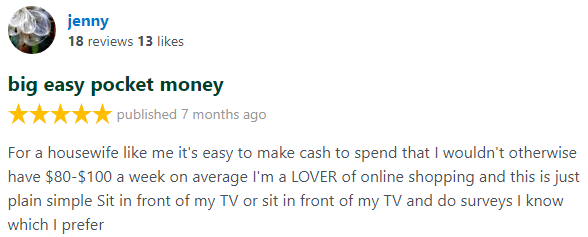 One thing that really amazed me about MyOpinions is that its payouts take place extremely fast.
PayPal cash redemptions take less than 3 days to complete and Flexi eGift Cards are usually sent to your email in mere minutes after you request them.
To give you a frame of reference, the vast majority of survey panels out there require you to wait 3-4 weeks to get paid.
During the last couple of years, MyOpinions seems to have received quite a lot of complaints and negative feedback regarding sudden account terminations due to alleged violations of its terms & conditions (see images below).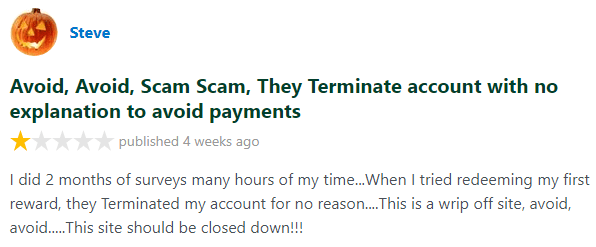 If you're from Australia and looking to make some extra cash online, I suggest that you join MyOpinions without paying that much attention to the negative feedback it has received as the platform seems to still be paying normally the vast majority of its members.
Nonetheless, proceed with caution.
To minimize the chances of running into problems, make sure that you read and follow the MyOpinions' Terms & Conditions to the letter.


2 • Survey Disqualifications
In order for MyOpinions to determine whether you're a good fit or not for any given survey, you'll be prompted to answer a few screener questions before you're allowed to start participating in it…
The problem here is that you'll definitely end up wasting quite a lot of time and energy answering screener questions to access surveys only to get disqualified from them.
Nonetheless, this characteristic isn't exclusive to MyOpinions but rather quite common among the majority of survey panels out there.
The good news is that even if you get disqualified from a survey, MyOpinions will still credit you with at least 20 points ($0.20) which frankly is a lot considering that in order to earn the exact same amount of money in another survey panel you'll have to fully complete a survey that lasts 10+ minutes.
Also, as you can see in the image below, each survey lets you know how many points you'll get credited with if you get "screened out" before you even access it.


3 • Available Only in Australia
MyOpinions is available only to people who are located in Australia.
If you live outside Australia, then you won't be able to join MyOpinions.
Also, please note that to be allowed to join MyOpinions, you need to be 18+ years old.


4 • Low SurveyPolice Rating
Despite the fact that MyOpinions has a pretty decent rating on Trustpilot, its SurveyPolice rating based on 103 user reviews is only 1.4 out of 5 stars.
As it seems, most of the negative, 1-star or 2-star reviews are regarding those account terminations I talked about right above.
That's definitely not a good sign…


MyOpinions Review Summary



You can earn up to $100/month with MyOpinions. That's a best-case scenario.
Very simple to use even if you have never joined a survey panel before.
Generate money only through surveys. Nonetheless, surveys are high-paying.
FAQ section + decent support team. You may not be able to receive help if your account gets terminated.


Is MyOpinions a Scam or Suggested?
MyOpinions is definitely NOT a scam.
Yes, the platform's income potential might not be that high, and yes, it might have received some mixed feedback over the years but this doesn't mean that it's not legit…
On the contrary, MyOpinions is considered one of the most legit and reputable platforms that allow you to generate some extra money online for sharing your opinion through filling in surveys.
What I like the most about MyOpinions is that its surveys are higher-paying than the surveys of your average survey panel…
If you live in Australia and your goal is to earn an extra $100-$200 per month relatively fast and without much effort and skill, then MyOpinions is probably exactly what you're looking for!
If you'd like to maximize your earnings, I suggest that you take a look at some other legit survey websites and join as many of them as possible.
Have any comments or questions?
Please leave a comment right below or contact me at harry@dearboss-iquit.com
I'll be more than happy to help you out!
Best wishes,
Harry
dearboss-iquit.com