Imagine earning $1000 to $3000 per month while working from home.
How exactly would that kind of money benefit you?
Maybe it would help you pay your credit card debt or mortgage. Perhaps it could enable you to purchase a new car or take that long-distance trip you've been dreaming about for the last 10 years. It may allow you to stop living paycheck to paycheck, provide better for your family, and build up a decent college fund for your kids. Or it could even completely replace your current income, enable you to break free from the constraints of the 9-5 grind, and reclaim complete control over your life.
While it may seem like a daunting task, with the right guidance, a positive mindset, and a little grit, achieving your financial goals is not just possible, but almost guaranteed.
In this article, I'll lay out 34 of the best and most time-tested ways to make $1000-$3000 a month from home – from freelancing and real estate investing to video game streaming, car wrapping, flipping domain names, and much more.
Let's take a closer look.
34 Proven Ways to Make $1000 to $3000 a Month From Home
1. Freelancing
The first and one of the most reliable ways to earn $1000-$3000 a month from home is by offering skills you already have as a freelancer.
For example, if you have graphic design expertise you could start offering it to people or companies willing to pay for it on a per-gig basis.
Based on this report published by Joblist, US-based freelancers reported earning an average of $93 per hour. That's equivalent to earning $1000 monthly for just 11 hours of total work.
Some of the most in-demand freelance skills nowadays, include, but aren't limited to:
Web development
Graphic design
UI/UX
Digital marketing & SEO
Video production & editing
Voiceover
Proofreading & editing
& Copywriting
If you have no monetizable skills, you can always start developing new ones. Do some research, self-reflect, and once you've zeroed in on a specific skill set, sign up for a relevant course to shorten your learning curve, expedite your progress, and master its basics as fast as possible.
After that, start reaching out to potential clients looking to outsource their needs to freelancers via social media, paid ads, word of mouth, a personal portfolio, and freelance job boards such as:
Upwork
FlexJobs
Fiverr
Freelancer
& PeoplePerHour
That's the exact approach I followed back in 2019 to build a home-based source of income with freelancing.
First, I started searching for gigs that would allow me to monetize some basic SEO knowledge I already had. I eventually landed one via word of mouth that paid $500 a month for one hour of daily work.
Two years later, I took a UI/UX course and picked up a web design gig through Fiverr that paid another $500 monthly for an additional hour of work per day.
To this very day, those two gigs are still bringing in $1000 per month for a total of two hours of daily freelance work.
Please note that creating a decent income as a freelancer is no walk in the park, especially if you're a beginner with no proven experience.
In reality, your first few months into freelancing will probably involve going the extra mile and delivering high-quality work to low-paying clients for the sake of building up an appealing portfolio that'll eventually catch the eye of higher-paying customers down the road.
To give you an example, the amount of money I got paid for my first web design freelance gig back in 2021 was just $100. Fast forward a couple of years, I just received a $2000 deposit for delivering a web design project to a well-established publishing house.
2. Combine lower-paying side hustles
One of the fastest methods of making $1000-$3000 a month online is leveraging multiple lower-paying side hustles, such as:
Paid surveys
GPT (Get-Paid-To) sites
User testing
Micro jobs
Focus groups
& Cashback apps
Paid surveys involve filling in online questionnaires.
GPT sites pay you for completing short and simple online tasks like installing apps, watching ads, and searching the web.
User testing is the process of getting paid for evaluating and providing feedback on a specific website or application.
Micro jobs are a type of temporary work where you receive money for completing simple tasks like data entry, proofreading, processing images, etc.
Focus groups are kinda like surveys but instead of submitting answers to online questionnaires, you take part in online interviews, live group discussions, etc.
Cashback apps offer partial rebates on items bought from eligible retail stores, such as grocery shops, gas stations, restaurants, etc.
All of these approaches are extremely simple to use even if you have zero skills or previous experience. However, keep in mind that most of them don't have the potential to bring in more than a couple hundred bucks per month by themselves.
Therefore, if you're after building a monthly income of $1000, you'll need to simultaneously utilize at least a couple of them.
A few of the most trustworthy sites to help you get started with this endeavor, include, but aren't limited to:
SurveyJunkie (paid surveys)
Swagbucks (GPT)
Userlytics (user testing)
Appen (micro jobs)
Respondent (focus groups)
Ebates (cashback)
3. Work a part-time remote job
Another pretty straightforward way to earn an extra $1000-$3000 from home is by getting a fully remote part-time job.
Some of the highest-paying remote jobs that tend to hire people on a part-time basis are:
Front-end developer
Graphic designer
Content writer
SEO specialist
Customer service agent
Transcriptionist
Social media manager
Accountant
Bookkeeper
Sales representative
Data entry
& more
In the US, most of those jobs pay anywhere between $12 and $20 per hour, so working one for 3 hours per day, 5 days a week, or full-time during weekends, could yield as much as $1200 a month.
Traditional part-time employment may be among the least fancy ways to build a source of income from home but it's undeniably one of the most time-tested ones.
4. Shift to another career
An even better alternative to earning $1000 to $3000 per month from home without having to work beyond a regular 8-hour schedule, is shifting to a more lucrative career that offers the option to work remotely on a permanent basis.
A few of the best-paying remote careers include, but aren't limited to:
Cyber security analyst
Front-end developer
Mobile app developer
Psychologist
Research engineer
Tech support manager
Graphic designer
Project manager
Content writer
SEO manager
Virtual assistant
& more
The first step to shifting to a new career path is doing your due diligence and zeroing in on one that appeals to you.
Then, start taking the steps necessary to make the transition.
This might mean putting some money aside as a safety net, getting some additional education to bridge the skill gap between your current and desired profession, networking with people in your target industry, revamping your resume, and even going part-time or quitting your current job altogether, so that you can focus all your time and energy on switching to your chosen career.
5. Provide virtual assistance
A virtual assistant is an independent contractor who offers remote assistance to companies or individuals who may lack the resources to hire on-site employees to do that kind of job.
Some of the most common duties virtual assistants perform range from answering emails, editing content, and managing social media accounts to data entry, customer service, and designing banners.
According to Indeed, the average hourly wage for virtual assistants in the US is $20.50 per hour. That's equivalent to $3289 per month for working a regular 8-hour schedule. However, as you become more experienced in the VA field, you could start going after clients that might be willing to pay you significantly higher hourly rates in exchange for your established expertise.
A few of the most in-demand virtual assistant services include:
customer service
administrative support
search engine optimization (SEO)
copywriting
email management
graphic design
bookkeeping
& digital marketing
In general, becoming a virtual assistant is an extremely flexible and scalable endeavor that could potentially grow into a full-blown online business.
The best way to land virtual assistant gigs is by promoting your services on social media or browsing through job boards and freelancing portals, such as:
Indeed
LinkedIn
Upwork
TaskVirtual
oDesk
& more
6. Affiliate marketing
Affiliate marketing is the process of promoting products or services created and distributed by third-party online merchants in exchange for getting paid a commission for each customer sale you refer.
Here's an overview of how making money with affiliate marketing works.
Step 1: You join a merchant's affiliate program.
Step 2: The merchant gives you a unique affiliate link that points to their e-shop.
Step 3: You promote your affiliate link online (website, forums, social media, paid ads, etc.)
Step 4: Every time someone clicks on your unique affiliate link and makes a purchase on the merchant's e-shop, the merchant will pay you a commission.
Affiliate marketing is currently being implemented by more than 80% of brands around the world, including some of the most well-established ones, such as:
Amazon
Apple
Nike
eBay
AliExpress
& more
Therefore, almost any product or service you can think of can be promoted in exchange for affiliate commissions.
According to statistics, the affiliate marketing industry is growing at an average rate of 10% per year and is expected to surpass $30 billion by 2025. This places affiliate marketing among the fastest-growing money-making models out there.
This Glassdoor report reveals that the average earnings of full-time affiliate marketers range between $5000 and $8500 per month.
I ventured into affiliate marketing back in 2019 on a part-time basis hoping to build a secondary income source of $300 to $500 per month from home. Within a year, I was earning up to $2000 a month in affiliate commissions (see screenshot below).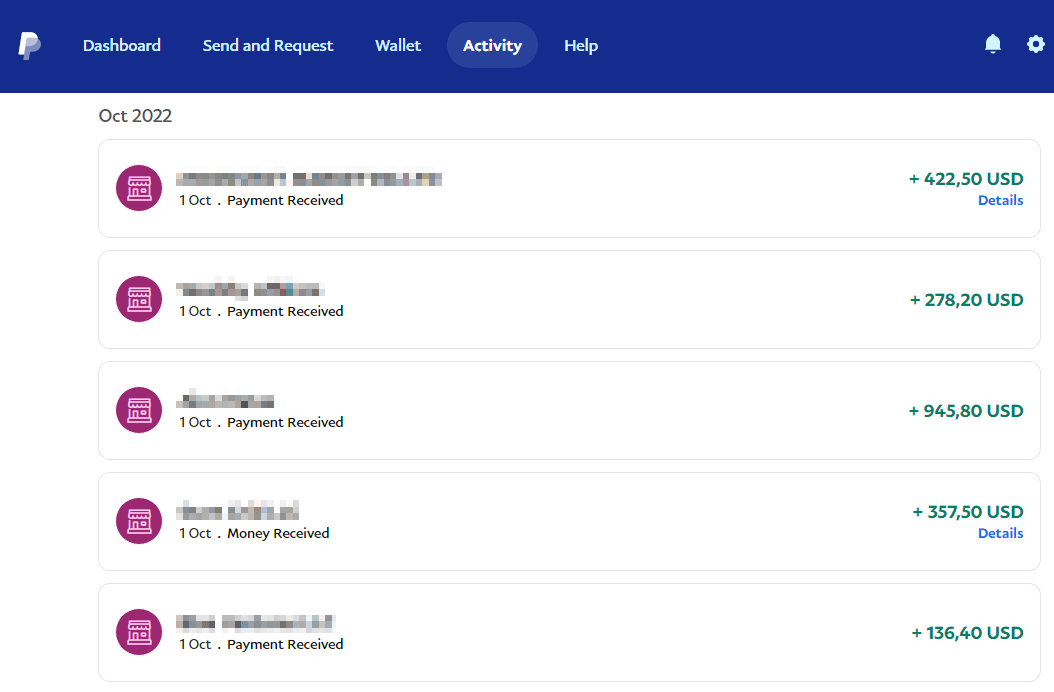 If affiliate marketing sounds like something that might interest you, make sure to check out my free affiliate marketing crash course.
7. Sell unused belongings
Almost everyone has unused stuff just sitting there collecting dust in their closet, garage, or attic.
If you do too, you can start selling them online for some fast cash on sites like eBay, Amazon, Craigslist, Facebook Marketplace, Poshmark, Worthy, Decluttr, etc.
Items that currently sell pretty good online include:
furniture
clothes
collectibles
antiques
books
electronics
jewelry
& video game consoles
This approach could easily generate a quick $3000, assuming that you have a rather considerable amount of high-quality stuff to push.
However, since you probably don't have an unlimited supply of belongings you could potentially sell, this isn't considered a viable way to build a source of steady income from home.
Nevertheless, if you end up finding the process of making money by selling products online appealing, you can always get involved in retail arbitrage, white labeling, or buying wholesale.
8. Retail arbitrage
Retail arbitrage is the process of buying products at discounted prices through thrift stores, flea markets, garage sales, and retailers, and then flipping them for a profit on online marketplaces like
Amazon
eBay
Etsy
Facebook
Craigslist
Walmart
Poshmark
etc.
I was first got introduced to the concept of retail arbitrage by Gary Vee.
A couple of years back, Gary started purchasing cheap items like mugs, stuffed animals, toys, and collectibles from garage sales and then reselling them online for ten to twenty times the money he paid.
In the following video, you can see for yourself how Gary Vee made over $900 in profit by flipping stuff he bought from garage sales for less than $100.
Retail arbitrage does involve a short learning curve but once you get the hang of it and develop an eye for good deals you could easily bring in $2000 per month with part-time effort just during your weekends.
If you don't have the ability or the willingness to source cheap items from garage sales or thrift stores, you can still do retail arbitrage from home by purchasing discounted products from online merchants.
9. Private labeling
Private labeling is the process of purchasing non-branded products from third-party suppliers at discounted prices and then customizing and selling them to end customers under your own brand.
An example of private labeling is Costco's Kirkland Signature products, which are unbranded products manufactured by companies like Starbucks, Duracell, and Reynolds, then rebranded and sold under Kirkland's brand.
According to Statista, 20-50% of all supermarket products sold in Europe are privately labeled. In addition, this Statista report reveals that in 2021, the amount of money generated by the sales of private-label products in the US was around $199 billion.
The first step to getting started with private labeling is zeroing in on one or more products you'd like to sell. A few of the best-selling ones are:
cosmetics
apparel
accessories
hair care
supplements
packaged food
skincare
& essential oils
Then, find a reliable and well-established private-label supplier, such as:
Alibaba
AliExpress
NicheDropshipping
SupplyMeDirect
& more
After that, create your brand assets, such as a logo, color palette, packaging designs, etc.
Next, submit your brand assets to your supplier so that they embed them on your chosen products.
Then, launch an online store and set up your digital sales channels (e.g., social media, email newsletter, etc.)
Lastly, order your first batch of products, list them on your online store and digital marketplaces of your choice (e.g., Amazon, eBay, Etsy, etc.), and start selling.
10. Buying wholesale
Buying wholesale refers to purchasing large quantities of products directly from already established brands (e.g., Nike, Samsung, Fisher-Price, etc.) at wholesale prices and then reselling them online at retail prices.
This method is pretty similar to private labeling with the main difference being that the wholesale products you'll be buying will already carry the brand of the corresponding supplier. This, in turn, creates the potential for higher profit margins because your wholesale supplier won't be spending time and money branding white-label products from scratch.
A few of the best-selling wholesale products are:
clothing
cosmetics
jewelry
electronics
pet supplies
& baby products
Here's an overview of how you can get started with buying wholesale:
Step 1: Determine what products you'd like to be flipping.
Step 2: Find 2-3 wholesalers that can supply all the products you need. Cooperating with multiple wholesalers can help you maintain your business during product shortages or any other issue a supplier of yours might be facing.
Step 3: Request samples from your chosen wholesalers to evaluate the quality of their products and overall service.
Step 4: Negotiate a price.
Step 5: Buy a batch of products and start selling on Amazon, eBay, or your own eCommerce store.
One of the simplest methods to start reselling wholesale products as fast as possible is by leveraging Amazon FBA.
Amazon FBA is a service provided by Amazon that enables sellers to delegate all order fulfillment processes such as storing, picking, packing, shipping, customer service, returns, etc., to Amazon.
Here's how Amazon FBA works:
You send your products to Amazon's warehouses
When your products get ordered, Amazon packs, ships, and delivers them on your behalf
Amazon deposits the money paid for your products in your bank account
The following video outlines the step-by-step process of leveraging Amazon FBA toward reselling wholesale, retail arbitrage, and private-label products.
11. Service arbitrage
Service arbitrage is similar to retail arbitrage but instead of flipping products you flip services.
To put it simply, service arbitrage is the process of acting as a middle-person that gets paid to bring together service providers and businesses or individuals in need of outsourcing work.
Here's how making money with service arbitrage works.
First, you pick one or more in-demand services, such as:
Graphic design
SEO
PPC
Copywriting
Web development
Lead generation
Email marketing
Video editing
etc.
Then, you find reliable freelancers offering your chosen services on freelancing portals like Fiverr, Upwork, and Freelancer.
After that, you start promoting the services you selected through social media, paid ads, content marketing, or even reaching out directly to potential clients via email, telephone, or social media DMs.
Once you've closed a deal with a client, you then hire a freelancer who can deliver the service for a lower price than what the client has agreed to pay you.
Lastly, you hand over the completed work and keep the price markup between what you got paid by your client and what you paid the freelancer to whom you outsourced the project.
Service arbitrage is being leveraged by thousands of people from all around the world toward building a home-based income online.
A few years back, Gladice Gong from Earn More Live Freely launched a service arbitrage business and grew it from scratch to $1000 per month within just 3 months, without having any previous experience.
12. Blogging
Blogging is one of the oldest and most foolproof methods for building a source of income from home.
According to statistics, there are currently over 600 million blogs out there that collectively publish a total of over 6 million blog posts per day. And every single one of them is created for just one purpose – generating money online.
Indeed reveals that the average earnings of bloggers in the US are approximately $22 per hour. This adds up to $1320 per month for 3 hours of daily work 5 days a week.
However, keep in mind that blogging is not like working a regular job that'll start paying you a fixed salary in exchange for your time from the get-go. Instead, it involves going through a steep learning curve and putting in a lot of upfront effort to slowly build up your revenue over time. Generally, earning $1000-$3000 per month as a beginner to blogging could take anywhere between 6 months to 2 years.
The good news is that the income generated via blogging is mostly passive and can potentially be scaled to full-time or even beyond.
The process of making money with blogging consists of 4 simple steps:
Pick a niche: This refers to the subject matter of your blog and it can be anything from food and exercising to crafts and meditation.
Launch your blog: Nowadays, launching a blog is simpler and more affordable than ever and requires having neither coding knowledge nor technical know-how whatsoever.
Produce content: Write and publish blog posts covering topics that fall under your selected niche.
Monetize: A blog can be monetized using a variety of methods like display ads, affiliate marketing, sponsorships, selling your own products or services, etc.
13. Podcasting
Podcasting is the process of publishing live or recorded audio broadcasts around a particular subject.
You can think of podcasting as the audible version of blogging.
According to GlobeNewswire, the global podcasting market size was valued at $13 million in 2021 and is predicted to grow to $153 million by 2030. Furthermore, Geektime supports that a typical podcaster earns between $500 and $900 per 10,000 episode downloads. Seasoned podcasters like Pat Flynn, Jay Shetty, and Joe Rogan earn up to six, seven, eight, and even nine figures per year.
The process of getting started with podcasting is almost identical to that of blogging.
However, unlike bloggers that post written content on a blog, podcasters publish and serve their content in audio format via dedicated podcast hosting providers, such as:
Buzzsprout
Captivate
Transistor
Podbean
Resonate
etc.
The main downside of running a podcast is that the majority of your audience will be consuming your content on the go, usually while being preoccupied with other activities like driving, cooking, or jogging. This lack of attention could significantly hurt the performance of some monetization methods that involve getting paid per conversion like affiliate marketing.
14. Dropshipping
Dropshipping is pretty similar to flipping wholesale products with the main difference being that all order fulfillment procedures (e.g., inventory, packing, labeling, shipping, etc.) aren't being handled by you but rather by your third-party suppliers.
Here's an overview of the step-by-step process of building an income from home with dropshipping:
Launch an online dropshipping store via Shopify or Oberlo
Find a dropshipping supplier
List your chosen products in your dropshipping store
Set your retail margins
Start promoting your dropshipping store via social media, paid ads, blogging, etc.
Every order placed on your online store is automatically forwarded to your dropshipping supplier
The supplier processes, packages, and ships the order directly to your customers
The retail margins you set earlier land in your pocket
According to Grand View Research, the global dropshipping market size was valued at $102.2 billion in 2018 and is projected to reach $557.9 billion in 2025. Furthermore, the average expected earnings after a year of doing dropshipping range between $1000 and $3000 per month.
15. YouTube channel
Launching a YouTube channel is yet another excellent way of earning $1000-$3000 per month from home.
Becoming a YouTuber is similar to blogging but instead of posting written content on a blog, you'll be publishing video content on YouTube. Furthermore, unlike blogging which involves building up an audience from scratch, getting traction as a YouTuber is technically somewhat easier because YouTube has an already established audience of over 2.5 billion monthly active users
Lastly, contrary to starting a blog that requires spending some money on a domain name and a hosting provider, creating and maintaining a YouTube channel is completely free.
According to Influencer Marketing Hub, Youtube channels generate an average of $3 to $5 in ad revenue per 1000 video views. This equates to $2000 per 400,000 views.
Nevertheless, you can significantly boost your earnings per view by implementing additional monetization methods, such as:
affiliate marketing
paid sponsorships
donations
Patronage
Youtube Premium
merchandise
self-promotions
& more
According to unofficial data gathered from multiple sources, reaching the $3000/month mark on YouTube could take anywhere between 6 months to 3 years. To give you an example, MrBeast, the world's highest-paid YouTuber, had been consistently uploading videos for 3-4 years straight before his channel started taking off.
If you find the idea of making money by publishing video content appealing, becoming a YouTuber is definitely the way to go. All you need to get started is a Gmail account, a decent camera, and a relatively clear picture of what topics you'll be covering throughout your content.
If you're an introvert, you can still build an income on YouTube without ever showing your face, by launching a faceless channel. Many people support that making decent money off of a faceless YouTube channel is extremely tough but, in reality, it's just as challenging as succeeding with a regular one.
As a matter of fact, there are thousands of faceless YouTube channels that bring in six, seven, and even eight figures per year, such as:
Aperture
FailArmy
Economics Explained
Natural Remedies
touropia
TechGumbo
etc.
16. Lead generation
Lead generation is the process of gathering the contact information of people who express interest in a specific product or service and then selling it to relevant companies.
According to Statista, US-based businesses spent approximately $4.6 billion on lead generation in 2021. Based on this report by Popupsmart, a single lead can be sold for anywhere between $31 to $811 depending on many factors, such as:
industry
customer revenue
acquisition channel
etc.
While CPL (Cost Per Lead) is the most common pricing model in the lead-gen industry, some businesses might experience higher returns by charging per appointment, per sale, or even per month.
Here's an overview of what the process of making money with lead generation looks like:
Create a niche-specific website (e.g., Pest Control, Yoga, Wood Removal, etc.)
Drive traffic to your website via paid ads, SEO, blogging, etc.
Sign up for an email marketing platform (MailerLite, Aweber, ConverKit, etc.)
Create a lead magnet (e.g., guide, e-book, report, etc.)
Set up an opt-in form on your website that captures your visitors' contact info (email, phone, name, location, etc.) in exchange for free access to the lead magnet
Reach out to companies that might be interested in purchasing the contact info of the leads you've gathered
Sell them the leads
In general, lead generation is considered less flexible, harder to gain traction, and more challenging to scale than affiliate marketing, dropshipping, blogging, or running a YouTube channel. Nevertheless, it could definitely turn into a source of home-based income.
17. Sell digital courses
Are you very proficient at a sought-after skill? Do you have extensive experience in a specific subject? Have you managed to overcome a challenging hardship or achieve a highly demanding goal?
If so, you can earn money by compiling your knowledge and experience in a course and selling it to people who might benefit from it.
There are literally thousands of online courses around any topic you can possibly imagine, from affiliate marketing and graphic design to gardening and dog grooming. Heck, a while ago I found out about a woman who was earning over $10,000 per month selling a course on iron deficiency in goats.
Nowadays, most people create, set up, host, serve, manage, and sell their digital courses via Teachable.
The main downside of this money-making method is that creating and launching a course involves a relatively high risk of investing a lot of time and effort upfront only to find out later that nobody wants to buy it (ouch!).
The good news is that you can mitigate such risks to a certain extent by doing some proper market research before you begin developing your entire course. For example, you could piece together just 1-2 short modules and distribute them for free to 10-20 people in exchange for feedback, conduct a few polls on relevant social media groups, run a couple of paid online surveys, etc.
Selling online courses is a fairly booming market internationally. According to LearnWorlds, the value of the e-learning industry was estimated at $190 billion in 2018 and is expected to exceed $319 billion by 2029. The earnings of an average course creator could range between $1000 and $10,000 per month while seasoned ones can make as much as seven figures per year.
If selling digital courses seems like something that would interest you, make sure to watch Pat Flynn's step-by-step tutorial for creating a profitable course from scratch below.
18. Social media influencer
The term "social media influencer" refers to any individual who has an established reputation and credibility in a specific industry, a substantial amount of loyal social media followers, and the power to influence their behaviors (hence the term "influencer").
The primary job of a social media influencer is to publish engaging content of all kinds (images, quotes, stories, videos, etc.) that captivates the attention and delivers value to their target audience.
The most common method used by influencers to monetize their content is sponsored collaborations. The amount of money an influencer receives for a single sponsored post ranges between $10 and $10,000, determined by a few different factors, such as:
size of following
social media platform
industry
follower engagement
type of content
& more
Additional monetization models social media influencers can leverage toward maximizing their earnings include, but aren't limited to:
affiliate marketing
selling merchandise
speaking gigs
freelancing
consulting
& more
This article by Vox supports that an influencer with 10,000 to 50,000 followers can earn anywhere between $3500 and $8500 per month. According to many sources, if you implement the right strategies, you could hit 10,000 social media followers in as little as six months.
If becoming an influencer on social media is something that piques your interest, make sure to check out this step-by-step guide by Influencer Marketing Hub or watch the video right below.
19. Monetize your creative work
Are you an avid photographer, a music producer, a graphic designer, a videographer, or a painter?
If so, you can monetize your creative work in numerous ways.
First of all, you can start licensing it to companies and individuals that would like to use it on their projects, via stock marketplaces like:
Shutterstock (photos & images)
Epidemic Sound (music & SFX)
Storyblocks (video footage & templates)
DeviantArt's Printshop (artwork)
Envato Elements (doodles, illustrations, fonts, etc.)
ThemeForest (website templates)
According to statistics, in 2020, the global stock photography and music industries were valued at $3.3 billion and $1.07 billion respectively.
In an interview published by The Guardian, music producer Elliot Middleton claims that he's making $30,000-$40,000 per year selling licenses to his music on stock sites like Shutterstock and PremiumBeat.
Selling licenses to images seems to be a lot less lucrative. This article on Photutorial states that an average stock photographer earns $0.02 per image monthly. This means that to reach the $1000/month mark with stock photography you'll need to have at least 50,000 photos listed across various stock websites.
Another way to monetize photos, images, artwork, doodles, and illustrations is by printing them out and selling them on digital marketplaces like Amazon, Etsy, and eBay.
Lastly, you can build a personal portfolio website to showcase your creative work and attract clients willing to pay you either by the hour or on a per-project basis for delivering custom pieces of digital media tailored to their specific needs.
20. Video game streaming
Video game streaming is the process of broadcasting yourself playing video games in real-time, on one or more online live streaming platforms, such as:
YouTube Gaming
Twitch
Facebook Live
HitBox
Beam
etc.
According to Future Market Insights, the video game streaming market was valued at $2.3 billion in 2022 and is expected to reach $7.2 billion by 2032.
At the time of writing, the most popular platform for streaming and making money off of video gaming is Twitch.
A Twitch channel can be monetized in a variety of ways, such as:
Paid subscriptions
Twitch Bits
Video ads
Sponsorships
Selling merch
& more
According to Influencer Marketing Hub, the average Twitch streamer makes anywhere between $3,000 to $5,000 per month for streaming 8-9 hours per day. However, seasoned gamers like loltyler1, Asmongold, and DrDisrespect can earn over $2 million per year.
All you need to get started with video game streaming is:
Gaming device (computer, console, etc.)
Microphone or headset
Webcam
Internet connection
Game of your choice
The top video games for streaming in terms of viewership, popularity, and potential earnings are:
League of Legends
Grand Theft Auto V
Counter-Strike: Global Offensive
Minecraft
Apex Legends
VALORANT
Fortnite
Dota 2
No matter which video game you pick, chances are you'll be competing against hundreds or even thousands of other streamers. Therefore, to avoid getting lost in the shuffle, you'll need to bring something unique to the table that sets you apart from everyone else.
21. Sell handmade crafts
The worldwide demand for high-quality handmade goods has never been higher. According to Yahoo Finance, the global value of the handicrafts market reached $680 billion in 2021 and is anticipated to surpass $1.2 trillion by 2027.
If you're into handmade crafts, you can get your hands on a piece of the pie by selling them online.
A couple of years ago, a friend of mine started creating and selling custom lapel pins with royalty-free imagery on eBay and Etsy alongside his full-time job.
The whole process of creating, listing, and shipping the pins took him 2-3 hours per day. Two months later, he was bringing in approximately $500 a month. By month 12, his side hustle had grown to $1200 per month.
About half a decade ago, another friend of mine developed a passion for making natural soaps. He purchased soap equipment and ingredients, made around 1000 soaps in various colors, scents, shapes, and sizes, and listed all of them on Etsy.
His soaps made such a killing that he made enough money to launch his own handmade soap brick-and-mortar business in less than a year.
Some of the best-selling handmade items include, but aren't limited to:
Beauty products
Clothing
Jewelry
Hats
Rugs
Scented candles
Home decorations
Knitted goods
& more
22. Online tutoring
If you have in-depth knowledge regarding a specific school subject, you can start making money off of it by offering private tutoring services online.
According to Yahoo Finance, the online tutoring market was valued at $88 billion in 2017 and is expected to grow to over $400 billion by 2027.
In addition, the average hourly rate of online tutors is $18, ranging from $10 on the low end to $39 on the high end. However, if you can teach more advanced topics like calculus and economics or prepare people for tests like GRE and LSAT you could be able to charge as much as $100 per hour and maybe even more.
Some of the subjects with the highest demand for online tutoring include:
mathematics
chemistry
English
history
physics
& computing
Getting started as an online tutor is pretty straightforward.
First, decide on the subject you'll be teaching. Then, set the pricing of your tutoring sessions. Lastly, start pursuing tutoring gigs by promoting your services on Craigslist, social media, and online tutoring portals, such as:
Tutor
Wyzant
Chegg Study
Preply
TutaPoint
etc.
23. Flip domain names
Domain name flipping is the process of buying regular domain names and then reselling them at higher prices.
For those who might not know what a domain name is, it's an easy-to-remember address used to access websites. For example, the domain name of this website is https://dearboss-iquit.com.
A domain name can be bought for approximately $12 per year and sold for hundreds or even thousands of dollars depending on factors like brandability, length, TLD, and relevancy.
So, why would anyone spend so much money on a domain name?
Well, there are many reasons but the main one is branding.
If a business named "Flowers" wants to launch a website, it would use the domain name "flowers.com" to match its brand. However, since a domain name can be owned by one entity at a time, if you already have it in your possession, they'd have to buy it from you at the price of your choosing.
I've personally never been involved in domain flipping but I have friends who regularly flip domain names for anywhere between $100 to $5000. According to Fit Small Business, part-time domain flippers can earn from $1,000 to $8,000 per year.
Domain flipping is very hard to turn into a source of steady monthly income, but it's a pretty decent way to rake in some extra cash here and there with very little investment of effort and money.
24. Print-on-demand
Print-on-demand is an order fulfillment method that involves having a third-party supplier print custom designs on white-label products (t-shirts, hats, mugs, etc.) on a per-order basis, and then ship them directly to your customers.
This money-making approach is perfect for artists, designers, and illustrators looking to build an income off of their creative work. Nevertheless, you can get involved in print-on-demand even if you have zero design skills by hiring a freelancer to create designs on your behalf or buying designs that can be used commercially from sites like:
Shutterstock
Freepik
Creative Fabrica
Vexels
etc.
The primary advantage of print-on-demand is that your sole job is providing custom designs to be printed on the white-label products of your choice. All other order fulfillment procedures, like printing, packing, shipping, customer service, and even marketing are being handled by your third-party suppliers.
According to a report published by Grand View Research, the global print-on-demand market size was valued at $4.90 billion in 2021 and is expected to reach $39.40 billion by 2030.
While the amount of money you can earn via print-on-demand depends on so many factors that it's impossible to accurately predict, there are tons of people like Ryan Hogue and Michael Essek whose POD endeavors bring in up to $15,000 a month.
If you're interested in getting started with print-on-demand, I suggest that you watch the following in-depth tutorial.
25. Online consultations
Are you an expert in a particular field? If so, you could start monetizing your expertise by offering consultations to individuals or companies.
For example, if you're an experienced HR officer you could consult companies on managing their employees more effectively. If you're a seasoned marketer, you could help small brands expand their reach and boost customer engagement. Even pro gamers make a killing by consulting amateurs on how to improve their video gaming skills.
In most industries, the demand for acquiring knowledge, advice, and insights from proven experts is constantly growing.
A few of the industries with the highest demand for consultants include, but aren't limited to:
IT
Marketing
Security
Financial
Social media
HR
Investment
Business
& Sales
Most consultants structure their rates in one of the following ways:
Hourly: Get paid by the number of hours you work
Project-based: Receive a fixed rate per project
Performance-based: Charge based on the results of your work
According to Yahoo Finance, the global consulting market was valued at $890 billion in 2021 and is expected to reach $1.3 trillion in 2026.
This report from Salary reveals that as of 2022, the average salary of full-time consultants in the US is over $100,000 per year. That's equivalent to $3000 per month for 3 hours of work per day.
26. Real estate investing
Investing in real estate is one of the most time-tested ways to build a substantial, consistent, and long-term passive income from home.
According to Grand View Research, the global real estate market was valued at $3.7 trillion in 2021 and is expected to grow to $5.85 trillion by 2030.
The three simplest methods both aspiring and seasoned investors leverage toward making money with real estate are:
1. Rental properties: You purchase properties, you lease them, and you collect rent from your tenants each month. The average salary of landlords in the US is approximately $60,000 per year. That's equivalent to exactly $5000 per month.
2. Flipping houses: You buy houses, renovate them to boost their value, and then sell them at a higher price. This article by Real Estate Skills reveals that as of late 2021, the average profit per flip across the US was over $68,000.
3. Crowdfunding: That's the most affordable way to venture into real estate investing. It involves becoming a shareholder in a property and passively earning a portion of its profits without actually having to buy it yourself. According to Polaris Market Research, the global real estate crowdfunding market was valued at $10.78 billion in 2021 and is projected to grow to more than $250 billion by 2030.
A few of the most reliable real estate investing platforms are:
Fundrise (crowdsourcing)
Flipping Junkie (flipping houses)
Spark Rental (rental management)
Zillow (property listings)
LandWatch (land or commercial estates)
27. Rent out unused space & items
Do you live in a house or apartment with vacant rooms you rarely use? If so, you can make some extra money by subletting them to other people for long-term, short-term, or seasonal stays. A few sites you can list your spare rooms for rent are:
Airbnb
Craigslist
Booking
Roomgo
& Badi
If your rentals are of decent quality and near the city center or a tourist attraction, you can easily make $1000 per month leasing them to tourists.
Besides empty rooms meant for housing people, you can also start monetizing other unused spaces you might have (e.g., basement, garage, attic, driveway, etc.) by renting them for storage purposes via websites, such as:
Neighbor
StoreAtMyHouse
& Craigslist
On top of that, you may also rent practically just about anything you own, such as:
car or truck (Turo, Getaround, FluidTruck)
power tools (Facebook, Craigslist, etc.)
bike, snowboard, surfboard (Spinlister)
clothing (RentMyWardrobe)
parking spot (SpotHero)
camera gear (KitSplit)
anything else (FatLlama)
A combination of renting an extra room for accommodation, an empty space for storage, and a couple of other belongings you don't currently use, could bring in as much as $3000 per month.
28. Pet sitting
One of arguably the best and most enjoyable approaches to making $1000-$3000 from home is pet sitting.
Moreover, it's also a very flexible endeavor as it allows you to tailor your working schedule based on your own needs.
The primary duties of a pet sitter include feeding, watering, grooming, walking, cleaning, and playing with the pet for as long as agreed with its owner.
A few of the most well-known apps that match pet sitters with people who need pet-sitting services in nearby areas, include:
Rover
Wag
PetBacker
Pawshake
DogHero
& more
According to Grand View Research, the value of the global pet-sitting market was estimated at $2.15 billion in 2022 and is expected to reach $5.14 billion in 2030.
The average hourly rate of pet sitters in the US is $14 per hour but seasoned practitioners, especially those who have professional experience working with animals (e.g., vets, zoologists, biologists, etc.), can charge as much as $25 per hour.
29. Sell digital templates
Digital templates are reusable documents or files with a pre-formatted structure that can be used as blueprints for a wide range of projects such as proposals, websites, presentations, invoicing, etc. The primary purpose of digital templates is to save time and effort for individuals or businesses that may not have the expertise or resources to create them from scratch.
Some of the most common types of digital templates include:
Business documents (e.g., contracts, invoices, presentations, etc.)
Marketing materials (brochures, social media posts, etc.)
Design items (websites, mockups, logos, infographics, etc.)
The price of a digital template can range from $10 to over $100 depending on its overall quality, complexity, and target market.
The simplest way of getting your templates in front of potential buyers is by listing them for sale on online marketplaces, such as:
Envato Market
Freepik
Canva
Template Monster
Creative Fabrica
& Etsy
Since a digital template you create once can be sold unlimited times over the years without any additional work on your part, this approach has a rather high potential of becoming a source of passive income.
Determining the exact value of the digital template market is difficult, as it involves a wide range of different products across numerous diverse industries. However, since digital templates are currently in huge demand, we can safely assume that the market's value is in the millions of dollars per year.
30. Self-publish eBooks
Self-publishing eBooks is the process of publishing books online yourself without the assistance of traditional publishing houses.
Compared to conventional publishing which involves a lot of rejection, signing contracts with third-party publishers who may pocket up to 90% of your profits, and having no control over your work, self-publishing is light-years faster, simpler, and more profitable.
However, becoming a self-published author does carry its own set of challenges, such as having to deal with procedures that are normally handled by professional publishers, such as marketing, distribution, editing, graphic designing, etc.
Self-publishing can be done through a variety of online platforms that provide the necessary tools to upload, format, price, and distribute your eBooks, such as:
Draft2Digital
Smashwords
Amazon KDP
Barnes & Noble Press
Apple's iBooks
& Lulu
According to Statista, the value of the global eBook market in 2021 was estimated at $16 billion and is projected to surpass $18 billion in 2024. This article by ZonGuru reveals that self-published authors on Amazon KDP make around $150 per month on the lower end to more than $20,000 per month on the higher end, depending on factors, such as
quality of content
the appeal of your covers
your marketing efforts
the genre and pricing of your books
etc.
31. Home-based personal trainer
Are you a fitness enthusiast?
If so, you can make money off of your passion for working out by offering personal training services at your home.
As a home-based personal trainer, you can provide a variety of services that gear toward helping your clients improve their physical fitness and overall well-being, such as:
Remote one-on-one sessions
Face-to-face group sessions
Customized workout plans
Nutritional guidance
etc.
The demand for personal trainers is on a steady upwards trajectory among people of all genders, ages, backgrounds, and body types. This report by Future Market Insight reveals that in 2022, the global value of the personal fitness trainer market was $39 million and is projected to surpass $63 million by 2032.
According to Indeed, the hourly rates of personal trainers range from $13 to $50 per hour depending mostly on their location, reputation, and certifications.
The first step to becoming a home-based personal trainer is getting a certification from an official organization, such as the National Academy of Sports Medicine (NASM) or the American Council on Exercise (ACE).
Then, start gaining experience in the field and building up your client base by promoting your personal training services via social media and word of mouth. Obtaining additional certifications can help attract more clients and maximize your earnings.
Overall, becoming a successful home-based personal trainer requires a mixture of education, experience, and marketing skills. However, if you have a passion for it, I'm almost certain that you'll find the process extremely enjoyable.
32. Car advertising
Car advertising (aka car wrapping) is the process of getting paid for placing a company's ads on the exterior of your car.
This marketing technique is being used by tons of companies around the world to boost the offline exposure of their brand.
The first step to getting started with car advertising is signing up as a driver to a few fleet advertising apps, such as:
Carvertise
Wrapify
Nickelytics
Market Your Car
etc.
Some of these apps will prompt you to answer screening questions about yourself, your driving habits, your insurance coverage, etc. Furthermore, they might perform background checks regarding your driving record and vehicle's condition.
If you have a bad driving record, or an old, or damaged vehicle, chances are you'll get rejected. Also, to ensure maximum exposure, most companies may approve only people who drive over a certain number of miles per month or take more crowded routes.
If you get approved as a driver, you'll need to activate your chosen app to track your driving routes and match you with companies that want to run advertising campaigns targeting people in those areas.
Once you've been matched with an ad campaign, you'll have the option to accept or reject it. If you decide to move forward, you'll just need to get the ad placed on your car to start earning money.
The amount of money you can earn through car wrapping depends on the terms of the program and the amount of time you spend driving with the ads on your car. Some programs pay a flat fee, while others pay based on the number of miles you drive or the amount of time you have the ads installed on your car.
In general, car advertising brings in between $100 and $500 per month. However, some advertising campaigns may pay more depending on their specifics.
Earning over $1000 per month via car wrapping might be nearly impossible but it's still a pretty neat way of making some extra cash you can use to cover your car's gas and maybe a couple more bills completely passively without any significant effort on your part.
33. Answer questions
Another rather simple way of earning $1000-$3000 per month from home is by answering questions online.
Some of the most well-known platforms that pay people for answering questions include:
JustAnswer
ExpertBee
LivePerson
Keen
& AskWonder
The main purpose of these platforms is to provide their users with accurate and reliable answers from proven experts.
The standard requirements for becoming a paid expert include:
social security number
valid ID
licenses or certifications
Once you provide this info, most platforms will run an in-depth background check to confirm the validity of your identity and credentials.
The amount of money you make by answering questions will mostly depend on the volume and difficulty of the questions you answer, your field of knowledge, and your overall professional expertise.
According to JustAnswer, their experts can earn an average of between $2000 and $7000 per month.
34. Invest in ATMs
ATMs are an integral part of modern life, providing instant access to cash for millions of people all around the world.
Nowadays, you can easily capitalize on this growing demand for easy cash withdrawals by venturing into the ATM industry yourself.
The process of making money with ATMs is rather straightforward. You simply purchase ATMs, set them up in busy locations with a lot of foot traffic (e.g., shopping malls, airports, casinos, grocery stores, etc.), and earn a percentage of the fees users pay for withdrawing money from them.
According to ATM Brokerage, the average amount of money generated by a single ATM ranges between $200 and $300 per month. Therefore, to earn $3000 per month with this approach you'll need to own and operate at least 10 ATMs.
Investing in ATMs can be a very lucrative endeavor that might end up yielding an almost completely hands-off monthly income. However, before getting started, it's crucial to carefully consider all the cons involved, such as:
initial costs of an ATM ($2000 – $4000)
time-consuming regulatory requirements
the competitiveness of securing good locations for your machines
maintenance and repair expenses
etc.
Conclusion
In conclusion, those were the 34 most promising methods of building an income of $1000-$3000 per month from home.
Each of them comes with its own unique processes, learning curve, and set of challenges, so it's essential to do your due diligence along with some self-reflection to zero in on and pursue the one that piques your interest the most.
This way, the work involved in achieving your financial goals won't feel so much like a chore but rather an enjoyable and fulfilling adventure.
If you're after earning more than $3000 a month from home, make sure to check out my roundup of the 17 Best Ways to Make $5000 Online From Home.
Do you have questions or require further help?
Leave a comment right below or contact me right here, and I'll do my best to get back to you as soon as possible.
All the best, stay safe, and succeed big,
Harry, Founder & Creative Director at dearboss-iquit.com