"Is affiliate marketing worth it?"…
I've been asked this question by countless people who're either about to venture into affiliate marketing or have already been running an affiliate business for a while without having experienced any tangible results.
Since you're here, I can safely assume that you're wondering the same thing.
This article is dedicated to revealing to you all the information you might need to fully understand whether affiliate marketing is worth your time, effort, and attention or not.
However, instead of praising or trashing affiliate marketing like the vast majority of other bloggers who have attempted to cover the subject do, I'll just let the actual numbers do the talking so that you'll draw your own conclusions.
Without further ado, let's get cracking…
It's Worth Over $14 Billion
According to this roundup of affiliate marketing statistics, the global value of affiliate marketing in 2017 was estimated at 14 billion dollars.
Since the affiliate marketing industry seems to be steadily growing at an average rate of 10% per year, its global value is expected to have surpassed 30 billion dollars by 2025.
Best Affiliate Marketing Courses
It Generates 15% of Digital Media Revenue
An affiliate marketing report that was released in 2016 by Business Insider, revealed that affiliate marketing was responsible for as many online sales as email marketing, contributing to at least 15% of all the revenue generated within the digital media industry.
This means that affiliate marketing is currently the 3rd largest source of online sales, after organic search (21%), and paid search (19%).
Amazon Pays 1.6% of Its Annual Revenue to Affiliates
A study published by PRWeb back in 2013 revealed that affiliate marketing was responsible for 40% of Amazon's total revenue.
Since Amazon has a 4% average commission rate, 1.6% of the company's revenue lands right into the pockets of its affiliates.
To give you an example, in 2020 Amazon generated $386.1 billion in revenue. As such, over the course of that same year, Amazon's affiliates got paid ($386.1 billion * 1.6%) = $6.1 billion worth of commissions.
Amazon's affiliate program is just one among thousands that exist out there… As a matter of fact, affiliate marketing is being utilized by over 81% of all US-based advertisers.
Some of the most notable companies that are currently running affiliate programs are:
Microsoft
Apple
Nike
Adidas
Walmart
Samsung
eBay
Etsy
& more
Lastly, affiliate marketing is being leveraged by more than 84% of all US-based publishers (bloggers, YouTubers, influencers, etc) towards monetizing their content.
Having said all that, if affiliate marketing wasn't worth the trouble, no company, advertiser, or publisher would ever invest their precious time, energy, and money in utilizing it.
13% of Affiliates Make Over $75,000/Year
Based on an affiliate marketing benchmark report that was published by AffStat in 2016, 13% of all affiliate marketers reported earnings of over $75,000 per year.
Furthermore, a poll held on the STM Forum revealed that out of the 117 affiliates polled, 71 were making over $81,000 in yearly affiliate commissions.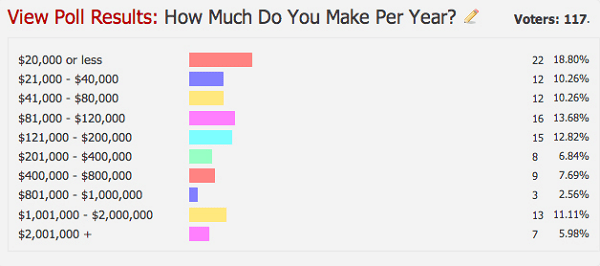 Such high success rates place affiliate marketing among the most profitable online monetization models that currently exist.
Let's take a closer look at the commissions generated by a few seasoned affiliate marketers.
Pat used to be sharing monthly income reports that documented the growth of his affiliate business (smartpassiveincome.com) from $8000/month to $100,000/month over the course of about 10 years.
Unfortunately, they're not available anymore…
Nonetheless, in the video right below, Pat explains exactly how he generated more than $300,000 in affiliate commissions by promoting just one single product.
Tom Dupuis is the founder of onlinemediamasters.com.
Tom embarked on his affiliate marketing journey back in 2011. At the time I'm putting together this article (2021), Tom's affiliate endeavors bring in about $150,000 per year.
You can check out for yourself some of Tom's affiliate income reports right here.
Doug Cunnington is the owner of nichesiteproject.com as well as an affiliate marketing course called "Five Figure Niche Site".
Doug has been earning more than $70,000/year via affiliate marketing since 2013.
Within this income report (or the video right below), Doug reveals exactly how he managed to scale a niche website he'd launched back in $2016 from $100 to $70,000 in just 2 years.
Alex Nerney launched his first affiliate blog back in 2015. However, 3 months later, his first attempt at blogging had failed… spectacularly. 
About a year after getting his second affiliate blog up and running (avocadu.com), Alex was generating around $10,000 per month in affiliate commissions.
At that point, Alex decided to start a blog called "createandgo.com" that would revolve around documenting his journey to leveraging blogging and affiliate marketing towards building an income online.
By 2018, Alex's blogging efforts were bringing in more than $144,000 in monthly revenue (watch video below).
According to his latest income report, in June 2021, Alex earned over $35,000 in affiliate commissions.
John launched his first affiliate website, startmakestopwaste.com, back in May 2015.
Fast forwards 4 years, in January 2019, John generated $3700 in a single day (see image below).
John is currently running at least 3 other pretty well-established affiliate websites like:
johnconsol.com (a solar panel business consulting website)
kingcryptos.com (a cryptocurrency website)
installoffgridsolarsystem.com (solar panel website)
Even though John has never actually published an income report, based on my own calculations, his total monthly income should exceed $50,000.
Is Affiliate Marketing Worth It?
Objectively speaking based on all the numbers and income reports I shared with you right above, affiliate marketing is definitely worth it!
However, to understand if affiliate marketing is worth the trouble for you, you need to determine if the benefits associated with being a successful affiliate marketer outworth the amount of work involved in becoming one.
Let's take a closer look…
Work Involved in Becoming a Successful Affiliate
I'd like to start this off by stating that affiliate marketing is in no way a magic bullet to instant and effortless riches…
On the contrary, the process of reaching success as an affiliate marketer involves a steep learning curve, tons of trial and error, and immense amounts of work all of which are mainly geared towards sending web traffic to the online merchants you're affiliated with.
Some of the web traffic generation methods that are the most utilized among affiliate marketers include, but are not limited to:
Content Marketing
Search Engine Optimization (SEO)
Social Media Marketing
Paid Advertising
Email Marketing
Forum Marketing
The most effective web traffic generation method for getting the affiliate offers you promote in front of an audience that might be interested in purchasing them is content marketing…
Content marketing is the process of consistently creating, publishing, and promoting content, such as:
YouTube Videos
Blog Posts
Infographics
eBooks
Social Media Posts
Podcasts
etc
The vast majority of aspiring affiliate marketers spend at least 80% of the time and energy they devote to their affiliate endeavors churning out as much content as possible.
Please note that affiliate marketing doesn't have to be treated as a full-time gig from the get-go… If you're already working a job and/or have other obligations that occupy a large chunk of your day, you could always work on your affiliate business on a part-time basis or maybe even less, for 1-2 hours per day.
However, it's worth noting that the more time and effort you invest in your affiliate endeavors the faster you'll reach your financial goals.
Benefits of Affiliate Marketing
The affiliate marketing model can potentially offer a vast array of benefits to those who're willing to invest the required amounts of time and effort, such as:
1. Location Independence
An affiliate marketing business can be operated from anywhere you want without having to be pinned down to a specific location…
As long as you have access to any kind of device with an internet connection you can work from home, from a cafe, by the sea, in the forest, in another country, etc.
I'm actually putting together this article on my smartphone while sitting on a cliff overlooking the sea.
2. Time Freedom
Time freedom is the ability to have complete control over your daily schedule…
This means getting up when you want, working anytime and for how long you want (e.g. in the morning, in the evening, or even splitting work into multiple small shifts spanning throughout the day), taking time off whenever you feel like it, spending as much time as you want with your loved ones, having more flexibility to live more spontaneously (e.g. going on an impromptu 3-day trip right in the middle of the week), and much more.
That's pretty much how the life of most successful affiliate marketers looks like.
Nevertheless, to be able to maintain your time freedom in the long term, you'll need to be utilizing it in great moderation while ensuring that you remain as committed to your affiliate business as possible.
3. No Boss
Another great benefit of being a successful affiliate marketer is that you'll have no boss breathing down your neck, no supervisor micromanaging your every move, and no manager dumping on you more and more work that's practically impossible to complete before the given deadline.
As an affiliate marketer, you'll be the one calling the shots regarding the work associated with your affiliate business… You'll be your own boss!
4. A Profession You Love
One of the most noteworthy benefits of affiliate marketing is that it can be leveraged towards monetizing any subject you could think of, from electronics, clothes, and silverware to yoga, furniture, and computer software.
As such, if you launch an affiliate business that revolves around a subject you're passionate about, your entire affiliate journey will feel a lot less like working and more like playing, and eventually, you'll probably end up making your living by doing something you really love.
5. Passive Income Potential
Affiliate marketing is among the online business models with the highest chances of becoming a source of passive income.
Passive income is money generated as a result of work you've done in the past that requires little to no effort to maintain.
For example, the royalties paid to a writer for a book he's published 5 years ago is passive income.
Just like that, the vast majority of my current affiliate earnings are generated completely passively as a result of blog posts, guest posts, reviews, videos, and social media posts I've published months ago.
This basically means that if I were to take a break from working on my affiliate business right now, my affiliate income would probably keep coming in for at least a few months, maybe even a year.
(Click each question to expand)
Conclusion
In my opinion, the benefits associated with being a successful affiliate marketer are definitely worth all the troubles involved in reaching them.
For instance, personally, I'd very much rather investing an extra 4 hours per day in growing an affiliate business that could eventually allow me to ditch the 9-5 grind and gain location independence and time freedom than spending all of my free time hanging out, watching TV, playing video games, or just being bored.
On the contrary, some might not value such benefits that much and be perfectly content with their current financial and professional circumstances.
If that's you, chances are that affiliate marketing isn't worth your time and effort.
Ultimately, coming to a conclusion about whether affiliate marketing is worth it or not is a highly subjective matter that's totally up to you.
Have any questions?
Leave a comment right below or contact me right here.
I'll be more than happy to help you out!
All the best,
Harry, Founder & Editor at dearboss-iquit.com