Job-hating has spread like a plague during the last few years.
And along with hating a job comes the urge to quit it…
But you can't leave yourself incomeless… It's fairly reasonable that before leaving your current job, you need to first replace your income by finding another one right? If you don't, how are you going to be able to pay for food, your bills, and other stuff?
However, you are facing a problem… You can't seem to be able to actually land another job…
Thankfully for you, I've been where you are for a while but I managed to find my way out and in this article, I am going to let you know exactly what to do when you need to find your own way out of a job you hate but can't find a new one.
First things first…
Isolate the Problem
Most of the time, not being able to find another job has nothing to do with the job market, or your country, or the economy, or basically any other external factor.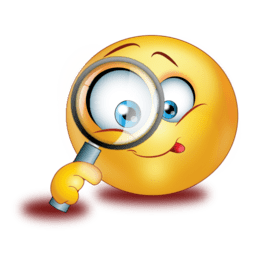 If you have a hard time finding another job, chances are that you are the problem and if you want to finally escape from the job you hate, you first need to figure out exactly what you are doing wrong.
I was stuck in a job I hated for 2 years…
During that time I was constantly job hunting, attending interviews, getting rejected, passing job offers, etc.
Looking back, I realize that I made a lot of mistakes which held me back from finding a new job and chances are that the same mistakes might be holding you back as well.
According to my own experience, there are 5 reasons that you might be unable to find a new job.
Not applying to enough jobs
Having a bad resume
Being bad at attending interviews
Going after jobs you don't qualify for
Being too picky
Let's dig a little bit deeper.
1 • Not Applying to Enough Jobs
The more jobs you apply to, the higher your chances of actually landing a new job.
Over the years, I've had conversations with dozens of people who were looking for their way out of a job they hated and most of the time, those conversations ended up being shockingly similar to the one below:
Other person – "I hate my job and I want to quit…"
Me – "So, why don't you quit?"
Other person – "I can't find another job"
Me – "Tell me about the last time you searched for one"
Other person – "Well, it was about 2 months ago"
Me – "Aha… To how many jobs did you apply back then?"
Other person – "Actually I applied to a whole lot of them… I think 2 or maybe 3…"
NOPE!
Seriously, if this is you, you're screwed… Applying to 2-3 jobs per 2 months will get you nowhere… Hell, applying to 2-3 jobs per week will probably get you nowhere either…
How many jobs should you apply to, you ask?
I was thinking more like 2-3 jobs per day!
If you are serious about finding a job in order to quit your current one anytime soon and not when you are almost old enough to retire, you have to grow balls and stop acting like a scared little girl…
There's no point in taking it slow. The slower you take it, the longer you'll be stuck in the current job you despise.
You either want to quit your job or not.
Act big and get the hell out of there ASAP or just accept the fact that you'll probably be working that same job you hate for the next 10+ years.
If I were you, I'd go for the former…
2 • Having a Bad Resume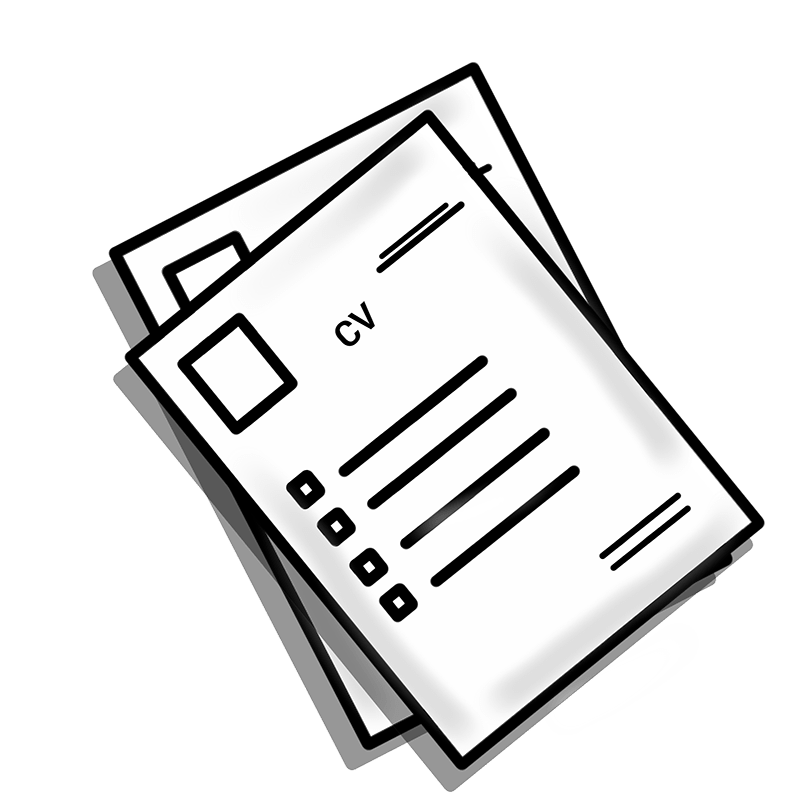 Let's assume that you are indeed applying to tons of jobs but no potential employer is calling back to schedule an in-person interview with you.
If you haven't actually misspelled your telephone number within your resume, then chances are that nobody is calling you because your resume sucks…
A few months after landing that job I hated I started applying to dozens of other jobs in order to escape it.
But I kept getting no calls for interviews whatsoever…
Thankfully, it didn't take too long to realize that my resume was to blame and so I started improving it at once.
I went online, read some articles on building a good resume, and along with being a little creative, I managed to put together an awesome resume in less than a week.
And then, I started putting it to test…
I applied to 10-15 jobs using my new resume and after a few days, I started getting calls for scheduling interviews with potential employers. I was ecstatic!
Right now, almost 2 years later, I have further improved my resume and I usually get called for interviews from at least 50% of the jobs I apply to.
If despite applying to numerous job positions you still don't get called for interviews the quality of your resume is probably to blame…
It's either that, or you might be applying to jobs you don't actually qualify for…
3 • Going After Jobs You Don't Qualify for
It goes without question that if you keep applying to jobs you don't qualify for, you'll probably keep getting rejected as soon as someone lays eyes on your resume.
Yes, you might want the job with the higher salary or the job in another field which you believe you'll enjoy more but unfortunately, if you don't have the required skillset and/or previous experience nobody would be willing to waste their time interviewing you.
Think about it…
If you were a business owner and you needed a salesman, would you waste your time interviewing someone who had no college education and had been working as a truck driver for the last ten years? Or, if you were in need of a truck driver would you waste your time interviewing someone with a college degree in sales but no driver's license?
I don't think so.
If you keep applying to jobs you don't qualify for then don't get your hopes up because you'll probably never be able to replace your current job with a new one.
Countering that problem is very simple…
Just start applying to jobs you qualify for!
Or you could improve your skillset to actually qualify for the jobs you would like to go after.
Attend classes and seminars. Watch webinars. Leverage the vast amounts of free information you can find on blogs or on Youtube. Get certified.
Do whatever it takes to get the job you want.
Yes, it will take time, effort, and sacrifices but this is what it takes for someone to reach their goals…
4 • Being Bad at Attending Interviews
Let's assume that you are applying to a lot of jobs, you get called for interviews from a significant number of them, you attend those interviews, but still, nobody seems to be willing to hire you.
If this is the case for you, you are probably doing something wrong during those interviews.
Maybe you are not dressed well enough, maybe you are just talking way too much about irrelevant stuff, maybe you don't seem confident in yourself or maybe you keep making tasteless comments about your current job and boss.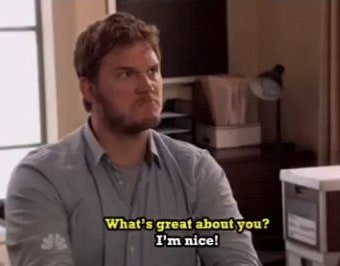 Whatever the case, you have to understand that every job opening could have dozens of applicants and the employer is most likely going to hire the one who left them with the best impression during their interview.
Believe it or not, being good at attending interviews is a skill that can be cultivated with practice just like playing football or the piano…
I remember my first job interviews… They were awful!
I was shy, anxious, sweaty and eager to get out of each one of them ASAP. No wonder that nobody would want to hire me…
However, after attending tons of interviews, I got the knack of it… Now, when I go through a job interview I feel like I know every interviewer for years and thus I feel very confident and open towards them. Also, most of them tend to ask the same or similar questions so I am always prepared (I have actually come up with a couple of answers for 3-4 questions I have noticed that the majority of interviewers ask me).
For instance, I know that once I mention that I am currently working somewhere else, the interviewer will inevitably ask me "Why do you want to quit your current job?"  so I always have a couple of answers armed and ready.
Reading a couple of articles on improving my interview skills also helped me a lot become aware of some mistakes I kept making as well as how to correct them.
5 • Being Too Picky
It doesn't matter how much you hate your current job, it will not be that easy to let it go especially if you have been working there for a long time.
As I mentioned earlier, during my two years at the job I hated, I applied to hundreds of job openings. I also went through more interviews than I can count and got dozens of job offers…
But, I kept rejecting every single one of them because I was way too picky about them…
I was picky about the work shifts, the distance, the building, the coworkers, the duties, the street on which the building was, the office, the smell of the office, the lightning of the office, etc.
It took me 2 whole years to actually accept another job which I thought was perfect for me only to quit it 3 months later without having anything lined up because it actually sucked.
Waiting to land the perfect job is just a waste of time because it's impossible to know if a job is perfect for you before working there for a while. What feels like your perfect job in the beginning, might end up being a huge fat bumper when the honeymoon phase is over.
Looking back, I realize that being too picky was probably just another excuse for staying put because I was too afraid to jump from a job I hated but was familiar with to another job which I knew nothing about.
After all, the devil that you know is better than the one you don't right?
4 Additional Tips on Dealing with the Job You Hate When You Can't Find Another One
1 • Let go of All Excuses
Most people tend to come up with a lot of excuses to abstain from taking action which in turn keeps them imprisoned in jobs they hate to the very depths of their soul, day in and day out, for years. Believe me, you don't want that…
I've spoken with dozens of people who were after quitting a job they hate and the excuses they keep using in order to stay in their cozy comfort zones are always blowing my mind…
"I'm too old"
"I can't find a new job"
"I don't have time"
"I have a family to feed"
"I make good money"
"There are no other jobs"
"All jobs are equally bad"
Let me tell you, and mark my words, that there's NOT A SINGLE EXCUSE in putting up with working a job you hate for the rest of your life when just by stretching your comfort zone for a while you could do so much better.
I am not saying that you should walk in your boss's office and quit your job right now but at least take some steps that will allow you to eventually get out of there.
If you are currently working a job you hate, YOU are the only one to blame, period. YOU are the problem… Your mindset is the problem… Your attitude is the problem. It's no else's fault but yours…
Don't let this bring you down. Don't get all sad and depressed.
That's great news!
Because since YOU are the problem, YOU are also the solution.
Your excuses will always be there trying to hold you back. But it's up to you if you act according to them or if you act despite them.
Truth is that when it comes to quitting your job, the hardest part will probably be to overpower your own bullshit excuses.
Once you get past that, you are gold!
2 • Deal With Your Job Another Way
Finding another job is not the only solution to dealing with a job you hate.
Besides quitting your job, there are at least 3 more ways to successfully deal with it like a pro such as
Persistence
Neglect
and Voice
Persistence means grinding your teeth and just sticking through your awful job accepting that you'll probably keep being unhappy for the rest of your life.
Neglect entails staying in your current job but getting emotionally disengaged from it. It's like showing up to work and doing the bare minimum effort just to not get fired.
Voice involves actively trying to figure out ways to improve the situation at your job along with your colleagues and/or your boss.
For more information on dealing with a job you hate without quitting it, go ahead and take a look at the 4 Ways To Deal With A Job You Hate Like A Pro.
3 • Start a Side Hustle
Starting a side hustle is becoming a more and more popular option towards eventually quitting not just your current job but all jobs forever…
If you have a hobby, passion, or interest with which you occupy yourself during your free time, it would be a great idea to start considering if there are any ways to monetize it.
For instance, if you love practicing Yoga, maybe you could get an instructor's certification and start practicing with your friends and family. If you are working as a website designer, you could start offering your services as a freelance. Or if you have any experience writing, you could start writing your own book.
Eventually, what you started as a side hustle, could bring in a full-time income for you so you and you won't need to work a normal job ever again.
More than a few very successful entrepreneurs started exactly that way! Scaling a business on the side of their job which eventually turned into a full-time venture.
Yes, it won't come fast and easy. It'll take time, effort, and sacrifices. But earning your living by doing something you enjoy instead of constantly jumping from a job you hate to another job you hate is definitely worth all the trouble right?
dearboss-iquit.com has been my side hustle for a while now and will hopefully become my full-time job at some point and allow me to work for myself online.
If you would like to find out how to quit your job and work for yourself online just like me, you should definitely read my article How To Quit Your Job And Be Your Own Boss [Like a Boss].
4 • Quit Your Job Without Having Anything Else Lined up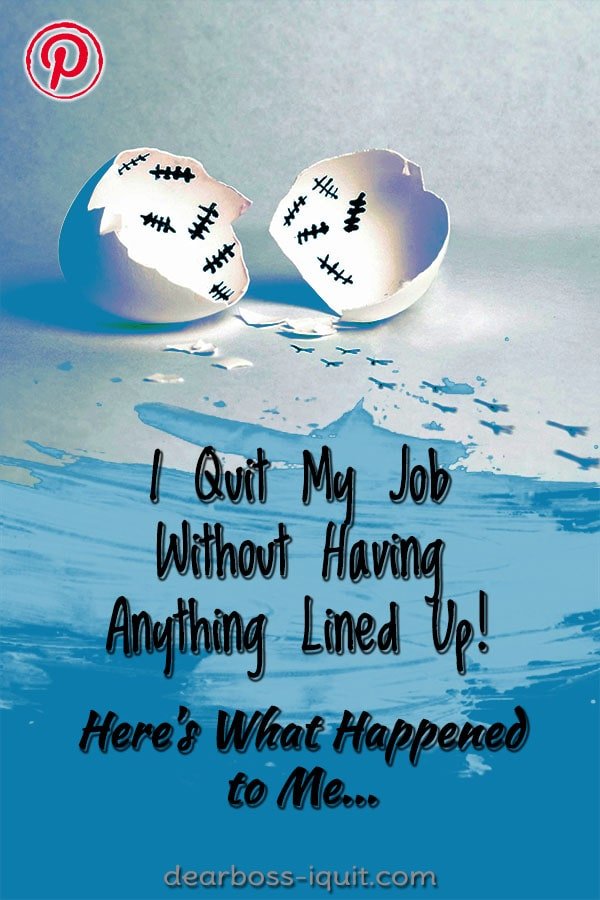 Who in the right mind quits a job without having anything else lined up right?
Well, I did!
A month ago I quit my last job without having anything else lined up whatsoever. Not another job, no significant and stable income from my online business or from anywhere else, nothing!
And let me tell you, that it's definitely not as scary as most people tend to imagine.
Quitting a job you hate without having found a new one yet is a valid course of action and if you have taken a few smart steps beforehand such as saving up some money, leaving yourself without an income for a while might prove to be much less stressful than working a job you hate.
At least, this is the case for me now.
If you want to find out more about quitting my last job with nothing lined up, how I did it, what happened to me after doing it as well as how you can do that yourself with the least possible risk, go ahead and read I Quit My Job Having Nothing Lined Up: Here's What Happened to Me…
Just so you know, thinking about quitting my job without having found a new job first used to be one of the scariest thoughts of my life but after actually going through it, I can safely say that a month later things are unfolding unexpectedly smoothly and I haven't regretted my decision the slightest.
Conclusion
Finding a new job in order to quit your current one is not as hard as you imagine. It's actually much easier… You'll definitely understand what I am saying when you actually achieve it.
If you just start acting despite all your fears and excuses, identify the problem, and then correct it, it won't be long before you kiss the job you hate goodbye!
In addition, finding another job is not the only way to quit a job. There are other ways to deal with a job you hate such as neglecting it, becoming your own boss, or just quitting it cold-turkey just like me.
Lastly, don't forget that YOU are the only one who can change your situation for the better… Don't wait for anyone to deliver you from your misery or for things to change for the better by themselves.
You are the problem but you are also the solution!
For how long have you been looking for a new job in order to quit your current one?
Which of those mistakes do you believe is holding you back?
Have you considered dealing with the job you hate another way?
Let us know all about your opinion and experience in the comments below.
If you have any questions or need any further help or guidance from me, I encourage you to email me at xaric@dearboss-iquit.com or drop me a PM on my Wealthy Affiliate Profile.
Whatever the case, I will get back to you as soon as possible.
My best regards to you,
Xaric,
dearboss-iquit.com