A while ago, you came across a social media post or maybe an email that promised to reveal to you a proven "opportunity" to earn thousands of dollars on autopilot with minimal effort (or something of a similar nature).
After submitting your info, you got redirected to Click Wealth System and watched the introductory video.
However, something didn't sit quite right…
Maybe it was the unrealistic income claims or the fact that every word coming out of the narrator's mouth sounded way too good to be true.
Whatever the case, you decided to do your due diligence before investing in the course.
Frankly, you couldn't have landed in a better place.
This Click Wealth System Review is dedicated to providing you with all the information you might possibly need to make a fully informed decision about whether Click Wealth System is worth your time, attention, and money or not…
Without further ado, let's get started.
Click Wealth System Review Summary
Best Affiliate Marketing Courses
What is Click Wealth System?
Click Wealth System is an affiliate marketing course created by Matthew Tang that's geared towards teaching you how to make money online by promoting Click Wealth System itself using paid solo ads and free traffic methods such as blog commenting, forum posting, and social media.
What's In Click Wealth System?
Upon joining Click Wealth System, you'll get your hands on the following:
Let's dig a little deeper, shall we?
Click Wealth System's core training consists of 9 simple steps…
The first step contains a 7-minute video that covers the very basics of affiliate marketing along with a PDF guide that outlines 5 tips to making the most out of Click Wealth System.
The rest of the steps consist of short PDF guides that walk you through the process of fully setting up the system (creating a ClickBank account, launching your sales pages, getting paid traffic, etc).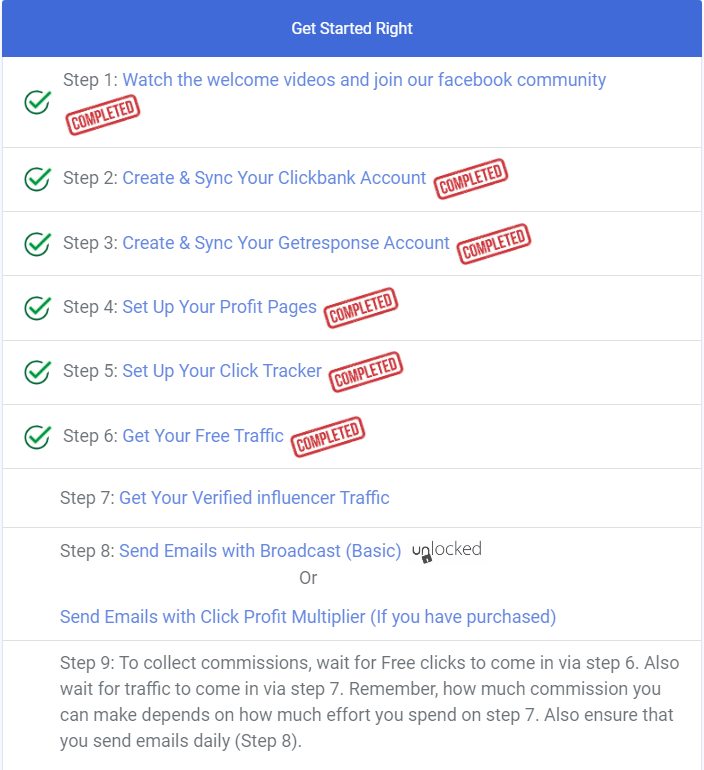 Fully completing Click Wealth System's 9-step core training won't take you more than an hour even if you're the least tech-savvy person on earth.
On top of its 9-step core training, CWS provides access to 10 ready-made squeeze page templates (see below).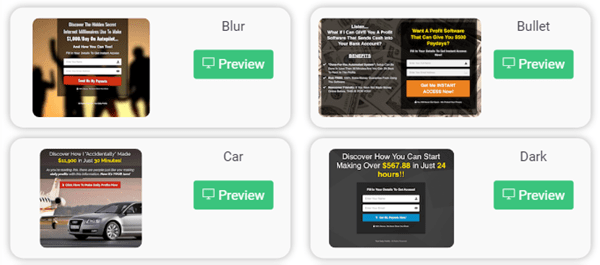 Each page contains a signup form, sales copy, images, and/or VSLs (Video Sales Letters) and comes with a 60-day autoresponder email sequence.
This means that once someone submits their email address on one of the pages you promote, CWS will automatically start forwarding them promotional emails over the next 60 days.
Those emails are automatically customized with your personal ClickBank ID so when a sale is made through them, you'll be credited with commissions.
Once you've gotten clear on the sales page template of your preference, you can get it up and running in less than 30 seconds by using Click Wealth System's cloud-based page builder.
Just select your template, fill in the URL of your choice, click the "Save" button, and you're done!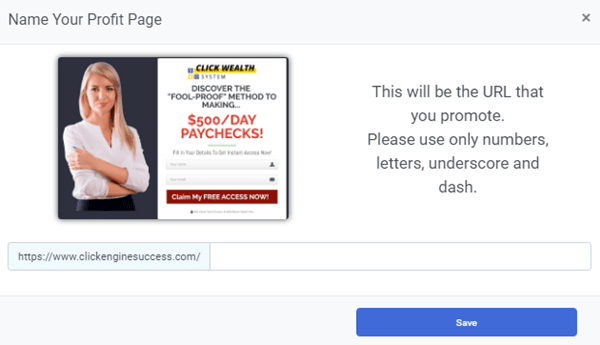 CWS's Click Tracker is a function that enables you to create tracking links to help you monitor your clicks and sales.
Moreover, the Click Tracker allows you to equally split traffic among your sales pages to figure out which ones perform the best.
After setting up one or more sales pages, Click Wealth System offers you the option to promote them to 100 potentially interested people for free over the course of 2-4 weeks.
As per Matthew, those 100 free clicks are of lesser quality than paid traffic and aren't actually guaranteed to generate any sales.
Upon purchasing Click Wealth System you'll also be granted access to its private, member-exclusive Facebook Group called "Click Wealth Elites".
The group can be leveraged towards requesting support from Matt Tang and other members of the course, interacting with like-minded individuals, receiving feedback, and sharing your successes and failures.
A PDF file that contains a bunch of premade email messages that you could manually forward to your subscribers for additional promotion of Click Wealth system.
Integrated Solo Ad Vendors
Last but not least, Click Wealth System lets you in on 3 Solo Ad Vendors:
Roy Tay's Solo Ads
Wayne Crowe's Traffic Domination
& Udimi
All of those 3 vendors are integrated with CWS, meaning that once you purchase traffic from either one of them, potential leads will start flowing to your squeeze pages automatically without you having to put together any ads by yourself.
Nonetheless, you're not really limited to using just those 3 solo ad vendors…
You're basically free to purchase ads from any ad marketplace of your liking (Facebook, Google, Pinterest, etc) but since none of them are integrated with CWS, you'll have to actually create your own ads from scratch.
How Much Does Click Wealth System Cost?
Click Wealth System costs a one-time fee of $9.
However, as you'll find out right below, Click Wealth System has numerous (optional) upsells and a ton hidden, additional costs.
2. A Bunch of Success Stories
Click Wealth System seems to be delivering results to many of its members.
Right below, you can take a look at a bunch of success stories that I captured within CWS's private FB group: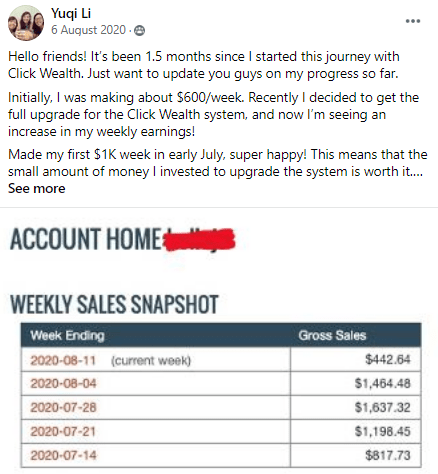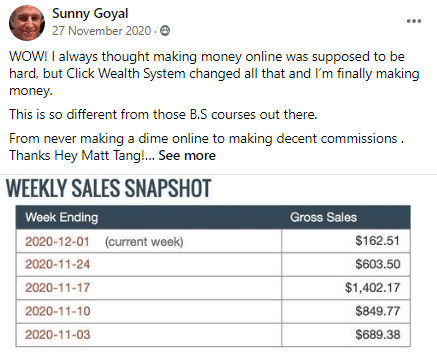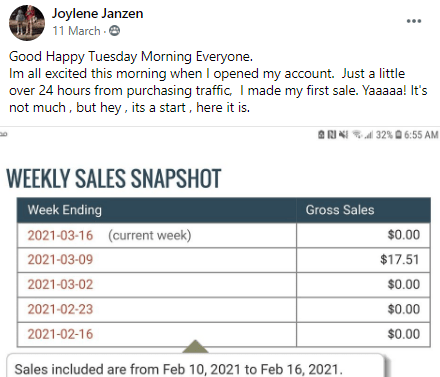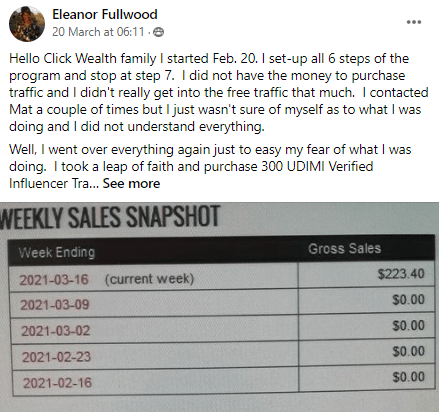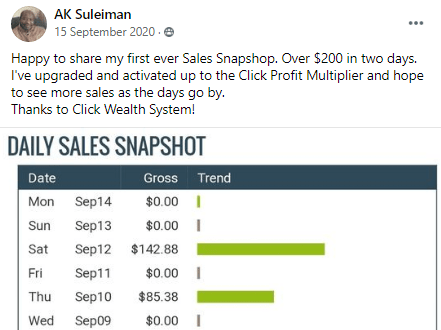 At the time I'm putting together this review, Click Wealth System's private Facebook community is rather active and populated with over 3500 members.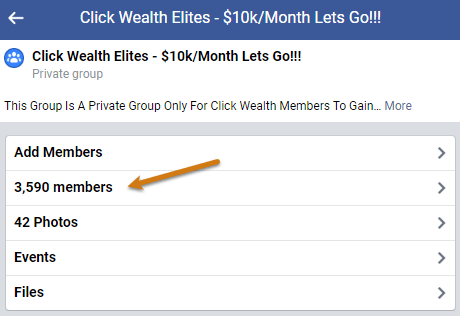 A populated and active community is usually a tattletale sign of a legit affiliate marketing training course.
Click Wealth System is covered by a 60-day, no-questions-asked, money-back guarantee.
You can find out more about CWS's refund policy and process right here.
The first thing that I hated about Click Wealth System is that the moment you purchase it, you'll start getting bombarded with upsells.
First, you'll be prompted to buy Profit Activator for $147.
Profit Activator is basically an add-on that could supposedly boost the conversion rate of your sales pages by displaying elements such as:
Scarcity Timers
Social Proof
& Personalized Messages
If you pass up on Profit Activator, you'll be redirected to a second page where you'll be prompted to buy Profit Activator yet again at a $50 discount ($97).
If you reject Profit Activator again, you'll be sent to a third page urging you to buy another upsell called "Click Profit Multiplier" for $148.
Click Profit Multiplier is basically a system that enables you to start sending your subscribers premade emails that promote other products similar to Click Wealth System.
If you skip Click Profit Multiplier you'll be redirected to a fourth page where you'll be urged to buy Click Profit Multiplier once more at a $50 discount ($98).
If you dismiss Click Profit Multiplier again, you'll finally be able to access Click Wealth System…
Within CWS you'll come across a 3rd upsell called "5x Profit Pages".
Initially, CWS would let you have only up to 2 sales pages up and running at the same time but 5x Profit Pages gives the option to host an additional 5.
As it seems, Click Wealth System's affordable entry fee is used as a pretext for baiting you in the course before Matt Tang starts driving his hands deeper in your pockets by stuffing down your throat a handful of questionable upsells.
Kinda sleazy and desperate at the very least…
*Important note: All Click Wealth System's upsells are covered by a 60-day money-back guarantee.
As mentioned earlier, Click Wealth System revolves around paid traffic generated through solo ads.
Any kind of paid promotion, including solo ads, costs money (obviously).
Here's an overview of how much one of CWS's integrated solo ad vendors charges for solo ad packages:
Also, please note that running paid ads always carries a certain amount of risk of losing money…
Furthermore, to be able to utilize Click Wealth System, you'll need to sign up for GetResponse.
GetResponse's pricing starts at $15/month and can rise up to $500/month depending on the size of your subscriber base.
If you're cunningly thinking "Okay, I'll make it work without GetResponse", well, you really can't…
Click Wealth System won't allow you to move past its 3rd step unless you sync your GetResponse account with it.
In conclusion:
Utilizing CWS will probably set you back at least $200/month
There's NO guarantee that your investments will yield any returns (you might lose money)
As mentioned earlier, Click Wealth System seems to have been created by a person that goes by the name "Matthew Tang".
But, who is Matthew Tang?
Beats me…
After conducting some in-depth research trying to uncover more info about Matt Tang, I managed to find nothing.
The guy has no digital footprint whatsoever; no social media profiles, no website, no Youtube channel, no publications, nothing…
This lack of transparency regarding CWS's creator is undeniably a red flag that's usually an indication of scammy activities.
Nonetheless, I eventually stumbled upon a Medium article that contained an image of a ClickBank Platinum Award with his name on it (see image below).
ClickBank Platinum Awards are handed out to CB affiliates who've made over $250,000 in sales during a calendar year.
However, I can't really vouch for the authenticity neither of the image nor of the award. They might as well both be fake.
A few days later, the weirdest thing happened…
The account that had uploaded the CB Platinum Award picture was suspended from Medium due to violating the platform's rules.

That's definitely not a good sign either…
The last thing that I didn't like about Click Wealth System is that it offers extremely limited affiliate marketing training…
CWS's training consists of just one 7-minute video that outlines only the very basics of affiliate marketing as well as 3-4 short PDF guides that show you how to create a CB account, set up your sales pages, and pay for ads.
That's just about it…
Click Wealth System's training won't help you gain the skills required to become a successful affiliate marketer, such as:
Writing affiliate copy
Blogging
Optimizing your ads & sales pages
Creating emails campaigns
Split testing
Experimenting with FB & Google ads
etc
In reality, Click Wealth System's purpose is just to teach you how to configure and promote a premade sales funnel that markets Click Wealth System itself.
What this means is that if you step away from CWS for any reason (lack of results, inability to invest in ads, system shutdown, etc), you won't have the slightest clue regarding how to keep making money with affiliate marketing.
How to Join Click Wealth System
Joining Click Wealth System is extremely straightforward…
First, click here to get redirected to CWS's sales page
Start watching the sales video
After about 2 minutes, a signup form will appear below the video
Enter your email in the signup form
Click on the "Get Instant Access" button
Fill in your payment information
Check the "Pay Now" button
That's it…
You're now officially a member of Click Wealth System!
(Click each question to expand)
Conclusion
Click Wealth System is a mediocre affiliate course that does display a few red flags, such as:
Unrealistic claims
Limited training
Self-promoting
Too much upselling
Obscurity surrounding its creator
etc
However, you don't really care about any of these "technicalities"…
All you want to know is whether or not Click Wealth System has the potential to actually help you earn money online, right?
Well, as we saw earlier, CWS does seem to be delivering results!
Having said that, if you're leaning towards signing up for Click Wealth System and you're willing to invest around $200/month in running solo ads then go for it.
At the end of the day, the course is fully covered by ClickBank's 60-day money-back guarantee so if you deem that it doesn't deliver the results it promised, you can always ask for a refund.
Nonetheless, before jumping right in, I strongly suggest that you take a look at my roundup of the Best Affiliate Marketing Courses.
Who knows…
You might end up coming across a much more promising affiliate course that you'll like even better there.
Have any questions?
Please leave a comment right below or contact me right here.
I'll be more than happy to help you out!
All the best,
Harry
dearboss-iquit.com