A few days ago, someone approached you telling you about Anovite and the amazing business opportunity it offers whereas you can earn a full-time income by selling the company's amazing products yourself as well as by building a team that will do the same.
Yeap, chances are that they used the word "amazing" and other similar words quite a lot…
Since there's no such thing as being too cautious you can't stop but wondering if Anovite is an MLM scam, a pyramid scheme like those who just suck people's money along with wasting their time without giving them anything in return…
Well, you definitely landed just in the right place!
In this review, I am going to cover every single aspect of Anovite, such as
What is Anovite about?
Is Anovite a scam? A pyramid scheme maybe? Or a legit MLM company?
How to join Anovite as an Associate?
How much does it cost to join Anovite?
Pros and cons of joining Anovite
Anovite's compensation plan
Can you really make money with Anovite, and if yes, how much?
and much more
In addition, I am going to let you know about a couple of alternative money-making opportunities.
This way, you'll have every piece of information you might possibly need to make an informed decision about whether Anovite is worth your time and attention or if you'd better invest in a more legit and promising program.
Let's get cracking!
Company Name: Anovite
Owners: Dr. Anthony Kleinsmith (founder & CEO)
Price to join:
$39.95 per year
Up to $499.95 for a Fast-Start Pack (optional)
Up to $165 for auto-ship (optional)
Up to 100QV worth of personal orders per month to remain active and qualified for commissions
Official Website: anovite.com
Suggested? Not Really.
Increase your chances of reaching success in multi-level marketing by following a dedicated MLM course.
What is Anovite About?
Anovite (means "A New You") is an MLM company that distributes nutritional, anti-aging, wellness, immune system boosting, and weight loss supplements.
The company was founded in 2015 by Dr. Anthony Kleinsmith.
Dr. Anthony Kleinsmith holds a Ph.D. in Nutritional Science and he is considered one of the world's leading authorities on colostrum, a superfood that contains over 700+ different constituents that could benefit people in dozens of different ways.
Dr. Kleinsmith started his first company, Immune Tree, Inc. in 1993. 
Immune Tree is an FDA, USDA, and GMP Certified manufacturing facility for the Colostrum6 based products that Anovite distributes.
According to Anovite's website the nutritional product lines Dr. Anthony Kleinsmith has formulated have won the Healthy Living "People's Choice Award" 3 times (unsubstantiated claim) and that he is also a very successful author (First Milk Diet: Your Anti-Aging Secret by Dr. Anthony Kleinsmith)​ and much sought after international speaker (I found none of his speeches).
Dr. Kleinsmith doesn't seem to have any experience in the MLM and Direct Sales field prior to Anovite.
However, according to Anovite's website, the company has shown triple-figure growth since its launch in 2015 and it's still steadily growing (cannot confirm).
The company's mission is to provide opportunities for physical wellness and financial health by sharing the benefits of colostrum with people all over the world.
You can find a lot more about Anovite, its leadership team, mission, products, compensation plan, policies, etc on the company's official website.
Anovite's Products & Prices
Anovite distributes colostrum-based anti-aging, nutritional, wellness, weight loss, and pet supplements that are manufactured by Dr. Kleinsmith's other company, Immune Tree, Inc.
Colostrum is a substance found in the mother milk of mammals only for a few hours after the baby is born.
According to research, colostrum increases the chances of survival of mammal newborns by supercharging their immune system, firing up their metabolism, and boosting tissue regeneration and repair.
Anovite's flagship product is called Colostrum6.
According to Anovite, Colostrum6 is the most potent colostrum-based product on the market because it is obtained within the first 6 hours of colostrum production.
Colostrum6 comes in powder and capsules and costs from $25 (90 capsules) to $202.50 (2lbs of powder).
The second flagship product of Anovite is Limuz6 which is actually a supplement that compliments Colostrum6.
Limuz6 contains 70+ vital nutrients antioxidants, polyphenols, amino acids, glyconutrients, vitamins, and minerals, that support a healthy gut and digestion function, healthy blood pressure levels, etc and costs $70 (30 packets of 7.1 grams each).
The rest of the products that Anovite distributes are:
LeptiTrim6: $60 – $65 (weight loss supplement)
Canine6/Feline6: $22.5 – $72.5 (colostrum supplement for dogs/cats)
Fitness Flex6: N/A (athletic formula boosting performance and recovery)
OxyQuest: $37.5 (increases the levels of oxygen in your bloodstream)
Most of Anovite's products are also being sold in combo packs.
You can find more info about Anovite's products and their respective prices on the company's official website and e-shop.
Anovite Associate Compensation Plan
The majority of MLM companies have so overly complicated compensation plans that it feels like you need to have a rocket scientist doctorate to understand just their first paragraph.
Anovite's compensation plan is no exception…
Nonetheless, I'll try my best to get you up to speed.
Anovite compensates its Associates in 14 different ways… Yeap you heard that right – 14 DIFFERENT WAYS! Talking about complicated right?
Retail Bonus
First-Order Bonus
Customer Advantage Bonus
SmartShip Advantage Program
Fast-Start Bonus
Fast-Start Mentor Bonus
Bonus Doubler
Team Bonuses
Matching Team Bonuses
Rank Advancement Bonuses
Lifestyle Bonuses
Ruby Executive Pool
Emerald Executive Pool
Diamond Executive Pool
Pocket the difference between the wholesale and retail price of the Anovite products you sell to retail customers either person-to-person or through your replicated website.
Active Associates earn 25% commissions of the wholesale price of the first order their personally enrolled Associates or Customers place (excluding FastStart Pack Orders).
3. Customer Advantage Bonus
When you sell products to a retail customers, the Bonus Volume (BV) assigned to those purchases is credited to your pay-leg increasing the number of pay cycles for you.
BV helps you earn Team Bonuses.
4. SmartShip Advantage Program
Anovite's Associates earn free product credits when they maintain a SmartShip monthly order.
The percentage of free product credits you earn per month increases based on the number of consecutive months you maintain your SmartShip orders.
If you cancel your SmartShip order for a month or more, the percentage of free credits resets at 10%.
When your personally recruited Associates, retail or wholesale customers puchase a Fast-Start Pack you earn a fixed bonus.
$299.95 Pack – You earn $75
$499.95 Pack – You earn $125
In order to qualify for this Fast-Start Bonus, you have to
purchase a Fast-Start Pack yourself, or
sell a Fast-Start Pack to a customer
accumulate 300QV (Qualifying Volume)
6. Fast-Start Mentor Bonus
Earn $24 each time your personally enrolled Associates sell either one of the Fast-Start Packs to their personally enrolled Associates and Customers.
This Bonus Doubler pays you up to $300 each time you sell 2 Fast-Start Packs during a calendar month.
Get paid based on the BV your team generates through a binary structure.
A binary structure places you at the top of your team with one team on your left (left leg) and one team on your right (right leg).
Each leg can contain an unlimited amount of people who are recruited as Associates or Customers either by you or by anyone else on either leg.
The leg which generates the higher BV is considered your power leg and the leg which generates the smaller BV is considered your weak leg.
Every time your weak leg accumulates 100BV a "cycle" is created.
The first two cycles pay you $25 and the cycles thereafter pay you $10.
This Team Bonus is paid weekly.
As the Team Bonus is paid, the volume upon which it is paid is subtracted from the accumulated volume in each of your two legs. The unused BV (up to 300.000BV) in each of the two legs roll forward (carryover) from one week to the next, so you may get paid upon it in future weeks.
Inactivity (less than 50QV) will cause all your unused BV to be zeroed out.
When you reach the rank of Director or higher, you earn 10% of all of the Team Bonus earnings of every Associate in your enrollment tree downline.
10. Rank Advancement Bonuses
Earn a one-time bonus each time you advance through the company's upper ranks.
Star Associate – $100
Two Star Associate – $200
Director – $300
Bronze Director – $400
Silver Director – $500
This Lifestyle Bonus pays you weekly based on your current rank after reaching the rank of Bronze Director and higher.
Bronze Director – $100
Silver Director – $125
Gold Director – $150
Executive – $225
Ruby Executive – $300
Emerald Executive and higher –  $375
Each week, 1% of the Bonus Volume (BV) generated from product orders placed by Associates and customers is placed into the Ruby Executive Pool.
Active Associates paid-as Ruby Executives or above are qualified to earn shares in this pool.
13. Emerald Executive Pool
Each week, 1% of the Bonus Volume (BV) generated from product orders placed by Associates and customers is placed into the Emerald Executive Pool.
Active Associates paid-as Emerald Executives or above are qualified to earn shares in this pool.
14. Diamond Executive Pool
Each week, 1% of the Bonus Volume (BV) generated from product orders placed by Associates and customers is placed into the Diamond Executive Pool.
Active Associates paid as Diamond Executives or above are qualified to earn shares in this pool.
You can study Anovite's full compensation plan right here.
Please note that Anovite's compensation plan might undergo changes from time to time so by the time you read this review, some of the info, the commission rates, the rank qualifications, etc the PDF file I shared with you right above might not be that accurate.
If you still have questions about Anovite's compensation plan, you can contact the company's support team through the contact form on its official website or by calling them at 877-295-1269.
Or you could email me at harry@dearboss-iquit.com and I will do my best to help you out.
Anovite's Associate Ranks & Qualifications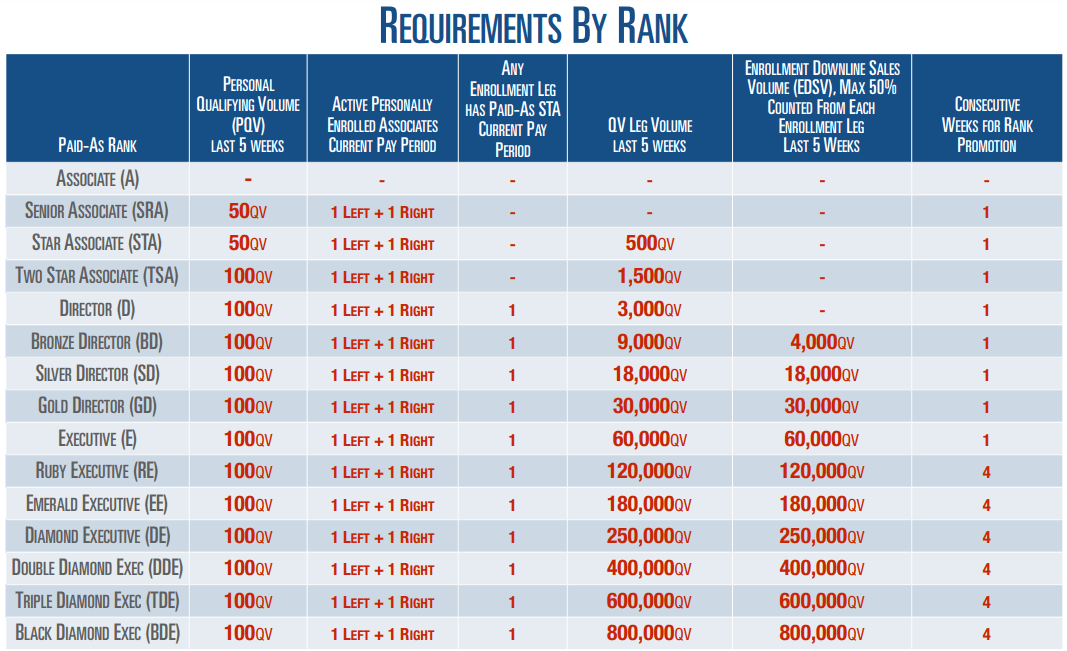 How to Join Anovite as an Associate?
In order to join Anovite as an Associate, you have to head over to the company's official website and click the "Join Now" button that is located on the top right of the website.
Choose "Be an Anovite Business Builder", then hit "Next Step", and then "Let's Get Started".
Then, you will be prompted to choose one of the Fast-Start Packs but if you don't want one just click "Next Step" again.
After that, you'll be prompted to order Anovite's products and set up an auto-ship monthly order. Those steps are optional as well so you can just hit the "Next Step" button to proceed without ordering a product or setting up an auto-ship.
Then, you'll have to fill in your contact information, shipping and billing information, account username and password, payment information, agree to the terms and conditions, submit your application, and you are ready to go!
How Much Does It Cost to Join Anovite as an Associate?
The only mandatory fee to become an Anovite Associate is the yearly $39.95 enrollment fee.
Paying this fee will grant you access to the following:
Product discounts
Replicated website
Samples
Marketing materials
Back office
Business smartphone application
and more
Besides this yearly fee, you'll be encouraged to purchase one of the discounted optional Fast-Start Packs below:
Colostrum6 Starter Pack – $99.95
International Colostrum6 Powder/LimuZ Pack – $299.95
International Colostrum6 Capsules/LimuZ Pack – $299.95
Total Health Pack – $299.95
Colostrum6 Family Pack – $299.95
Colostrum6 Sample Builder Pack – $499.95
Each one of those packs contains a variety of products that you can personally use, resell, or give away as samples to potential customers.
During your signup, you'll be prompted to purchase even more products and even set up and auto-ship but you don't really have to if you don't want to.
Lastly, in order to qualify for commissions during any given month, you'll have to maintain up to 100QV that could come either from your own personal orders of from orders of your personally enrolled retail and wholesale customers.
Is Anovite a Pyramid Scheme?
Most of the time it's very hard to distinguish between a legit MLM company and a pyramid scheme.
The video below will help you understand how to spot and avoid pyramid schemes in general.
The main difference between an MLM and a pyramid scheme is that MLMs give you the opportunity to earn commissions by selling actual products or services to retail customers while with a pyramid scheme the only way to earn money is by recruiting other people into the scheme.
Not all MLMs are legitimate. If the money you make through an MLM is based on your sales to the public, it may be a legitimate one. If the money you make is based on the number of people you recruit and your sales to them, it's not legit. It's a pyramid scheme. Pyramid schemes are illegal, and the vast majority of their participants lose money. – Federal Trade Commission
Since Anovite offers you the option to earn commissions by selling its products in retail, technically, the company is not a pyramid scheme.
However, be aware that the company puts a lot of pressure on new Associates to buy Fast-Start Packs and set up monthly auto-ship orders.
This could be a sign that a huge part of the company's revenue comes from the personal purchases of its Associates, something that makes the company look more like a pyramid/Ponzi scheme.
Proceed with caution.
1. Free Replicated Website
Once you join Anovite as an Associate, the company provides you with a free replicated website.
When people purchase Anovite's products through your replicated website, a percentage of the total amount of money those people pay land right into your pocket.
In addition, if someone signs up as an Associate through your replicated website you automatically become their sponsor, and they become part of your downline.
If marketed the right way, this replicated e-shop could help you maximize your retail customers and recruits and thus your income.
If your business is not on the internet, then your business will be out of business – Bill Gates
Besides all those optional Fast-Start Packs and auto-ship orders you'll be prompted to purchase during your signup, all you really have to purchase to become an Anovite Associate is a $39.95 yearly fee.
This is pretty affordable compared to other MLM companies that require hundreds and maybe even thousands of dollars of initial investment to join them as an independent distributor.
It's undeniable that Anovite's products are very unique.
Personally, before researching Anovite, I hadn't even heard about colostrum and its benefits in my life and chances are that many of your potential retail or wholesale customers won't have heard about it either.
The good news is that the benefits of colostrum are backed by science so pitching a "brand new" product that is proven to offer so many benefits shouldn't be that hard.
Anovite offers a one hundred percent (100%) ninety-day money-back guarantee to all customers.
Research shows that money-back guarantees increase customers' feelings of satisfaction with their purchases, making them more likely to make another purchase from the same seller.
You could leverage this money-back guarantee the company offers as a selling point to increase your sales.
Anovite's Associates could also receive a refund for products they purchased but the process is a little more complicated.
You can take a look at Anovite's Return Policy right here.
As mentioned earlier, I am not at all fond of the MLM business model in general for many reasons…
First of all, the percentage of MLM participants who never actually make a profit is awfully high (74% – 99%).
In addition, the majority of those who do manage to make a profit, don't earn more than $5000 per year.
Secondly, I hate selling…
And thirdly, I've heard so many stories of people losing all their friends, family, and money due to the pushy and sleazy practices they were being taught by their "mentors" that I have become repulsed by the MLM business model in general.
Being involved in an MLM is just not worth the trouble in my mind.
Especially when there exist other much more legit ways of earning a lot more money without having to go through all that struggle of becoming a sleazy salesperson and jeopardizing your relationships with those around you because you can't stop perceiving them as walking bags of cash.
2. Complicated Compensation Plan
Bonus Doublers, binary structures, left and right legs, cycles, BV, PV, QV, various percentages and commissions, pools, credits, dozens of different ranks and qualifications, aaaaaaaaaaaahhhhhh…….
A person who is relatively new to MLMs will probably have trouble understanding how Anovite's compensation plan really works.
But did you know that most MLMs make their compensation plans so complicated on purpose?
It's called "Complexity Bias" and it's the tendency of people to trust complex concepts more than simple ones.
Marketers use complexity bias all the time to boost the sales of a product/service by incorporating confusing language or insignificant details into its packaging or sales copy.
MLM companies do the exact same thing with their compensation plans to get more people to join them.
You can read more about complexity bias right here.
3. No Income Disclosure Statement
Anovite was founded in 2015. At the time of this review the company is 5 years old and it hasn't yet released an Income Disclosure Statement.
This is not such a big surpise because the majority of MLM companies prefer keeping the very low earnings of the vast majority of their reps hidden from the public in order to not discourage potential reps from joining them.
It's pretty clear to me that a company with no IDS in place that has been operating for more than 2 years tries to hide the fact that the income its reps are making must be well below the average which is somewhere between $3000 and $5000 per year at best.
4. Harmful Ingredients in Products
In March 2018, the Environmental Research Center sent Anovite a Notice of Violations of Health & Safety because a number of its products contained high concentrations of lead and arsenic compounds both of which are chemicals that are known to cause cancer.
The ERC actually sent a second notice 7 months later, in October 2018, probably because the issue hadn't been resolved yet.
However, we are one month from 2020 and I didn't find any information or resource online that implied that Anovite has addressed those issues to this day.
Truthfully, I would never promote products that could potentially cause cancer to other people.
If you are already using Anovite's products and you are really satisfied with them, joining Anovite as an Associate might be a good opportunity for you to get some decent discounts on products you would purchase anyway as well as maybe make some extra money by selling some of those products to your friends.
Despite the company's compensation plan being so complicated, it seems that Anovite is trying to maintain a healthy balance between recruiting retail/wholesale customers and recruiting other Associates.
In fact, reaching even the highest ranks of the company requires you to have no more than 2 personally enrolled Associates which means that you could focus your efforts on building your retail and wholesale customer base.
The thing that just throws me off is that the company has been operating for almost 5 years now and hasn't yet released an Income Disclosure Statement something that makes me think that the money Anovite's Associates earn might be way too low to reveal.
Also, I don't like the fact that Anovite puts a lot of pressure on purchasing Fast-Start Packs and setting up an auto-ship.
Furthermore, the fact that the Environmental Research Center sent a Notice of Violations of Health & Safety to Anovite because its products contained high doses of harmful substances is kinda alarming for me.
Lastly, to tell you the truth, I am not at all fond of the MLM business model in general…
The success rate and profitability of MLM reps are awfully low
MLM companies are extremely volatile and unstable
You need to invest a ton of money, time, and energy until you manage to make a profit (if you ever actually make a profit)
Most MLM companies focus on recruiting people instead of selling valuable and beneficial products or services
Plus, in order to make money with the MLM business model, you'll probably have to turn into a sleazy salesperson and I really hate selling as much as I hate being sold to.