Viral Dollars makes the whole concept of earning money online sound fast and easy.
You just share your referral link, complete a few tasks, watch a couple of videos, and BOOM! You just made $500 in half an hour.
Of course, if earning money was that easy, everyone would be a millionaire…
And as we've examined in countless other reviews, when someone is trying to market their system by telling you that it will bring you money without making an effort in a day or so, they are 101% trying to scam the shit out of you and everyone who believes their lies.
So, if for a moment there you thought "Cool… I will make thousands of dollars with Viral Dollars", you were terribly mistaken.
And you are about to find out why in this review.
However, before I move on, I want to let you know that if you are in need of a high-quality course which is proven to make people succeed in earning their living online, and you don't want to keep wasting your time, effort, and money researching and joining useless program after program which take you nowhere near your monetary goals, I would strongly suggest that you do yourself a favor, ditch this review, and go ahead and take a look at my #1 Suggestion right below.
Believe me, you won't regret it 😉
Name: Viral Dollars
Owners: Zindex
Price:
Free to join
Additional charges may apply within the platform
Official Website: viraldollars.co
Suggested? F*ck NO!
Free to join and use
Simple to navigate
You are being credited with $25 upon you sign up
Simple earning model (if only it worked)
Unrealistic claims that you'll make $500 a day with it
Fake testimonials and payment proof
Most tasks will ask you to fill in your mobile phone number in order to let you proceed… Then they will keep sending you text messages throughout the week and charge you per text message
Fake parent company
Not letting you cash out the bonus $25 until you complete other tasks
No training to increase your efficiency
I haven't been able to make any money with it and I've been trying for the last couple of weeks.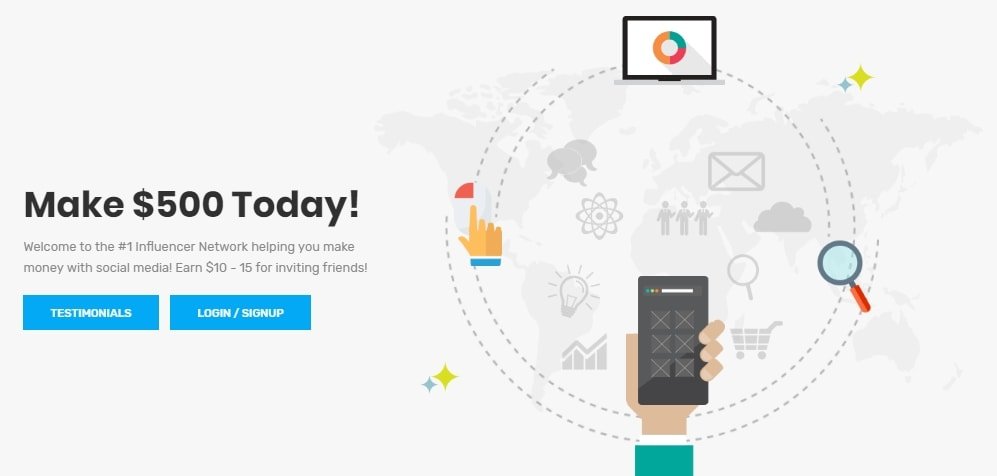 Viral Dollars is a platform which claims that it will pay you money by getting people on your social media (or basically anywhere online), to click on a referral link it provides you.
More specifically you will earn
$2 for every person who clicks on your link
$10 for each person who will join VD through your referral link
$30 for completing some tasks such as downloading apps and completing surveys
$50 for creating YouTube videos about Viral Dollars
The whole concept sounds pretty awesome, right?
And it would really be if Viral Dollars was actually legit.
The thing is the Viral Dollars is just after getting people to their website in order to increase their ad revenue and sponsor exposure.
After searching around for a while, I found out that they always find a reason not to pay you… They will say that you didn't complete the tasks, or that they are facing technical difficulties, or they will say that they are processing your payment and they'll just never actually pay you.
In fact, over the years, Viral Dollars has gone by a few different names such as "Kids Earn Cash" and "Viral Pay" due to the negative reviews it kept getting.
And as it seems, they are about to change their name again to "Referral Pay" soon.
I have been using Viral Dollars for a couple of weeks now and I have managed to acquire an $87 credit by getting a few people to click on my link and completing several surveys.
However, I can't really cash out because you have to have at least
20 clicks
5 referrals
4 tasks completed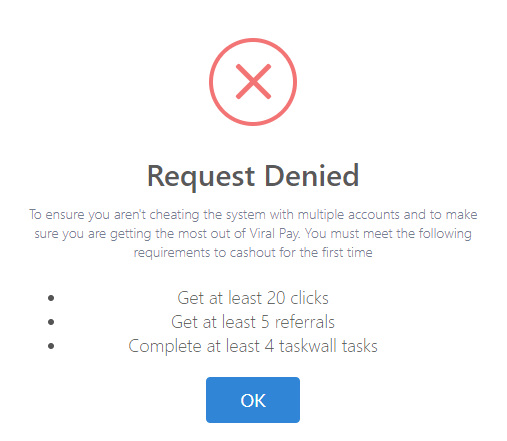 That's why, a week ago, I decided to go ahead and complete the 4 tasks, get a few more clicks and 5 referrals and request for a cash out to see if they will actually pay me.
The thing is that I have completed 5 surveys until now but as you can see in the image above they have counted just the first.
So as it seems, I can't cash out despite completing more than those 4 tasks I was supposed to.
And I really won't keep wasting my time there.
And neither should you!
Who is Viral Dollars for?
Viral dollars is only for those who want to find out the hard way that there are no shortcuts, magic pills, one-click systems, or generally effortless and fast ways towards earning money online or basically anywhere.
Truth is that sometimes people have to fall for a scam to wake up to the ultimate reality of having to actually devote their time and make an effort to get what they want. Some of them multiple times.
If you still firmly believe that you can earn money the "easy way" with Viral Dollars, please be my guest, join it right here and let me know if that actually happens.
Don't tell me I didn't warn you though…
In fact, I am so confident that you won't be able to make a dime with VD that if you end up earning even $10 during the next 5 days with it, you can contact me and I will deposit $20 more right in your account (just kidding, I really won't)…
Let me tell you about the platform that helped ME build a
Sizeable, Passive Income Online!
Who is Viral Dollars NOT for?
Viral Dollars is NOT for people who
Want to create a long-term source of full-time income in order to quit a job they hate
Would rather be their own boss 
Would just love the idea of earning their living online working from the comfort of their own home or wherever else they want
Are in need of earning a full-time income online to be location independent and  travel around the world
Long to escape the 9-5 rat race and instead, live a unique life on their own terms
Are unemployed, can't land a job, or are getting constantly fired from jobs
Are generally serious about successfully creating a sustainable, long-term source of income online
If you are one of those people, then you should probably go ahead and check out my #1 Suggestion below because Viral Dollars is unlikely to cover your needs…
What's Inside Viral Dollars?
Once you join Viral Dollars, you'll come across its main dashboard (see image below).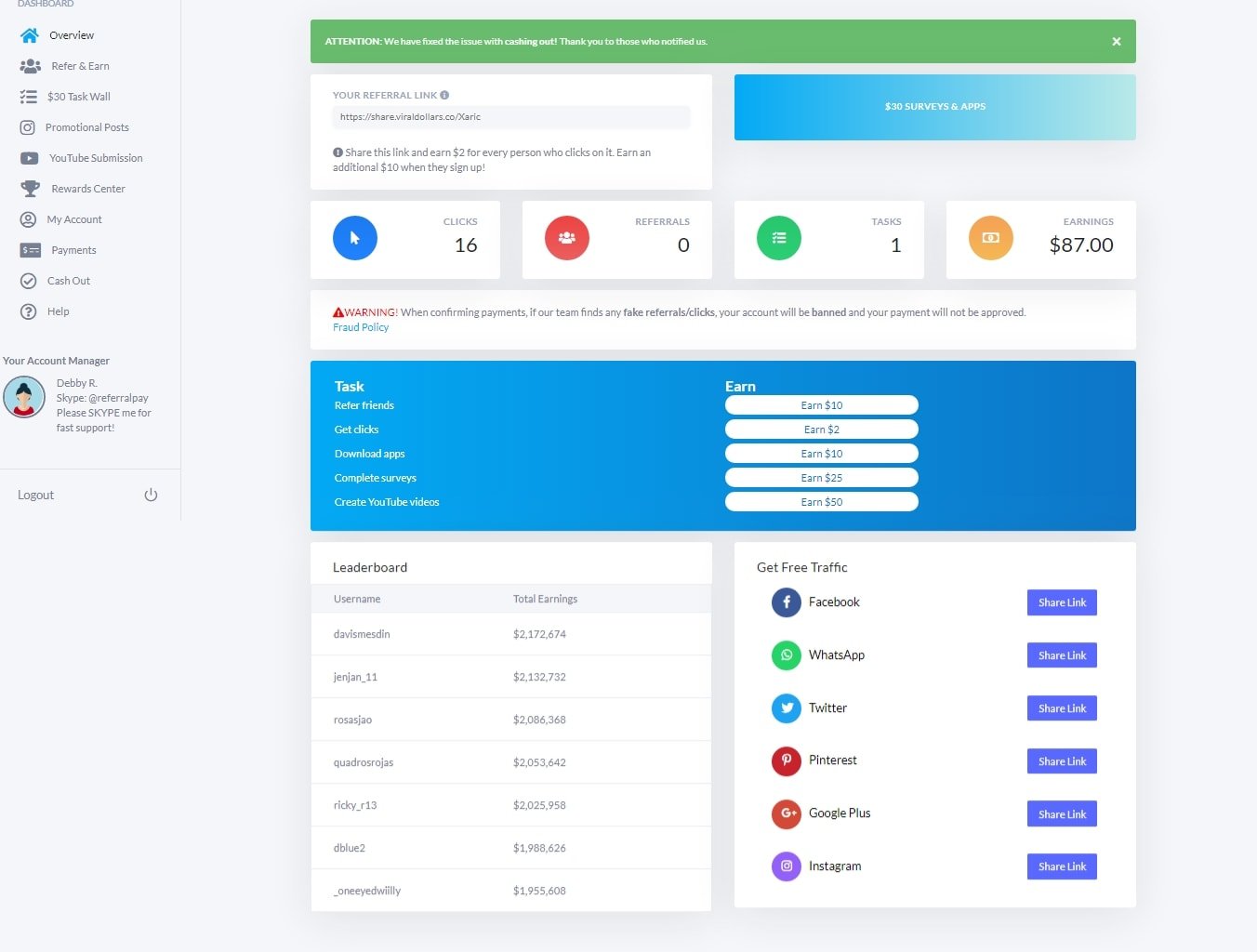 Within this dashboard, you can
find your referral link
monitor your total earnings
navigate through tasks to earn more money
see a leaderboard (fake)
quickly share your referral link to your social media
On the far left of your main dashboard you can find a navigation menu where you can find instructions on how to perform each task, manage your account, monitor your payments, cash out your earnings, a FAQ section, as well as a Skype address of your "account manager" (who never replies btw).
There's really nothing more inside Viral Dollars.
I really covered everything you get in just a couple of sentences.
Do People Actually Succeed With Viral Dollars?
With a first a look at Viral Dollars' website, it seems that some people indeed succeed with it!
But they really not…
On VD's main page you can find the 4 success stories below.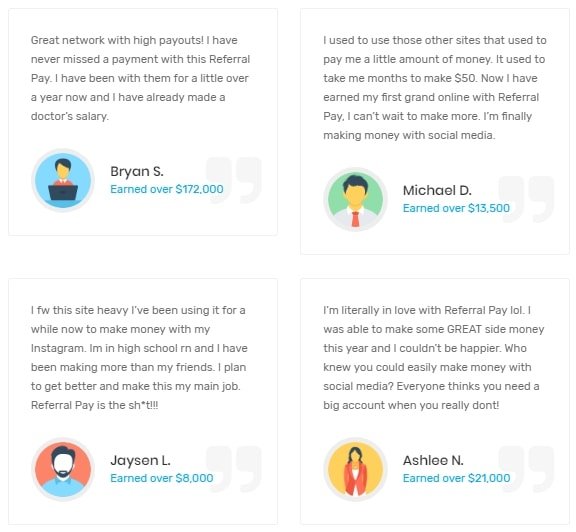 No last names, no pictures, and claims of extraordinary earnings in short periods of time.
Something stinks here…
Maybe they were put there by Viral Dollars' staff?
Well, Maybe…
Maybe I could easily create a fake testimonial for my website too?
I just did it right below…
Xaric is the most awesome person I've met on Earth.
He helped me make $1.000.000.000.000 within the first 13,5 seconds I arrived on his planet. Join his system right now if you want to be filthy rich yesterday.
Yup. It's that easy…
And there's more!
Below you can see some "payment proofs" of Viral Dollars or Referral Pay or whatever the fuck it's called.
First of all, they keep calling the website "Referral Pay" while its domain name is still viraldollars.co
Secondly, 2-3 of those exact payment proofs were used as Viral Pay's payment proofs as well.
Lastly, a couple of those payments seem to go back to 2018 while the domain name viraldollars.co was registered on April 2019 (see proof below).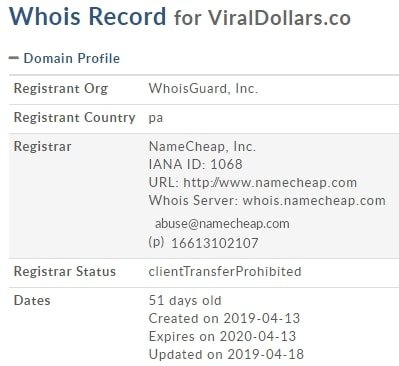 Was Viral Dollars paying people before it even got created?
What a magical platform!
How Much Does Viral Dollars Cost?
Viral Dollars is free to join and use.
However, there's a small catch here…
As we've already seen, in order to be able to cash out the money you've earned through clicks and referrals, you'll also have to complete some tasks.
99.9% of those tasks ask you to fill in your mobile phone number in order to let you proceed and actually be able to complete them.
If you do fill in your number, some random companies will start sending you promotional text messages per week at your own expense and those messages might cost from $0,5 to $4 each.
This means that if you fill in your number to 10 of those tasks you will end up getting charged hundreds of dollars per week for receiving a bunch of useless text messages. 
I believe that there are ways to unsubscribe from those text message services once you fill in your phone number and avoid all those text message charges but I wouldn't really risk it.
What I Like About Viral Dollars
1 • It's Free to Join and Use
Well, I don't like being negative, but the only thing I actually like about Viral Dollars is that it's free to join and use.
This way, until you realize how shitty the platform really is, you will have just wasted some of your time and probably none of your money (unless you start filling your phone number in random places). 
The second thing I kinda like about it is that the platform is easy to navigate and use so you won't even waste that much of your time trying to figure out how it actually works (or doesn't work to be more accurate).
What I Don't Like About Viral Dollars
1 • Unrealistic Earnings Claims
The first thing you see once you land on Viral Dollars' website is a giant banner saying "Make $500 Today!"
Okay, this could be the case if those 3 following criteria were actually met
You were able to build a large number of followers today
Somehow you already had a large number of followers
Viral Dollars actually paid its "influencers"
However, even if the 2 first criteria are met by you, as we've seen Viral Dollars won't pay you.
So no, you won't be able to make $500 with it neither today nor ever.
You can try, but you'll be wasting your time.
2 • No Training
The second funny thing about Viral Dollars is that it offers no training to help its members earn more money.
They just give you a referral link and that's it. You are on your own.
Even if Viral Dollars paid its members, if you had no followers, you would be fucked.
If they were smart, they would teach people how to increase their following, use forums, or maybe create websites which promote Viral Dollars.
This would be a win-win both for Viral Dollars and its influencers.
But then, Viral Dollars would have to turn legit, pay its members, update its training, etc.
And this would be too much trouble for them.
So they have decided to just trick people into believing they can make money with it by spamming their link wherever the hell they want.
Really classy!
3 • Fake Success Stories and Payment Proofs
As I've proven earlier on, every single testimonial and payment proof about Viral Dollars is fabricated.
This shows that VD's creators are not confident that they'll ever manage to get authentic positive testimonies from random people who have used their platform.
And they are right!
Who could possibly have anything positive to say about a platform which just wasted some hours of their precious free time without never paying them what was promised?
Nobody!
So, they decided to lie about it…
4 • Fake Parent Company
Within Viral Dollars' "About Us" page, there's a claim that it has a parent company called "Zindex"
Zindex has been supposedly creating online marketing solutions since 2005.
However, a single Google search for the term "Zindex online marketing" proves that there is no company with such a name.
Another lie.
5 • You Have to Fill in Your Mobile Phone Number
The main downside of Viral Dollars, besides not paying people, is that in order for you to be able to cash out, you have to complete tasks which ask for your mobile phone number in order to let you do so.
This wouldn't be such a problem if they didn't use your phone number to keep forwarding you a number of promotional text messages per week at your own expense.
So, here are your options:
you fill in your mobile phone number and you get charged $0,5 – $4 per text message you receive in order to be able to cash out (and never actually get paid)
you don't fill in your phone number, you never complete the required tasks, and thus you never qualify to cash out
Is ViralDollars.co Suggested?
After exposing all this dirt about ViralDollars, I really can't understand why would anyone want to even bother joining the platform unless their goal is wasting their time on a scam that will never pay them a single dime…
If this is the case with you, then yes, ViralDollars.co is probably exactly what you are looking for.
If you'd rather earn some actual money online, consider checking out
Or, click here to discover exactly how I'm earning a Full-Time, Passive Income Online!
Also, please don't forget to share this article with your friends & family in order to inform and save them from this awful scam…