Lately, the idea of leveraging affiliate marketing towards becoming location independent, being fully in charge of your working schedule, and not having to take crap from anyone but yourself feels more and more compelling.
Unfortunately, you have no money to get your affiliate marketing venture off the ground.
Frankly, I've been there…
Prior to launching my first affiliate business a few years back, I was practically dead broke.
Thankfully, unlike most online business models out there, affiliate marketing has very low startup and operational expenses which can potentially be completely obliterated…
Truth be told, that's pretty much exactly how most successful affiliate marketers, including me, started out – with a completely empty bank account!
That being said, this article is dedicated to sharing with you how to start affiliate marketing for free even if your capital approaches zero dollars, by guiding you through all the costs associated with each step of the process, as well as how to completely eliminate them.
Let's get started…
How to Start Affiliate Marketing With No Money
The process of getting started with affiliate marketing is comprised of 6 simple steps.
Pick a Niche
Build Online Assets
Gather Web Traffic
Promote Affiliate Offers
Utilize Email Marketing
& Leverage Structured Training
Best Affiliate Marketing Courses
1. Pick a Niche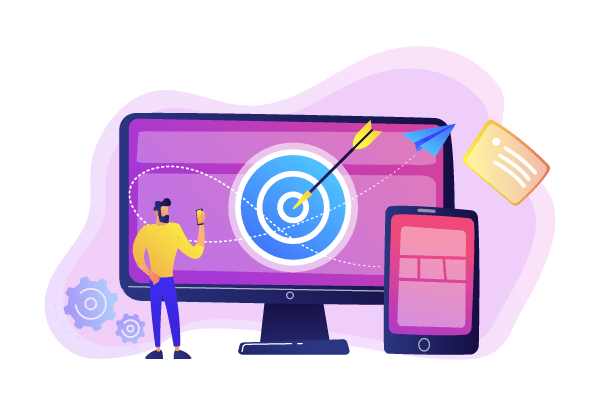 The first step to embarking on your affiliate marketing journey is picking a niche…
A niche is basically the market in which you'll be promoting affiliate products and it can be anything from weight loss and electronics to furniture and clothes.
Ultimately, you should pick a profitable, well-established, and evergreen niche that doesn't have stifling competition.
Furthermore, it's highly suggested that you go for a niche you're interested in or, even better, passionate about.
Becoming a successful affiliate marketer involves putting in consistent effort and going through a lot of trial and error over a significant period of time.
That's exactly where most affiliate marketers fail… Once the honeymoon phase is over, they start gradually losing interest and their work becomes less and less consistent until they eventually give up altogether.
Having said that, doing work that revolves around a topic you love is going to help you ensure that you'll stick with your affiliate endeavors for the long term even when the going gets tough (which it will) until you've reached your financial goals.
The process of selecting a niche involves no expenses whatsoever.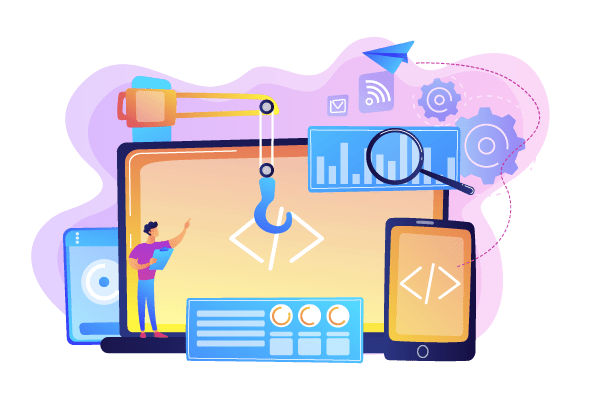 The second step to starting an affiliate business is building online assets.
An online asset is anything that can be used to connect and interact with people in your selected niche over the internet, such as a blog, YouTube channel, Instagram page, Facebook group, email list, etc…
You can think of your online assets as the "storefront" of your affiliate business where you'll be conducting all your affiliate promotions.
Typically, the more online assets you run, the higher the reach, credibility, trustworthiness, and authoritativeness of your affiliate business.
The two online assets that are the most efficient for promoting affiliate offers are:
Blogs
 & YouTube channels
Launching a YouTube channel requires ZERO monetary investment… To get a YouTube channel running, all you have to do is create a Google Account, sign in to YouTube, click your profile picture, and then select "Create a channel".
On the other hand, starting a blog could set you back
$100-$300 per year for a hosting plan
& $10 per year for a domain name
The good news is that you could totally sidestep all the costs associated with getting a blog up and running by using free blogging platforms like:
WordPress.com
Medium.com
Weebly.com
and Blogger.com
The platform I personally leveraged towards launching and hosting my first affiliate blog without paying a penny was Wealthy Affiliate.
If you'd like to follow in my footsteps, the video right below can guide you through the process of using Wealthy Affiliate's SiteBuilder to create your first FREE blog in just 30 seconds.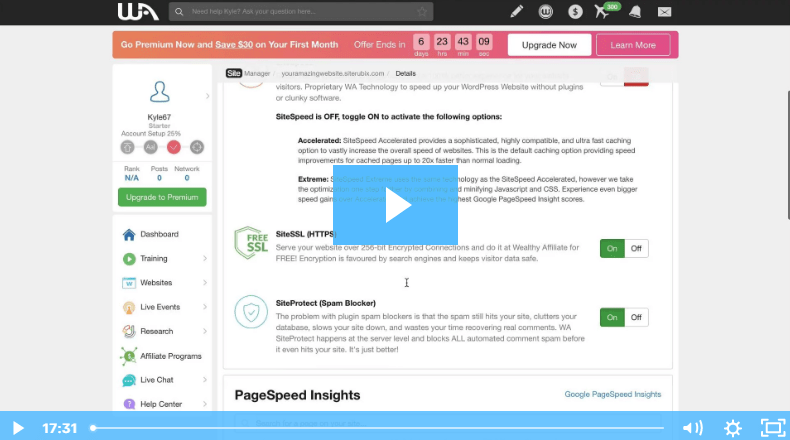 Web traffic can be described as the total amount of people interacting with your online assets (e.g. Instagram followers, website visitors, email subscribers, YouTube viewers, etc)…
Basically, you can think of web traffic as "unconverted buyers" that might be interested in purchasing the affiliate offers you promote.
Simply put, no web traffic = no affiliate commissions.
As such, web traffic can be easily characterized as the "bread and butter" of your affiliate business.
Web traffic can be split into 2 main categories:
Free Web Traffic
& Paid Web Traffic
Since this article is geared towards helping you understand how to start affiliate marketing with no money, I'm not going to cover paid web traffic at all…
So, free traffic refers to traffic generated without spending money on paid ads.
The two methods of getting free traffic are:
Content Marketing
and Search Engine Optimization (SEO)
Content marketing is the process of consistently publishing niche-relevant content on your online assets.
For example, if you launch a YouTube channel and your target niche consists of beginners to yoga, your content marketing strategy should revolve around recording YouTube videos sharing yoga tips, workouts, nutrition plans, poses, breathing techniques, etc…
Likewise, if you kick off a blog targeting vegans, you should be publishing blog posts covering vegan-related subjects such as vegan recipes, cooking tips for vegans, weekly vegan meal plans, best vegan restaurants, etc…
Web content can come in many shapes and sizes, such as:
Tutorials
How-to guides
Product reviews 
Roundups
Case studies
Infographics
Webinars
& more
In most cases, the more content you publish, the higher your chances of reaching a wider and more diverse spectrum of potential buyers.
On top of that, producing content that provides value to your audience is going to boost your credibility and trustworthiness, establish you as an authority figure in your niche, and assure your audience that you can actually help them to find solutions to their problems.
This will in turn increase the rates at which people who come across your content purchase the affiliate offers you're promoting.
Always remember that to gather and monetize web traffic without spending any money, you'll have to provide as much free value as possible.
Search Engine Optimization (SEO)
Search Engine Optimization (SEO) is a combination of practices that can be leveraged towards optimizing a website (or blog) in such a way so that search engines (Google, Yahoo, Yandex, etc) display it at higher positions of their search results when specific keywords are queried.
The higher a website appears on a search engine's results pages (SERPs), the more free traffic it receives.
For instance, as you can see in the image below, the website runnersworld.com appears in the 1st position of Google's search results for the keyword "best running shoes", right above runningshoesguru.com and fleetfeet.com.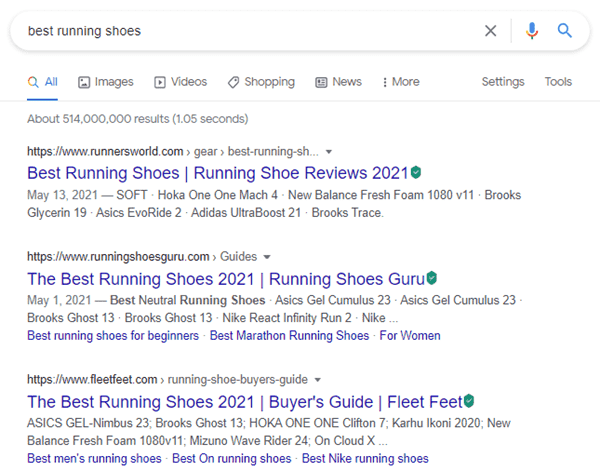 This basically means two things…
First, by utilizing SEO, runnersworld.com has convinced Google that it's the best available resource for the search query "best running shoes".
Lastly, runnersworld.com receives much more free traffic for the keyword "best running shoes" than runningshoesguru.com which appears in the 2nd position, and fleetfeet.com which appears in the 3rd.
4. Promote Affiliate Offers
Once your online assets are in place you can start monetizing the web traffic that interacts with them by promoting niche-relevant affiliate offers.
Begin by locating affiliate programs operated by merchants selling products/services that could help your audience achieve their goals, solve their problems, and overcome their challenges.
The fastest & simplest way to do that is by leveraging affiliate networks like
ClickBank
ShareASale
JVZoo
Commission Junction
& FlexOffers
Or, you could Google "niche + affiliate program" or "product + affiliate program" or "merchant + affiliate program" (see images below).



Then, sign up for the affiliate programs that appeal to you the most. Thankfully, 99.9% of them are completely free to join.
Lastly, get your hands on your unique affiliate links, and start including them throughout the content you publish on your online assets.
Now, when someone lands on your content, clicks on one of your affiliate links and makes a purchase, you'll get paid a commission by the corresponding merchant.
5. Utilize Email Marketing
Are you familiar with the "Marketing Rule of 7"?
Probably not so please allow me to explain…
The Marketing Rule of 7 implies that a potential buyer needs to come across a brand's marketing message at least 7 times before purchasing from it.
This couldn't be more accurate…
Truth is that only a tiny percentage of those who land on your online assets will buy whatever you're promoting the very first time they interact with your brand.
Enter email marketing!
Email marketing is considered the Holy Grail of customer conversion with an ROI (Return On Investment) that can be as high as 4400%.
It's the perfect means of taking any unconverted customers in your audience on a journey to realizing that purchasing the affiliate offers you promote is actually in their best interest.
Here's a brief overview of how the process of utilizing email marketing works:
Step 1: Build a squeeze page (a page designed to capture email addresses).
Step 2: Create a lead magnet (e.g. ebook, webinar, template, 1-on-1 consultation, case study, etc) that you'll be giving away for free in exchange for a person's email address.
Step 3: Set up an informative automated email sequence that'll start dripping out the moment someone subscribes to your email list.
Step 4: Launch email campaigns promoting your affiliate offers.
Getting started with email marketing requires signing up for an email marketing automation software…
Unfortunately, the vast majority of them are rather pricey.
Thankfully, there do exist a couple that are completely free to join and use (e.g. MailerLite).
As a matter of fact, I've personally used MailerLite to launch multiple email marketing campaigns without spending a single cent!
6. Leverage Structured Training
Becoming a successful affiliate marketer is no walk in the park… Truth is that most people's journey to affiliate success involves a steep learning curve and tons of trial and error.
Embarking on such a journey without having the right guidance as a compass could not only hinder your progress but also significantly decrease the chances of reaching your destination.
As a matter of fact, lack of proper training is among the top 3 reasons that aspiring affiliate marketers fail.
That being said, to ensure that you won't end up suffering a similar fate, you'll need to leverage all the expert guidance you can get!
Thankfully, there's an immense amount of 100% free information about building and scaling an affiliate business from scratch all over the internet (YouTube, marketing forums, blogs, etc).
The bad news is that only a fraction of said info is actually valid and legit and if you don't know how to separate the wheat from the chaff, you might end up wasting months, if not years, utilizing crappy techniques that take you nowhere near your financial goals.
Having said that, I strongly suggest following a dedicated, structured affiliate marketing course that has a proven track record of delivering results.
Sadly, the vast majority of such courses are pretty expensive…
Nonetheless, you could get your hands on 20 FREE step-by-step video lessons that take you by the hand and walk you through the process of launching your first affiliate business without spending a single dime by signing up for Wealthy Affiliate.
(Click each question to expand)
Conclusion
Starting an affiliate marketing business without spending a single cent out of your pocket is absolutely possible.
However, every upside has a downside…
What you need to understand here is that the less money you invest in your affiliate endeavors, the more time and effort you'll be required to put in to reach your financial goals.
For example, an aspiring affiliate marketer who's able to invest some money in a high-quality affiliate course, a couple of affiliate tools, paid ads, and a freelance content writer will naturally start generating affiliate commissions a lot faster and effortlessly than someone who has to build everything just mentioned from the ground up all by themselves.
Nonetheless, this doesn't even remotely mean that you should allow your lack of funds to hold you back from pursuing affiliate marketing.
Truth is that most 6-figure affiliate marketers got their first business up and running with zero monetary investment. Hell, that's exactly how I got started as well!
Was it easy?
Nope…
Was it painless?
Nope…
However, with hard work, consistency, dedication, and patience, it won't be long until affiliate commissions start flowing in.
And once this happens, you can speed up the growth of your affiliate business by investing part of your revenue in training, tools, paid ads, outsourcing tasks, etc.
Have any questions?
Leave a comment right below or contact me right here.
I'll be more than happy to help you out!
All the best,
Harry Niotis, Founder & Editor at dearboss-iquit.com