Referral Pay employs the good, old, technique which the majority of scummy, useless MMO (Make Money Online) products use to bait people into joining them… Earning a lot of money fast, effortlessly, with just a few mouse clicks.
First of all, it credits your account with $25 upon sign up just to pique your appetite. Then it gives you access to a unique referral link which you should share online (social media, blog, forums, etc). Each time someone clicks on your referral link, your account gets credited with $2. If someone who clicked on your referral link ends up joining Referral Pay, you get credited with an additional $10. In addition, Referral Pay will credit you $30-$50 for carrying out tasks such as filling in surveys and downloading apps.
However, it doesn't matter how much money you've been credited with because you will never be able to actually cash it out and get your hands it. Referral Pay will always find an excuse not to pay you (I have actually been credited with $181 which I can't cash out and I know I'll never see).
Truth is that Referral Pay is an old scam that keeps coming back from the dead, every time with a different name (Viral Pay, Viral Dollars, Kids Earn Cash), due to the negative reviews and bad reputation it keeps gathering all around the web. The worst part is that each new version is more useless than the previous one.
Don't worry, you are about to find out every dirty little secret of Referral Pay in this review.
Before I move on to the actual Referral Pay review I want to let you know that if you are tired and frustrated of wasting your time, energy, and money in joining useless programs which take you nowhere near your monetary goals, and you are in need of a high-quality course which is proven to have helped thousands of people earn their living online, do yourself a favor, ditch this review, and go ahead and check out Wealthy Affiliate instead.
I promise that you won't regret it 😉
Name: Referral Pay
Owners: Zindex
Price:
Free to join
Additional charges may apply within the platform
Official Website: referralpay.co
Suggested? Not at all…
Has just one pro
Unrealistic claims that you'll make $500 your first day
Fake testimonials and payment proofs, plus tons of negative TrustPilot reviews (jump to this section at once)
You'll be required to submit your mobile phone number to complete most tasks… Once you do, you'll start receiving dozens of promotional text messages per month at your own charge
Fake parent company
Fake contact info
Not letting you cash out your earnings even if you complete every required task
Potential personal data harvesting scam
Referral Pay is a platform which will supposedly pay you a lot of money fast by doing minimal work such as sharing a referral link online as well as completing various simple tasks such as completing surveys and installing apps on your phone.
More specifically you will earn
$2 for every person who clicks on your referral link
$10 for each person who will join Referral Pay after clicking your referral link
$30 for completing tasks
$50 for creating YouTube videos which praise Referral Pay

Yes, I know that the whole concept sounds pretty simple and awesome, and at first sight, Referral Pay seems like an amazing way to earn some serious money online. This would really be the case if Referral Pay actually paid you or any of its other so-called influencers.
According to my own experience with the platform as well after searching around for a while, I found out that Referral Pay will always find a reason not to pay you…
They will invent excuses such as that
you didn't complete the tasks
they are facing technical difficulties
your clicks and referrals are fake and then go ahead and suspend your account
they are processing your payment and they'll just never actually pay you
I can say with certainty that no matter how much time and effort you devote in sharing your referral link and completing tasks, you'll never actually manage to get a single cent of your profits on your hands.
As I stated earlier on, Referral Pay has been manipulating people for years but under a variety of different names such as Viral Pay and Viral Dollars.
Despite its changed name, the mechanics of the platform remain exactly the same…
Referral Pay is basically just after getting traffic to their website in order to increase their ad revenue and sponsor exposure. They don't really care how this traffic comes, they don't care about those who help them get traffic, and they don't really care if they lie and trick people to get what they want.
I have been using Referral Pay for a couple of months now (since back when it was still named Viral Pay), and after devoting some time sharing my referral link and completing many of their tasks, they have credited me with $211 (see screenshot below).

However, they won't let me cash that money out.
Referral Pay claims that in order to be able to cash out you need to have
20 clicks
5 referrals
and 4 tasks completed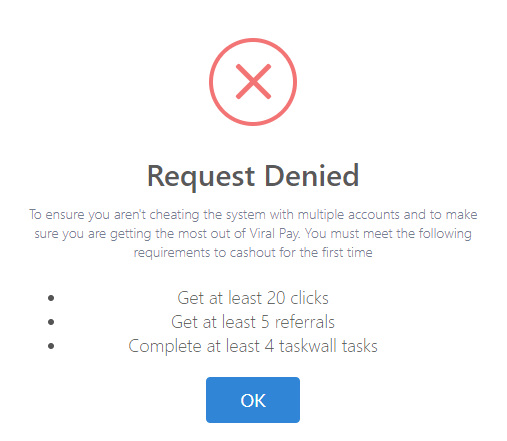 As you saw in the screenshot of my earnings dashboard above, I have completed every single one of their prerequisites but they still won't pay me.
I have even heard of people who have gotten their accounts suspended and closed after requesting a cashout with the excuse that their clicks were "fake" whatever this could mean.
To tell you the truth, I've seen enough to move on and not keep wasting my time on this shitty platform.
Referral Pay is only for those who have time and energy to spare towards figuring out for themselves how crappy the platform actually is.
If you still believe that you could end up earning money with Referral Pay, please be my guest and join it right here.
And you know what?
If you actually manage to earn any kind of money with Referral Pay please let me know and I will deposit $20 more right in your account for being wrong… That's how confident I am that you won't be able to make a dime with RP.
Don't tell me I didn't warn you though…
Who is Referral Pay NOT for?
Referral Pay is absolutely NOT for those who are after building a full-time income online.
Those could be people who 
Want to replace the income from their current job in order to quit it
Work a part-time job and are in need of a stable supplementary income
Always wanted to become entrepreneurs/business owners
Want to be time and location independent
Would just love the idea of earning their living by blogging about their hobbies and passions
Need to build a stable income online in order to travel the world
Have tried other similar MMO courses and systems but failed to meet their goals
If you are one of those people, then you should go ahead and check out Wealthy Affiliate or Project 24 because it's really impossible for Referral Pay to help you meet your financial goals.
What's Inside Referral Pay?
Once you create your free Referral Pay account and you go ahead and log in, you'll land on the platform's main members dashboard.
At the very top of the dashboard, you'll be able to find your referral link which is supposed to make you filthy rich in no time (haha)…
Below your referral link, you'll be able to see an overview of the total
clicks on your referral link
people who have joined Referral Pay after clicking on your referral link
tasks you have completed
amount of money that has been credited into your Referral Pay account
Further down, you'll see a navigation table with how much money you can earn by completing different tasks and actions such as getting clicks, completing surveys, and creating promotional YouTube Videos.
On the very bottom of the page, you will find a fake leaderboard on the left and some social media sharing buttons to make sharing your link easier (like it would be such an arduous task to do) on the right.
In addition, on the top left corner of your main dashboard you will see a navigation menu where you can get your hands on some banners to share within your social media, manage your account, complete available tasks, monitor your payments, cash out your earnings (yeah right), redeem points for rewards, a FAQ section, as well as a Skype address of an "account manager" who is supposed to be there for you if you need any help but never actually replies (probably because the address is fake).

There's really nothing more inside Referral Pay.
After all, it's supposed to make you rich fast and effortlessly so if it included more stuff, it would make the whole process much more complicated and time-consuming.
And this would defeat the whole purpose of its existence.
Do People Actually Succeed With Referral Pay?
In order to convince you to join it, throughout its website, Referral Pay has published several testimonials, success stories, and payment proofs from people who have supposedly made money with it.
Be careful not to fall for any of those as none of them is actually true.
For instance, the 4 testimonials below which exist on Referral Pay's home page might sound pretty convincing but unfortunately, they are clearly fabricated!
No last names, no pictures of the actual people, no links to the person's profile, no contact info, plus claims of extraordinary earnings in short periods of time.
Kind of a huge red flag if you asked me…
Plus, literally anyone can easily create such testimonials praising their website and products.
Look!
It took me under 5 minutes to create a similar overly positive testimonial for my website right below.
dearboss-iquit.com is one of the best websites I've ever come across...
Not only it helped me quit my job in just 1 day, but it also helped me become richer than Richie Rich in only 1 and a half days. I will always be grateful to dearboss-iquit.com and Harry for providing such extraordinary amounts of value to the entire universe!
Not bad huh?
And there's more!
Referral Pay Fake Payment Proofs
In an attempt to further increase its credibility and trustworthiness, Referral Pay has also published a number of fake screenshots of payments they have supposedly made to their members.
Okay, first of all, some of those exact same screenshots have been used as payment proofs for Referral Pay's predecessors, Viral Pay and Viral Dollars (click on the links to confirm that for yourself).
In addition, if you look closely, you'll be able to notice that a couple of those payments proofs seem to go back to 2018…
Why is that weird you ask?
Well, the domain name referralpay.co was actually registered on May 2019 (see proof below).
This means that either those Referral Pay payment proofs are fake or that Referral Pay was paying people before it even existed…
Referral Pay keeps insisting that its members couldn't be happier with the platform and their on-time payments…
"Members are always happy & grateful when they receive their payments on time. That's why at Referral Pay, we make it our priority to make all payments on time. Let the proofs below speak for themselves." – Referral Pay team
Yeah… You almost convinced me…
Take a look at some real testimonials of people who have really used Referral Pay right below.

How Much Does Referral Pay Cost?
Referral Pay is 100% free to join.
However, there are some catches here…
As we've already seen, in order to be able to cash out the money you've earned through your clicks and referrals, you'll also have to complete 4 tasks from Referral Pay's Task Wall.
How to Complete Referral Pay Tasks
Competing Referral Pay tasks is somewhat tricky and if you aren't very careful with them, you'll probably end up losing money instead of earning any.
The thing is that to be able to actually get started with any of those Referral Pay tasks you'll have to first submit your mobile phone number.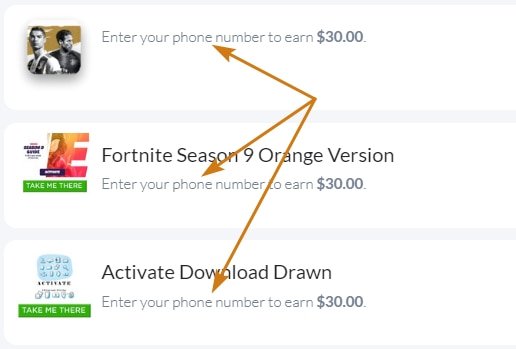 If you make the mistake and do that, you will automatically subscribe to various services which will start spamming you with promotional text messages which YOU will have to pay for.
In fact, each text message you'll receive through those services will cost you somewhere between $3 and $5 and most services will keep forwarding you no less than 12 text messages per month. This means that you are going to keep being charged $36 per month AT BEST for each task you submit your phone number to.
And don't forget that to be eligible to cash out your Referral Pay earnings you need to complete not just one task but at least FOUR of them!
Do the math to find out how much this is going to actually cost you.
And do you know what the worst part is?
Referral Pay won't let you get your hands on your earnings anyway, even after being fully eligible for a cashout…
So all this this time, effort, and money which you'll spend towards completing all the required tasks towards cashing out your Referral Pay earnings are going to just be wasted.
On the upside, there are ways to unsubscribe from those spammy text message services and stop being charged but you will most likely have to settle this with your mobile phone service provider.
The only thing I actually like about Referral Pay is that it's free to join.
Imagine paying $50 to join Referral Pay only to realize that the platform is an utter scam which will never help you make a single dime a week later.
At least now, you get to find that out without spending any money (unless of course, you start filling your phone number in random places). 
The second thing I kinda like about Referral Pay is that it's fairly easy to navigate and use, without much clutter and noise so you won't even have to waste that much time and energy trying to figure out how it actually works (or doesn't work to be more accurate).
Has just one pro
Unrealistic claims that you'll make $500 your first day
Fake testimonials and payment proofs, plus tons of negative TrustPilot reviews 
You'll be required to submit your mobile phone number to complete most tasks… Once you do, you'll start receiving dozens of promotional text messages per month at your own charge
Fake parent company
Fake contact info
Not letting you cash out your earnings even if you complete every required task
Potential data breach danger
1 • Unrealistic Earnings Claims
The first thing you'll see once you land on Referral Pay's website is a giant banner saying "Make $500 Today!"
It goes without saying that earning that kind of money per day just from sharing a link on your social media is impossible (unless maybe if you are a veteran online marketer with thousands of followers).
In addition, as we've already seen, Referral Pay won't pay its influencers in the first place…
So no, you won't be able to make $500 with it neither today nor on any other day in the future.
Yes, you can try it out for yourself, but trust me, you'll be wasting your time.
2 • Fake Success Stories and Payment Proofs
As we've already seen, every single testimonial and payment proof within Referral Pay's website is fabricated.
This proves that RP's creators couldn't get authentic positive testimonials from real members of the platform.
After all, who in the right mind would possibly have anything positive to say about a platform which just wasted hours of their precious time without never paying them for their efforts as it promised?
As it seems, nobody!
So, they decided to lie about it…
According to the Federal Trade Commission (FTC), using fake positive testimonials is considered a violation as it encourages customers to invest in a product or service they otherwise might not, thereby defrauding the customer, which is actually illegal and subject to huge penalties.
3 • The Ugly Face of Referral Pay on TrustPilot
Trustpilot is a website which hosts consumer reviews of businesses worldwide.
At that moment, Referral Pay has 6 one-star reviews on Trustpilot.
The prevalent complaint about it is that when someone requests a cashout, Referral Pay would state that their clicks and referrals were fake, marking their accounts as frauds, either suspending them or shutting them down all the way.
Here, take a look at those Referral Pay reviews on Trustpilot right here.
I was actually curious if I could find any negative Trustpilot reviews about Referral Pay's precursors, Viral Pay and Viral Dollars, and not so surprisingly I managed to locate more than 60.
Viral Pay's negative reviews 
Viral Dollars' negative reviews 
As it seems, Referral Pay and its precursors have been scamming people for a while now.
The Trustpilot review below just broke my heart…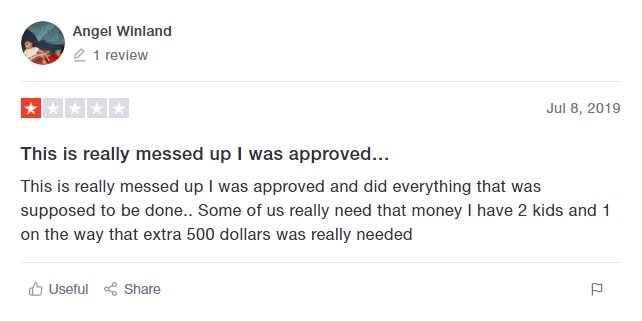 On their "About Us" page, Referral Pay claims to have a parent company called "Zindex".
Zindex is supposed to be around since 2005  creating online marketing solutions for their customers.
However, a single Google search for the term "Zindex online marketing" proves that there is no company with such a name.
Plus, Referral Pay claims to be in action since 2015 when we have clearly saw that their domain name was registered on May 2019.
Lies, lies, lies…
5 • They'll Charge Your Mobile Phone Number
As I've already analyzed earlier, in order for you to qualify to cash out your Referral Pay earnings, you have to complete tasks which require you to submit your mobile phone number and subscribe to several services which will keep forwarding to you promotional text messages at your own expense.
And since Referral Pay will never actually let you cash out, not only you won't be able to get your hands on your earnings, but you'll actually end up losing money instead!
6 • Fake Contact Information
So, you joined Referral Pay…
You devoted a lot of your time on getting clicks, referrals, and completing tasks hoping that you'll be able to earn a couple of hundred dollars by the end of the month.
BUT, Referral Pay doesn't let you cash out and get your hands on your hard-earned money. In fact, they just suspended your account due to "fraudulent activity". 
Now what?
Now, you've got to reach out to someone in charge of Referral Pay in order to find out what the fuck is going on right?
Well, Referral Pay gives you two contact options
a Skype ID (@referralpay)
an email (hello@referralpay.co)
Too bad that you won't be able to reach anyone through any of those contact info because they are fake.

7 • Potential Data Breach Danger
During a data breach, information such as passwords, bank accounts, email accounts, social media accounts, etc, is accessed by hackers without any authorization.
Earlier today, I was trying to get started with a Referral Pay task and my antivirus blocked the page due to potential criminal activity which could damage my computer and/or personal data (see image below).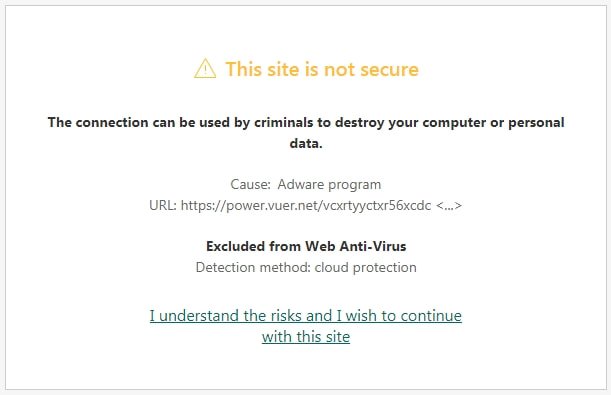 If you don't have an antivirus installed on your computer, STAY AWAY from Referral Pay because you might end up having hackers access sensitive personal information of yours such as your emails, social media, and even your bank accounts.
Is ReferralPay.co Suggested?
After exposing all this dirt about Referral Pay, I really can't understand why would anyone want to even bother joining the platform unless their goal is wasting their time on a scam that will never pay them a single dime…
If this is the case with you, then yes, ReferralPay.co is probably exactly what you are looking for.