Before setting up your affiliate website and starting doing business online you need to find out what is a niche marketing strategy, what is a niche market and how to choose your niche.
What this means, is that you have to determine the main theme of your website(what you are going to be writing about inside it), and to whom this content will be addressed(your audience).
In case you have missed or need to revise Affiliate Marketing 101 – What is Affiliate Marketing and How It Works, you can find it right here!
So let us dig in when you are ready!
What is a Niche Market?
A niche market is a specific group of people, having specific needs, requiring specific attention and solutions to their specific problems.
You are currently looking for ways to start your own online affiliate marketing business, as do many other people.
That makes you a part of a niche market which we might as well call "Affiliate Marketing for beginners", which is, in turn, a part of a larger more generic market called "Affiliate Marketing".
So, a niche market is like a sub-market of a larger market.
What is a Niche Marketing Strategy?
Niche marketing means concentrating all marketing efforts on a small but specific and well-defined segment of the population, instead of targeting the entire population.
For example, as stated before, this website's general market is affiliate marketing.
Many people Google the term affiliate marketing (approximately 14000 people each month), but the term is very generic, so I can't possibly know what everyone Googling this term is looking for.
There are chances that many of those people might have overheard the term somewhere and wanted to find out what it means, many of them might not even know what they are looking for, others might be searching to find out affiliate marketing live teaching classes while others might be on the lookout for ways to improve their already existing affiliate business.
However, my niche marketing strategy targets people who want to begin learning about affiliate marketing and how to use it to start making money on the internet by building their very own business online.
Those people have most probably already read 1-2 articles about affiliate marketing or have barely touched the subject while conversing with a friend who is already an affiliate marketer, they believe that there is a chance to earning money online through it, and they are looking for ways to achieve it.
Those people already know what they want, I know what they want, and I am here to help them achieve what they want!
That's the only kind of people that I need here since those are the people who can benefit from my advice, who I can really help, and who are most likely to buy a product or a service from my website and help me earn a commission, so my marketing strategy is to target mostly those people.
To make niche marketing simpler for you, if you decide to start blogging about "shoes", then narrowing it down to "women's shoes" is a niche marketing strategy targeting only women; "women's running shoes" is a more focused niche marketing strategy since it only targets women who are looking for running shoes, and "Nike running shoes for women" is an even more focused strategy which targets women who are specifically searching for Nike running shoes.
Why are Niches Important?
Here is what happens when you are smartly narrowing down your audience by choosing a niche market:
Your efforts will be more focused and efficient
Greater easiness identifying your audience and their needs
Your audience will know exactly how you can help them and this way you gain more customers
It will be easier for you to maintain regular customers and a greater following
Less competition; your small new website will be able to thrive since it won't have to compete and be consumed by larger, older ones
It will be easier for you to figure out the price range which your audience is willing to pay for any given product
Determining easier where your audience hangs out(Social media, Google, Forums, etc)
Better visibility and ranking in the search engines
You can more easily predict how your audience moves
Easier to become well-known in your niche market and be considered an expert
Your audience will trust you more; more trust = more sales = more commissions = more cash 4 you
Niche marketing makes your website a big fish in a small pond instead of a small fish in a big pond.
It is better to be well-known among a few people than to be unknown among all the people.
However, finding a niche is not compulsive to affiliate marketers and it is not the only available path someone could follow to start making money online.
Nevertheless, it is a good marketing strategy to narrow down your audience and it could greatly assist new marketers to grow easier and faster their online business, thus it is highly recommended.
How to Find Your Niche Market.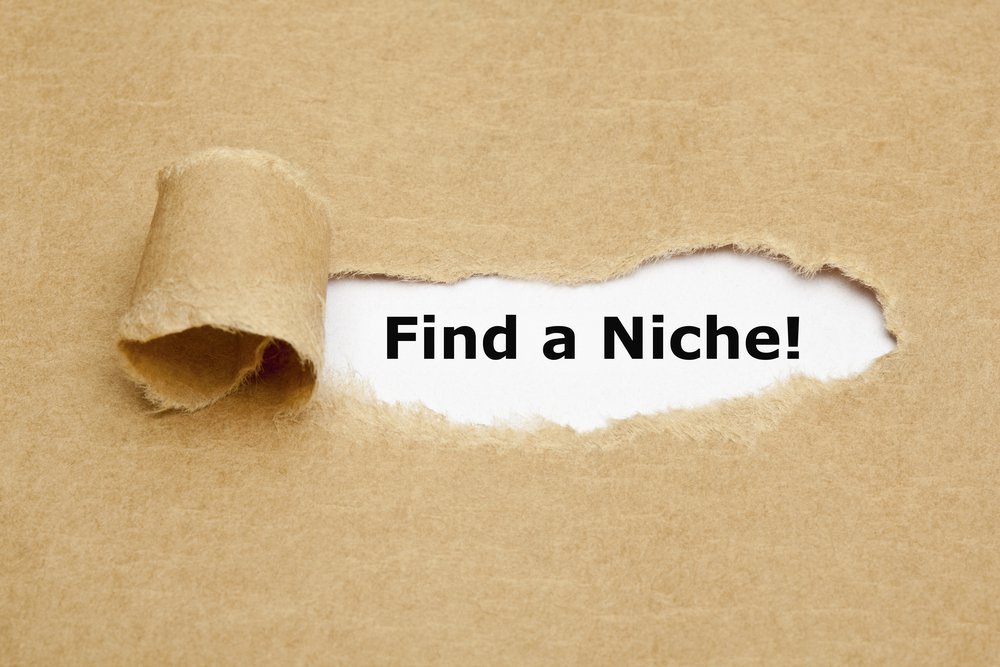 There are two ways to approach this, thus here is where you might want to pick up a pen/pencil and start taking notes.
1st Way; Choose a Niche Based on an Interest/Hobby/Passion of Yours
Personally, I believe that this is the best way to start your first online business.
My first website mindful-mind.net was built around meditation and the Law of Attraction which are two subjects that I am passionate reading, learning, and talking about.
That way, I am always motivated, I am always energetic, and I am working with something I love working with.
If you don't have any passions like that, you need to start asking yourself the following questions:
What do I like doing?
Could I talk about this a lot?
Am I interested in learning more about it?
Am I open to start conducting research about it?
Would I like to be reading about it extensively?
Do some brainstorming and start writing whatever comes to mind.
Was there something that captured your attention? For which of your brainstormed interests did you answer positively most of the questions above?
If you have an answer, you are ready to go and I want to point out to you that you don't need to be a pro and know everything about something in order to start writing about it…No pro started as a pro.
You will learn on the job as most people do, so stop worrying and start doing and everything will start making sense and falling into place.
Here is an awesome, must-watch video training which will help you get a better understanding towards determining and choosing your niche market.
2nd Way; Choose the Affiliate Marketing Niche

I know what you are thinking right now!
-But I don't know anything about affiliate marketing, how could I possibly start blogging about something that I don't even know exactly what it means?
-Shut up! 😛
Truth is that you can find a buttload of online classes, courses, videos, and articles teaching you how to do this, but hold your horses because I know just the right place which offers a step-by-step training on how to become an affiliate marketer, helping other affiliate marketers achieve their affiliate marketing goals.
This place is called Wealthy Affiliate and it is an online community, teaching people who don't have the slightest knowledge on affiliate marketing whatsoever, how to start a successful online affiliate marketing consulting business from scratch, how to develop it, and how to adjust it until it generates their desired amount of money.
Inside Wealthy Affiliate, you will be learning from the best, as Kyle and Carson, Wealthy Affiliate's two founders, are affiliate marketing pioneers.
Wealthy Affiliate itself has an affiliate program available, so basically, Wealthy Affiliate recognizes you as an investment, since if they teach you how to blog about affiliate marketing, you will then promote Wealthy Affiliate on your affiliate marketing website.
This way they get more customers, they earn more money, and you earn huge commissions. You scratch their back and they'll scratch yours…
That's what I do and it works perfectly for me, so why not work for you as well?
Did I mention that you can join right now completely for FREE?
Don't think about it, check it out for yourself.
Summing up
So, to sum up, all you need to do for now in order to consider Affiliate Marketing 102 completed is to decide what you are going to be talking about on your website(find your market), as well as to narrow down your audience(determine your niche market, if possible).
And now that you have a compass leading you directly towards the treasure, it is time to build the vessel which will take you there; your website.
Go on and find out how to Create Your Own Business Website for Free, in Less Than 2 Minutes.
My best regards,
Harry!