When I got introduced to affiliate marketing for the first time, I found the concept of making money online by promoting already existing products rather intriguing…
However, since I had no clue about the kind of work, duties, and responsibilities entailed in being an affiliate marketer, I wasn't willing to spend money on getting an affiliate website up and running until I was at least 80% positive that being involved in affiliate marketing would be something I'd truly enjoy.
If you can relate, you're in the perfect place!
In this article, I'm going to share with you the step-by-step blueprint of building your very own affiliate marketing website for FREE in less than 5 minutes so that you can get a small taste of what being an affiliate marketer feels like without having to make a financial commitment until you're absolutely certain that you'd like to stick with it in the long haul.
Without further ado, let's get down to business!
The Costs of Creating a Typical Affiliate Website
Before guiding you through the process of creating your affiliate website for free, I'd like to let you in on how much getting a typical website up and running normally costs…
So, starting a typical website requires the purchase of 2 main elements:
Domain Name
& Web Hosting
A domain name is a unique string of text that signifies the digital address of a specific website… For example, the domain name of Google is google.com.
Registering and maintaining ownership of a domain name costs about $15 per year.
Web hosting is a service that stores, publishes, and serves websites throughout the World Wide Web. In layman's terms, web hosting is what makes a website appear when someone types its domain name into their browser.
Average quality web hosting could set you back $100 – $300 per year.
Having said that, what I'm going to be sharing with you in this guide is how to completely sidestep all the standard domain and hosting fees of creating a typical affiliate website by leveraging a free subdomain.
A subdomain is a subdivision of another primary domain name… For example, a subdomain of the primary domain google.com is docs.google.com.
Before I proceed any further, I feel obligated to point out that building a website on a free subdomain comes with multiple disadvantages, such as:
Appearing much more spammy and unprofessional
Being harder to brand and optimize for the search engines
Getting rejected more often from taking part in affiliate programs
Can't be backed up or customized
Offering limited or no access to advanced features
Furthermore, a primary domain name might consist of thousands of different subdomains that could dilute your website's identity and branding by associating it with a vast array of completely unrelated subjects.
Lastly, and I can't stress this enough, a website built on a free subdomain belongs to whoever owns its corresponding primary domain, NOT you. This means that if the primary domain of the subdomain on which you've created your affiliate website gets shut down for whatever reason your affiliate website will inevitably go down with it.
With all that being said, launching your affiliate website on a free subdomain is only recommended for dipping your toes in the water…
However, if you're after building a reputable, authoritative, and successful affiliate business, investing a couple of hundred dollars in a decent hosting pack and a primary domain name will go a very long way.
Best Affiliate Marketing Courses
How to Build an Affiliate Website for Free
The process of building a free affiliate marketing website consists of the following 4 simple steps:
Pick a Target Niche
Come Up With a Name
Create Your Affiliate Website
Get Your Website Set Up
Let's start taking a closer look…
The very first step to getting your affiliate marketing website up and running is picking your target niche.
A niche can be described as the main topic that your affiliate business revolves around and it can be anything, from clothes and car parts to personal hygiene and gaming consoles.
Your site's niche is if not the most important, one of the key factors that'll hugely influence the speed and magnitude of your affiliate success…
Simply put, going for the wrong niche could inhibit your progress, crush your profit potential, diminish your ROI (Return On Investment), and consequently, significantly decrease the chances of reaching your financial goals.
As such, it's highly suggested that you pick your niche very carefully by taking stock of the following 3 guidelines:
1. Low to Modest Competition
Guideline #1 of selecting the right niche is avoiding ones that consist of too much well-established competition that could trample smaller affiliate websites with no authority like yours, such as:
Health, Fitness, & Weight Loss
Personal Finance & Making Money
Dating & Relationships
Beauty & Fashion
Personal Development
Ultimately, the less competitive a niche is, the higher your odds of successfully breaking into it.
2. Modest to High Demand
On the other end of the spectrum, niches with very little competition usually lack enough consumer demand to generate a satisfactory amount of affiliate income.
As such, for a niche to be considered "ideal" it should strike a pretty solid balance between low competition and high demand.
3. Passion
The last guideline of choosing a niche is going after one that's geared towards a subject you're interested in or, even better, passionate about.
Building a successful affiliate website involves putting in consistent effort over a significant period of time so if you pick a subject that bores you to death, you're more likely than not to give up before you even make your first affiliate sale (or soon after).
On the contrary, running an affiliate website that revolves around a topic you love won't feel so much like working but rather more like having fun!
This will naturally keep you fired up to do more consistent and higher quality work, stick with your affiliate endeavors even when the going gets tough, and progress better and faster towards reaching your financial goals.
Once you've gotten clear on your target niche, it's time to choose an appropriate name for your affiliate website…
Just like humans, cats, ships, and hurricanes, every site needs a specific name to keep it separated from the millions of others out there.
Furthermore, according to GrowthBadger, the proper naming of a website is crucial to ensuring healthy growth and increasing the chances of reaching success.
Optimally, the name of your affiliate site should:
Represent your unique point of view in your niche
Match the message you want to communicate 
Reflect the type of content you'll be publishing
Be short, unique, memorable, and brandable
Not be easily confused with something irrelevant
Be easy to read, spell, and pronounce
For example, the target audience of this website is mainly comprised of people who're after ditching the 9-5 grind. As such, the name "Dear Boss I Quit" couldn't be more relevant and appropriate!
Plus, it's short, unique, memorable, brandable, very easy to read, spell, and pronounce, and not easily confused with something irrelevant…
While some might support that naming your affiliate website after yourself could be acceptable, if you're after building a profitable, influential, distinct affiliate business I suggest that you don't.
If you seem to be having trouble coming up with a decent name for your site you could draw inspiration by checking out the names of other sites in your niche or using a blog name generator.
3. Create Your Affiliate Website
Now that your affiliate website's target niche and name are both in place, the time has finally come to start putting it together.
While there are numerous methods of building a website without spending any money, in this guide I'll be showing you how to do that by using a free site-building portal called "Siterubix".
Siterubix has been created specifically for affiliates by one of the best affiliate marketing courses out there, Wealthy Affiliate.
All Siterubix-based websites are built on WordPress, which is extremely user-friendly, scalable, flexible, and customizable, as well as the most widely-used CMS (Content Management System), powering almost 50% of all websites worldwide.
Leveraging Siterubix towards creating a free affiliate marketing website is amazingly straightforward…
First, head over to wealthyaffiliate.com, enter your email address in the corresponding field, and click the "Get Started" button.
Then, fill out the signup form with all the requested details and hit "Create My Account!".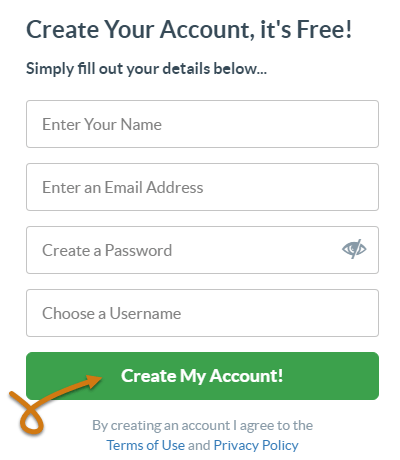 After that, you'll get redirected to Wealthy Affiliate's welcome page…
If you have some time to spare, I suggest that you give the 4-minute welcome video a watch and browse through the rest of the page for a few minutes.
Once you're done, go ahead and click "Start Training – Go to Lesson 1" at the top right corner of your screen.
On the next page, navigate over to the top menu and hit "Websites" and then "Build a Website" to access the free Siterubix website builder.

Then, select that you'd like to build your website on a Free Domain.

Next, you'll be prompted to submit a domain name for your affiliate website. It's highly suggested that the domain name you choose is 100% identical to your website's name.
For instance, if the name you've picked for your affiliate website is "The Yoga Pro", its domain should be "theyogapro".
In the section right below, enter your website's name.

Lastly, click "Build my website" and hold tight for about 20 seconds while Siterubix puts all the pieces of your site together…

Congratulations, your affiliate website is now up and running!
Once you get redirected to the next page, click the "Login Now" button to access your WordPress back office so that you can start setting it up.
4. Get Your Website Set Up
Now that you're inside your WordPress back office, it's time to start setting your affiliate website up…
To do that, first head over to Users -> Profile on the left-hand side of your WordPress dashboard, scroll down, change the Nickname and the Publicly Displayed Name from "admin" to your name, and hit "Update Profile" at the bottom of the page.
Secondly, navigate over to Settings -> General, set your site's title, tagline, language, timezone, and date & time formats, and click "Save Changes" at the bottom of the page.
Afterward, click on Settings -> Reading, set your homepage to display the excerpts of your latest posts, and hit "Save Changes" at the bottom of the page.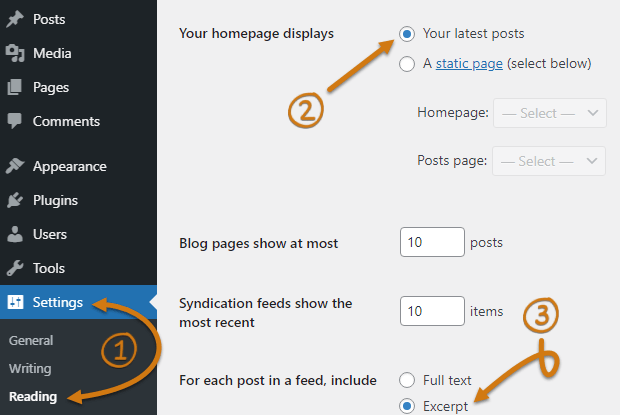 Lastly, go to Appearance -> Customize to start customizing the overall design of your affiliate website…
Once you do so, you'll get redirected to a theme customization panel that'll look very similar to the screenshot right below: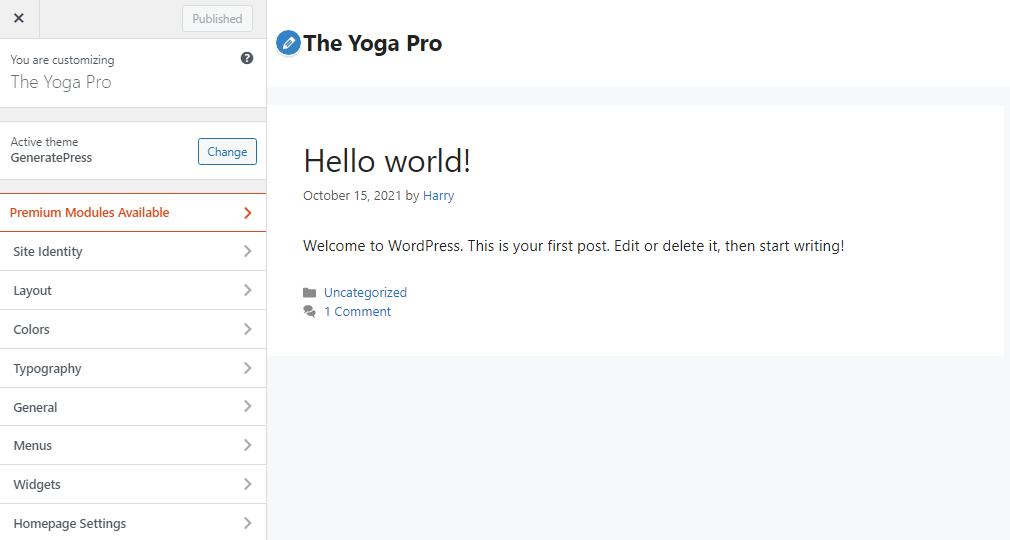 On the left-hand side of the panel, you'll be able to see all the customization options of your installed theme (GeneratePress). On the right, you'll find a live preview of your website's current appearance.
Before you start making any changes, I recommend that you take a quick tour and familiarize yourself with all the available customization settings.
However, don't feel obligated to tamper with every single one of them in an attempt to make your website look perfect from the get-go because you'll be wasting precious time which could be invested in much more important aspects of growing your affiliate business.
Customizing just the very basics, such as the layout, typography, color schemes, and menus is more than enough for starters.
That's basically it…
Your free affiliate website is now fully operational and ready to start serving your target audience!
From this point on, the vast majority of the time and effort you allocate to your affiliate endeavors should be devoted to publishing as many high-value, niche-relevant, helpful blog posts as possible, optimally 2-3 times per week.
Creating and publishing a blog post using WordPress is extremely straightforward…
First, head over to Posts -> Add New.

After that, fill in your blog post's title, write your content, set a relevant featured image, and once everything is in place, click "Publish".
Blog posts can come in many shapes and sizes, such as:
Tutorials
How-to guides
Product reviews 
Roundups
Case studies
Listicles
& more
For example, if your affiliate website revolves around gardening, you could put together a tutorial that'll be outlining the steps to mastering a specific gardening technique.
Likewise, if you run a site about virtual private networks, you could create a roundup of the best VPN apps you've tried.
Right below, you can check out 15 cool tips that could help you boost the quality and efficiency of your blog posts:
Target just 1 main keyword per post
Aim for at least 1000 – 1500 words
Incorporate visuals (images, videos, etc)
Use bulleted and numbered lists
Write short and skimmable sentences
Avoid making large paragraphs
Link to external resources
Conduct in-depth research
Employ a conversational tone
Utilize subheadings to separate subjects
Include a featured image
Leverage quotes from experts
Link to other articles you've published
Forget about making affiliate sales 
Focus on providing value and solutions to problems
The rest of your affiliate-allocated time and effort should be invested in other website scaling practices such as Search Engine Optimization (SEO), Social Media Marketing, Email Marketing, Pay-Per-Click Advertising, A/B Testing, Competition Analysis, Link Building, Keyword Research, etc.
If you don't have the slightest clue about how to utilize any of the above-mentioned practices, purchasing a dedicated course that'll take you by the hand and point you in the right direction is strongly advisable.
That being said, here's a roundup of The Best Affiliate Marketing Courses that have helped hundreds of aspiring affiliate marketers go from zero to building a sizeable affiliate income online.
(Click each question to expand)
Conclusion
Before I wrap this up, I'd like to point out for one last time that websites built on free subdomains come with numerous limitations that'll most likely hinder your progress and hold you back from successfully scaling your affiliate venture.
Having said that, if you're after building a reputable, authoritative, and successful affiliate business, I strongly suggest that you invest in a decent hosting provider and a primary domain name…
"But Harry, what if instead of using a free subdomain, I find a more scalable way to establish my affiliate website for free?"
Well, unfortunately, there's no other way… If you want a free website, you have no option but to launch it on a free subdomain.
The good news is that Siterubix is one of the few free site builders that has a premium plan which enables you to seamlessly transfer any website created on its free subdomain to a primary domain name on a dedicated server, thus unlocking full access to all the features, customizations, and integrations you might need to take your affiliate website to success.
If you have any questions or require further assistance, I encourage you to leave a comment right below or contact me right here and I'll do my best to get back to you as soon as possible.
All the best,
Harry, Founder & Editor at dearboss-iquit.com