Sorry to disappoint you but you are probably never going to earn $3460.25 with Autopilot Profits.
Autopilot Profits is another very low-quality ClickBank product which promises amazing earnings in a very short amount of time and without any effort on your part in order to entice those who are desperate of earning money online but are too lazy to work for it to actually purchase it.
I want to let you know right from the get go that it is very unlikely for you not just to earn money with Autopilot Profits but also to learn something that it could be useful for you in the future, besides the fact that when you are looking for shortcuts, you'll always end up hurt, frustrated, and back to square one.
Anyway, enough talk.
You are about to understand what I am talking about in this review.
However, if you are in need of earning your living online, just like me, and you don't want to keep wasting your time, effort, and money joining mediocre or useless programs which will probably take you nowhere near your goals, I would strongly suggest that you do yourself a favor, ditch this review RIGHT NOW, and go ahead and take a look at my #1 Suggestion right below.
Or you could just waste some minutes of your time to keep reading this Autopilot Profits review until you find out yourself how much it truly sucks.
Autopilot Profits Overview
Low initial price
Real owner
60-day money back guarantee
Unrealistic claims of earning a lot of money fast and without any work
Poor quality, superficial training
Black-hat techniques for traffic generation
Gives false hope
Using sales tricks to lure you into buying it
Way too many upsells
Plants unhealthy beliefs about success
Won't make you any money
What is Autopilot Profits by Ewen Chia?
Autopilot Profits is an affiliate marketing training program which claims that it can teach you how to make money in an easier and faster manner than swiping a card and withdrawing money from an ATM machine (yeah right).
The program was created by Ewen Chia, who to my surprise is a real, and pretty successful online marketer.
However, as it seems, the way he became successful was not by providing real, valuable training to people like you and me but instead by promising them that they can become rich online overnight just by clicking a few buttons in order to trick the desperate ones to buy his crappy products.
It goes without question that none of Ewen's success claims are true and chances are that if you end up purchasing Autopilot Profits, you'll just end up frustrated and $37 poorer.
Just a heads up before I move on…
There's no magic pill or formula or blueprint to any kind of success. There are no systems or shortcuts to achieving anything great. There's no easy and effortless way to earning money online or offline. If you are a logical person you can understand that no one is going to pay you for sitting on your ass just like you wouldn't pay someone for just sitting on their ass.
If you are looking for a way out of investing the time and energy required to achieve your goals, you'll never, EVER achieve them.
To achieve anything great takes time, patience, and working your ass off.
Get that well in your mind.
Also, what sounds too good to be true, 99.9% of the time is and those who claim it is good are doing it for the sole reason to get their hands on your money.
Who is Autopilot Profits for?
Autopilot Profits is only for those who want to find out the hard way that there are no shortcuts or effortless ways towards earning money online or basically anywhere.
Truth is that sometimes people have to get scammed to wake up to the ultimate reality of having to actually make an effort to get what they want. Some of them multiple times.
If you still firmly believe that you can earn money the "easy way", please go ahead, purchase Autopilot Profits and let me know if that actually happens.
But promise me that you'll come back to let me know 😉
Who is Autopilot Profits NOT for?
Autopilot Profits is NOT for those who are serious about creating a sustainable, long-term source of income online.
Such people might be those who
Want to quit a job they hate
Work a part-time job and are in need of a stable supplementary income
Stay at home to take care of their newborns (stay-at-home moms)
Would rather be their own boss than having a boss
Would just love the idea of earning their living online working from the comfort of their own home or wherever else they want
Trot the globe
Long to escape the 9-5 rat race and instead live a unique life
Are unemployed, can't land a job, or are getting constantly fired from jobs
etc
If you are among those people, then trust me, ditch this review, and go ahead to check out my #1 Suggestion below because Autopilot Profits is not going to even come close to fulfilling your needs.
For example, since my ultimate goal is to create a full-time income online, become my own boss, and not have to work another boring, exhausting, unmotivating job ever again in my life, I wouldn't even bother joining Autopilot Profits.
What's Inside Autopilot Profits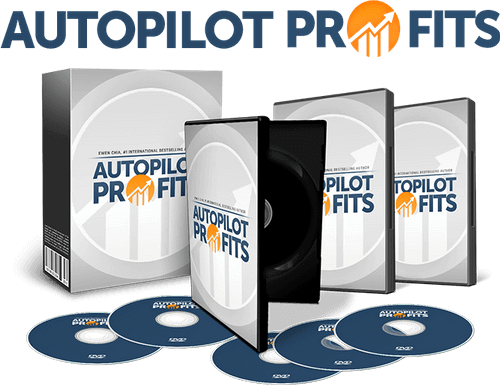 Here's what you gain access to once you purchase Autopilot Profits:
Basic affiliate marketing training
"Done for you" landing page
A buttload of upsells
1. Basic Affiliate Marketing Training
Upon purchasing Autopilot Profits, you gain access to around 20 training videos and a 59-page PDF e-book.
The videos range from 5-10 minutes maximum and teach you very basic stuff such as how to install a WordPress website, its plugins, a landing page, get paid traffic, etc.
The PDF e-book also contains basic information on how to create a landing page, an email list, and integrate all that into your social media profiles, as well as promotions of other products Ewen has created on every other page.
So basically, you are supposed to learn how to earn thousands of dollars per month just by watching 20 very short videos on performing very basic stuff such as installing WordPress plugins and reading a 59-page PDF which's half pages exist to promote other products to you. 
I don't think so…
Even if you start following the best affiliate marketing training, it takes a lot of time and effort until you'll be able to earn a substantial amount of money per month online.
With such low quality training it'll take much, much longer, if ever.
2. "Done for you" Landing Page
This is supposedly a sales page which according to Ewen, is going to convert 200% of your traffic to buyers of the products you recommend.
The best part is that the page is premade for you so you won't have to type even a single word to get it up and running.
All you will have to do is say out loud the "secret magic word", the page is going to set up by itself, and money is going to start flying out your monitor, speakers, and buttcrack.
I know, fucking awesome right?
The only downside is that every single poor fuck who is going to purchase Autopilot Profits is going to end up with an identical landing page.
Damn Ewen… You didn't think that through very well.
Lastly, in the introductory video, our dear Ewen states that the "Done for you" landing page is included in the $37 price of Autopilot Profits when it's really not!
You have to pay an extra $297 for it as you can see in the image below.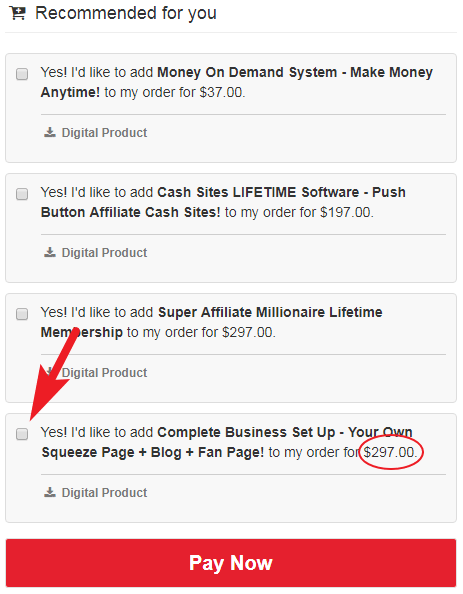 Another lie?
I don't think so… Maybe he got confused with all those upsells.
I know I would.
Okay, let's say that for some reason (I can't really figure out one but whatever), you decided to purchase Autopilot Profits.
Once you dare hit the "Add to Cart" button, you are going to get bombarded with a shitload of upsells before you even get to purchase the initial product.
I am going to talk about those upsells more right below in the cost section.
As we have already saw, the initial cost of Autopilot Profits is $37.
However, before and after you join, as well as during your training, you are going to be presented with a great number of upsells which are supposed to make you rich easier and faster than ever before (maybe within the next hour or so) such as
Mega Traffic Package – $67
Autopilot Social Profits – $147
Instant Websites – $197
Ultimate Free Traffic Software – $297
Traffic Millionaire – $19.97/month
Shortcut to $10K – $9.97
Super Affiliate Millionaire Online Workshop training – $297
Cash Biz – $29.97
Traffic Avalanche – $37
Copy Paste Income – $37
Complete Business Setup – $297
My Top Tier Business (MTTB) – $49 + $19/month + $1997
Pure Leverage – $24.95/month + $19.95/month
Purchasing every single one of those upsells, adds up to more than $3400! And that doesn't even include all the monthly recurring fees that some of the products have.
That's 10.000% more than the initial $37 price and the only difference that those upsells could possibly make for you is actually lessen your bank account balance while at the same time increasing your frustration because they are of the exact same shitty quality as Autopilot Profits.
The only upside of all those upsells is that they are optional.
You don't have and you really should not purchase any of them.
And why would you? After all Ewen PROMISES that by purchasing Autopilot Profits  you are setting yourself up for earning $3460,25 somewhere within the next 24 hours and that you CANNOT fail even if you wanted to.
So why the fuck take any of those upsells? 
Seriously guys, don't!
Do People Succeed With Autopilot Profits?
The only people who are making money with Autopilot Profits are
The affiliates promoting it
Ewen Chia
No one else
Be careful and do not take into account 2-3 Autopilot Profits reviews out there which claim that the program is the best thing since sliced bread because they exist for the sole reason of making you join it and bring hundreds of dollars of commissions to those who wrote them.
Again, one last time…
Autopilot Profits can never fulfill its fake promises and you will most probably never end up earning any money by purchasing it.
If you are serious about earning money online, go ahead and check out my #1 Suggestion instead.
Believe me, you won't regret it.
What I Like About Autopilot Profits
Well, I don't like being cynical, but the only thing I actually like about Autopilot Profits is that after you realize how much the product sucks, you can ask for a full refund of your $37 within 60 days after its purchase.
This way, at least you will have wasted some of your time and not any of your money.
What I Don't Like About Autopilot Profits
1 • Unrealistic Earnings Claims
The thing that I despise the most about Autopilot Profits is its unrealistic claims about how much money you can earn with it in a very short period of time.
Here are some of its worst claims
Make $3460.25 in 24 hours EXACTLY! (no more no less)
With 30 minutes of work, you can make more money in 24 hours than most internet marketers make in a week
Live the ultimate life of earning millions per day, traveling the world and not giving a fuck without having to go through any trial and error
Find out a unique and somewhat "mysterious" traffic source (maybe it's aliens)
You'll never fail even if you want to
All you have to do is enter your name and how you'd like to get paid and cash will start landing on your lap
The "Done for you" landing page will convert 90% of your traffic to buyers
Then he goes on to say that the system normally costs $3,797.00 or so but that he is so big-hearted that it gives it to us for just $37. That's 99% off! Apparently according to himself he is insane for doing that and apparently if you pass an offer like this you are insane yourself… LOL 😛
Moreover, he states that you barely made it to his page because he was about to take it down (this actually creates a sense of urgency to take action and purchase the program).
Basically, everything Ewen states in his sales page is a standard sleasy sales technique which is commonly used by scammers to promote low quality products.
I mean, come on!
Earning $3.500 in 24 hours is probably possible if you're a veteran affiliate marketer. It's definitely not going to happen for a complete newbie who just purchased a plug and play, magical system.
In fact, no system can ever earn money for you automatically in no time and with no effort so you might as well stop wasting your time looking.
Be aware that I am not saying that you could not earn money on autopilot but it will definitely not happen by clicking a few buttons as described within Autopilot Profits. 
It takes time, effort, and patience just like it would take for any other substantial and long-lasting achievement.
2 • Plants Unhealthy Beliefs
The main problem with all those unrealistic claims I talked right above is that they might end up planting unhealthy beliefs about success.
Thinking that you can earn thousands of dollars overnight is a dangerous belief because
It will definitely never happen
It gives you false hope and expectations
Makes you impatient and unwilling to work for it
Dramatically increases the chances of you quitting when you don't see the immediate results you expected
It is actually the exact opposite of how real money is actually made
So, not only Autopilot Profits won't help you achieve the monetary goals you want but it will actually most likely take you further away from them.
3 • Low-quality Training
Autopilot Profits' training is just awful both in terms of quantity and quality.
Within the main training you are going to learn how to install a WordPress website and install its plugins which is indeed basic knowledge but definitely not enough to end up earning any serious amount of money online, if any at all.
Frankly, if you browse YouTube for a while, you will definitely be able to find higher quality, more professionally-made training videos on the same subjects completely for FREE.
If you are after extremely high-quality online marketing training, do yourself a favor and check out The 2 Best Affiliate Marketing Training Courses That You Should Join In 2019.
4 • Way Too Many Upsells
I've already talked about the infinite confusing upsells that Autopilot Profits offer us.
Personally, I really hate selling, salesmen, as well as being sold to and that's why since Autopilot Profits' landing page is a huge sales pitch, it was an enormous turn-off for me.
Let me know how you can actually help me, what your product offers and if it's something that I consider valuable, I will go ahead and purchase it.
Telling me that your product is going to magically solve all my problems in 1 hour and that there is 1 spot left is not going to really move me.
If after reading this review you end up purchasing Autopilot Profits, well, you had it coming.
There's really nothing more to say about Autopilot Profits.
I really got EVERYTHING covered and the verdict is that if you actually decide to purchase it you'll most probably end up wasting your precious time and energy while getting nothing in return.
If I were where you are, about to join Autopilot Profits, I would love to have someone to prevent me from doing so and point me towards the right direction.
And you are in luck, because that's what I am about to do.
I have a counter-suggestion for you.
Instead of going for Autopilot Profits, consider joining me in Wealthy Affiliate.
For me, Wealthy Affiliate is the best affiliate marketing training platform that currently exists. I've actually been a premium Wealthy Affiliate member for almost 3 years now and I couldn't be more satisfied with it. 
Wealthy Affiliate is also completely FREE to join!
All you have to do is fill in your name, email, password and you are set to start your affiliate marketing training and get your first affiliate marketing business up and running in no time…
10 Quick Facts About Wealthy Affiliate:
Free to join and get started
Cheap premium membership
Almost 1 million active members
Has been around since 2005
One-click website builder
Dedicated tech support
Hundreds of hours of dedicated, high-quality affiliate marketing training
Live chat
1 on 1 mentoring
If you still think that Autopilot Profits is the right choice for you, then by all means, go ahead and join it. 
However, make sure that you bookmark this Autopilot Profits review because when you find out yourself that Autopilot Profits sucks and you regret your decision of joining it, you'll want to come back, give it a second read and maybe take my suggestion and start building a sustainable, long-term, online source of income the right way