While there are hundreds of perfectly legit online business models out there, affiliate marketing is generally considered among the best in the world!
That's mainly because affiliate marketing comes with many compelling characteristics that don't apply to other business models like dropshipping, MLM, Amazon FBA, etc.
Let's take a closer look at why affiliate marketing is the best business model you could venture into.
Based on statistics, the affiliate marketing industry is steadily growing at an average rate of 10% per year.
In 2017, Awin estimated that affiliate marketing was worth $14.5 billion. If we assume that it'll keep growing at the same rate, the industry's value is expected to surpass $30 billion by 2025.
Furthermore, data drawn from Google Trends (see chart below) reveal that over the past 5 years (February 2015 – December 2020), the global popularity of affiliate marketing has skyrocketed a whopping 300% from 25 to 100 points.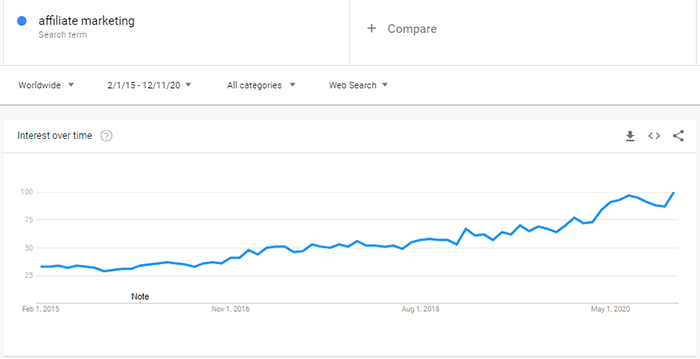 Right now, people's interest in affiliate marketing seems to be at its highest point since Google Trends was launched back in 2004.
Lastly, according to a report published by AM Navigator in 2018, the largest affiliate network, ShareASale, was running a total of 5594 affiliate programs.
At the time I'm putting together this article (October 2021), ShareASale hosts a total of 10,000 affiliate programs.
That's an 80% increase in less than 3 years!
Based on all those numbers, we can safely conclude that affiliate marketing is going to keep growing for the years to come.
Best Affiliate Marketing Courses
2. Grants Huge Income Potential
One of the most prominent reasons that affiliate marketing is considered the best business model is its huge income potential!
According to affiliate marketing statistics, the average yearly earnings of well-established affiliate publishers range between $75,000 and $2,000,000.
To give you an example, based on Pat Flynn's last income report, his affiliate earnings surpassed $100,000 for December 2017 alone.
Moreover, in the video right below, Pat explains exactly how he generated more than $300,000 in affiliate commissions by promoting just one single product.
Pat Flynn's enormous affiliate success isn't just an isolated case… You can check out the huge earnings and stellar income reports of dozens of other affiliate marketers right here.
3. Extremely Affordable to Get Started With
Affiliate marketing is the process of making money by promoting already existing products.
As such, affiliate marketers get to skip over all the phases of developing, testing, optimizing, and launching a product of their own which would require the investment of a lot of time (at least 1-2 years) and tons of money (at least $30,000).
Furthermore, as an affiliate marketer, you'll never have to bother with investing resources in establishing a dedicated space for storing inventory or hiring employees to handle product-related procedures, such as:
Deliveries & returns
managing stock
packaging & shipping orders
customer support
handling complaints & refunds
etc
Taking care of everything just mentioned is in the hands of the respective merchant of each product you'll be promoting.
Your sole job as an affiliate marketer is merely referring potential customers to the merchants you're affiliated with. Everything that happens after a referral has taken place is the responsibility of the merchant.
So, How Much Does It Cost to Start Affiliate Marketing?
The budget needed to get started with affiliate marketing could be as low as $100. Heck, if you play your cards right, you might even manage to start your affiliate business for free.
To give you a frame of reference, according to Oberlo, starting a dropshipping store costs at least $500. Moreover, based on Amazon, launching an FBA business could set you back anywhere between $500 and $3,000.
Lastly, many sources support that the initial expenses of getting a small startup off the ground could range between $5,000 and $20,000.
That being said, compared to other business models, affiliate marketing is undeniably the most cost-effective one!
4. Location Independent Business
As mentioned in the previous section, since your sole job as an affiliate marketer is merely referring customers to 3rd-party merchants, establishing a physical space for retailing, storing, and handling the affiliate products you'll be endorsing isn't necessary.
As such, your affiliate business can be operated from anywhere you want, as long as you have access to a device that's connected to the internet.
Some affiliates like working from home. Some prefer coffee shops. Others start leading a digital nomad lifestyle, earning their living while traveling the world.
Personally, I love riding my bike to nature and doing some of my affiliate work there. In fact, most of this article was put together on my laptop while relaxing in a forest.
Another reason that affiliate marketing is the best business model is that it offers time freedom, that is, the ability to have complete control over your daily schedule.
This means waking up when you want, working anytime and for how long you want, taking time off whenever you feel like it, spending as much time as you want with your loved ones, being able to live more spontaneously, and more.
For instance, my standard working schedule as an affiliate marketer is 10:00 to 19:00. However, sometimes I might work from 10:00 to 14:00, stop for a few hours to rest, do some chores, and work out, and then resume working from 20:00 till midnight.
Now and then, I might also split my schedule into multiple small shifts spanning throughout the day (e.g. 10:00-12:00, 13:00-15:00, 16:00-18:00, 19:00-21:00).
Lastly, a couple of months ago, I even decided to go on an impromptu 3-day trip right in the middle of the week just because I felt like it!
That's pretty much how malleable the life of full-time affiliate marketers is.
Nevertheless, it's worth pointing out that if you abuse your time freedom by doing whatever you want whenever you want it without ensuring that you remain highly focused and committed to your affiliate endeavors, chances are that you won't be able to maintain it for long.
6. It's Being Utilized by 84% of Publishers
According to a report published by Forrester Consulting, affiliate marketing is being utilized by over 84% of all US-based publishers (bloggers, YouTubers, social media influencers, etc).
Moreover, a survey conducted by VigLink revealed that 34% of the publishers who received fewer than 5,000 monthly page views ranked affiliate marketing as their top content monetization model.
The 7th benefit of affiliate marketing is that it's very simple and straightforward to be deployed by virtually anyone regardless of age, background, previous experience, available capital, tech-savviness, professional network, etc.
Most contemporary 6-figure affiliates had no greater skill and expertise than you currently possess when they first embarked on their affiliate journey.
On the contrary, venturing into other business models like e-commerce, dropshipping, print on demand, Amazon FBA, etc is much more challenging and requires a much larger capital or even possessing special knowledge and hard-to-attain skills.
Nonetheless, please keep in mind that affiliate marketing is in no way a surefire approach to having thousands of dollars magically land on your lap every single month with little to no effort on your part…
Truth is that despite the simplicity of the entire process, creating a profitable affiliate business still involves a steep learning curve, tons of hard and consistent work, and a lot of trial and error.
The good news is that you could short-circuit your journey to affiliate success, by signing up for a dedicated affiliate marketing course.
8. Passive Income Potential
Unlike most other online business models, affiliate marketing has a very high potential of becoming a source of passive income…
As a matter of fact, Bankrate lists affiliate marketing as the 3rd best passive income opportunity.
Passive income is money generated as a result of work you've done in the past that requires very little to no effort at all to maintain.
An example of passive income is the royalties paid to an actor for participating in a TV series that might have ended years ago…
For instance, each cast member of the TV series "F.R.I.E.N.D.S" which has ended since 2004, still earns $20 million in yearly royalties to this very day for taking part in the show.
Affiliate marketing works in a somewhat similar manner.
To give you an example, this roundup of The Best Affiliate Marketing Courses I published about one and a half years ago is still bringing in consistent affiliate sales month after month without me having to put any extra time or effort into it.
In fact, the vast majority of my current affiliate earnings are generated completely passively as a result of blog posts, guest posts, reviews, videos, and social media posts I've published months ago.
This means that if I were to stop working on my affiliate business right now, my affiliate income would keep flowing in unaffected for many months or maybe even years down the road.
Another characteristic that gives affiliate marketing the upper hand over most other business models is that almost all of its aspects are highly pivotable.
For instance, affiliate businesses can be marketed via dozens of different channels, including, but not limited to:
As a result, if you find that the marketing channel you leverage towards promoting your affiliate offers doesn't generate solid results, you can effortlessly shift your focus to using another one that might perform better.
Moreover, since affiliate marketers are independent contractors, they have the freedom to partner with as many affiliate merchants as they'd like.
This means that if an affiliate merchant you collaborate with underperforms, you could simply ditch them and start working with another one that might deliver better results with no hassle whatsoever.
Such flexibility doesn't apply to most other online business models…
To give you an example, if you run a dropshipping store and your supplier sucks, the process of pivoting to a new one is rather complicated and effortful.
Likewise, if you've spent time and money developing a product that has ended up performing poorly and you'd like to keep your business afloat, you'd have no choice but to invest even more resources in either improving upon your current product or launching a brand new one from scratch.
10.Build a Business Around a Subject You Love
Last but not least, one of the most noteworthy reasons that affiliate marketing is the best business model is that you can leverage it towards building a sizeable income online around any topic you're passionate about, from electronics, clothes, and cars to yoga, furniture, and VPN software.
As previously mentioned, becoming a successful affiliate publisher involves a steep learning curve and immense amounts of work over a significant period of time so pursuing a topic you love will naturally help you maintain consistency in your efforts, do higher-quality work, stick with your affiliate endeavors even when the going gets tough, and progress better and faster towards reaching your financial goals.
On the contrary, if you launch a business that's geared towards a subject that couldn't interest you less, you're more likely than not to give up before you even make your first profit (or soon after).
Plus, as Confucius stated, if you do a job you love you'll never have to work a day in your life!
(Click each question to expand)
Conclusion
Those were 10 of the most prominent reasons that affiliate marketing is the best online business model out there!
However, the list doesn't stop there.
Some added advantages of affiliate marketing, include, but aren't limited to:
Non-Intrusive Promotions
Fostering Valuable Skills
High ROI (Return on Investments)
Targeting Global Audiences
Very Low Risk
Performance-Based
& more
Starting an affiliate marketing blog is if not the best, one of the best decisions I've ever made so if you're still torn about whether you should embark on an affiliate marketing journey or not, I strongly suggest that you do as soon as possible!
If you have any questions or require further assistance, I encourage you to leave a comment right below or contact me right here and I'll do my best to get back to you as soon as possible.
All the best,
Harry, Founder & Editor at dearboss-iquit.com