Somewhere, somehow, you found out about Wealthy Affiliate…
Maybe you read one of the dozens of online reviews that exist about it… Maybe you came here through my own Wealthy Affiliate review…
Whatever the case you want to figure out the reasons why you should join it, besides of course the obvious one which is to build your own online affiliate marketing business from scratch.
After all, there exist tons of similar courses out there so why pick Wealthy Affiliate over all of the other ones?
Well, you are about to find out.
FYI, I have been an affiliate marketer and a Wealthy Affiliate premium member for more than 2 years now. During that time, I have tried out tons of similar other platforms but and the thought of leaving Wealthy Affiliate for one of them has never crossed my mind until now.
11 Top Reasons That You Should Absolutely Join Wealthy Affiliate In 2019
1 • High-Quality Affiliate Marketing Training
Wealthy Affiliate's greatest asset is the affiliate marketing training that it offers.
The training is comprised of hundreds of hours of video lessons and hundreds of pages of text and is mainly addressed to people who have no clue about this whole "make money online" concept, starting an online business, building a website, writing articles, marketing those articles, attracting visitors, etc.
Wealthy Affiliate members usually call its training "Earn while you learn" because every single lesson is not just some theory that you could apply at some point down the road, but a step by step guide to actually build and scale your business.
For example, just within the first 10 training lessons, you'll be guided through
Building your website very easily from scratch in just a few minutes
Customizing your website's appearance, menus, etc
Smartly choosing the subject of your website or as we affiliate marketers call it, your niche
Writing content (articles) for your website
Getting your website ready for the search engines
the importance of keywords and how to use them to maximize results
etc
In addition to the main training, every Friday night Wealthy Affiliate's training chief, Jay, presents a 1-hour long, live webinar on several more specialized subjects such as creating a YouTube channel, using Google Analytics and Search Console, writing more effective content, etc.
On top of that, as a Wealthy Affiliate member, you also have access to countless other training modules created by other, more advanced and already successful Wealthy Affiliate members.
Lastly, all the main training modules are constantly improved upon. New lessons are being added several times a year and old ones are being updated as well in order for the platform to catch up with the ever-changing landscape of internet marketing.
In my 2+ years as an affiliate marketer, I can easily claim that training of such caliber can hardly be found somewhere else online.
Here's what some members have to say about Wealthy Affiliate's training:



For more member training reviews (600+), go ahead and click here. Once you do, scroll down to the very bottom of the new page and voila.
2 • Almost 1 Million Members
At that moment, Wealthy Affiliate is one of the most popular affiliate marketing training platforms with almost 1 million members from all around the world.
This means that almost 1 million people have figured out reasons to start their online business at Wealthy Affiliate so I am pretty sure that you will too.
The even better news is that you can connect with every single one of those members, who are after the same or similar goals as you, within the Wealthy Affiliate platform through the live chat, blog, classrooms and private messaging and
exchange ideas and insights
ask questions and advice
learn about their successes and failures
seek motivation
etc
I've heard many successful Wealthy Affiliate members claim that if it weren't for this active community to help them solve the problems they came across almost instantly, get them unstuck, and motivate them to keep going even when the times got rough, they probably wouldn't have made it to success.
After all, they say that you become the average of the 5 people you spend the most time with. So, if you spend your time connecting with hundreds of other successful affiliate marketers, your chances of becoming one yourself increase dramatically.
3 • Active Since 2005
Wealthy Affiliate has been around 2005.
This means that the platform has been helping people build successful affiliate marketing businesses of their own for more than 14 years.
Wealthy Affiliate's founders, Kyle and Carson have even more years of affiliate marketing experience on their backs as when they decided to build Wealthy Affiliate, they were already making their living through other affiliate marketing websites they had previously created.
Wealthy Affiliate is one of the very few affiliate marketing training platforms which not only have been around for so long without lowering the quality of their services but on the contrary, becoming better and better over time.
4 • Useful Tools and Resources
To build a house you need specific tools. Same goes for your affiliate marketing business.
Wealthy Affiliate offers a range of tools which are going to make building and scaling your affiliate marketing business much easier such as
keyword research tool
1-click instant website builder
website monitoring tools
give and take comment and feedback function (you give a comment or feedback to another member's website and then you can ask for a comment or feedback on your website)
free hosting + SSL + anti-spam + decreased website loading speeds
website content publishing and organizational platform
and much more
All those tools are included with your membership at no extra cost to you.
Be aware that most similar platforms and courses offer no such tools whatsoever.
However, to be fair, the only two things you'll absolutely need to get started is a hosting plan and a domain name. All the tools that Wealthy Affiliate offers are not mandatory to get your online business up and running as well as make it successful but they are undeniably going to save you time, energy, and ultimately make your entire journey to success much easier.
5 • One-Click Instant Website Builder
I know that I mentioned the 1-click website builder in the tools section right above but I would like to talk a bit more about it because it can be such a huge convenience to those who have no previous experience with building websites and are not exactly tech-savvy.
Truth is that to build a website is not as hard as it used to be a few years ago. Nowadays, there are platforms that allow you to get a website online with just a few clicks without requiring to write a single piece of code.
Wealthy Affiliate's website builder is just like that. Just a few clicks and your website is ready to go. Picture it just like a kind of drag and drop editor.
Plus, within your first couple of training lessons, you'll learn how to master it in no time at all.
In fact, go ahead and watch the video below right now to see how it's done. Follow along, and you'll have your own affiliate marketing business up and running before the video is even over.
As you can imagine, this saves you tons of time and energy that you would otherwise have to spend towards designing and coding your website for months or hundreds of dollars if you were to hire a professional coder to do it for you.
6 • Way Too Many REAL Success Stories
Almost all digital marketing products on the face of the earth tend to post success stories and testimonials somewhere on their website's main sales page in order to lure more customers in.
While this is an awesome strategy, after conducting some research, I have found out that most of such products (especially Clickbank products) are actually hiring actors or freelancers to record fake testimonials for them.
Wealthy Affiliate doesn't do that in any way. In fact, they don't even have a success story or testimonial section anywhere on their website.
However, within the platform, each member is able to share their very own success story with all of the other members within their own Wealthy Affiliate profile.
You can find several of those success stories right here.
Those success stories are 100% real. Nobody has requested them to be posted. They are just there because the people who have actually succeeded wanted to share their excitement with the rest of the Wealthy Affiliate community, as well as help and motivate everyone within it to achieve their own success.
Once you become a Wealthy Affiliate member you can contact any of those who have posted a success story within the platform, ask them to see their website, their earnings (although many members are already posting their earnings already) as well as for tips, insights, guidance, and maybe even mentoring.
Most of them will be happy to help you out (I know I would!)
Those success stories have played an important role in achieving my very own success story.
They have motivated enough me to keep pushing forward even during my darkest times, those times that I wanted to quit so badly because they were the confirmation that if I just kept working, I would eventually reach my financial goals just like all those people did before me.
After all, if someone is able to achieve something, you can absolutely achieve it as well right?
7 • Free to Join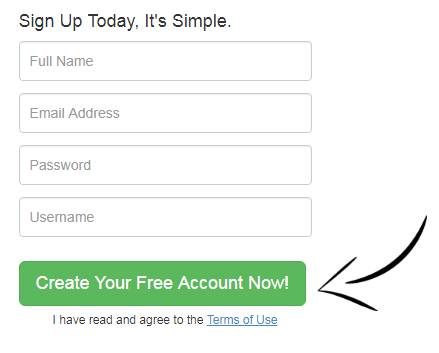 Before I found out about affiliate marketing, I was just looking for a way to earn some money online to supplement my then part-time income.
During my research I came across tons of programs and courses which claimed that they would show me "the way" but 99.9% of them were either asking for large upfront payments or to fill in my credit card info in order to "join them for free" (yeah right…)
However, I wasn't willing to invest any amount of money to get started, no matter how small, as I knew no one who was earning money online at that time and I didn't really think that it was even possible.
In addition, I was definitely not willing to trust my credit card info to some random website because I was pretty sure that I would get scammed and get money drawn out of my account without my authorization.
So, I was looking for a way to play it safe and get started completely for free without having to fill in any of my credit card info.
That's how I ended up joining Wealthy Affiliate!
Wealthy Affiliate lets you join completely for free, and asks for no credit card info whatsoever.
You just create an account, spend zero money, and if it's not what you were looking for, you simply log out and never come back again. This automatically means that you risk nothing to join for free right now. And who knows, you might end up one of those success stories yourself.
No risk… Big rewards!
As a free member, you can
start your affiliate training
get your first affiliate website up and running
access the live chat for a few days
use the keyword research tool
follow training modules created by other members
etc
You have the option to remain a free member for as long as you want but of course, as a free member, you'll have limited access to most of the Wealthy Affiliate's features.
To tell you the truth, if I hadn't been given this opportunity to test drive the whole process of creating an affiliate marketing business for free, chances are that those very words you are reading right now, wouldn't exist.
So, as you can understand, for me, Wealthy Affiliate's free membership is kind of a big deal.
8 • Very Cheap Membership
Wealthy Affiliate costs $49 per month at worst (you will only pay $19 for your first month and then $49 per month for each successive month that you choose to remain a member).
If you take one of its upfront payment plans you can be paying even less than that.
For example, paying upfront for 6 months, your membership is going to cost $234 which basically translates to $39 per month (you save a total of $60 than if you were paying per month).
If you decide to pay upfront for a whole year your membership will cost you $359 which means $29.92 per month (you save $229 than if paying per month)
AND, there's an even better deal which is only available the 4 days from Black Friday to Cyber Monday where you can pay $299 for a yearly membership which means $24.92 per month (you save $289 than if paying per month… That's almost 50% off and actually what I am currently paying for).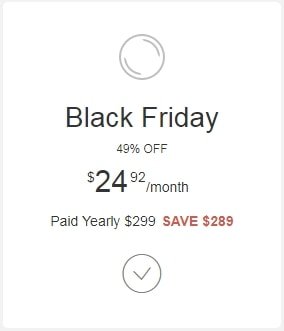 At the cost of a take-out dinner, or maybe less according to the membership option you choose, you are able to get everything you need to build your affiliate marketing business which could as well change your life forever, just like it is currently changing mine, and just as it has already changed the lives of countless other people.
And again, all that at the price of a Saturday night out and maybe even less!
9 • Live Chat
As stated earlier, Wealthy Affiliate has one of the most active digital marketing communities in the world. One of the many and actually the most used way to connect instantly with other members of this community is its live chat.
Within the live chat, you'll be able to receive instant answers to your questions and get unstuck way faster instead of waiting for hours or days for an answer just like you would if you posted a query in a regular forum.
Wealthy Affiliate has members from all around the world so chances are that there will always be someone online to reply to your queries and guide you through your problem.
10 • Dedicated Tech Support
It's inevitable that sooner or later, you'll come across technical issues with your website.
Maybe a plugin malfunctions and prevents you from logging in your website. Maybe, your website goes offline for some reason. Or maybe, you just can't upload any images on your library in order to include them within your content.
Everything above has actually happened to me but Wealthy Affiliate's dedicated tech support resolved everything in no time at all without any kind of involvement on my part besides sending them a ticket.
You can't even imagine how important this aspect of Wealthy Affiliate is.
I've heard other people on other platforms who are spending days and even weeks struggling to find a solution to a technical issue they are facing without any luck.
Such frustration… Such a waste of time and energy.
11 • You'll Probably Regret If You End up Joining Another Platform
There are times that I've seen newcomers talking within Wealthy Affiliate's live chat, claiming that 4 years ago they had to make a choice.
They had to choose between joining Wealthy Affiliate, or another affiliate marketing training platform.
They went for the other program, ending up back to Wealthy Affiliate 2, 3, 4 or even more years later, with no successful business, tired and frustrated, having to start all over again because the other platform was full of shit and of course, deeply regretting their decision of not joining Wealthy Affiliate in the first place.
And this is not such a rare occurrence lately.
Please don't be one of those people. Don't waste years of your life and money from your pocket going for the wrong platform.
Now that you know and since you are here, go for Wealthy Affiliate in order to save yourself from regret and crying in the shower in a fetal position later on.
Conclusion
As you just saw, there exist plenty of reasons to join Wealthy Affiliate.
Those are the exact reasons that I have been a Wealthy Affiliate premium member for more than 2 years.
Wealthy Affiliate is definitely not perfect but it's the best affiliate marketing training platform I've come across till now.
This doesn't mean that by joining Wealthy Affiliate you'll start earning money overnight nor that the program is going to eventually start bringing money for you as of magic without you investing the appropriate amounts of time and effort.
You can have all the resources in the world but if you don't actually start using them yourself the right way, you'll get nowhere.
On the other hand, chances are that Wealthy Affiliate will make your whole journey towards owning a successful online business much easier and less frustrating. Every single one of its features such as the website builder, tech support, live chat, training, etc, is there for just one reason… To save you time, money and energy which in turn translates to increased chances of actually winning.
Anyway, you can join and test drive Wealthy Affiliate for free right here.
See you inside 🙂
What's your take about Wealthy Affiliate? Are those reasons enough for you to join it? Have you tried any similar programs in the past or are you just a beginner? What is holding you back?
Let us know in the comments below.
If you have any questions or need any further help or guidance from me, please email me at xaric@dearboss-iquit.com or drop me a PM on my Wealthy Affiliate Profile.
I'll be thrilled to help you out.
Xaric,
dearboss-iquit.com